Our sweet Lulu, a petite Ragdoll cat, passed away in February. She was 17.5 years old. Lulu was our constant companion, our little girl, our alpha cat extraordinaire. This is a small tribute about her final months.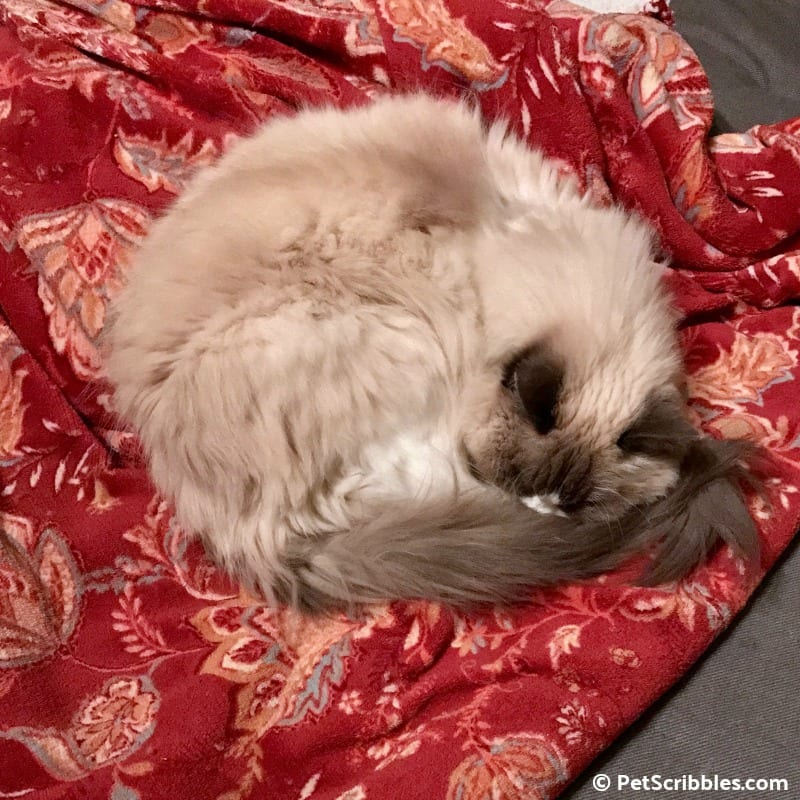 Our cat Lulu passed away back in February. I wrote a brief post here at the time, but was too broken up to write much more.
I think I'm ready now.
Lulu's passing was really hard on our happy home.
She was my husband's sidekick — literally, whether "working" with him in his office here at home every day, or watching hockey on TV with him at night.
Our other cat Otto loved following Lulu around. We called Lulu "Otto's little big sister" just as Otto was "Lulu's big little brother" — the size difference was hilarious, except for when Lulu thought Otto was going to eat her! (See this post: Is Lulu happy with her "big" little brother Otto?)
Lulu tolerated Otto, but that never stopped Otto from adoring his big sister and wanting to be near her whenever possible.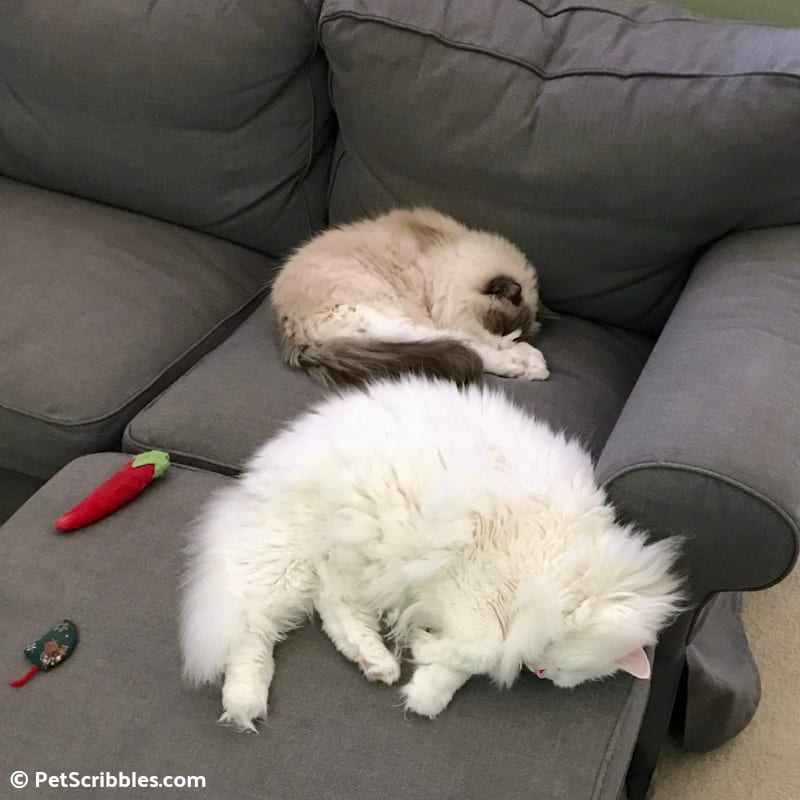 As for me? Lulu and I were together for 17.5 years. I adopted her when she was just 8 weeks old. She was once the little sister to our Ragdoll cat Matisse, who passed away in 2009, but she quickly decided even as a kitten that she was the kitty in charge. She also was a sister to our formerly feral cat Aliza who passed away in 2015.
As I wrote back in February, "We hope she has already met up with her big brother Matisse as well as Aliza. I brought those three cats into our relationship, and Lulu was my husband's sidekick ever since. We feel like it's the end of an era, with her passing, and it hurts."
How my husband and Lulu first met
As a kitten, Lulu loved to climb onto my bookshelves in my Boston-area apartment.

I let her, because…well, she was in charge!

Lulu never had any trouble jumping down from the bookcase.

Until the first time she met my now-husband.

Lulu climbed up to the top of the bookshelves and cried like she couldn't get down.

I went over to help her down, not sure why she wasn't jumping down herself. Just as I got to her, she jumped down and didn't seem happy that I went to help her. Odd behavior.

I walked away, and Lulu immediately jumped up again, perched on top of the books and began crying. My now-husband-but-at-the-time-new-boyfriend said, "No worries, I'll help her down." And that's when Lulu — the friskiest, most wriggly kitten ever — just melted into my husband's arms and began purring like crazy.

I believe Lulu was doing three things: 1) trying to make a fabulous first impression on my husband; 2) testing my husband to see how he would react; and 3) letting me know that she totally approved of this new person and I better not mess this up!

Isn't that funny?
Lulu loved Fall and Winter more than Spring and Summer
Lulu didn't like the Spring and especially disliked the Summertime because we were outside so much more than in the cold months. She preferred that we spend all of our time with her. She never understood why we would have any reason at all to not be with her 24/7.
Of course, one look at her, and you had to agree she was right!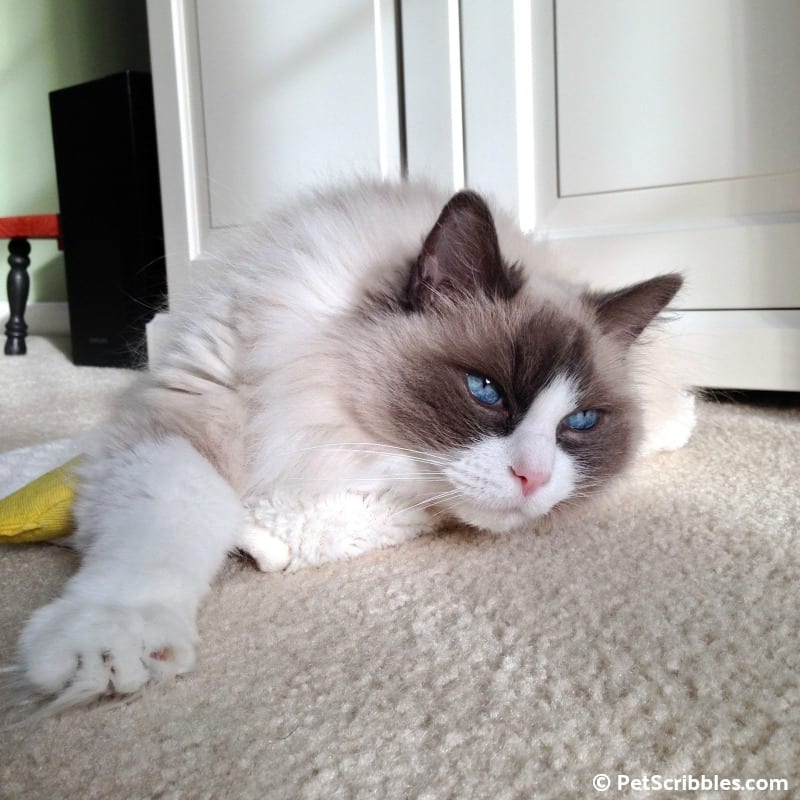 Lulu had kidney disease for awhile, but started on a serious downward spiral in the Fall (2017).
She needed to have IV fluids once a day, three times a week. We were so fortunate that our pet sitter Michelle is also a vet tech and lived nearby. Michelle came over three times each week and helped my husband administer the fluids to Lulu, as I was upstairs just home from the double hip surgery and in no shape to help.
During those final months. I was mostly upstairs and our giant Ragdoll Otto never left my side. I had a hospital table that my computer fit on perfectly, so I was able to work from bed as I began to get my strength back. Otto loved it, of course, staying on the bed with me no matter what! (I'm smiling as I think about what a good comfort he was during that time.)
Lulu was downstairs during the day "working" with my husband. She had her own little bed in his office and stayed there all day long while he worked. But Lulu also began to hide more and stay under the couch too.
Christmas with the cats
Christmastime came and I wasn't ready for a long car ride, so we didn't make it to my parent's home for Christmas, agreeing instead to celebrate the holiday later when I was better recovered. We exchanged our Christmas gifts through the postal service, and we put the gifts from my parents under our tree.
Included in those gifts was one gift for Lulu and another gift for Otto. From the "grandparents!" My mom always picks out something for our cats for Christmas, and surprisingly — especially because my parents don't have any pets — my mom actually nails the perfect gift for each cat! Seriously, it's kind of amazing.
This year, Otto — our giant boy who is still such a "little boy" at heart — got a fun toy that he instantly began to play with: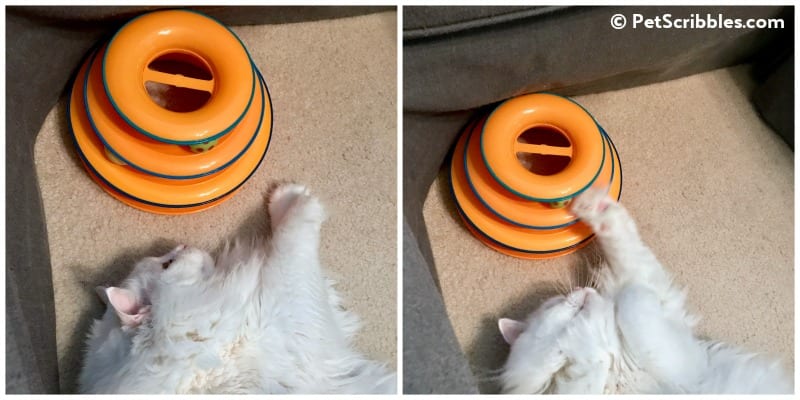 And then we opened up Lulu's gift, which was a pretty petite blanket, just her size. Lulu loves blankets, and . . .
I still do that.
I just typed, "Lulu loves blankets…"
Sigh. It's still hard.
And I still have to remind myself to use the past tense.
Lulu loved blankets.
Lulu loved her blankets!
And she owned many of them, as in she claimed them for herself!
Like our pretty blue plaid washable wool blanket . . .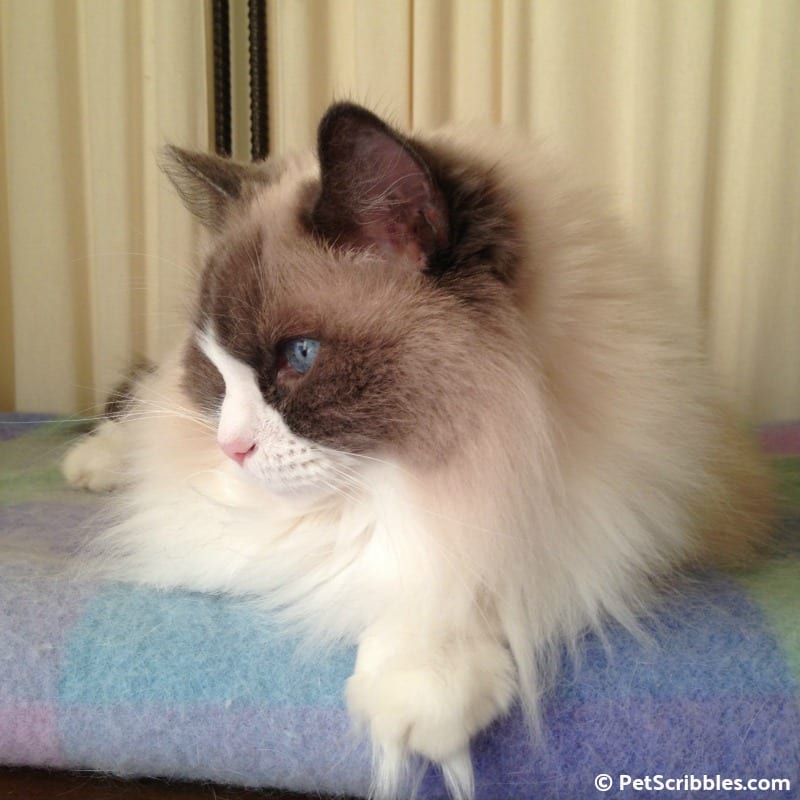 And my pink fleece hoodie that she turned into her own blanket . . .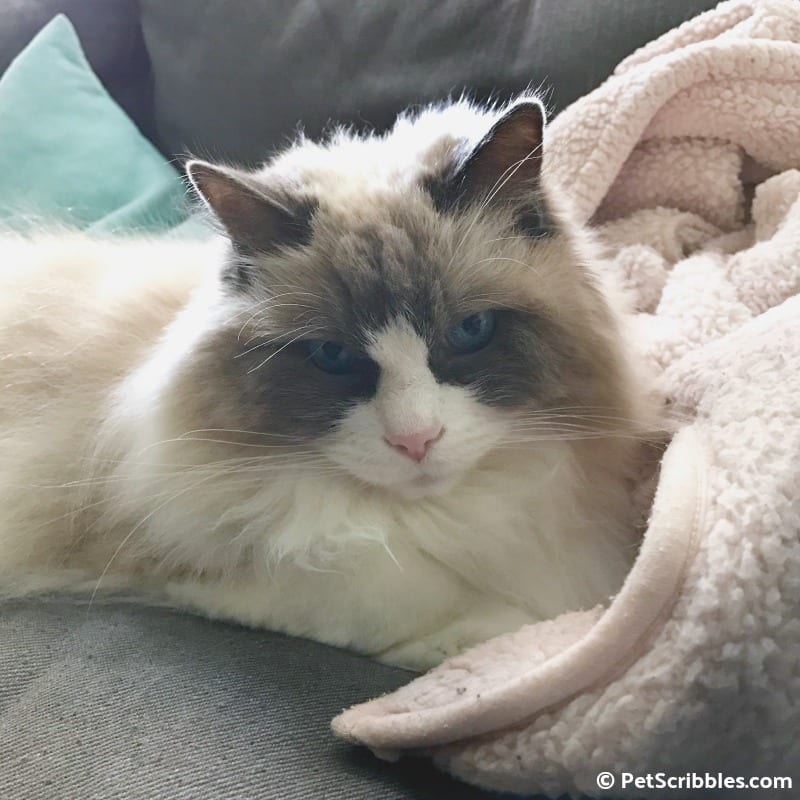 Our crocheted throw in our Library, one of her favorite rooms . . .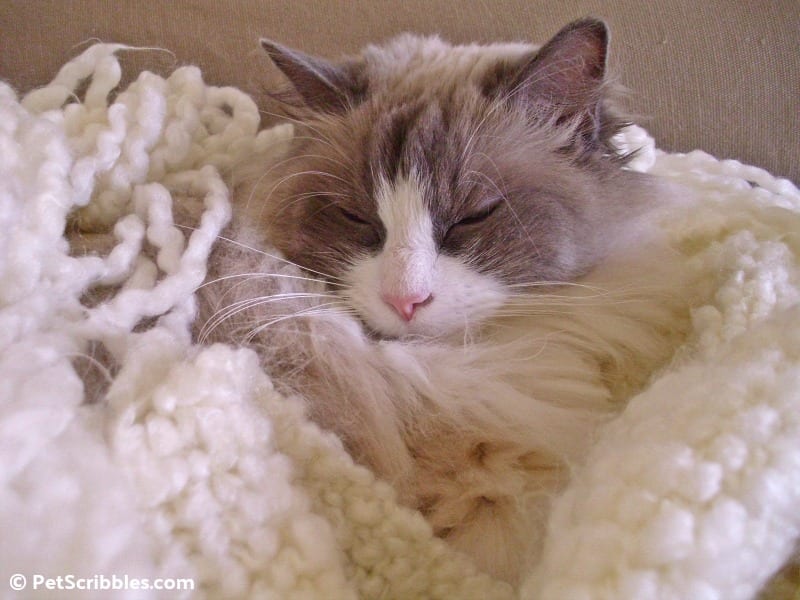 Another cat-themed printed throw . . .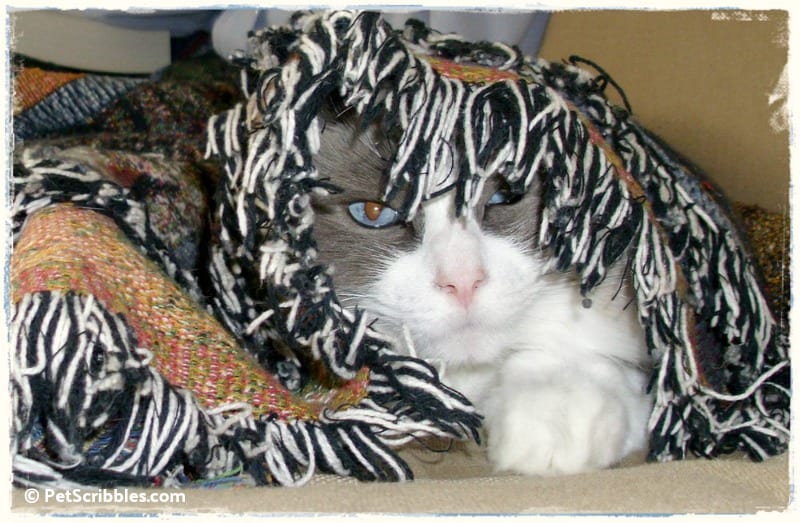 This soft red throw was so cozy, that we ended up buying multiples just so we could use them as well as Lulu . . .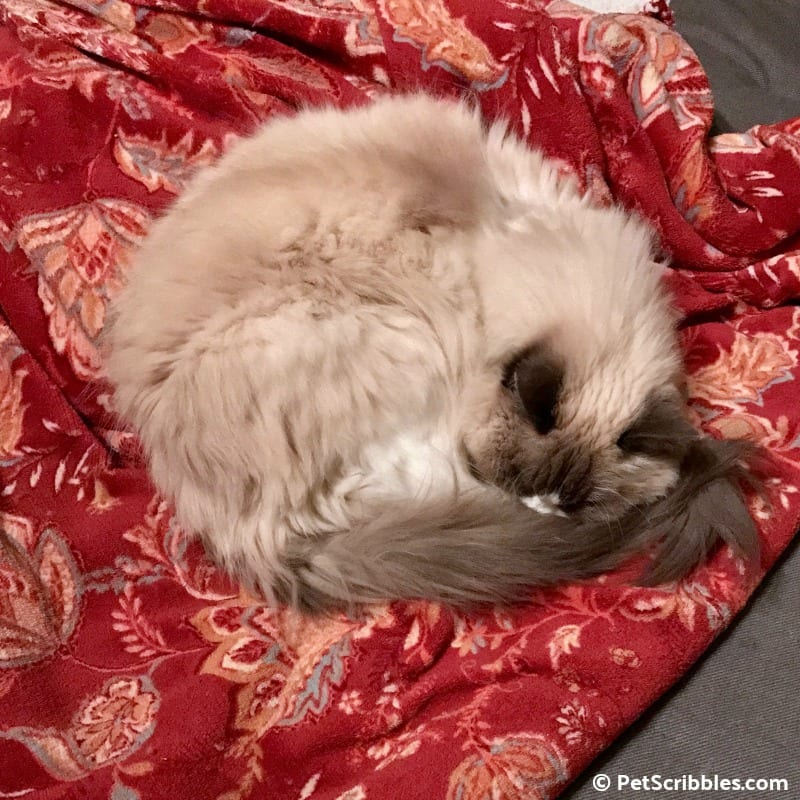 You get the idea.
So we showed Lulu her gift, and sprayed it with her favorite catnip spray (Amazon affiliate link) but she was more interested in staring at the toy Otto was playing with.
Well, Otto became curious and hopped up onto the ottoman — yes, Otto on the Otto-Man isn't lost on us! — and he promptly sprawled his giant 23-pound body out on the blanket.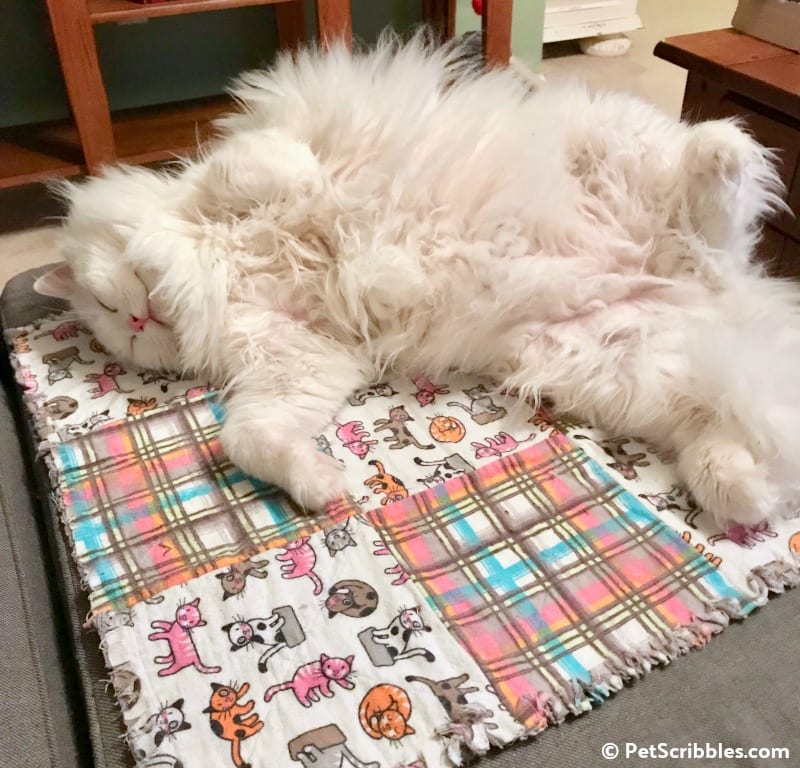 This did not sit well with Lulu, as she insisted she always get first dibs on the ottoman. And even if she didn't want to sit on the ottoman, she decided if and when it was ok for Otto to sit there. It was comical to watch.
She jumped up and nudged him from behind . . .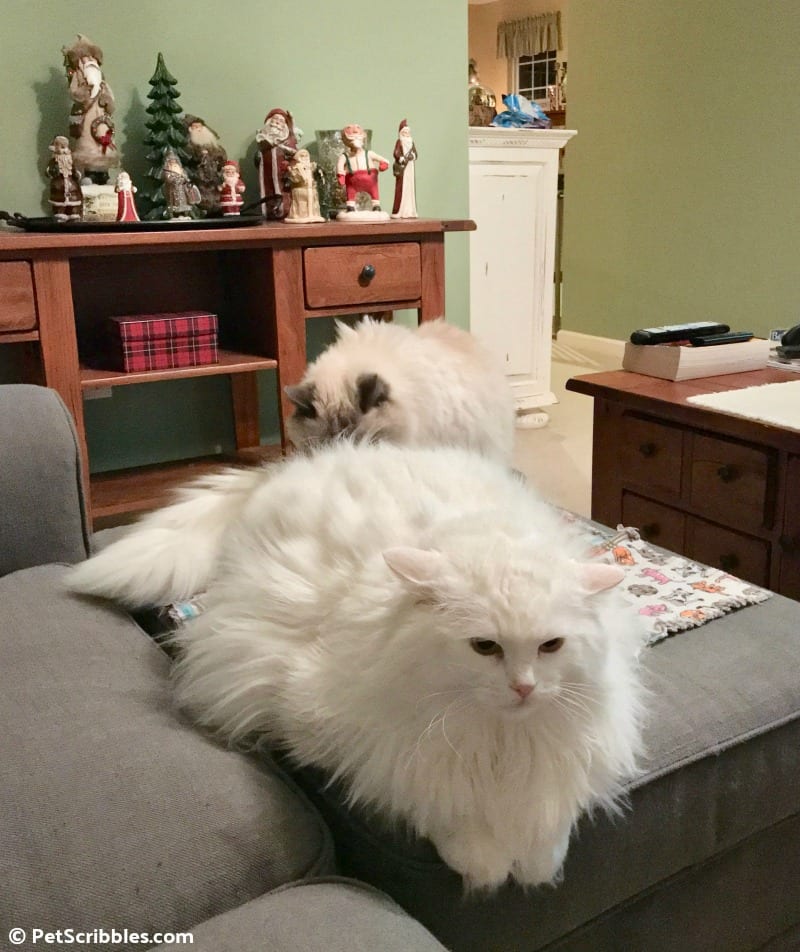 Otto — as a good beta cat does — jumped off and settled nearby on the floor, while Lulu sniffed her new catnip-scented blanket.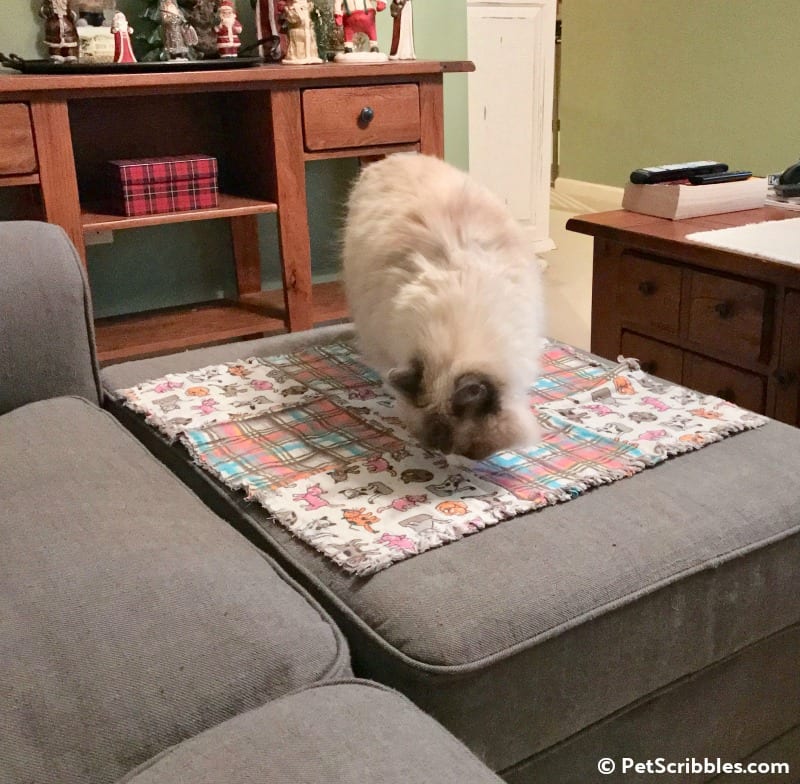 She wasn't feeling great but geez was she still beautiful — look at her beautiful coat!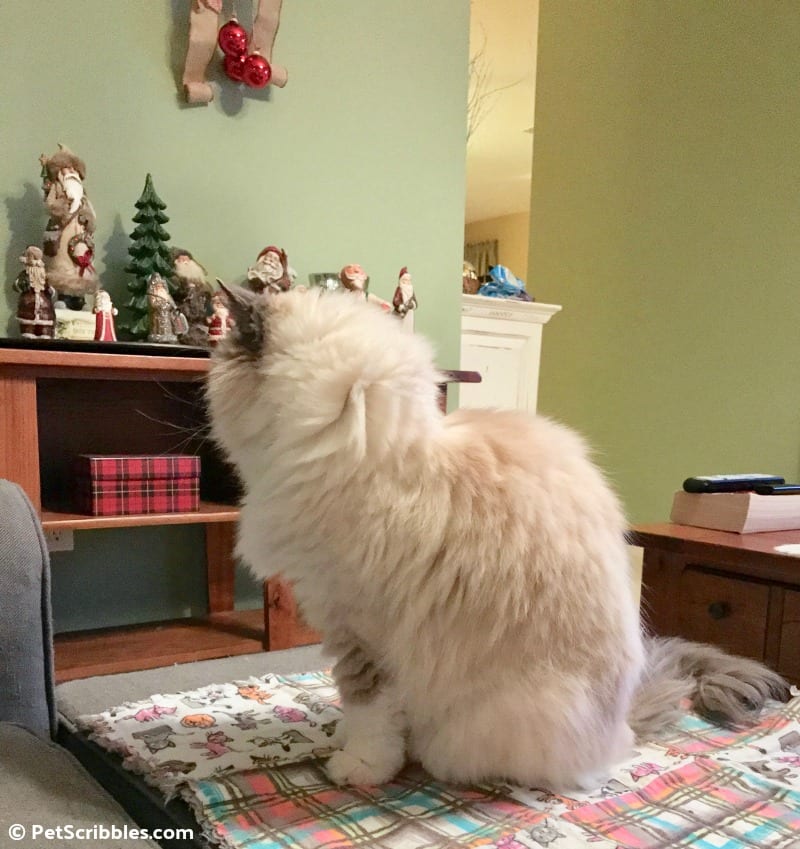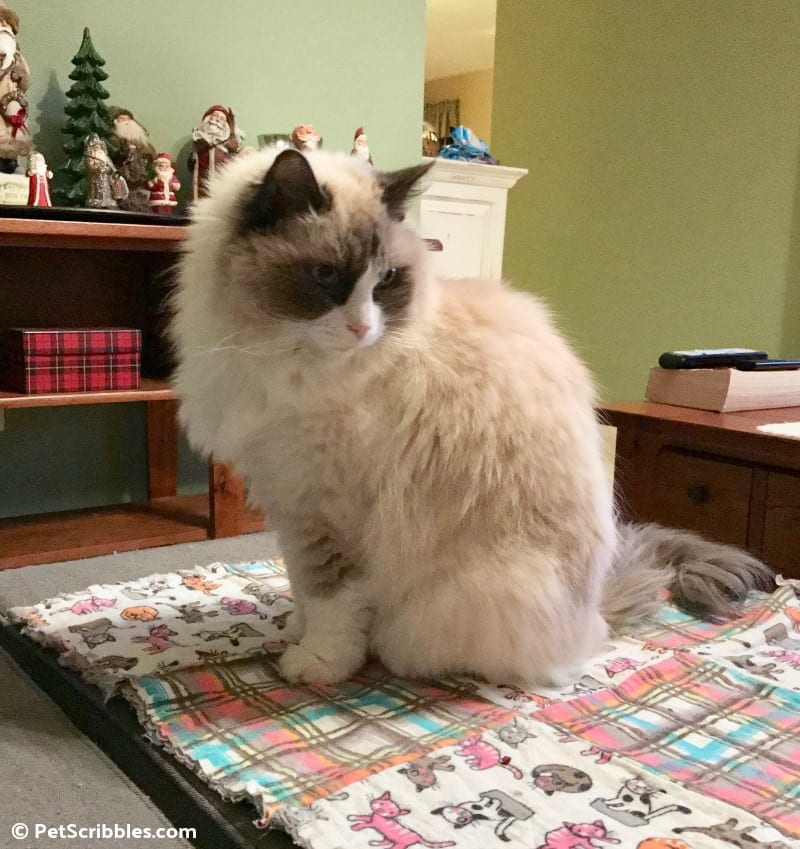 We laughed at how — even in her declining health — she was still the alpha and still very much in charge.
January into February
As the month of January went on, Lulu stuck to my husband even more, which we didn't think was possible to do.
Lulu would wait until he fell asleep each night, then climb onto the bed and curl up on top of him and fall asleep.
Luckily for me, I wasn't sleeping much so I was able to not only witness how special this was, but most importantly I was able to take pictures for Hans to see when he awoke the next morning.
Those pictures won't be shared here — we have many pictures of Lulu's final weeks with us that we took just for us.
Otto stuck to me like glue more and more, as Lulu began hiding more and more.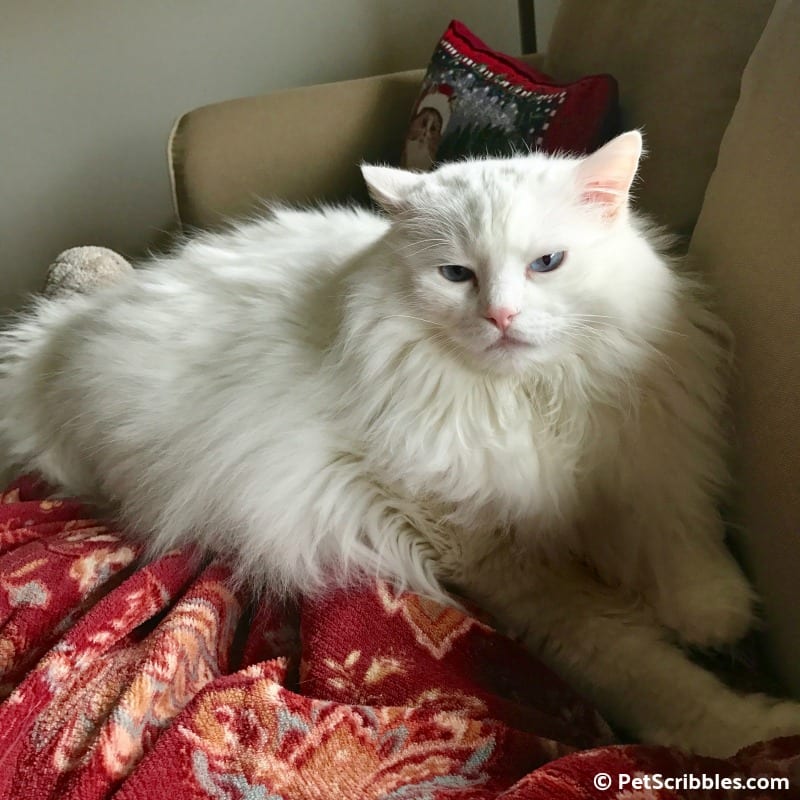 His facial expression said it all. He was stressed about Lulu.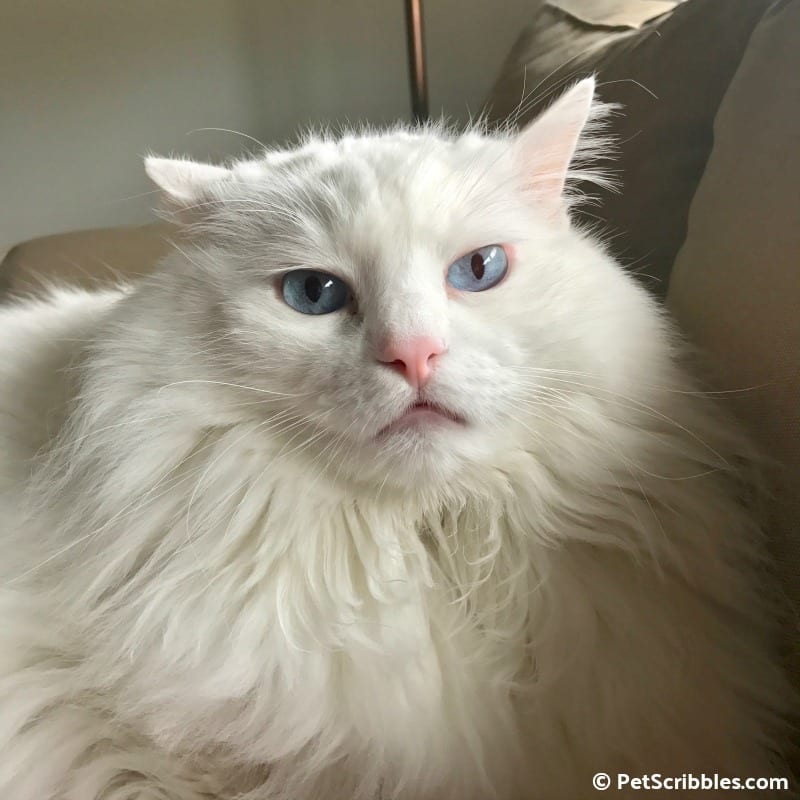 He didn't want to play. Instead, Otto would stick by me until Lulu would come out from under the couch to have some water, or have a snack. He would trot over to her and sit down. Or, he would sit near the couch flaps, knowing she was under there — his way of keeping her company.
Lulu, who as I mentioned wasn't too fond of Otto, actually licked his forehead during the last month, and let Otto lick hers. And twice we saw them go nose to nose sniffing…without either one bopping the other.
It was Lulu saying, "You're not so bad afterall, Otto." It brought tears to our eyes.
Otto was having a bit of a tough time understanding what was happening with Lulu. Or maybe he understood all too well.
The last picture I took of Lulu was the day before we made the heart-wrenching decision to say goodbye and have her put to sleep.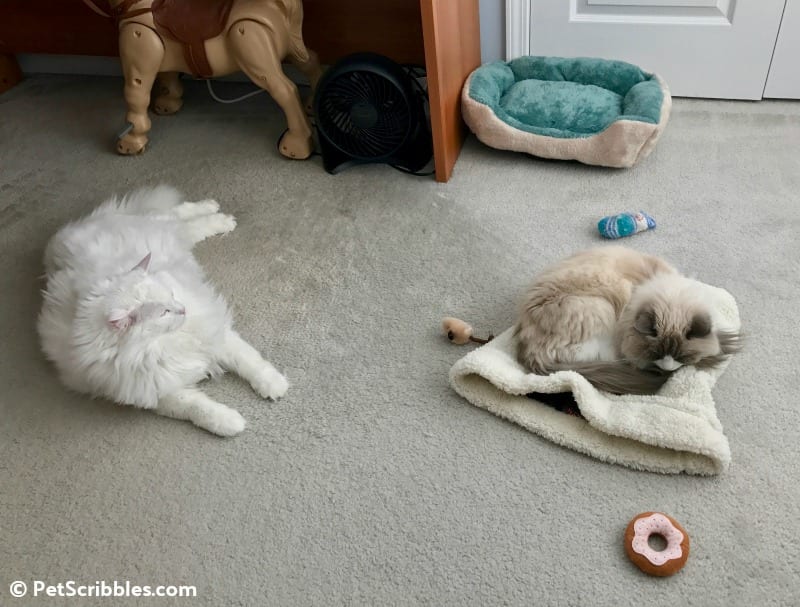 This is in my office, as Lulu came in to visit me and Otto while I worked, curling up on a crinkle sack that she loved. Otto was thrilled but knew to just hang out nearby.
It was a peaceful moment watching Lulu curled up like that.
That's all I can write about her final months and weeks.
I miss her so damn much each and every day.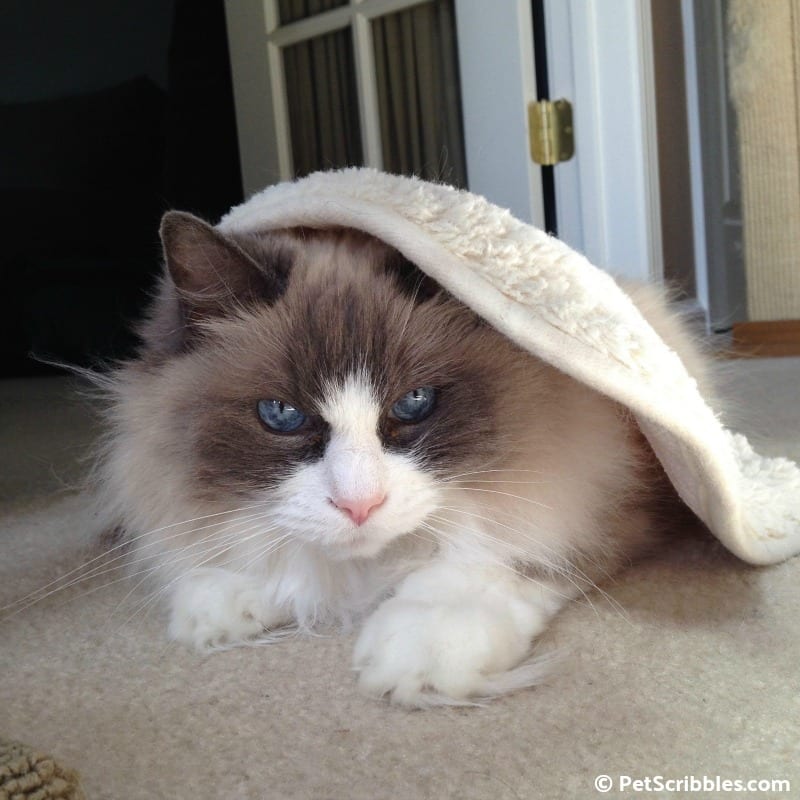 Rest in peace, sweet Lulu.