This post and photos may contain Amazon or other affiliate links. If you purchase something through any link, I may receive a small commission at no extra charge to you. Any supplies used may be given to me free of charge, however, all projects and opinions are my own.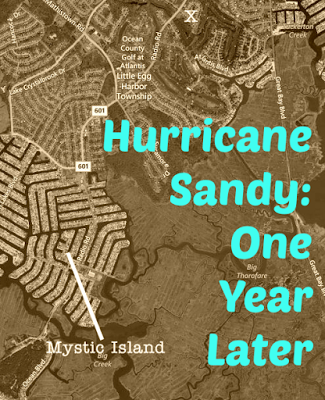 I couldn't let today pass without some reflection, since it was one year ago that Hurricane Sandy hit our town, along with countless other towns along the Jersey Shore and elsewhere.
It's actually hard to believe that a year has passed, and yet for some people in our town of Little Egg Harbor, New Jersey, this has been the longest year of their lives so far. I'll explain more in a minute, but first I want to take you back to a year ago…
One Year Ago: a look back at my blog posts
This past weekend was almost exactly like one year ago: a sunny weekend where you just couldn't imagine a storm would really impact us. While my husband and I spent the weekend securing our outdoor furniture, and removing our Fall outdoor decorations, I also spent quite some time snapping pictures of our beautiful Fall flowers. I honestly thought at the time that would be the worst that could happen – everyone's flowers would be destroyed. Man was I naive.
Here's the short post I wrote last year on the eve of the storm. I had some nervous humor going, along with sharing my plant pictures: Frankenstorm is coming!
And then reality hit, and its name was Hurricane Sandy, which also became known as Superstorm Sandy. While our neighborhood was spared, just down the road from us was an entire different story. It took me a few days to process everything, and then I shared this post which received the most hits my blog ever received: Hurricane Sandy: Little Egg Harbor, New Jersey
As many of you who were around last year on my blog remember, I had a nagging thought in the days after the storm that I wanted to do something. And Socks for Sandy was born: Socks for Sandy: Helping Sandy's Victims.
I have so much gratitude for all of the creative bloggers in my Hometalk niche who jumped in to help this project go not only national, but international, during the several months I ran this little operation out of our garage (and out of the town post office!) Let me just say that those local postal employees rocked with handling the deluge of incoming packages Socks for Sandy received!
I basically gave up blogging for awhile, unless it was to provide updates on Socks for Sandy. And my Etsy shop developed dust bunnies in it, as I simply had no time for it. I was consumed about getting warm socks and underthings to as many of our local residents as possible.
Little Egg Harbor one year later…
Socks for Sandy was a temporary project, designed to provide some immediate necessities to those who lost everything to Sandy. Sadly, for so many in our area, their reality is still like a living nightmare.
Here's a video from The Press of Atlantic City (regional newspaper just South of us) that will tell the stories much better than I can. I hope you'll spend a few minutes watching. (And pardon the 20 second ad too!)
I'll wait…
Amazing, right?
Hard to believe, but yes: you can drive down certain areas of our town and they look as if the hurricane just hit yesterday. I remember hearing accounts just like these one year after Hurricane Katrina hit New Orleans and the surrounding areas.
One of the ongoing complaints has been that Gov Chris Christie hasn't yet visited our town, while visiting and providing valuable publicity for some of the larger resort towns along the Jersey shore. As many locals have said: we don't have a boardwalk, and we don't have a rollercoaster or ferris wheel.
I'm not going to get into politics on here, but I am happy to see that today – on the anniversary of Sandy – Gov. Christie will be here in Little Egg Harbor, in the hardest hit area of Mystic Island, just down the road from us. (And the house in the video above, with the sign about being stronger than the storm? That house is directly across the street from where Gov. Christie will be.) I know he will be greeted by lots of frustration, but I'm glad he will finally see first-hand what our little town is coping with. It's about time. His visit is overdue.
So, as you go about your day today, say a few prayers for the residents who are still displaced, who are still fighting with insurance companies, and who are still wondering how they will get their lives back.
And to those of you who supported Socks for Sandy last year – I am deeply thankful for your help!
Thanks for reading!
~Laura