— continued from previous page —
4. What do you admire when you look at other front yards?
Now it's time to do a little bit of research.
Look at pictures!
Google "front yard no grass" and look at the "images" results – the pictures. Scroll through those and begin noticing what you like and don't like.
In fact, click here and you can see exactly what I'm describing: front yard no grass
You can do other Google image searches as well, for paver walkways, front yard gardens, paver driveways, front yard trees, and so on.
Look at books!
Visit your local library, bookstore or spend time on Amazon and find some helpful books to get you started.
What's great about using Amazon for research is that many books have a "Look inside!" feature where you can preview pages of a book. I love using this not only to see if I want to purchase the book, but just as important: I might learn a few things without even having to buy the book!
Here's a selection of helpful landscaping books on Amazon that each have the "Look inside!" feature:
FTC Disclaimer: The following links are Amazon affiliate links. I explain more here.
New Front Yard Idea Book: Entries*Driveways*Pathways*Gardens – Sandra S. Soria
The Beginner's Guide to Starting a Garden: 326 Fast, Easy, Affordable Ways to Transform Your Yard One Project at a Time – Sally Roth
Lawn Gone!: Low-Maintenance, Sustainable, Attractive Alternatives for Your Yard – Pam Penick
Beautiful No-Mow Yards: 50 Amazing Lawn Alternatives – Evelyn Hadden
Hellstrip Gardening: Create a Paradise between the Sidewalk and the Curb – Evelyn Hadden
Front Yard Gardens: Growing More Than Grass – Liz Primeau
The Edible Front Yard: The Mow-Less, Grow-More Plan for a Beautiful, Bountiful Garden – Ivette Soler
The New American Front Yard: Kiss Your Grass Goodbye – Sarah Sutton
Ultimate Guide: Walks, Patios & Walls (Landscaping) – Editors of Creative Homeowner
Blurry photo — below — but it goes with a funny story of us dealing with rabbits in our gardens. Click here to read! (And think of this photo as one of those celebrity paparazzi shots taken from a distance!)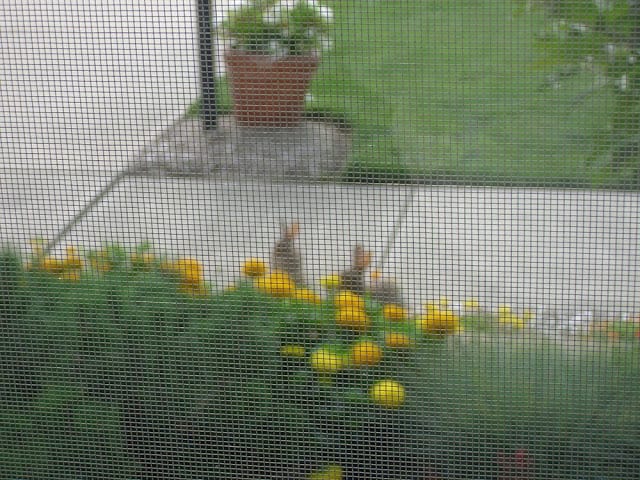 5. What is your dream list for your front yard?
This list should be big and bold and no thinking about costs and money and how it will happen.
This is a dream list.
All of your likes and dislikes that you've developed from your Google image searches and reading gardening and landscaping books comes into play here.
This is a great exercise for couples, especially. Quite often, without realizing it, we can have two different ideas of what we want a home renovation — or in this case — a major landscaping makeover — to be.
For example, my husband loved the idea of never having to mow the lawn again. I loved the idea of more space to garden and plant ALL. THE. THINGS.
Perhaps you want something that is very low maintenance, where you don't have to worry about any garden chores. You can still have a beautiful front yard with minimal upkeep by installing pavers, rock, gravel and draught-tolerant plants and shrubs. Add in flowers needing minimal care — like Portulaca or Coneflowers — and you'll have a front yard that's perfect for you.
Also keep in mind that your front yard is an extension of your home. This is important to remember, because you might want to include some home improvement projects on your dream list.
For example, when we moved in, there were no shutters on the house. The house was only a year old, perhaps the first owners just didn't get around to it. As a result, one of our first major projects was to have shutters added to the front of our home.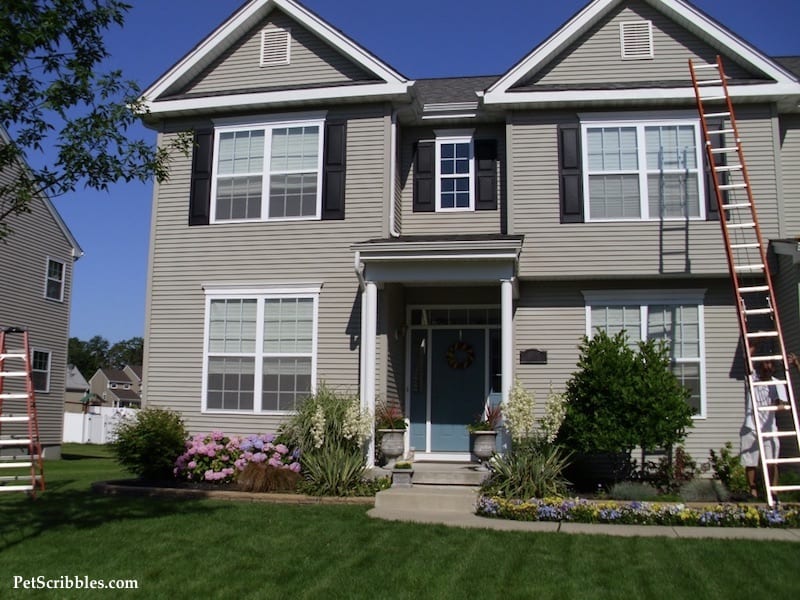 Maybe you want a new front door, or even a new paint job on the front door. Maybe you want new windows. You get the idea. Yes, unfortunately it isn't specific to your front yard renovation, but it IS part of the overall picture of your home, literally.
Your list will be different from ours. And it should be.
Here are some of the things we dreamed about . . .
No more mowing. No more grass. (Think allergies, losing battle with having to over-water and over-chemical the lawn, etc.)
Improve the soggy areas in yard, such as that side yard I mentioned above.
More garden space.
Paver pathways and paver driveway. This would include replacing our sidewalk leading up to our front door.
Park-like setting. We used to live in Boston and Philadelphia and loved the parks in those cities. How fun it would be if we could have that outside our front door!
Easy access to the backyard. We have doors to the backyard on either side of our house, as part of the backyard fences. Why not design something to tie the front to the back of the house seamlessly?
Sprinklers updated to easily water whatever new gardens there might be.
New outdoor light fixtures: lamp post, front door, over garage, and pathway lighting.
Get rid of the sad-looking tall trees that the builders put in (before we owned the home) and replace with smaller trees that will have year-round interest.
Add evergreens to compensate for lack of green color (from grass removal) plus provide Winter color.
Include perennials that happily return year after year. (More important to me than annuals.)
Improve the soil and ground overall. One place was hard as a rock, while a few feet away was a sandy section. Uneven drainage meant it was a crap shoot deciding what to plant where.
Below is the other foundation bed we made. The soil in front of the bed was nothing but sandy soil in that spot. So I planted Portulaca, which thrives on neglect! (Link goes to my blog post all about Portulaca.)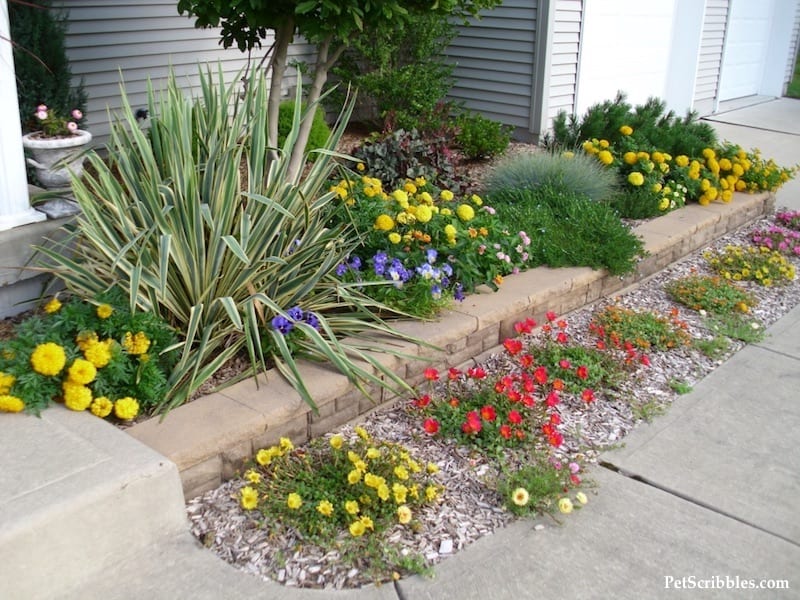 6. Sit with your dream list for awhile — at least a few weeks — and really challenge yourself during this time:
Are there other features you want and forgot to include?
Perhaps a water feature like a fountain or a dry bed creek design?
Remember: DREAM LIST.
And now we get to come down from the lofty clouds to reality, but don't worry — we will take this slowly!
7. Which items from your dream list are must-have, non-negotiable items?
No more mowing? Fix swampy yard? (Those were two of ours!)
Start to narrow your focus down a bit.
For example, some questions we asked ourselves:
"Do we need pavers everywhere?"
"What if we did a mix of pavers and gravel/stepping stones in certain places?"
"Do we need to have that huge expense of a paver driveway now, or can we make that a future project for someday down the road?"
My husband and I had a running joke from the very start of our dream list: some things would be in Phase 1, and some things would be in Phase 2. And then we began just throwing out numbers like, "The paver driveway will be done during Phase 17."
How much work are you willing to do to maintain whatever your new dream landscape will be? This is an important question to ask yourselves. My husband envisioned no more mowing, feeding, sprinkling, throwing chemicals down — no lawn stuff at all. So I knew that any gardening I might want would probably fall to me to take care of. And this I was super excited about because I. Love. Gardening.
Of course, my previous take-care-of-my-gardens experience to this date had been my various apartment balcony gardens, our roof-deck garden in Philly, and the garden beds on either side of our front door. Oh – and helping my parents with their amazing landscaping growing up, which instilled my love of gardening. But it's one thing to help. It's another thing to Do. It. All.
So think about this one and discuss it.
This is where the "dream" part of "weeds will never appear in my Dream Garden" becomes the reality of "who will do the weeding?" You get the idea.