I love candles, and these Literary Candles are literally amazing! Yes, they are a fun gift idea, but they're also handmade and available from one of my favorite companies! Here's the story. Literally.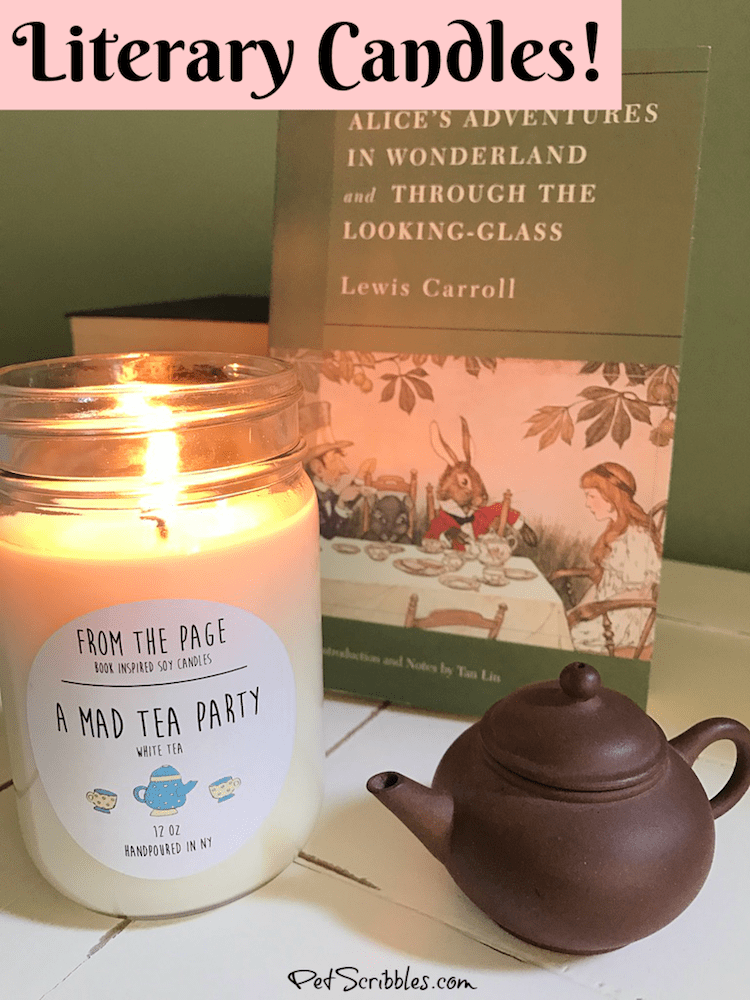 Last month, Uncommon Goods asked if I would help promote their unique line of gift ideas for Mother's Day, and I readily agreed!
Why?
Because I've shopped at Uncommon Goods via their catalog since way back when they first began in the early 2000's.
As an artist, maker and lover of all things handmade, I was drawn to their wonderful selection of handmade gifts, many of which are not only beautifully crafted but also serve a useful function — like help you to relax and unwind and smile.
FTC Disclaimer: I've received products/compensation from Uncommon Goods for this post. Please note that my posts and product reviews are 100% honest. I wouldn't share anything with you here on Pet Scribbles that I don't already use myself, or have personally tried myself. I have to love it to share it, and potential sponsors know this at the start of our agreement! Just so you know too!
About Uncommon Goods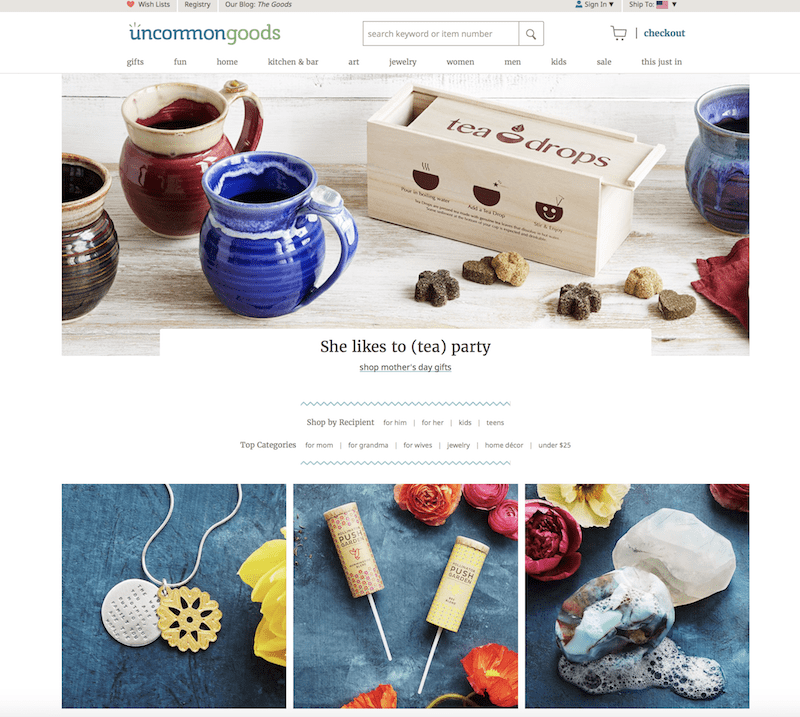 There are several reasons why Uncommon Goods resonated with me way back when they first started out — and why I'm still a huge fan today:
Uncommon Goods is an American company, running all of their operations out of the historic Brooklyn Army Terminal.
The lowest-paid seasonal worker at Uncommon Goods starts at 50% above the minimum wage.
Uncommon Knowledge to go with your Uncommon Goods purchase! It's really easy to get lost in this part of their website! Where does whiskey get its color? Who invented the cubicle? Could a dress be dangerous? Why do old books smell so great? It's a fun way to learn something new and provide interesting conversation at your next cocktail party!
You can easily search for gifts by recipient, for example if you're looking for some great gifts for men, or one of my favorite categories: cool geek gifts and gadgets! I've got my eye on the We Have Chemistry Terrarium — cool anniversary gift — and most of the other gifts in this category are perfect for my husband! Yes, there's an extensive selection of gift ideas for men!
These Literary Candles are Literally Amazing!
What I've chosen to review for you are these literally awesome-scented literary candles.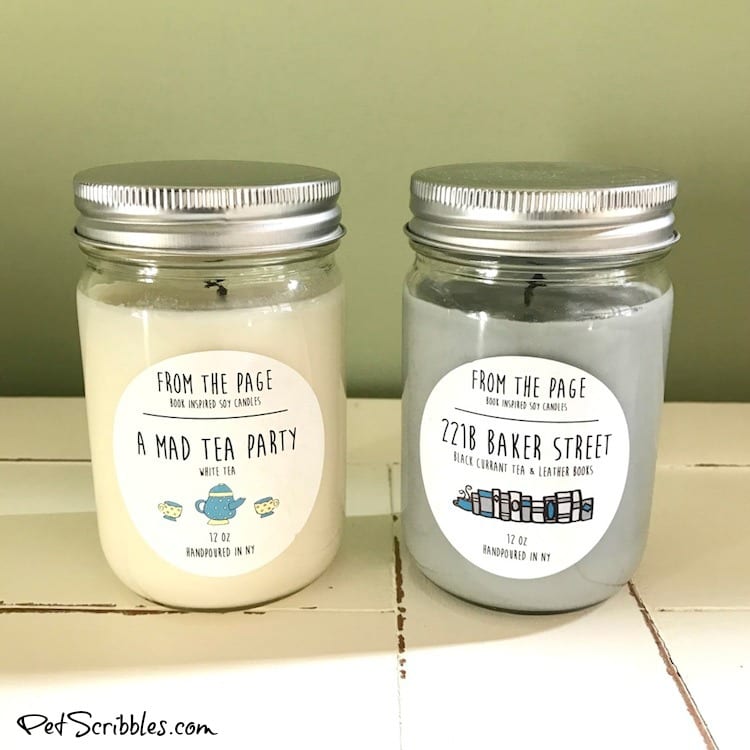 And I promise I'll stop playing on the "literary — literally" words.
Soon. 😉
Why did I want to try out and review these candles?
My husband and I are avid readers, in fact we have a Library room in our home, which I shared with you in my Library Makeover post here. We are book lovers, we are bibliophiles!
And these candles are called Literary Candles. It was like a match made in book heaven. Or in our Library.
(By the way — if you're reading this today — these candles are part of Uncommon Good's Mother's Day Gift Ideas, and there's still time to order!)
About the candles . . .
The Literary Candles are created by Callie Meaney, who hails from Valley Stream, New York. I love being able to see the maker and the story behind each product that Uncommon Goods sells. It's just a really neat aspect of shopping with them!
These candles are hand poured by Callie, and the scents she mixes together evoke well-known literary classics.
Uncommon Goods offers these candles in four scents:
Sherlock Holmes/221B Baker Street (black currant tea plus leather books)
Alice in Wonderland/A Mad Tea Party (bergamot, lavender, mandarin, thyme, ylang ylang plus a touch of jasmine)
Jane Eyre/Thornfield Garden (roses and rain water)
Pride & Prejudice/Pemberley: (lily, lilac, rose, hyacinth plus ivy)
I chose two of them: Sherlock Holmes/221B Baker Street and the Alice in Wonderland/A Mad Tea Party.
About the Sherlock Holmes/221B Baker Street candle . . .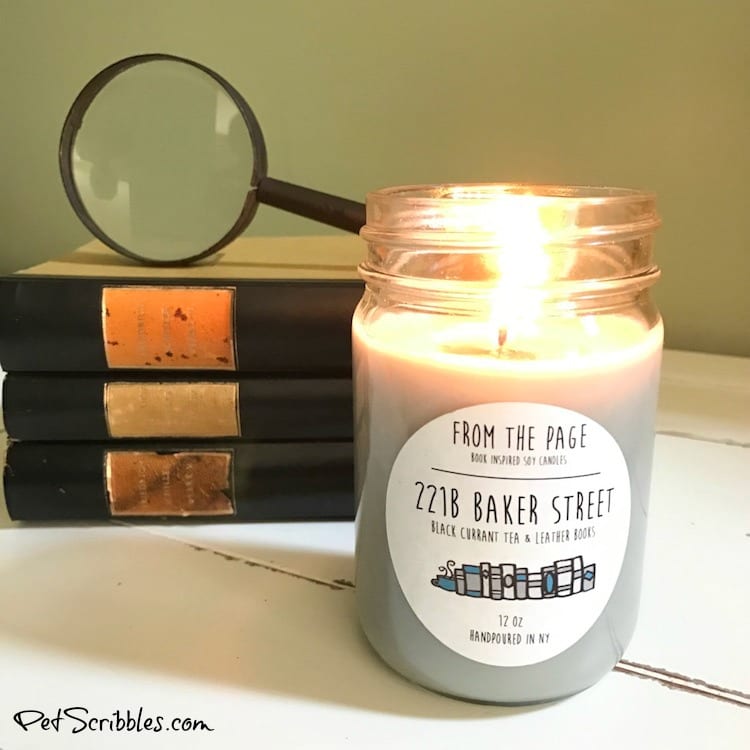 Sherlock Holmes' famous study was located at 221B Baker Street, and if you're familiar with these stories, you can imagine him and Watson sitting in this study and pondering their latest mystery. I can picture walls of bookshelves that are stuffed with books and papers and maps. A globe in the corner. A fire in the fireplace. The housekeeper bringing in a tray of tea.
This candle has the scent of black currant tea and leather books.
I know what you're thinking and yes — it really does give you the feeling of being in a library of old, cherished, leather-bound books. Being a tea drinker, the black current scent is icing on the cake…or candle in this case.
I love the medium gray shade of the candle — a nice neutral color, which definitely works as a gift idea for Mother's Day — or thinking ahead to Father's Day as well.
About the Alice in Wonderland/A Mad Tea Party candle . . .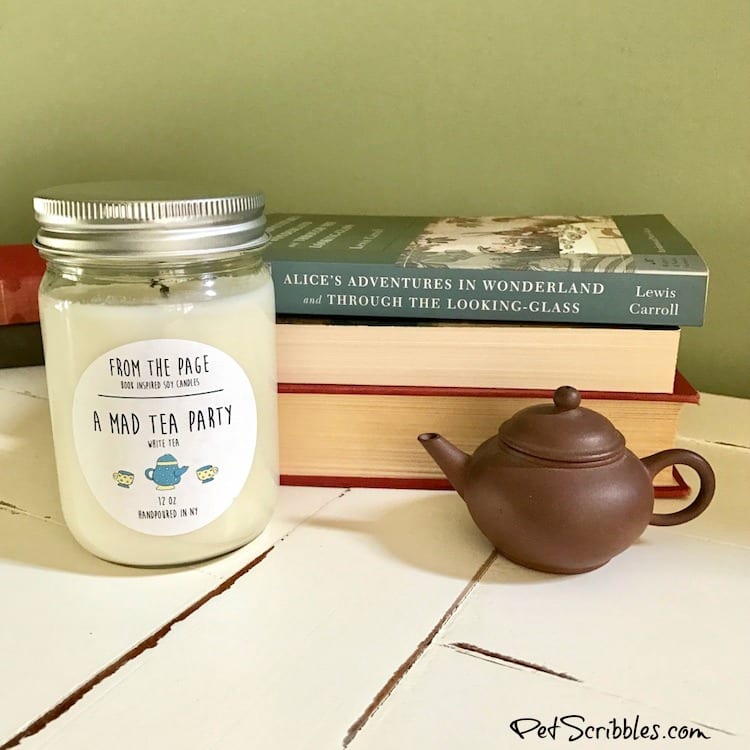 This candle has a scent that I'm almost addicted to, evoking a very different vibe than the Sherlock Holmes candle does.
This candle transports you to a magical world with its intoxicating mix of fragrances: bergamot, lavender, mandarin, thyme, ylang ylang, with a touch of jasmine.
A perfect blend of serenity!
I'm keeping this candle here in my home office to enjoy while I'm working. I even pick it up to smell it when it's not lit.
Do you do that too? Or did I just share something odd?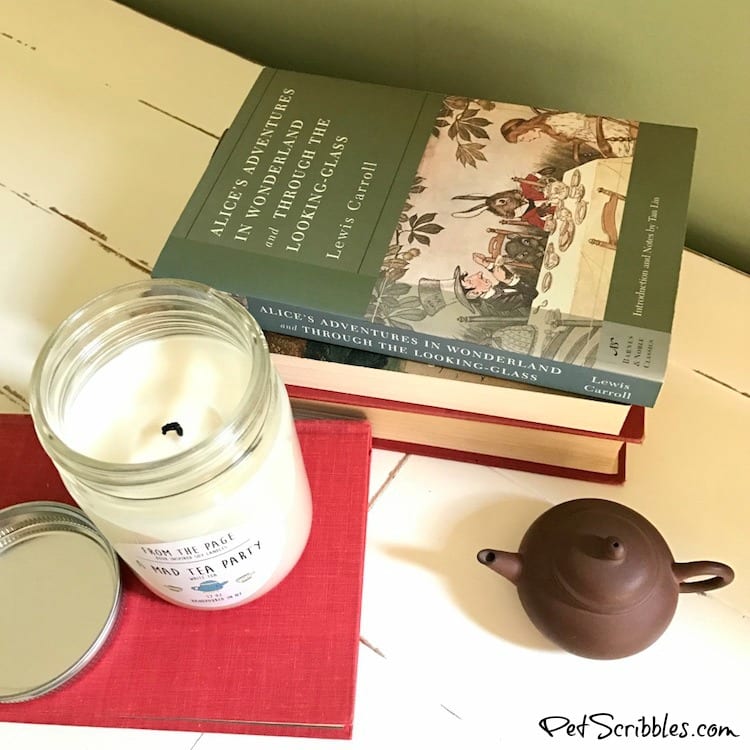 The cons and pros of these candles . . .
The cons are minor…
There are two cons I want to mention first, and only because I decided to be super knitpicky (is that how it's spelled??) since this is a review for you, and ultimately a review to help Uncommon Goods too.
The label on the back of each candle. I realize it has to be there, as it has the UPC symbol on it. But with the front label being so charming, this back label is the opposite of that look and vibe. Yes, I was able to get it off, but not without doing so slowly and carefully with my fingernails. My suggestion is to put the UPC symbol on a tag and tie it onto the jar — if it's really necessary to have — or to use a smaller label and stick it on the bottom.
The wick on one of the candles wasn't centered. Now, I completely get that these are hand-poured candles. But having the wick as close to the center as possible is what buyers expect. This particular wick was closer to the edge of the glass jar. Not a deal breaker, but not as safe when the flame is burning either. I'm hoping I just happened to get a one-off candle that was…well…simply off.
The pros are major!
And most importantly, here are the reasons why I love these candles.
Literally. (Had to use the word again. Had to.)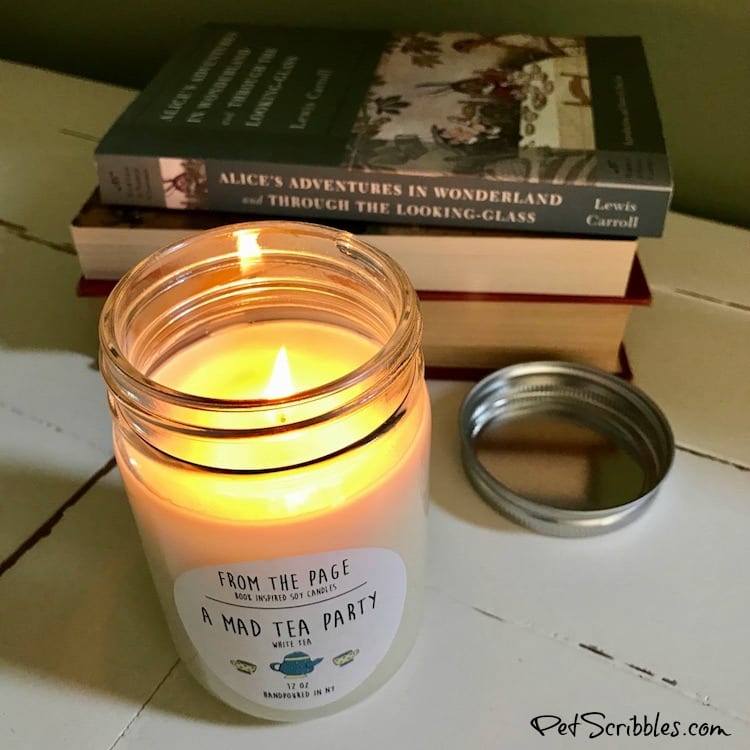 You know what you're getting in each candle: soy wax hand-poured, with a cotton wick, into a glass jar with custom blended fragrance oils. Simple ingredients! So refreshing!
Burns approximately 55 hours. That's a lot of reading and relaxing time!
These are scents that my husband actually enjoys — and he is very tough on candle scents. Very.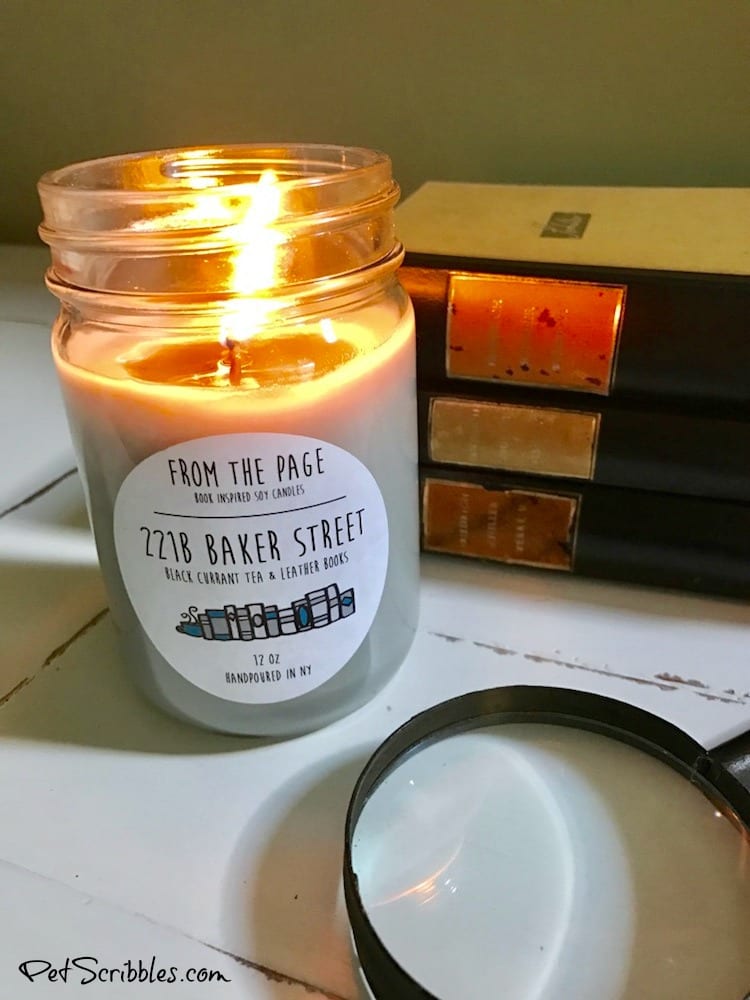 The hand-drawn aspect of both the text and the graphics is charming.
It's in a glass mason jar. Need I say more?
There are over 40 positive customer reviews for these candles! And in the two instances where a customer mentioned something not quite right, Uncommon Goods offered a replacement or refund. You can shop with confidence!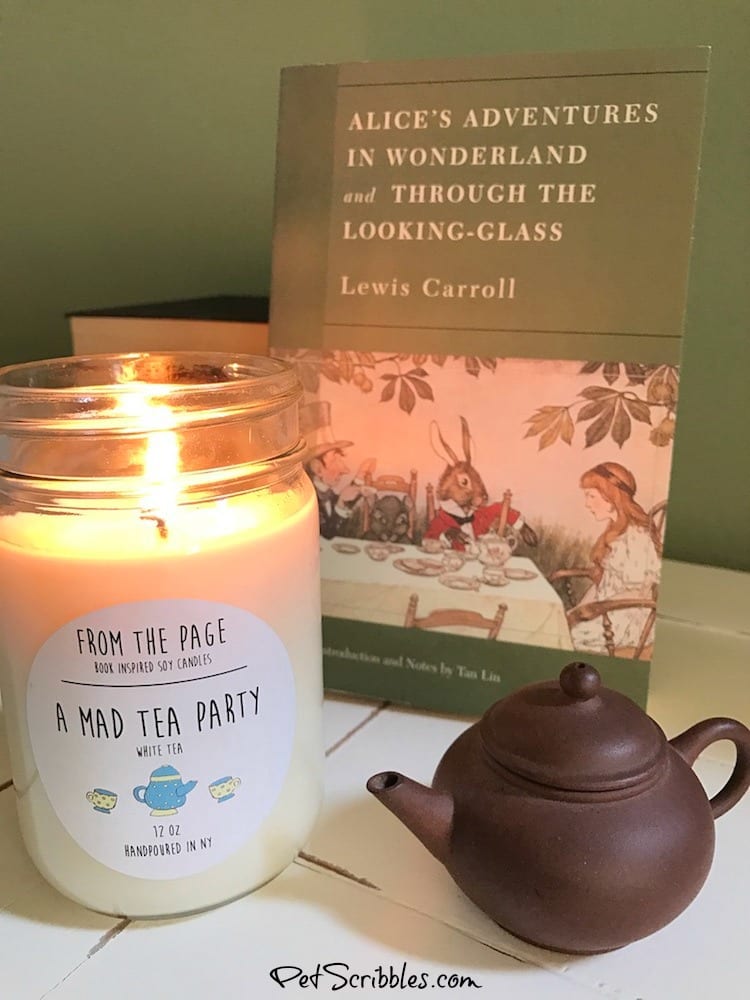 In fact, my guess is that when Uncommon Goods reads my review and sees my comment about the one wick, they will offer to replace it. And so if you're reading this Uncommon Goods: I'm good, no need to replace because we have been enjoying the candles quite a bit already!
Candles, candles and more candles at Uncommon Goods!
OK, so your gift recipient isn't a bibliophile and would rather read from their smart phone than from a book.
I get it.
And so does Uncommon Goods.
That's why there are oodles of candle choices for everyone on your list.
Got a home brewer or beer lover on your gift list? Try these Craft Wax Beer Candles!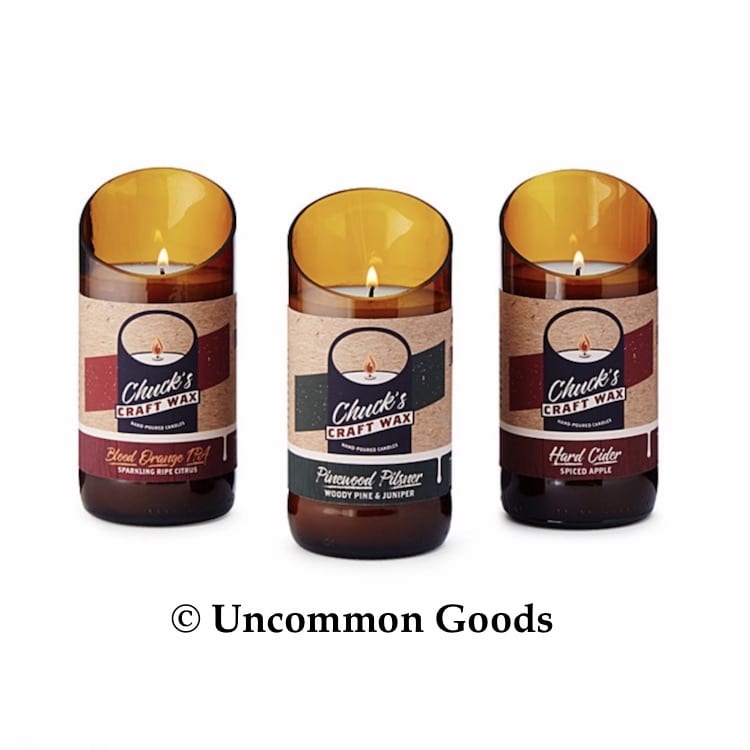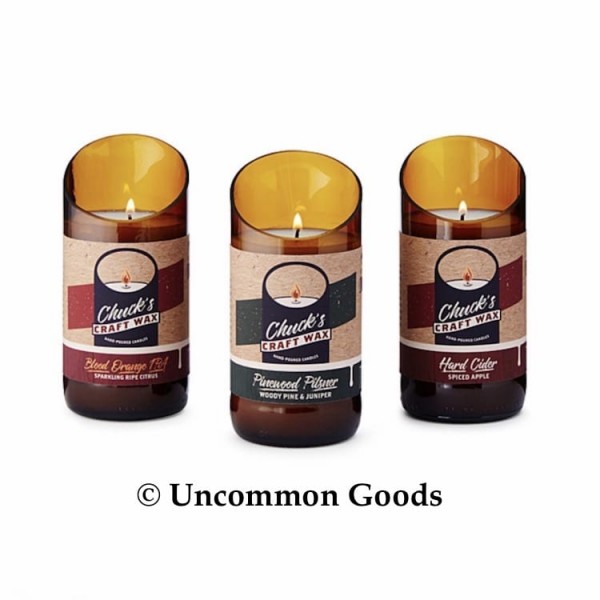 Need an elegant wedding gift? Get these Intertwined Glass Candle Holders. Stunning!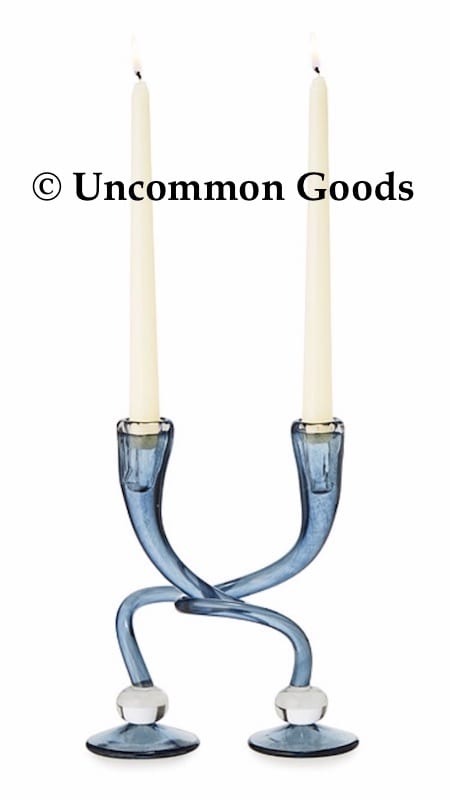 Is there a special birthday coming up? Add to the celebration with this Personalized Birthday Candle that smells like cake!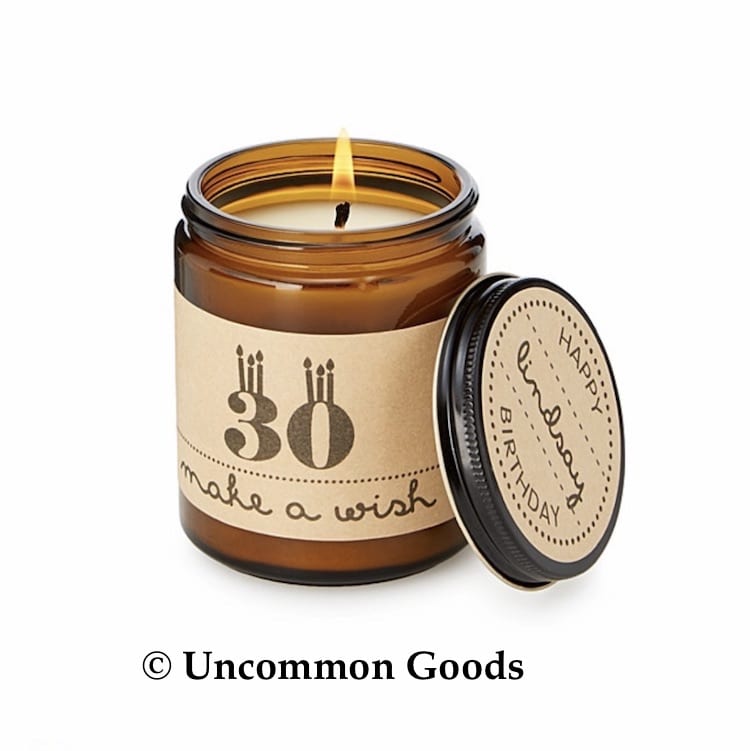 There are candles that are spa-oriented, like a candle that doubles as solid perfume but when warmed up can be used as massage oil . . .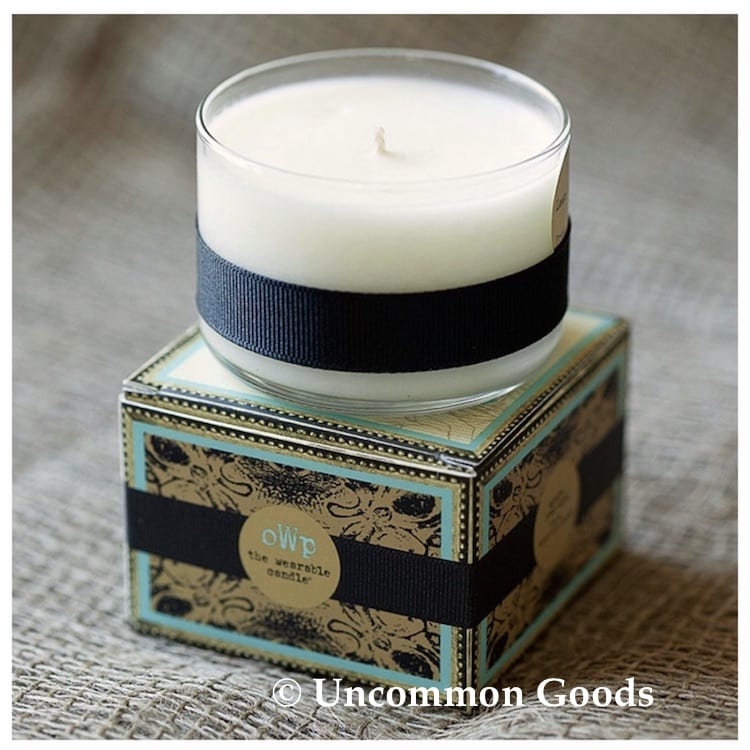 . . . or another candle that turns into soothing lotion: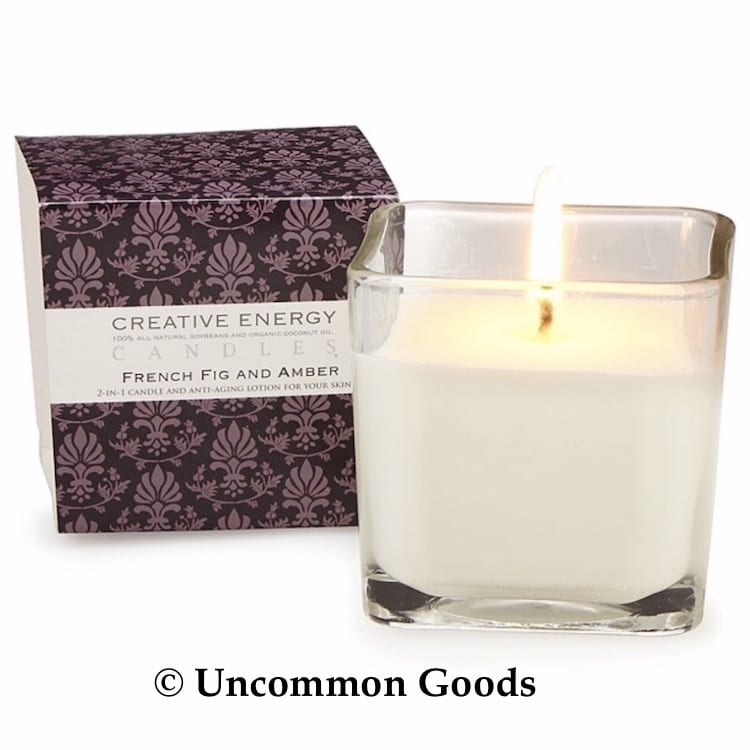 I could go on and on about candles for those who decorate in the nautical style, for pet lovers, wine lovers, gardeners…
You get the idea.
Or rather, hopefully you get the gift ideas! (See what I did there?)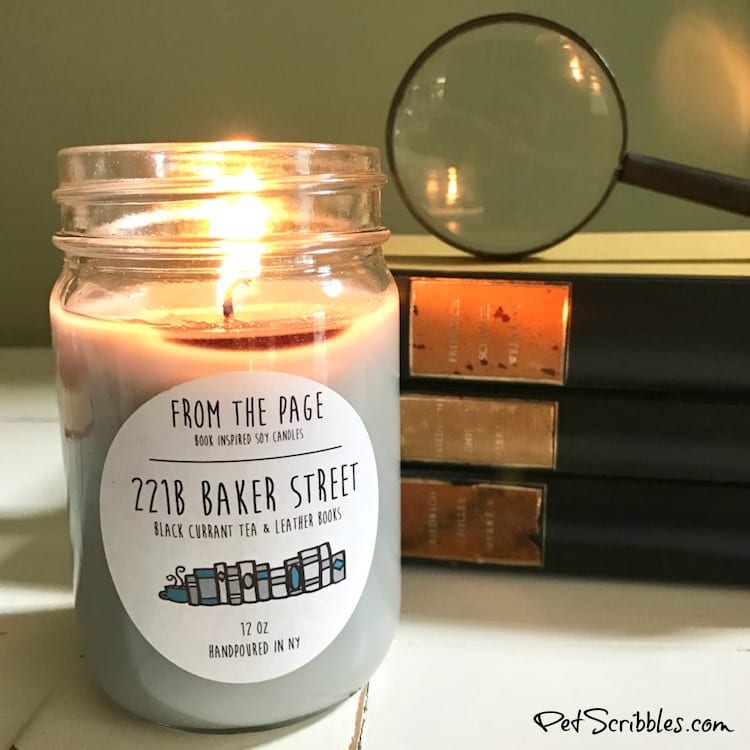 Now it's time for me to sign off and relax with my husband and a good book…and our new favorite Sherlock Holmes candle too!
Happy relaxing!
~Laura