Confused about how to plan your dream front yard? Here are the major questions you need to ask yourself as you begin to plan, whether you hire a landscaping company (like we did) or decide to do it yourself. We now have a grass free front yard that we love!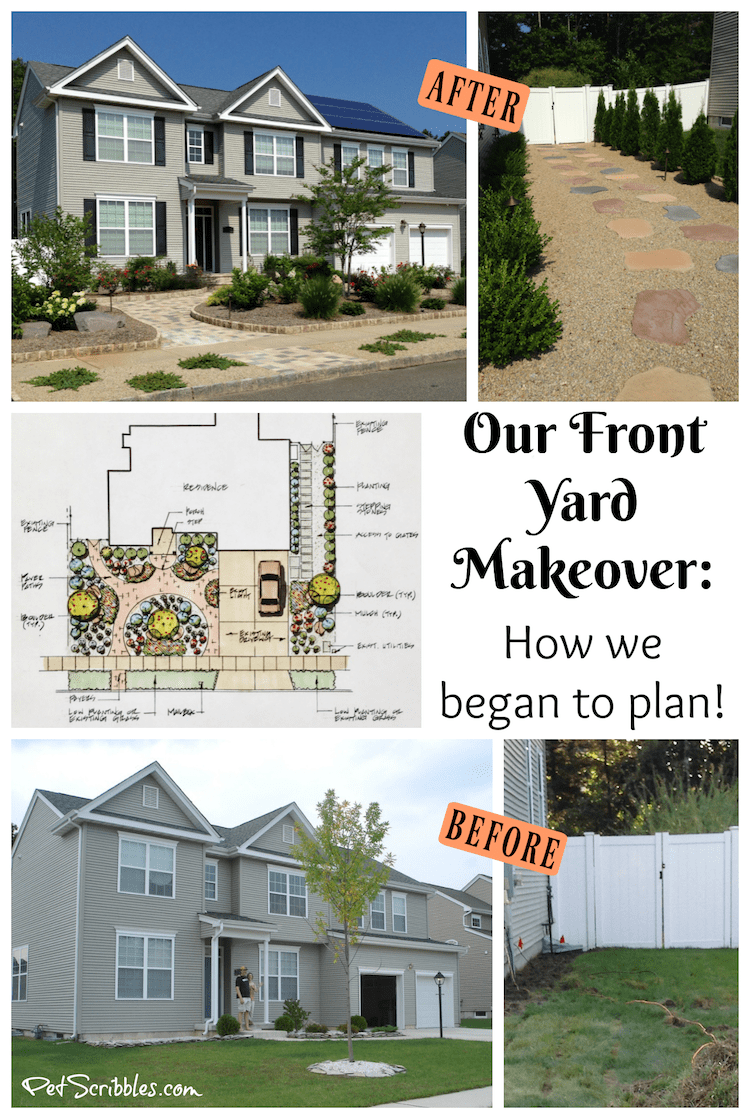 It's hard to believe, but we have lived in our "new" home for almost 10 years already. I guess it's time for me to stop thinking of it as our new home!
Please note: I'm sharing everything we learned while going through the process of planning a major landscape renovation, therefore this is a long 3-page guide. Just so you know up front!
Pin this for later, as there's lots of helpful info in here: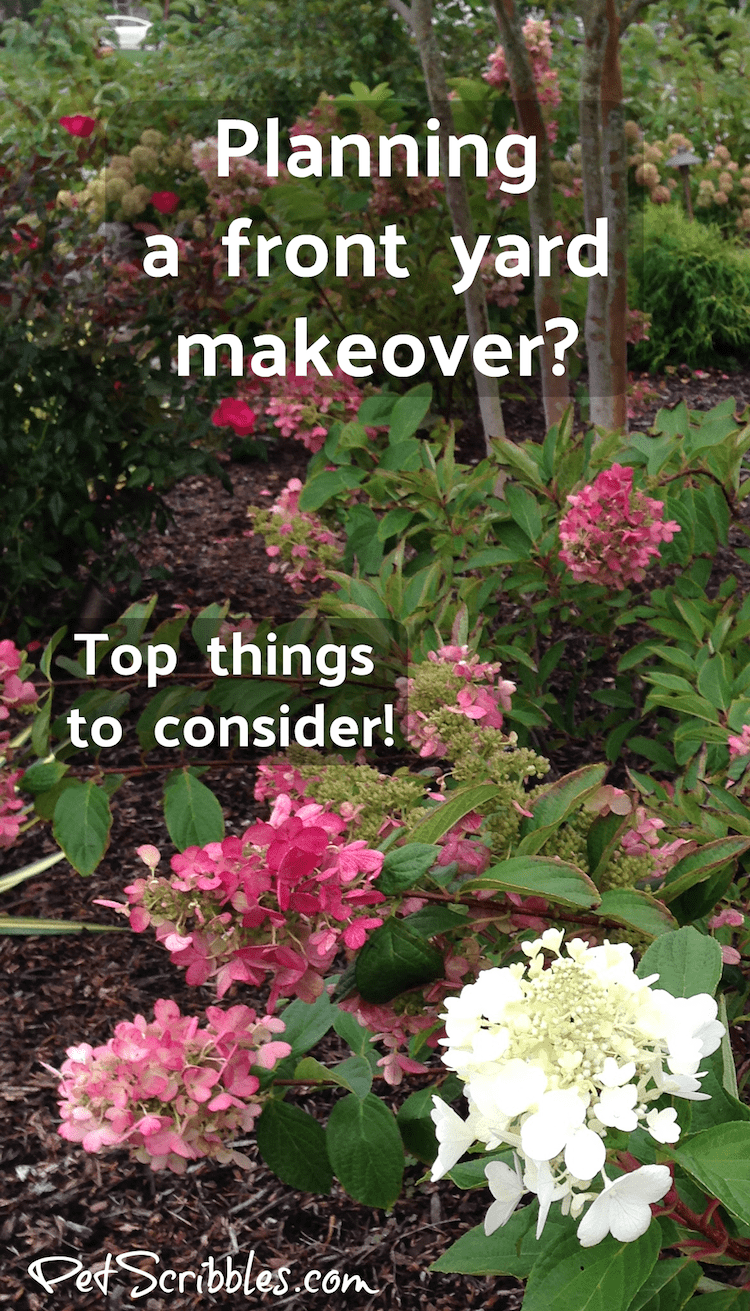 This home was approximately one year old when we purchased it from the original owners. The house was part of a newly built (at the time) development. What we liked about the development is that it was smaller than most developments we had seen, and that there were five different styles of houses designed in different configurations resulting in the neighborhood not looking cookie-cutter style. Although, each home came with the typical blank slate of green lawn and one or two newly planted trees.
(Of course we also liked that both of my sisters-in-law and their families had already moved into the neighborhood! We live next door to one of them, and just down the street from the other!)
After living for many years in both Boston and Philadelphia, we were new to having a yard with grass. But that newness wore off over time. There's no joy in mowing a lawn, let alone all of the upkeep involved.
Fast forward to the present day, and we have a grass free front yard that we are in total love with!
But we didn't get there quickly. It was indeed a process, and we were new home owner rookies.
Having now been through the entire experience, and with the benefit of hindsight over the past few years, I've put together this helpful guide for you.
How to plan your dream front yard!
At the very beginning, it's all about asking questions and learning what you like and don't like. When you start to dig down (no garden pun intended), it can be surprising what you find!
1. Can you live with the front yard for awhile?
If you're a new homeowner, the desire to quickly put your personal touch to your front yard is strong. Resist that urge — and embrace containers of plants and flowers — while you begin to learn about your yard, soil, the amount of sun and shade you get, etc. If you've been in your home for awhile, you may not need to take as long with these planning questions. Just don't get an idea to redo your landscape and then three days later hire a landscape company. But you know this already!
2. How much of your yard do you use?
And in this question, take note of the word use — it doesn't mean how much of your front yard do you mow, it truly means how much of it do you use and enjoy.
For example, our side yard going back to the fenced-in backyard was always a swampy mess. The grass was green and lush, but we could never walk on it, or we would lose our shoes or sandals as they got stuck in the swamp. Whenever we needed to get to the backyard and couldn't avoid it — such as when carrying garden tools that we didn't want to carry through the house — we walked as close to the house foundation as possible. This side yard was unusable space, and definitely not enjoyable.
Another example? Gardening. We built two raised beds on each side of our front entrance.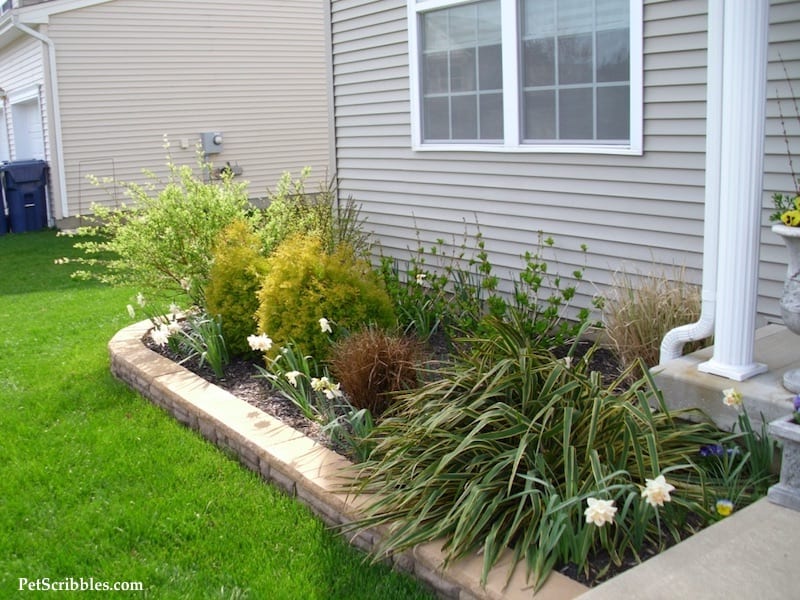 Over time, as any gardener knows, your garden (hopefully) thrives and you have no more room to plant anything.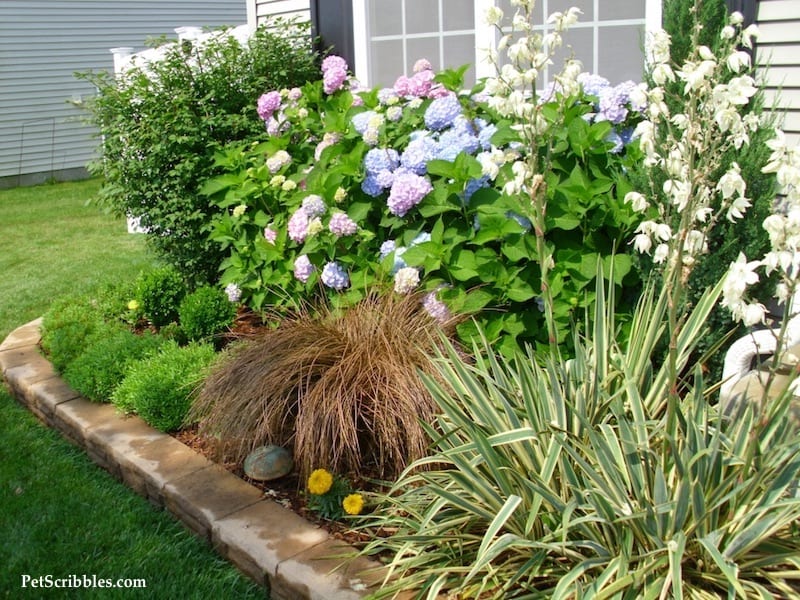 And as any gardener knows, you always want to plant new things. Always! LOL
I tried to make a little garden around the lamp post, but the ground was hard as a rock. I gave up and tried sticking a container pot there. It looked nice for awhile.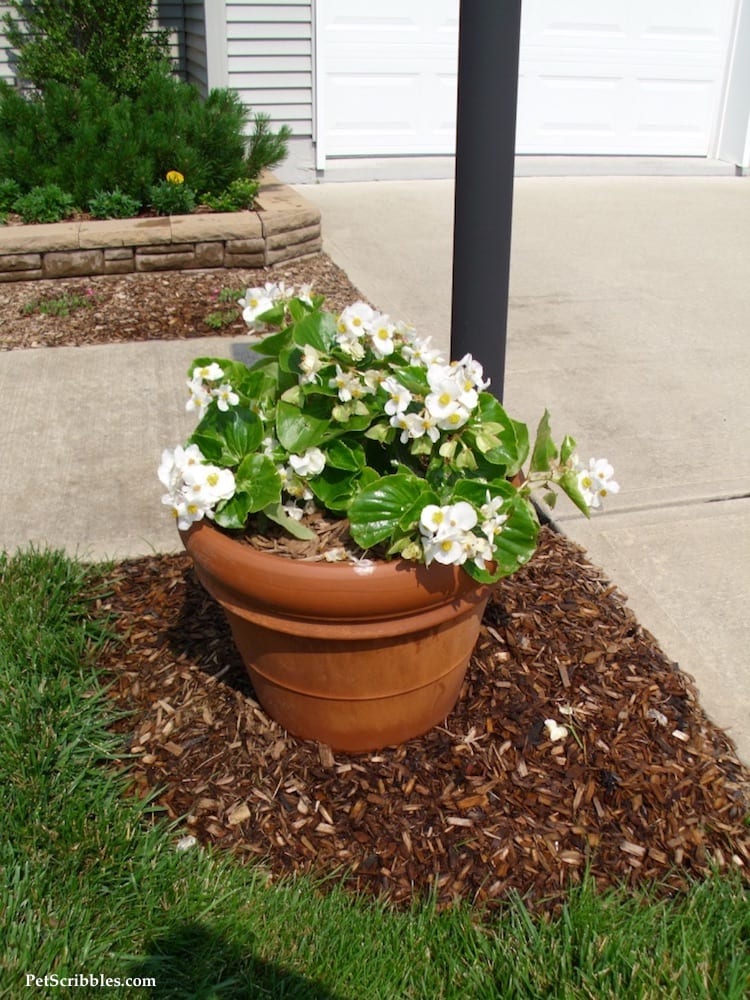 And then I might have stopped caring. No, I might have already been in the "we've got to give this yard a makeover" mode.
3. What do you love about your yard?
It's easier to know what you don't like than what you do.
So let's try and come up with a few things you love about your current front yard.
Maybe you have a beautiful porch. Perhaps you already have amazing exterior light fixtures. A current garden bed that is doing fine as is? A flowering tree that blooms each Spring?
You might not be able to come up with many items, but definitely walk around your front yard and consider what you like. Look at pictures you've taken, and see what stands out to you.
For us, we loved how well the plants grew in the two garden beds we built on each side of our front entrance. And we loved that the previous owners had already installed a fence around the backyard with a nice, wide gate. And . . . that was probably about it.
So. We loved a total of two things about the front yard. (Our "what we hated" list was, of course, much longer!)