I made this colorful outdoor giant Jenga game last Summer, and am so excited to share it with you today! Painting the ends of each block with paint that can withstand outside elements is the icing on the cake!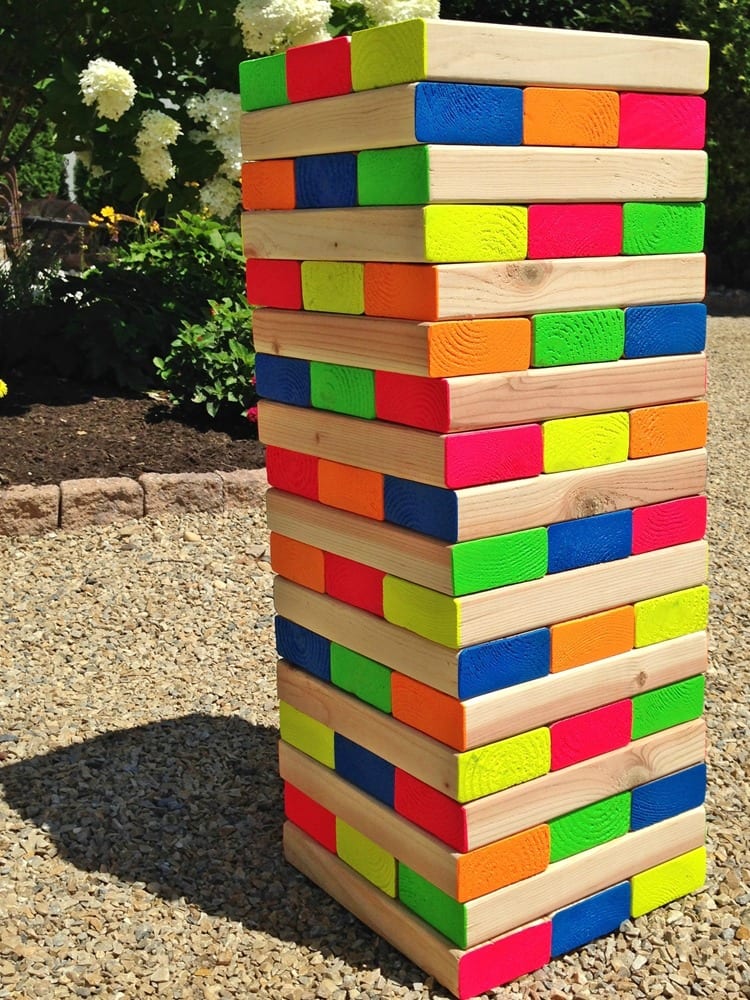 Special thanks to DecoArt, who sponsored this fun DIY!
So. You're looking for a new backyard game that your family and friends can play.
Something other than the usual outdoor games.
Think of what you love to play indoors, and make a giant version of it!
That's what I did!
DIY Outdoor Giant Jenga Game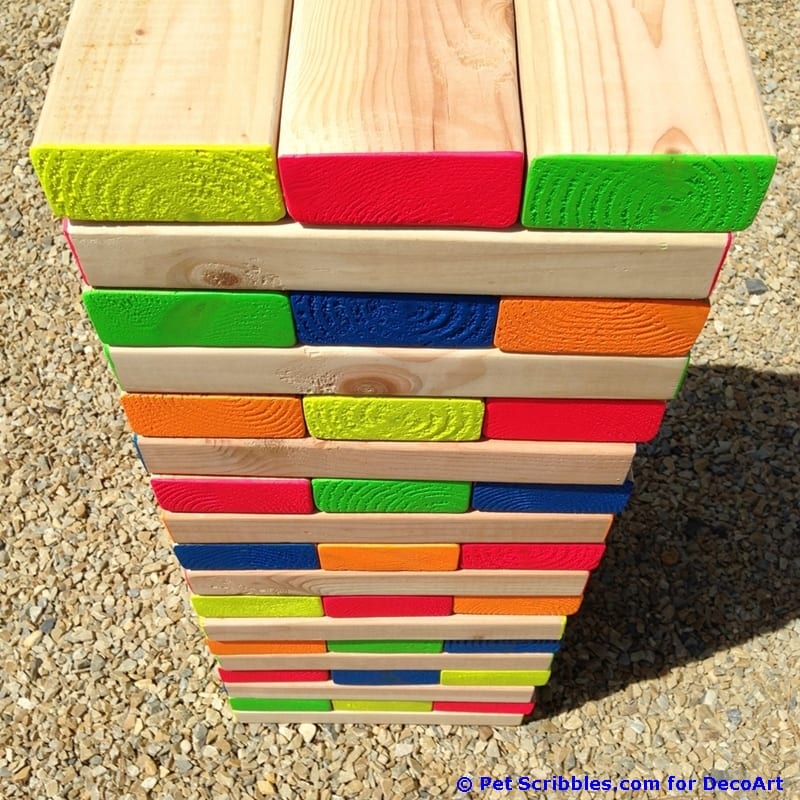 It all starts with a fun trip to your local home improvement store to have your wood pieces cut to size.
Jenga traditionally uses 54 pieces of wood. Since I was scaling up to make a large version, I used 2 x 4 unfinished wood.
The true width of a 2-inch by 4-inch board is actually 3.5 inches. Therefore you need to have the length of each Jenga piece equal to three times the width of each Jenga piece.
3.5 inches (width) multiplied by 3 = 10.5 inches length needed for each Jenga piece.
Using 2 x 4 wood pieces that are each 8 feet long makes this easiest. You can get 9 pieces (each 10.5 inches) from each 2 x 4, plus a little extra nub left over.
9 pieces of 10.5-inch wood x 6 long pieces of 2 x 4 = 54 pieces total.
Yes, you could cut the word yourself. And that would make you way more patient than I am!
The longest part of this entire project was sanding all of the wood.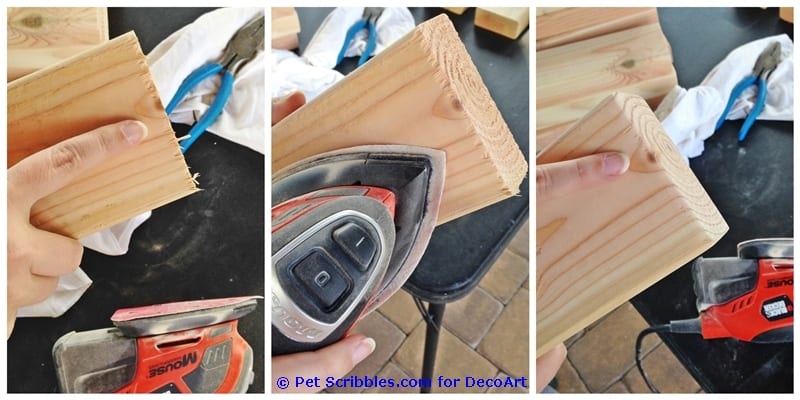 However, make it as enjoyable as possible: I sanded outdoors in the shade, with a fan blowing to help with the dust — and to give me a breeze too!
Once I finished, I may or may not have spent a few days admiring my sanding before continuing!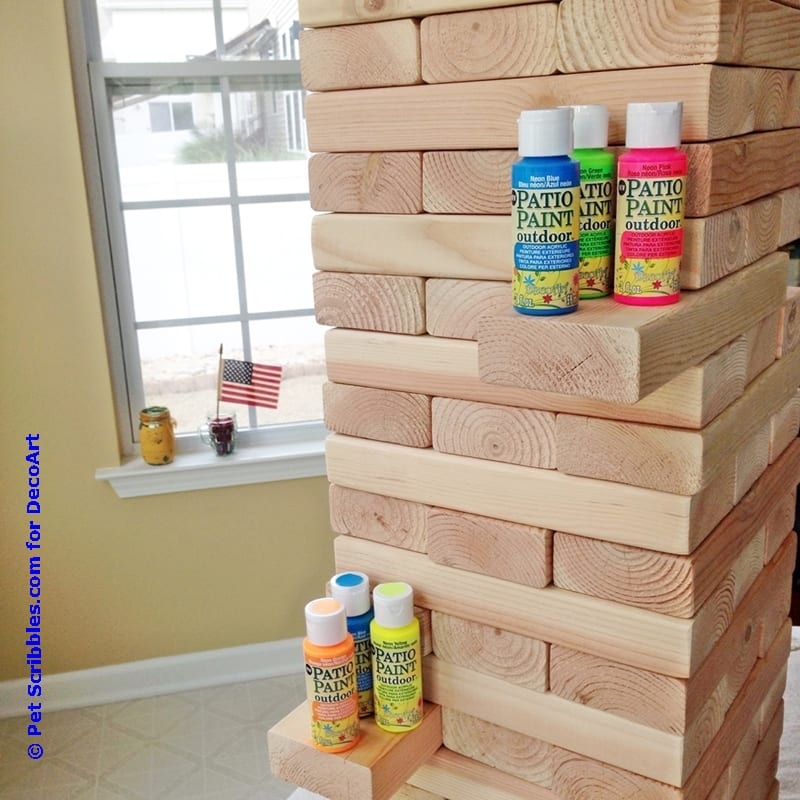 Since this was going to be used outside, I wanted to use DecoArt's line of Patio Paints — which are specifically made for outdoor use.
You're almost unlimited in what colors you want to use for your own DIY giant Jenga set. The Patio Paint line comes in over 50 colors — from pretty pastels to vibrant shades.
I chose to use their bright neon colors!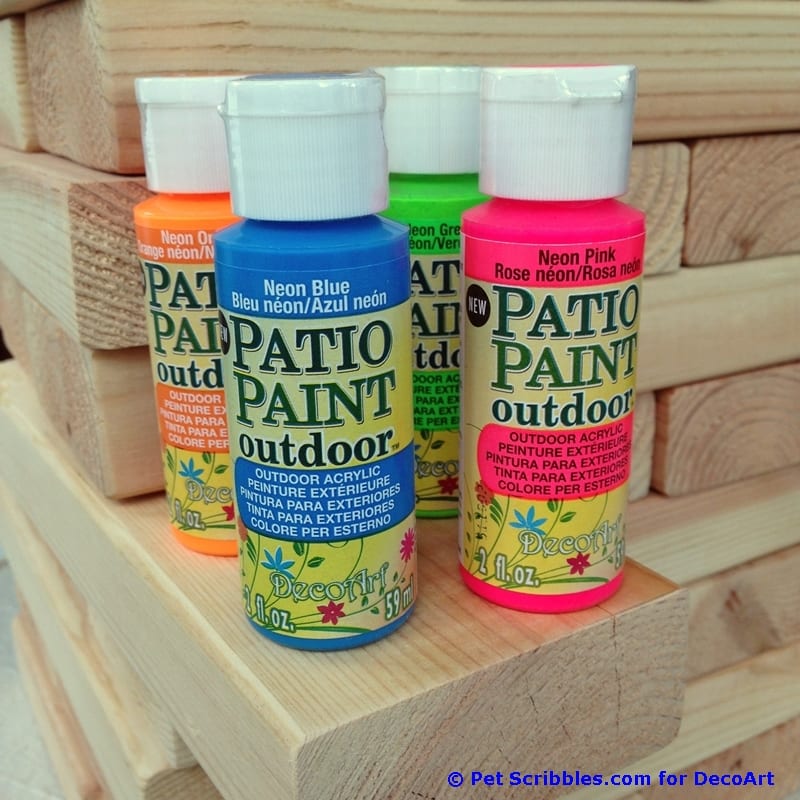 After masking off the edges with painters tape, it was time to paint!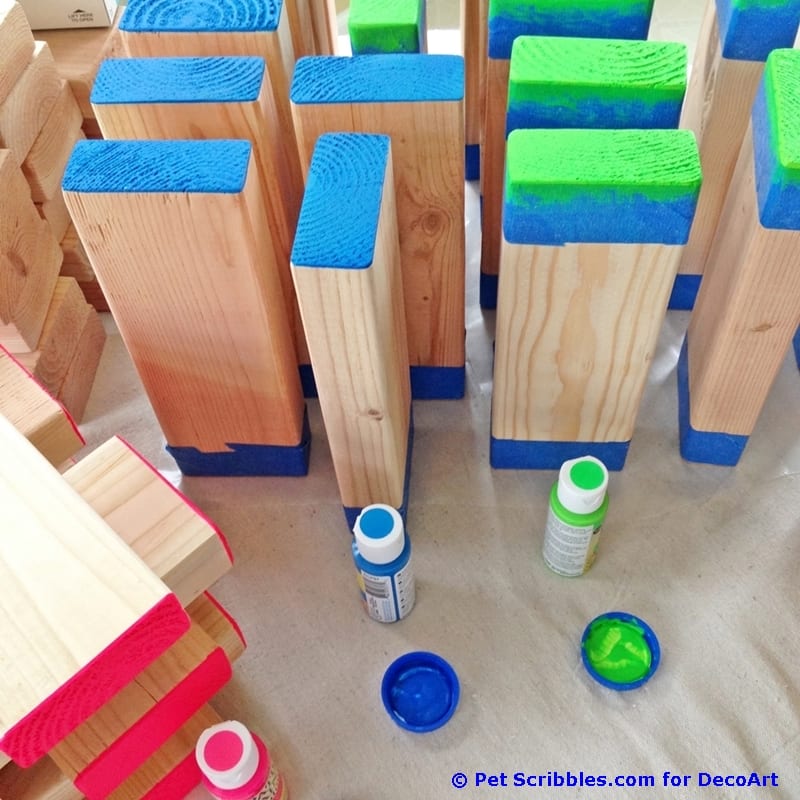 Before you begin painting, just determine how many colors you want to use, and then divide up your wood pieces so you have a similar amount of each color.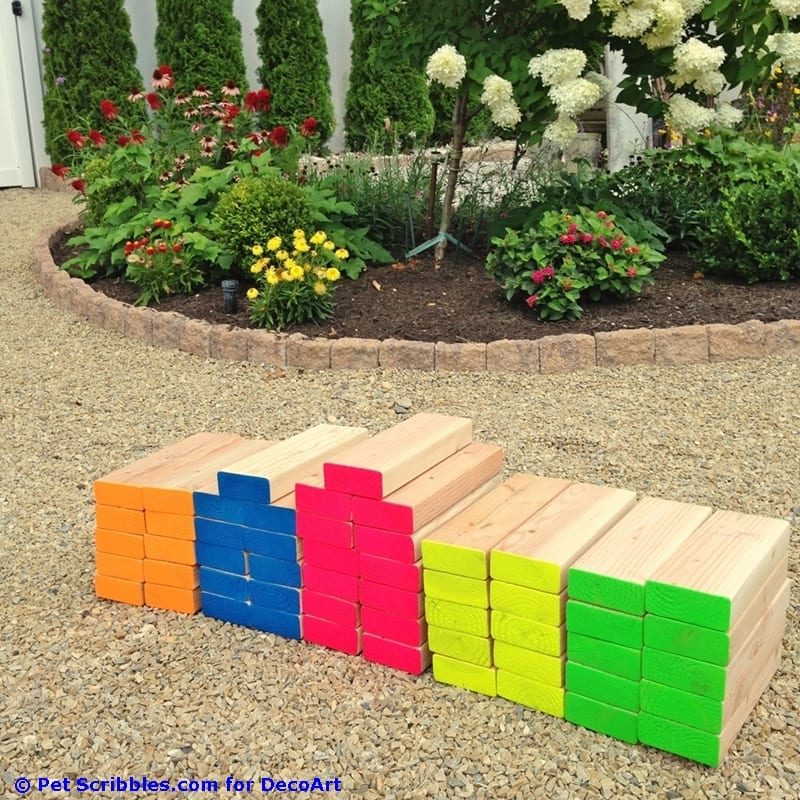 My complete tutorial is on DecoArt's website for you, including printable instructions that you can also download.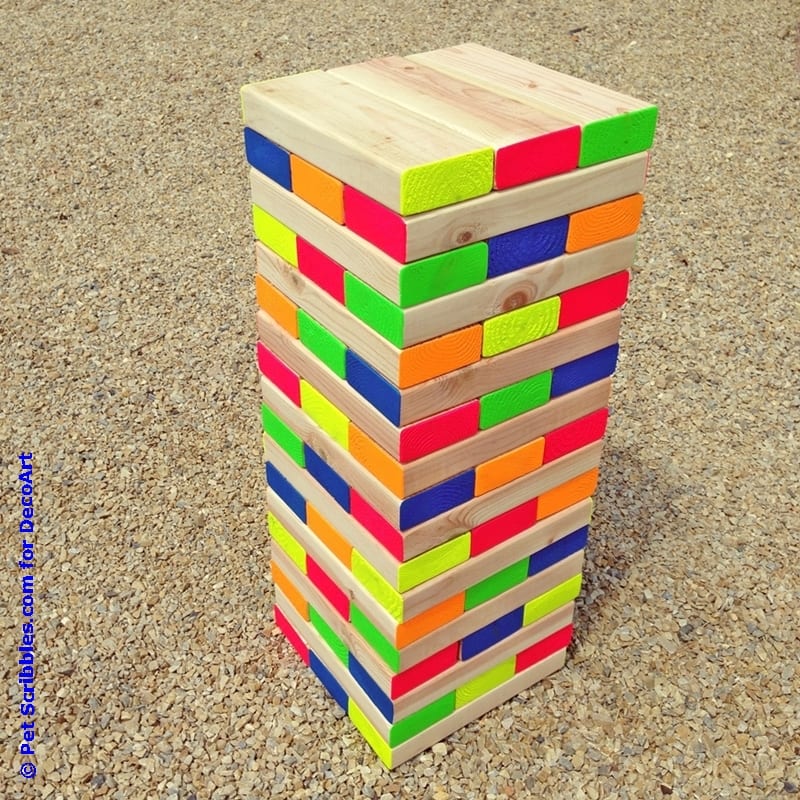 Click here or click on the image below to get the step-by-step details, including a list of supplies needed: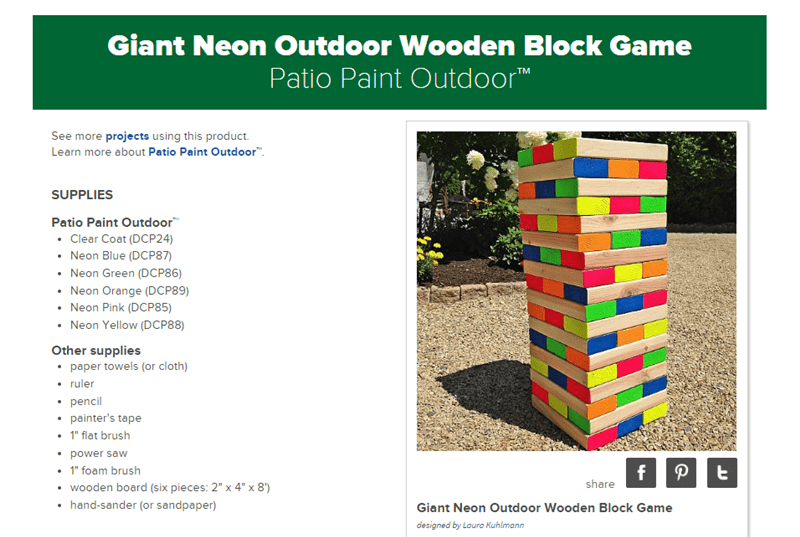 Let's play some Jenga!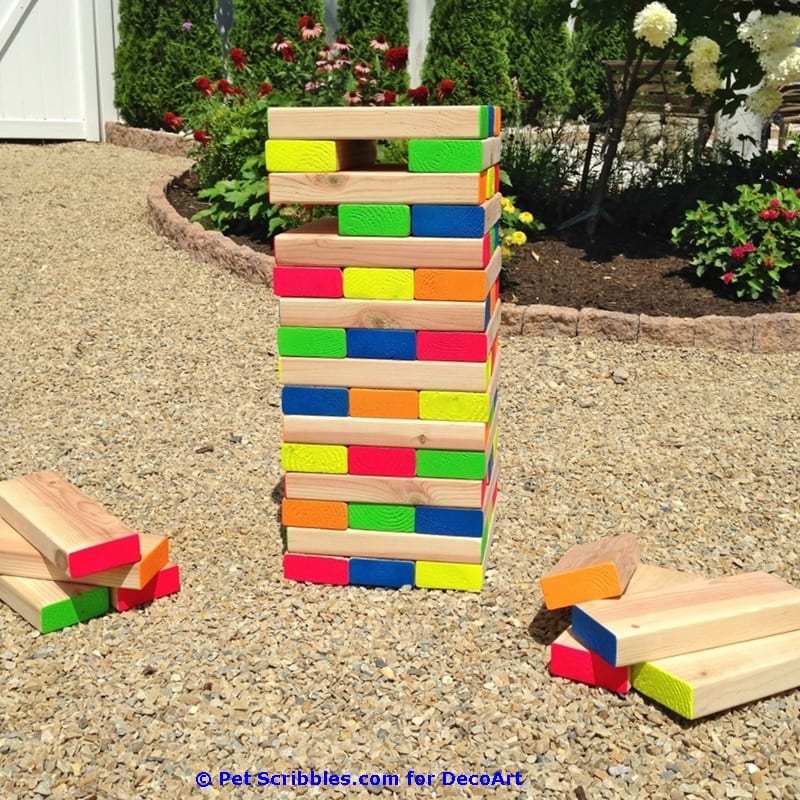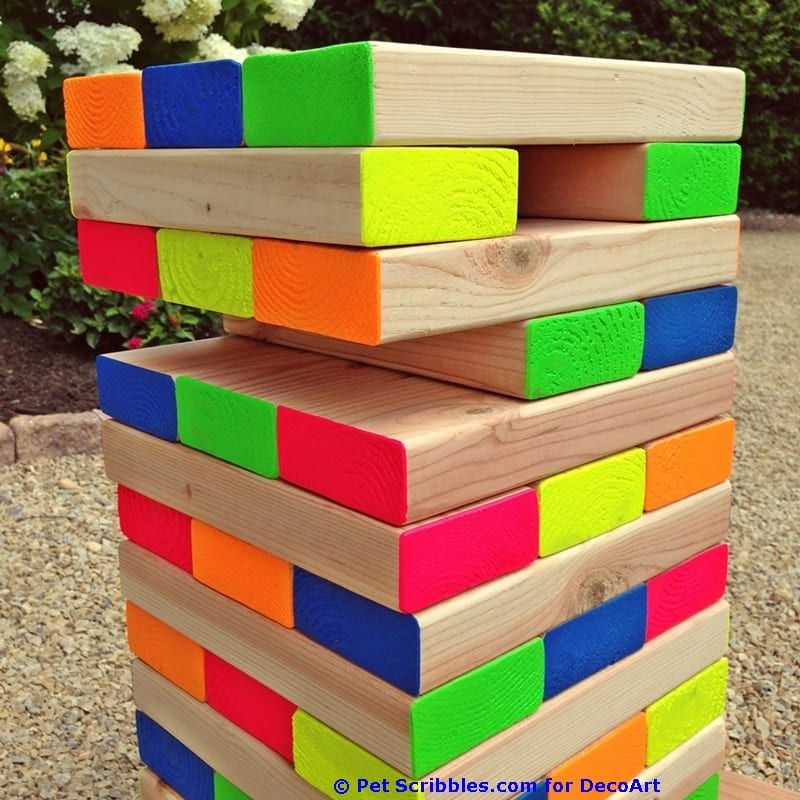 Large outdoor Jenga sets are popping up at backyard parties and even outdoor wedding receptions! Imagine painting a large set in colors to match your wedding.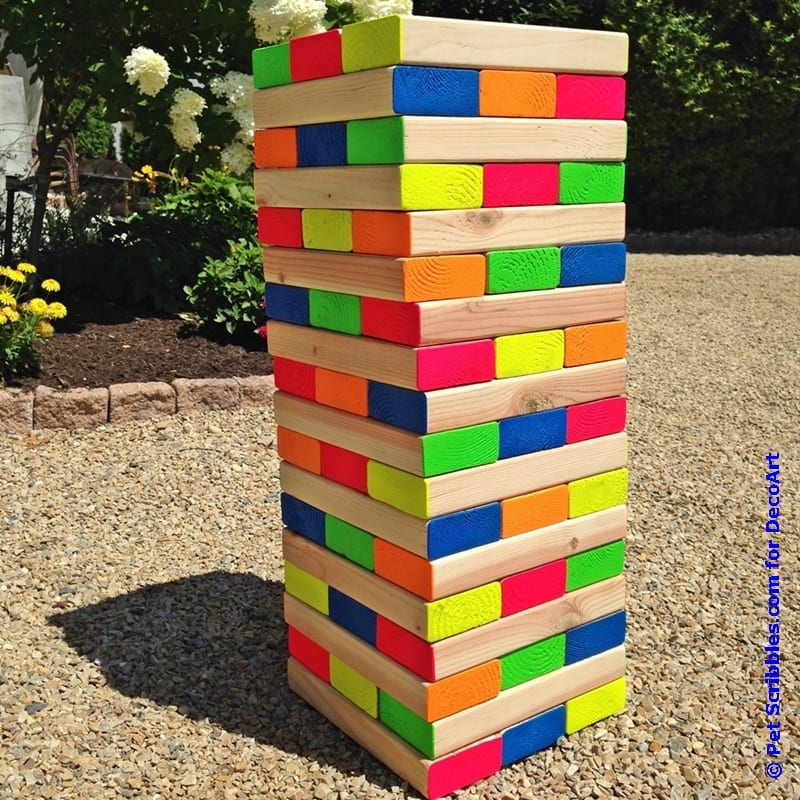 This game doubles as a fun photo prop too!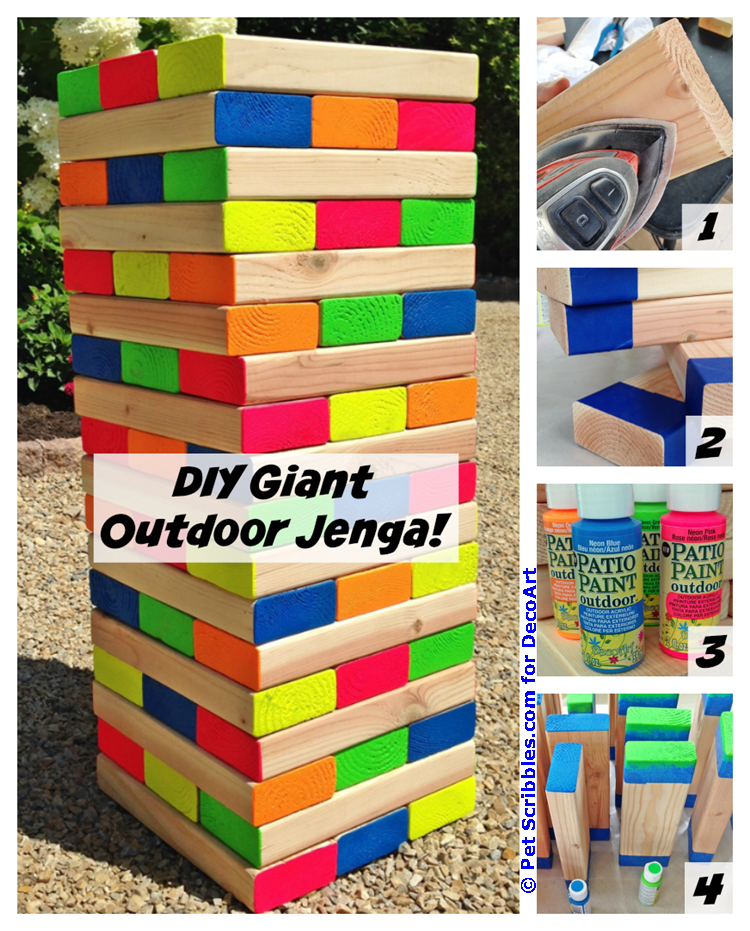 Happy crafting!
~Laura