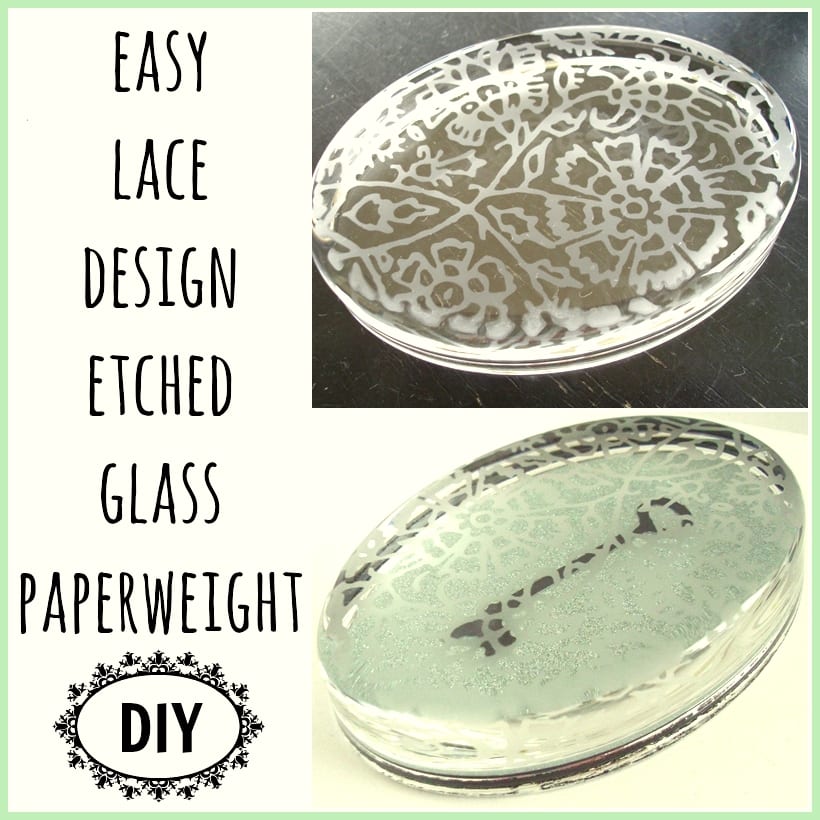 Where have I been? Either outside gardening and getting our yard in order, or inside playing with my newest favorite product from Martha Stewart Crafts: Glass Etching Cream. I showed you how to make your own etched beer glasses last week. It's a great Father's Day gift idea – very easy to do with excellent results in a short amount of time. We like those kinds of crafts!
I've been having so much fun trying out this cream on different glass pieces that I have, and over the weekend I got an idea that I wanted to try out. It worked! And it turned out exactly as I had envisioned, which is always "a good thing" as Martha would say!
Presenting . . . (can you feel the anticipation?)
How to make a lace design on glass using the Martha Stewart glass etching cream.

I tried this out on a basic glass paperweight found at a craft store years ago. (Yes, this lovely thing has been sitting hidden under lots of other loot in my craft room. Let's hear it for Spring cleaning and the goodies you can uncover!)

For complete start-to-finish instructions on how to use this cream, please see my tutorial on DIY Etched Beer Glasses here.
I cover all the specifics, including
prep work needed
complete supplies list
step-by-step instructions
action shots
Yes indeed, there are action shots! Glass etching happening before your eyes! So click over for the details. Then pop back over here and check this idea out!

Basic supplies: (refer here for complete list)
Martha Stewart Glass Etching Cream
Martha Stewart Crafts Foam Pouncers
Martha Stewart Floral Paisley Adhesive Silkscreens
Rubber gloves
Blue painters tape
Glass paperweight
Optional: decorative paper, fabric and/or embellishments to finish off your piece
My idea was to use the etching cream over a silkscreen to get the look of an etched glass lace design covering the top of my paperweight.
After I washed the paperweight and applied rubbing alcohol to get any remaining oils off, I applied painter's tape around the sides of the glass.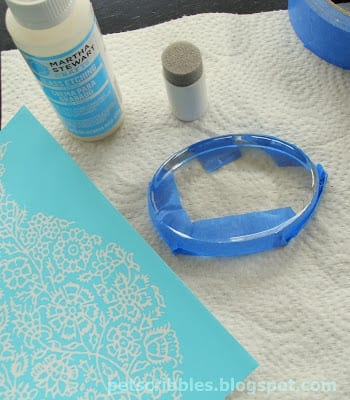 Next, I carefully removed the large paisley silkscreen from its packaging and backing, and played with the placement on the paperweight until I was happy with how I hoped and prayed the "lace" would look. The silkscreen is adhesive-backed, which made placement easy. Apply a thick layer of the glass etching cream with the foam pouncer. Because there are tiny netting holes (best way I can describe it for you) in the silkscreen pattern where normally the glass paint would go, I pounced the cream down a bit heavier than I'd normally do for stenciling, just to give you an idea of technique.
Once the cream was globbed on, I chose to wait 25 minutes instead of the normal 15 minutes, because I had no idea how this was going to turn out thought it might need the extra time to do its etching magic! You can see below how the large paisley stencil covered the paperweight, and then some, making it easy to use for my lace pattern idea.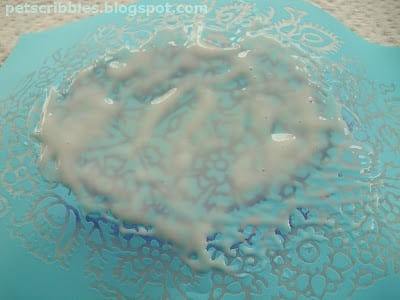 And it worked!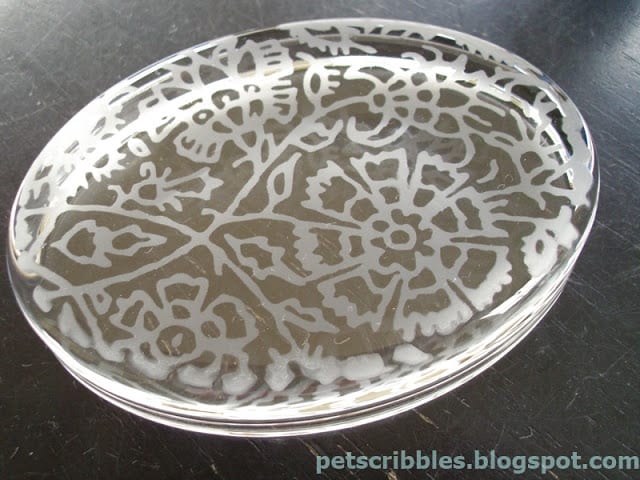 It totally worked just the way I had imagined! Whoo hoo!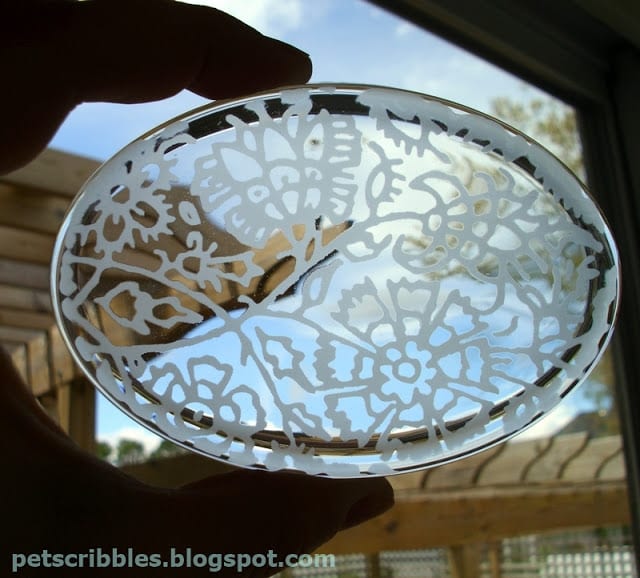 You could really show off the lace pattern by applying some black velvet or velour to the inside of your paperweight. And I will probably do that on some future ones – but the idea I already had in mind was to cover the paperweight in the glass-etched lace, and then put a solid sparkly paper underneath along with one antique-style key.
I have a bunch of small diecuts accumulated over the years – you know how it is – and a found a great vintage-style key. However, the coloring on it was more of a muted gray. I wanted black, so I grabbed my trusty StazOn ink pad and stamped it all over the key to get it exactly the way I wanted.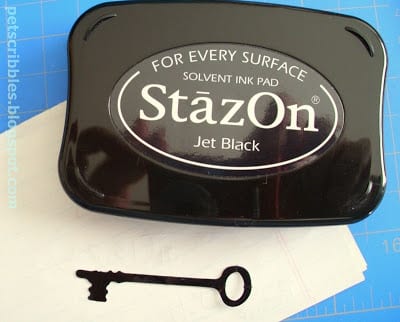 Next I made the key into a sticker simply by using my Xyron 150 Create-a-Sticker tool (named for the 1.5″ width opening). Simply put your item in the opening on the upper right side, pull the adhesive strip out slowly on the lower left side, and tear off.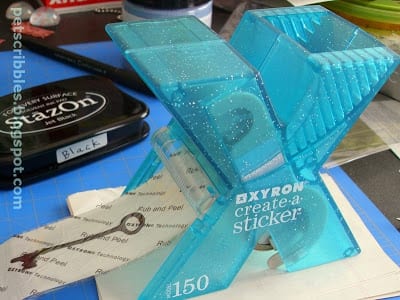 After rubbing the sticker paper covering the top and bottom of the diecut with my bone folder (to make sure all the adhesive transferred to the key), I removed the key from the sticker paper and placed it in the center of my oval cardstock shape I had previously cut out.
The paper I used is a gorgeous mint-colored glitter cardstock from American Crafts, which I first played with when making my Springtime Large Paper Medallion. I adore this cardstock and definitely want to get some other colors! I used a piece of adhesive-backed black felt that came with the paperweight for the base.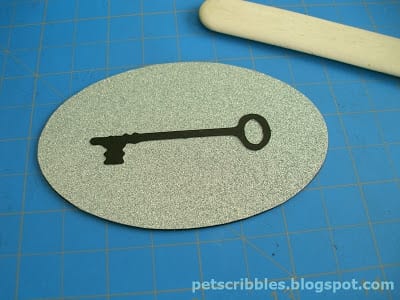 I'm smiling big-time as I type this, because I love the way this paperweight turned out and still can't get over that it looks exactly as I had hoped and prayed that it would! 🙂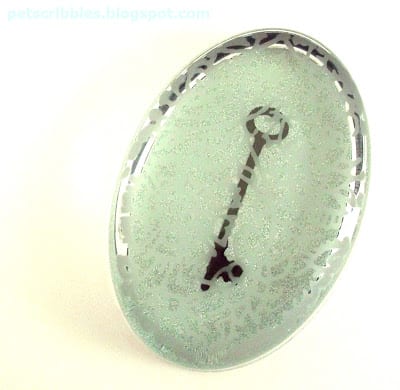 Depending on how the light catches the paperweight, your eye is either drawn to the etched glass lace pattern, or your eye goes further down to see the gorgeous glitter paper and key, which are slightly magnified by the paperweight too!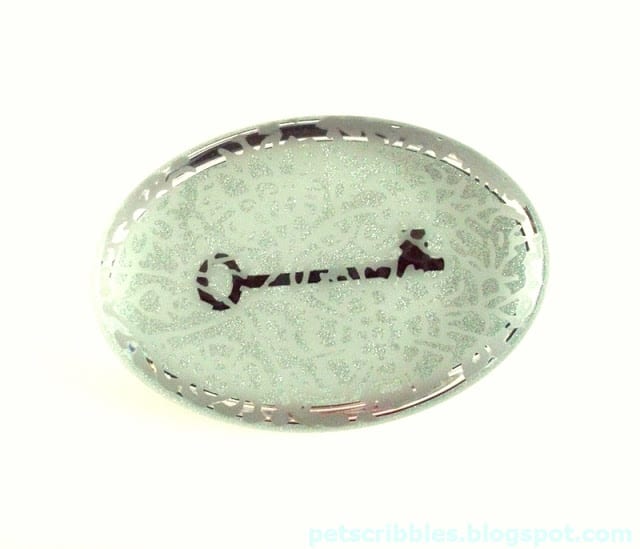 This paperweight has a slight inset where I fit the mint cardstock oval, so the black felt base provides a nice border.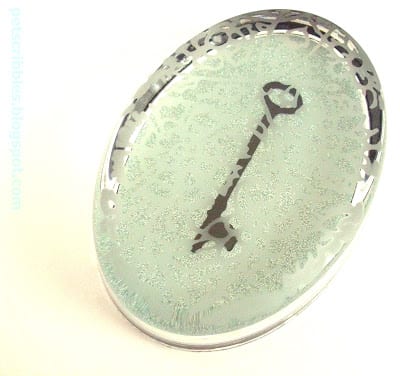 Now that I know this works, I'll be making many variations of this technique for gifts. By altering the decorative backgrounds and embellishments used, you could make something to suit each gift recipient's taste. Just think: DIY office gifts for your co-workers, hostess gifts, Christmas gifts… I am hooked!
~Laura
PS – This is not a sponsored post. Just me experimenting with my new favorite product! 😉