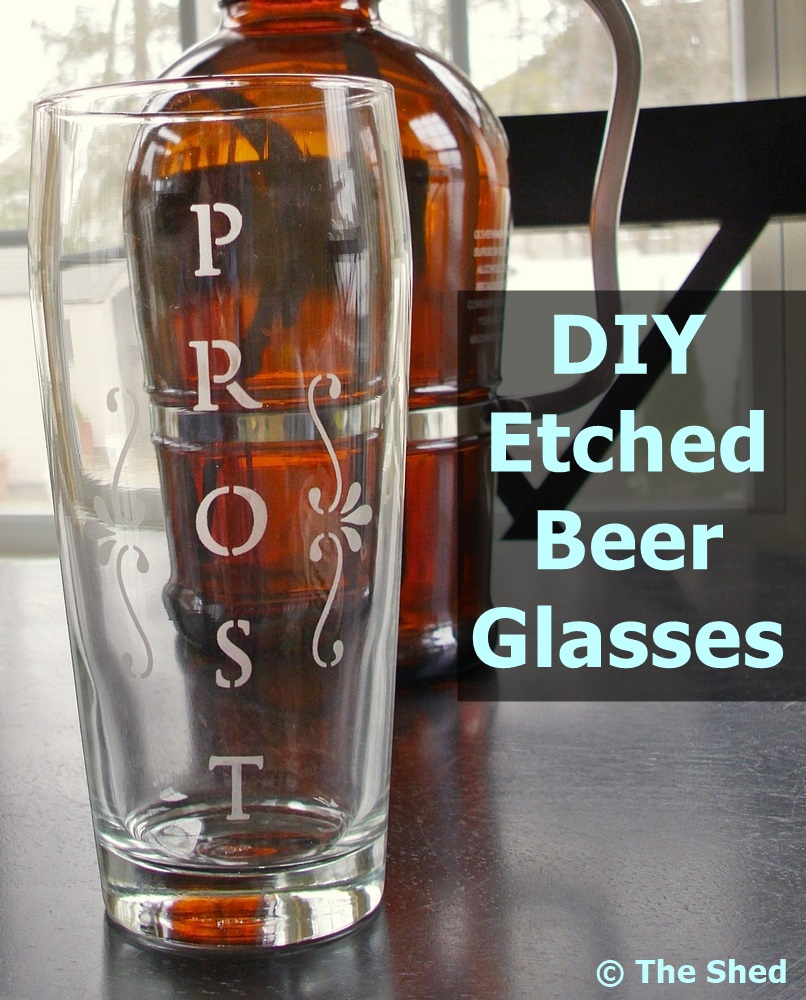 My husband is a homebrewer, as in brews his own beer. I'm not talking anything basic here, but rather a burgeoning craft brewery developing in our basement what with all the fancy equipment and gadgets needed to produce quality craft beers. (He's even attending a national homebrewers conference in Philly this Summer to learn from the experts. We're talking serious homebrewer!) So, making some etched beer glasses is a perfect Father's Day gift. No, we don't have kids. We do have cats. And so our cats will be giving these glasses to him on Father's Day!
I received an amazing array of supplies from Martha Stewart Crafts, and the moment I saw the Glass Etching Cream, I knew what I wanted to make for my husband: Etched Beer Glasses!
Supplies needed:
Beer Glasses (I used Pilsner-style glasses, which are easily found at many stores)

Martha Stewart Crafts Glass Etching Cream (with included brush)

Martha Stewart Crafts Glass Adhesive Stencils – Classic Serif Alphabet

Timer or clock
Step One: Preparation of the Glass

Wash your glasses with dish soap and water, dry thoroughly, and then apply rubbing alcohol all over to make sure there are no remaining oils on the glass.
Don't keep the rubbing alcohol bottle open too long, as it will A) begin to evaporate into your breathing space, and B) begin to stink!

Step Two: Placement of Stencils

This may take some time, depending on what you want your stencil design to be. Monograms are a great choice, as you can use a large letter for the center, and two of the smaller letters (in the same package) for each side. Words are an easy choice, of course. And the Martha Stewart Crafts Classic Serif Alphabet Stencils include numbers plus a few graphic elements as well, if you want to make a design with or without letters.


I chose the German word Prost, which translates to Cheers in English. Husband's family from Germany, a word we've used many times here and over there, seemed like a natural choice!
After playing with the placement, I decided to place the letters vertically for easier reading. Once I was happy that their placement was as perfect as I was going to get it, I felt like it needed something more. I added one of the graphic elements, with the intention of reusing the stencil to add one to the other side of the letters as a mirror image.
Tip: As these stencils themselves don't have guides or lines to match up on them, you do need to play with your placement a bit. I used a straight edge for placing the letters, but still needed to adjust. For the graphic swirl elements I used a tape measure to make sure the placement was spaced correctly.
Step Three: Mask Area Around Stencils
As an extra measure of protection, I ripped up thin strips of my painter's tape to mask the area around each stencil, to avoid getting any etching cream where I didn't want it. (Trust me: this is a good step to do, as I found out when I first played with the etching cream on some recycled glass jars!)



The first three steps take the most time. And you should take your time with each step, because the better your preparation, placement, and masking, the better your etched piece of glass will turn out.


Step Four: Apply the Etching Cream
Here's the fun part: the glass etching actually took the least amount of time for me! Because once you apply the etching cream,
you simply have to wait 15 minutes!
Apply the cream in a thick layer evenly over the stencils, while being careful not to get too close to the edges of your stencils and/or taped areas.

Time to check Instagram, Pinterest, or sit and stare at the etching cream and wonder if this easy process is actually going to work. (I did all three!)
After 15 minutes, rinse the etching cream off very well, then remove the tape and stencils. I washed off the stencils with hand soap and set them to dry. And then admired my handywork! Yes, this easy process worked! And looked fantastic! But I wasn't quite done yet.
I washed the glass where I wanted to apply the "mirror image" of the graphic swirly stencil, dried thoroughly, then applied rubbing alcohol and let dry.
(Make sure you are careful not to get the rubbing alcohol on your just-stenciled letters. I know you will be careful, but just in case…)
I applied the stencil, measured it with my cloth measuring tape, added the painter's tape around it – avoiding the just-stenciled letters – and repeated the process of applying the etching cream. Another 15 minutes, and I had a completed glass!



These etched beer glasses are easy to make, and are a perfect gift for Father's Day.

This is also a popular gift for Grooms to give to their wedding party, so for all of you brides-to-be out there – not like you don't already have enough to do – suggest this idea to your future husband and perhaps he can get crafty too. Yes, your husband-to-be will probably end up asking you to do this project for him help with this project, but trust me this is easy not only in technique but also in terms of the time needed: not that much!


~Laura
Disclosure: I wrote this post as part of a sponsored campaign with Plaid Crafts and The Blueprint Social. All opinions are most definitely my own!