Make this heart cookie cutter ornament in 5 minutes! Stick a bright pink pom pom inside, add some pink tulle then hang up. Perfect for Valentine's Day!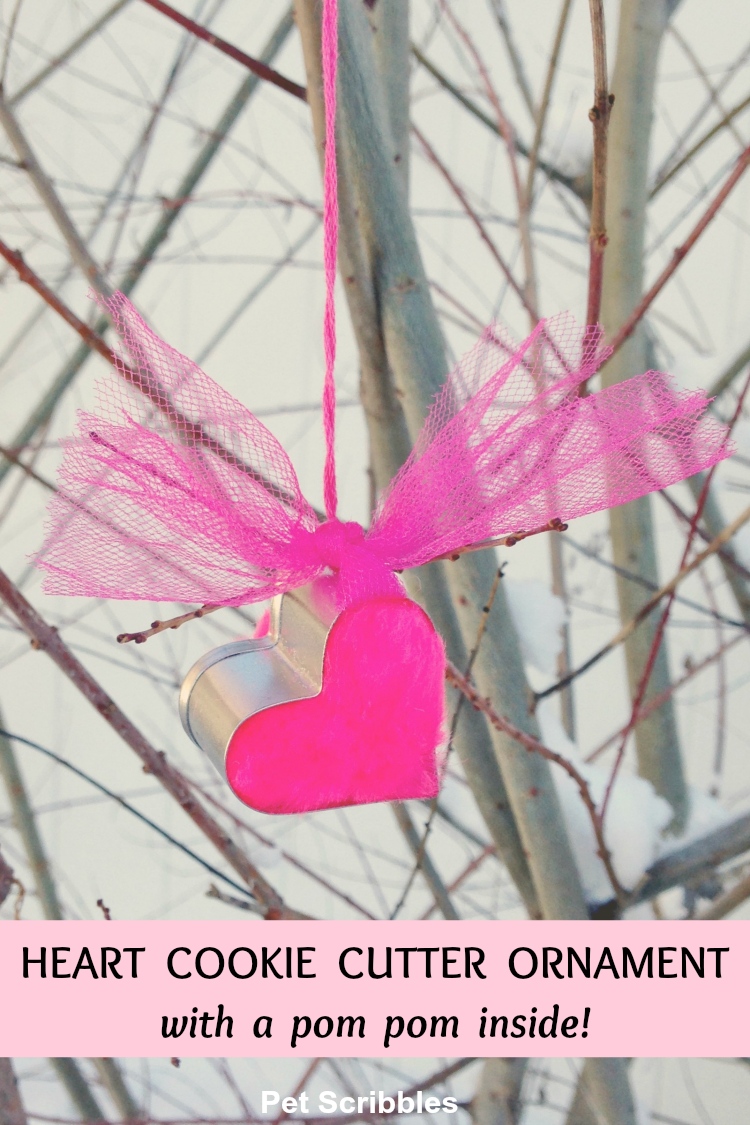 I've done quite a few craft projects that you can make in about 15 minutes, but today's Valentine's Day-themed craft is even quicker!
Yes, you can honestly make this adorable heart cookie cutter ornament in 5 minutes!
All you need is a pom pom that's larger than the opening of your heart cookie cutter. (And if you need to attach two or more pom poms together to make it work — just add a couple dabs of glue to keep them together!)
Supplies:
miniature heart cookie cutter favor (1.5″)
(I found mine at the dollar store, but you can find similar online by using the "miniature heart cookie cutter favor" phrase.)
pink pom pom, larger than cookie cutter opening
(If your cookie cutter opening is larger than one pom pom, you can shove a few inside together with a small amount of glue to make a larger pom pom)
pink embroidery floss to hang
scissors
decorative scissors (optional)
Let's begin!
Step One: Tie the ribbon netting scrap around the heart cookie cutter near the top.
Just make a simple knot like this:
Step Two: Stick the pom pom through the cookie cutter.
Step Three: Squoosh the pom pom into the cookie cutter to flatten it a bit into the heart shape.
Step Four: Trim up the pom pom so there's not much sticking out of either side.
Here's what it looks like so far:
Step Five: Cut off some of the ribbon netting using regular or decorative (optional) scissors.
Step Six: Thread a piece of matching string underneath the knotted ribbon to make a simple hanger.
A sweet Valentine's Day heart cookie cutter ornament!
Made in about 5 minutes!
It's so pretty, and the perfect little something for Valentine's Day too!
Happy crafting!