Make lottery gifts more eye-catching with these festive holiday magnet clips that are super easy to make. It's like giving your recipients two gifts in one!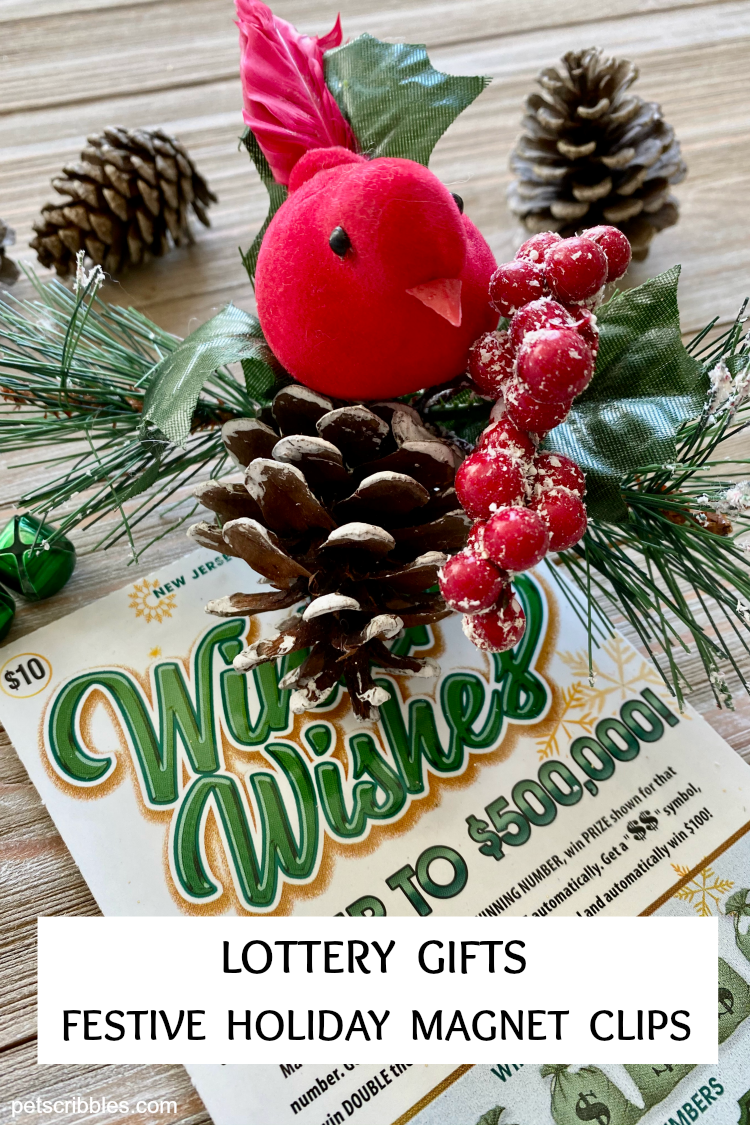 FTC Disclosure: This post is sponsored by the New Jersey Lottery, however these festive holiday magnet clips and all opinions are my own. The lottery tickets used in this project were provided by the New Jersey Lottery.
Is it just me, or does it feel like the holidays are sneaking up super fast this year?
If you still need to tackle your gift-giving list, I've got an easy idea.
Combine lottery tickets with floral ornament clips and turn them into magnets.
Stay with me here — as this makes for a fun little "extra" gift in addition to the gift of lottery tickets.
NJ Lottery Holiday Scratch-Off Games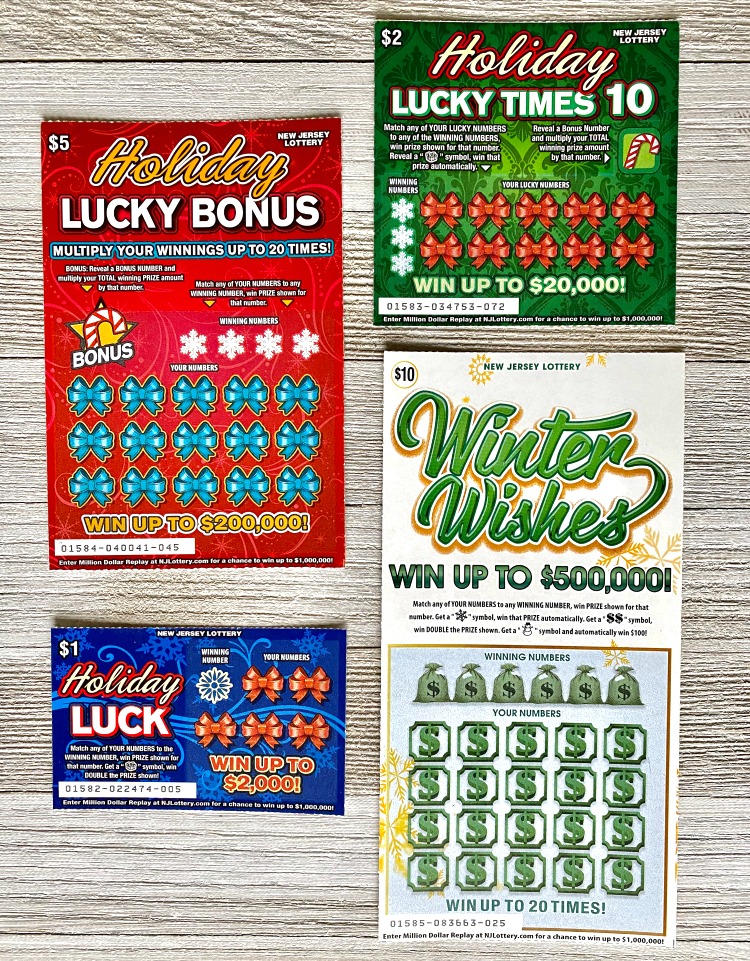 The New Jersey Lottery just introduced 4 new Holiday Scratch-Off Games:
$1 Holiday Luck
$2 Holiday Lucky Times 10
$5 Holiday Lucky Bonus
$10 Winter Wishes)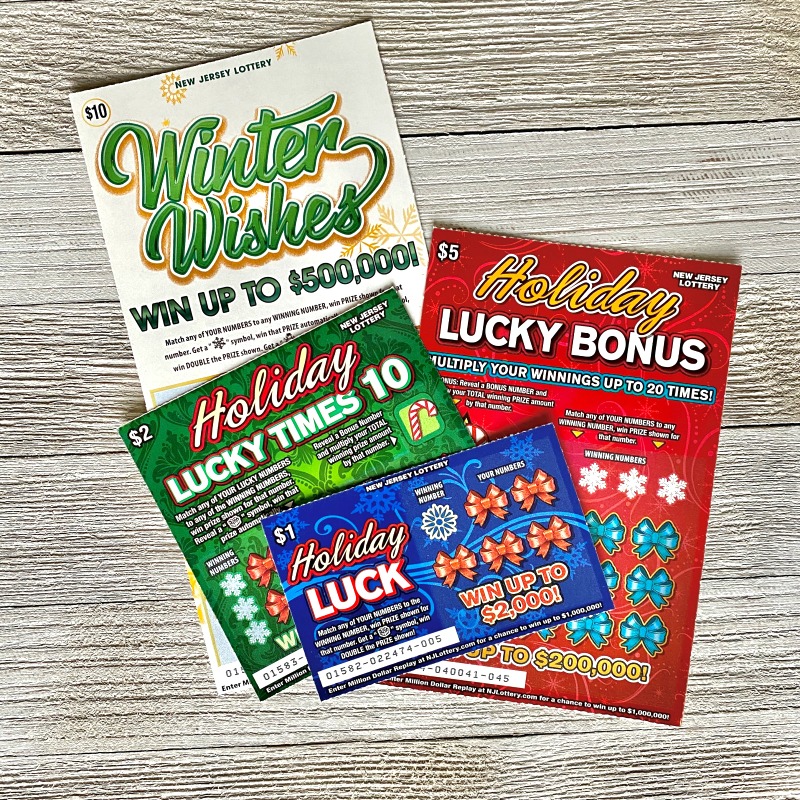 Think about it: these holiday-themed lottery games are fun — especially if someone wins — plus they are such an easy gift, stocking stuffer or party favor.
Reminder: Gift recipients of NJ Lottery tickets must be 18 years or older to play.
I have two other lottery ticket articles I've written previously that are filled with gift-giving ideas, so be sure to check them out at the bottom of this page.
Easy Gift Idea!
No wrapping required
Fits inside a greeting card
Available at any local Lottery retailer
Didn't you say magnets were involved?
Yes I did.
This is a fun idea, especially if you don't know what to get for someone.
Let's start at the beginning . . .
Festive Holiday Magnet Clips Tutorial
Because the lottery tickets look so festive, I decided to find some equally festive floral ornament clips to match.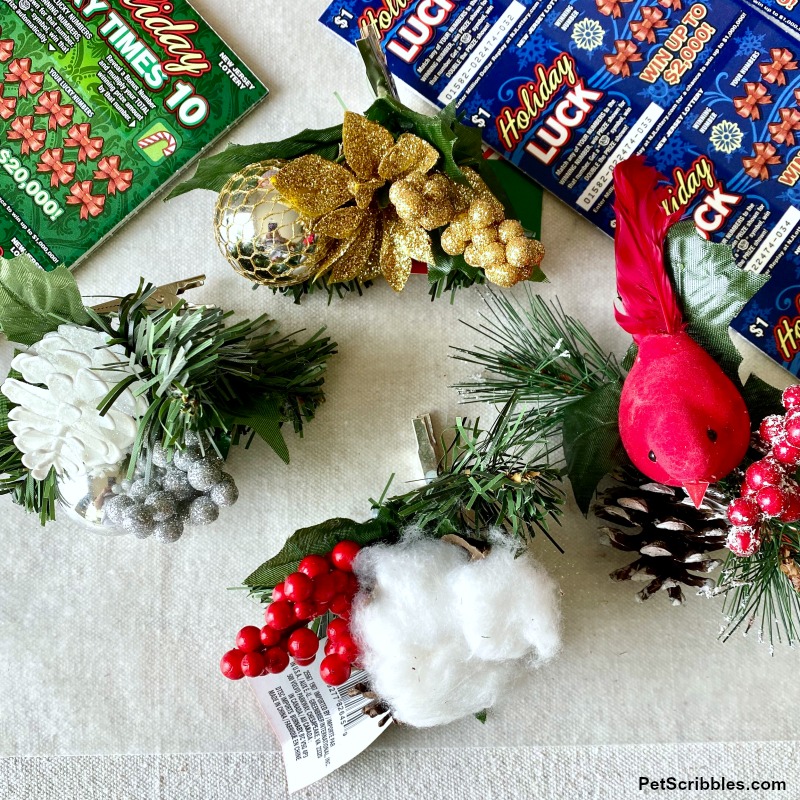 I found these at the local dollar store. You can find similar ornament clips at dollar stores and craft stores.
These clips are inexpensive yet are super festive!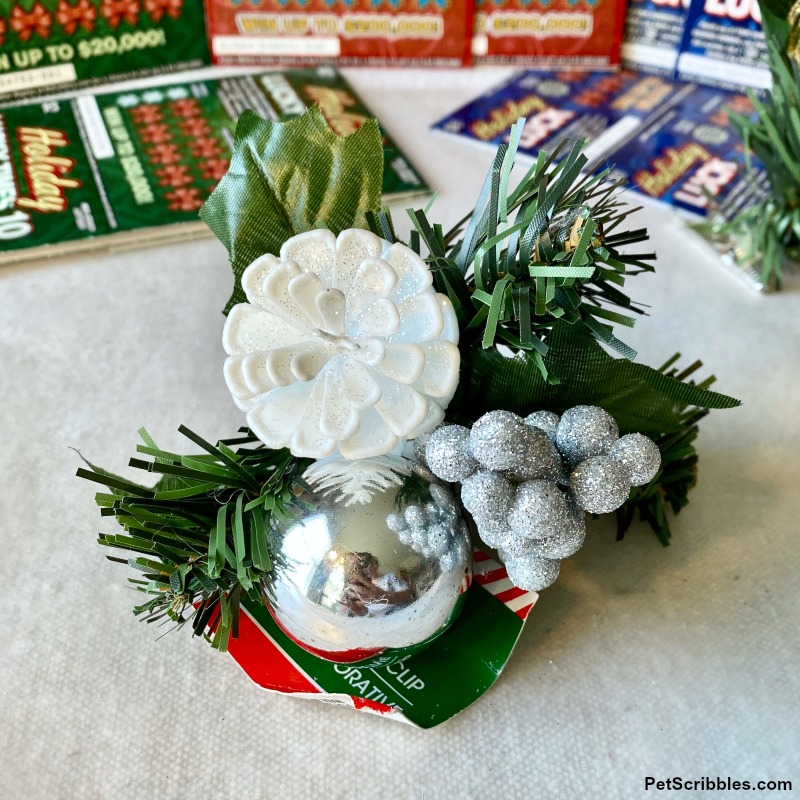 First, clean up these holiday clips!
See how this red bird (below) is covered with dust and whatnot?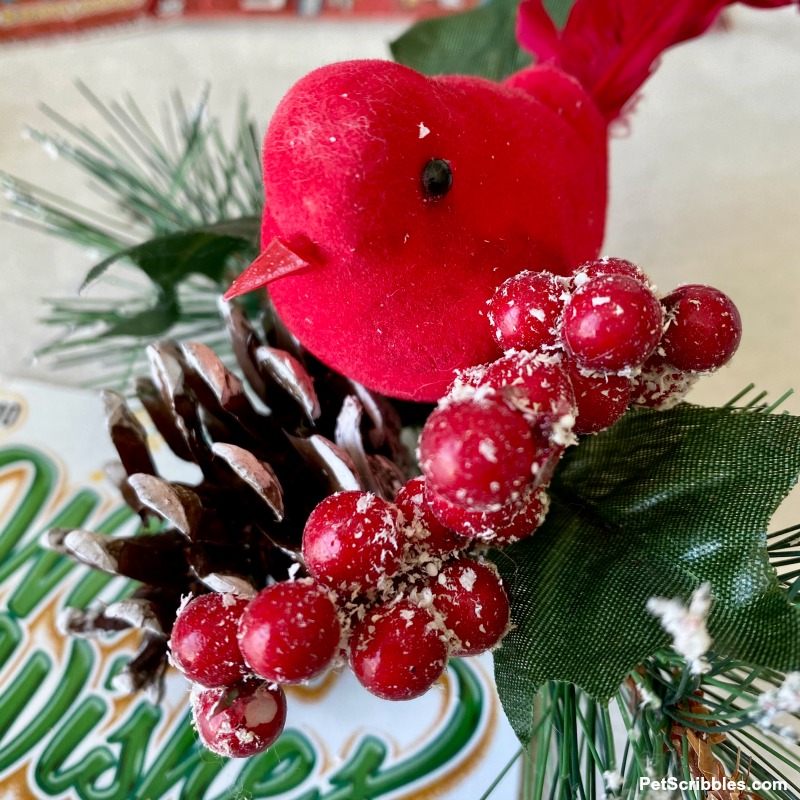 Use a small piece of tape to gently remove all of it.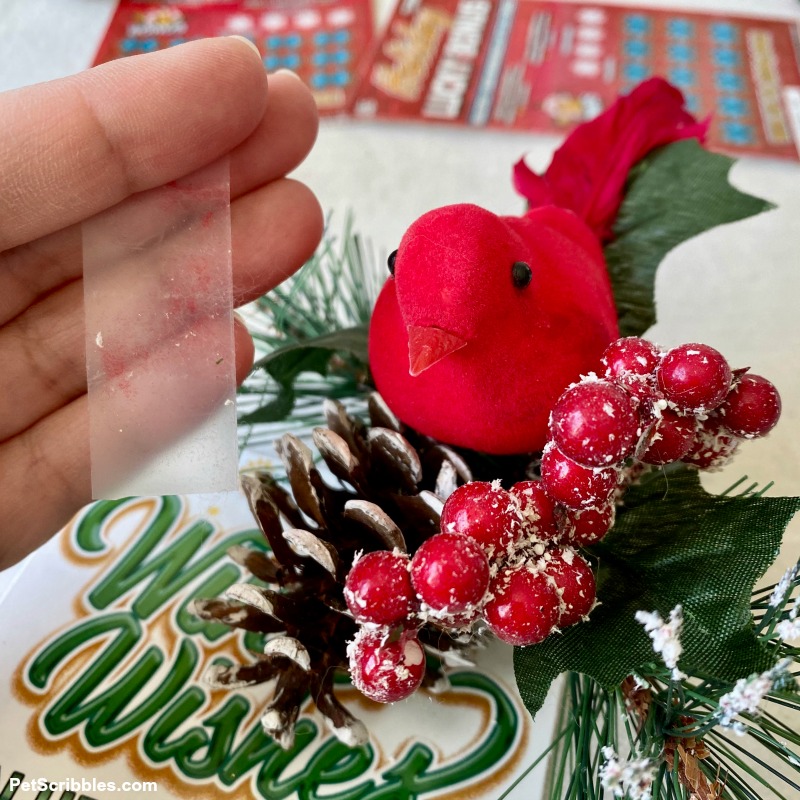 Easy peasy, but goes a long way to take these from cheap to pretty!
Next, add magnets!
I'm attaching magnets to the back of these floral ornament clips.
With the addition of magnets, these clips can be attached to any metal surface which means your gift recipient can easily add them to their own holiday decor, such as metal frames, kitchen appliances, metal doors, etc.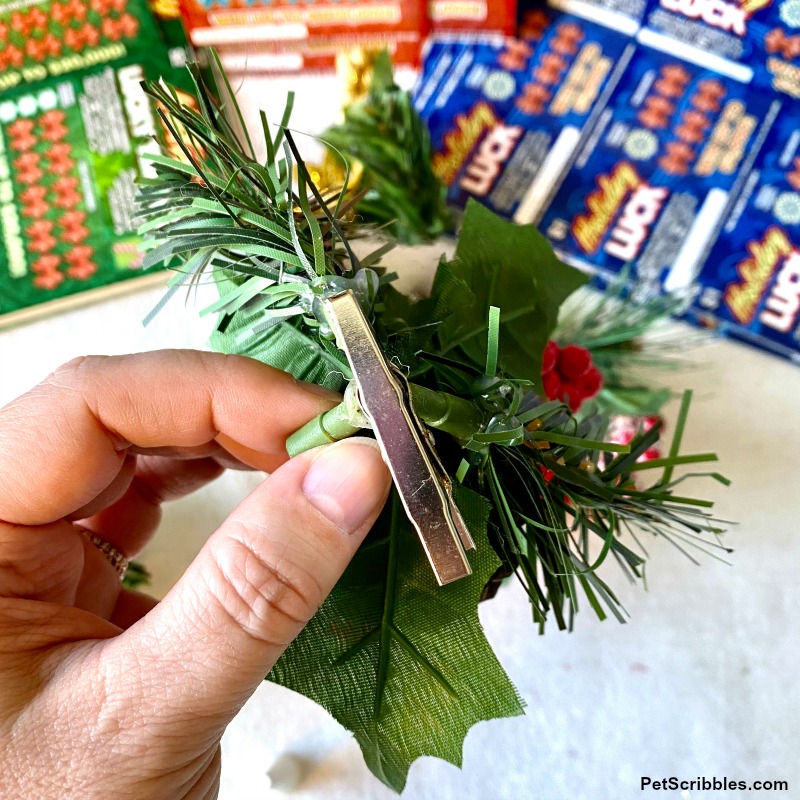 The only other supplies you need for this project are small magnets that are super-strong, such as rare earth magnets.
A good craft adhesive is also needed. I used JudiKins Diamond Glaze adhesive for this project as it is strong and dries clear. It also has a very fine point opening, so you can apply tiny drops of glue on small surfaces.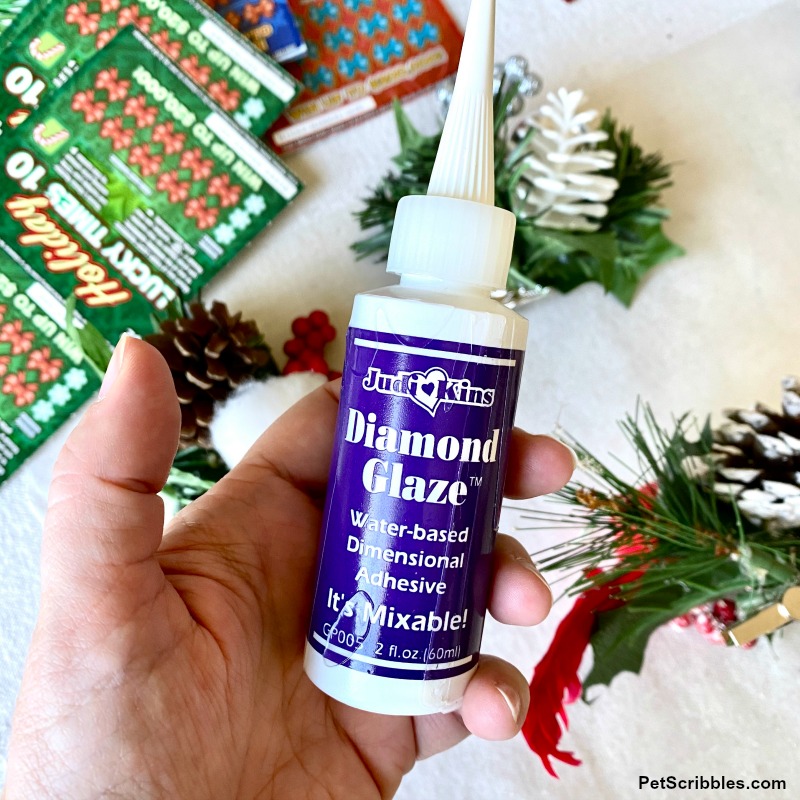 First, take one of the ornament clips and turn it upside down.
Apply a dot of adhesive right onto the back of the ornament clip as shown: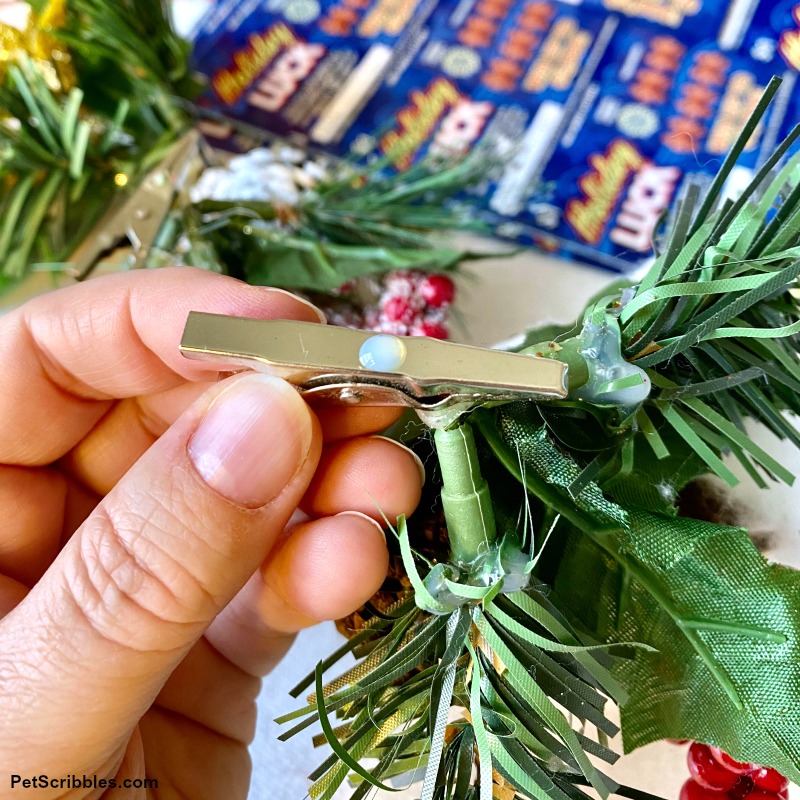 Next, take one of the small magnets and carefully place it over the dot of glue.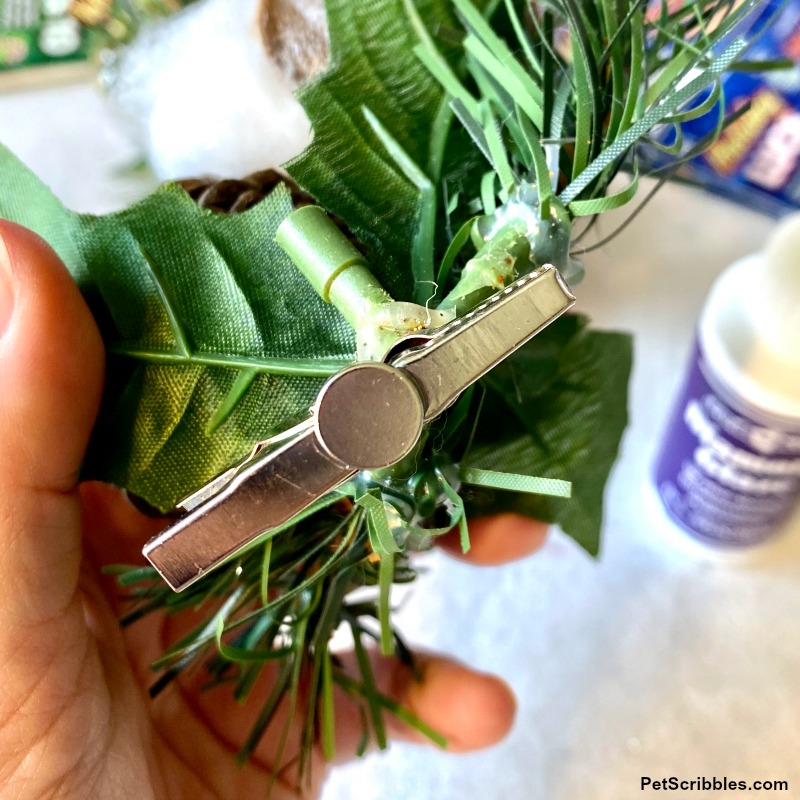 Note: the magnet is going to quickly attach to the metal clip because…metal! The glue is there to keep the magnet in place permanently.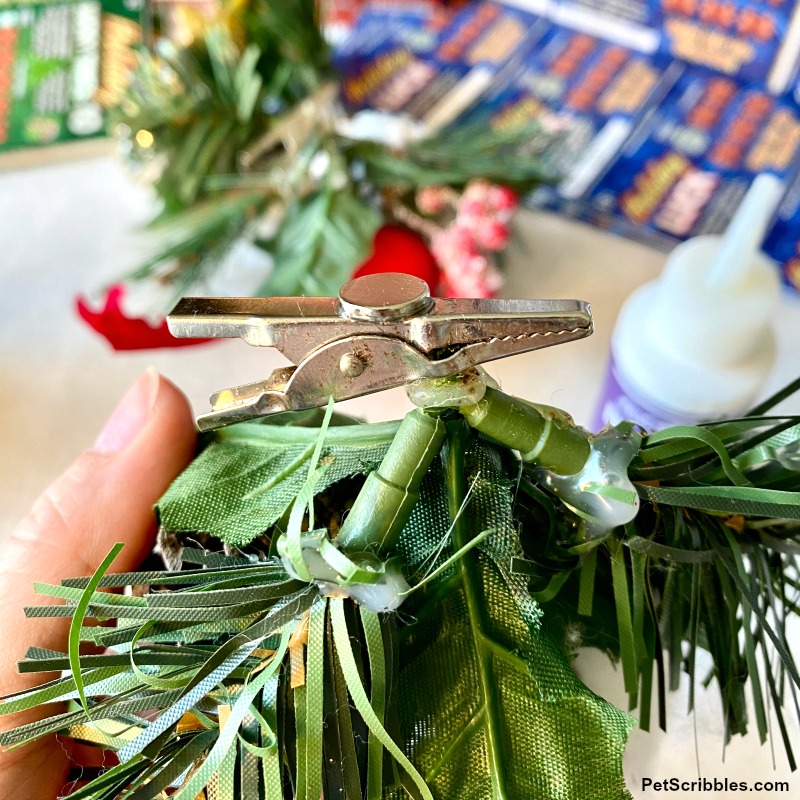 Repeat these steps for however many lottery gifts you are making.
Let dry overnight.
Not so festive holiday ornament magnet clips?
So two things I quickly noticed — and you will too — from the image above:
Whomever made these used very beat up clips.
There's dried glue splotches from whomever made these.
Luckily, you won't see either once these are flipped over and put together with the lottery tickets.
Festive Holiday Magnet Clips
These turned out exactly as I imagined, and I love how they give a festive touch to each of the different NJ Lottery games.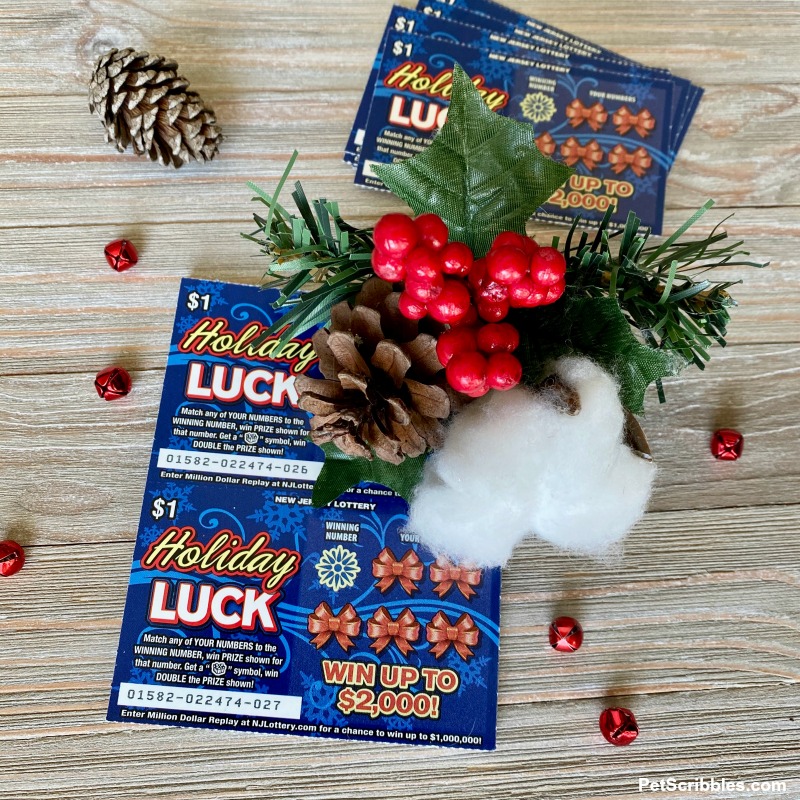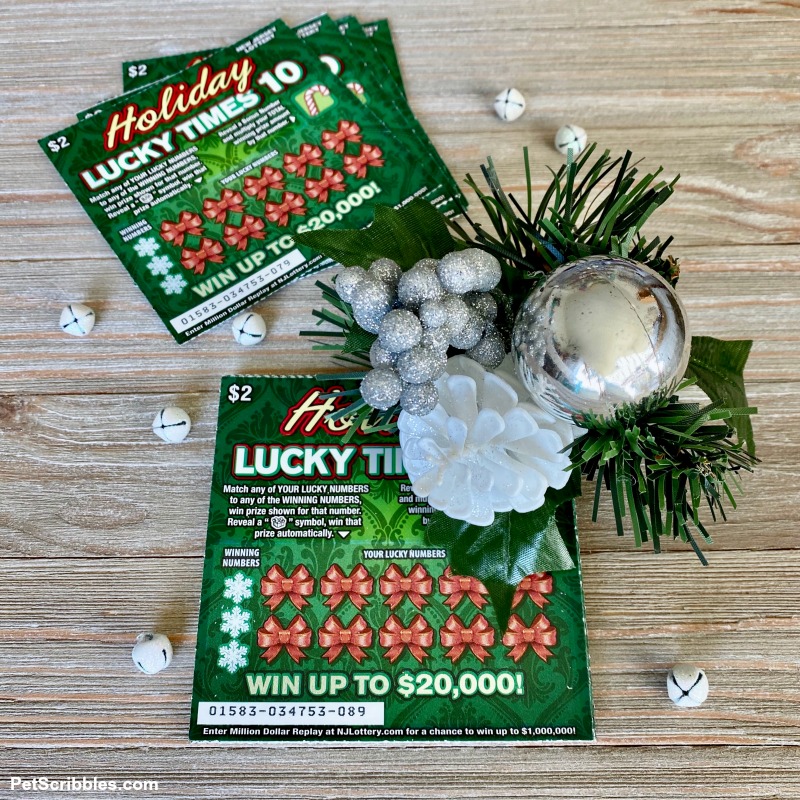 For the magnet clip below, I glued a red jingle bell into the center of the poinsettia flower to match the red lottery ticket . . .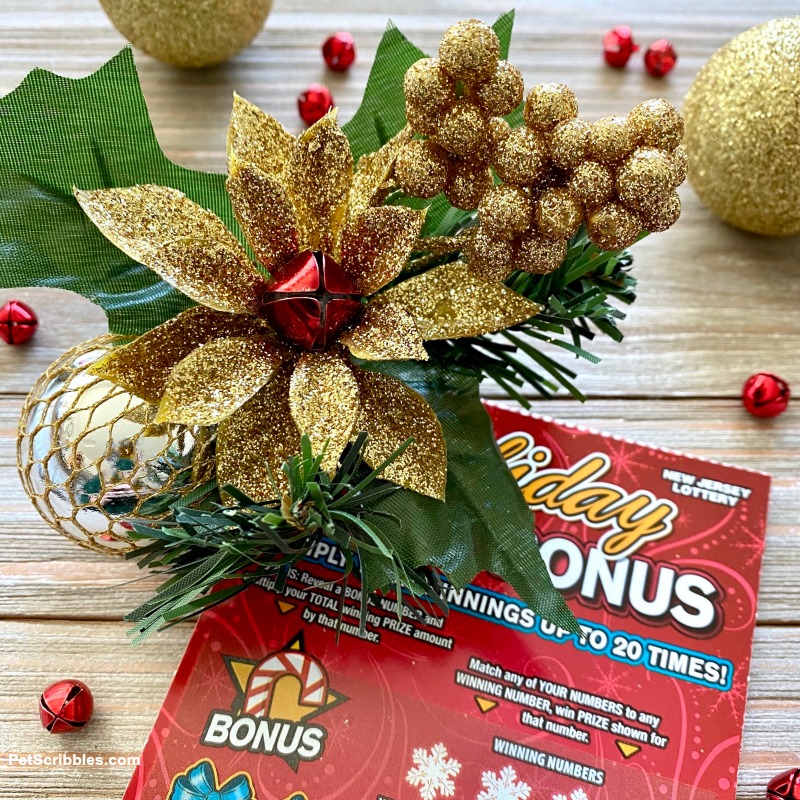 Your gift recipients get a surprise with the useful holiday floral magnet clip attached to the Holiday Scratch-Off tickets!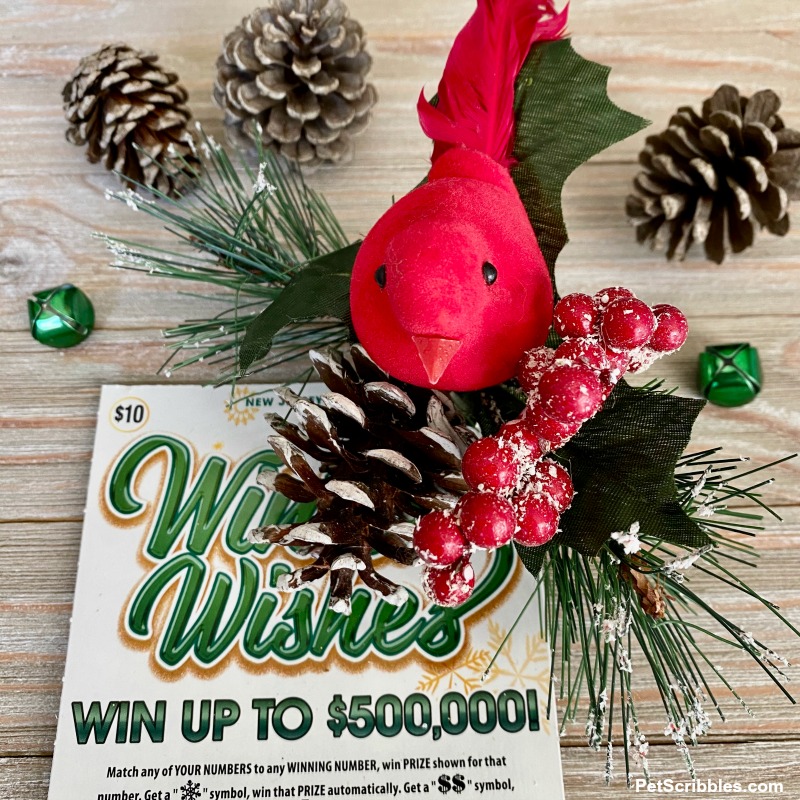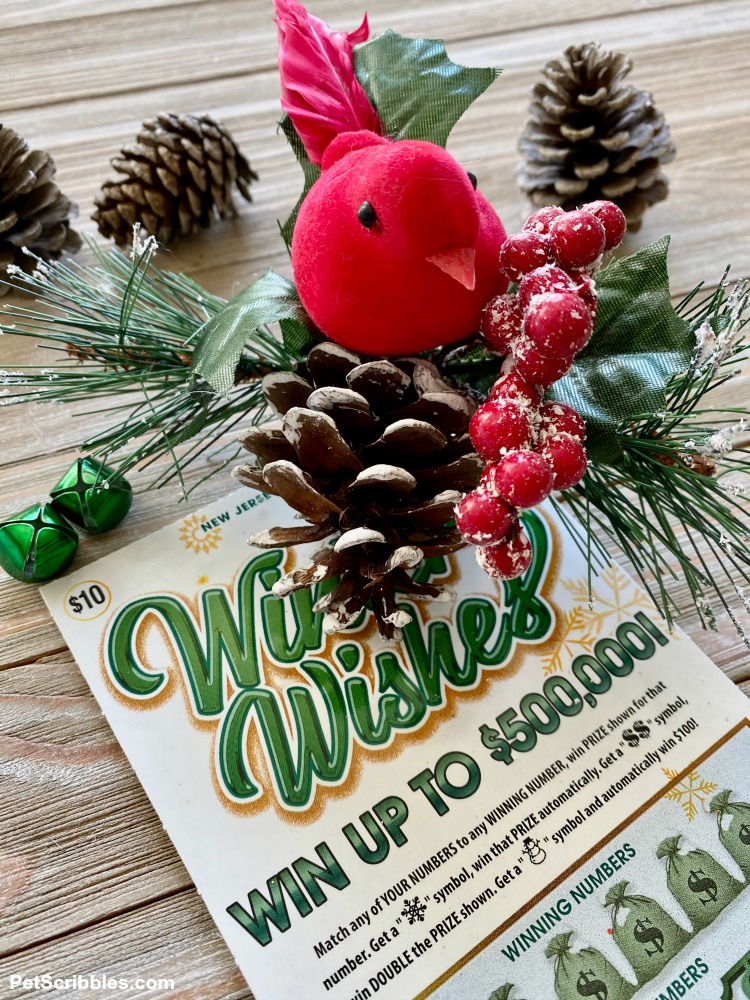 Don't forget to keep scrolling down to the bottom for more easy ways to gift lottery tickets!
New Jersey Lottery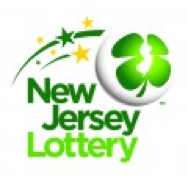 Make sure to tell your lottery ticket gift recipients that even if they don't win, they should save their tickets.
Why?
Because they can enter them into the Million Dollar Replay drawings as a NJ Lottery VIP member, which costs nothing to join. Non-winning scratch-off tickets can be entered into quarterly second chance drawings for a chance to be selected as one (1) of four-hundred (400) semi-finalists who win a $250 prize and entry into the yearly Grand Prize Drawing for a chance to win one (1) of fifteen (15) prizes ranging from $10,000 up to $1,000,000. Get all the details here.
Lottery tickets are available at any brick and mortar Lottery retailer, including 7-11, QuickChek and Wawa.
Disclaimer: You must be 18 or older to buy a lottery ticket. The New Jersey Lottery reminds players, it's only a game…remember to play responsibly. If you or someone you know has a gambling problem, call 1800-GAMBLER®.

For more information visit New Jersey Lottery
More Lottery Gift Ideas
Here are more gift-giving ideas for you, all made with lottery tickets.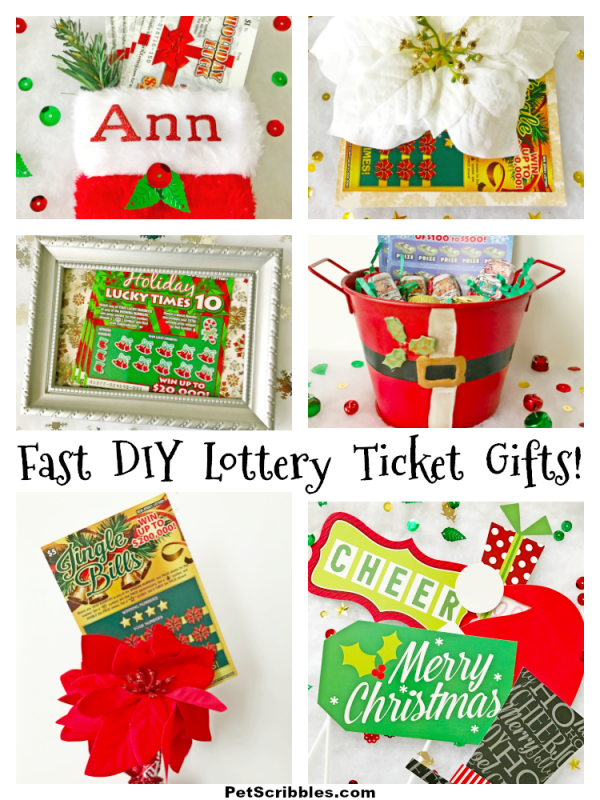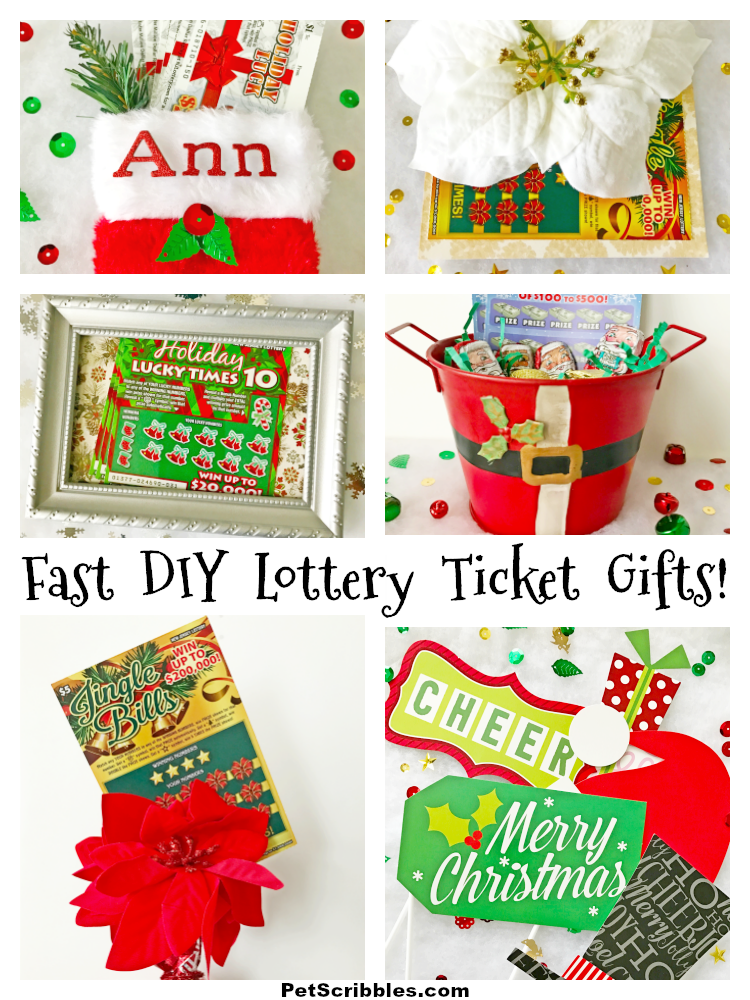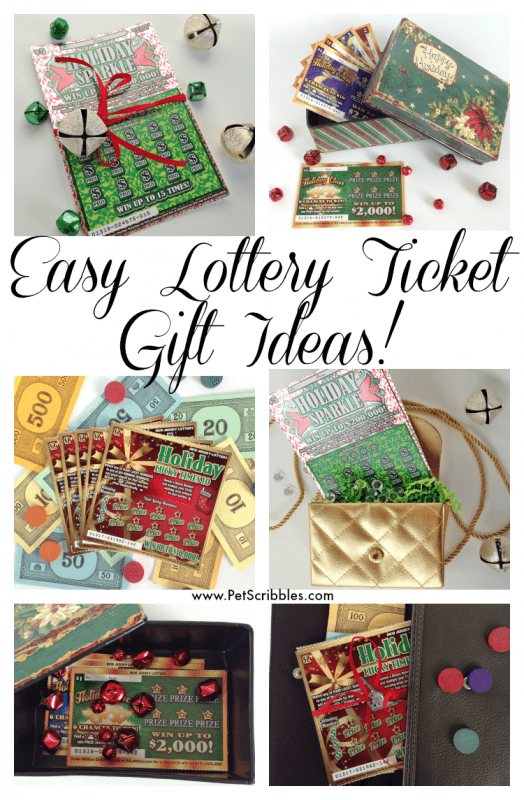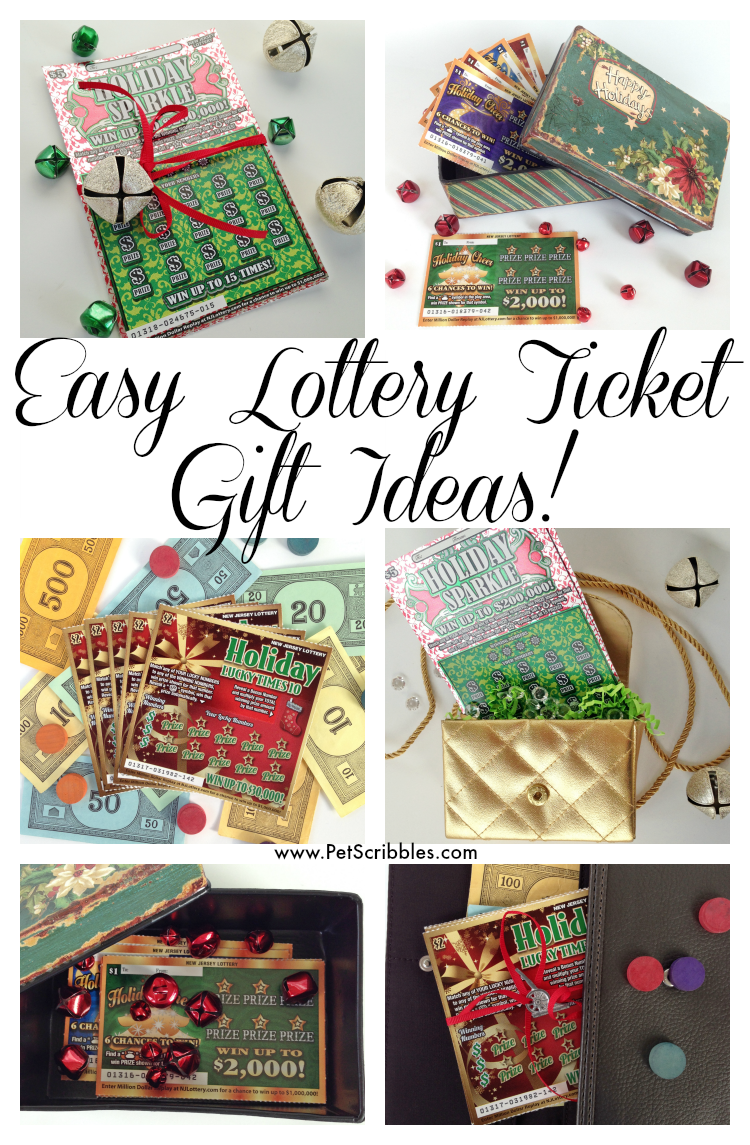 I hope I've inspired you that creatively gifting lottery tickets is easy to do and doesn't take much time.
Happy holiday crafting!