It's time for 6 easy DIYs to creatively gift NJ Lottery Holiday Instant Games! These are fun ideas, especially when you present the tickets in unique ways. And when you give someone a gift where there's a chance for a cash payout, maybe even a large one? Well that's a win-win!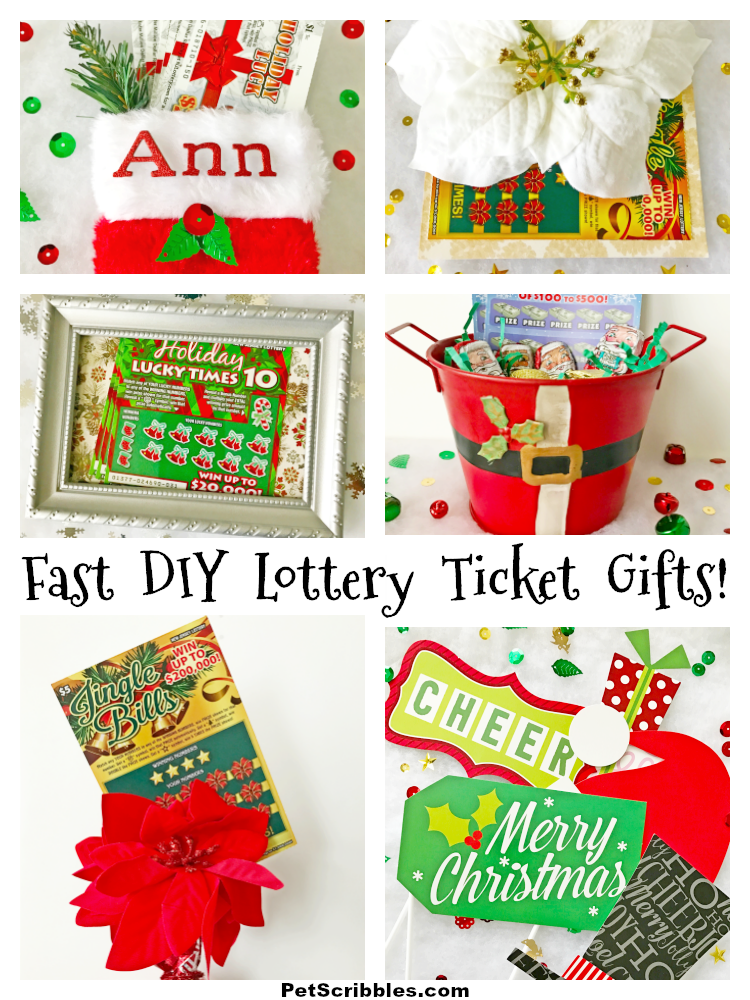 The holiday season is in full swing! Have you hit the stress button yet?
Whether you have or haven't, consider this: gifting lottery tickets is a perfect way to tackle your gift list.
Stress-free shopping means more time to enjoy the holidays! Another win-win!
Here where I live, the New Jersey Lottery recently released 4 new Holiday Instant Games:
$1 Holiday Luck
$2 Holiday Luck Times 10
$5 Jingle Bills
$10 Cash in a Flash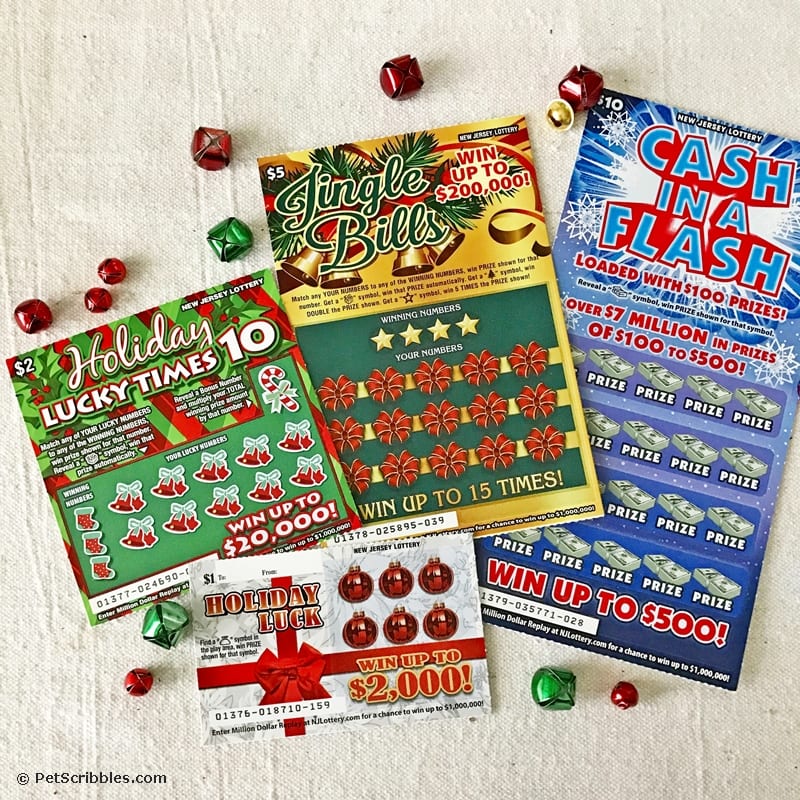 Who

is on your gift list?

Think about your gift list. Do you need Secret Santa gifts? Gifts to give your employees or coworkers? How about stocking stuffers? If you're attending any holiday parties or dinners, lottery tickets make great hostess gifts.

Other gift recipients might include your pet sitter, your hair stylist, or your favorite manicurist.

Think of those who've helped you throughout the year. (This is a good exercise to do anyway, during this season of giving.)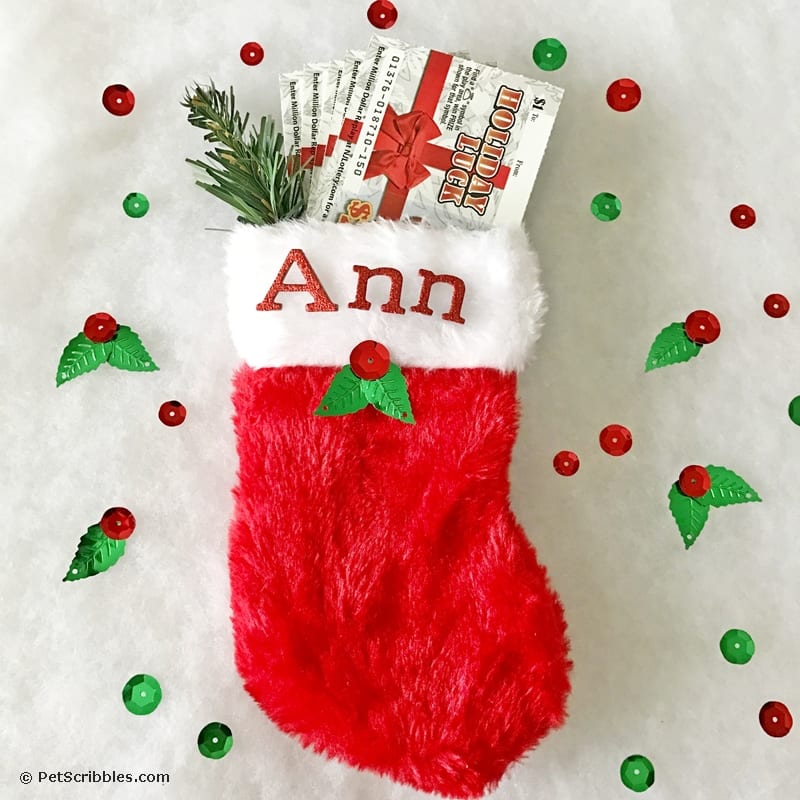 Perhaps there's a favorite barista at your local coffee shop who always has your coffee ready. How about that awesome plumber who came over right away and helped fix the flooding kitchen?
Or the helpful neighbor who kept an eye on your home for you while your family went on vacation? Is there someone who helps you with your yardwork? How about a hard-working home health care aide?
Remember: You don't have to know your recipient well in order to come up with a cool way to gift lottery tickets!
What

can you easily create?

DIY ornaments and gifts are big this year! No doubt you've seen many ideas on Pinterest.

I've put together several ideas that you can easily do. They don't take much time to put together at all.

Craft supplies are readily available at craft and dollar stores. Even some of the big-box stores now carry a nice selection of holiday crafting supplies.

(I purchased all of my supplies for these projects at our local dollar store, so I kept my costs to a minimum.)
1. Easy DIY Stocking Ornaments!
(This works best with small tickets such as the NJ Lottery $1 Holiday Luck instant games.)
It's easy to add small lottery tickets to existing ornaments, such as small fluffy stockings. With the built-in hanging loop, you're all set to tuck these into the Christmas tree!
Add candy canes, or stick a sprig (real or fake) of greenery inside the stocking. Adhesive-backed letters make personalizing each stocking a breeze.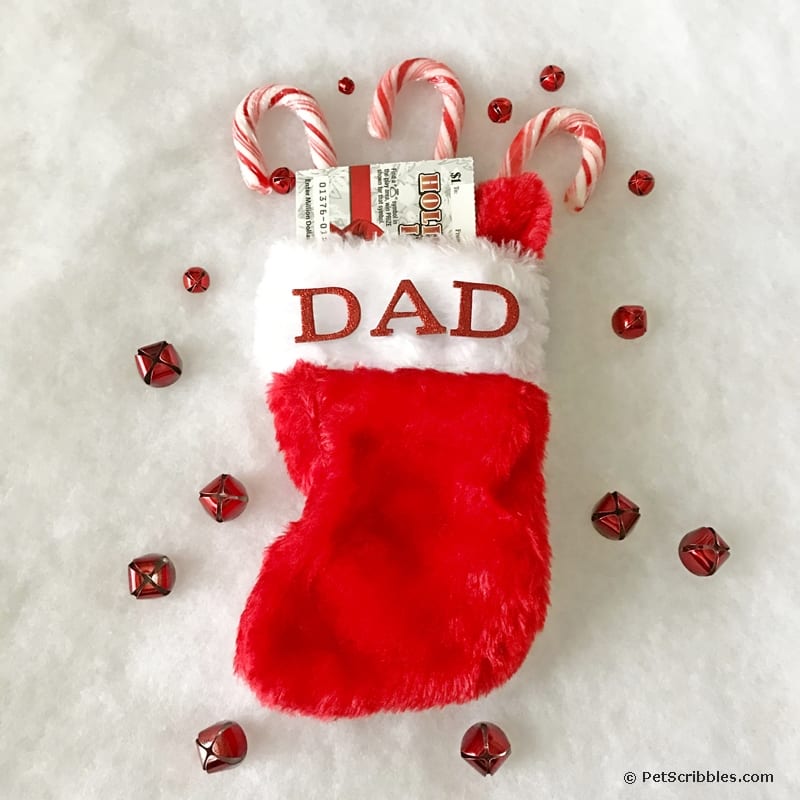 Tip: Add a few drops of strong adhesive to the back of the letters to make sure they stick to the fabric. You don't want any letters falling off!
To make the holly accent, purchase some Christmas-themed holiday "filler" and use the red and green sequins. I was lucky there were leaf shapes in the filler, but if not, just use a few green sequins to make a leaf shape.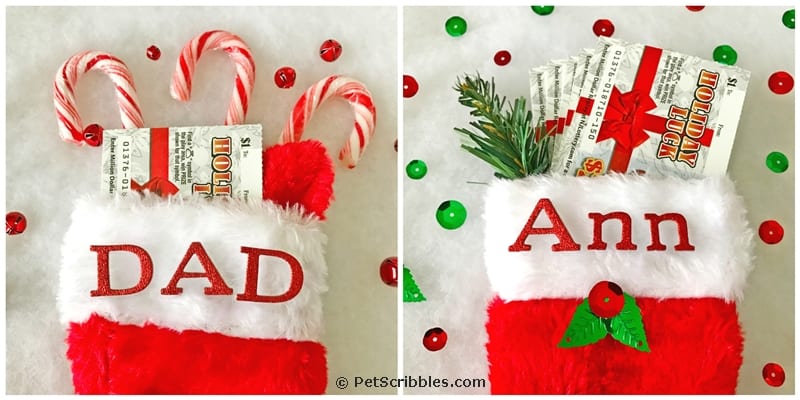 Tip: I found the filler packages next to the clear ball ornaments in the dollar store. It's the stuff you can put inside those ornaments to create something fun and sparkly!
2. Quick Picture Frame Gift with holiday background!
(This DIY works great with all sizes of tickets, depending upon what size frame you use. I used the NJ Lottery $2 Holiday Luck Times 10 instant games in this example.)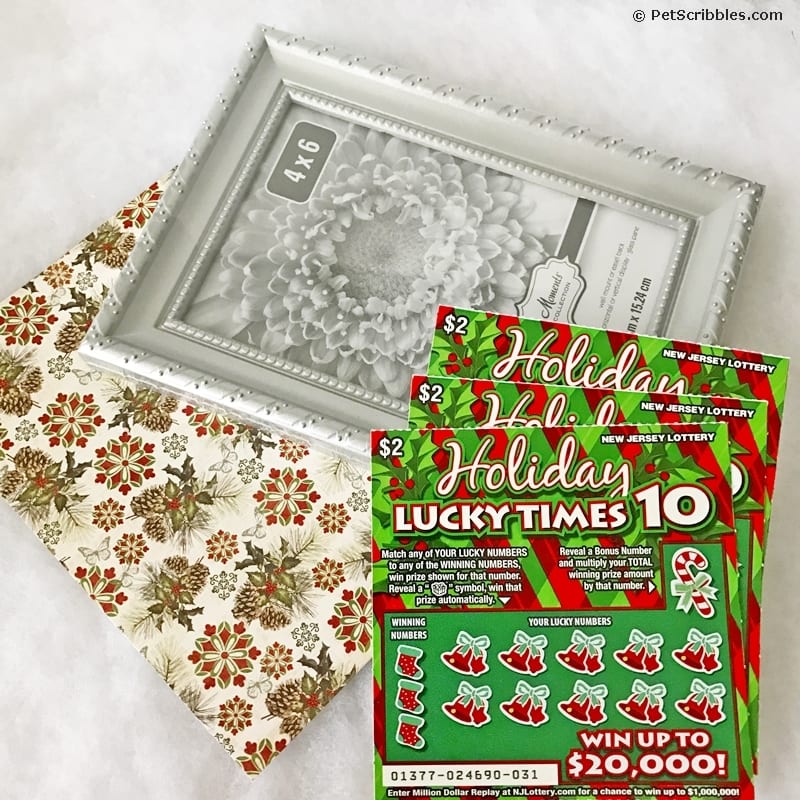 Purchase a small frame from the dollar store and cut some holiday-themed scrapbook paper to fit inside. The holiday paper makes the perfect background for future Christmas photos!
Tip: If you have multiple gifts to put together, purchase a small-sized Christmas scrapbook paper pad, where each sheet will fit perfectly inside of small frames. Just match them up at the store before you purchase to make sure it all works together!
Surprise your employees or coworkers by secretly placing these frames on their desks!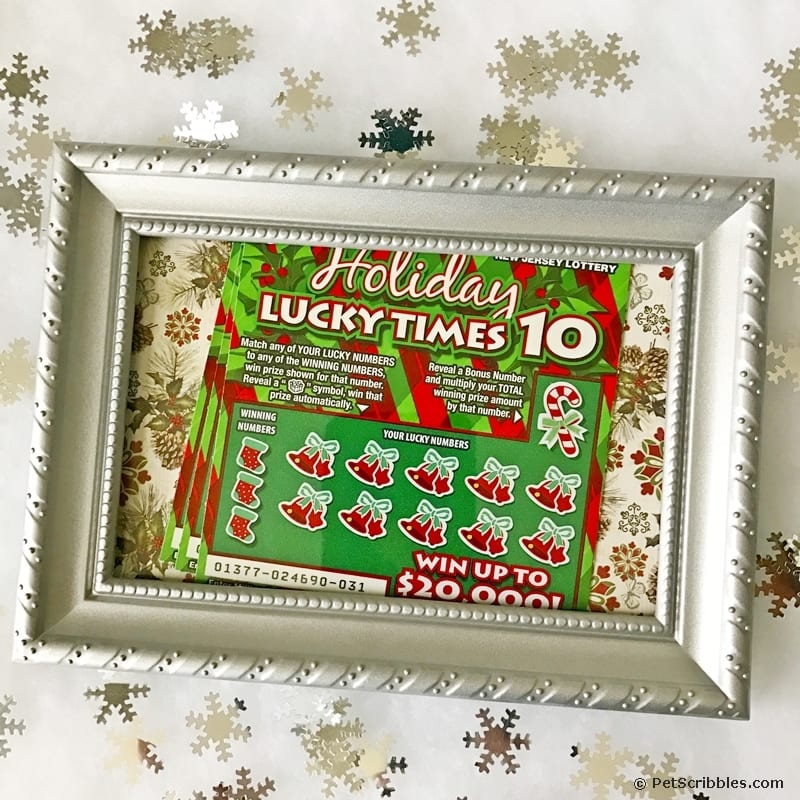 3. Easy Faux Poinsettia Decorations!
(I used the NJ Lottery $5 Jingle Bills tickets in the following examples.)
I found some cute poinsettia decorations at the dollar store. Using faux poinsettias as part of a gift is great idea, just make sure that the fake flowers look almost real. (You don't want errant glue blobs on the petals, nor will your gift recipients!)
In this first example, I took a simple holiday table decoration and tucked two lottery tickets (back-to-back) among the flowers. The base looks like one of those balloon weights you've probably seen at party stores.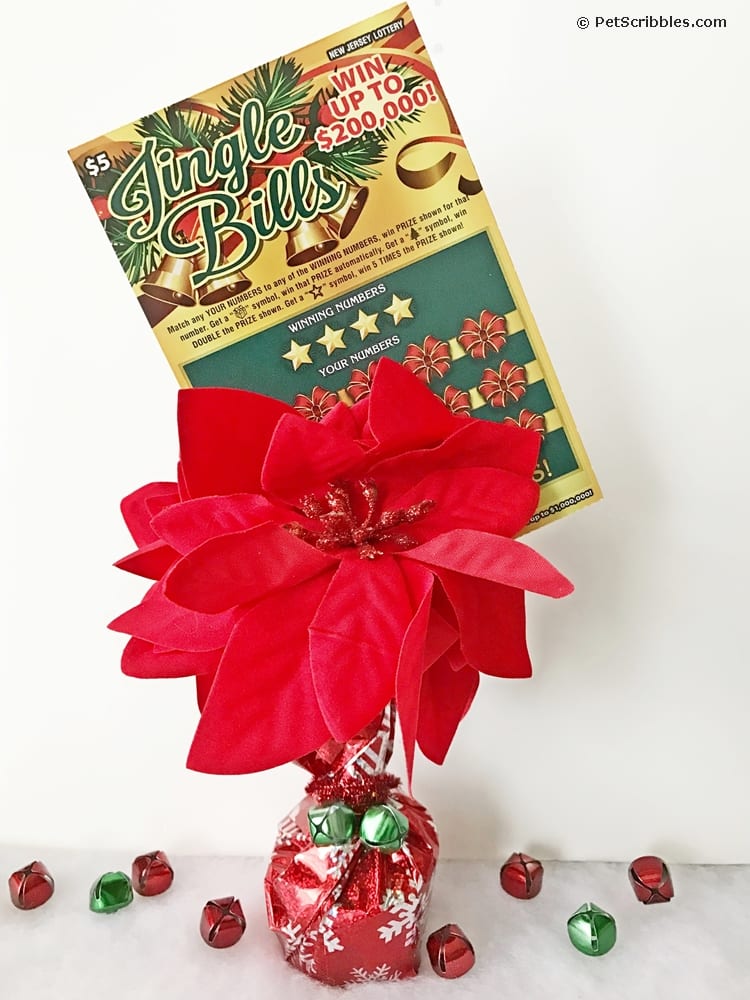 Because the name of this lottery game is called "Jingle Bills" I had to use jingle bells in some way! I threaded two green jingle bells onto a red tinsel pipe cleaner stem, then wrapped the stem around the base. (I was actually covering up the gold cord that was already attached, which I thought looked a bit tacky.)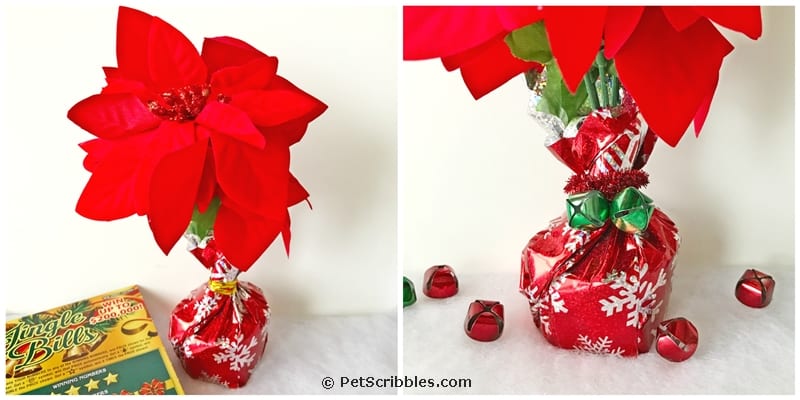 In this second easy DIY, I came up with a can't-get-much-easier-than-this tree ornament idea! This poinsettia is a clip-on ornament!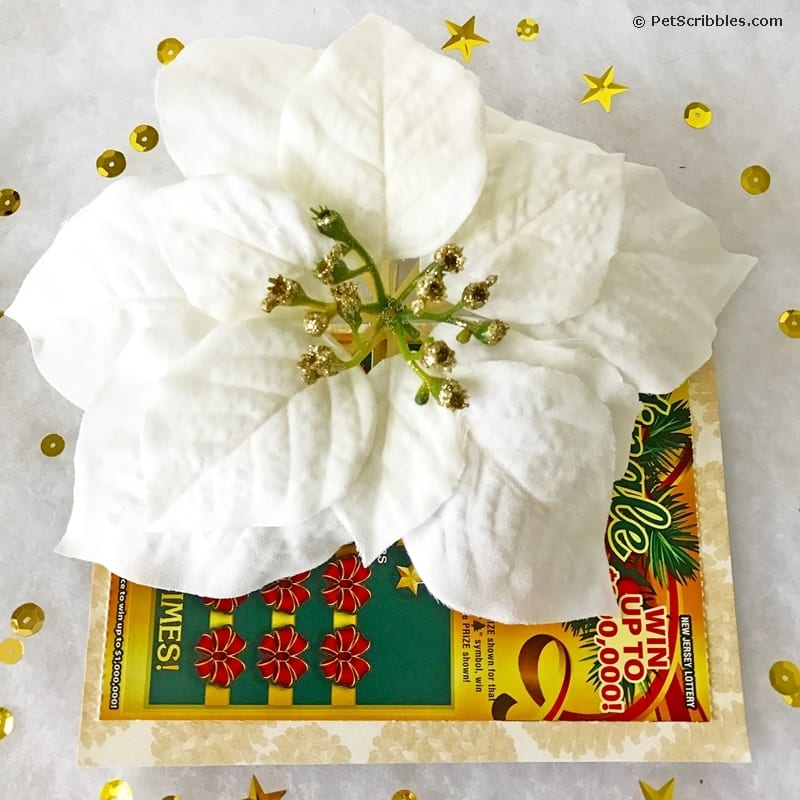 I placed a piece of holiday-themed scrapbook paper — a bit larger than the tickets — underneath. Clip the paper and tickets onto a Christmas tree. I can picture a tree covered with them as fun party favors!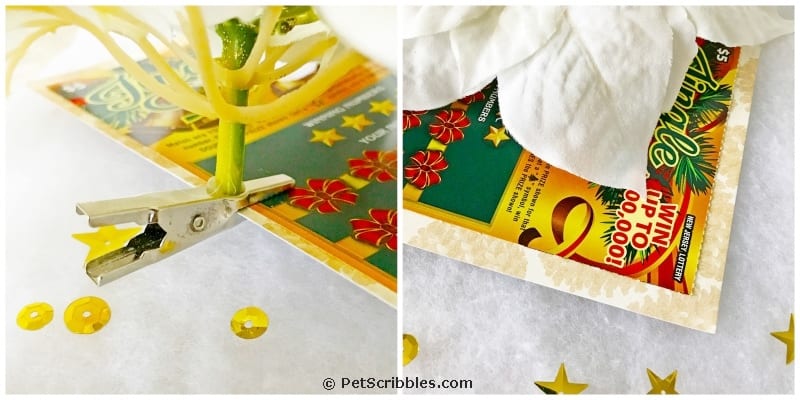 4. A Fun Christmas Candy Bucket!
(I used the NJ Lottery $10 Cash in a Flash tickets in this DIY.)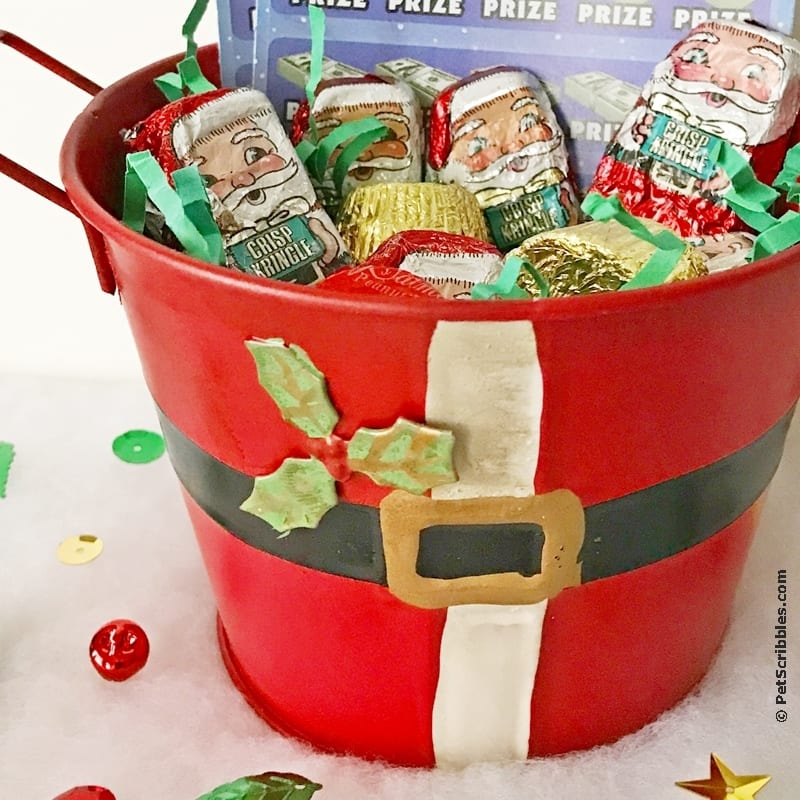 For those occasions when you want to gift just a little bit more, or are using larger-sized tickets, stick everything into a festive candy bucket. Fill the bucket with colorful paper shred and adorable chocolate Santas.
Adding lottery tickets to another little gift makes both gifts special!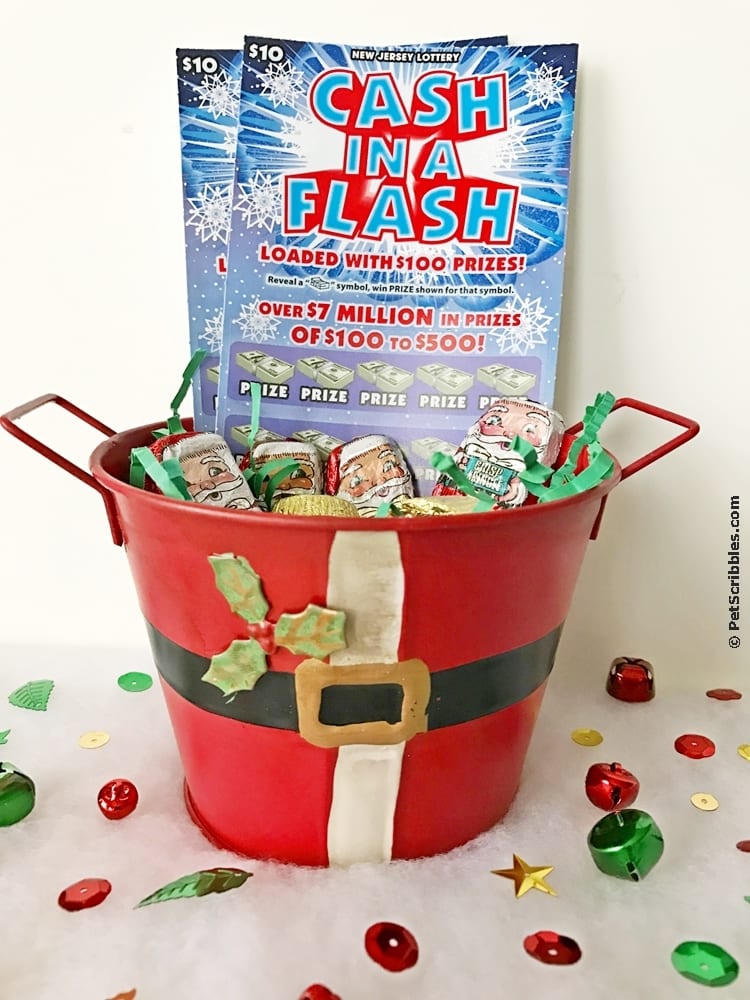 5. Holiday Party Photo Props!
(This super-easy DIY is perfect for all shapes and sizes of lottery tickets.)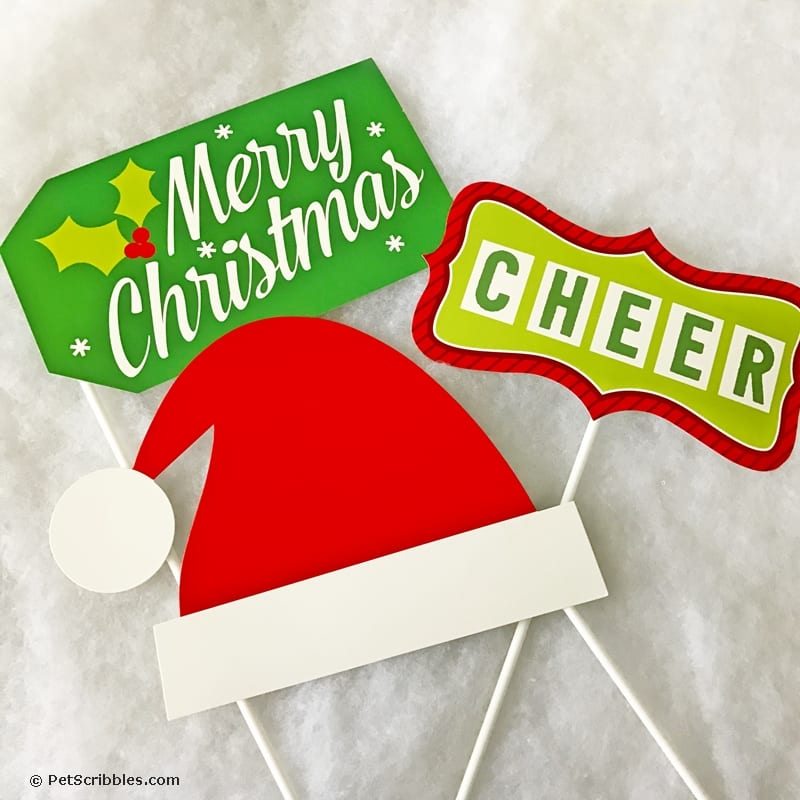 Photo props have become so popular for weddings, office parties, holiday parties and neighborhood get-togethers. Everyone loves taking funny pictures with photo props!
For your own holiday party, attach lottery tickets to your photo props as a way to break the ice.
"Have fun in our photo booth area over there and you may find a surprise or two or three!"
You can find photo props at dollar stores and party stores — or you can cut out and make your own! Attach thin sticks to the backs of each with colorful tape, then use washi tape to attach a lottery ticket to the back of the photo prop!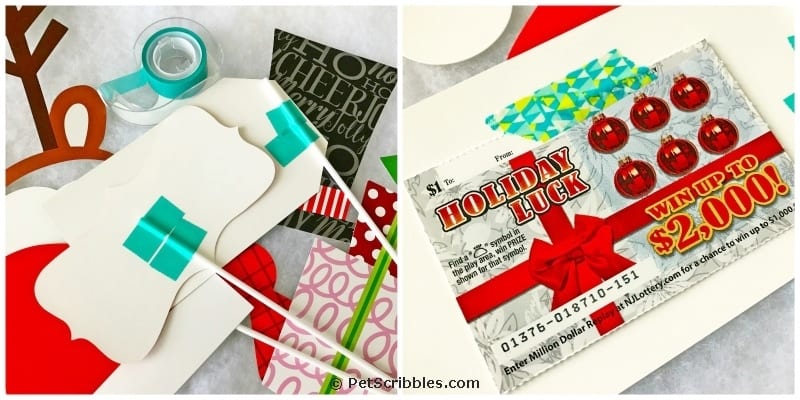 Tip: Make sure you use washi tape so that the tickets can easily be removed without any damage to the actual tickets!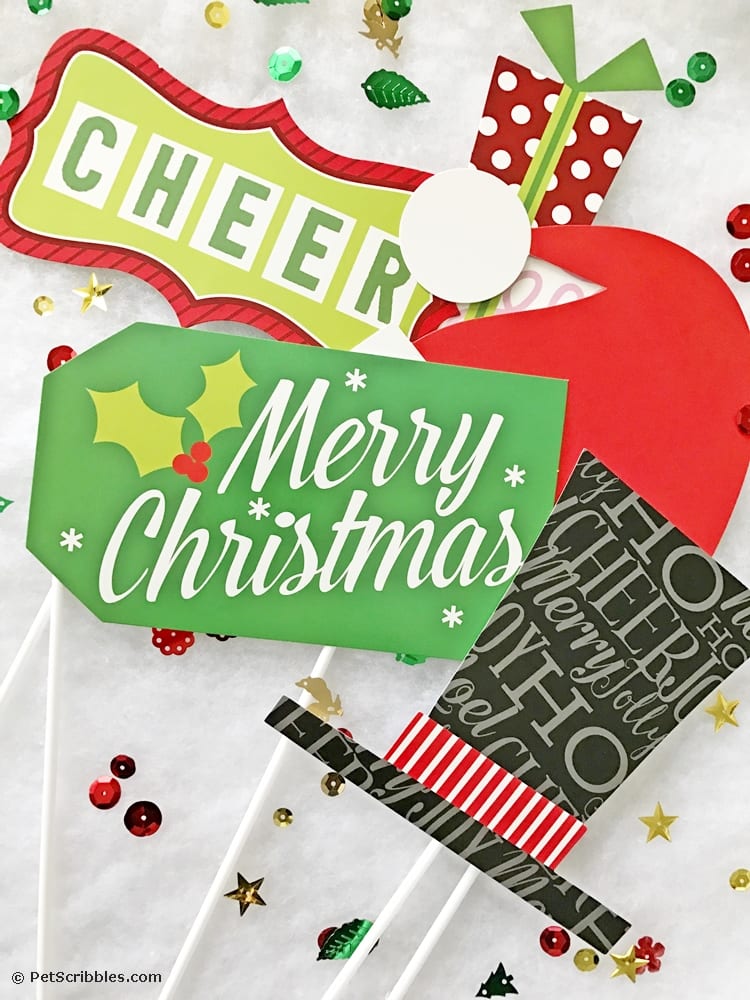 Hosting a New Year's Eve party? Attach lottery tickets to photo props as well as party favors like masks and noisemakers!
6. DIY Lottery Ticket Sleigh!
Here's a fast video tutorial from the New Jersey Lottery to make your own lottery ticket sleigh!

Where can you buy NJ Lottery tickets? Just about everywhere!

Lottery tickets are available at any brick-and-mortar Lottery retailer, including Wawa, 7-11 and Quick Check.
Easy peasy!
Hope my fast ideas — as well as my Who–What–Where outline above — help you create some fun gifts and give you more time to enjoy this holiday season!
NJ Lottery Tickets could be the gift that keeps on giving!
Happy holiday crafting!
Disclaimer: You must be 18 or older to buy a lottery ticket. Parents are urged to think twice about gifting lottery tickets to children. The New Jersey Lottery reminds players, it's only a game…remember to play responsibly. If you or someone you know has a gambling problem, call 1800-GAMBLER®. For more information visit New Jersey Lottery