This evolution of a garden bed shows you how a front entrance garden bed has grown and changed from planting to the present day. A living work in progress!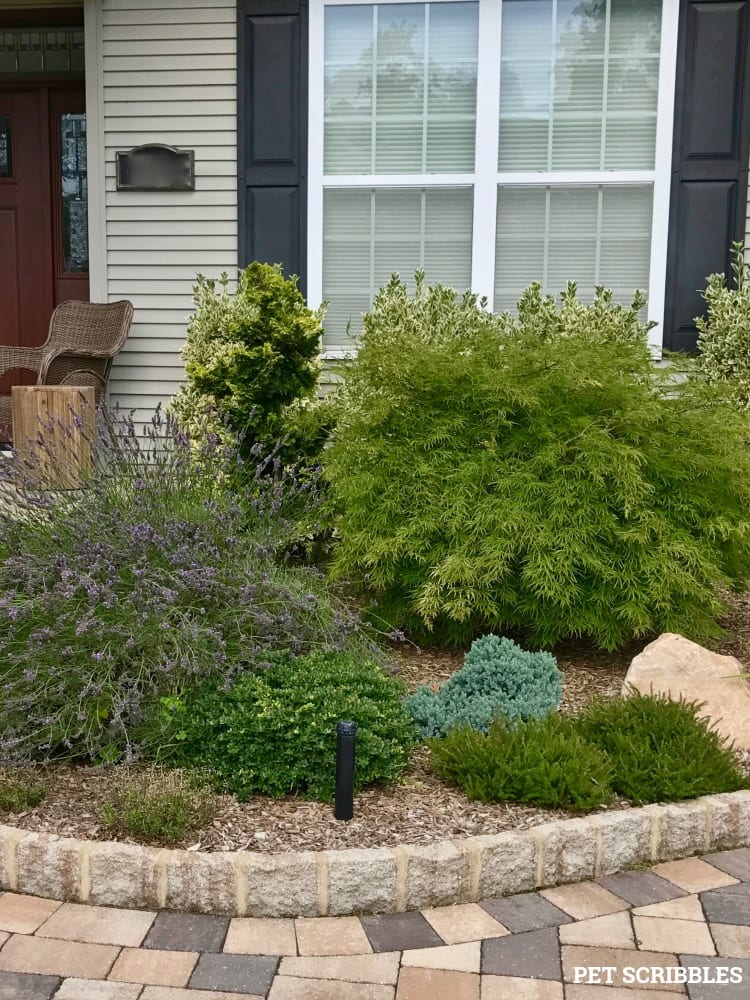 This is my third weekend participating in Six on Saturday, a fabulous idea run by The Propagator garden blog, as a way for gardeners the world over to share what's going on in their own gardens.
The catch? You must do it in only six photos!
Evolution of a Garden Bed
Today I'm focusing on one of the front entrance garden beds that was part of our huge front yard makeover almost four years ago already. (Hard to believe how time flies!)
I was taking pictures of this bed yesterday and, once I began looking back through my photos, I couldn't resist sharing how this bed has grown and changed over the past few years.
New Garden Bed in First Spring
Here is the newly planted garden bed in Spring 2015. Everything "looks" new, doesn't it?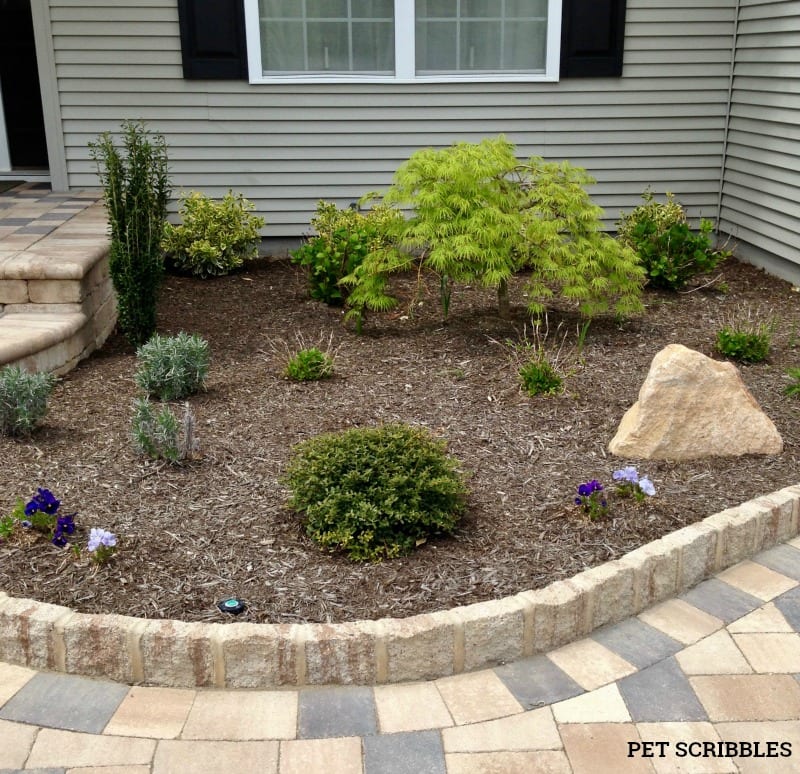 In the back, hard to even see, are four Silver King Euonymus shrubs. In front of those are two big leaf hydrangeas, which you can see peeking out behind the Ornamental Japanese Maple. To the left of the Japanese Maple is a Sky Pencil Japanese Holly (Ilex crenata). In front of the Sky Pencil Japanese Holly are three Lavender Phenomenal plants. To their right are three Pia Hydrangeas. In front is a Helleri Japanese Holly (Ilex crenata). Unseen on the far right are a bunch of Stella D'Oro Daylilies. And the landscapers tossed a few Pansies in there too.
So. This is what we started with, what the landscapers put in. I picked many of the plants, but didn't pick their locations. I asked things like, "Are you sure there will be enough room once they grow?" but was…well…let's just say I was made to feel that they were the landscaping experts, not me.
Evolution of a Garden Bed — two years later
Here's the same garden bed in Spring 2017. Look how things have grown in just two years! Most impressive to me was the growth of the Silver King Euonymus shrubs. I wanted them for evergreen color and for height.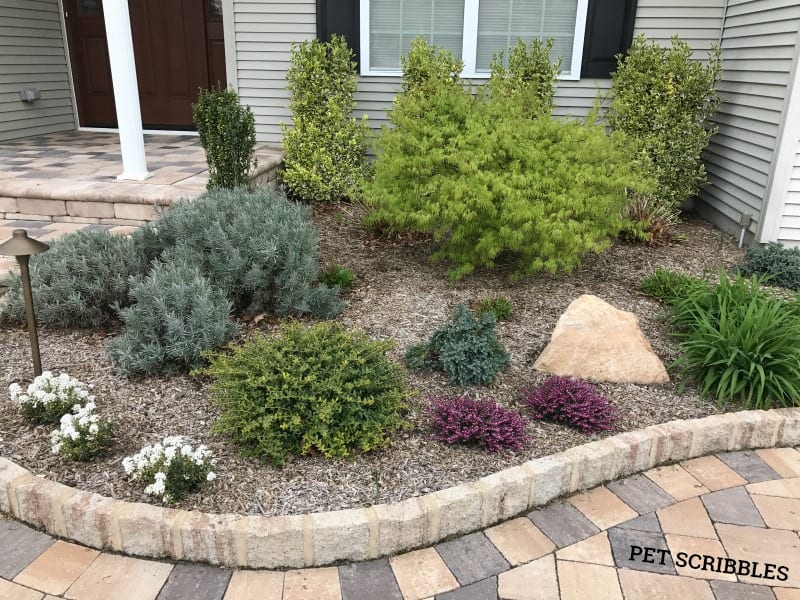 I planted a few additions between 2015 and 2017: Blue Star Juniper shrubs; Kramer's Red Heather (Erica) — or Heath, still debating the labeling on this plant; and Candytuft "Purity" (Iberis sempervirens).
Everything in this picture above is perfect to me. Lush greens and blues, pops of color from the Candytuft and Heath, and the spacing is nice. The only thing missing are flowering bulbs, which at this point I hadn't gotten around to planting.
The Problems
There were, however, two huge problem in this garden bed. The big leaf hydrangeas behind the ornamental Japanese Maple would grow so very large that they practically smothered the poor little tree. Assisting in this smothering crime were the Pia Hydrangeas, which covered up the front of the tree. And these hydrangeas didn't really bloom much either. It all just looked way too crowded…as I had originally predicted.
The Solution
In the Spring of 2018, we moved all of the hydrangeas out of this bed and into the back yard garden. We added a tall Hinoki Cypress for some additional Winter interest.
Evolution of a Garden Bed — three years later
Here is the same garden bed in July 2018, during the height of our hot and way-too-humid Summer. The Lavender Phenomenal is thriving, and the Ornamental Japanese Maple has enough room to shine!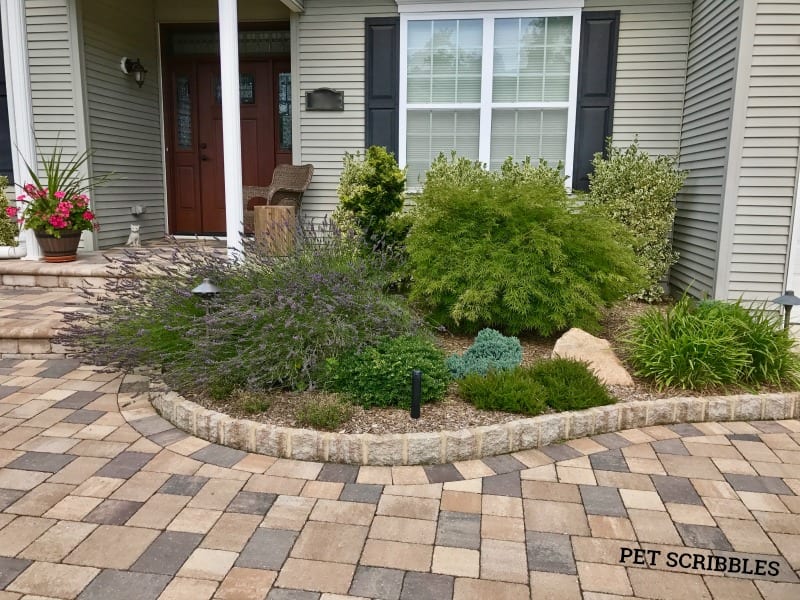 I finally planted bulbs in all of the garden beds too, so hopefully this Spring there will be many Daffodils in this bed. (I also want to add several more Spring-blooming bulbs like Snowdrops and Hellebores, but will have to wait until this coming Fall to plant them.)
Evolution of a Garden Bed — January 2019
I'm keeping it real here. This is the garden bed without me doing any cleanup before taking these pictures.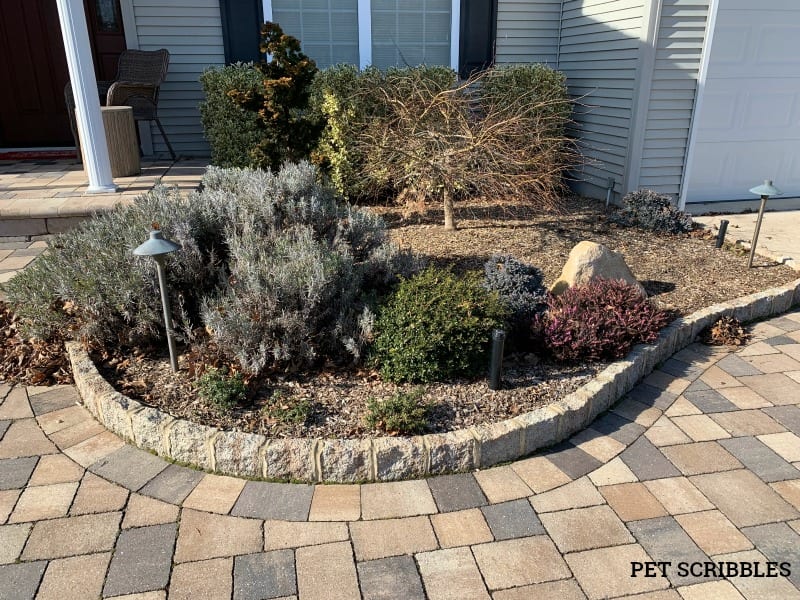 The Euonymus is almost one continues hedge now, and is super-easy to maintain. Hard to see in the photo, but the twigs of the Japanese Maple look very cool.
As the Daylilies die back to the ground this time of year, it just looks like a big empty spot in the right-half of this bed. The bed needs something, especially now.
The Blue Star Juniper way in the back on the right side looks so lonely, in the picture above.
What could I add to this bed?
While I love the evergreens in the left half of this bed . . .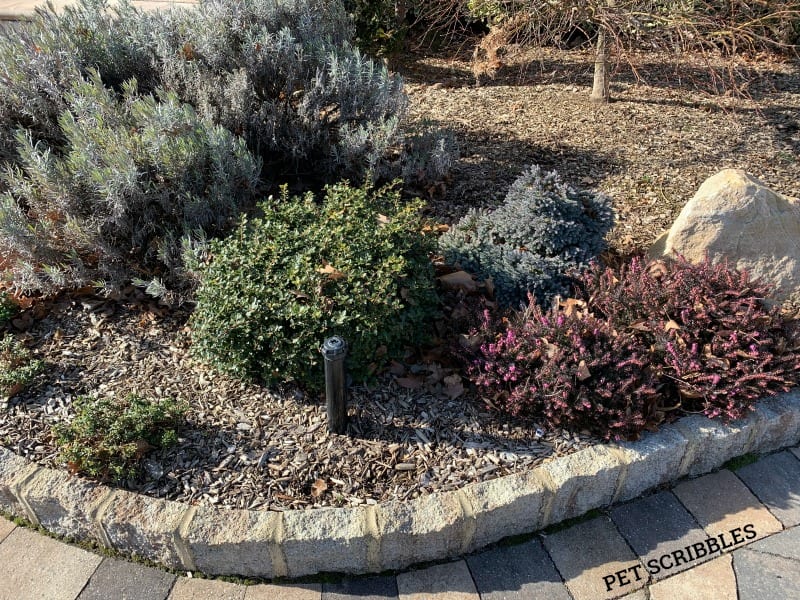 I still want to plant more on the right side of the bed.
I'd like to plant something under the Ornamental Japanese Maple, and maybe I'll plant more Candytuft since that does well when shielded from our hot sun. Or maybe Lily of the Valley.
But for the giant space on that right side — besides Spring-blooming bulbs — do any of you have suggestions for what might be nice to add to this bed? I'd love more flowers in the Summer, but definitely need some Winter color.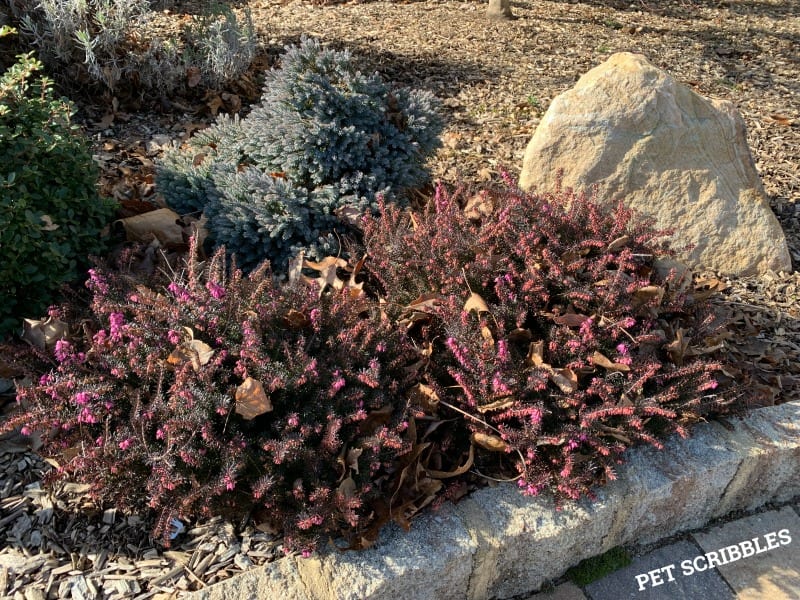 Of course when I see the gorgeous flowers on the Heath shrubs, I also know I'm going to add more of this to the bed too, maybe over by that lonely Blue Star Juniper.
Let me know what you think, and any suggestions are appreciated! Because this evolution of a garden bed will continue!
Don't forget to pop over to The Propagator garden blog. After you read about his six photos, then scroll down to the comments and get ready to see so many gardeners from all over the world sharing our photos! It's become part of my Saturday, enjoying a cup or two of tea and taking in everyone's garden projects!
Happy gardening!