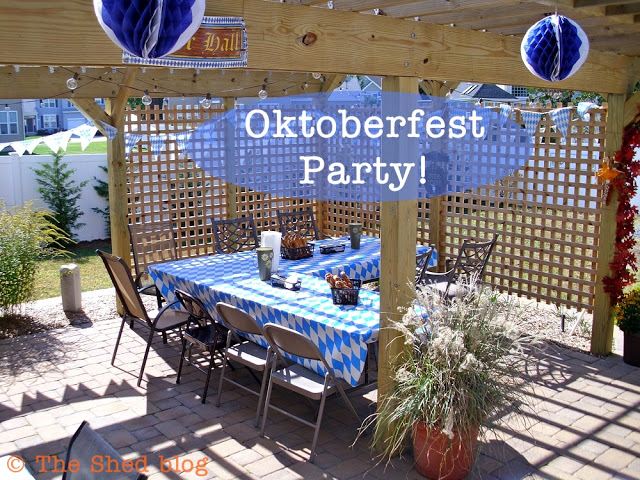 This Saturday – um….yes, that's tomorrow already! – is our 2nd annual Oktoberfest party for our neighborhood! We have an amazing neighborhood of close families and friends, and our Oktoberfest is a chance for us to host everyone plus say thanks for their hospitality (at their own parties and neighborhood events that we've enjoyed throughout the year) too.
Last year we lucked out with sunny weather which made it easy to decorate and set up a few days ahead of time. This year? Well… today it is raining. And it isn't expected to completely end until tonight. My husband and I have been planning like crazy, so that we can whip everything together tomorrow morning before the party begins since today is a washout. Hopefully our backyard will not be squishy wet from the rain. If that happens, we will hold the party in our front yard instead. (I'm rooting for the backyard and hope the weather gods hear me!)

This weekend is also our 6th wedding anniversary, on Sunday! Our wedding was an intimate outdoor ceremony and reception, and we had caterer friends who served up homemade German, Hungarian, and Ukrainian foods to honor our family backgrounds – which our relatives loved! (His family is German, mine is Hungarian and Ukrainian. He and I are Made in America, however!)
So for us, having an Oktoberfest – though it traditionally should be held in September – always reminds us a bit of our wedding: A gathering of friends and family enjoying good food and drink, celebrating happy times!
Here's a tour in pictures of last year's Oktoberfest. I hope you enjoy it!
This way to the party!
Of course our signs had to be in both German and English!
The sign says "A toast!" or "Cheers!" in German.
We set up the tables on our patio to resemble a traditional outdoor Beer Garden.
Pretzels on every table, German beer coasters, paper towel holders, candles.
Last year I was able to take my time decorating the day before in the lovely sunshine!  But . . .
But this year:  It's raining today, so I'll be throwing up (not literally…well, maybe) decorations tomorrow!
Last year, we had lots of hay bales, pumpkins and gourds to dress up the shed area.
The German cutouts on the shed once decorated the Oktoberfests thrown by my late Father-in-law!
You can't have an Oktoberfest without awesome German food!
We ordered food from a German butcher . . .
. . . and my husband made several dishes too, including Gulasch which went quickly!
My husband wore his late Father's genuine Oktoberfest hat.
His Dad would have loved this party!
Cheers!
Our home has smelled soooooo good this week, with all the food my husband has been preparing. (I am so lucky, yes I know, that my husband loves to cook! I suck at it, quite frankly.) This year, in addition to the usual store-bought German beers and wines that we'll have, my husband also made four different beers – he has been homebrewing for a few years now – made special just for this event! And we will have a "kids table" of hot dogs, hamburgers, and other kid-friendly foods too.
I hope you enjoyed this little tour! I'll be back here next week with some fun Halloween projects to share.
In the meantime… Prosit!
~Laura