Enjoy this tour of our backyard Oktoberfest party, with suggested menu ideas plus where to find Oktoberfest party decorations!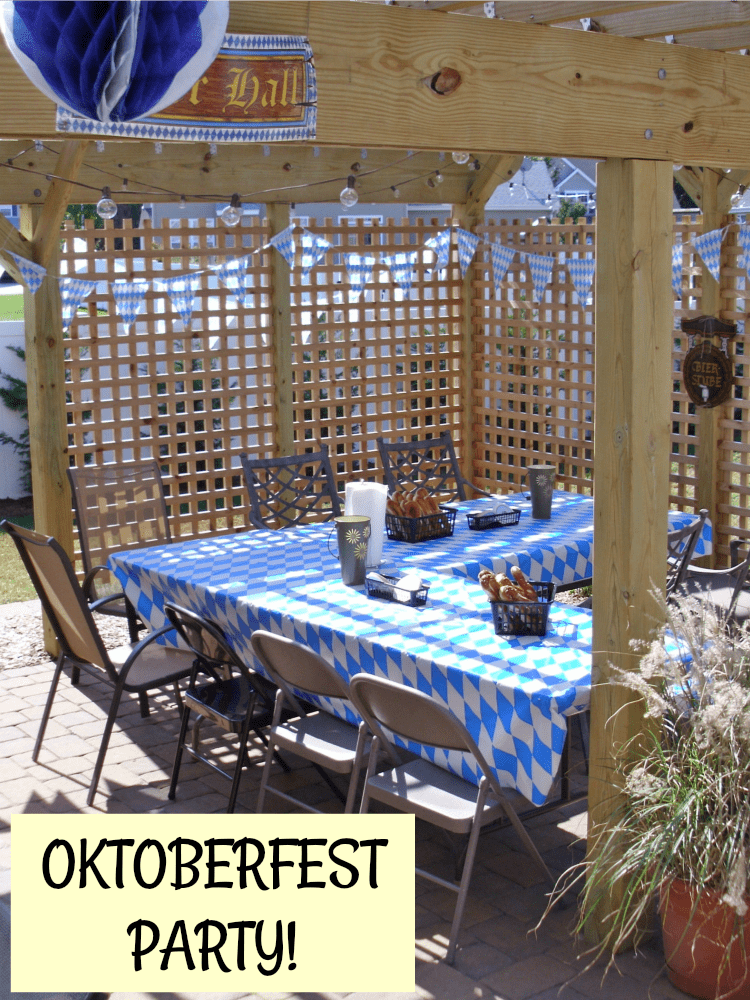 Editor's note: This post was expanded and updated in August 2019.
This Saturday — um….yes, that's tomorrow already! — is our 2nd annual Oktoberfest party for our neighborhood! We have an amazing neighborhood of close families and friends, and our Oktoberfest is a chance for us to host everyone plus say thanks for their hospitality (at their own parties and neighborhood events that we've enjoyed throughout the year) too.
Last year we lucked out with sunny weather which made it easy to decorate and set up a few days ahead of time. This year? Well… today it is raining. And it isn't expected to completely end until tonight. My husband and I have been planning like crazy, so that we can whip everything together tomorrow morning before the party begins since today is a washout. Hopefully our backyard will not be squishy wet from the rain. If that happens, we will hold the party in our front yard instead. (I'm rooting for the backyard and hope Mother Nature hears me!)
The German connection…
This weekend is also our 6th wedding anniversary, on Sunday! Our wedding was an intimate outdoor ceremony and reception, and we had caterer friends who served up homemade German, Hungarian and Ukrainian foods to honor our family backgrounds — which our relatives loved! (His family is German, mine is Hungarian and Ukrainian. He and I are Made in America, however!)
So for us, having an Oktoberfest — though it traditionally is held in September in Germany — always reminds us a bit of our wedding: A gathering of friends and family enjoying good food and drink, celebrating happy times!
Instead of food . . .
I don't want to forget to mention this idea. Since we provide all of the food, we don't want our friends and neighbors to feel like they need to bring a dish or dessert. In fact, we prefer that they don't, as there's honestly nowhere to put it all.
So instead, we tell everyone that if they want to bring something, to please bring two canned goods that we will donate to the local food pantry. We end up collecting a few bags of canned goods to donate just from the party guests!
Oktoberfest Party!
Here's a tour in pictures of last year's Oktoberfest. I hope you enjoy it!
I'm including links to the Oktoberfest party supplies we bought on Amazon, in case you're interested in purchasing them for your own party.
FTC Disclaimer: Some of the links in this post are Amazon affiliate links. I explain more here.
This way to the party! This Oktoberfest yard sign has a sturdy wood stake on it and the decorative sign is printed on both sides.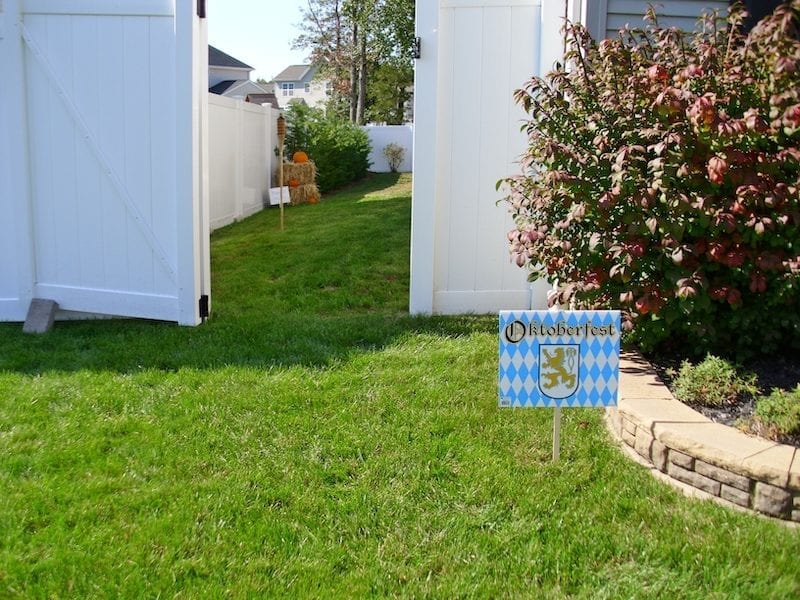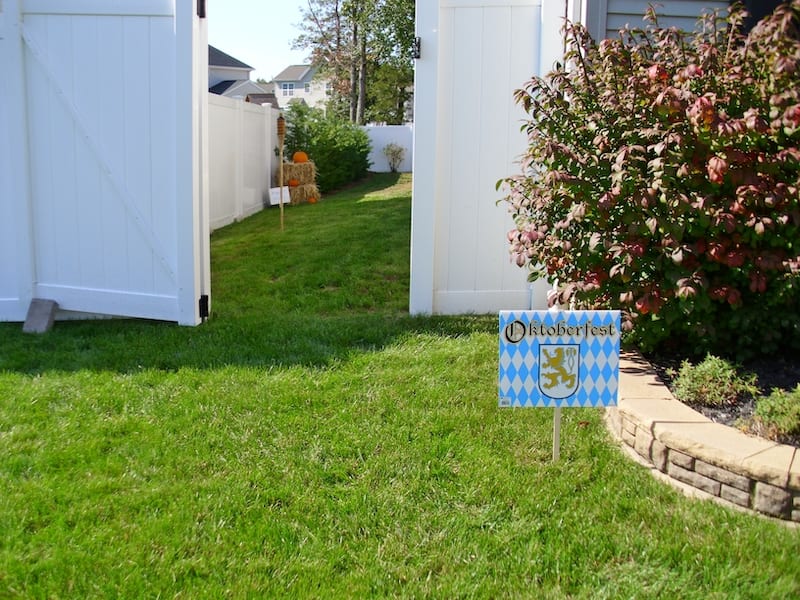 Of course our signs had to be in both German and English! (We made that one below ourselves, which you can probably tell!) Easy entrance decorations: mini hay bales and small pumpkins do the trick.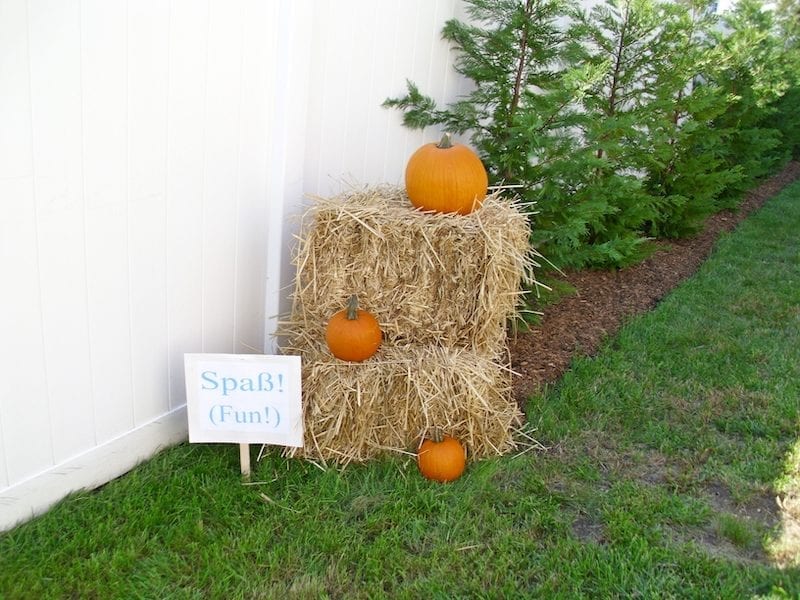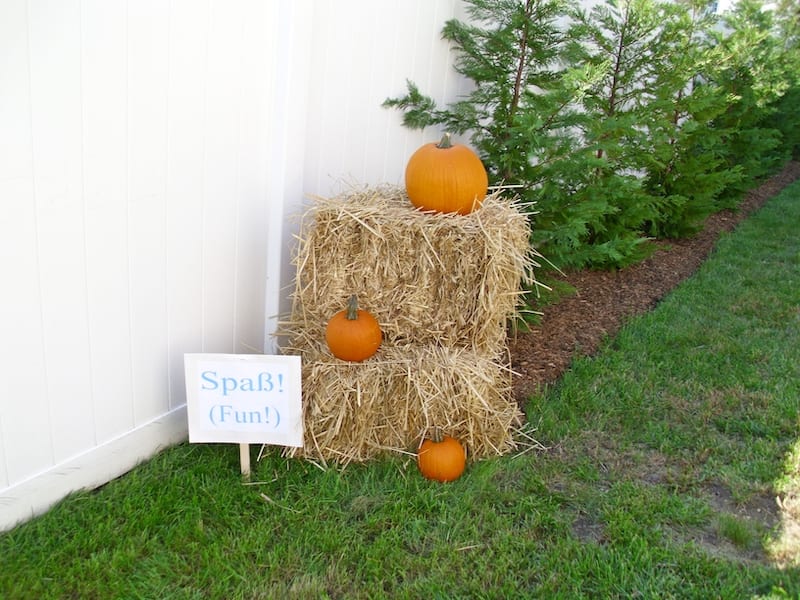 This Ein Prosit sign says "A toast!" or "Cheers!" in German. The sign is actually three pieces that are attached together, so it is easy to fold flat to store. You can get this sign in quantities of just one, three signs or a dozen.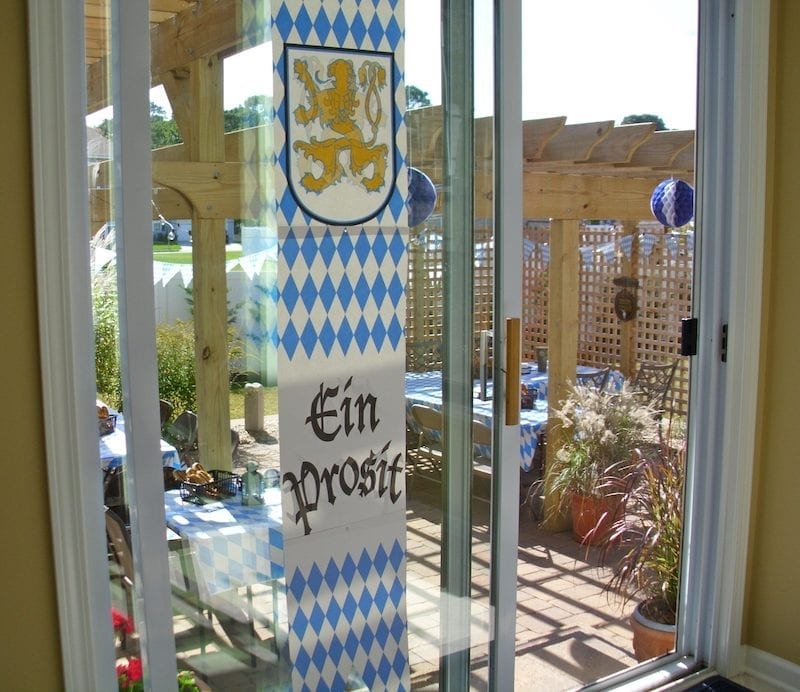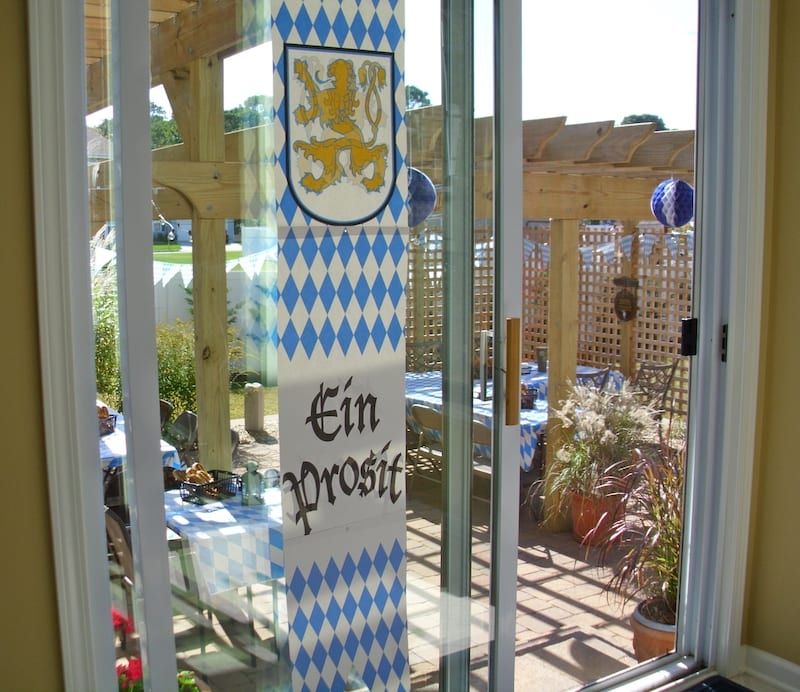 It's also common to say "Prost!" as well, in case you see that spelling in your Oktoberfest travels. We normally say Prost!
Our folding tables were set up on our patio to resemble a traditional outdoor Beer Garden.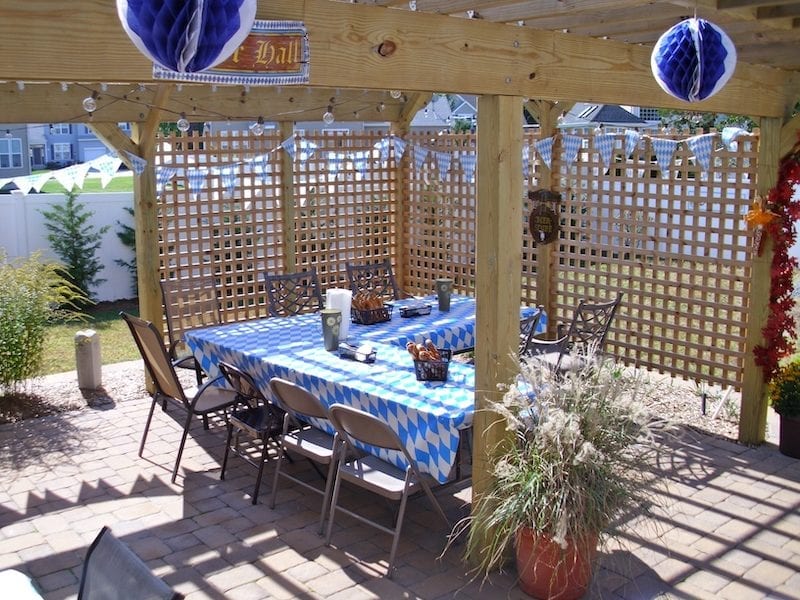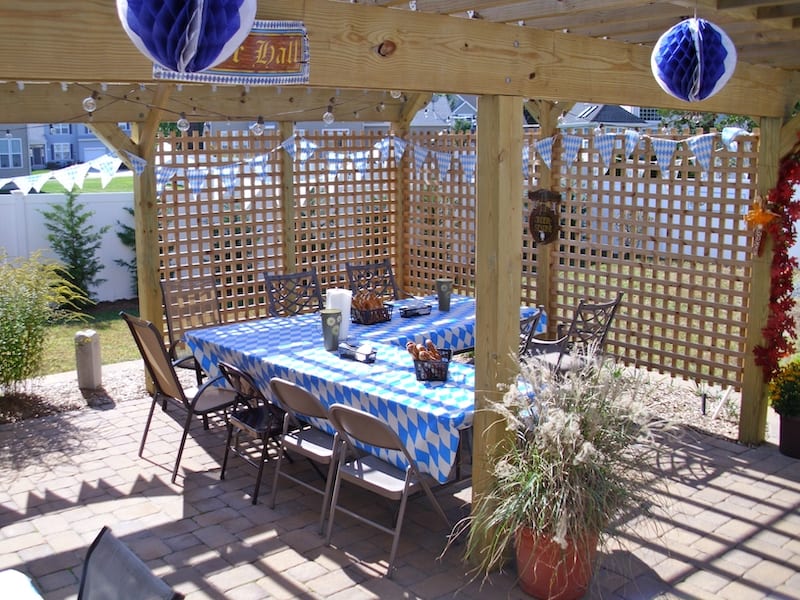 We decorated with traditional blue and white plastic tablecovers, Beer Hall signs, a Beer Garden sign, and a large German flag we found on Amazon as well.
Hanging on the outside of the wood pergola (not seen) are blue and white pennant banners, which are plastic and therefore waterproof.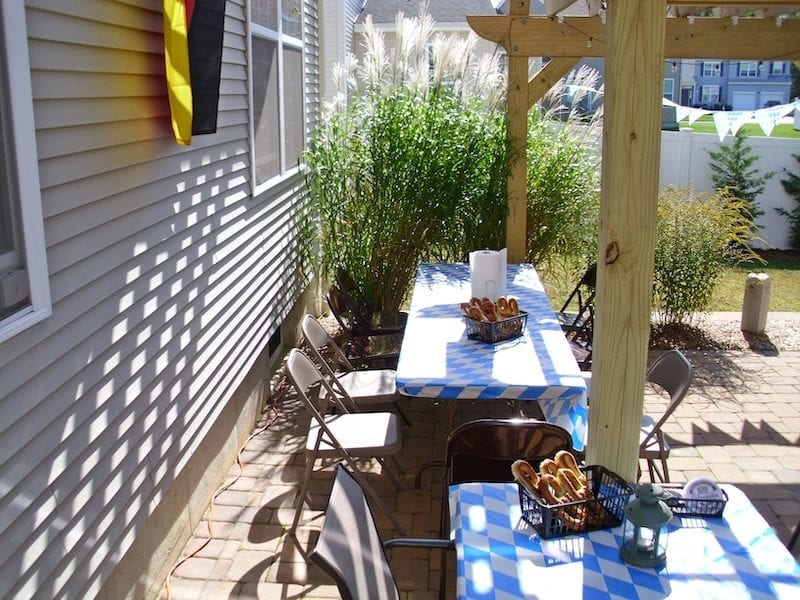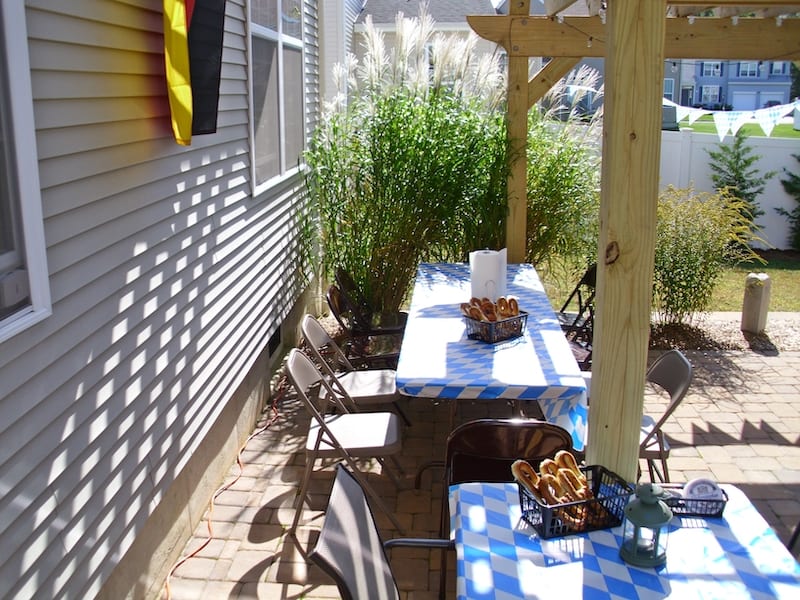 Pretzels on every table, traditional German beer coasters, paper towel holders (easier than napkins flying away in the wind) and candles.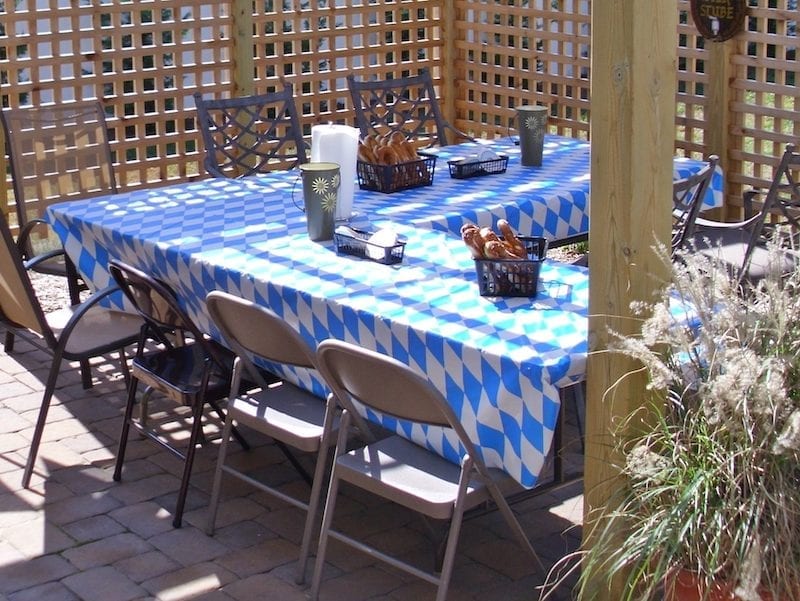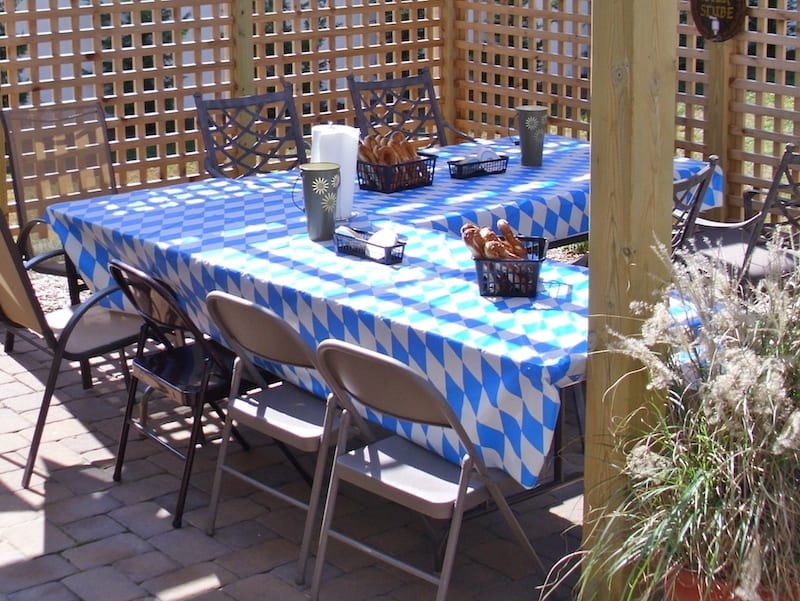 Last year I was able to take my time decorating the day before in the wonderful sunshine!
But this year: It's raining today, so I'll be throwing up (not literally…well, maybe) decorations tomorrow morning!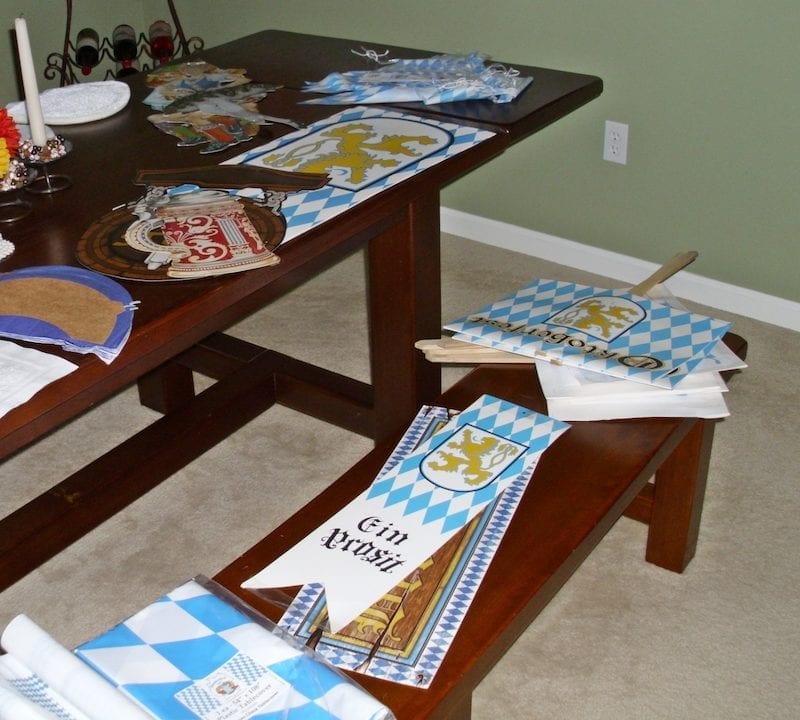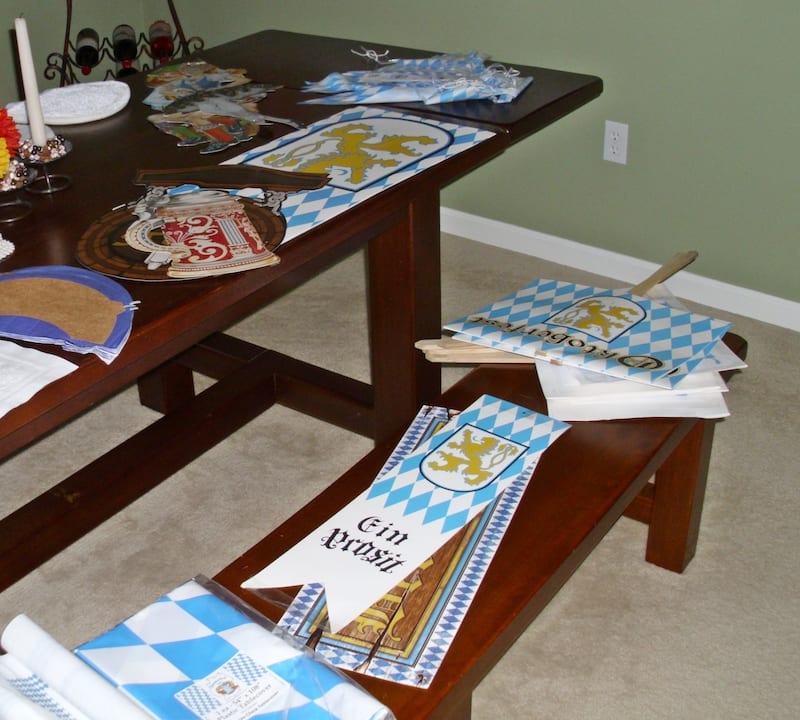 Lots of hay bales, pumpkins and gourds — as well as the fun German Oktoberfest people cutouts — dressed up the garden shed area, and provided a fun place to take pictures.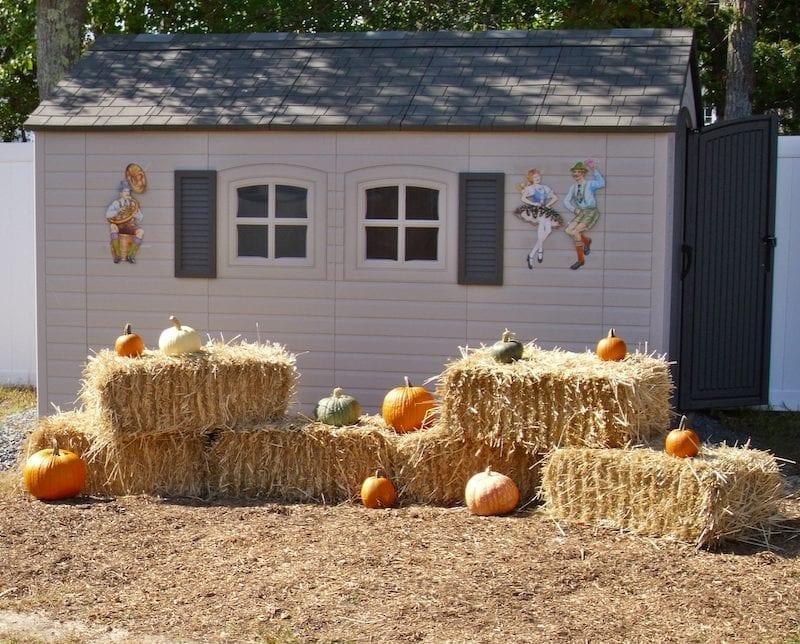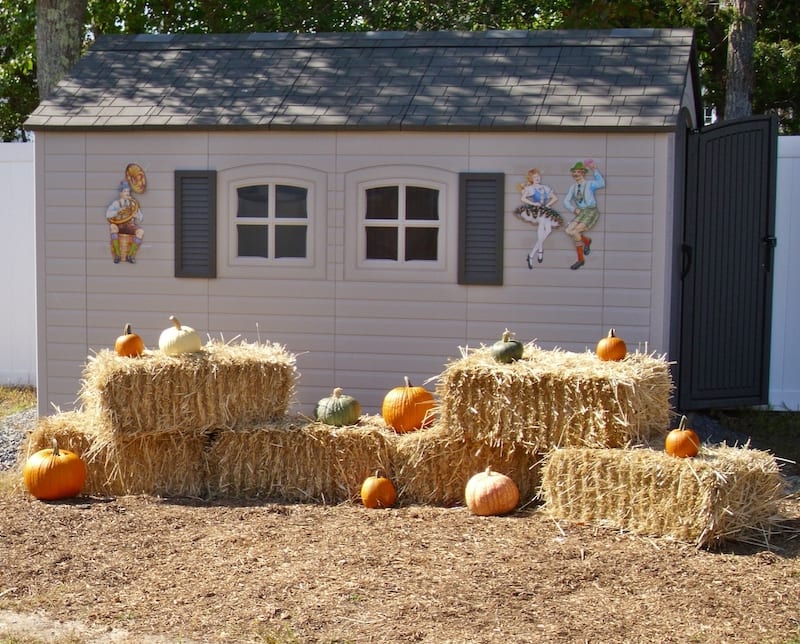 Oktoberfest Party Hats
My husband wore his late father's genuine Oktoberfest hat. His dad would have loved this party! And I wore this adorable German hair clip of a tiny fabric alpine hat. I clipped it sort of up and on the side of my hair and it looked great!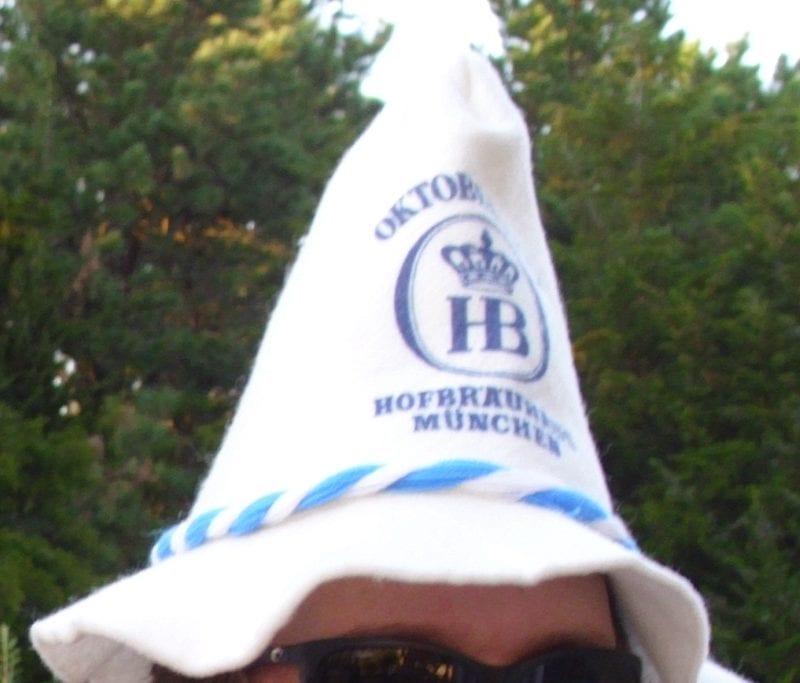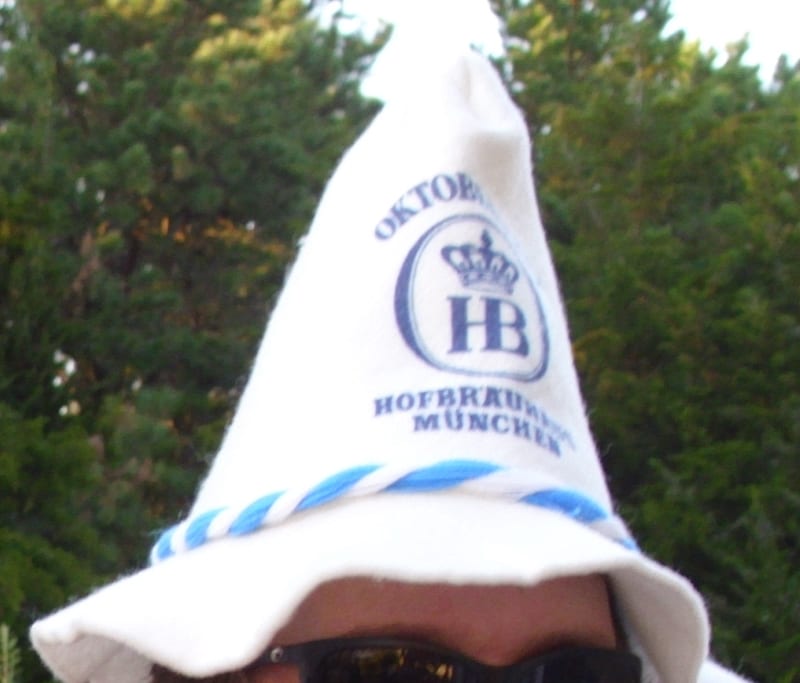 You can find all kinds of Oktoberfest party hats on Amazon. Some are traditional, some are silly — there's something for everyone!
Food!
You can't have an Oktoberfest without awesome German food! We ordered food from a local German butcher . . .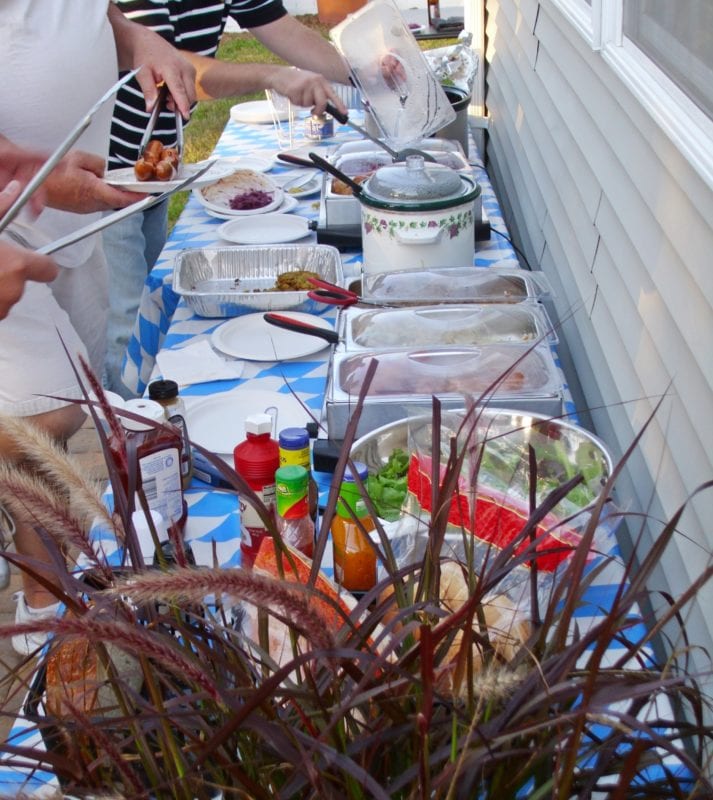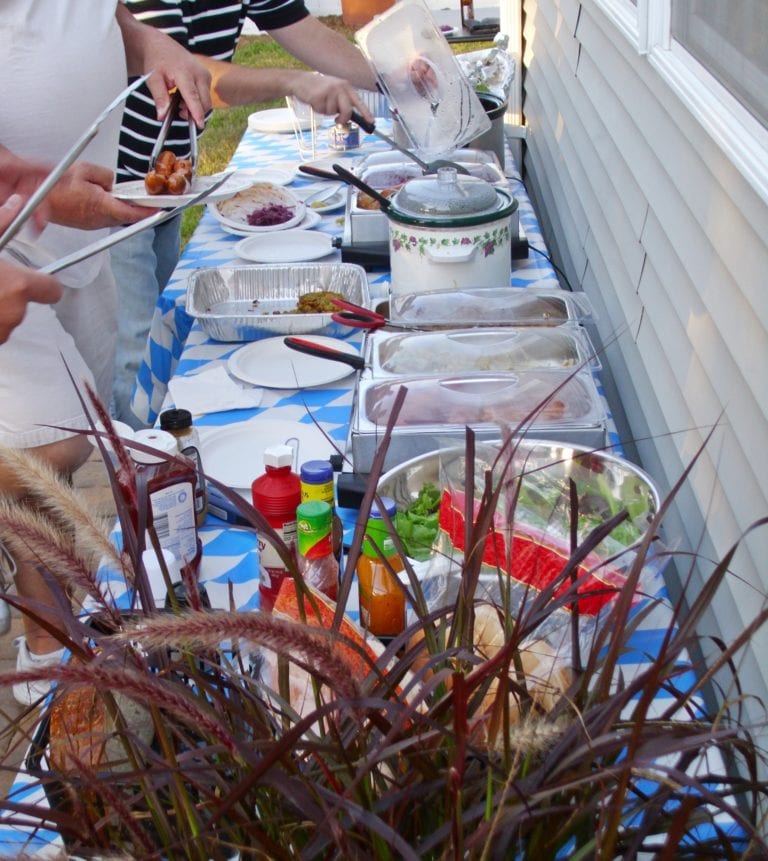 . . . and my husband made several dishes too, including Gulasch which went quickly!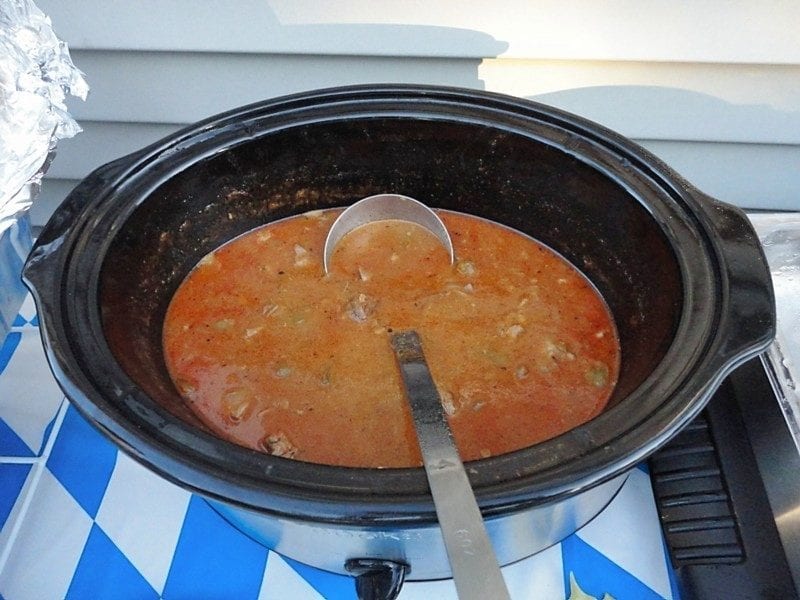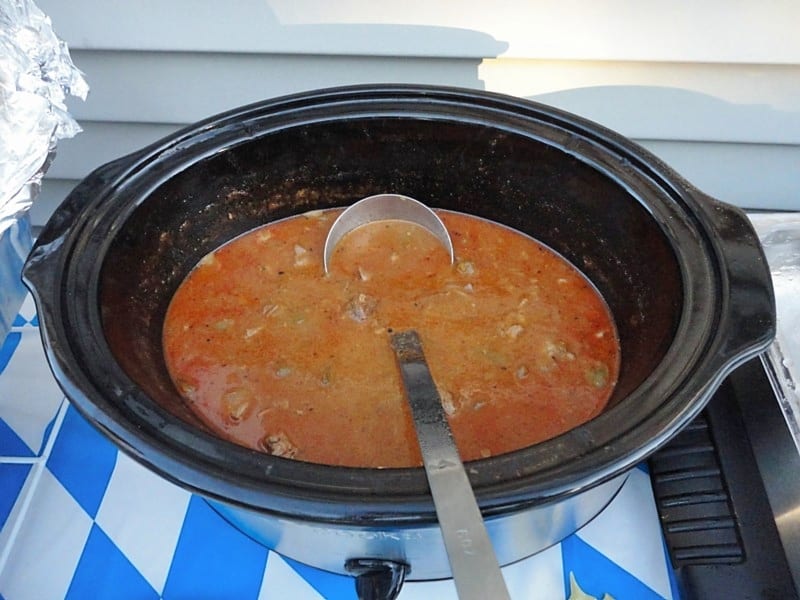 We used heavy duty white paper plates, to avoid any dinner food mishaps. And we used these cute Oktoberfest flag toothpicks for cheese and other appetizers.
Menu Ideas
Our home has smelled soooooo good this week, with all the food my husband has been preparing. (I am so lucky that my husband loves to cook! Believe me I know! I suck at cooking, quite frankly.)
We order items from a German butcher, which we are lucky to have in the area. We also order food from a local restaurant's Oktoberfest menu.
Helpful tip: Visit a local restaurant which either has a "German food night" or has an Oktoberfest menu during October, and ask if they will work with you to create a budget-friendly menu.
Some of the foods we order and/or make include:
Pretzels
German bread
Red cabbage
German potato salad
Gulasch stew
Sauerkraut
Sausages
Spätzle, traditional egg noodles
Schnitzel
Beef Rouladen
Sauerbraten
Potato pancakes
We also have salads, chicken and small cut-up hoagie sandwiches. Not everyone likes German food, afterall. (But it's soooooo good!)
For dessert we serve warm Apple Strudel, made fresh from the German Butcher's store.
We always have a "kids table" of hot dogs, hamburgers, and other kid-friendly foods as well as juices, waters and some sodas. Ice cream and cookies for dessert.
Oh — and of course we also have plenty of German beer and wine on hand too.
I hope you enjoyed this little tour, and are inspired to host your own party! The costs can add up, so my suggestion is to shop around — both for party supplies as well as menu options. The more you plan in advance, the easier your "day of" preparations will be.
Happy Oktoberfest!