Make these easy farmhouse gift tags with a stamp. Use a self-inking To From stamp on tags, add a smaller Christmas paper layer then attach to your presents!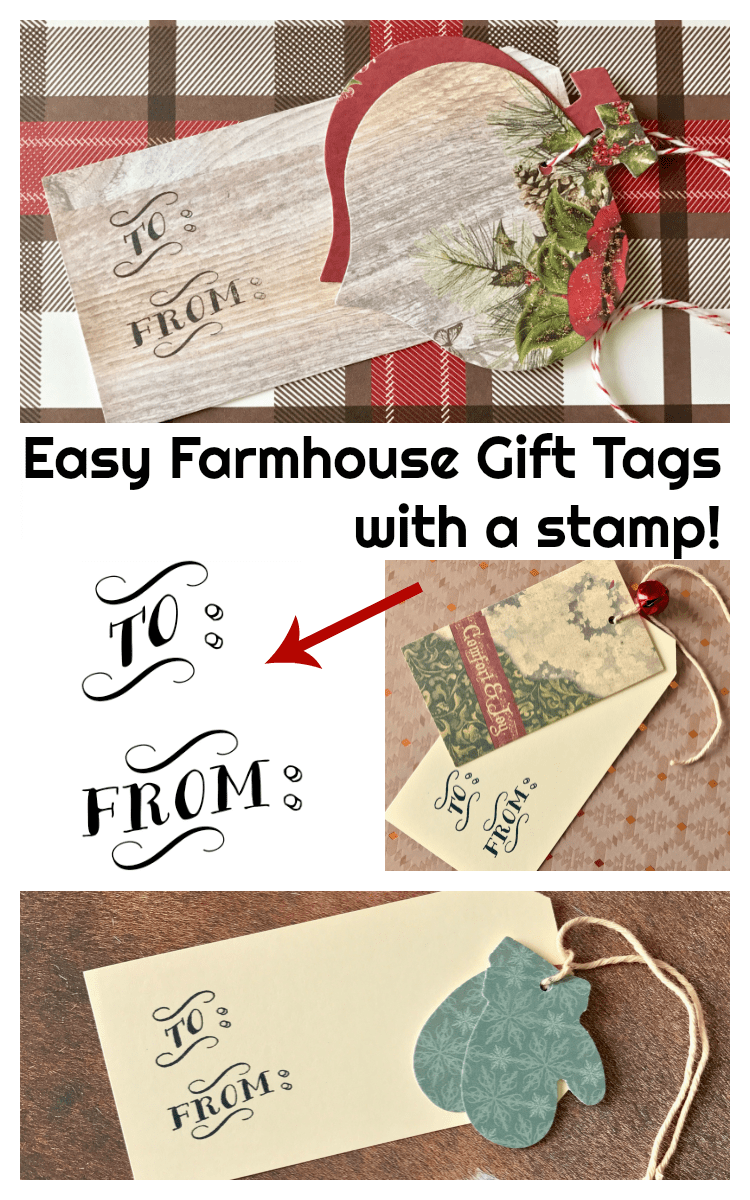 One of the last-minute, stressful things I do every year around Christmas is write out gift tags to go on our wrapped presents.
At least that's how it usually has been for me, as embarrassing as that is to admit!
But not this year!
I'm using one of Simply Stamps self-inking holiday stamps to make my own farmhouse gift tags.
I love how they're turning out!
(Keep scrolling on down to see all of the farmhouse gift tags and how I made each one!)
FTC Disclaimer: I've received products/compensation as part of the Simply Stamps Design Team. These Farmhouse Gift Tags, however, are 100% my own project! Some of the links in this post are affiliate links. I explain more here.
Simply Stamps has an extensive collection of Holiday Stamps to use on gift tags.
(Click the link in the previous sentence to see the full collection.)
They have several stamps from Santa Claus — perfect for little kids to see on Christmas morning!
I collaged some of them together for you to see, so you can get an idea: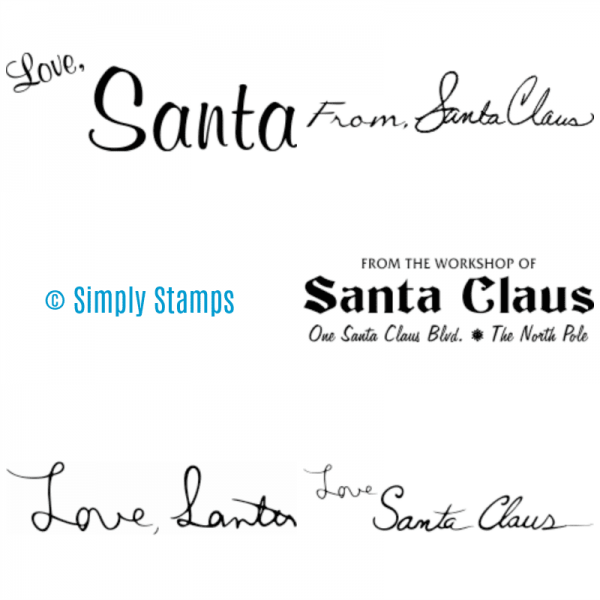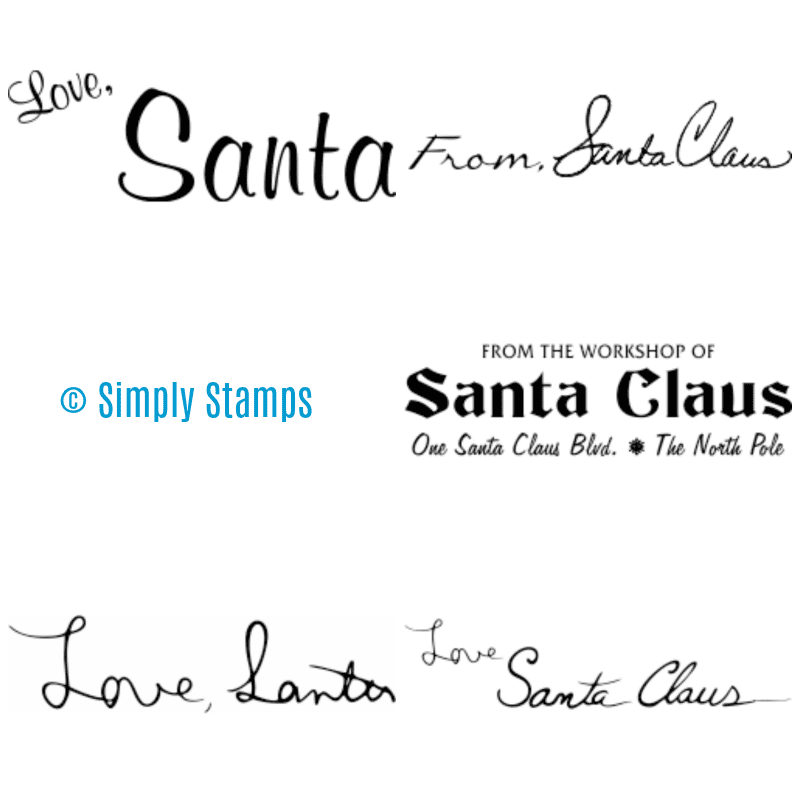 Aren't they sweet? My mother used to write our gift tags with "Love, Santa" on them when we were little. She would have loved having one of these stamps back then!
Simply Stamps also has a fun selection of "To and From" self-inking stamps: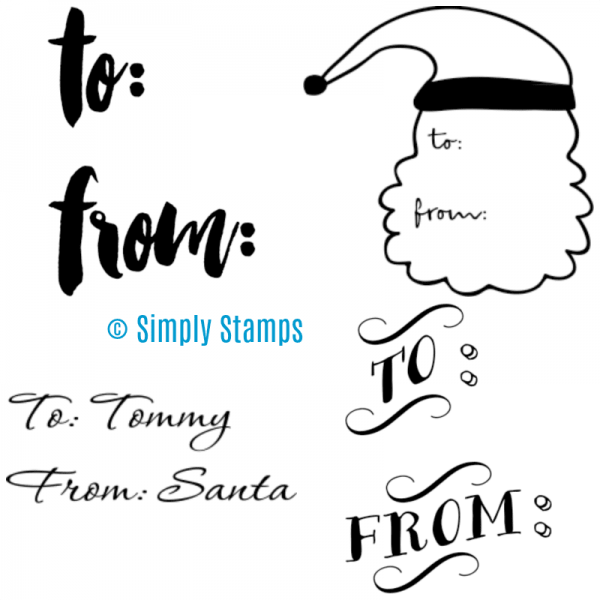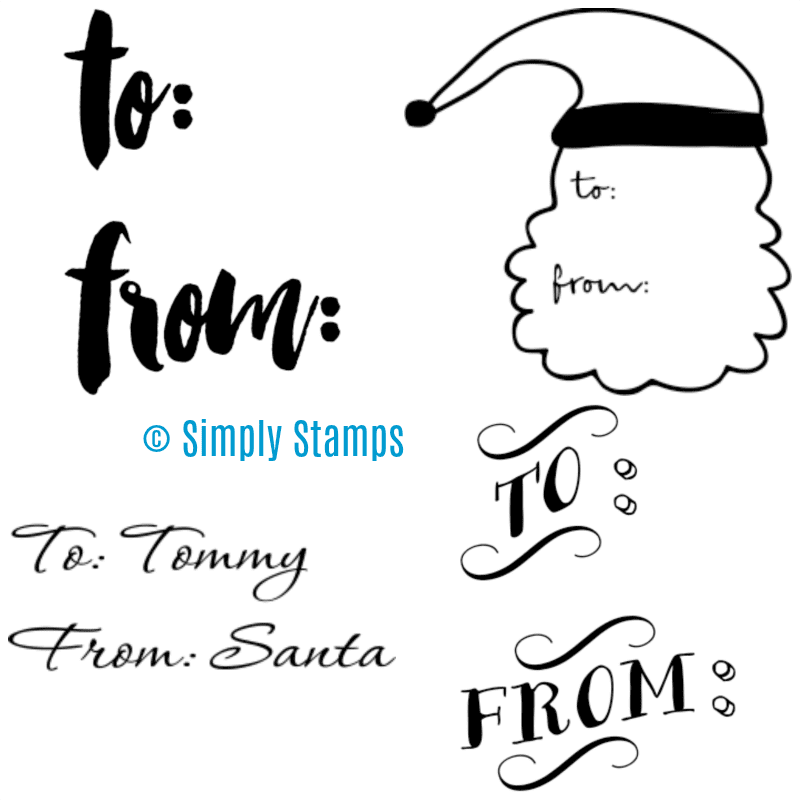 You can customize a design to have your child's name (see Tommy example above) too!
I chose this modern handwritten font design stamp by Taylor Elliott for Simply Stamps: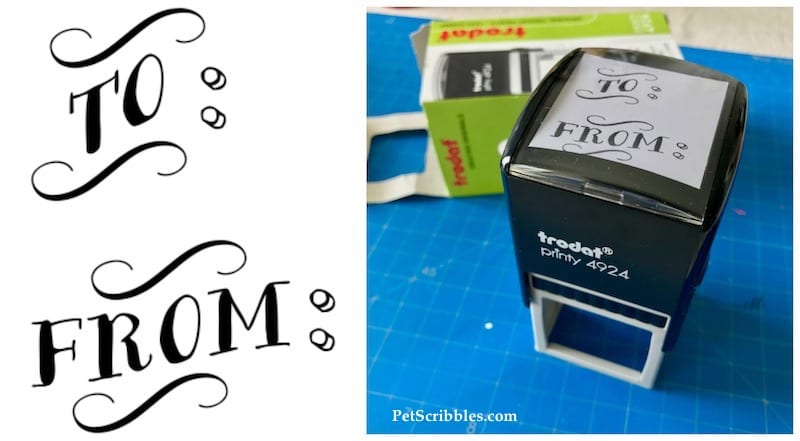 On the left (above) is what the stamped design looks like. On the right (above) is what the actual stamp looks like.
The stamp is self-inking — which is so convenient — and you can choose from 8 different ink colors when you order.
The stamp comes in three sizes — I chose the large size.
Here's how easy it is to create some fun farmhouse gift tags using one of these stamps . . .
Easy Farmhouse Gift Tags with a stamp!
Supplies:
You'll notice I have some items listed as optional. This is because — as you'll see below — there are many ways to create these tags.
Tutorial:
I'm using standard manila shipping tags, which I found here on Amazon.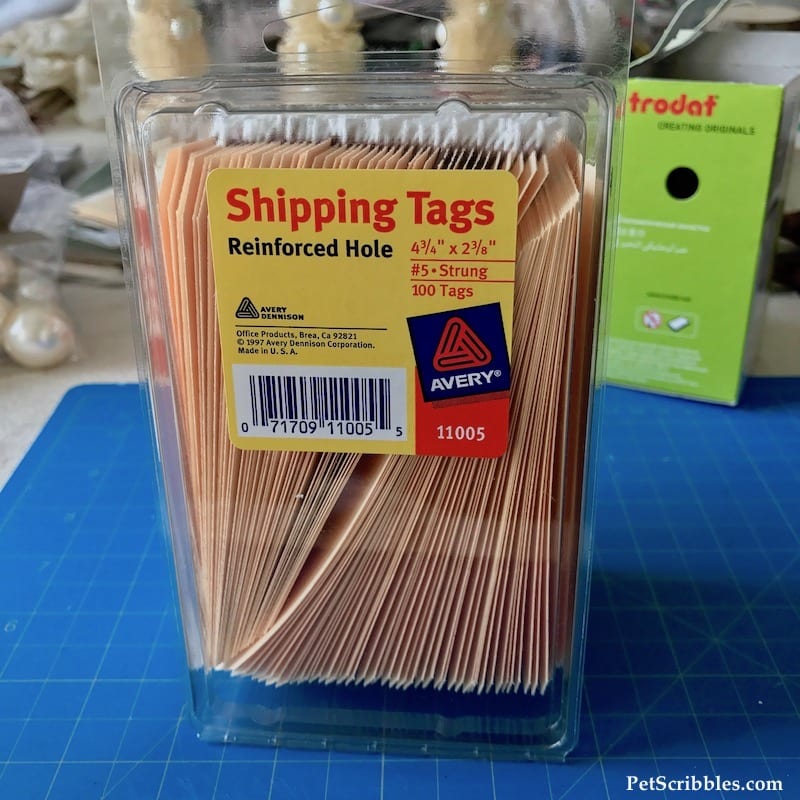 Right out of the box — literally — the self-inking stamp produces beautifully clear impressions on the shipping tags!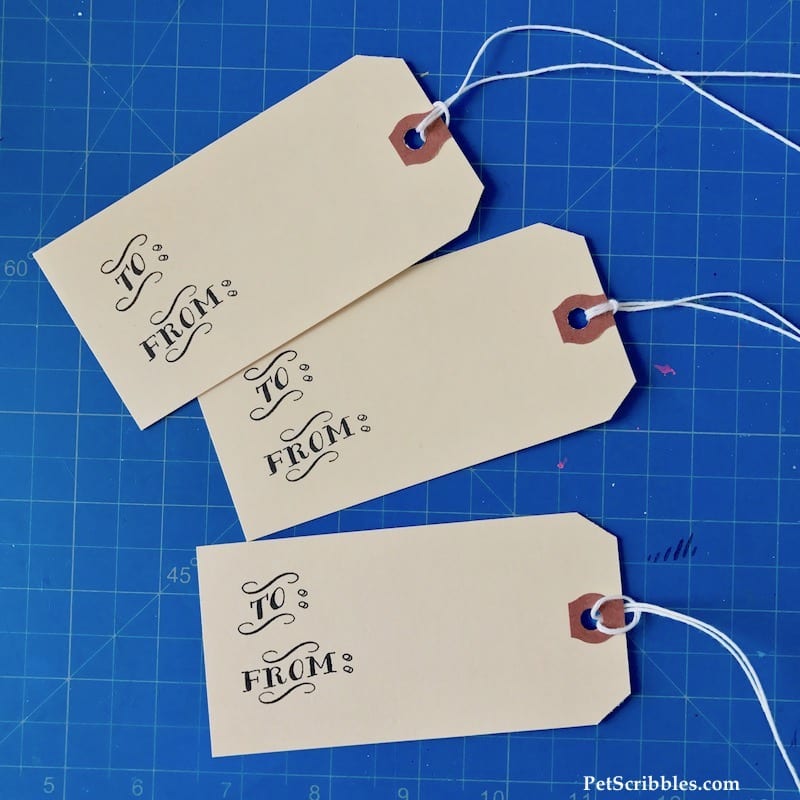 What I love the best about this stamp is the stylish hand-written font!
So pretty!
Here's how I dressed these tags up and gave them a homespun farmhouse look:
I removed the white strings and replaced them with some string I had already stained with tea previously.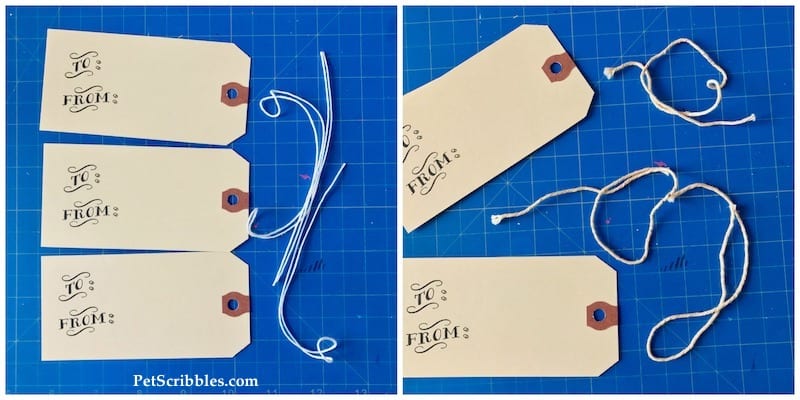 You can dye the white strings by dunking them into a mug of tea for about five minutes, then let dry.
I also love using red-and-white Baker's twine on my tags — can't get more farmhouse than that!
I pulled out some of my decorative cardstock with Christmas and holiday designs to make additional tags.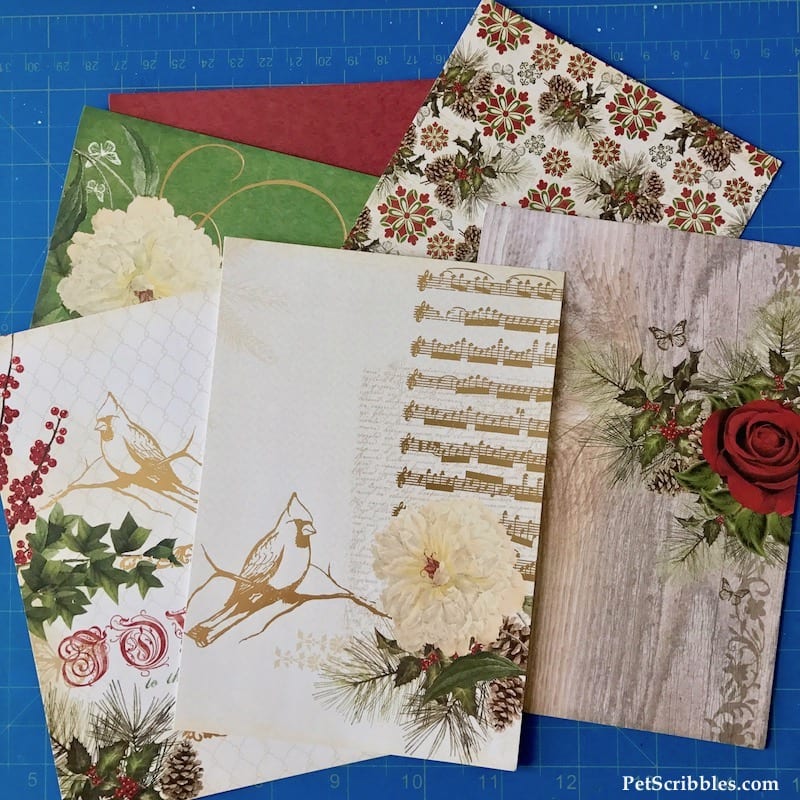 Just use a shipping tag as your template, trace around it with a pencil, then cut out.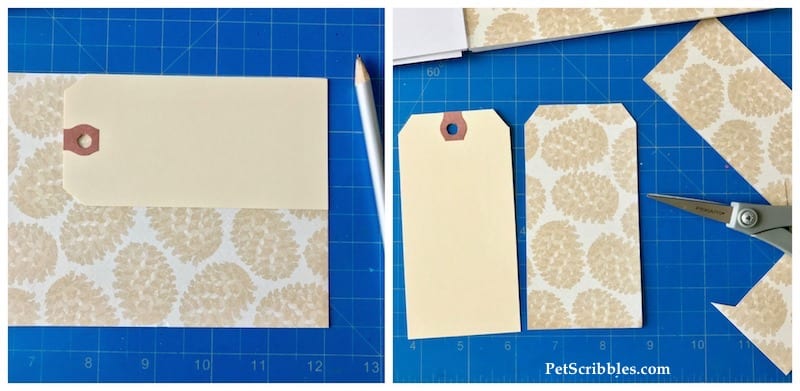 If you want to make sure to include a pretty part of the design, go for it!
Below, I used the template to make a tag around the gold-foiled cardinal.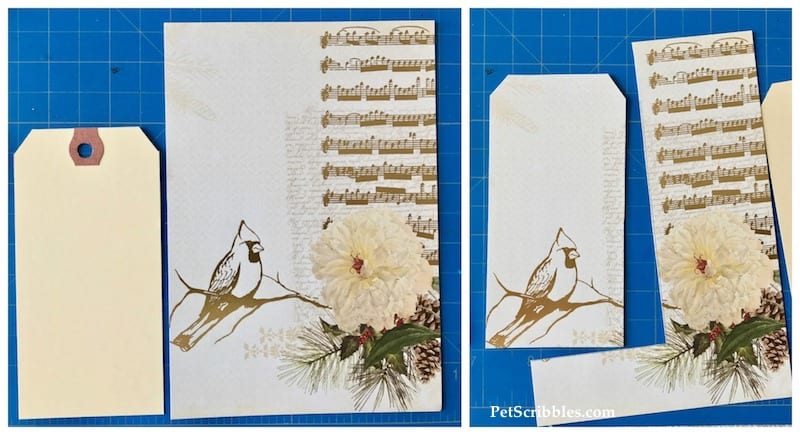 The Holiday To From self-inking stamp works great on all papers, including decorative cardstock: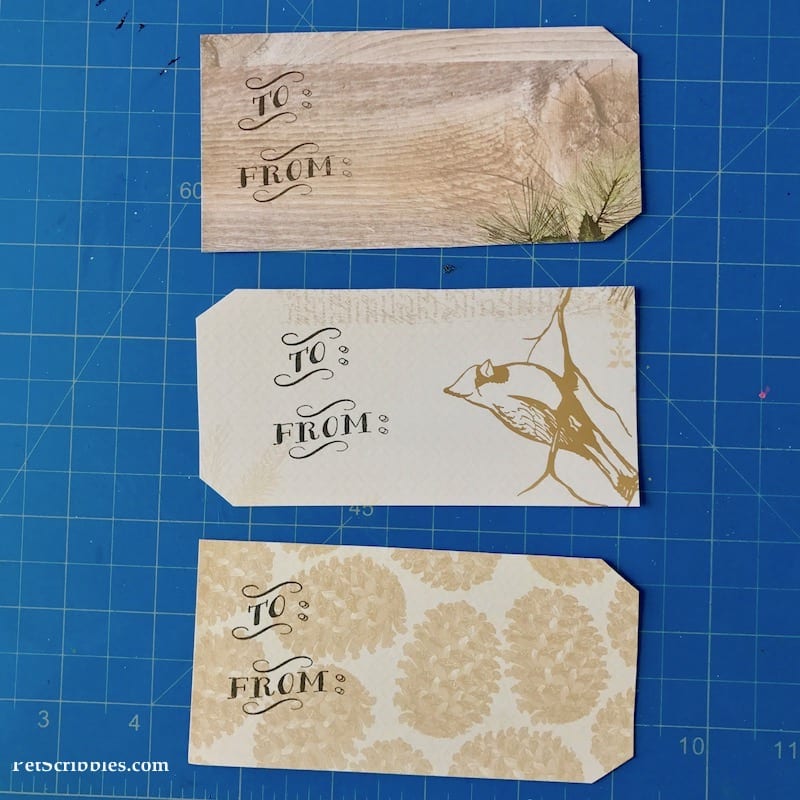 Add an extra — and shorter — layer to each gift tag for something special.
You can do this in several ways, such as with a decorative craft hole punch like this mitten shape: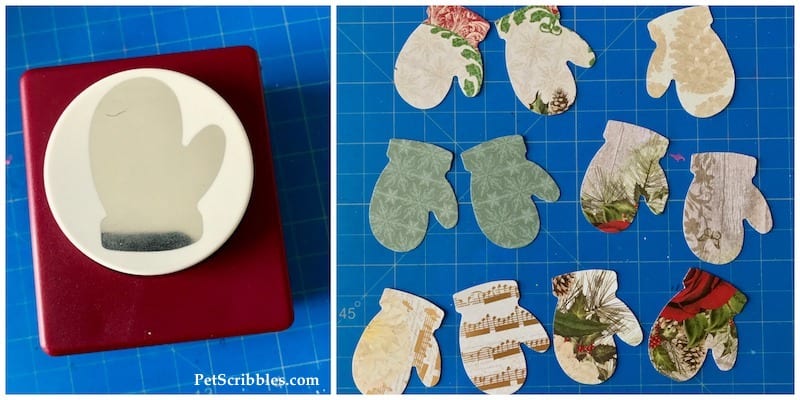 You can make ornament shapes like I did here using these Tim Holtz dies and a die cutting machine: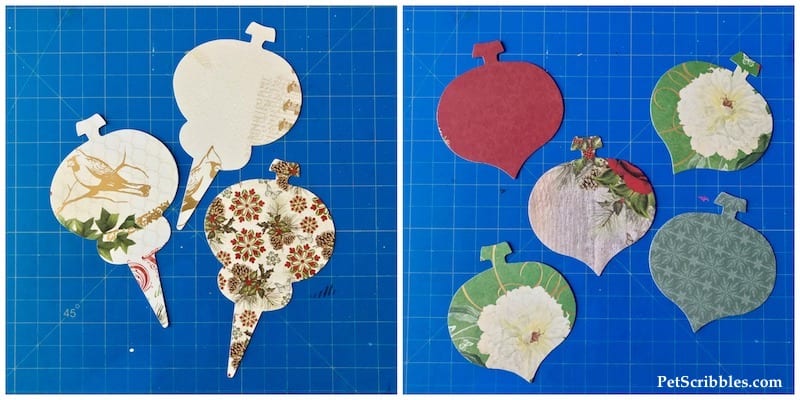 You can also cut out pretty sections of scrapbook paper or purchase an ephemera pack of little cute tags and designs — like these from 7gypsies below.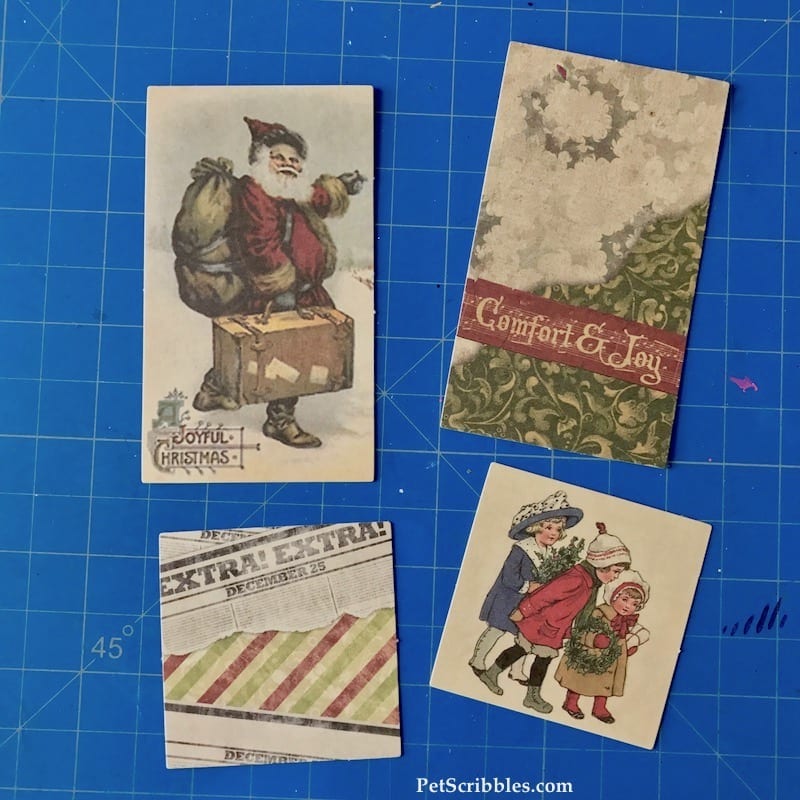 (I also found these adorable Christmas tags for you on Amazon, that would look great paired with larger shipping tags.)
Helpful tip: For a farmhouse style gift tag, use manila shipping tags and Christmas papers that have muted tones or antique images.
The fun part is matching up which decorative holiday bits you will use with your shipping tags.
Once you've decided, just punch a hole (if needed for the decorative cardstock tags) and the smaller paper, then add your string.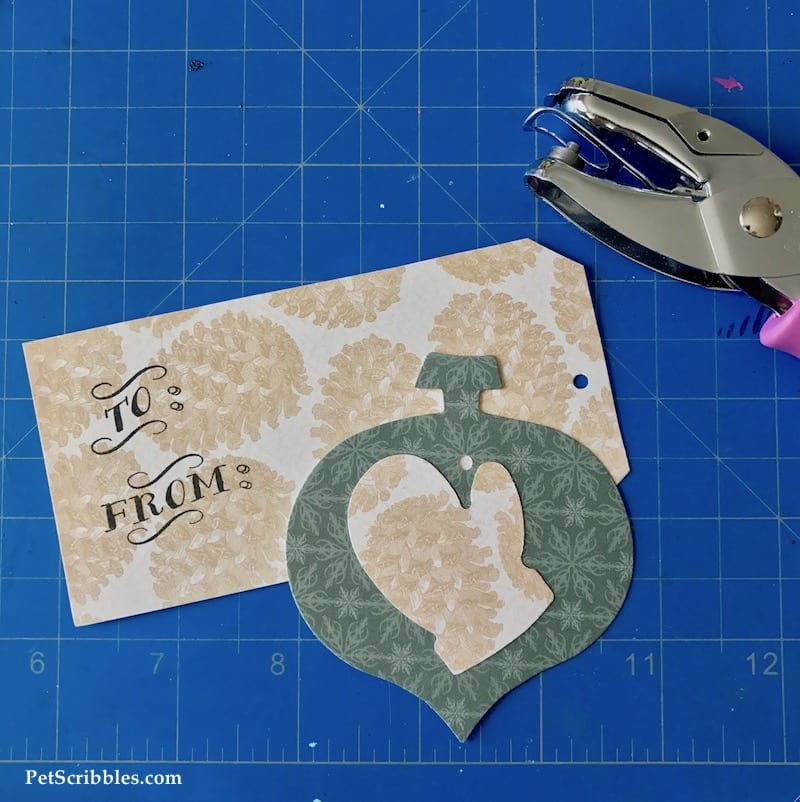 I used a bit of Xyron adhesive to attach a mitten shape to an ornament shape, then tied it together with Baker's twine.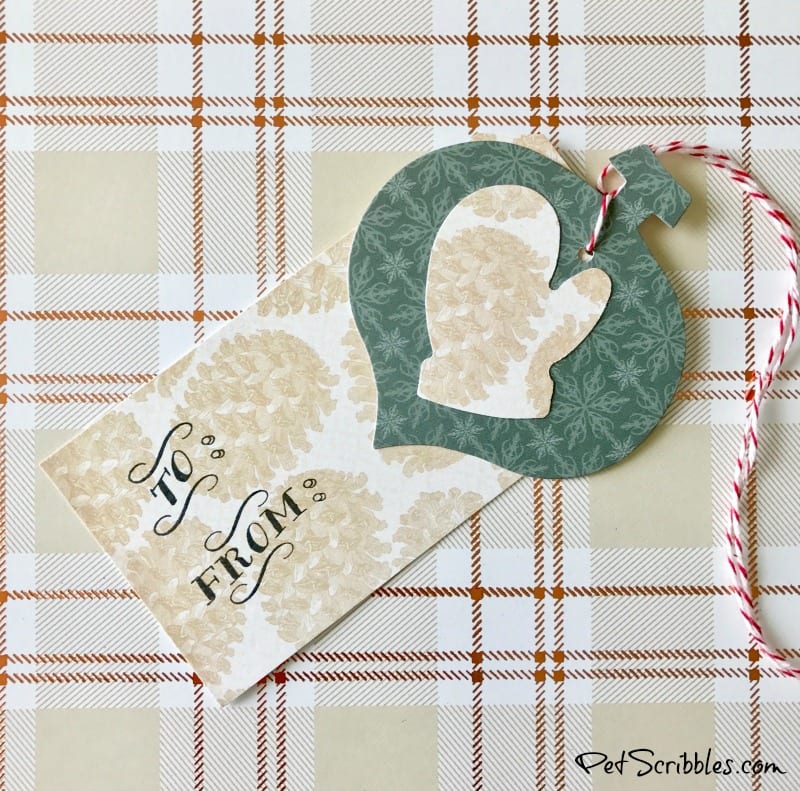 For this tag, I kept it very simple: two mittens hanging from the tea-stained string.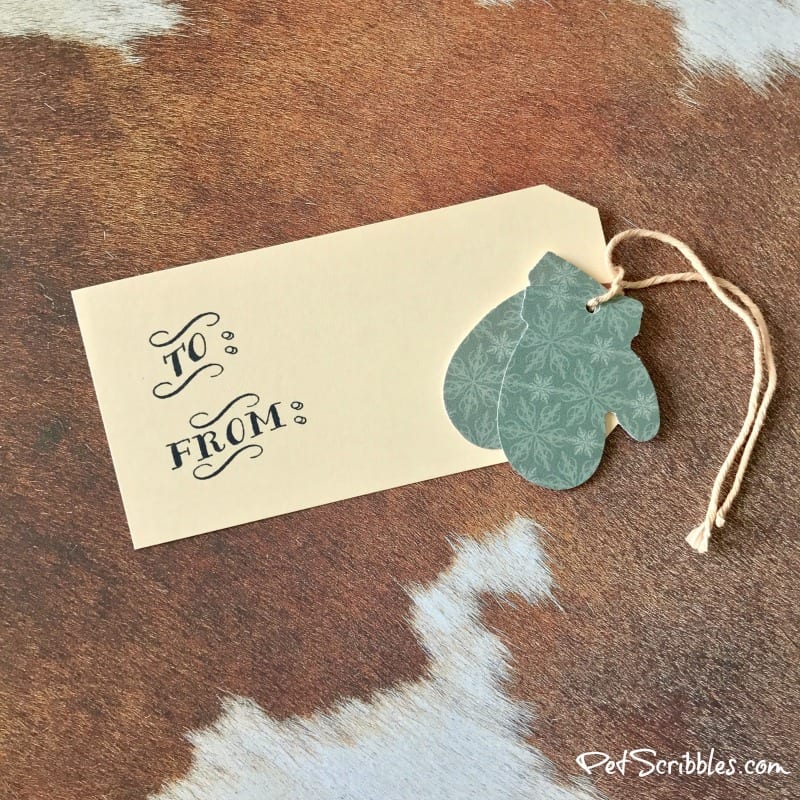 I added glitter accents to a couple of the tags to bring out the designs more.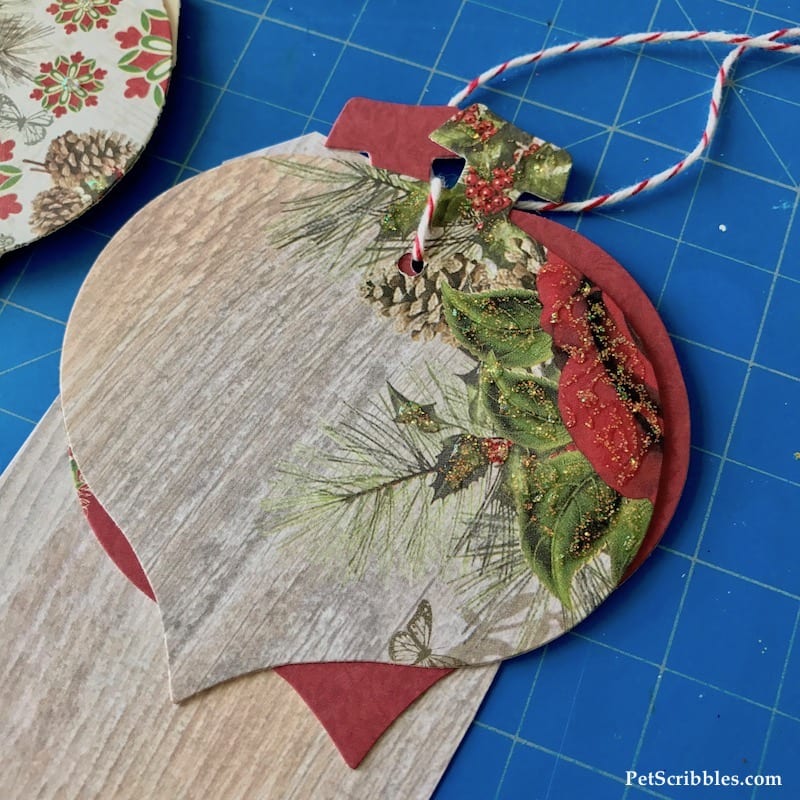 I love the wood look of this tag so much! I layered a solid ornament shape behind the wood pattern ornament shape to help it pop.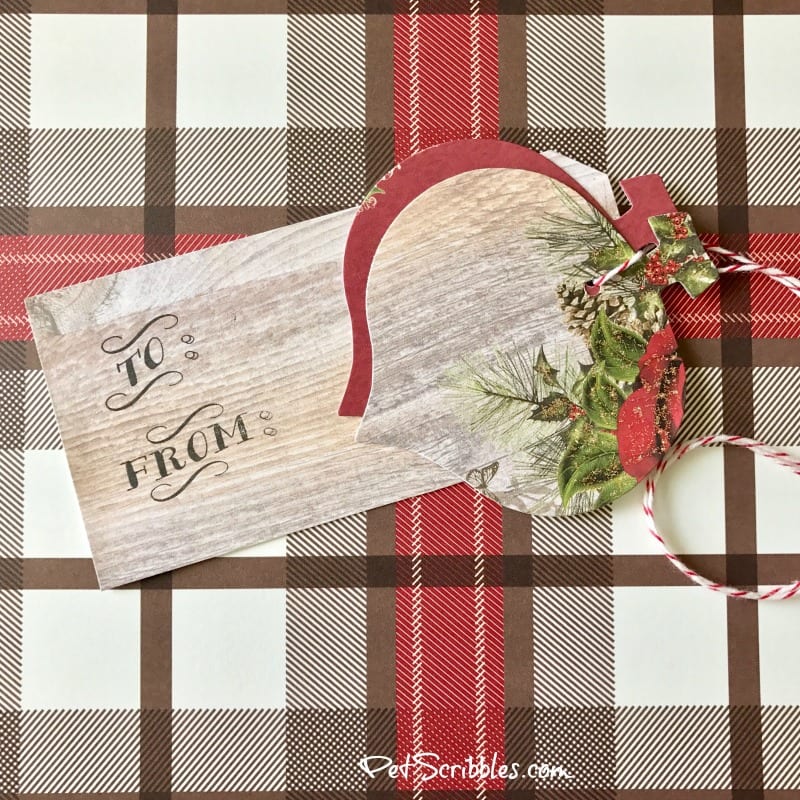 Using the longer ornament die cut, means it reaches almost to the bottom of the tag. Just slide the ornament to see who the recipient is!
I like this idea!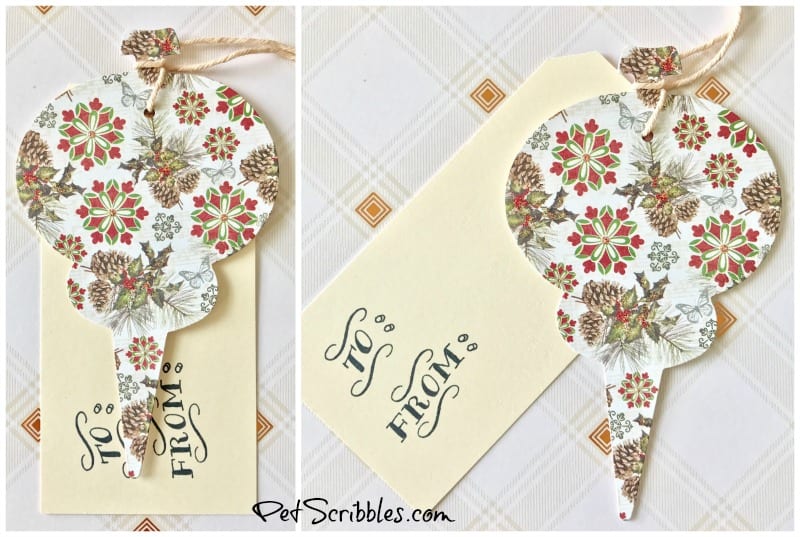 Since I stamped the To From design above the cardinal, you can't see it underneath the ephemera tag! I decided to use the white string with this tag and added a tiny gold jingle bell with a jump ring.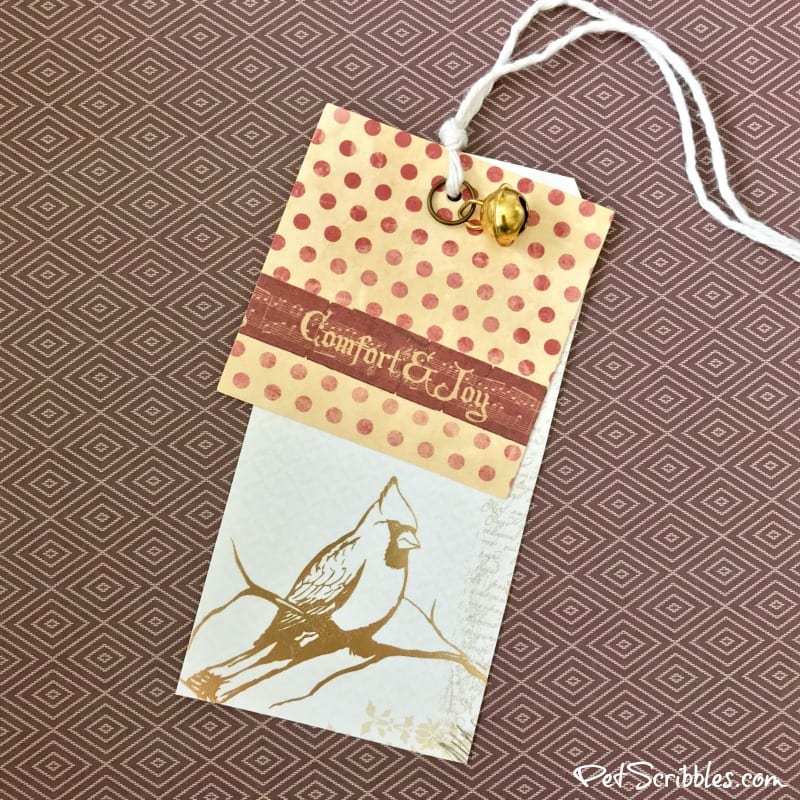 This farmhouse gift tag also has the top layer covering up the names inscribed — a fun look but also helpful if you don't like your handwriting so much…like mine! Hah!
The red jingle bell is tied to the tea-stained string. Easy farmhouse gift tags!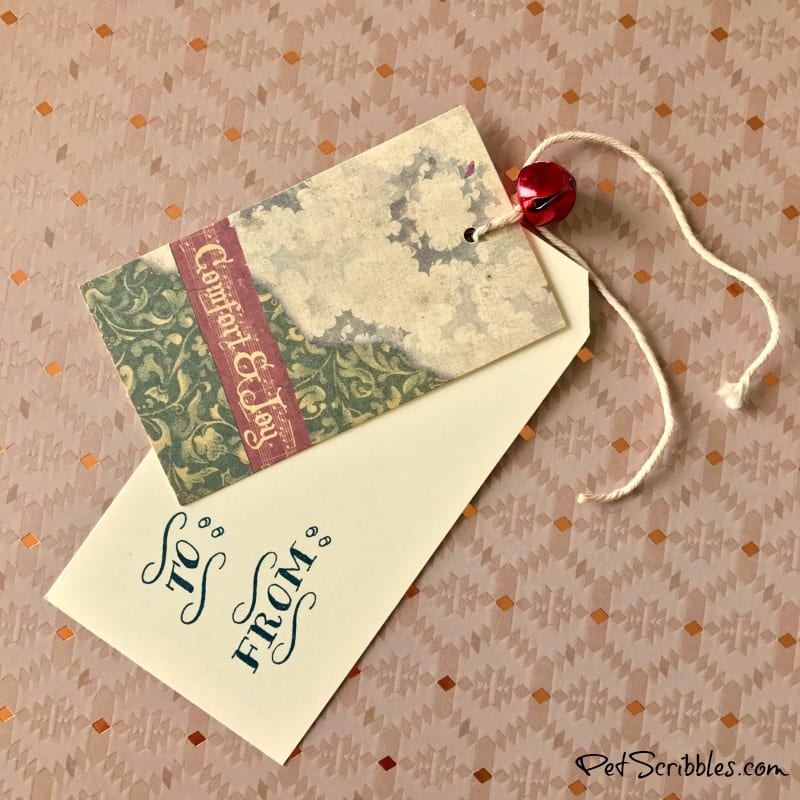 These are just six of the many tags I'm in the process of making for our holiday gifts this year, and you can see how unique each one becomes simply by switching out your papers and top layers.
What makes this project so much fun — and so quick and easy to do — is the awesome self-inking To From Tag stamp: it's a game changer because you can turn anything into a gift tag with this stamp!
Click over to Simply Stamps to check out their extensive holiday selection, and to see their current sale offers.
Remember: wrapping holiday gifts should be fun, not stressful!
Shipping tags + To From stamp + decorative Christmas paper = easy farmhouse gift tags!
Happy holiday crafting!