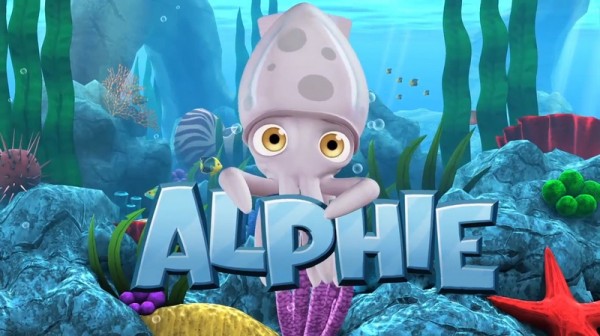 I received compensation and a copy of this game from Crystal Entertainment. However, all opinions are 100% my own!
Sometimes when I need to clear my head of all the mental clutter that's preventing me from creating or writing, I take a break and play a few rounds of games on my iPhone. It might sound crazy, but if you find just the right type of game, you can lose yourself for a few moments and then return to your projects with a refreshed mind. Trust me – it works!
A new favorite of mine is
Alphie the Squid
, which just came out during the Summer and is available for iPhones, iPads and Android devices. Apple has featured it as a "new and noteworthy" game in 36 countries!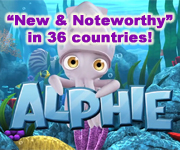 What is Alphie about? Here's part of the description from the iTunes preview:
"Join Alphie, a cute baby squid, as he embarks on his life adventure to become a giant squid. Explore the wondrous ocean, its tidal pool, coral reef and depths by riding currents, beating sharks, navigating mazes and growing all the time. Enjoy the vibrant art, funny animation, immersive game play and beautiful music."
The game is fun for all ages, and I think would be a great choice for parents to play with their children. Not only is there a "game" component where you help Alphie grow and get stronger, but each time you encounter a new type of sea life, you unlock information that tells you all about it. You are learning but not necessarily realizing it, which is a perfect for kids.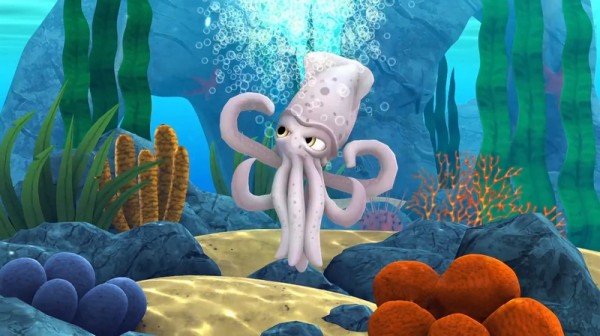 Alphie flexing his muscles as he gets stronger!
The game is adorable, and I'm enjoying it tremendously. The graphics are clear, vibrant and beautiful to look at. Alphie's personality is evident early on in the game, and you can't help but fall in love with this little guy. You really feel like you're part of this underwater world as you help Alphie navigate his surroundings.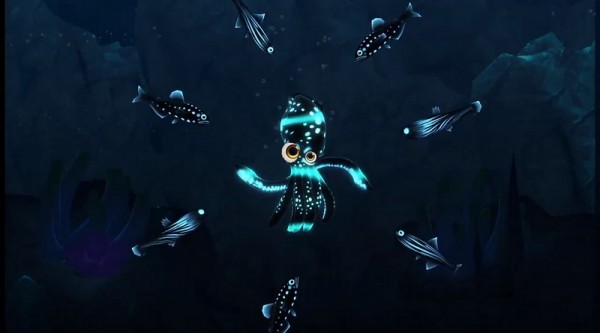 The musical score is peaceful and relaxing! It was written by Emmy-nominated composer David Ari Leon, who has scored original music for other games such as Superman and Snoopy Coaster. The sound effects are very realistic, especially the water sounds. There's also some "cute" sound effects that Alphie makes too, which just make you smile.
The game is a single-player game, and can be enjoyed by children as young as 4 if they have some help and guidance from their parents. Parents will also enjoy Alphie and my guess is they will find some time to play the game themselves too!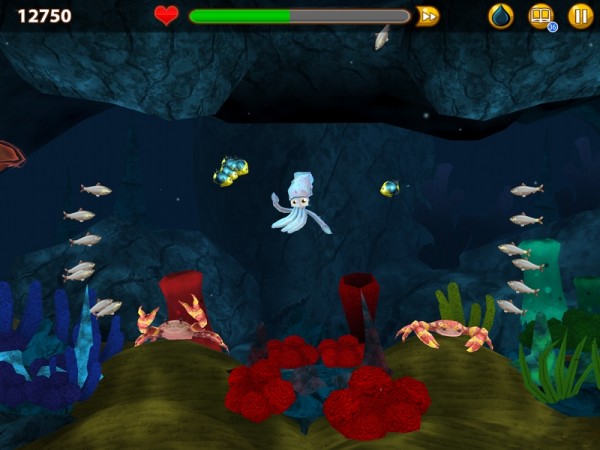 Apple has deemed the game appropriate for children 9 years old and over because of the shark you see at the very beginning of the game. (You'll see it in the trailor video below.) The shark almost looks like Bruce – the shark from Finding Nemo – and you don't actually see the shark "do" anything scary, although it is chasing Alphie's mother. Parents are pretty creative, and you can easily explain to your child that the shark chased Alphie's mom away and she disappears for awhile. (I liken it to many Disney classic animated movies such as Dumbo, where he loses his mother.)
Crystal Entertainment – the makers of Alphie – have given me five codes to give away for your own free copy of Alphie to enjoy! Just enter using the Rafflecopter widget below.
This contest is only open to residents of the United States. The codes will be redeemable in the iTunes App Store. Each winner must reply within two days, or another winner will be chosen.
Good luck!
And if you want to start playing Alphie right away, you can get a copy via iTunes, or for Android via Amazon or Google Play.
Now I must take a quick break and check in with Alphie for a short while!