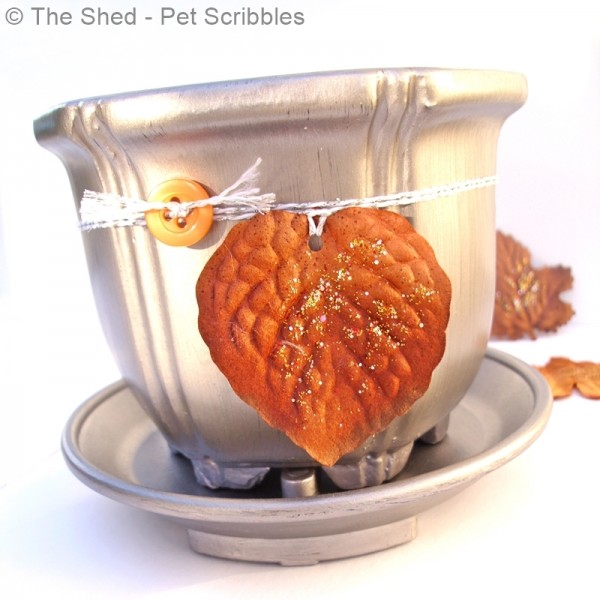 Many years ago, we received a sweet little bamboo plant as a housewarming gift, and it arrived in this little navy-blue glazed terracotta planter. The dish matched in color but was made from plastic. Here they are: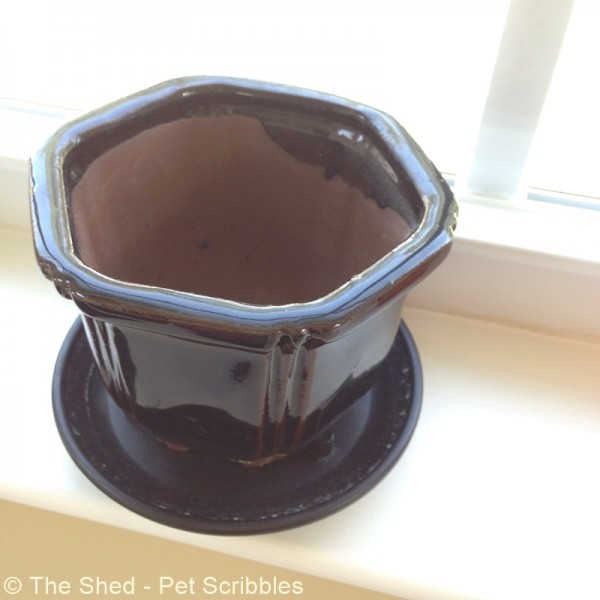 The plant died. Yes, me the avid gardener killed the plant. I'm good with outdoor plants. Indoors? Well…just look again at that now-empty pot above!
I kept the pot thinking I'd plant something else in there, but never did. I came across it a few weeks ago and decided it was a perfect candidate for one of my favorite products: Martha Stewart Liquid Gilding! (No this isn't a sponsored post – I just really do love the product!)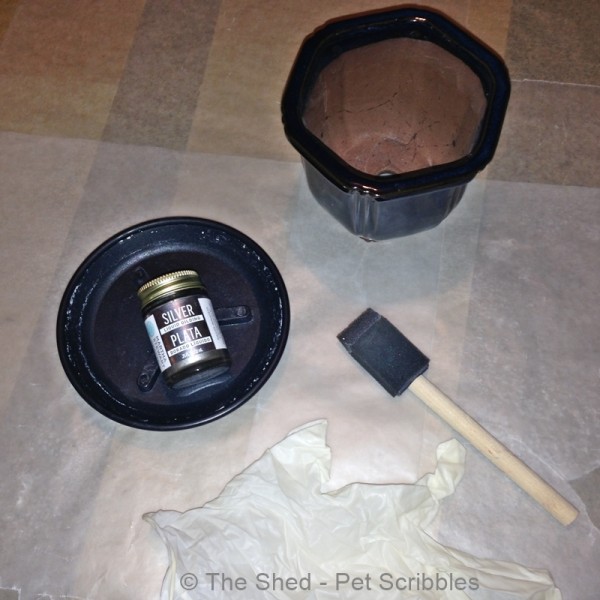 Supplies needed are the liquid gilding, a disposable foam brush, and rubber gloves, plus a protective work surface. And you'll want to do this in a well-ventilated area, just so you don't lose your wits while crafting!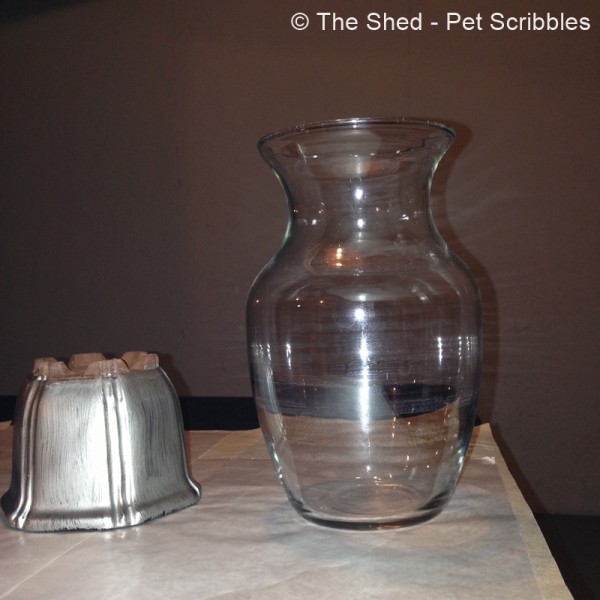 After cleaning your surface, simply brush on the liquid gilding. You might only need one coat, but two will guarantee a better sheen and even coverage. You can see that while I was letting the planter dry, I found an old glass vase as the next candidate for gilding!
Once the gilding was complete, it was time to paint the inside. Since I'm going to fill this with something decorative, I didn't really need to finish off the inside since it wouldn't really show: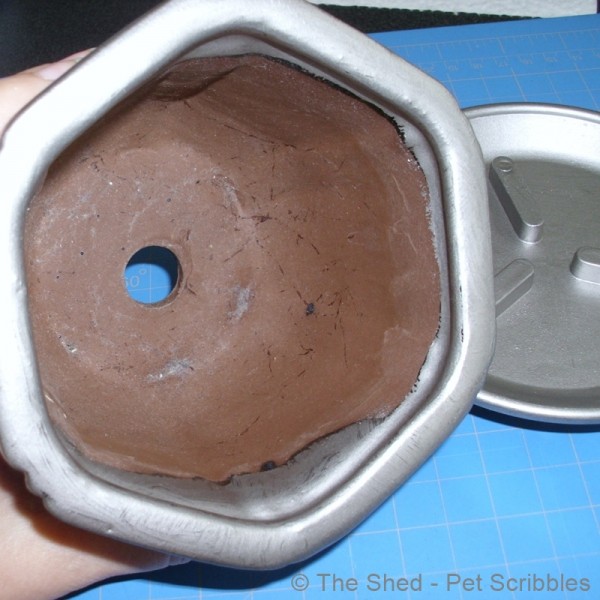 But I decided that a simple coat of white paint over just the unglazed terracota parts on the inside would be nice, so I used some of my DecoArt Multi-Surface Paint – one coat was all I needed and it dried quickly.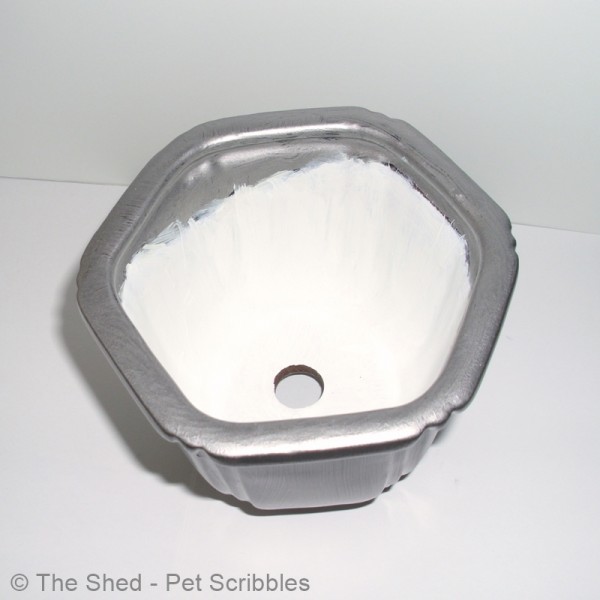 I lightly sanded the outside of the planter, so you see a hint of the navy blue peeking through. And now I have a gilded pot! My humble planter has turned into a decorative cachepot! OK, what the heck is a cachepot, anyway? Am I even accurate in using the word? Time to look it up.
Cachepot: an ornamental receptacle to hold and usually to conceal a flowerpot.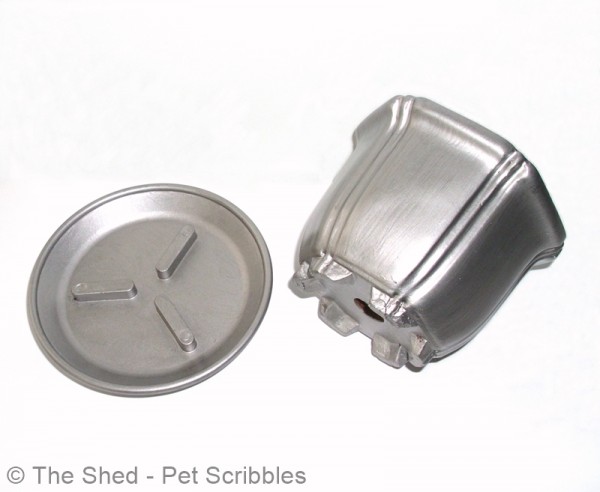 Now it makes sense, and we see these all the time in decorating, don't we? Especially indoors where you don't want to see a plastic pot sitting among your decorative pieces.
I plan on using this pot on our mantel, and will change how it's decorated with the seasons and holidays. And so, I'll need to be able to easily remove any Fall embellishments I add. Here's my easy solution: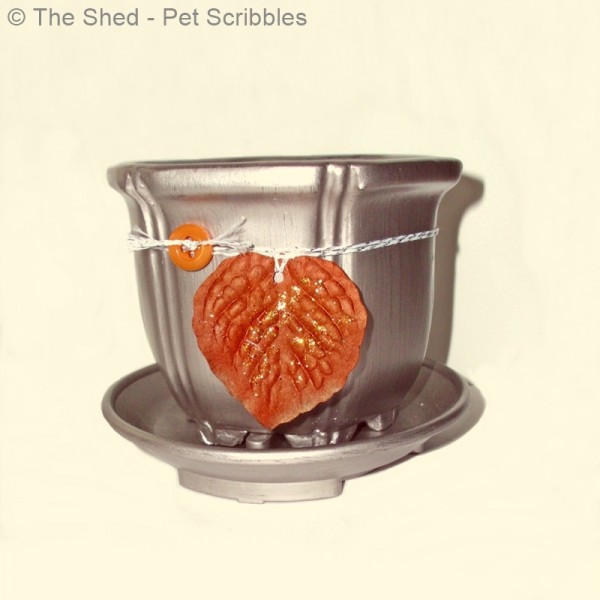 I have some pretty faux leaves I picked up last year on clearance at Michael's, and simply punched a 1/8″ hole near the top of one, attached some silver and white baker's twine (from American Crafts) and wound it around the pot a few times, ending in a knot about 1/2″ to the left of the leaf.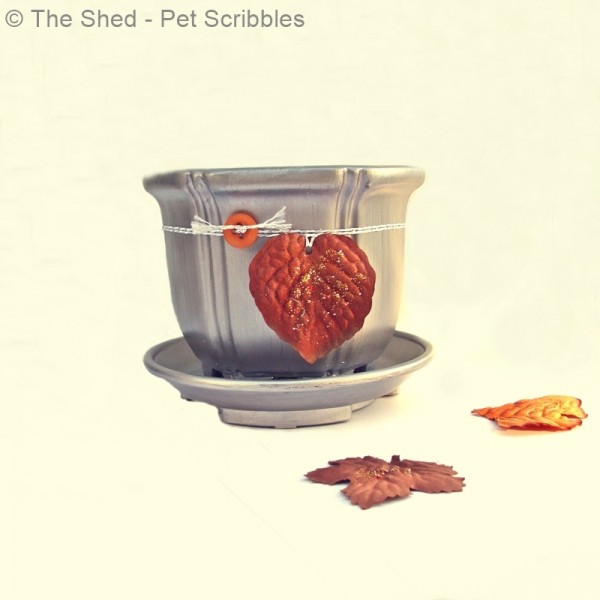 Looking through my button stash, I found the perfect matching button, and threaded the ends of the baker's twine knot through it, tied another knot, and snipped off the strings. I then frayed out the edges a bit with my fingers to form a bow shape. Done.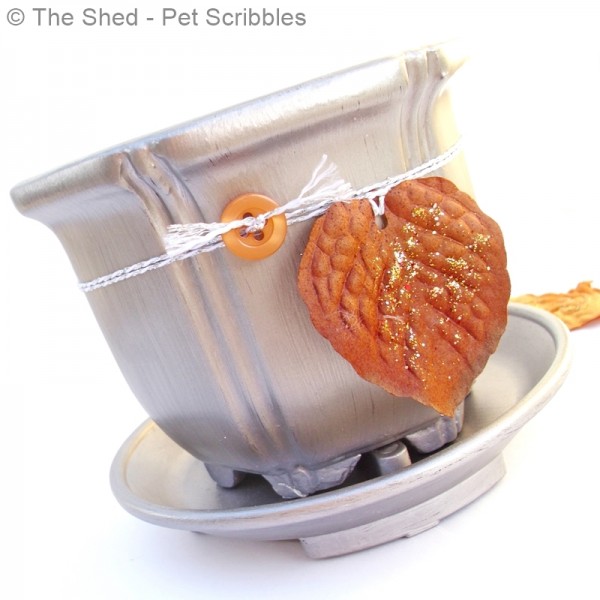 Here's a close-up of the button, and also of the light distressing done to the cachepot after it was gilded: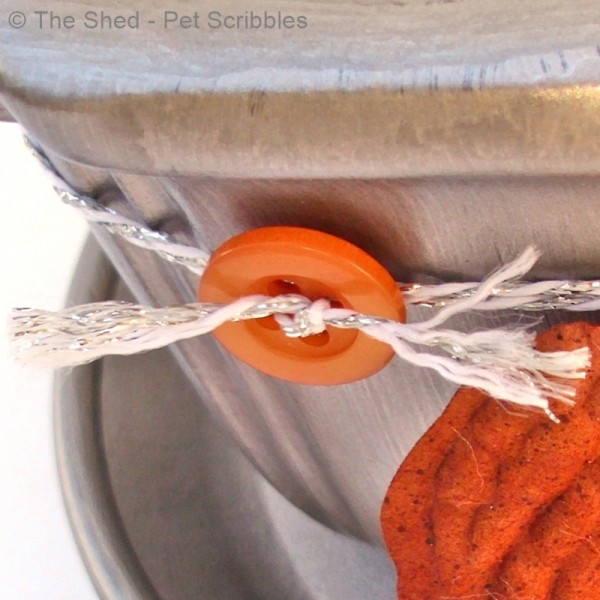 I love the simplicity of this look, and will use this as my inspiration piece for the rest of my Fall decorating.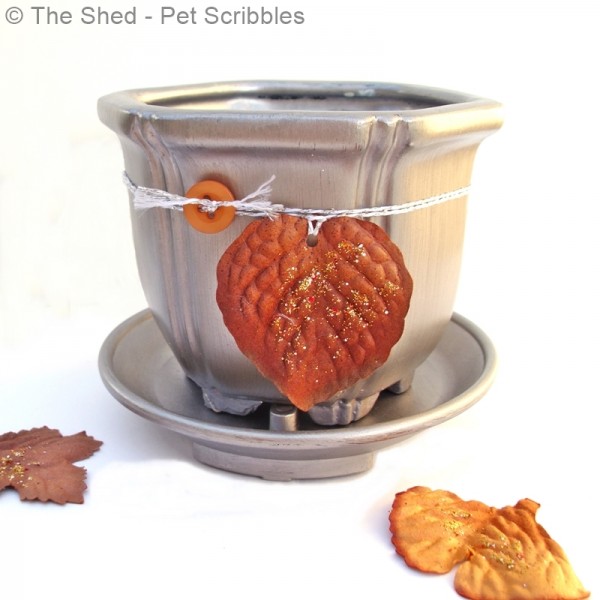 With the temperatures finally getting a bit crisp and cool outdoors, it's starting to feel like Fall! Let's just hope this season goes very slowly, as this is my favorite time of the year!
How about you? Are you ready for Fall?
~Laura