This post and photos may contain Amazon or other affiliate links. If you purchase something through any link, I may receive a small commission at no extra charge to you. Any supplies used may be given to me free of charge, however, all projects and opinions are my own.
My 2013 blog post about Dappled Willow is one of the top gardening posts I've ever written here on Pet Scribbles, so I think it's time for an update, to see how our Dappled Willow is doing three years later! Hint: we love this plant!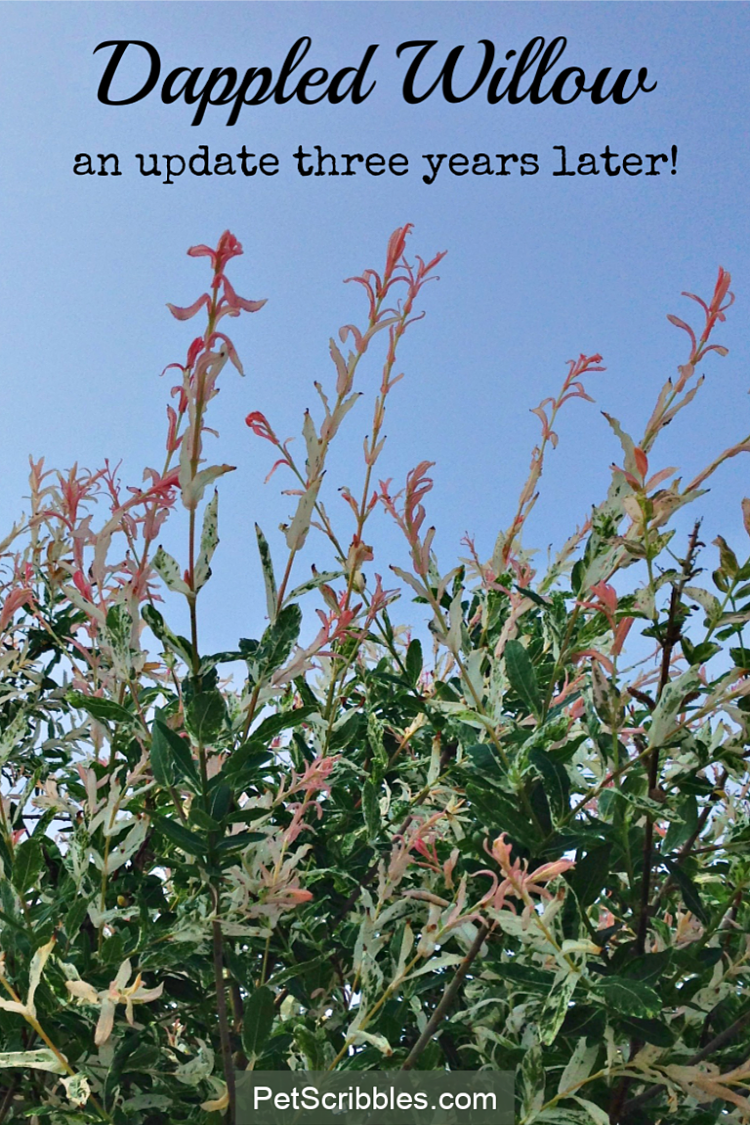 I can't tell you how happy it makes me when I write something that helps people, and my original Dappled Willow post has been doing just that, ever since I first posted it three years ago.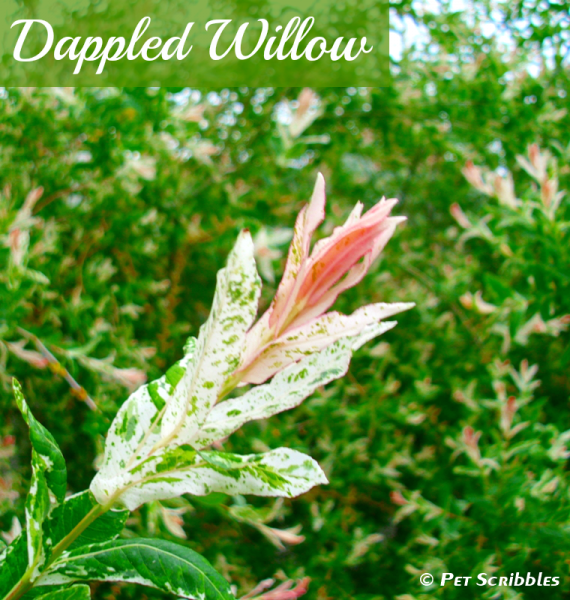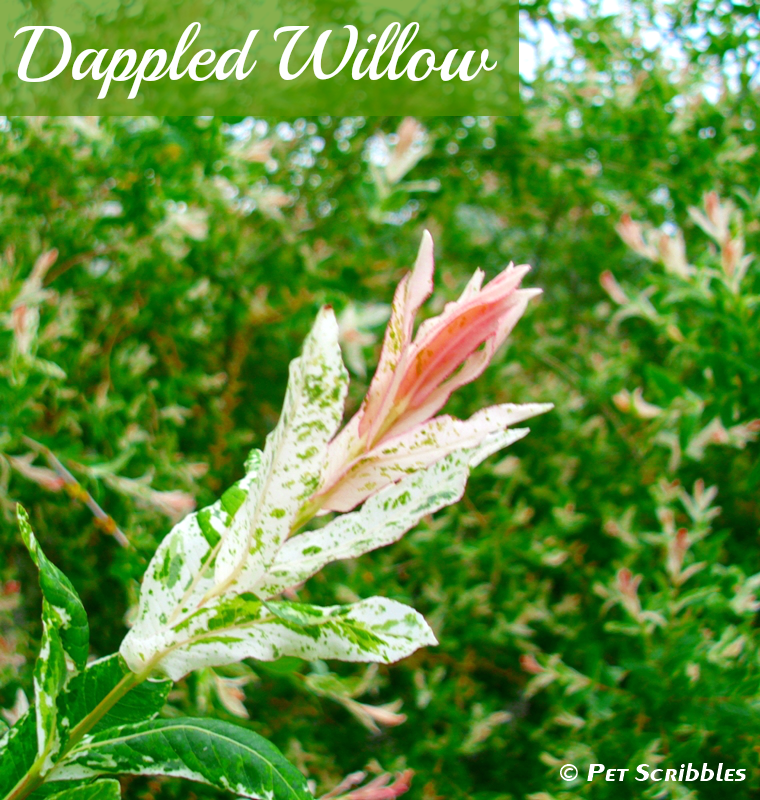 In fact, I had a neighbor actually stop me at Home Depot one day, as he was shopping for Dappled Willow. He had "Googled" the shrub — like we all do — and the first link in the search results was to my blog post! We had a good laugh about that, as he had no idea he'd end up reading advice from a neighbor! And I hadn't realized at the time just how popular this post had become.
One of the reasons the post has been so popular, is because I show you how to easily grow multiple "shrubs" with stems cut from your original shrub. Much more fun that simply buying lots of Dappled Willow shrubs at once, plus you save money!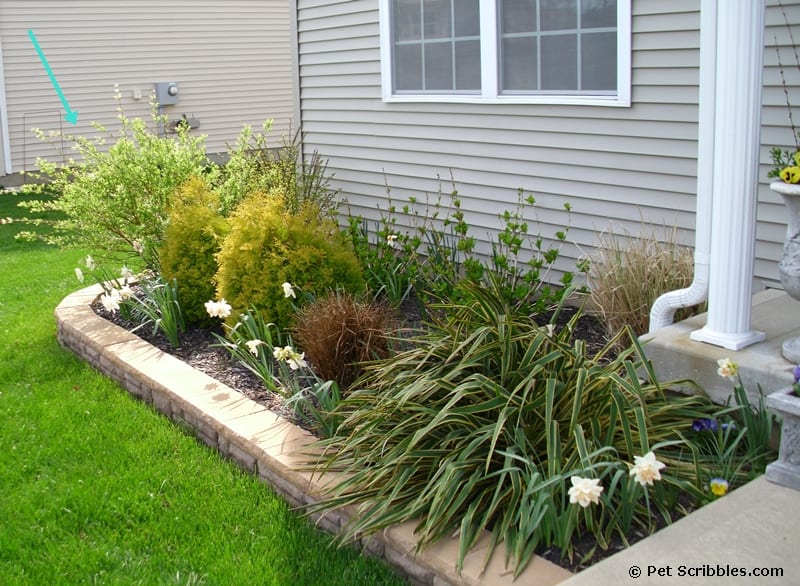 I want you to go back and read the original Dappled Willow post — as I have pictures from when we first planted the original shrub, plus tons of helpful tips and planting info.
(I'm smiling as I type this to you, because my husband and I absolutely love our "wall" of Dappled Willow! Wait until you see it!)
Go and read the article, and I'll wait here and gaze at Otto, sleeping here on my desk next to my laptop!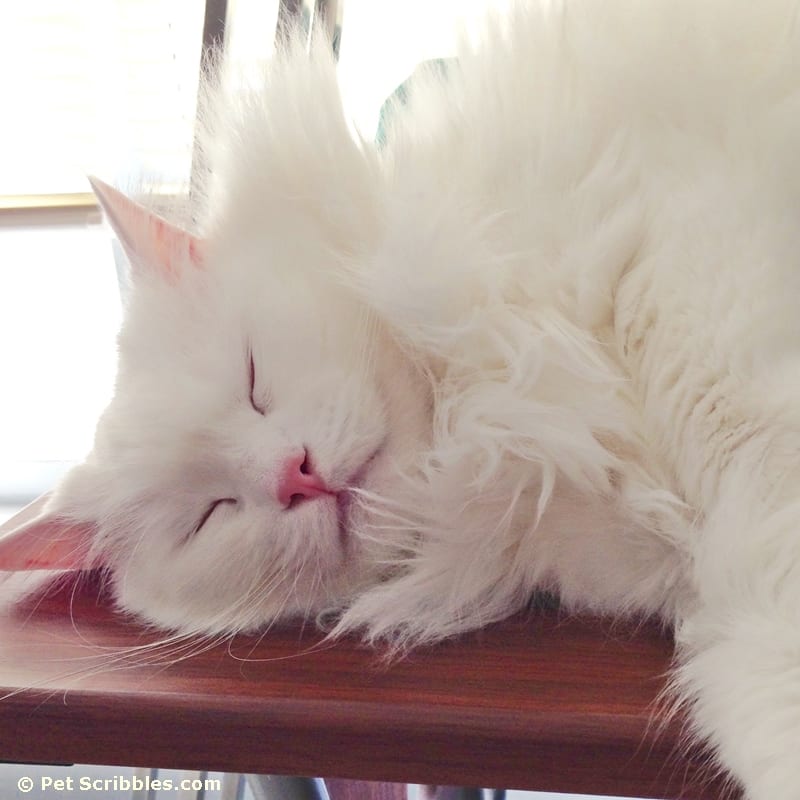 So. To sum up my original post from three years ago…
we made a rookie mistake,
we accidentally grew more shrubs,
we've been adding to our collection of Dappled Willow ever since!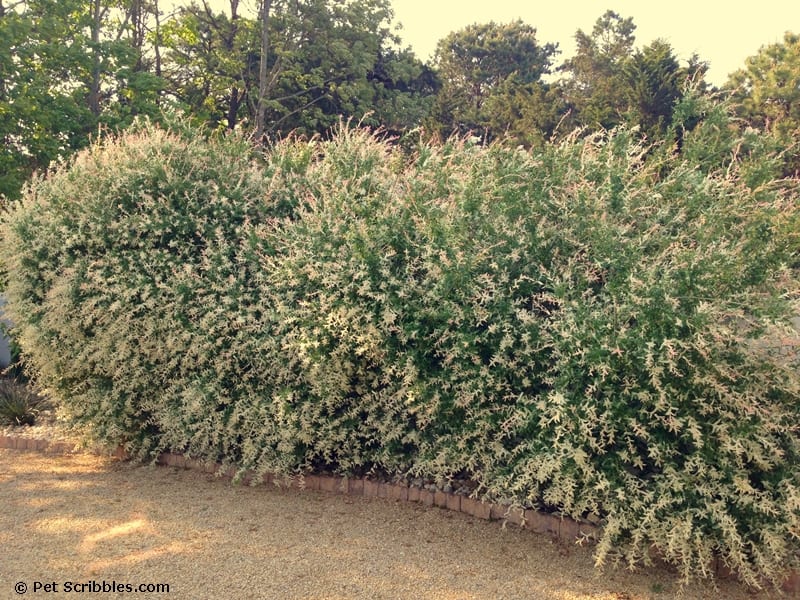 We have a living wall of Dappled Willow and it's SO much nicer than staring at a blank fence!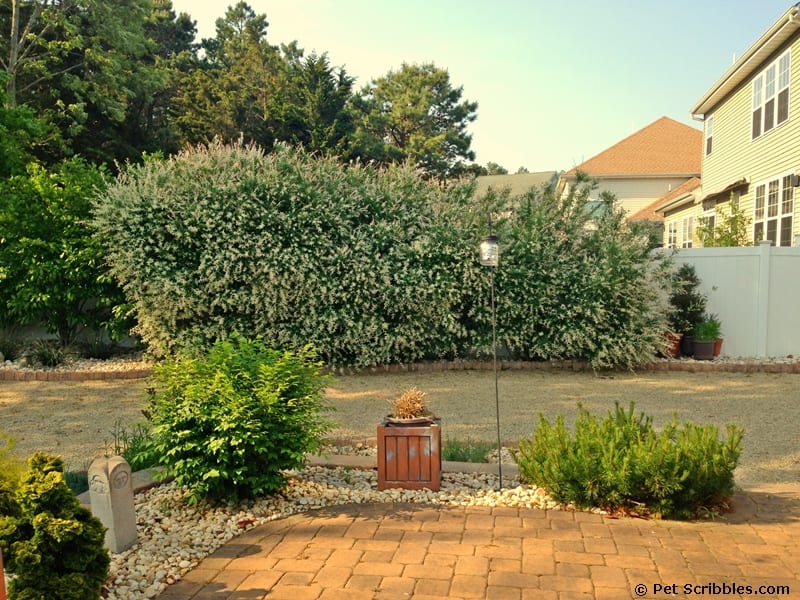 The original shrub is on the left end of the Dappled Willow wall. On the right end are the newest shrubs we planted two years ago from more twigs stuck into pots.
We cut more twigs last Summer and stuck them into pots again as we want to complete the line of Dappled Willow to the end of the white fencing on that side. (Those pots are to the right of the Dappled Willow, and include other plant seedlings we're growing including an evergreen that sprouted in our backyard years ago.)
We left the potted twigs outside over the Winter months. No special care, no protection from the elements like snow or freezing temps. (We're in zone 7, near the shore in southern New Jersey.)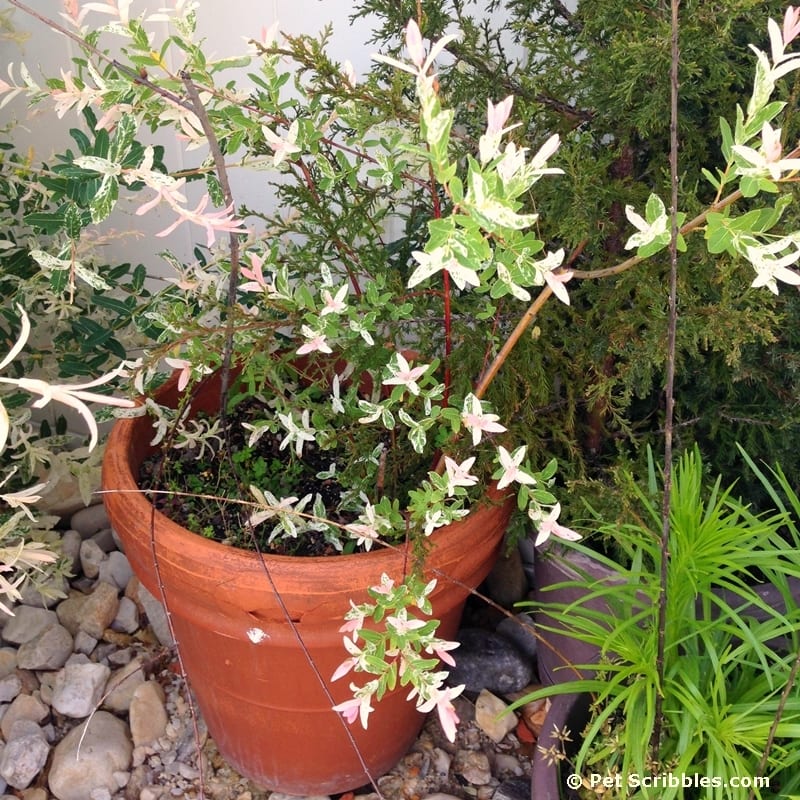 Most of them sprouted, and a few of them didn't. It depends what Mother Nature decides to do.
Some of the sprouts occurred at the bottom of the red twigs . . .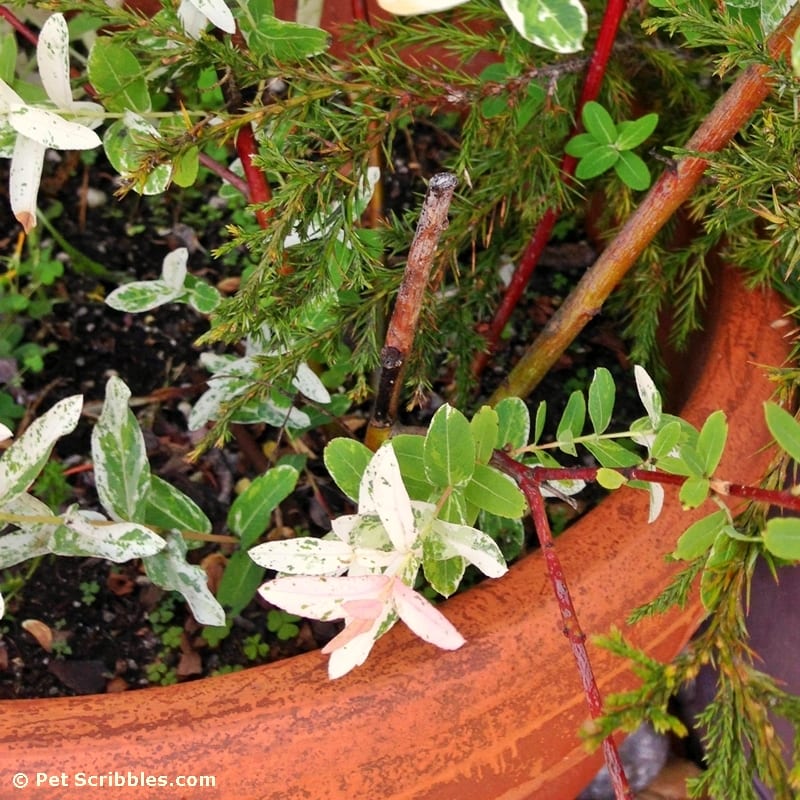 While other new growth occurred further up the stems, and in some cases long stems sprouted up rather quickly this Spring . . .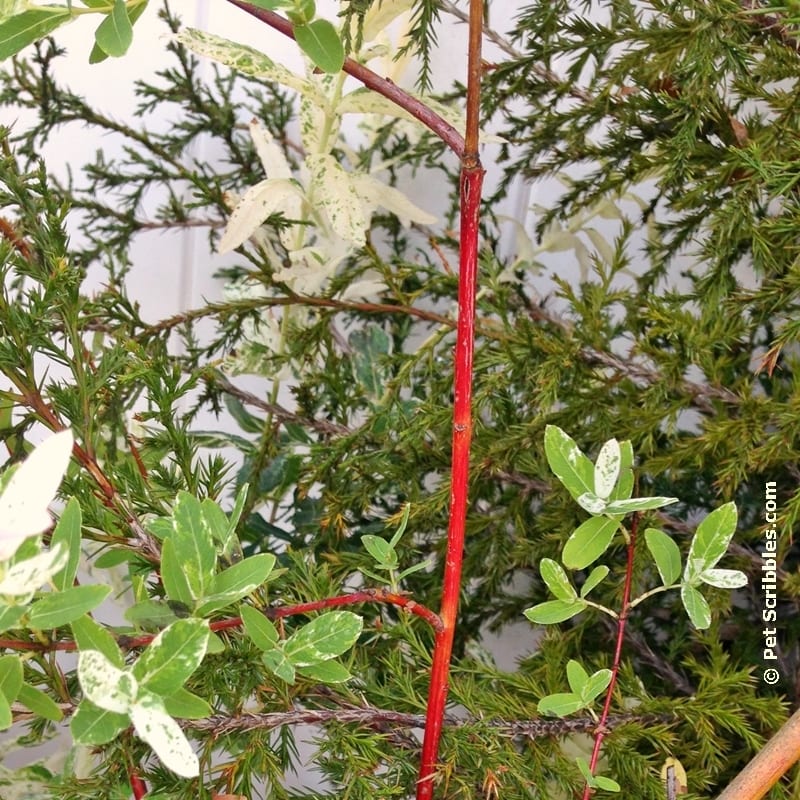 Remember: we don't bother with any special rooting solution or anything else. Just cut, stick in a pot of dirt, then wait and see what happens.
We're going to plant these new twigs this month!
And this time? We will definitely space these seedlings– which will turn into gorgeous shrubs — much farther apart this time!
Because . . .
Everything I wrote in my original Dappled Willow post three years ago still stands, but I want to emphasize just one point in particular to you:
Dappled Willow shrubs grow quickly and enjoy lots of room!
Here's what our Dappled Willow — next to our Magnolia Janes — looked like back in 2013: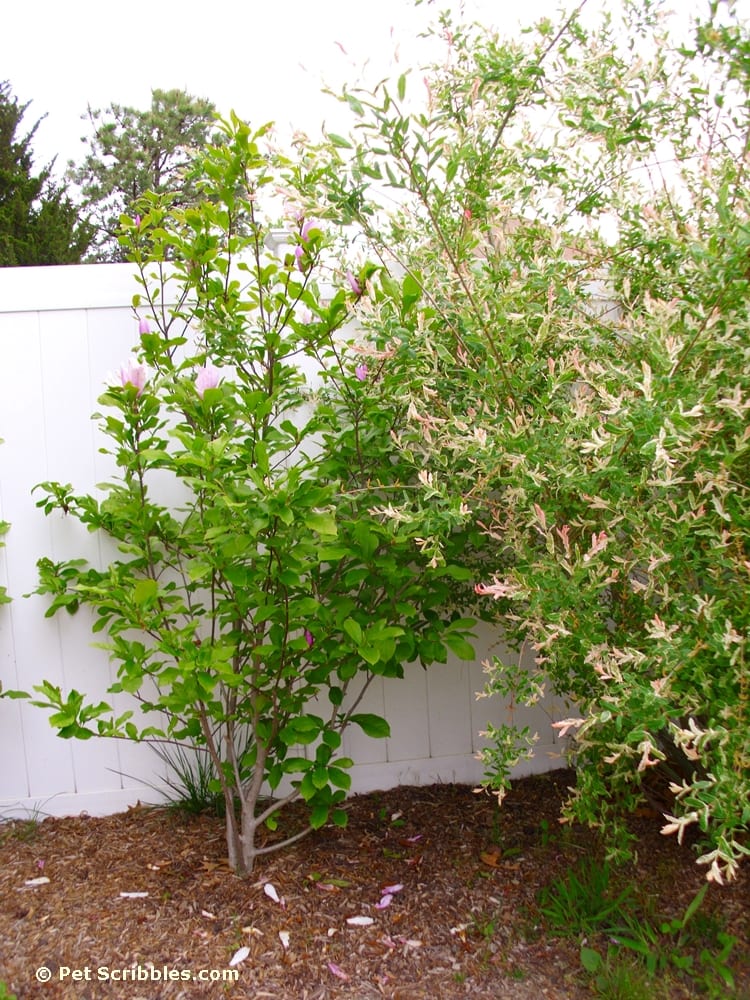 And here they are today, three years later: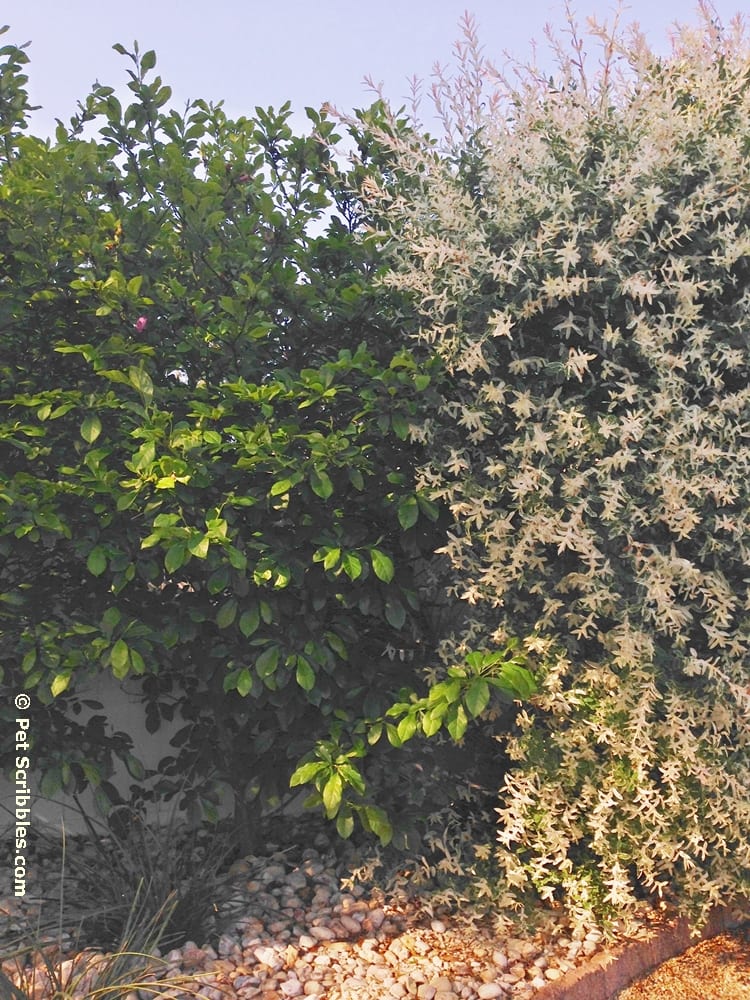 Just looking at the lack of space between the branches of the Magnolia Janes and Dappled Willow shows you the importance of not planting these shrubs too close to each other.
I have to trim the Dappled Willow back a few times during the Summer and Fall to make sure it doesn't take over our pretty Magnolia Janes.
This shrub responds super well to pruning, so you can keep the Dappled Willow to whatever height and width you would like. Just remember that the more you want it to fit into a confined space, the more you'll have to prune it.
When to prune? Either very early Spring before (or just as) the buds start to show — or — after their gorgeous salmon-pink leaves are done blooming. The color the rest of the season is a pretty, variegated (i.e. dappled) green and white.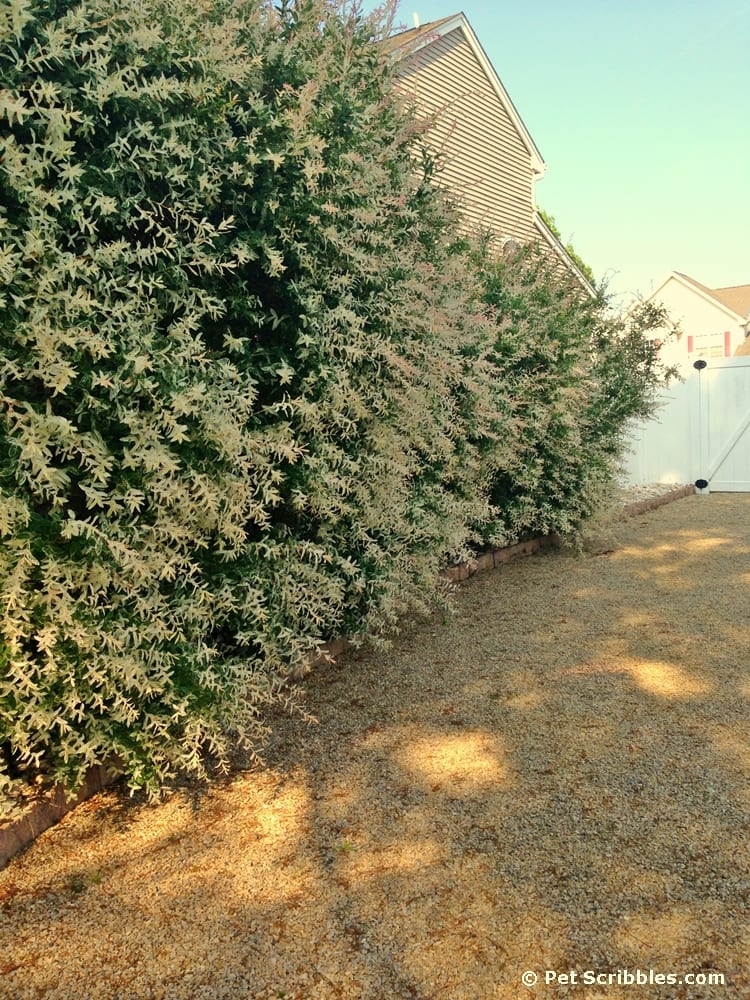 The image above shows you the height of ours. The white vinyl fence is 6 feet tall, and the Dappled Willow is approximately 10 feet high!
We trim it up perhaps two to three times a season, as we like to keep the front of the shrubs fairly even with the stone edging. (And you can see that we'll be pruning once the bloom time is done later this month.)
We also go over to our neighbor's yard — which conveniently happens to be my sister-in-law and husband's home — and trim back any branches hanging over into their yard as well. They love the look of it rising above the fence too!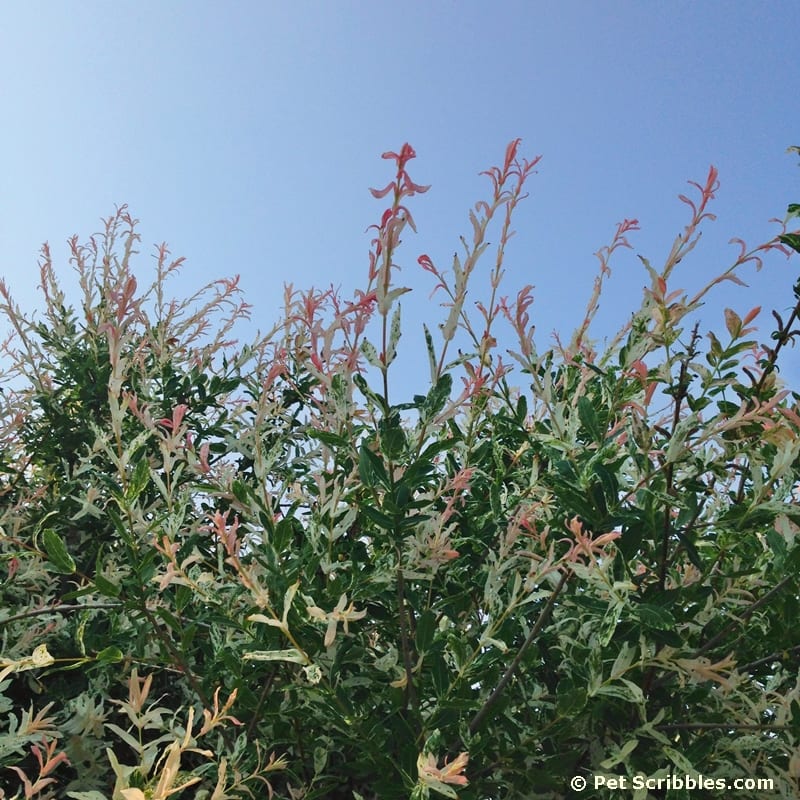 In conclusion?
We love this perennial shrub for its easy care, its reliability, and of course its multi-season interest. I think you will too.
I hope you've enjoyed this update!
Happy gardening!