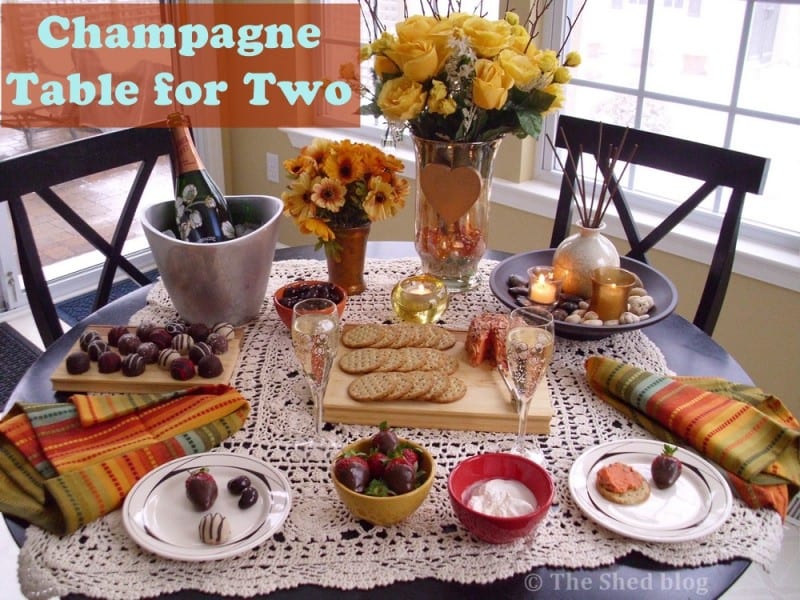 My husband and I both work from home. There are so many people who wrongly assume that because we both are home all day, we have loads of extra time to spend with each other. I'm here to publicly declare that this is definitely not the case. We don't each lunch together, instead we both sort of drift downstairs toward the kitchen whenever each of us realizes we are hungry. In fact, when we are each engrossed in our separate offices, there are some days where we can go almost the entire day with only a few minutes of chit-chat in the hallway. We call those our watercooler moments! I share this with you, to provide some context as to just how excited I was when asked to review Moll Anderson's new book, Seductive Tables for Two: Tablescapes, Picnics, and Recipes That Inspire Romance.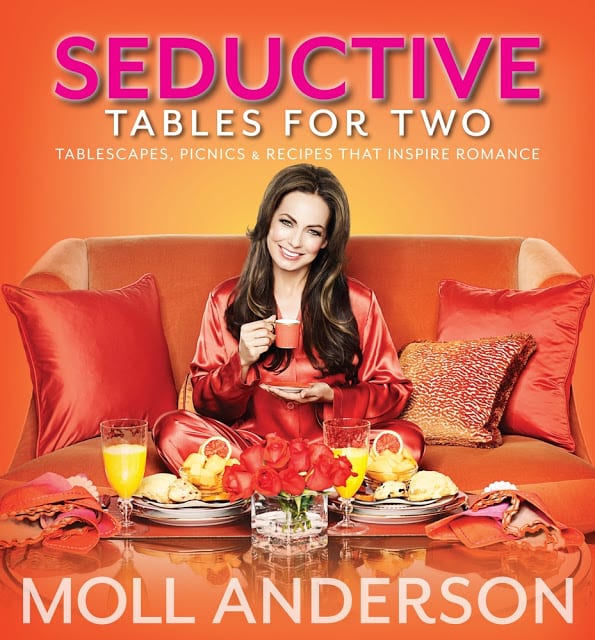 Moll is a well-known lifestyle and romance expert: you may have seen her on various TV network morning shows and several big-name daytime talk shows.
OK, now I want to dish about her book! I shopped for this book online at Amazon.com, and I also purchased a few little "extras" at Pier 1 Imports to complete my own romantic tablescape.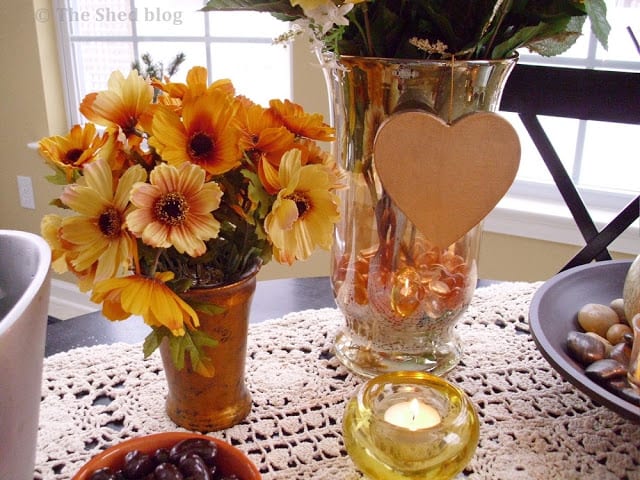 I love the way the candle flame reflects off of the vase behind it!
What intrigued me about Seductive Tables for Two was the idea of creating unique romantic settings at home: sort of a romantic getaway without having to actually get away. To me that's a win-win situation after a busy day working, or – and especially – after a busy week of working! In my 20s, I loved when Friday afternoons rolled around, as I couldn't wait to go out on the town after work. But these days? Our home truly feels like our sanctuary, and there's nothing better than being able to relax and unwind in the comfort – and that's the key word – comfort – of your own home!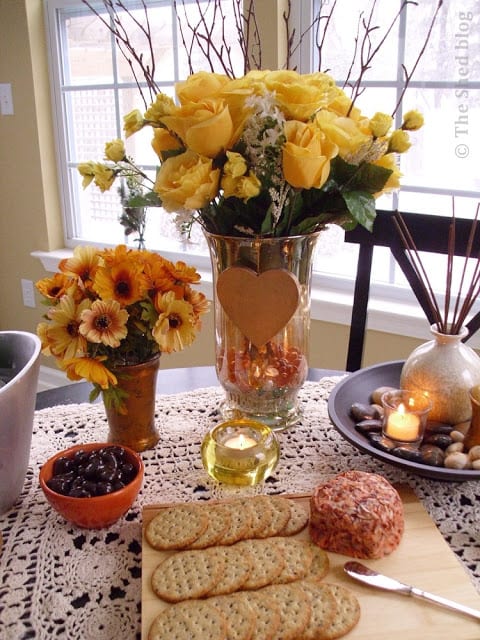 Moll Anderson suggests using flowers and candles in your tablescape, especially for romance!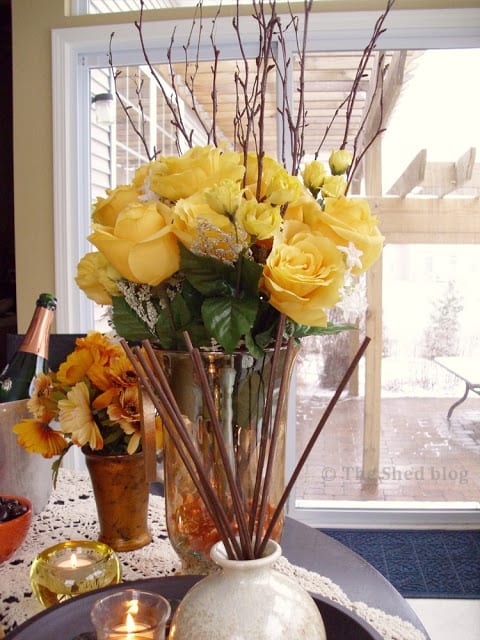 I used some diffuser sticks, without the scented oil, to bring out the twigs in the large vase.
Moll's book is split into four main sections: Seductive Tables for Two, Seduction To Go, Seductive Celebrations, and Seductive Recipes for Two. After the recipes, there are informational pages on herbs, spices, stemware, table settings and more. There's a handy index in the back as well. Throughout the book, you'll find helpful tips, interesting facts, and gorgeous and vibrant color photos that bring to life each tablescape that Moll creates.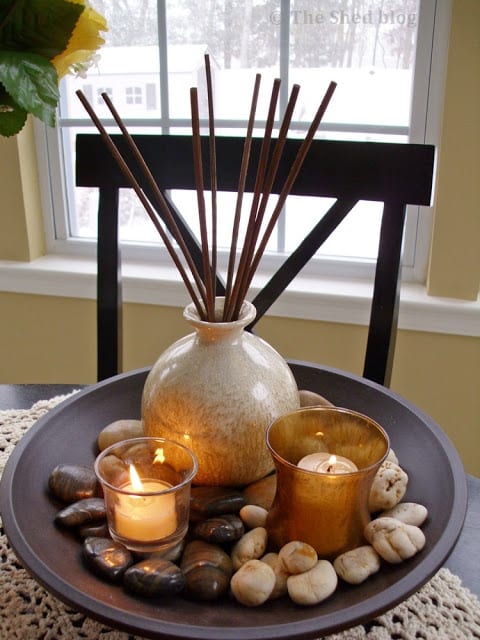 I liked the earthy element that this candlescape evoked. Instead of mixing the rocks all
together, I separated them by color. I like the way it turned out!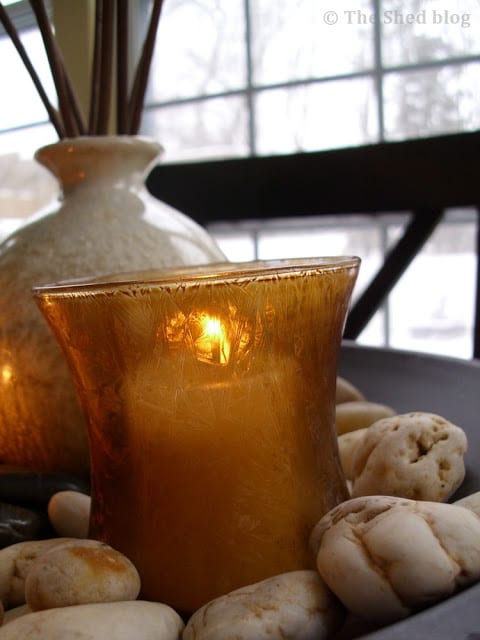 The small votive candle holder, which I had already, matched perfectly with the new large vase!
I decided that what my husband and I would really enjoy – and could really use – was a time to relax without any special occasion in mind whatsoever. I took some ideas from Moll's "Delectable Desserts" and some ideas from the section on Seduction To Go. I decided to create a romantic tablescape where my husband and I could enjoy some champagne, and snack on some savory, salty, and sweet treats. I set up everything in our breakfast room.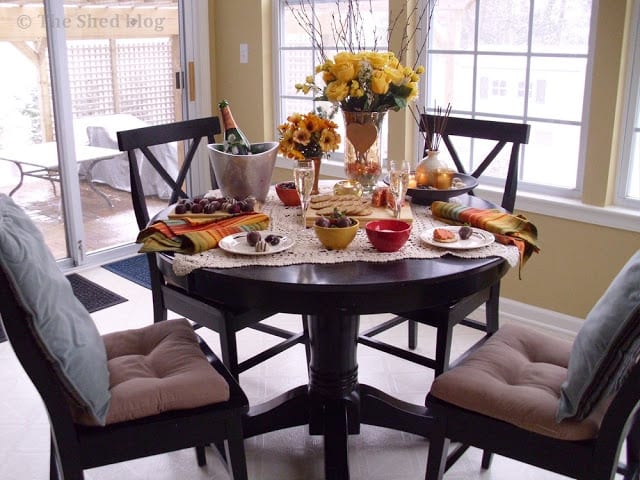 While we normally don't use pillows on the seat backs, I took a tip from Moll to make things comfy and cozy!
First step was the table setup. One of Moll's suggestions is to really take a good look at what you already own, and pull together things that will enhance your theme. I started with a cotton crocheted table scarf, which I had tea-stained years ago to a nice vintage-looking cream color. I got out one of our favorite wedding gifts, a Nambé champagne bucket, to house the chilled champagne. Next were various brightly colored small bowls, our two special hand-painted Perrier Jouët champagne flutes (another wedding gift!), two natural wood cutting boards that look like books, an earthy ebony wood bowl with stones that holds a ceramic vase with diffuser sticks, and of course I had to include some candles too. Even though it would be daylight, I'm one who likes to light candles even at breakfast!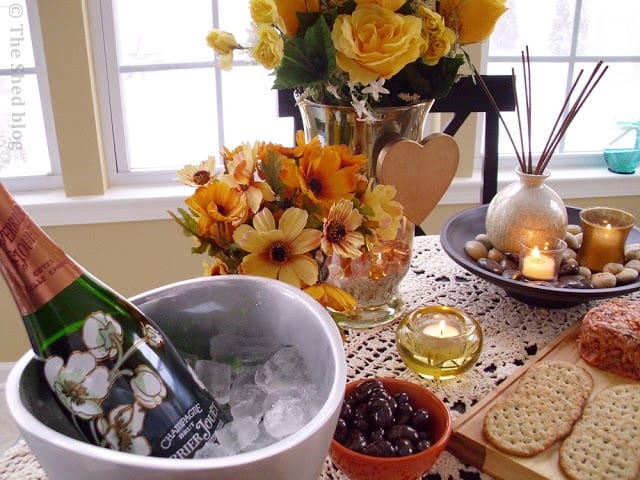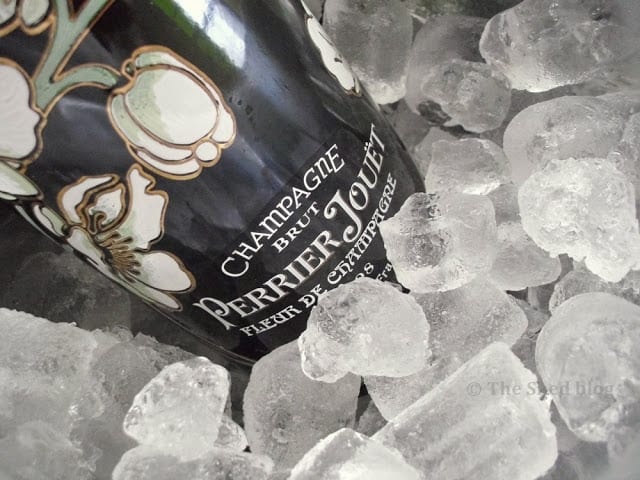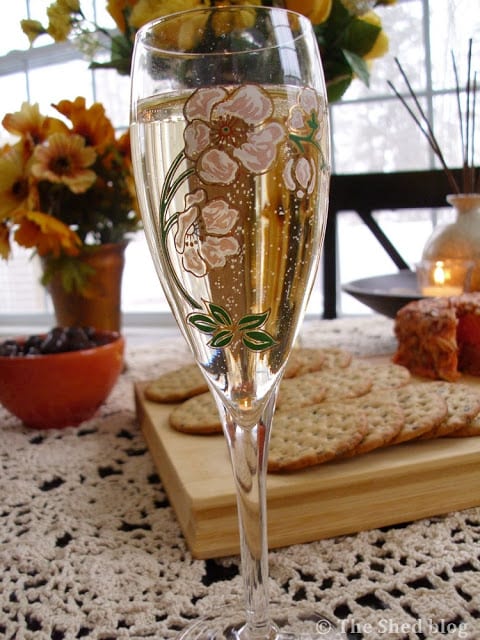 Moll has a small section in the book about champagne, including a tip
that the smaller the bubbles, the creamier and smoother the champagne will taste.
Moll referenced several stores as resources for some of the romantic elements she incorporated into her tablescapes, and one of those was Pier 1 Imports, a store that I love. I took a quick trip there and picked up some pretty cloth napkins, a small pot of silk cosmos flowers and a larger glass vase all in the color scheme that I wanted: warm yellows, oranges, with hints of red. In the large vase I used yellow silk roses and added wood twigs for a more seasonal feel. The bottom of the vase has several layers of glass gems in coordinating colors. I took one of the gold gilded heart ornaments that I made for Christmas and attached it to one of the stems so that it hung nicely along the edge of the vase.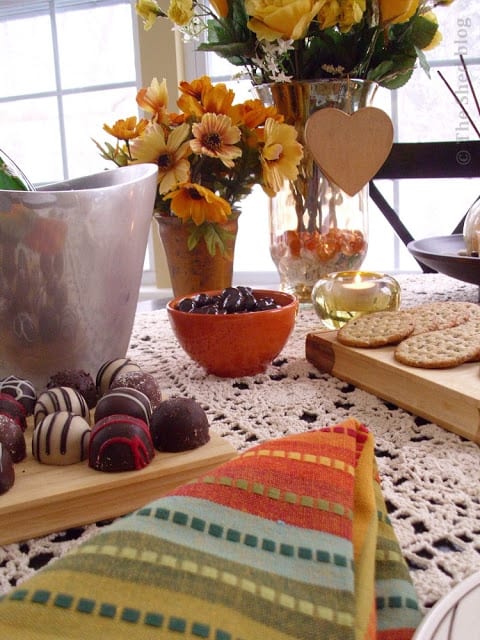 I love the spicy colors in these cloth napkins!
As for the edibles, we purchased fresh strawberries and dipped them into a chocolate that forms a hard shell. We also had a bowl of whipped cream for the strawberries. We enjoyed port wine cheese with crackers, dark chocolate covered cashews, and some chocolate truffles with various fillings like cherry, almond, rasberry, and coffee. Yes, this may sound like a lot for just two people, but what Moll successfully demonstrates is that more is more. You want your table to be abundant. Inviting. Enticing. Fun. And that's exactly what our romantic champagne table for two was!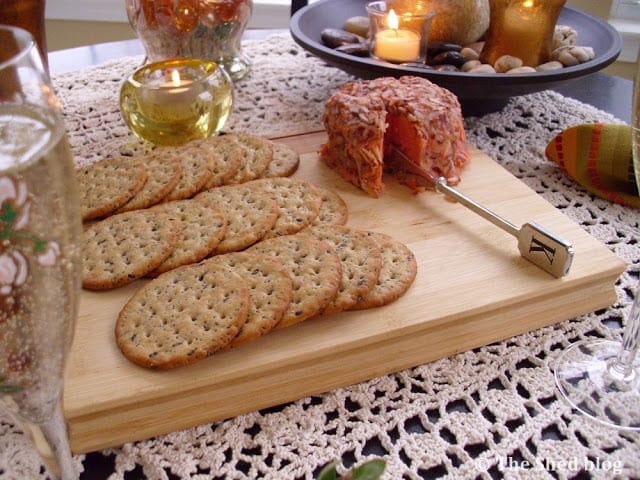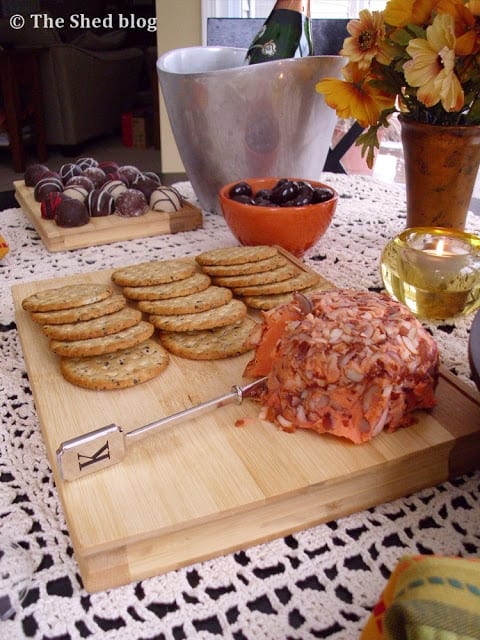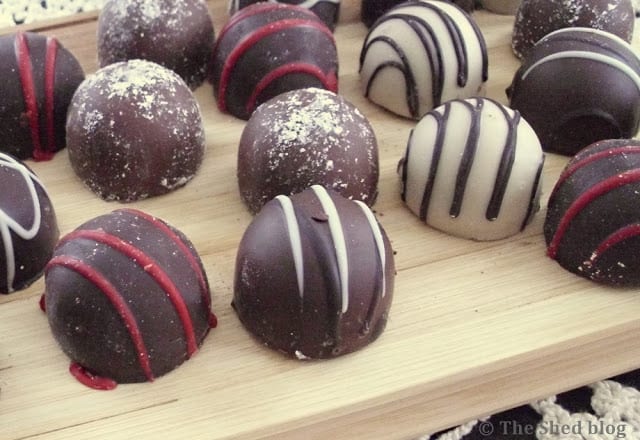 Set aside some time for you and your partner. Create a romantic tablescape, a seductive table for two in your own home, and enjoy a getaway without having to get away!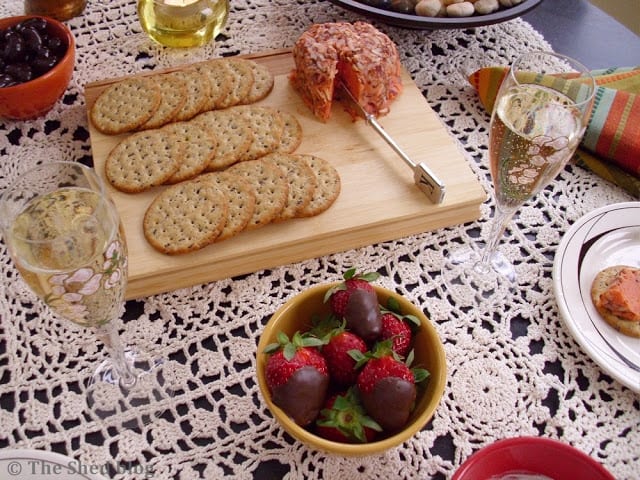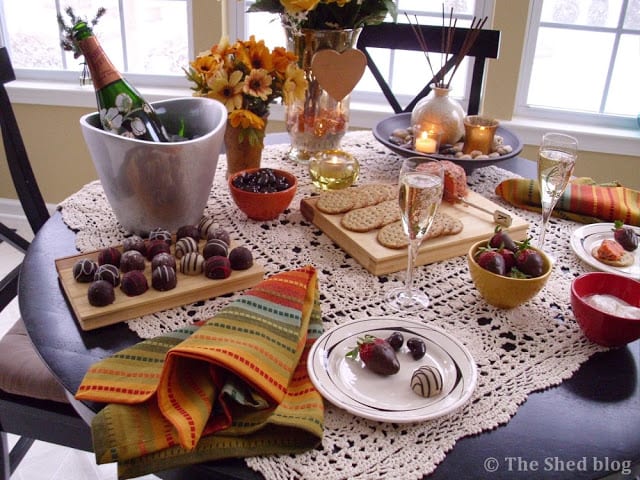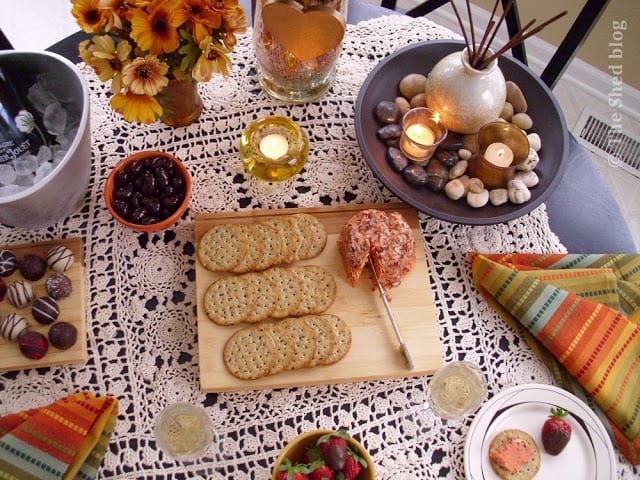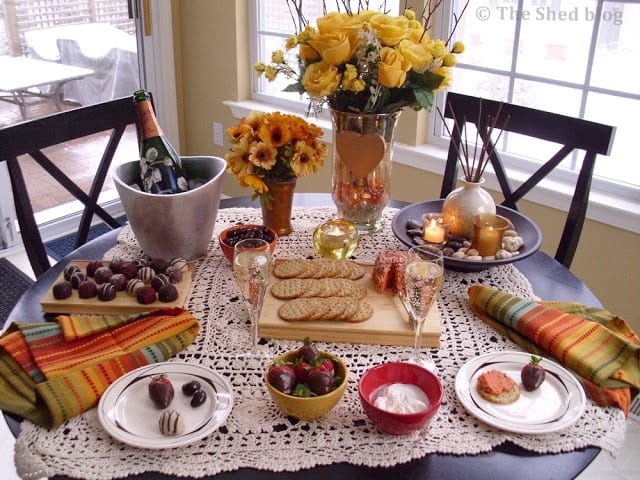 If you want to learn more about Moll, you can follow her on Twitter, on Facebook, and you can check out her website too.
~Laura
I am a member of the Collective Bias® Social Fabric® Community. This shop has been compensated as part of a social shopper insights study for

Collective Bias

®. All opinions are definitely my own!
#cbias #SocialFabric #SeductiveTables