These miniature Christmas presents are super-easy to make, and a bunch of them grouped together have a nice impact!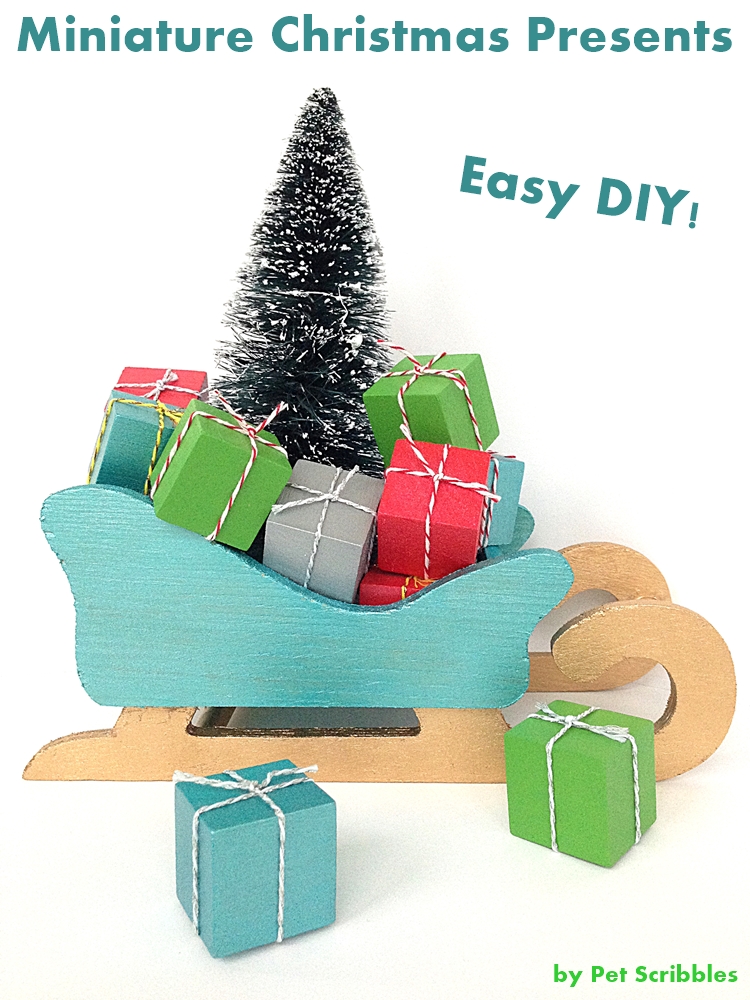 Miniature Christmas Presents – tutorial
This year I purchased a set of bottle brush trees and felt like they needed some miniature Christmas presents, so that's how this craft came to be!
Supplies:
Tiny unfinished wood blocks, 1 inch
Craft paints in assorted colors
Small paint brushes
Small plastic lids (to hold paint)
Baker's twine in assorted colors
Scissors
Wax paper
Notes about the supplies:
I found the 1-inch blocks at the home improvement store, in a section containing various tiny pieces for craft and hobby projects! Score! They had all kinds of tiny spools, blocks, knobs, bits and bobs!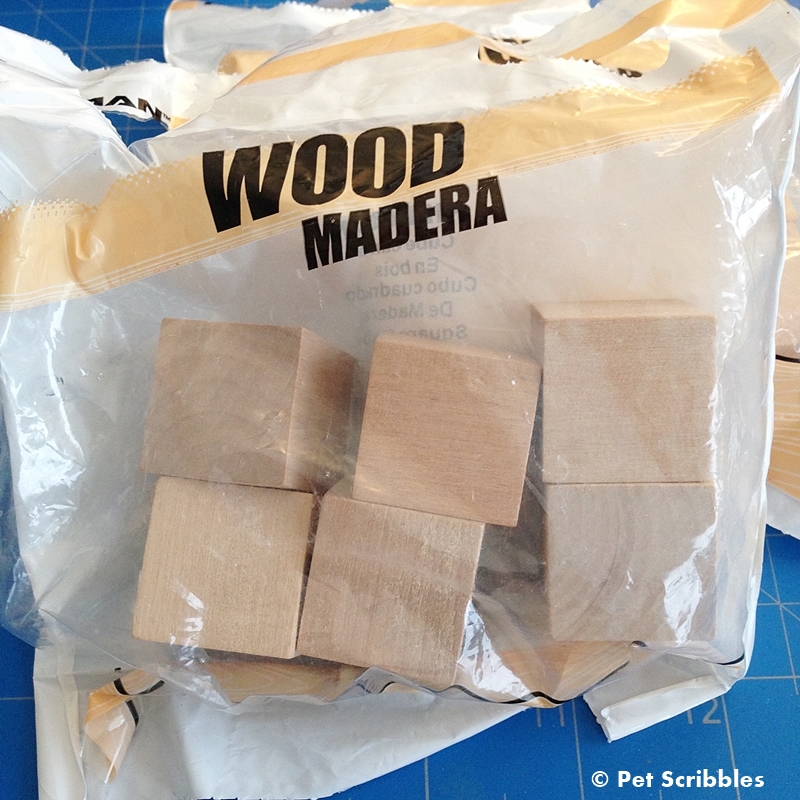 Let's begin!
Step One: Look over the wood blocks, and sand any rough parts.
I only had to do this for two blocks, so this is more of a preparation step.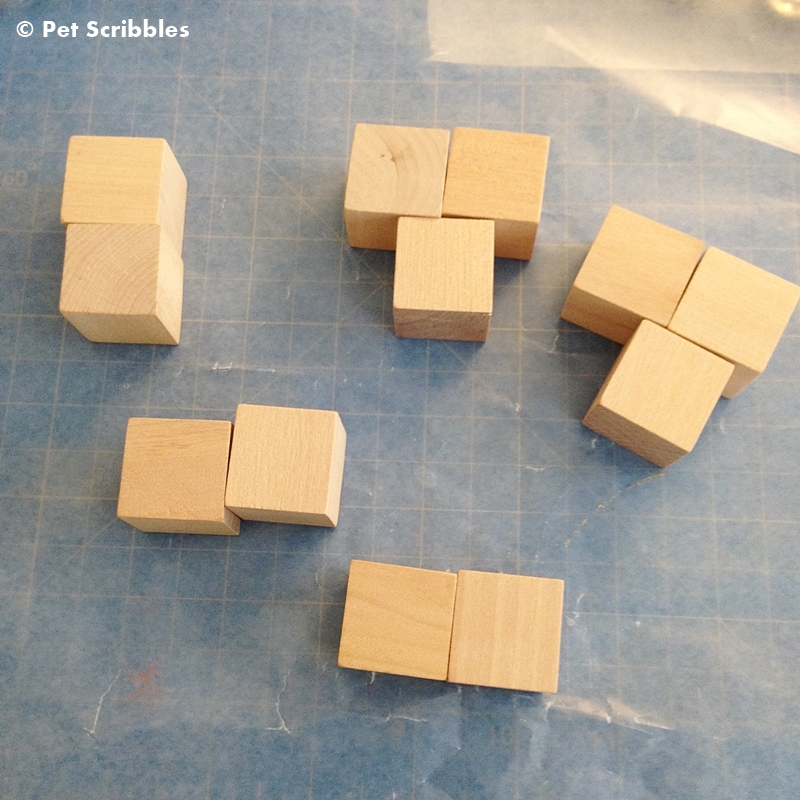 Step Two: Paint the wood blocks in colors of your choosing. Do two coats. Let dry.
I chose bright green, metallic silver, metallic turquoise and metallic red. My paints are all from
DecoArt
.
(This isn't a sponsored post, but for full disclosure I am on DecoArt's blogging team, in part because I absolutely love how well their paints work and their variety of finishes. Each of these paints dried within minutes, making this step very quick.)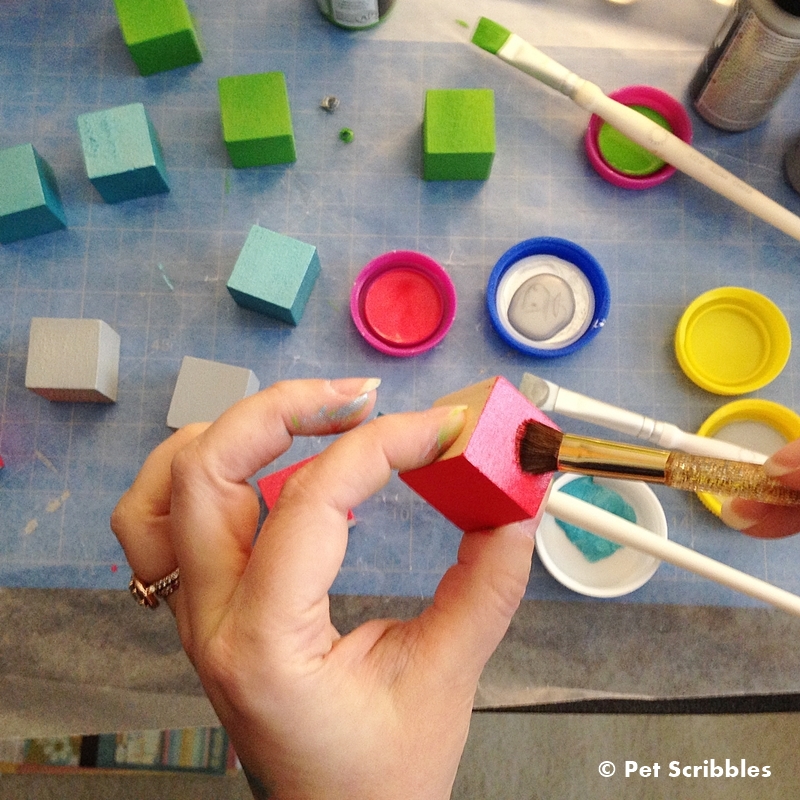 A: Paint three sides in a row, then place down onto your wax paper to dry while you move onto the next block. Repeat until all blocks have three painted sides.
B: Next, repeat the entire process on the same just-painted three sides of each block.
C: Paint the remaining three sides of each block, in the same manner outlined above.
Doing it this way helps you have some unpainted sides to hold onto, and also helps you see which sides have two coats versus which sides need a second coat.
I let these blocks dry overnight, but you could easily begin the next step after a few hours.
Step Three: Tie up your "Christmas packages" with decorative baker's twine.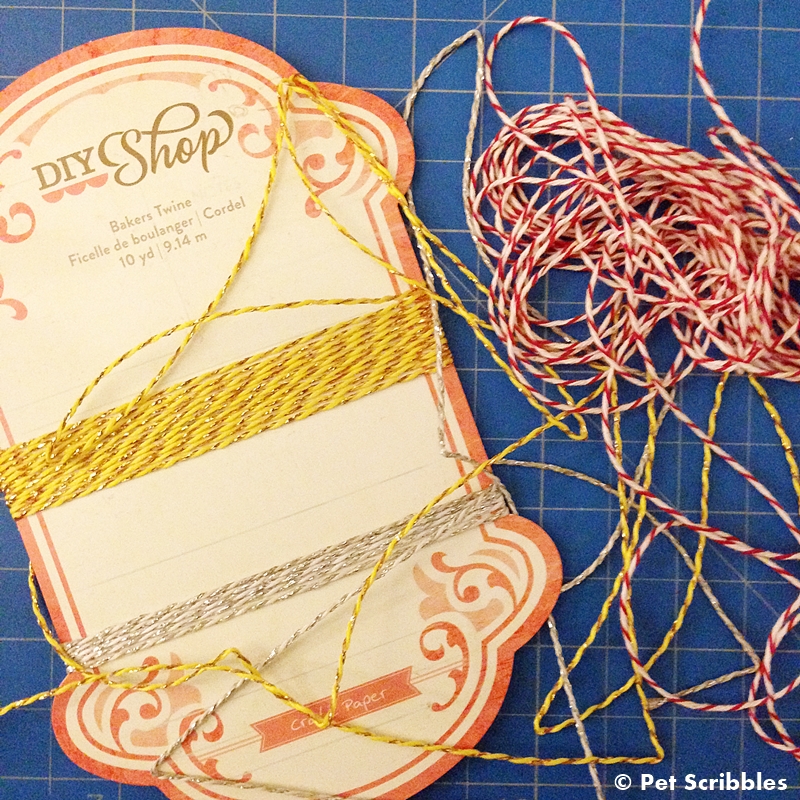 I used a metallic gold twine, metallic silver twine, and a traditional red-and-white twine. The gold and silver twines are from American Crafts, and the red-and-white twine is from a tasty pie my Mother-in-law brought us from her local bakery on a recent visit. "I save everything. I am not a hoarder!" is what I may or may not have said to my quizzical husband.
And that's it! You have an assortment of pretty miniature Christmas packages!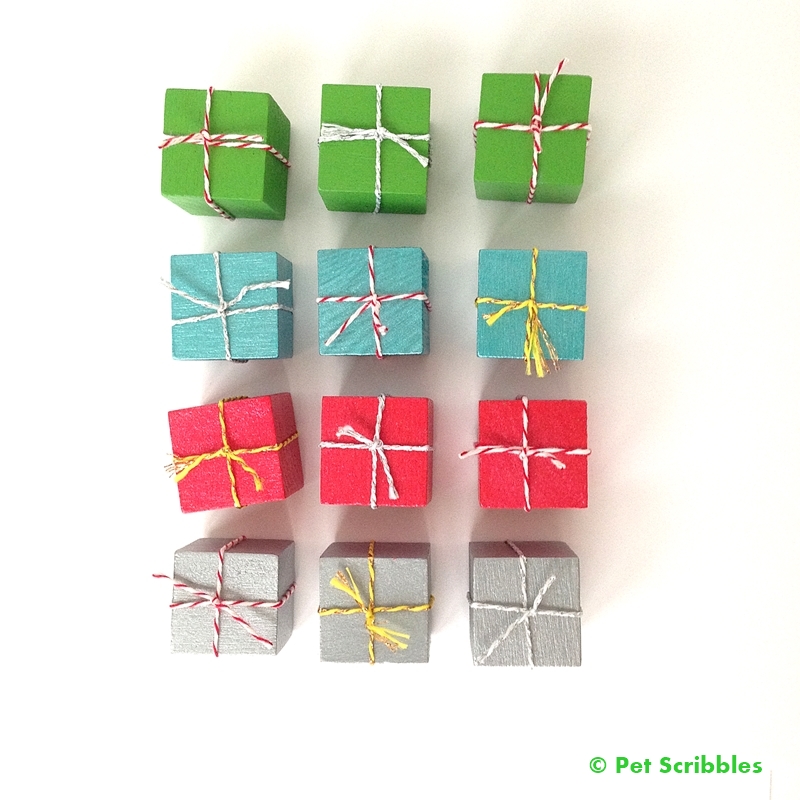 Suggested ways to display:
Place in your miniature fairy gardens
Put a few boxes among your Christmas village scenes
Stick a few around your bottle brush tree displays
Top off a small decorative sleigh
Place on your mantel, tucked among Christmas greens
Stack them up in the back of a vintage toy pickup truck
Fill up a clear glass jar
Use as little placecard favors for your holiday gathering
Place on a windowsill
Attach a loop – made of the same baker's twine – and hang on your tree
I fell in love with these miniature Christmas gifts, and ended up making another set!
Here's a few ways that I'm displaying these this year . . .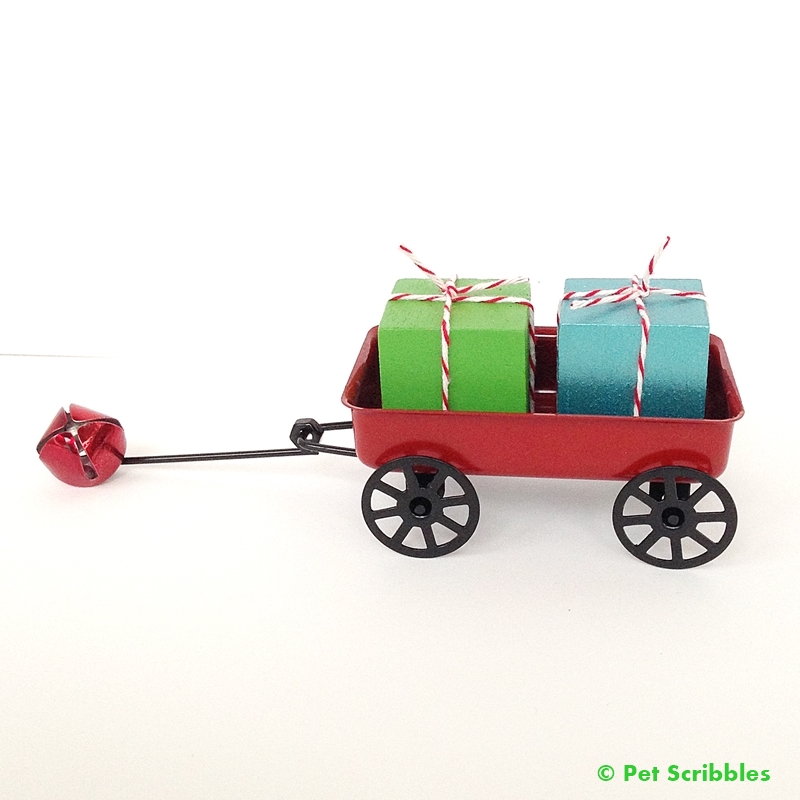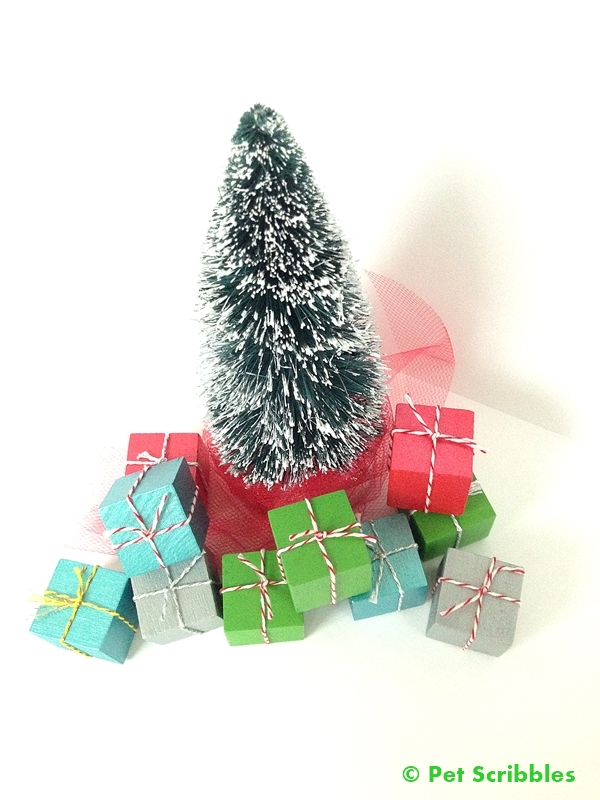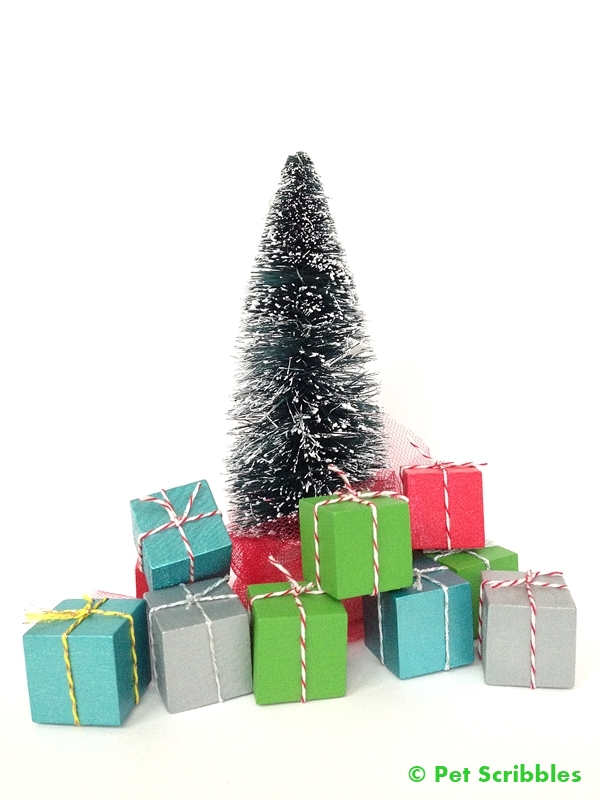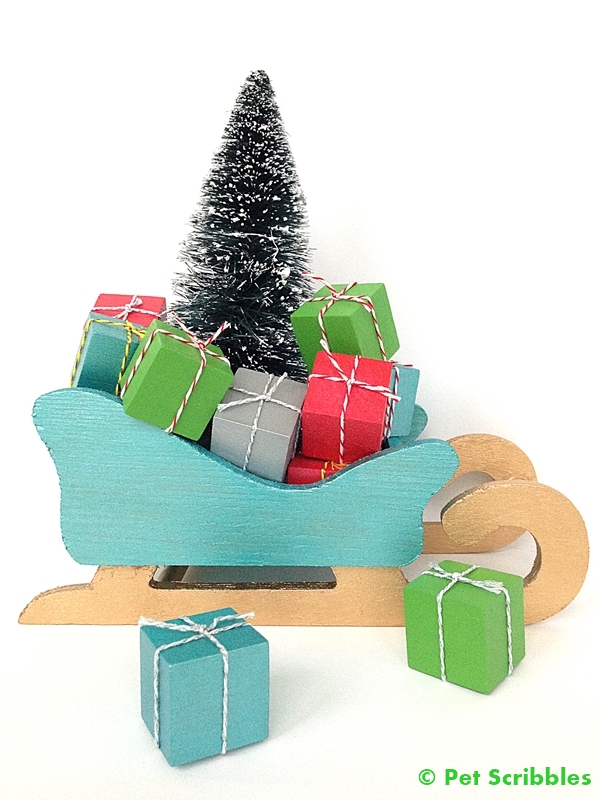 Happy holiday crafting!
~Laura