Some thoughts on my backyard garden bed in Winter for this week's Six on Saturday gardening post. Six things going on in my own little gardening world.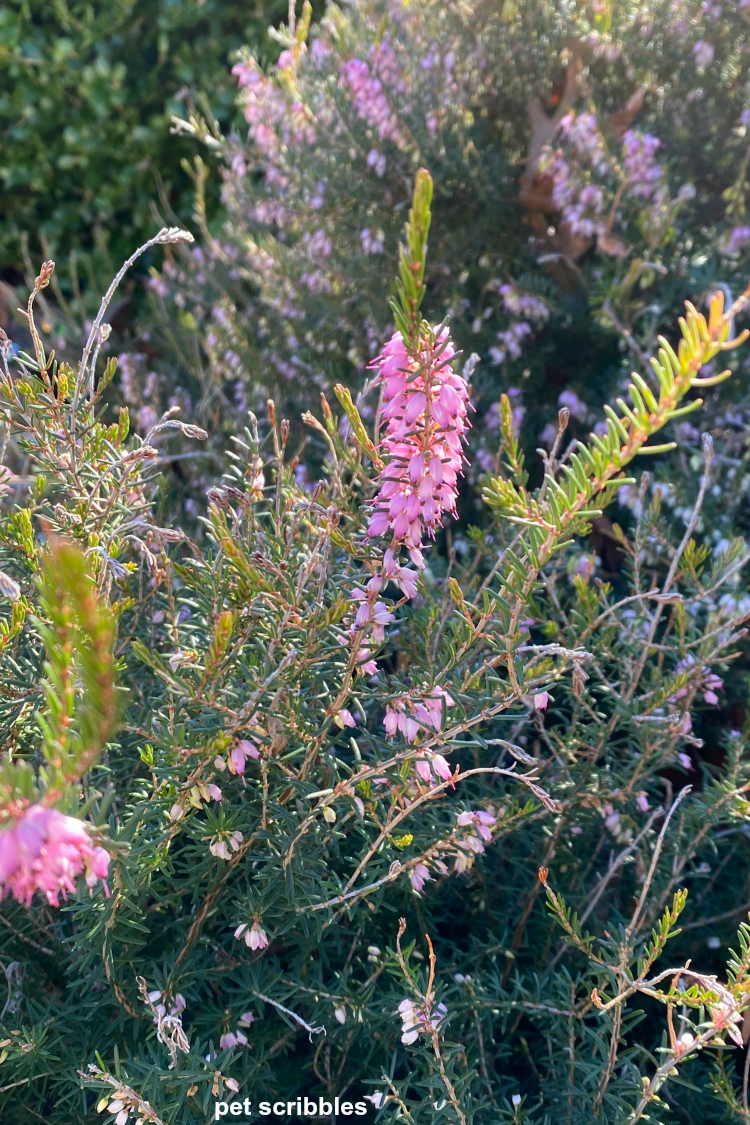 As I write this, our foggy morning has quickly turned into a severe rainstorm. We've had rain on and off for three days now, and our garden beds are saturated. I don't want to think about it, although every time I look out the window I can't help it.
Our daffodils sprouted up in early January. They aren't blooming yet, but because of our warmer-than-usual weather this Winter, who knows how soon they'll bloom. And I purposely planted early blooming daffodils to enjoy in the early Spring.
This is not early Spring.
On to this week's Six on Saturday gardening post. Six things going on in my own little gardening world.
Many of us share our Six on Saturday posts on Twitter using the hashtag #SixonSaturday and we also share links to our blog posts at The Propogator blog here. Stop by his blog, read his latest post then scroll through the comments to see many gardening posts from all over the world. It's great plant eye candy and you can see what's blooming or not for everyone!
A quick tour of the backyard garden
1 — A picture of pinecones until I can't unsee the acorns
Having a never ending supply of pinecones in our backyard is wonderful. It's easy to pop outside and grab a few to display indoors, especially around the holidays.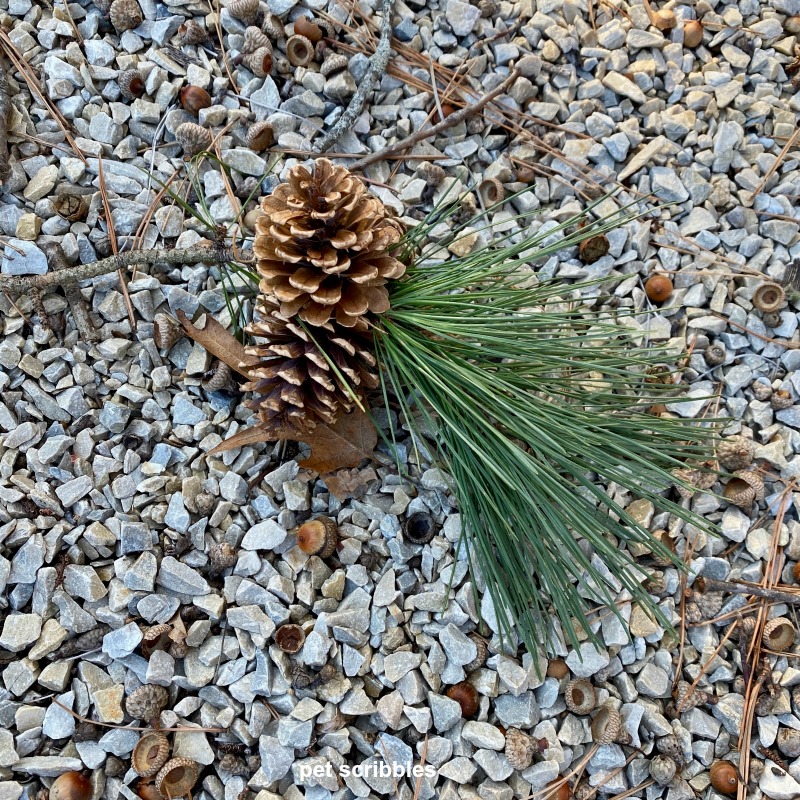 Notice all the acorns on the ground?
Behind our property fence, we have nothing but oak trees and pine trees growing. Way too many oak trees which result in too many leaves to deal with.
We get so many acorns, the squirrels don't even eat all of them. One year, we had so many acorns our backyard looked almost black until we carefully raked them up.
Ah, nature.
2 — Mediterranean Pink Heather
I look forward to this shrub blooming its heart out every Winter!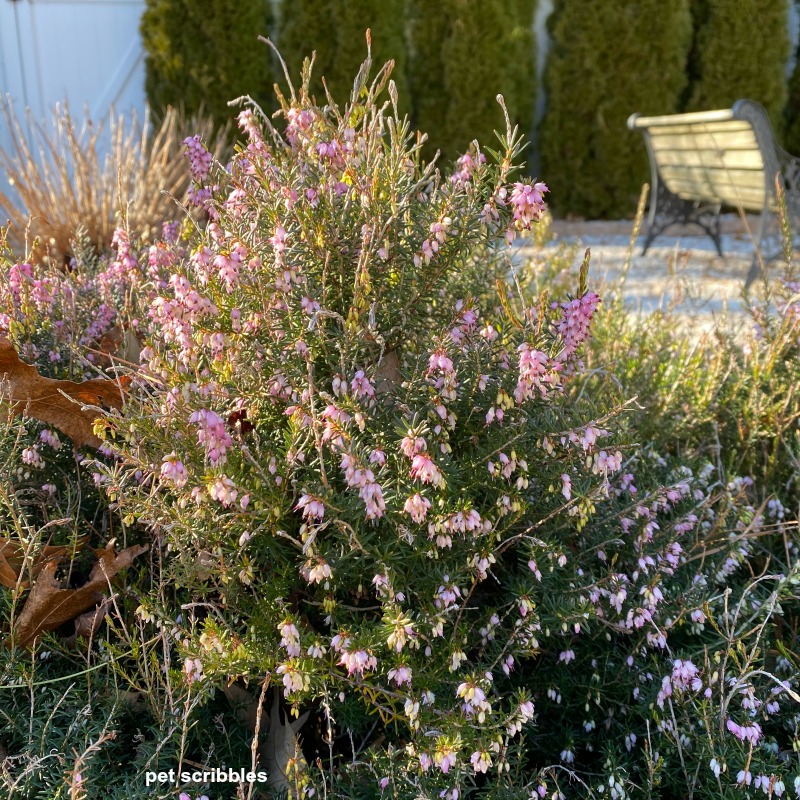 It's the first heather I planted years ago, and I kind of leave it to just do its own thing back here.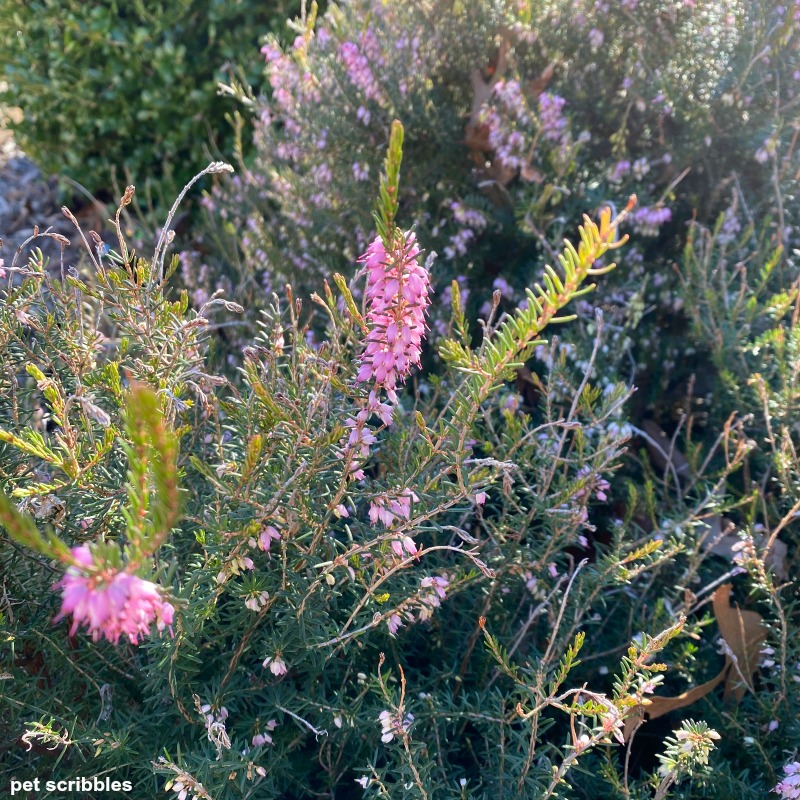 Having this garden color all Winter into Spring is almost necessary.
To look outside — or be outside — and see the beautiful tiny flowers glowing against the dark evergreen needles never fails to amaze me.
Get yourself a Winter-blooming heather and you'll see what I mean.
In our front yard we have Kramer's Red Winter Heath, which is a more vibrant fuchsia color than Mediterranean Pink. (You can click over to see lots of pictures of the Kramer's Red.)
3 — Seed heads on Rose of Sharons
Sometimes it's small things that bring great joy, and that's how I feel about these seed heads on our Rose of Sharon plants.
This one is from our newest Lavender Chiffon, just planted toward the end of Summer last year.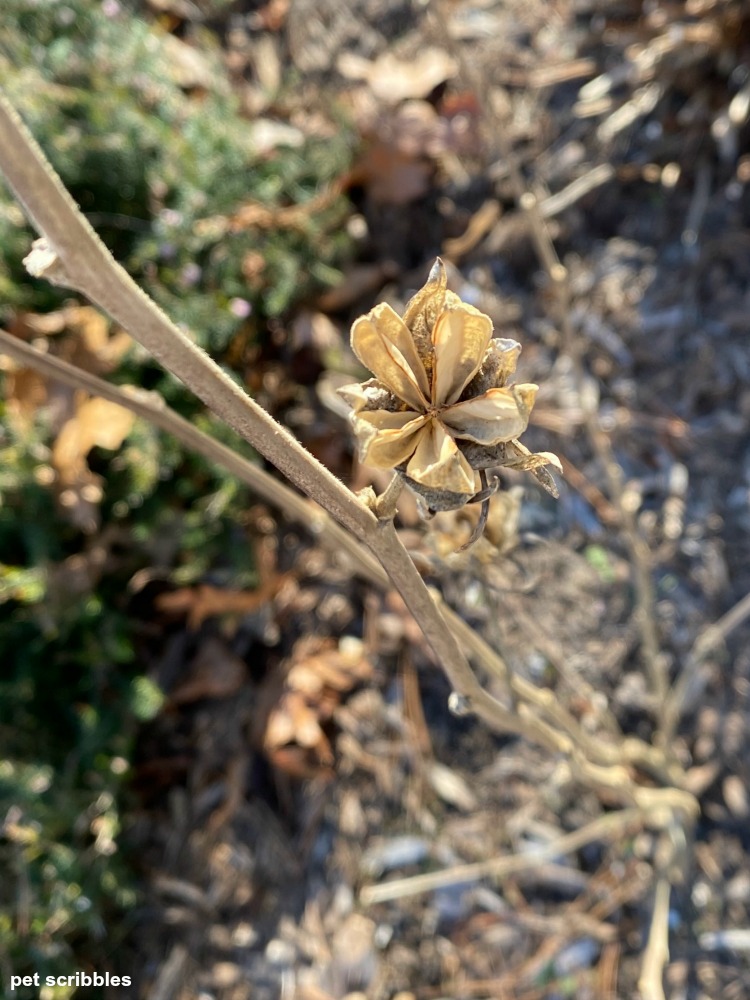 And this seed head from our Helene Rose of Sharon has so much detail.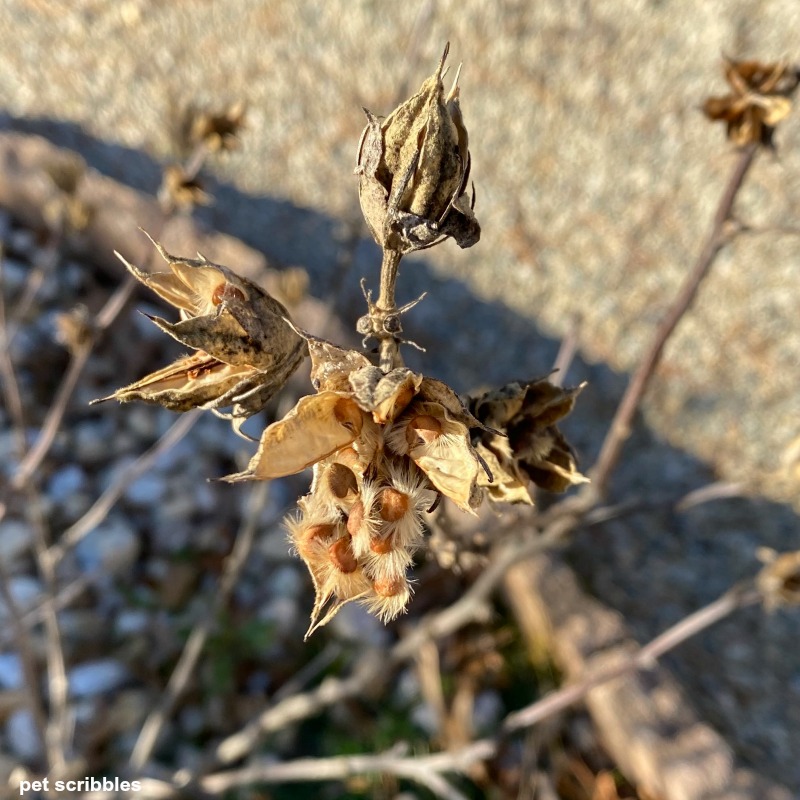 Just look closely in your own gardens and see what tiny delights you find.
4 — Hydrangea twigs in the sun
Just because the sun makes it look nice, here's a bunch of Hydrangea twigs.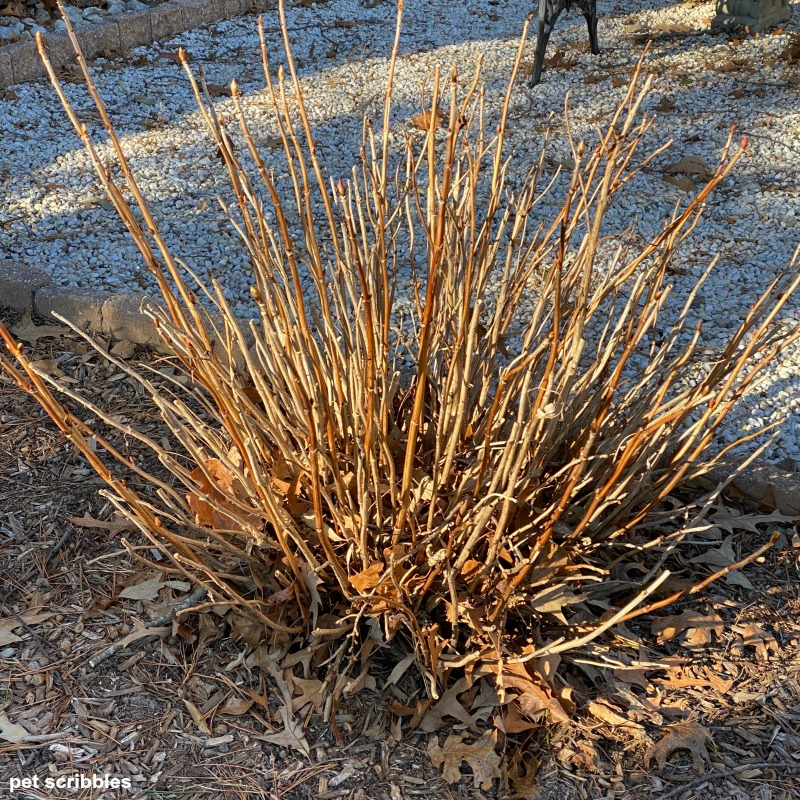 Seriously, I'm unsure what I want to do about these hydrangeas, which once were in the front yard and now reside back here.
They still aren't happy and looked dreadful this past Summer after an initial hopeful start. After a season of frustration (mine), the future is uncertain (theirs).
In fact, this is the best the hydrangea has ever looked, right here right now.
5 — Backyard garden progress
So last year, literally on February 9, 2019, I posted the following statement in my Six on Saturday post:
This garden is going to be a major project this coming Spring and Summer. I really let it go last year, other than transplanting some hydrangea shrubs from the front yard into this area.
2019 backyard garden: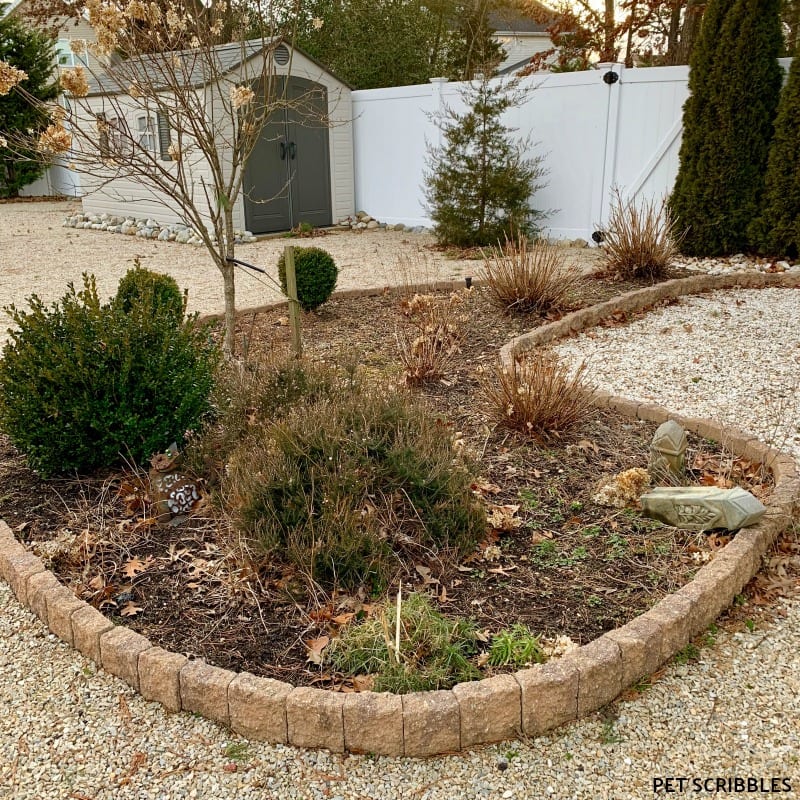 Well, here's all of my hard work to show off one year later . . .
2020 backyard garden: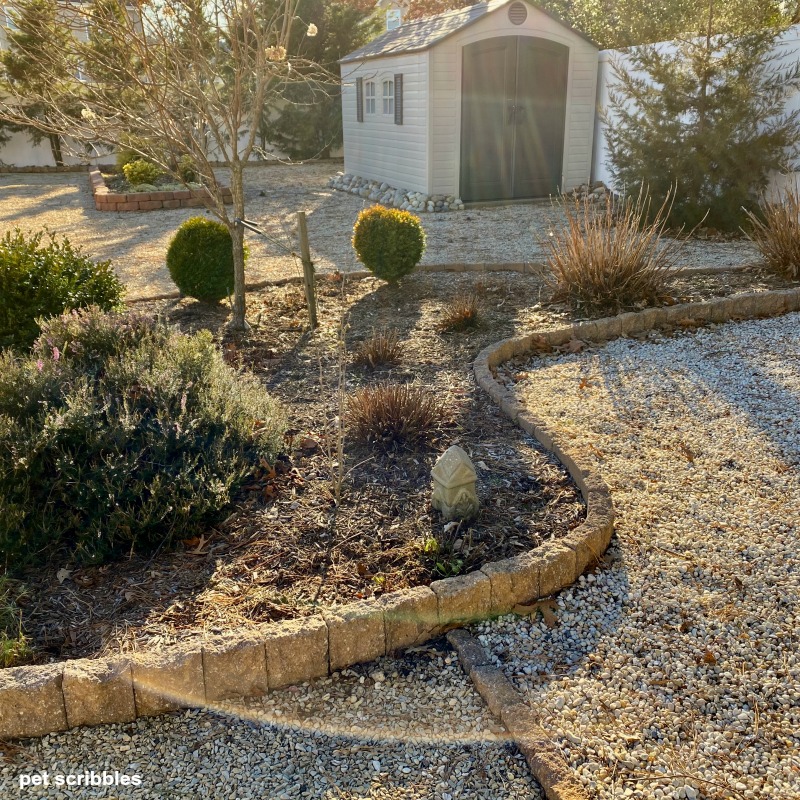 That's right folks, I did nothing to this garden. Neglected it once again for front yard projects. [hanging my head in gardener shame]
I see that I did remove one of the finials that had fallen over, so that's something.
Will this be the year I finally tackle this garden?
Stay tuned, as I have no idea!
6 — Frozen geranium petals
On my way into the house, I passed by the dead geranium plant still in its pot by the back door.
My eye caught this tiny dried flower which kept its color despite the rest of the entire plant turning gray-green, brown and black.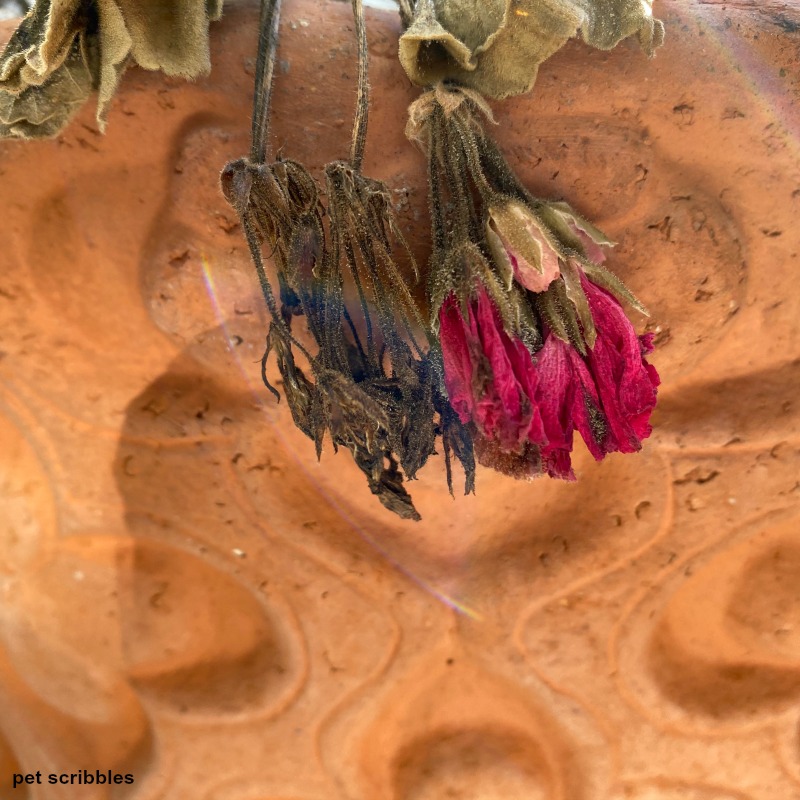 Not sure how that happened but I'm glad I saw it!
So there's my Six on Saturday for this week!
Remember to hop over to The Propagator website here to see and read more Six on Saturday gardening posts!
Happy Weekend!