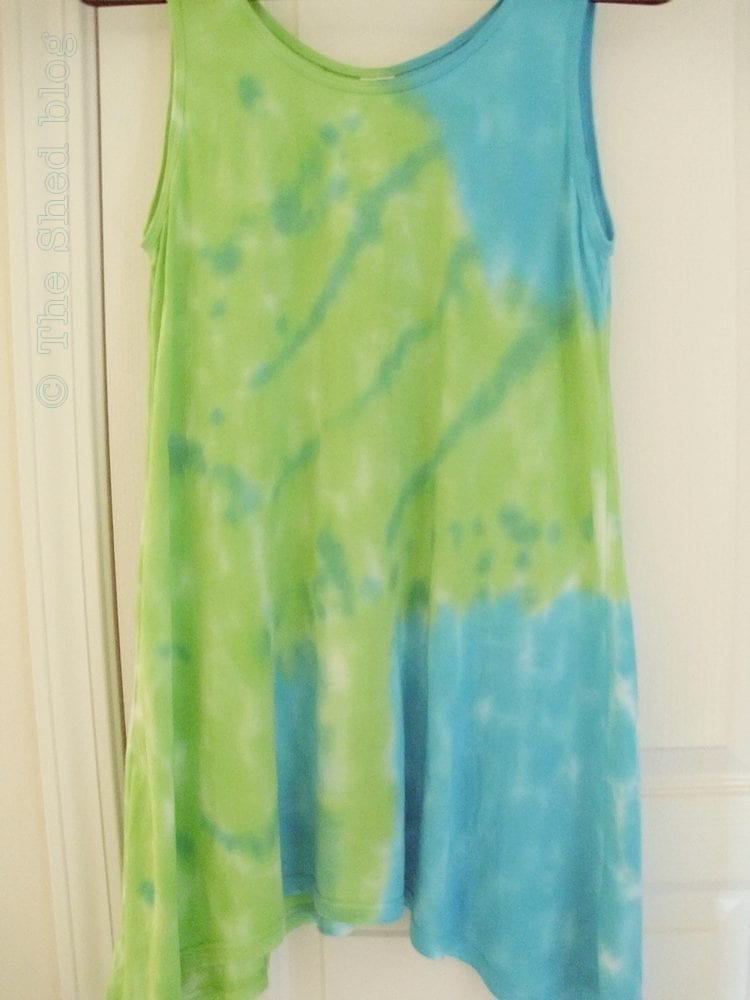 If you follow my blog, you'll remember that I recently was asked to try out the Tulip Tie Dye Kits from ILoveToCreate.

First I did a glue resist technique and created a pretty pinkish-lilac-colored top, which you can learn how to do (and see fun pics!) here.

I also created a sort-of patriotic off-center stripe Summer top, which you can see (and find the tutorial for) here.

The set-up, products and supplies needed can also be found in either of those two posts, so please click on them for more information.

Lime Green and Teal Summer Tank

For this tank top, I decided to apply the dye directly onto the garment without using any rubber bands, resists, or anything else. Just an easy application of the dye straight from the bottles. Tip: Before embarking on this project, spend some time thinking about any type of design or pattern you would like to make. I played around with various ideas of which colors I wanted where on the tank. I decided to have the tank be mostly green, with a bit of teal up by one shoulder, down at one of the lowest side seams, and then splotched over the green with 2 or 3 diagonal lines across the front.
Let's see how I did . . .
Before you begin – if using a new garment – wash it in order to remove the sizing. Just use a tiny bit of laundry detergent. I didn't bother to dry the top, as for this technique you want a damp surface to start with.
STEP ONE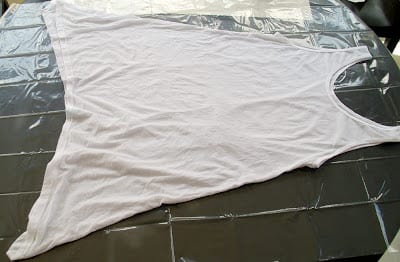 Start with a damp garment, spread it out on your protective covering, smooth it out as much as possible, but don't worry about getting every last bit of the fabric to lay completely flat.
STEP TWO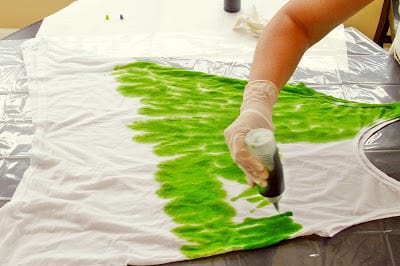 Put on your protective gloves. Mix up your dye following the manufacturer's directions. Start with your first color, and simply squeeze the dye from the bottle onto your garment.
STEP THREE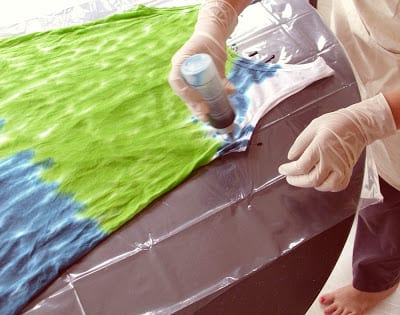 Take your second color, and apply the dye to your fabric in the same manner as the first color. Continue until you are satisfied with the colors and design. The colors might seem to be bold and dark, but the final colors come out lighter as you'll see in the final images below. (I think this was my favorite color combination out of the three tie dyed Summer tanks that I made!)
STEP FOUR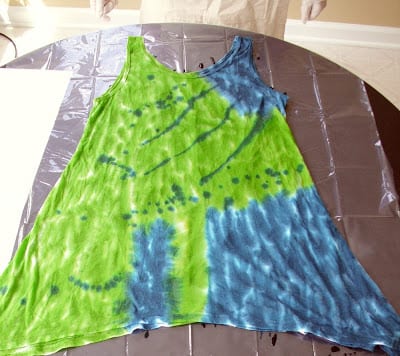 Next, add some additional free-form designs, still using the squeeze bottle. I made some dots, drew some diagonal lines, and then flicked the bottle for some random color splotches. (Make sure not to flick too much, or you'll have dye on surfaces you didn't intend to dye!)
STEP FIVE

Now it is time to let your fabric sit for awhile to soak in all of the dye. To preserve the colors and design, I simply rolled the fabric up in the protective plastic covering, starting at the top of the garment. Set your project aside and let it dry for about 8 hours.
STEP SIX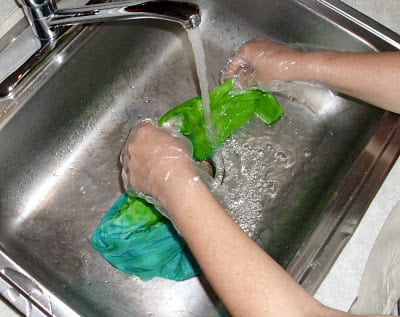 Carefully unroll your garment from the plastic wrap and give the fabric a good rinse in cold water. Rinse until the water runs clear.
STEP SEVEN
Set your machine to a large load setting, and use the hottest water appropriate for your garment with just a bit of laundry detergent. I actually used cold water, because that's just what I usually do with my Summer tops, and this top came out just fine. Pop the top into the dryer, again on whatever setting is appropriate, or just hang it up to dry.
Voilá!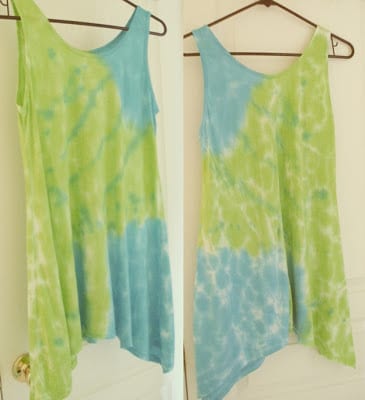 The front of the tank, left……………..and the back, on the right.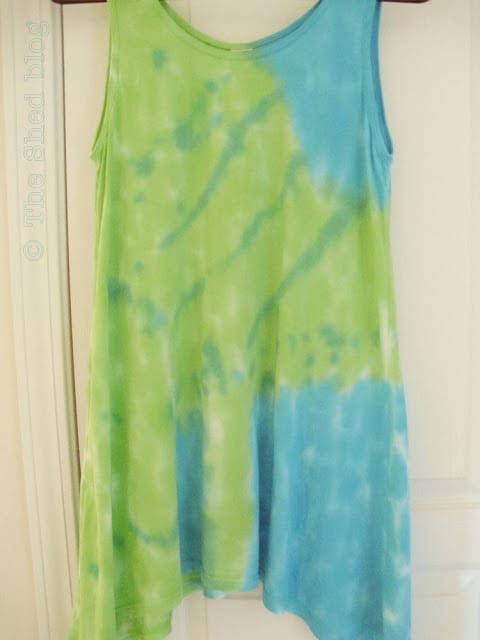 And there you have it: another easy peasy Summer tank top!
~Laura

Disclosure: I wrote a previous tie dye post as part of a paid campaign, but this post is just me playing with the Tulip Tie Dye Kits a bit more as it was just that much fun!