This week's Six on Saturday in my garden — for the week of January 12, 2019 — is all about Winter interest, whether by intention or accident. Six photos sharing what things look like at the moment. Enjoy!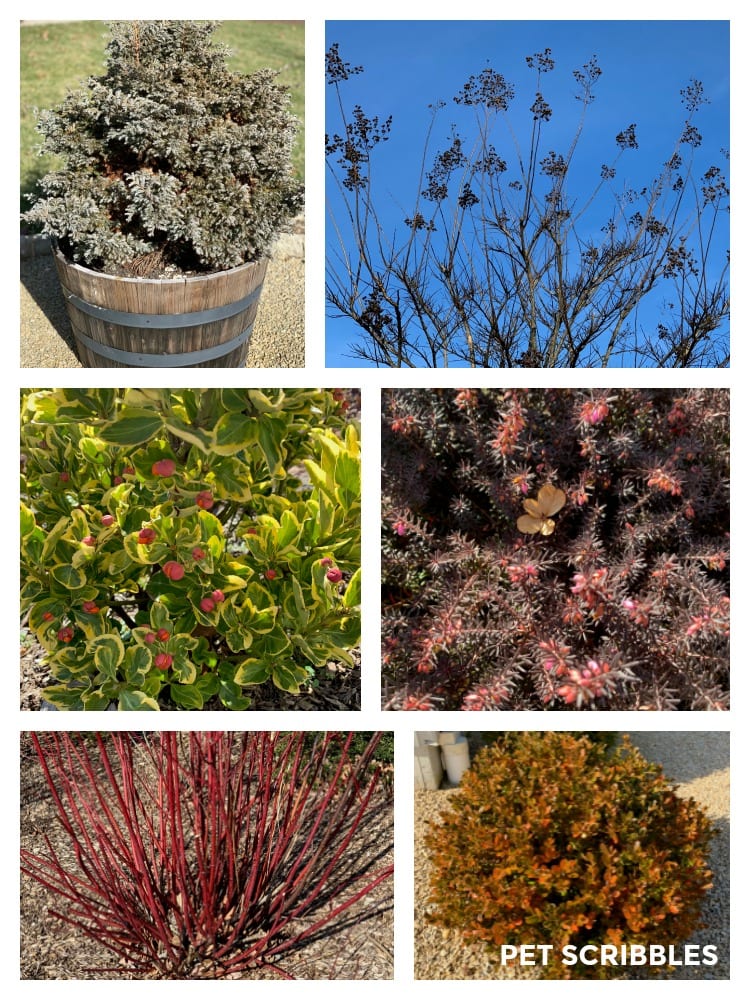 Today is my first time participating in a wonderful weekly garden series started by The Propagator, a garden blogger based in England.
What is Six on Saturday?
The premise is to share six current photos from your garden, with short text to describe each. The goal is nothing more than to enjoy seeing everyone's gardens up close, no matter where in the world you are located.
I love this idea, and am already enjoying watching the gardens from our friends across the pond, because their garden climate seems a bit further along than mine here on the coast of southern New Jersey in the USA.
To follow along with all of today's Six on Saturday gardener posts, visit The Propagator here. You'll see his six chosen photos, then in the comments you'll see many other bloggers — me included — sharing our own links to our chosen photos for the week.
Let's begin!
Six on Saturday for Winter Interest
I'm all about Winter interest in the garden. I'm obsessed with it, in fact. I may or may not say those two words so often that my husband pokes fun. I can't help it, so today's photos give me an outlet to share what's interesting in our Winter garden!
Dried Hydrangea blossom in Winter Heath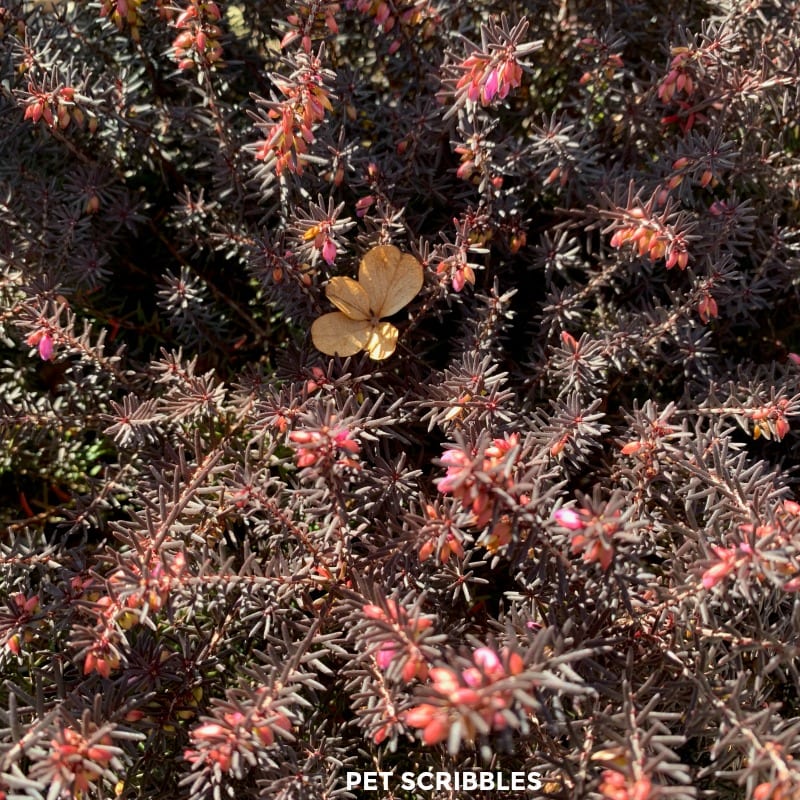 This photo is the perfect example of looking closely at your garden in the cold of January, you just might find a pretty surprise, like this dried Hyrangea blossom perched in the just-starting-to-bloom Heath.
As a side note: I hope my English friends will jump in and help me out on this one. Here in the US, they sell this plant as Heather, but everything I've researched says this is Heath. This is Kramer's Red Winter Heath — Erica x darleyensis "Kramer's Rote" — yet I see this same plant sold mostly as "heather" in America and it drives me bananas.
Thoughts?
False Cypress "Devon Cream"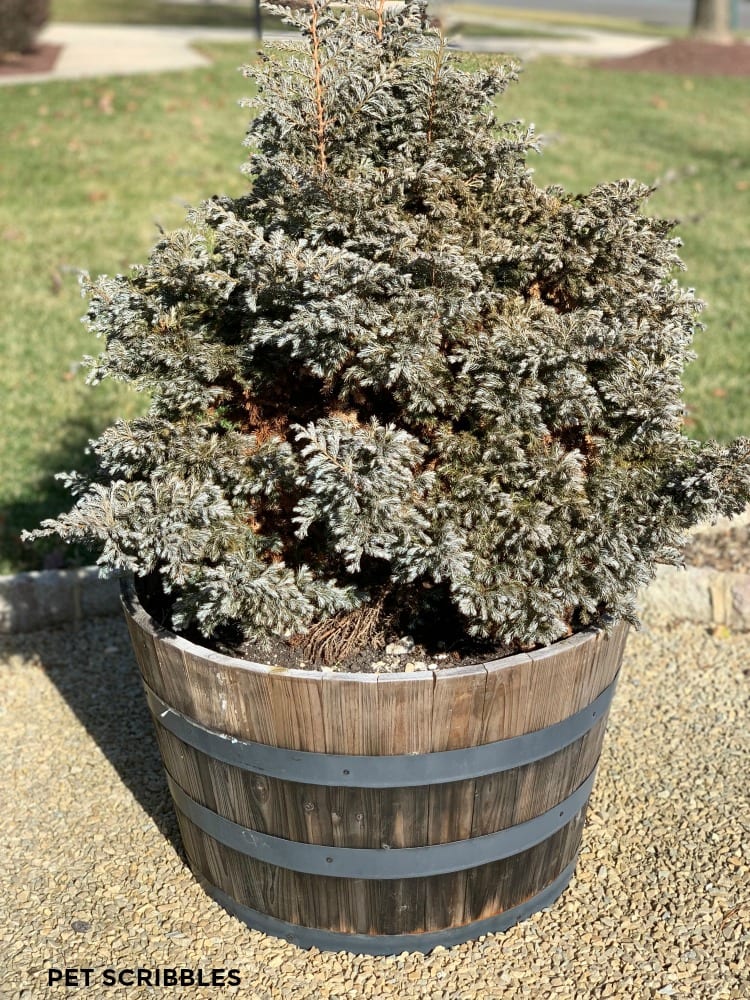 False Cypress "Devon Cream" — purchased last Spring — is providing a nice blue-green color. I'm thrilled it's surviving nicely in the barrel, as nothing grows in that swampy corner of the garden. We've tried many things. My husband advocated for the barrel solution way before I admitted defeat (as did a few shrubs too) and agreed to it. I love it — instant height for a smaller shrub and pretty color year-round!
Winter Gem Boxwood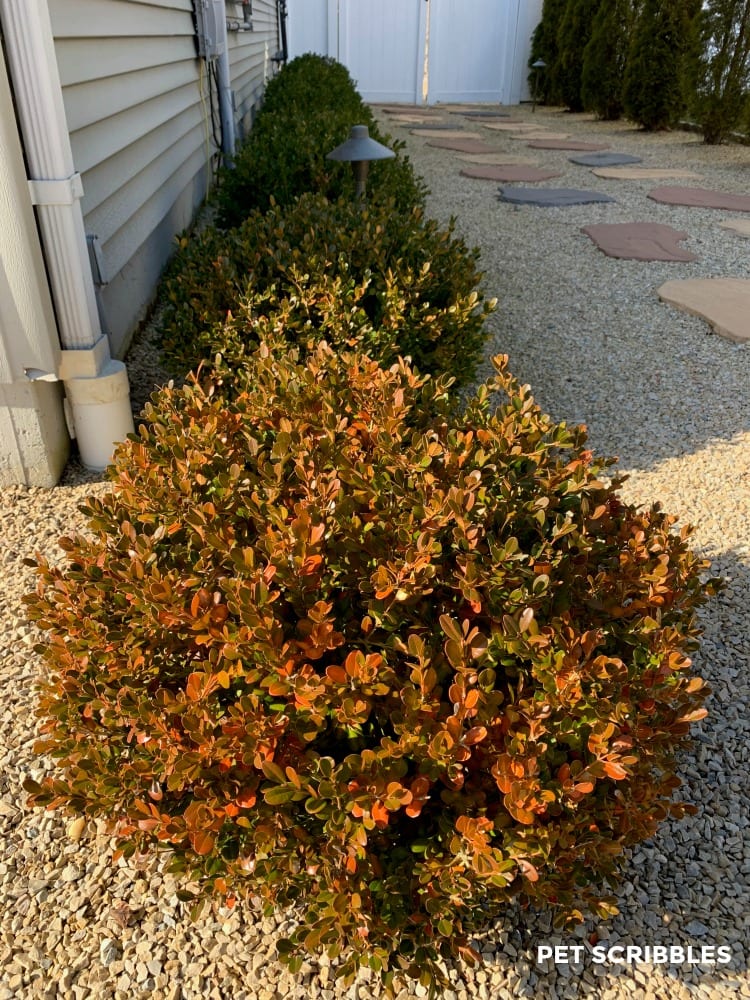 This Winter Gem Boxwood is not holding up it's end of the bargain. I shared the planting of this area — and an entire carefree row of these boxwoods — in my Side Yard Makeover post. This shrub in the front of the row is not shielded by our strong winds, so every Winter it becomes a bit rusty looking, while all of the other ones remain a stunning green color. The first year this occurred I was upset. Now I'm just resigned… or maybe I've achieved acceptance which sounds less negative!
Golden Euonymus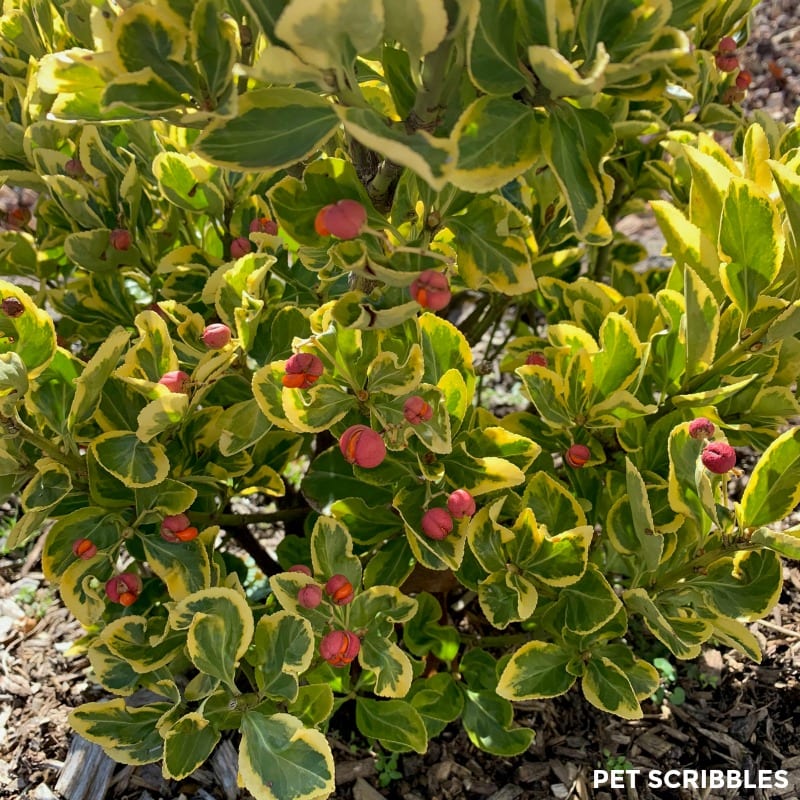 How cool is this shot? I was able to get it because the sun was behind this little shrub, so it makes the berries just glow! And if you look really close, you'll see orange coming out of the opened pink berries. Love this added color benefit of this easy-care shrub!
Red Twig Dogwood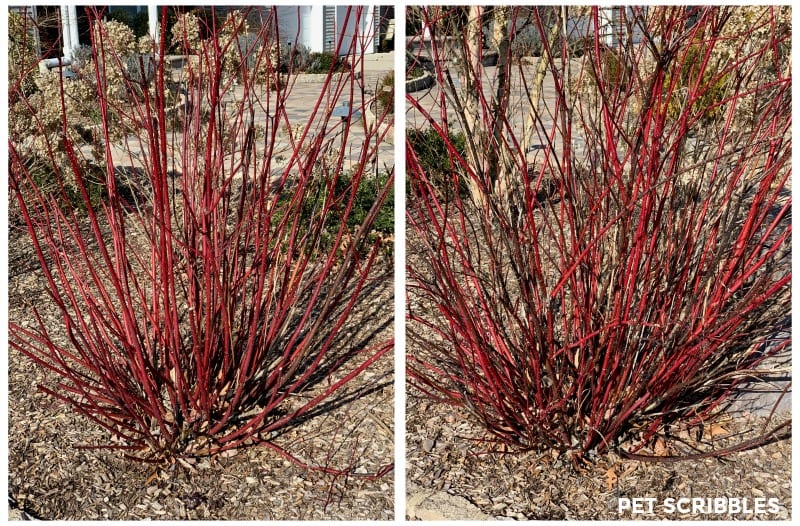 We have a row of Red Twig Dogwoods, thank goodness because my husband was getting tired of hearing me carry on about wanting them! As they are about four years old, I gave them all a good thinning out and pruning during the Fall — except for the one on the right, above. You can see the difference a good thinning out makes. This last one is still on my to do list.
Crepe Myrtle Tree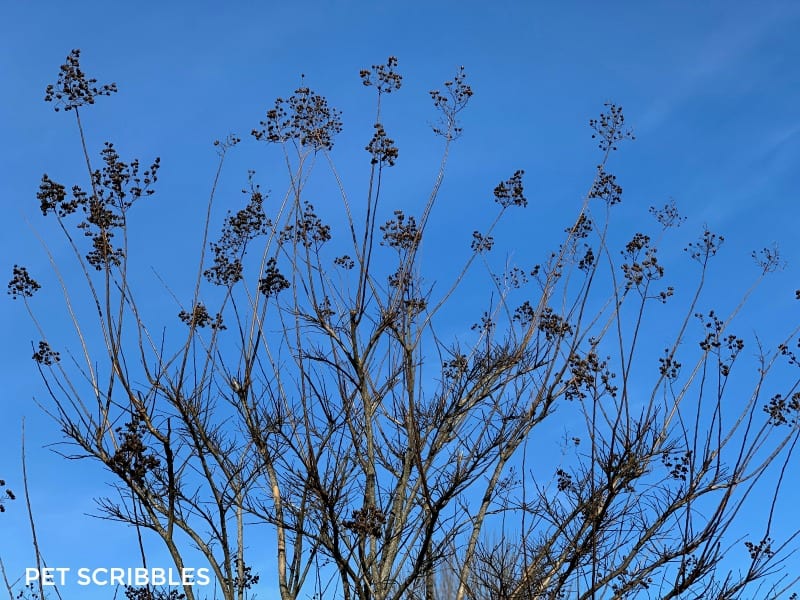 It was such a sunny day (yesterday) when I took these pictures, that I just had to show you the pretty sky, as well as the dried flowers still on our Crepe Myrtle tree. These blooms usually stay on the tree throughout the Winter, and look so pretty when just a bit of snow is on them.
I hope you've enjoyed this Six on Saturday in my garden!
Tonight we're expecting snow showers. I'm still waiting for a giant snowfall. I. Love. Snow.
In the meantime, I'm off to The Propagator gardening blog to see everyone else's garden photos!
Happy gardening!