Sea Glass Paint: how to easily create beautiful beach glass in just a few steps. Don't buy frosted glass bottles — easily paint your own!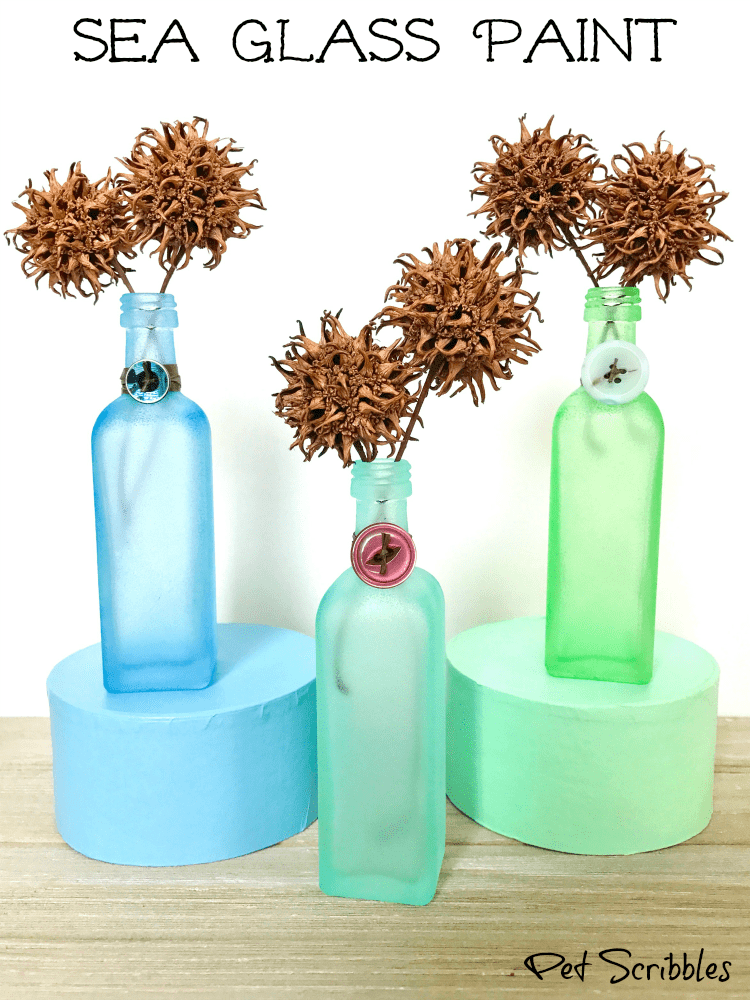 If you love the look of sea glass like I do, then you're going to love these new sea glass paints from Martha Stewart Crafts.
I can't get over how easy it is to use this sea glass paint to achieve frosted sea glass effects!
FTC Disclaimer: I've received products to try out in my role as a Plaid Crafts Ambassador. These sea glass bottles, however, are 100% my own project! Some of the links in this post are affiliate links. I explain more here.
This paint line comes in five different shades: Beach Glass, Blue Calico, Scottish Highlands, Sea Lavender and Sweet Pea.
Today I'm using (below) Beach Glass, Scottish Highlands, and Blue Calico.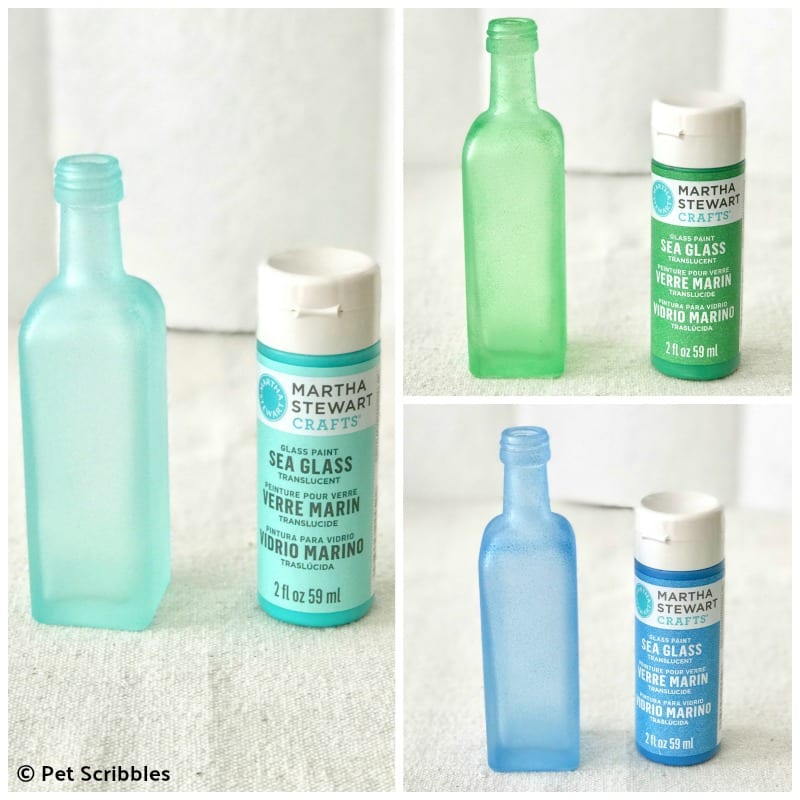 You can use this paint on non-porous surfaces such as glass, mirrors, plastics and ceramics. I've only tried it on glass so far.
Some highlights of this paint are its superior coverage and that it can be used both indoors and out.
The sea glass paints come in convenient 2 ounce bottles, are non-toxic and made here in the USA.
Sea Glass Paint: how to easily create beautiful beach glass
Supplies:
Martha Stewart Crafts Sea Glass Paints — Plaid Crafts
(colors used: Beach Glass, Blue Calico, Scottish Highlands)
Glass bottles — recycled
Paper towels
Rubbing alcohol
Plastic lids to hold paints — recycled
Buttons
Tutorial:
Step One: Remove any labels from the bottles.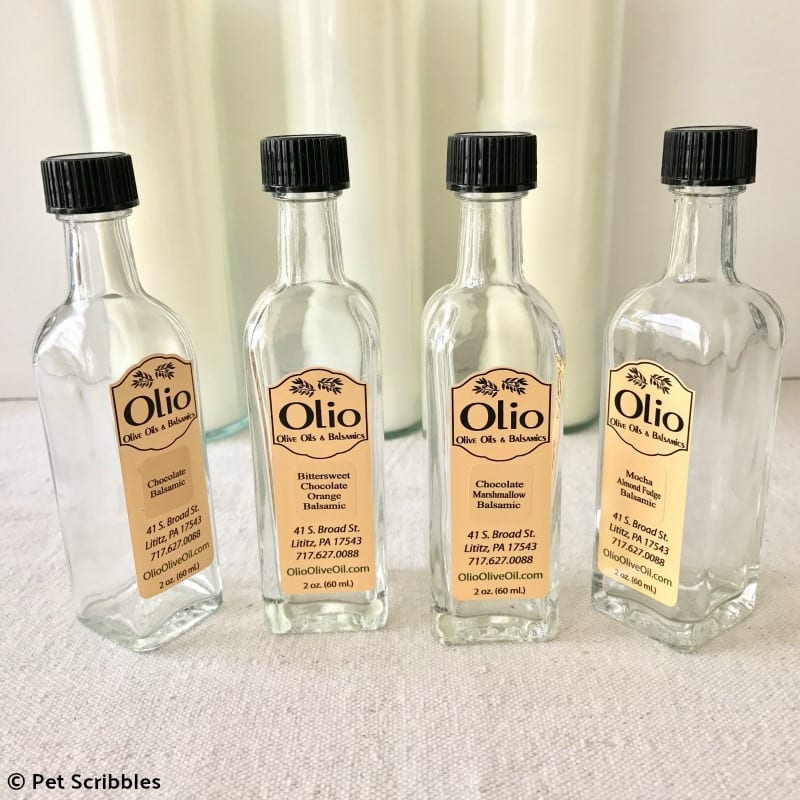 I include this as a step if you're using recycled bottles. I soaked these bottles in a small bowl of rubbing alcohol for about 20 minutes, then rinsed them while removing the labels. (It was fairly easy, but I haven't tried this method on larger labels yet.)
Step Two: Wash and dry the bottles, then clean them with rubbing alcohol to remove any leftover oils.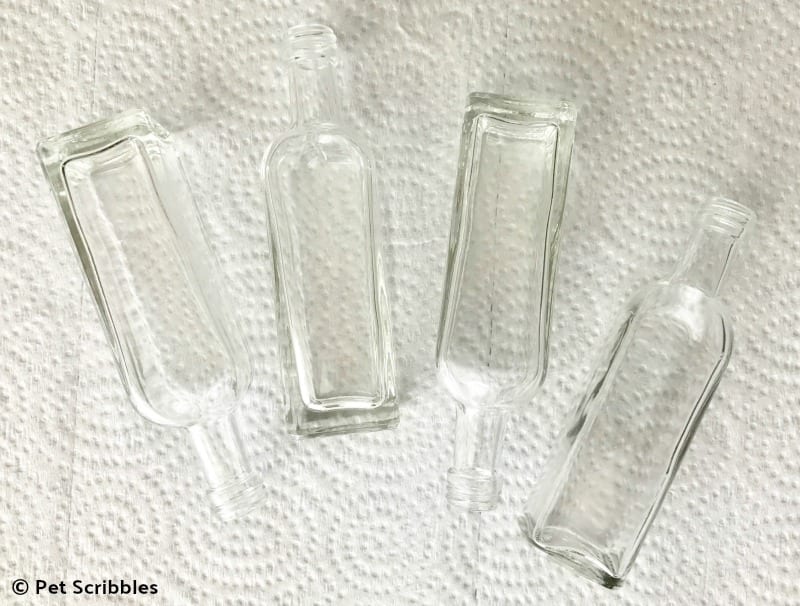 I used paper towels for this step, then left them to dry for awhile before proceeding.
By the way, you can find similarly-sized bottles online — like these on Amazon — as well as in craft and dollar stores. Just hunt around!
Step Three: Apply the sea glass paint to a glass bottle using a sponge pouncer.
Dip the pouncer lightly into the sea glass paint, then pounce the color onto a paper towel, until you're left with this amount of paint: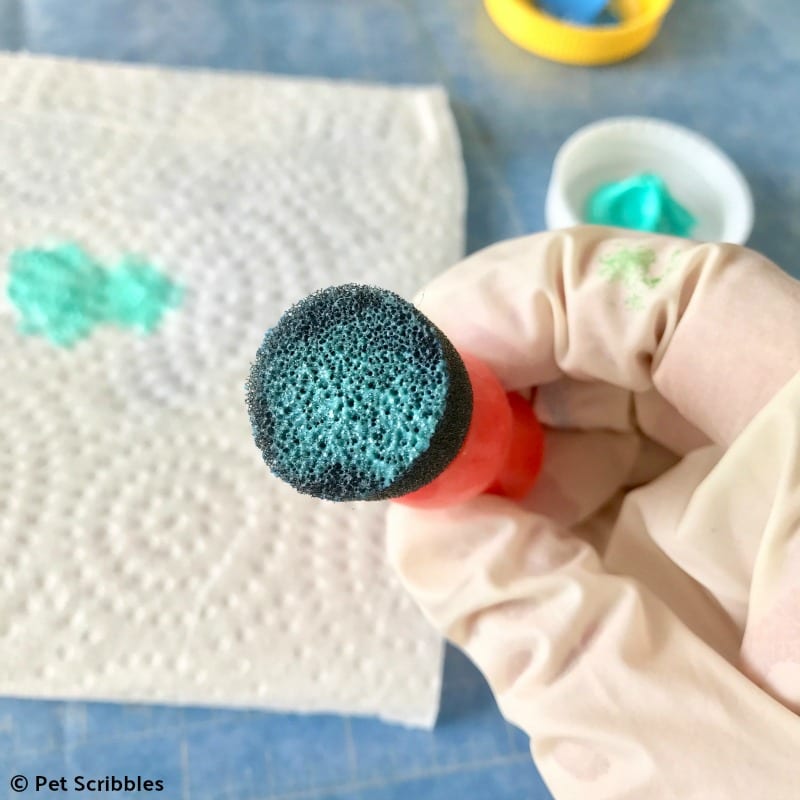 Begin pouncing the paint onto the glass bottle. I did one side at a time.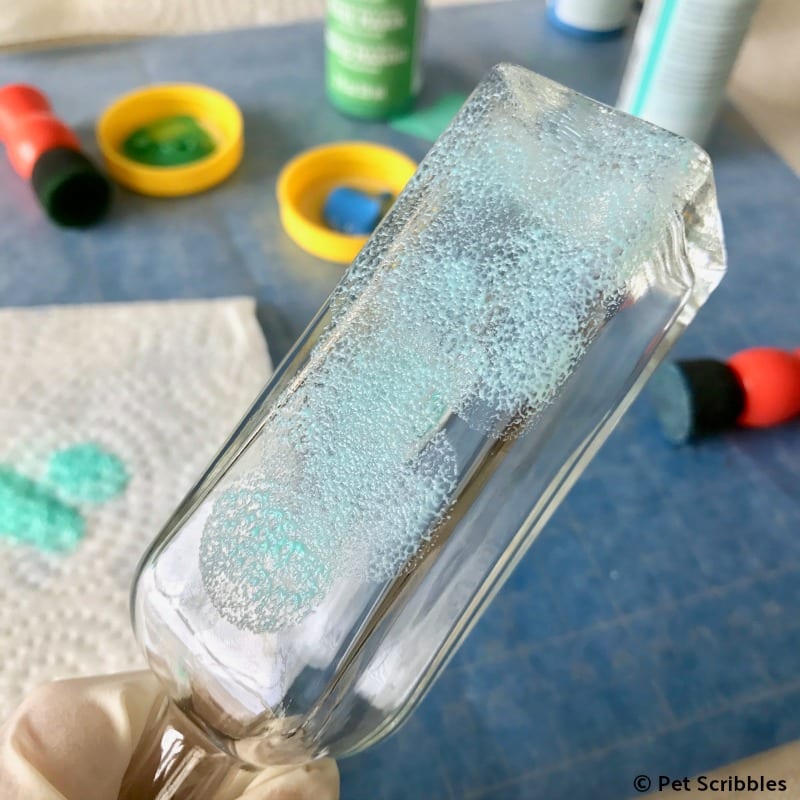 Once I had all sides and bottom done, I let it dry upside down, before pouncing the paint onto the neck.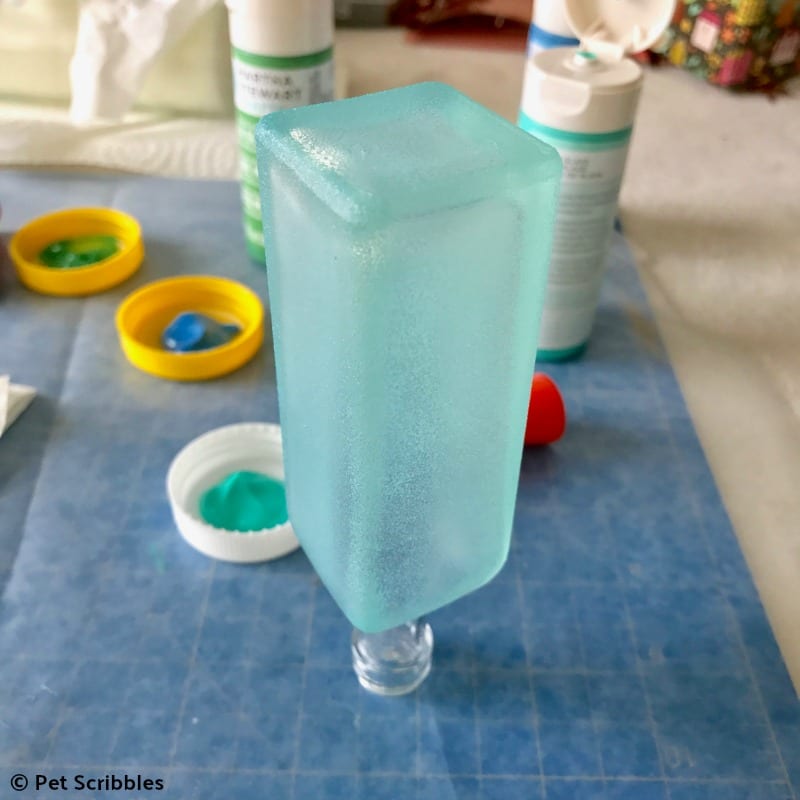 To paint the neck and avoid painting my fingers, I stuck my rubber-gloved finger into the mouth of the bottle, then pounced the paint onto the neck and top.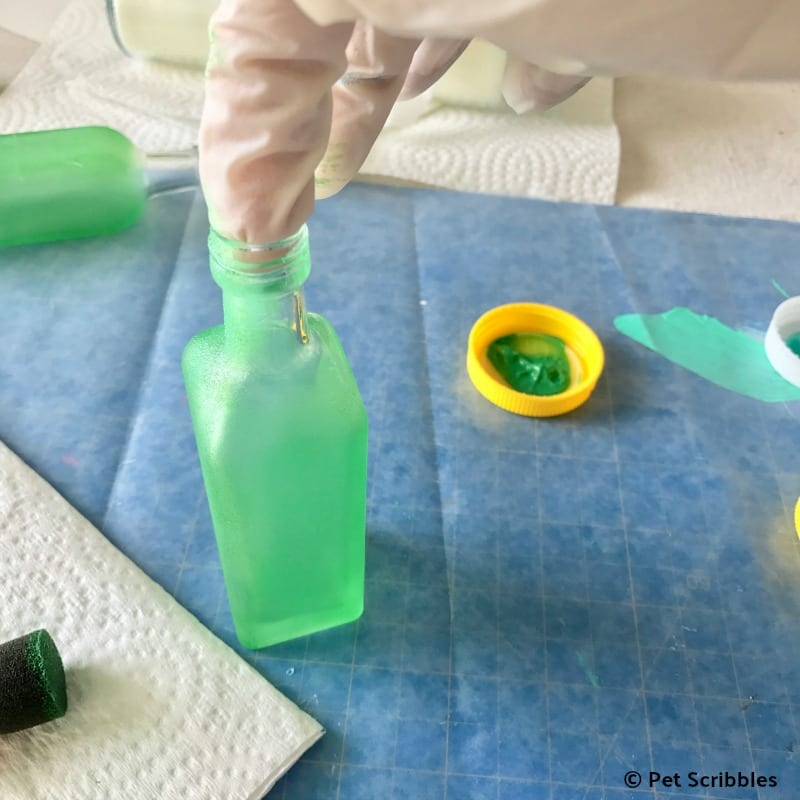 I love the texture in this paint. Here's a shot of the bottle opening so you can see it up close: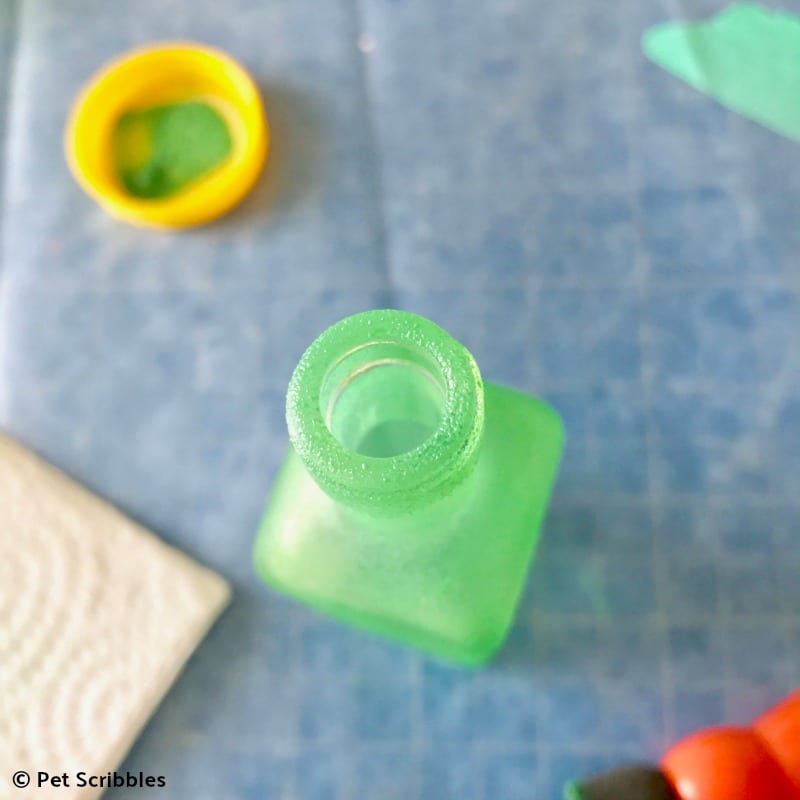 The paint dries to the touch fairly quickly, but let it dry for a full 24 hours.
Step Four: Allow the paint to cure, either by air drying for 21 days or by baking in the oven.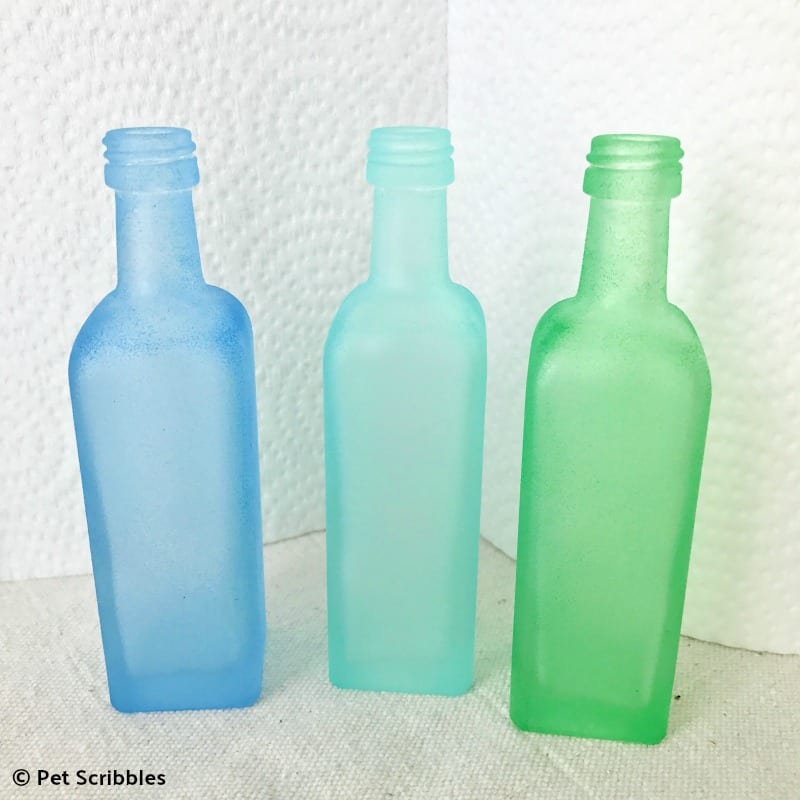 I chose to air-dry mine for 21 days, however if I wanted these bottles to be dishwasher safe, I would have cured them by baking in an oven. Here is a link to the Plaid Crafts website on how to do this safely.
Step Five: Decorate your bottles!
I wrapped brown raffia ribbon around the neck of each bottle, threaded the ends through a decorative button, then tied the ends in a knot as you see below.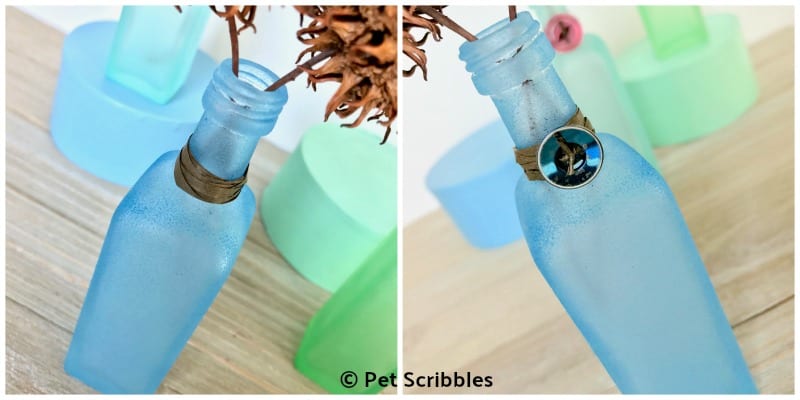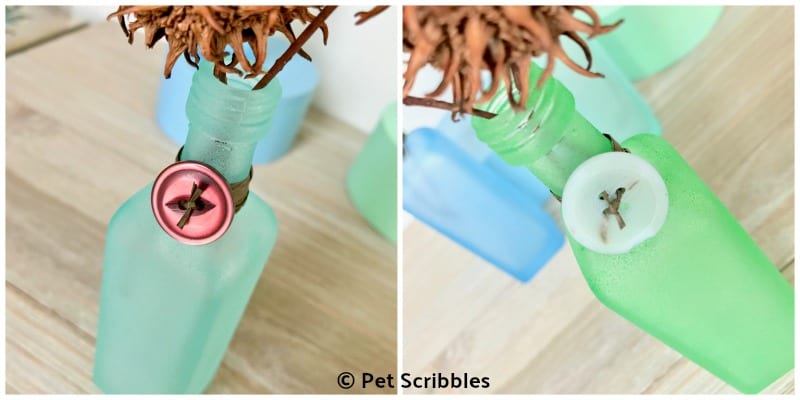 These are dried Sweet Gum Tree pods that I found on the ground years ago when visiting friends in Pennsylvania. They have such a unique look and texture!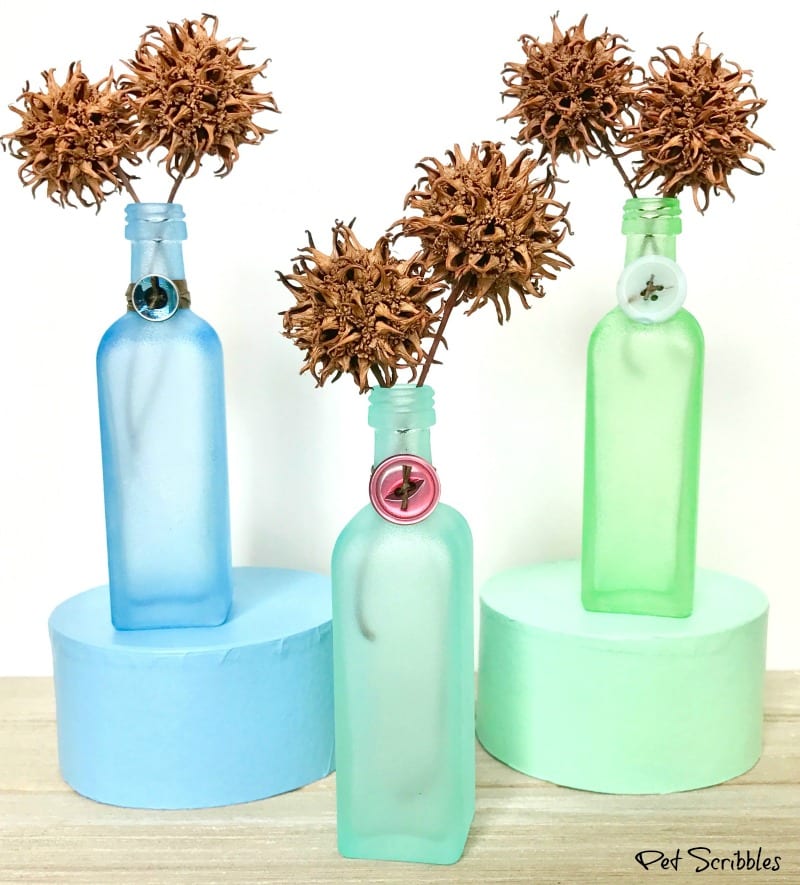 The bottles are resting on paper maché boxes I painted last year using chalk paint. Click here to see the full tutorial.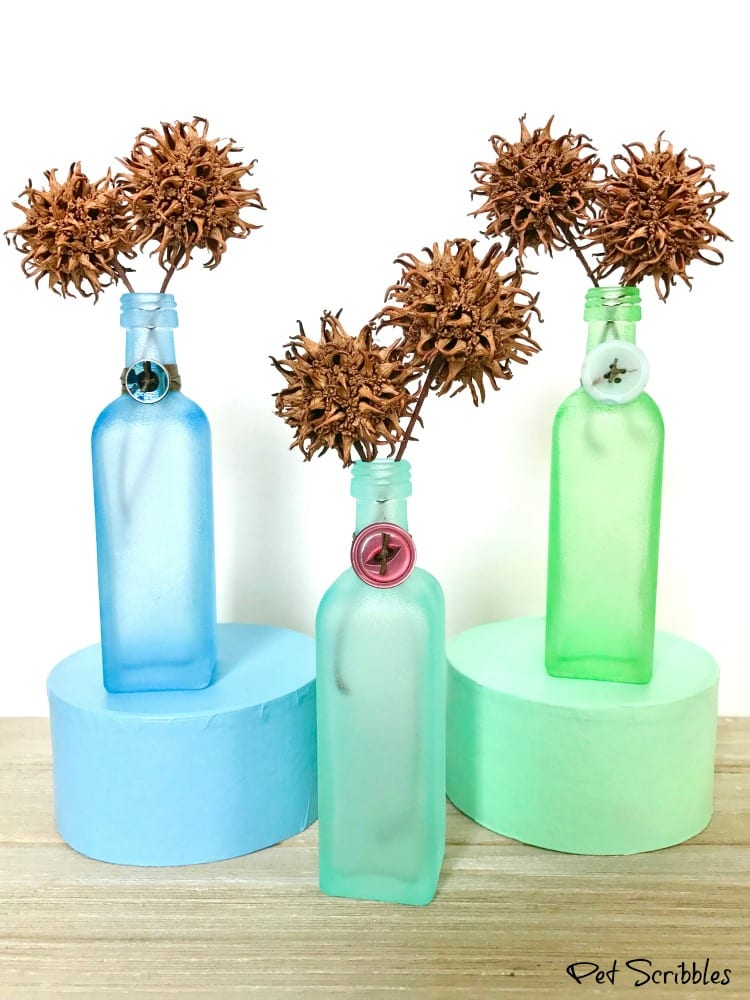 I'll be trying out these sea glass paints on more projects soon, so stay tuned!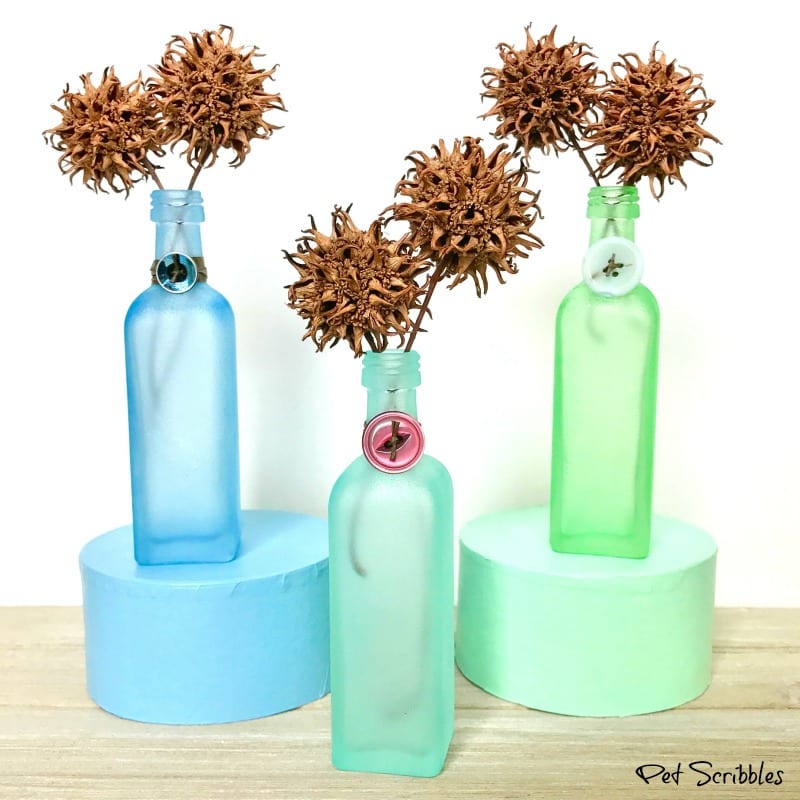 Happy crafting!