This Red Hot Valentine Container is a sweet, vintage-style gift idea for Valentine's Day. Use Mod Podge and a peat pot for heart-shaped cinnamon candy!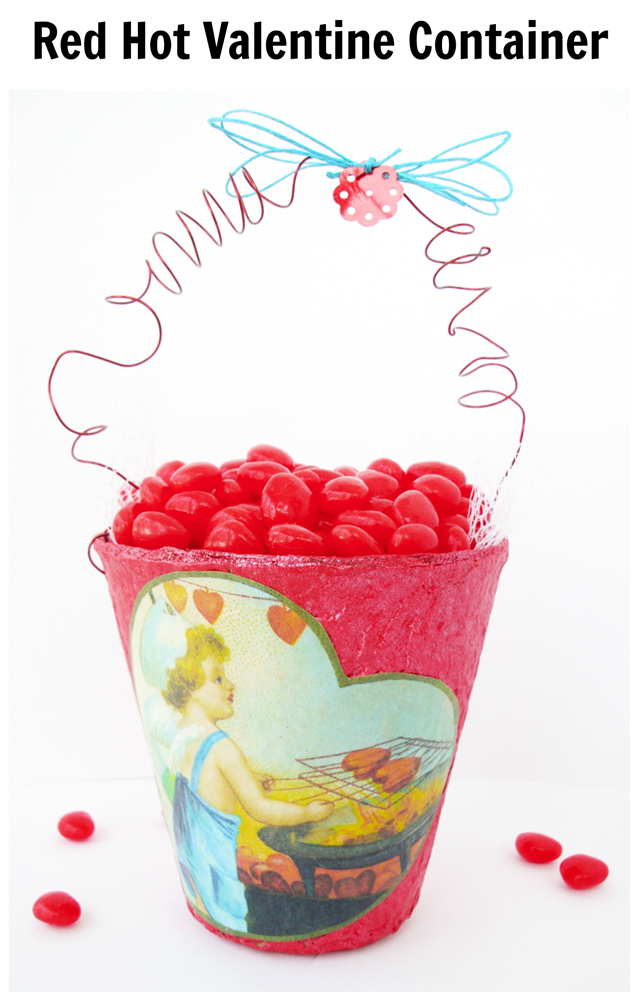 I have a fun little gift idea for Valentine's Day: a sweet, vintage-style container of heart-shaped cinnamon candies!
I'm happy they still sell "red hots" that were so popular when I was a little girl . . .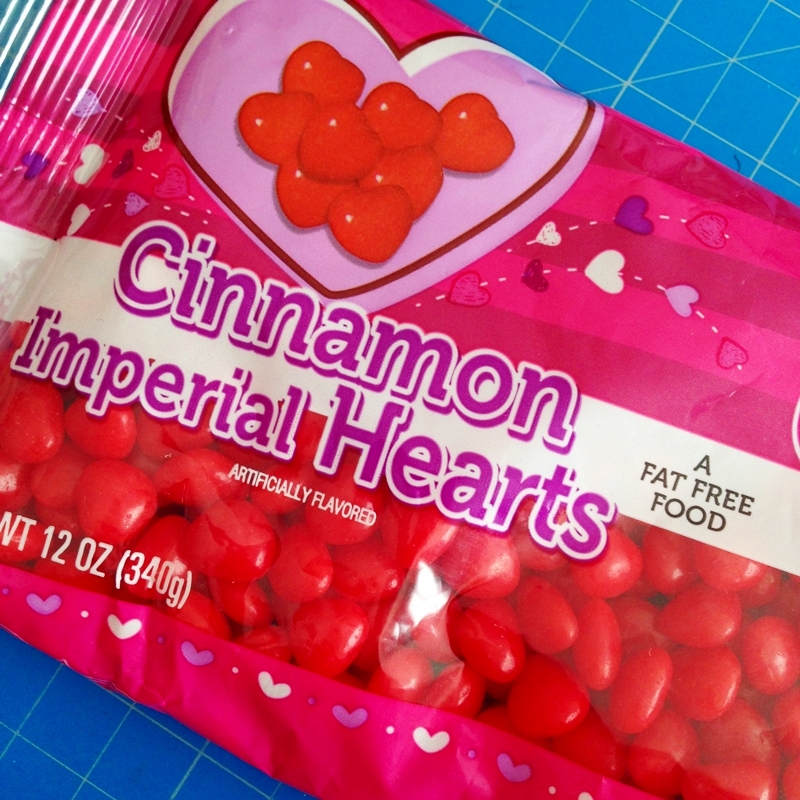 This vintage-style craft is very easy to make!
It all starts with a basic peat pot – the ones normally used for gardening when starting seeds or seedlings! You can find them in hardware stores, garden centers and even at the dollar stores in season. I bought a nice supply on Amazon here
. (affiliate link — see my disclosure here)
After painting two quick coats of DecoArt's Dazzling Metallic Paint (in Festive Red) on the peat pot, I let the pot dry while I got a vintage image prepared to decoupage onto the pot.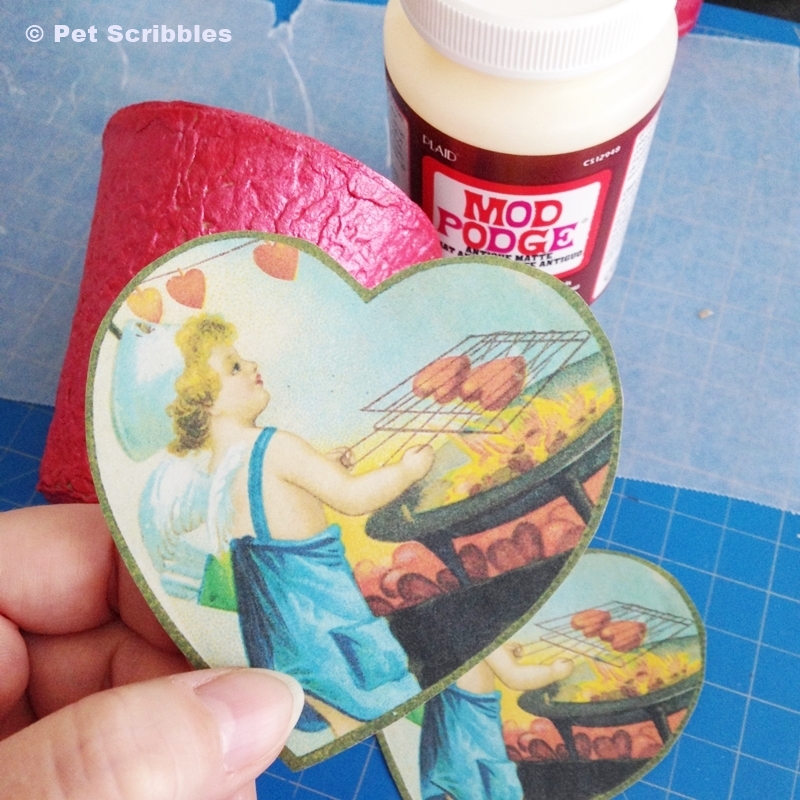 Since I knew I wanted to fill up this little container with the traditional red hots, I chose this adorable image of Cupid grilling up some hearts!
After printing out the image on copy paper, I sprayed it with acrylic sealer so the inkjet image wouldn't run.
Once the image was dry, I cut it out and then Mod Podged it (is that a verb?) onto the peat pot using Antique Mod Podge
. (affiliate link)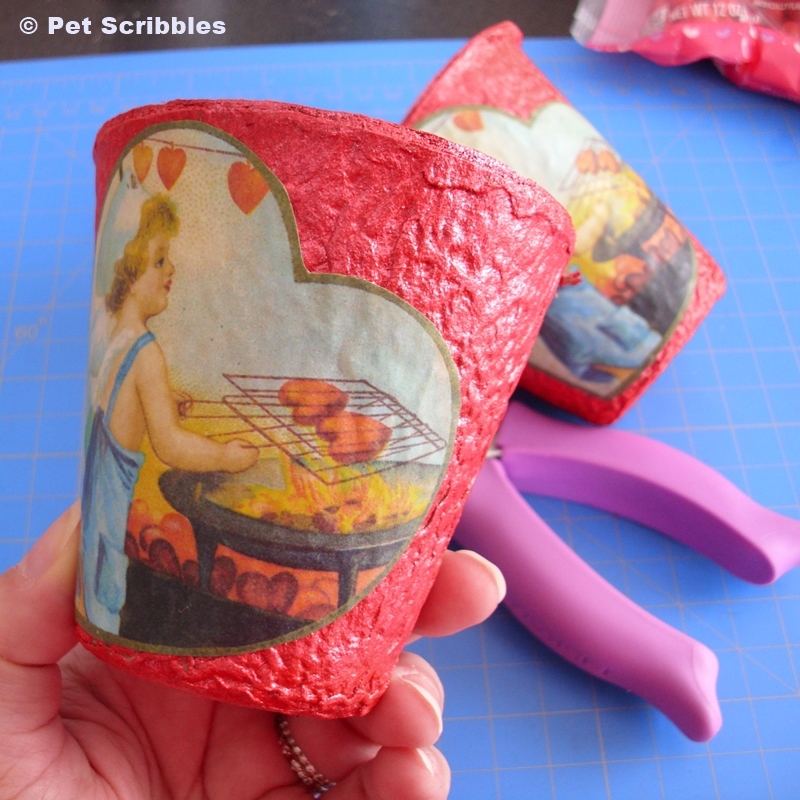 Peat pots are very light, so it was easy to punch two holes into the sides for the wire hanger . . .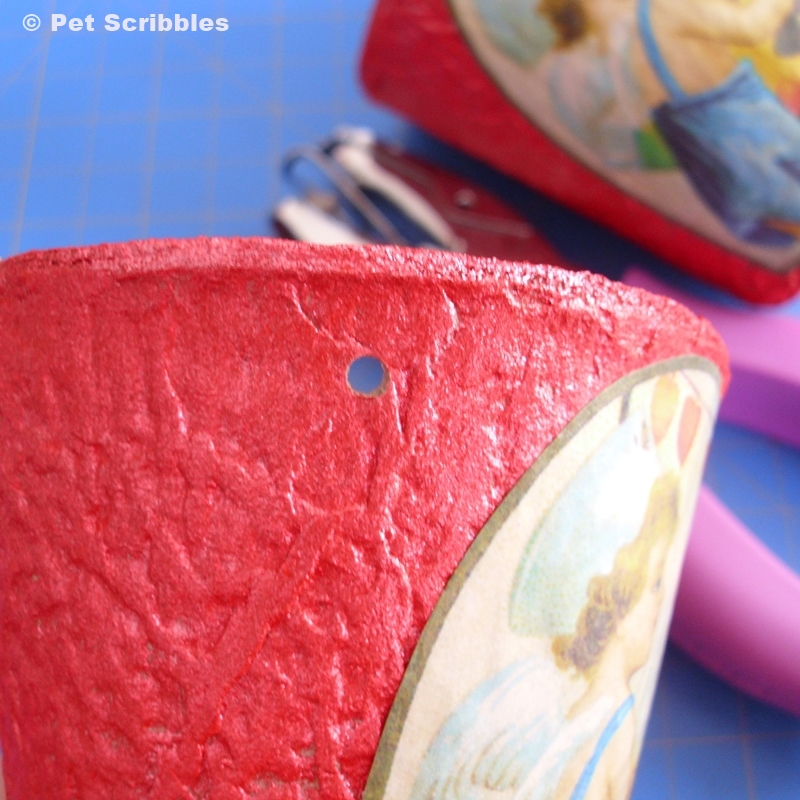 I wound red floral wire around a pen to get the curls, and then attached it to the peat pot.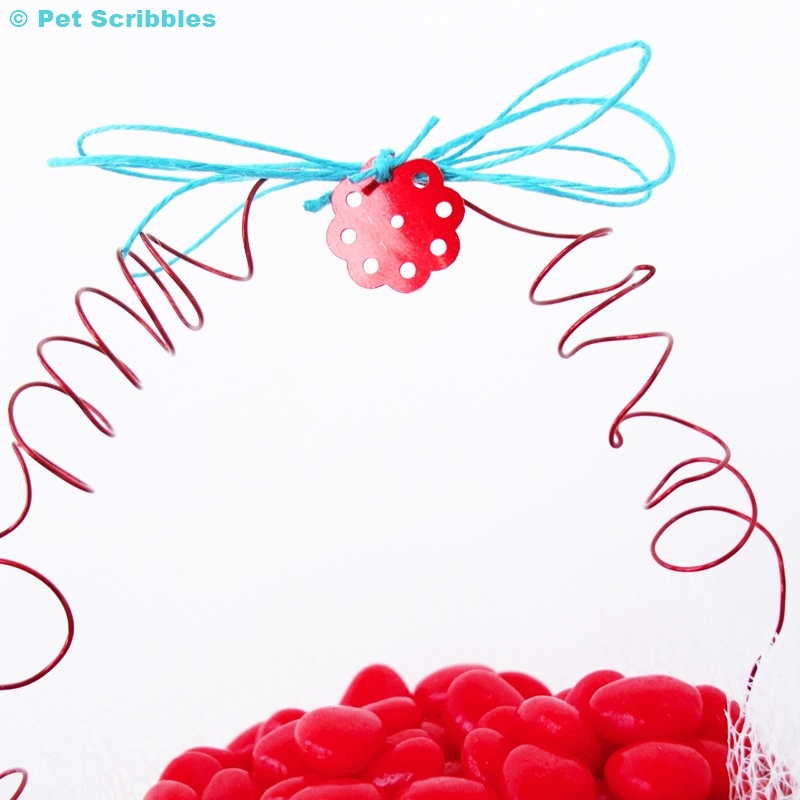 I took blue hemp and made several loops, which I tied together, and attached a doily-shaped sequin.
Two pieces of vintage netting were stuck inside the pot, and then it was time to add the old-fashioned red hots!
I think Cupid was definitely creating a batch of these cinnamon candies . . .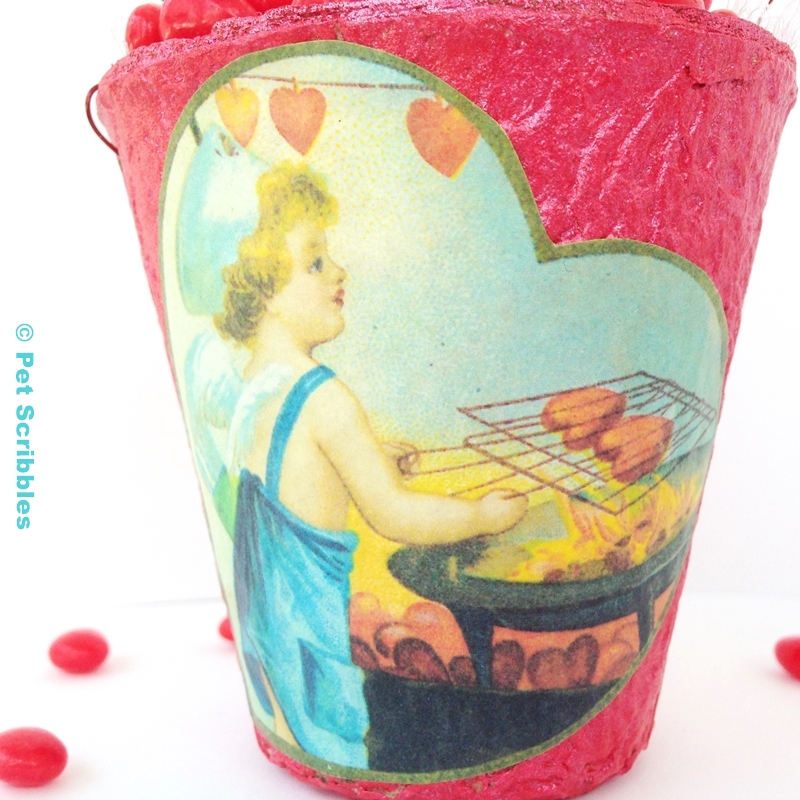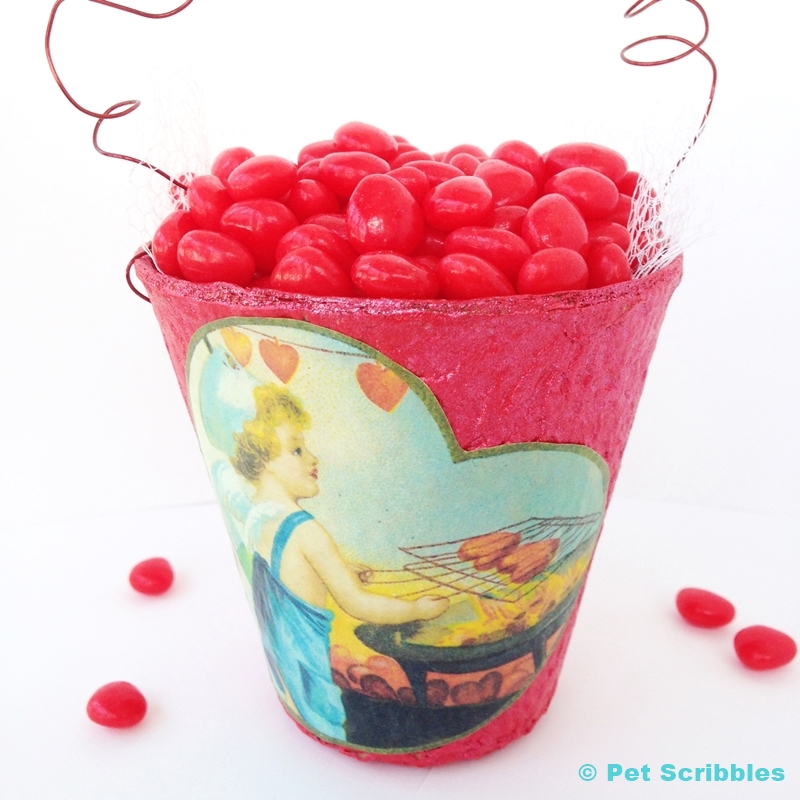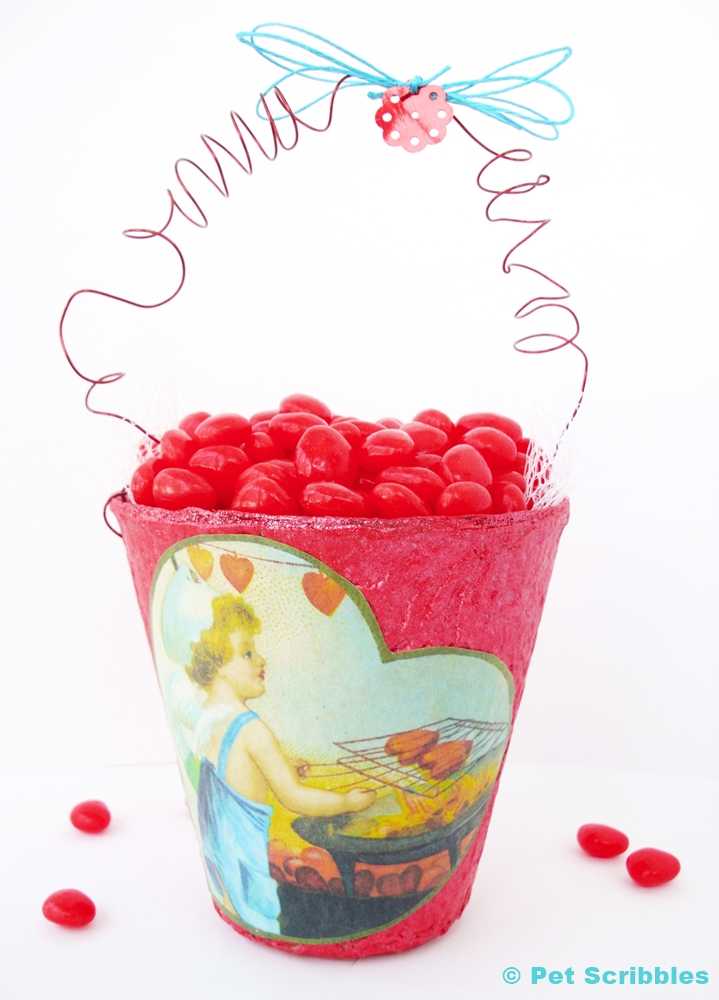 I actually made two of these Red Hot Valentine Containers, and sent one to my parents for Valentine's Day! They've celebrated over 60 Valentine's Days together so far!
Isn't that awesome?
Happy crafting!