Pruning ornamental grasses is an easy task with this helpful guide. Learn how to prune short, medium and tall ornamental grasses, plus evergreen grasses.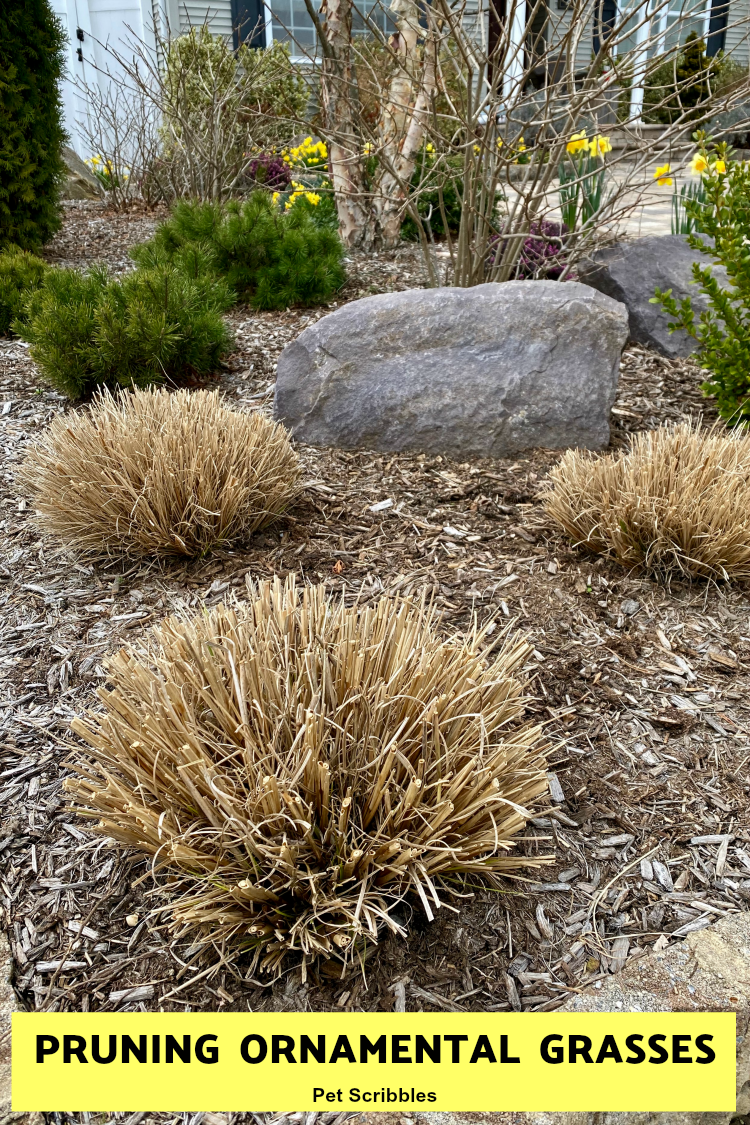 Pruning ornamental grasses is a necessary garden chore, but don't worry: it is an easy task to do. Once a year is all you need to keep your ornamental grasses looking good.
When to prune ornamental grasses
Prune ornamental grasses in the Spring.
However . . .
If you have tall grasses that are planted close by your neighbor's property, prune those tall ornamental grasses in the Fall. Be a good neighbor, as nobody wants your grasses blowing apart and into their yards throughout the Winter season.
I will show you my own examples further down in this article.
Do I need to cut back my ornamental grasses?
Yes. By pruning ornamental grasses, you remove both dead and older parts of the plant making room for new growth.
If you leave the grasses as is, they will become a bit sloppy and unwieldy over time.
Remember: once the job is done, that's it for an entire year of maintenance for these grasses. Just ignore them and enjoy!
Winter interest
Ornamental grasses are fabulous for Winter interest in our gardens. They provide texture in the garden, as well as color.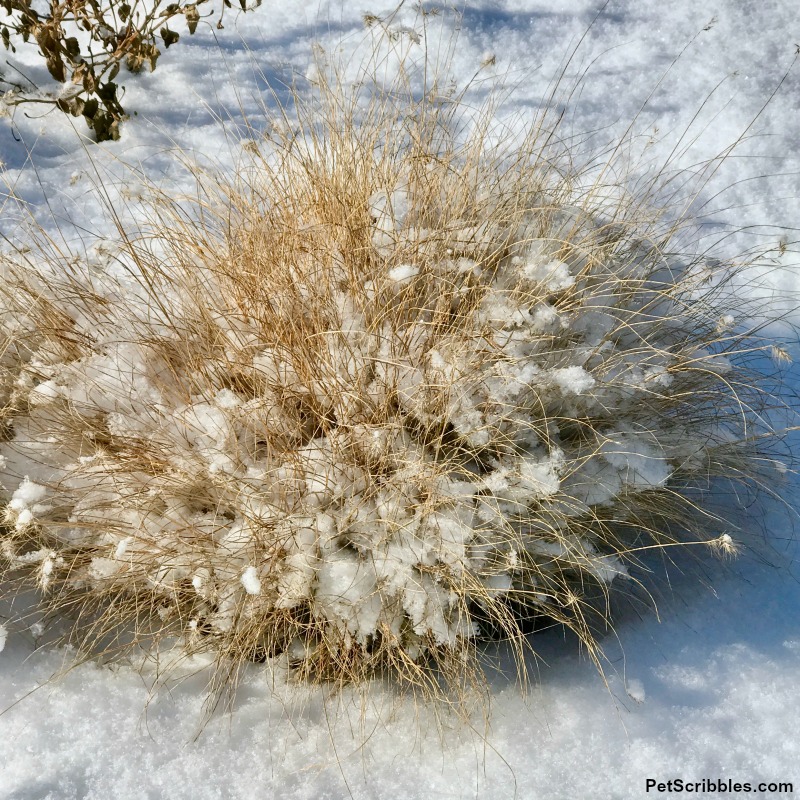 Winter color from dried grasses are in pleasing shades of cream and tan, while evergreen grasses in Winter come in shades of green, blue, yellow-green and more. There are also many types of evergreen Carex Sedge grasses in multiple colors, such as a green grass that is outlined in yellow.
When covered in snow, all ornamental grasses take on a sculptural look whether evergreen or not, whether tall or short.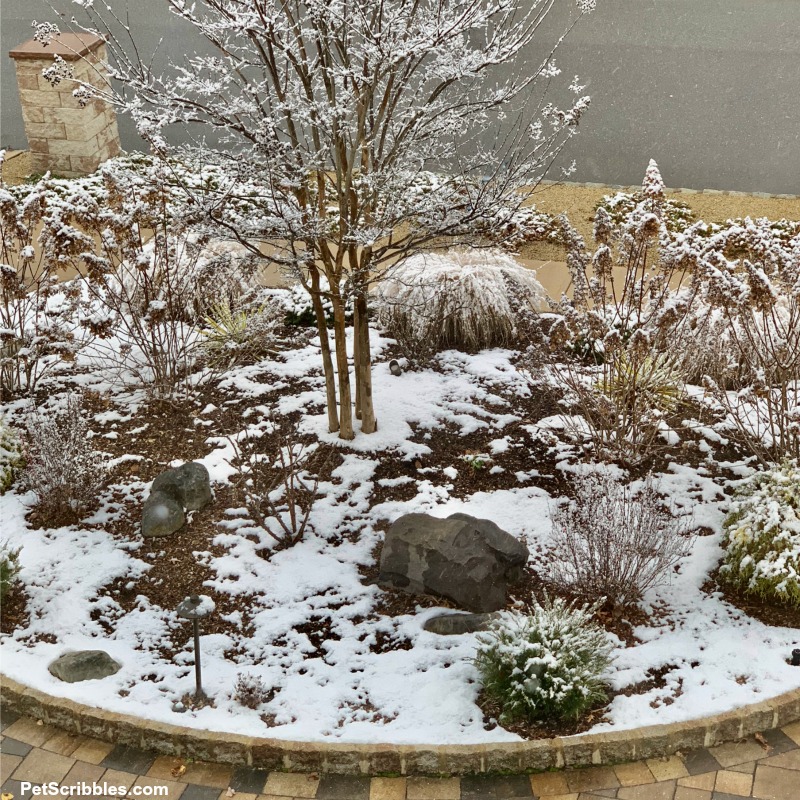 Evergreen ornamental grass vs Deciduous ornamental grass
There are both warm-season and cool-season species of ornamental grasses, classified by when they begin actively growing.
Cool-season vs warm-season ornamental grasses
Cool-season grasses begin growing in late-Winter or early Spring, and warm-season grasses begin their growth once temperatures warm up in Spring.
Warm season grasses usually go dormant for the Winter season and are deciduous, whereas many cool-season grasses are semi-evergreen to evergreen.
Both types of grasses are valuable in our gardens for color and texture.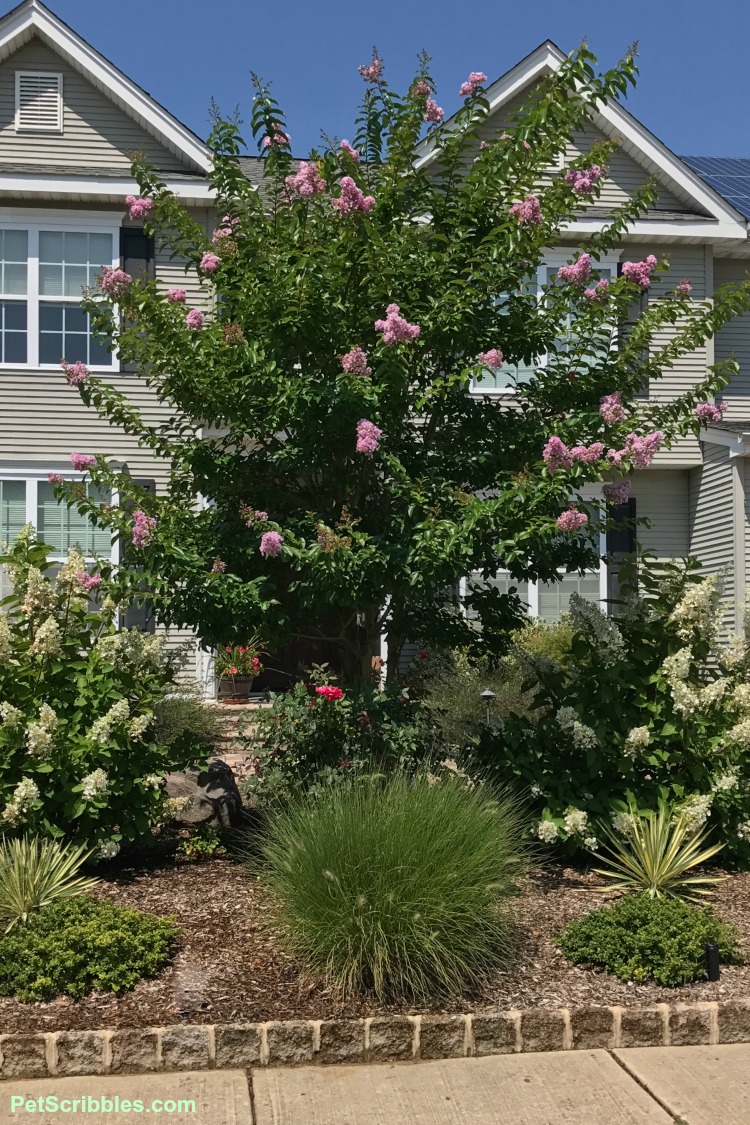 Best advice: If you're new to ornamental grasses, do your homework before you purchase any plants. Many grasses can quickly outgrow their planting area, so it's important to pay attention to the plant labels listing the average height and width.
Do you prune evergreen grasses differently than deciduous grasses?
No. Prune evergreen grasses and deciduous grasses the same way.
Here is a freshly pruned evergreen grass called Elijah Blue Fescue, planted with evergreen Lithodora:
Here is the same scene six weeks later, with the grass having grown back and the Lithodora spreading nicely.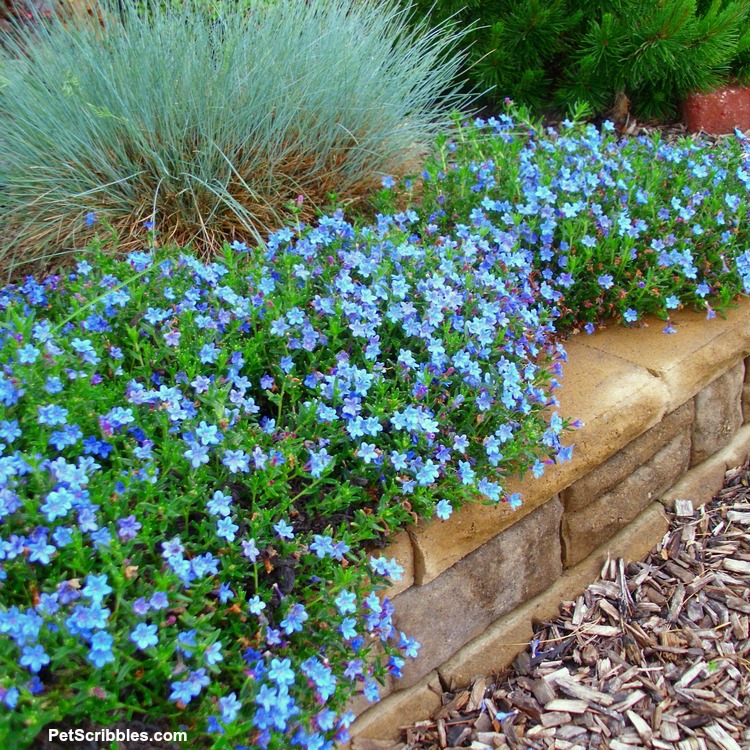 Do I have to prune evergreen grasses if they look fine in the Spring?
No, you don't have to prune evergreen grasses, since they keep their color all year. However, most evergreen grasses in more Northern climates, where there might be snow or freezing temperatures in the Winter, may need some trimming.
Cut off any brown or dying ends of the grasses. You can trim back the entire plant by 1/3 or 1/2 without any worry you're doing harm to the plant. Fresh growth will return!
I do this with our Sedge grasses because our Winter weather takes a slight toll on them — even when our Winters are more mild.
Here is our evergreen Toffee Twist Sedge Grass in all its glory: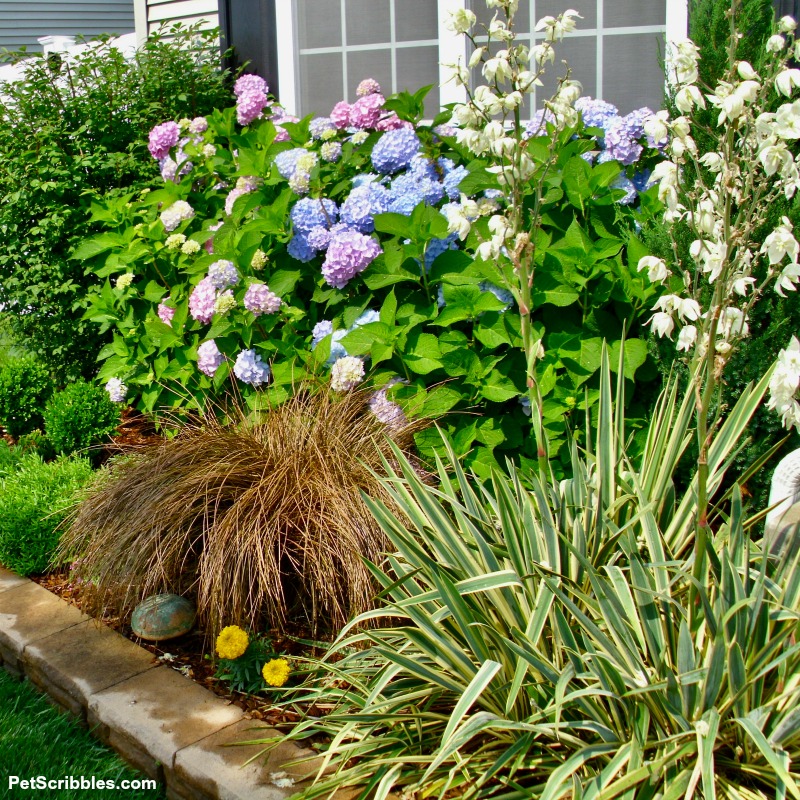 I adore this evergreen grass for its gorgeous coppery brown color.
In the Winter, Toffee Twist lightens up slightly, but still looks wonderful: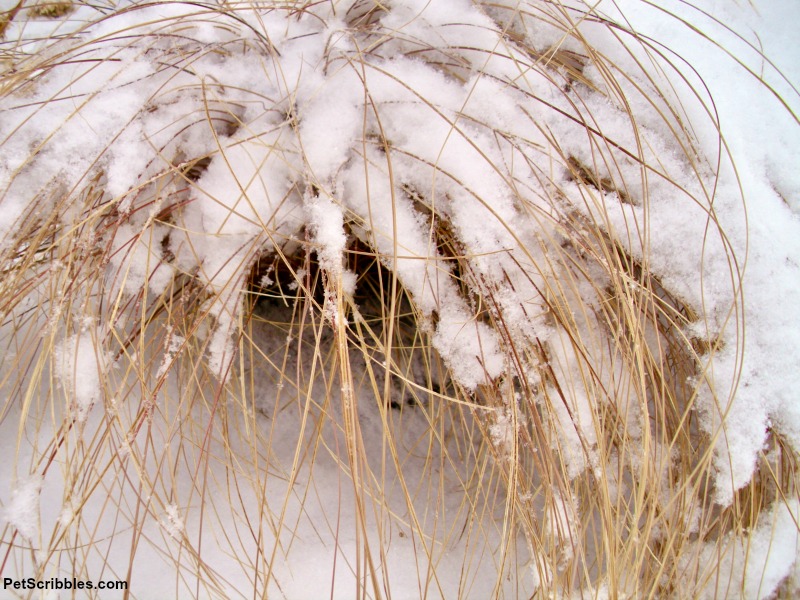 I give it a solid trim in the Spring, usually in April: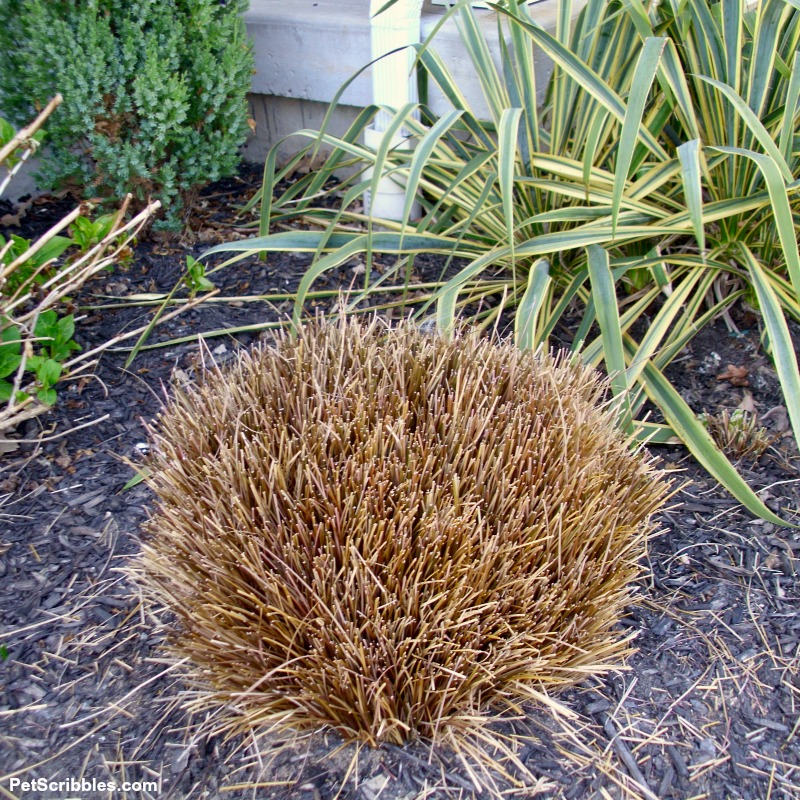 Just five weeks later, new copper growth is back: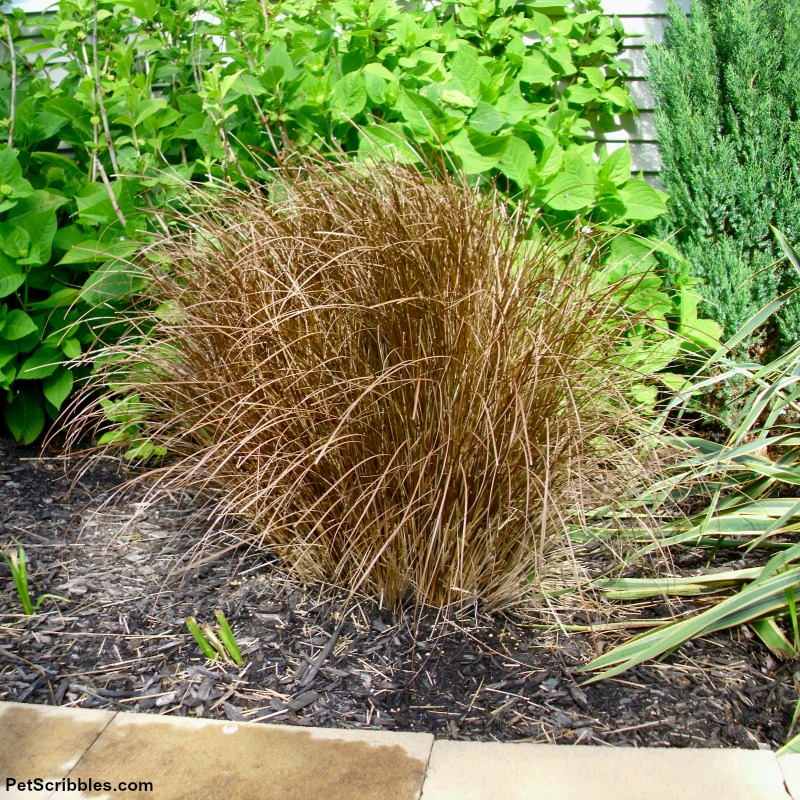 How To Prune Grasses
Short ornamental grasses
For smaller grasses, I use basic hand pruners, like my favorite Fiskars hand pruners that you see in many of my gardening pictures.
Using the hand pruners may make the process take longer, but I like to go section by section, grabbing a section in one hand while pruning with the other.
I take that clump of just-cut grass and toss it into my garden bucket that I carry around when cleaning up our garden beds, keeping the mess to a minimum.
They grow quickly, so don't worry about pruning ornamental grasses down too much!
Little Bunny Grass
Below are five short ornamental grasses in the Summertime. These are called Little Bunny, Pennisetum alopecuroides.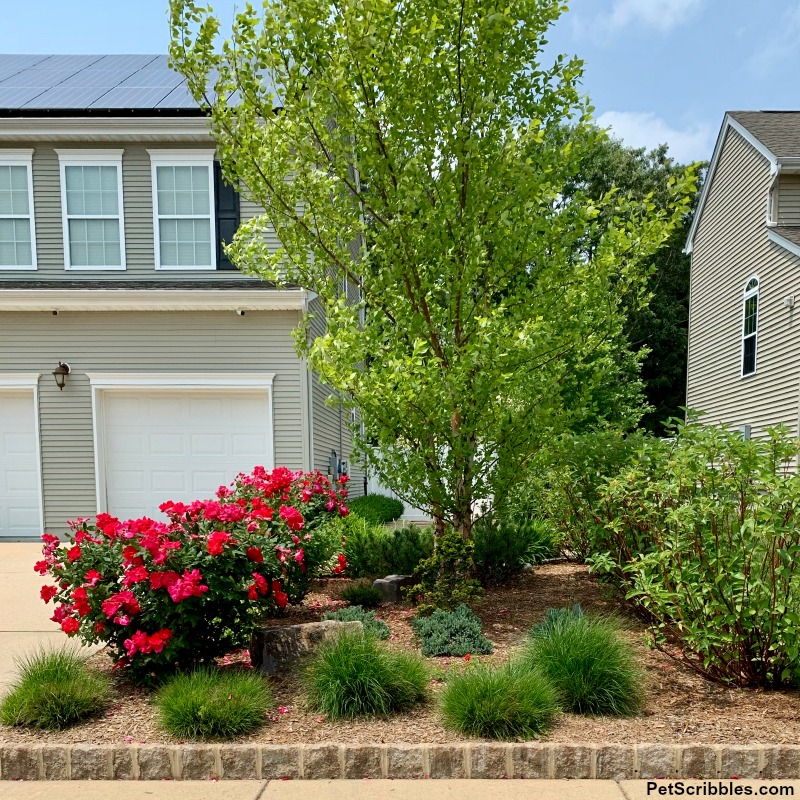 In the Fall, these grasses show off their dried florets — also called seedheads.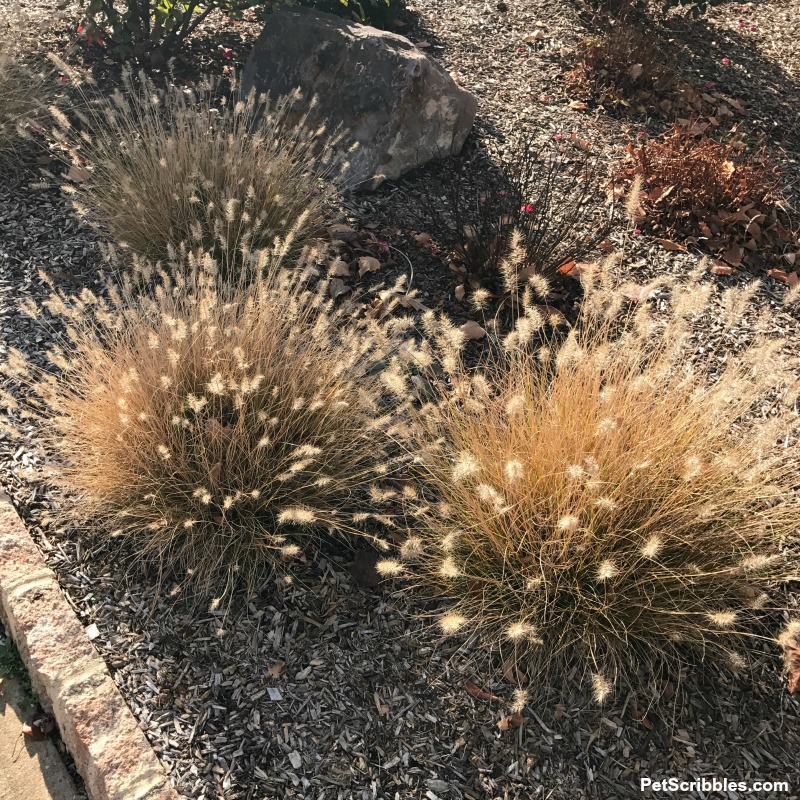 By early Spring, the grasses are ready to be cut back.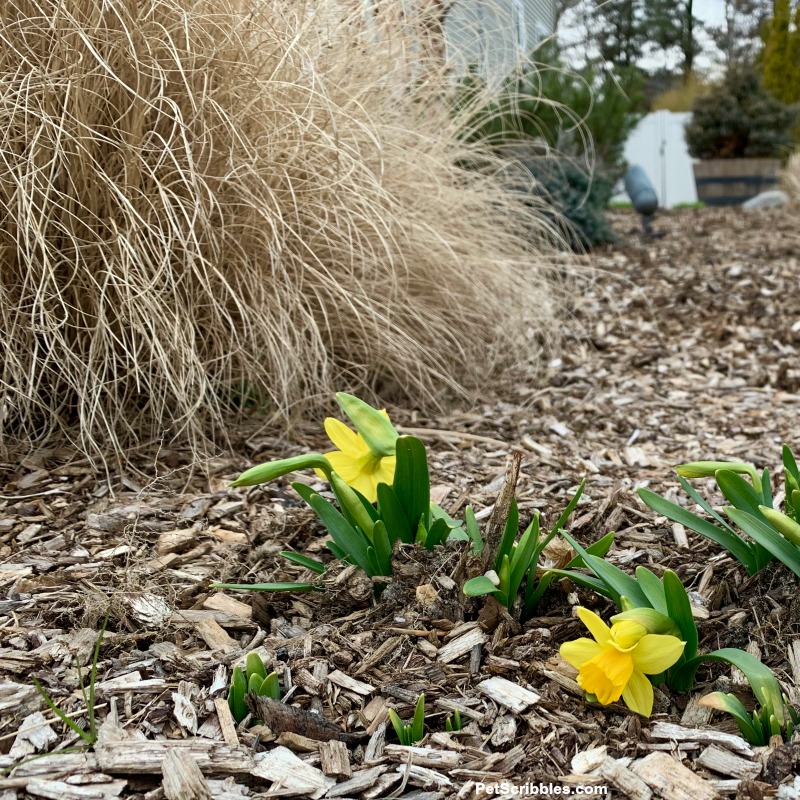 While I love how ornamental grasses look with daffodils and other early bloomers, I eventually remind myself to cut them back.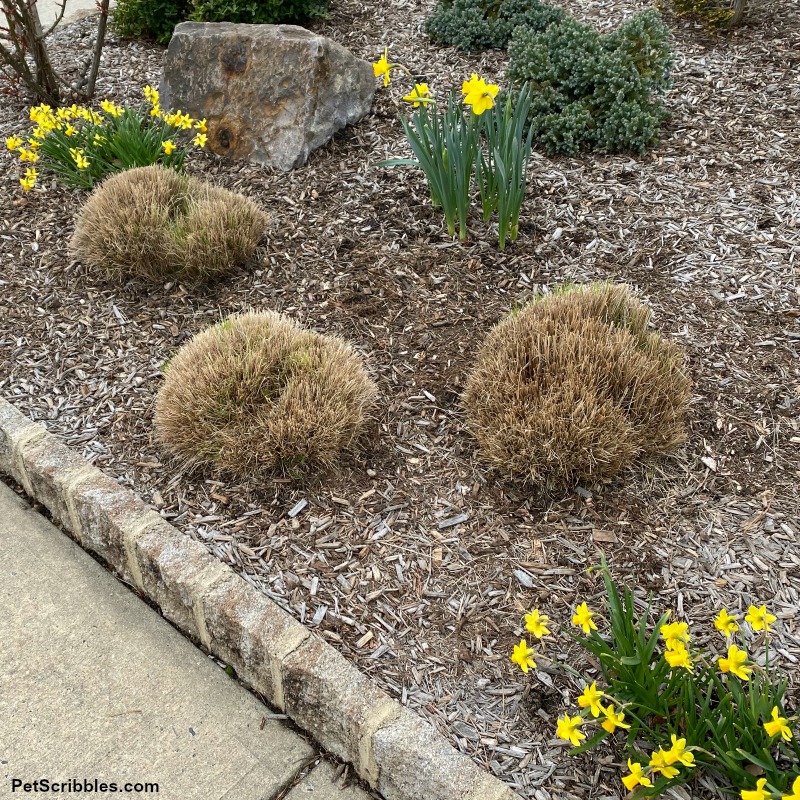 By early May, these grasses are well on their way for another Summer season.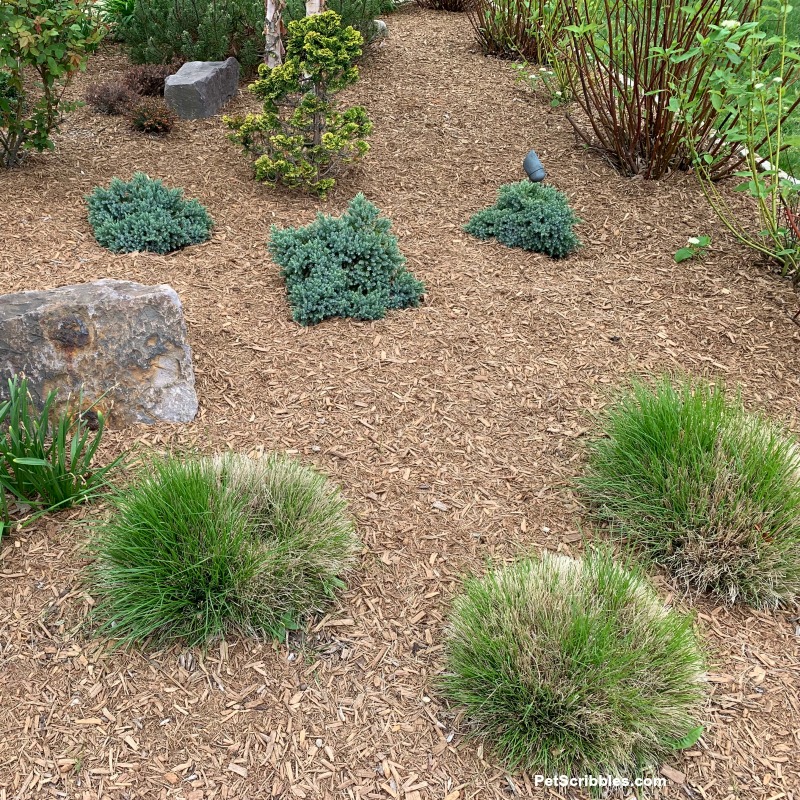 Little Bunny grasses tip: When shopping for Little Bunny grasses pay attention to the plant tag info — or if shopping online pay attention to the description. Here's why: I've seen a few places online state these grasses can be 2 feet or more high. If that's what they say, then they are selling something different than true Little Bunny grasses. Little Bunny grasses grow between 8 and 12 inches tall and wide at the most. They are adorable and truly maintenance free, other than an annual pruning.
Medium ornamental grasses
Medium grasses can also be pruned with hand pruners, but you will want to cut them back in stages to avoid a mess. (Keep reading for details on how to do this.)
You can use grass clippers or hand loppers too, just know you may have more of a mess on your hands.
It's a trade-off.
Medium grasses cut with hand pruners = less mess but more time.
Medium grasses cut with loppers = less time but more mess.
Depending on the type of medium ornamental grass, this task may be easy or it could be a bit more time consuming.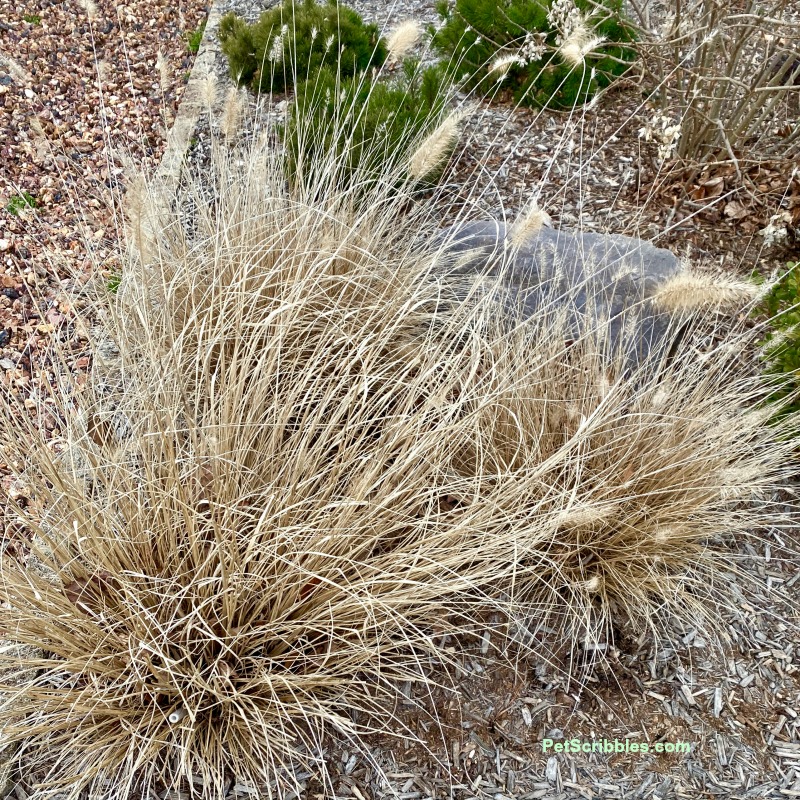 First, begin by cutting small sections off the top, just like I described for short ornamental grasses above, but trim back just a few inches at a time. In many cases this small top section will include the seedheads.
Again, doing it this way means you can easily toss what you cut into your garden bucket to avoid grass clippings dropping all over the ground.
Next, trim one section of the grasses all the way down, leaving maybe about 4 inches of the grass.
This section is your example to use as you cut the section closest to it down to the same size.
Trimming back the grasses this way makes it much easier to prune, instead of simply hacking away at the unruly mob of dried grass.
Cut all remaining sections down, working next to the section just cut.
Piglet Fountain Grass
Piglet fountain grass is a medium ornamental grass that is half the size of Hameln fountain grass.
In June, Piglet is already growing nicely, providing texture and movement in the Summer breeze. (Wish I had remembered to close the garage door before taking this picture.)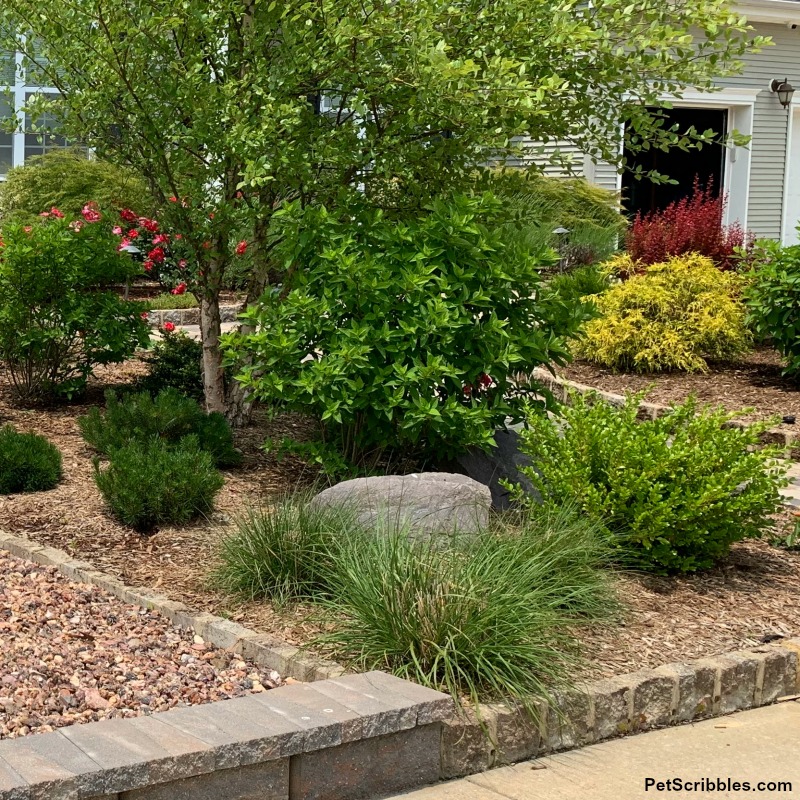 Like all warm season grasses, Piglet goes dormant for the Winter season but still provides texture with its spikes of florets. (Hey look, the garage door is open again.)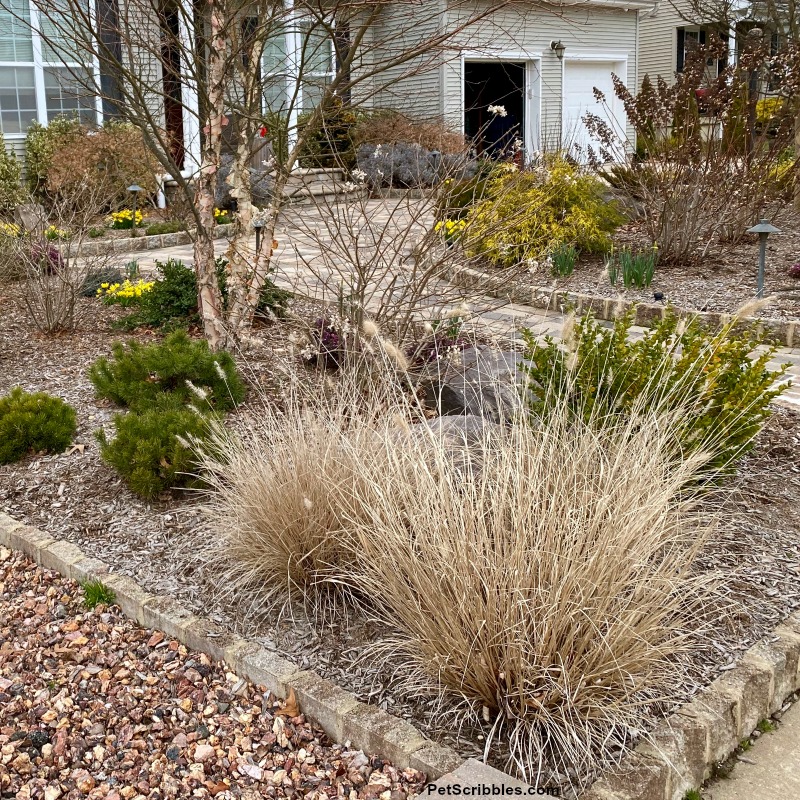 In early Spring, once the earliest daffodils are blooming, I prune these Piglet medium ornamental grasses.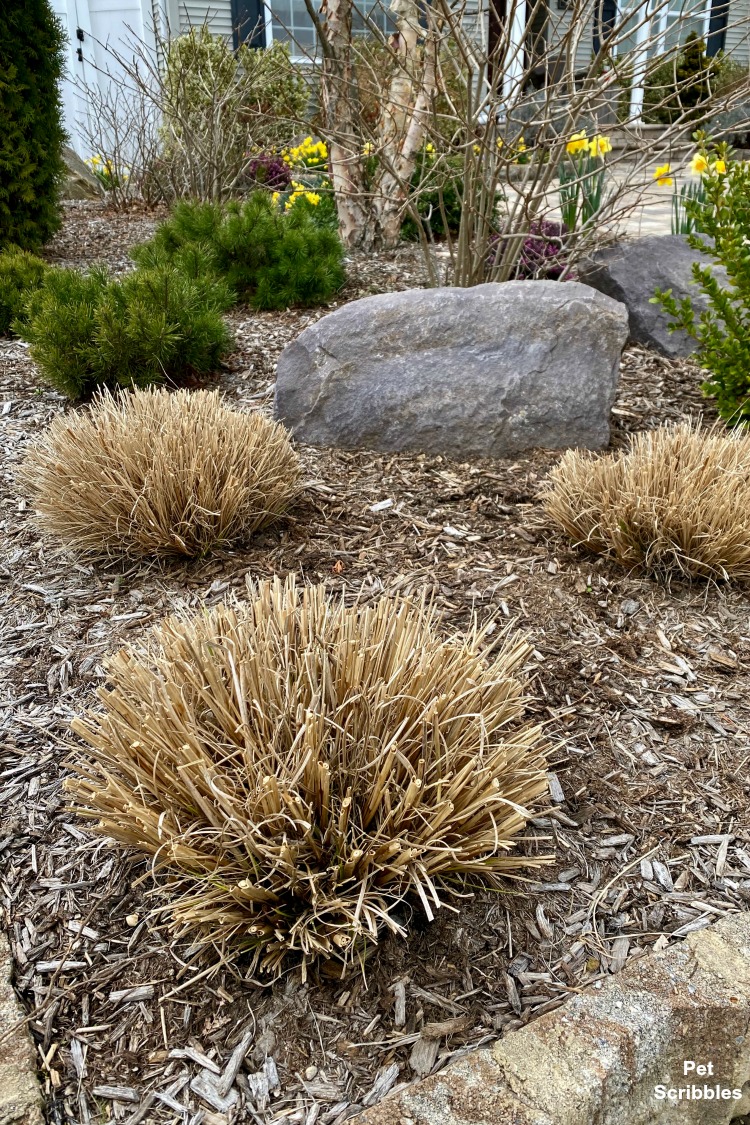 In about a month, once the temperatures warm up, these grasses will begin showing fresh new growth.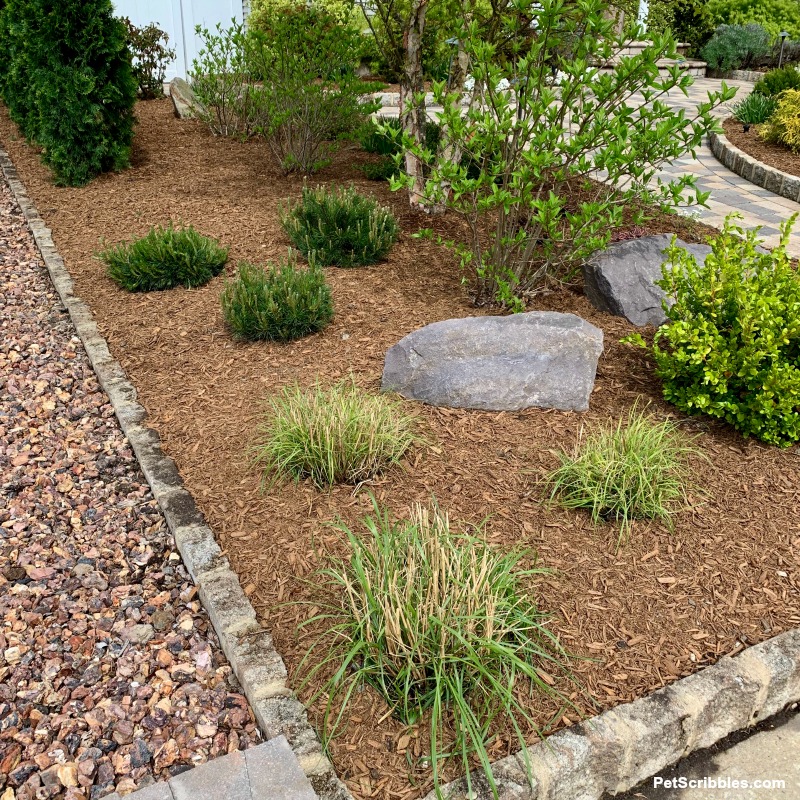 Tall ornamental grasses
Pruning tall grasses with loppers or a small cordless hedge trimmer is best. I know it doesn't sound pretty, but you want to make this chore as painless as possible.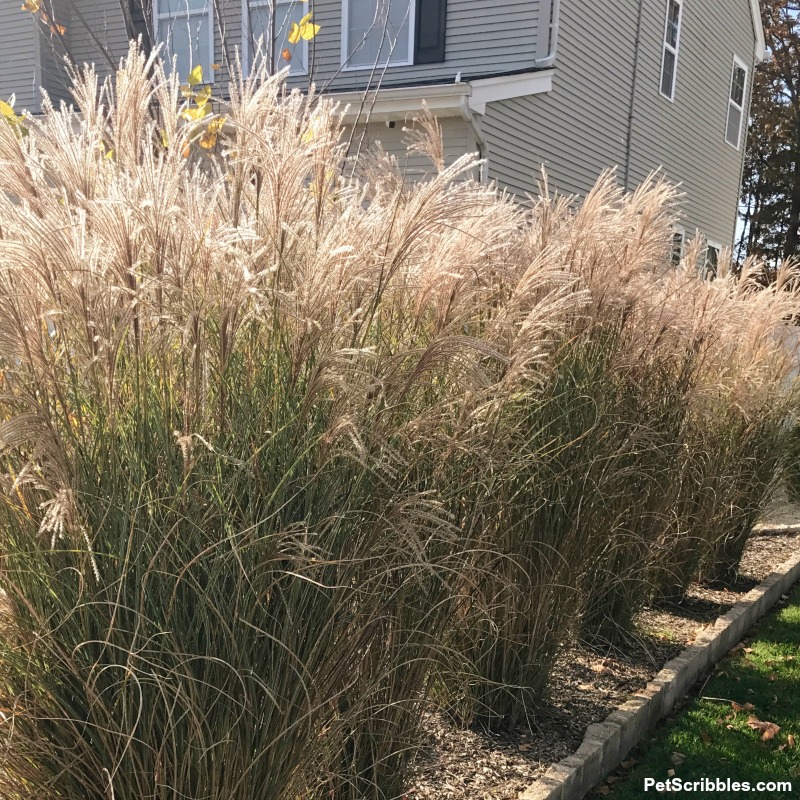 Again, some varieties are easier to cut back than others. We used to have Zebra Grass that was somewhat messy but easier to cut back versus large Morning Light Maiden Grass (Miscanthus sinensis) — shown above — which are tougher to prune.
Want a handy trick to cut back tall ornamental grasses?
Sure you do!
Tie up the ornamental grass with string or cord to cinch the middle of the plant together.
Place a large garbage bag over the top of the ornamental grass.
Use a cordless (battery-operated) hedge trimmer to cut the grass down while another person holds onto the grass-in-garbage-bag.
Turn the grass-in-garbage-bag upside down and cinch up the actual garbage bag to keep the grasses from spilling out.
Yes, there will be some mess but not as bad versus just cutting the grasses without any plan.
Be a good neighbor: If you have ornamental grasses in your front yard, and live in a neighborhood where homes are right next to each other, be a good neighbor and cut those grasses down for the Winter season. Your neighbors don't want these dried grasses blowing around onto their own lawns.
Ornamental grasses dying in middle: what to do
After a few years, you may see your ornamental grasses dying in the center. It looks like a hole or just a brown spot where new grass will not grow, while healthy grass grows around it.
When you see this, it's time to dig up the grass and divide it into two or more plants. That's all you need to do.
The best way to prevent your grasses from dying out in the middle? Proactively dig up and divide your grasses every few years.
My personal experience?
I haven't seen this regularly happen with my ornamental grasses. Some of ours will die out in the center, while others seem to never have this problem, whether tall grasses or short grasses or anywhere in between.
Why we removed our large ornamental grasses
First off, let me say that I love the look of large ornamental grasses year-round for garden interest.
In the Summer, these tall grasses are wonderful by themselves or as a background to other garden flowers and shrubs. (below left)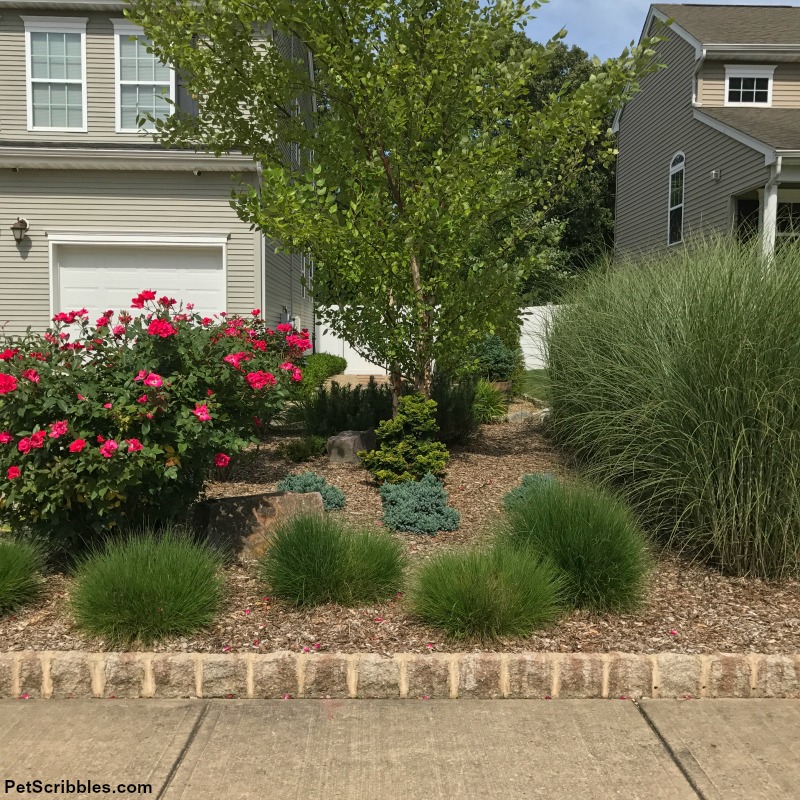 They are perfect in a Fall garden as they dry . . .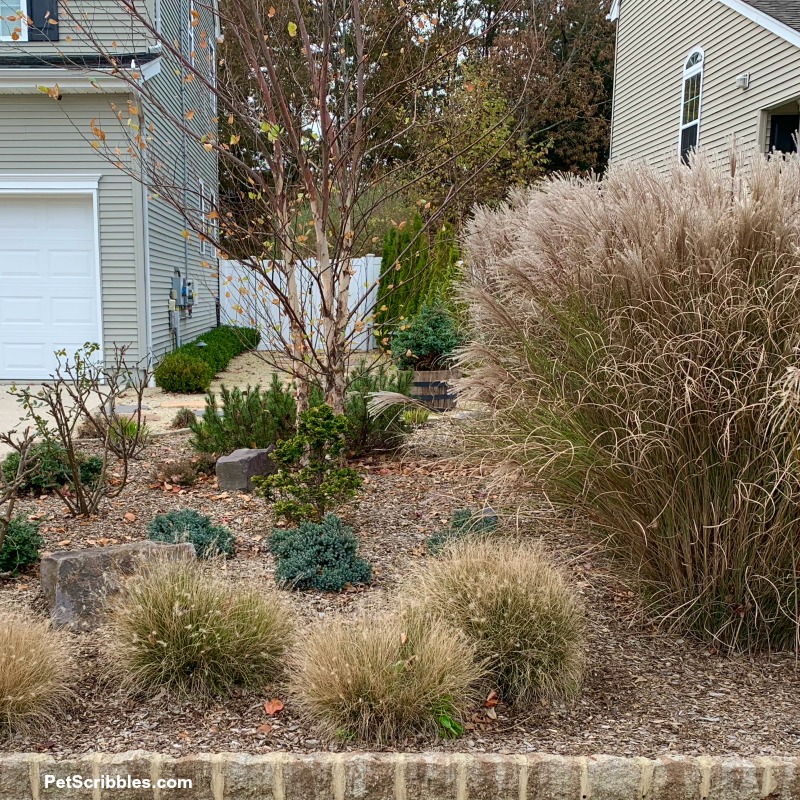 . . . and provide welcome texture and color in the Winter.
Except if you have these tall grasses planted in your front yard.
Following my own advice, after seeing our tall grasses blow all over everyone's yards the first Winter after planting them, we cut them down every Fall.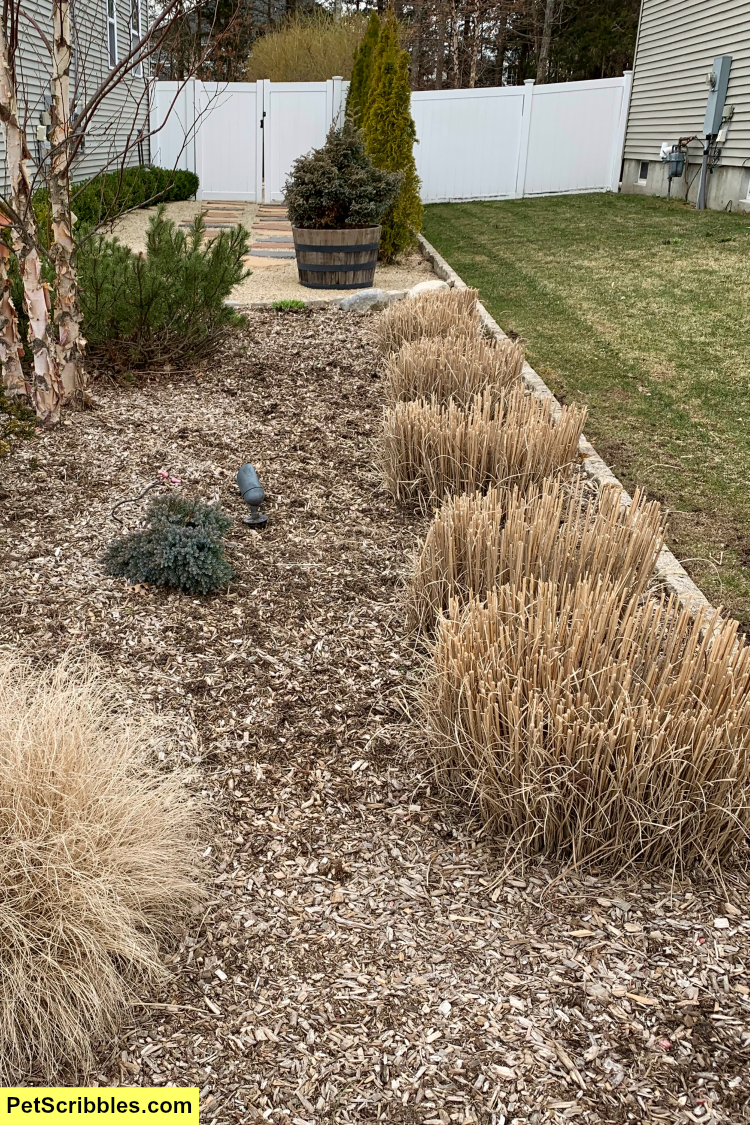 However, pruning these ornamental grasses in the Fall meant approximately 6 months of short stubs in place of beautiful grasses. These tall grasses didn't begin growing in earnest until June each year.
Last year, we finally decided it wasn't worth it. We removed the grasses and gave them to the landscapers, hoping they will find a better home where they can be appreciated year-round.
We moved our red twig dogwoods over to this side and added yellow twig dogwoods in between, after I saw a similar design at the Philadelphia Flower Show. (I wrote about it here.) This works out much better for us…and our neighbors!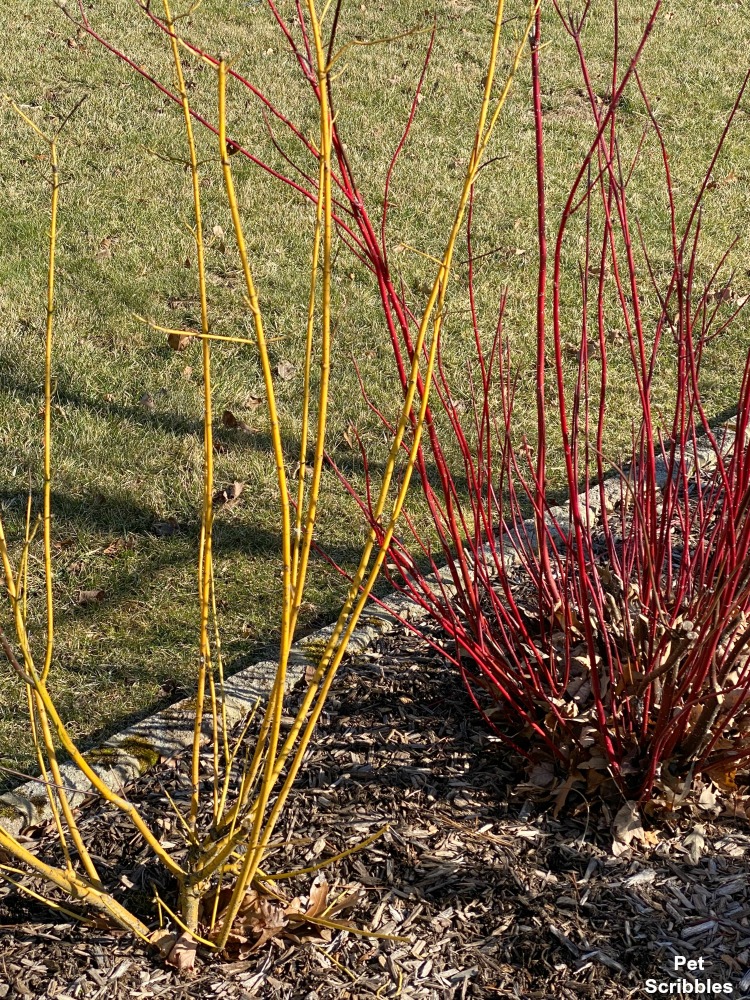 Recommended tools to prune ornamental grasses
Below are the tools you need to make pruning ornamental grasses easy.
In addition to these tools, also consider getting a mini shovel to dig up and divide grasses when necessary. (Read about my favorite mini shovel here.)
Hand pruners
My favorite are from Fiskars. I do a lot of pruning — especially in the Spring and Fall — and these pruners are easy to use repeatedly, blade doesn't stick and the rubber grip feels ergonomically good in my hand. I keep one in the front yard and one in the back. (The last time I purchased mine from Amazon was back in 2015 meaning these pruners last!)
---
Grass clippers
Everyone should have a pair of grass clippers in their tool box or garden shed. Of course they are great to trim your lawn grass, but some gardeners like these for trimming ornamental grasses too. Again, Fiskars makes good ones.
---
Loppers
While loppers are used more for pruning out branches from shrubs, they can come in hand with thinner and taller vertical grasses that aren't that wide. Not my first choice, but can come in handy. I love my Fiskars loppers for the same reasons as my favorite Fiskars hand pruners: they make clean cuts without the blade getting stuck plus the rubber handles makes gripping them easy.
---
Cordless (battery-operated) hedge trimmer
Over the years I've added Ryobi garden tools to my arsenal and love each one! Each are cordless — operated with a rechargeable lithium battery. (We also have a Ryobi lightweight blower and an edger.) Because these tools are all the same brand, we can swap out the batteries in each one so there's never any interruption if one battery needs recharging. Using a cordless hedge trimmer for pruning ornamental grasses — especially tall ones — makes the job go quickly.
---
---
12 Seconds of Daffodils for you!
I'll leave you with this quick video of our Hameln ornamental grasses next to some early petite daffodils shivering in the wind. No, I haven't cut these grasses back yet! (And oh look — the garage is open again!)
Happy pruning!