Make these pretty glittered Halloween bug magnets! Paint over dollar store plastic cockroaches and turn ugly bugs into pretty ones! An easy Halloween craft to make ugly bugs less scary — at least the fake ones!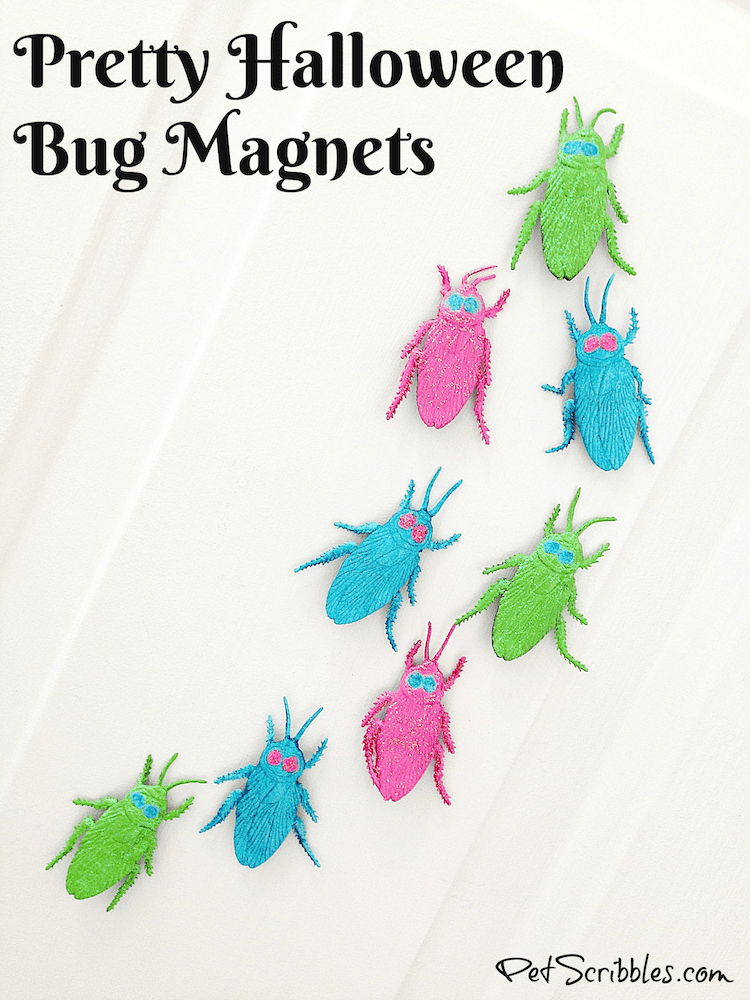 Not all Halloween crafts need to take a long time to do, especially if you're doing crafts with the kids.
Here's a fun craft that will add some "pretty" to your Halloween decorations, and only take a short time to put together: Halloween bug magnets! Not real bugs either!
If you use your hair dryer to help speed up the drying time of the paint, you could make these pretty glittered bugs in about 15 minutes.
Let's get started!
Pretty Glittered Halloween Bug Magnets
FTC Disclosure: Some of the links in this post are affiliate links. I explain more here.
Supplies:
Yes, these are cockroaches. But you could do these with any of the fake rubber bugs being sold for Halloween like spiders and worms.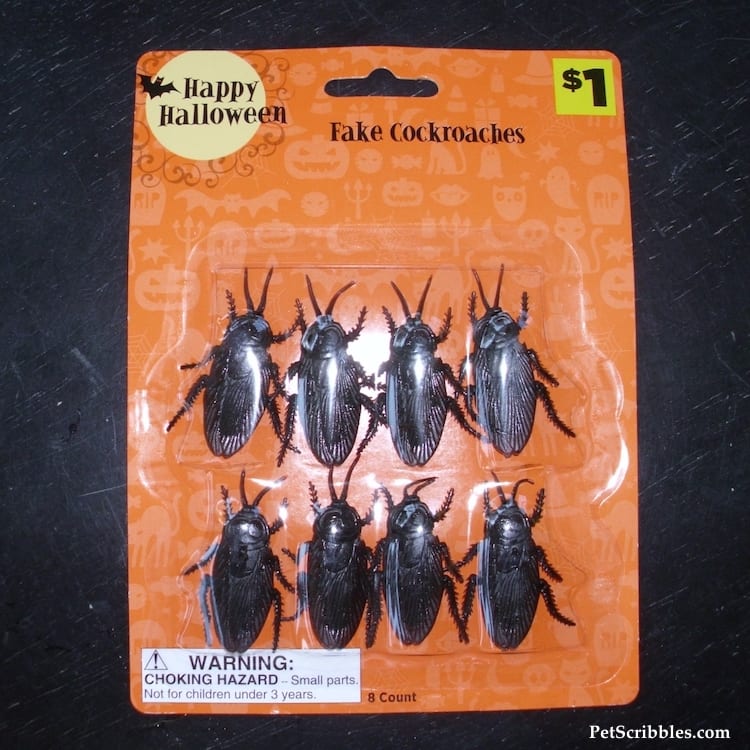 And no, these won't be spooky, but they sure do start out that way!
Ick!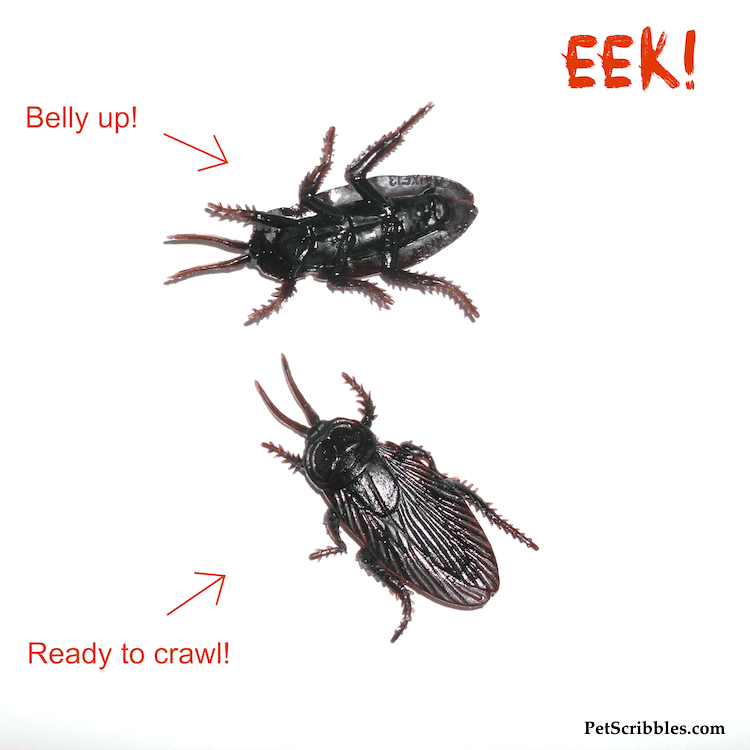 Paint!
Choose your paint colors, keeping in mind that you'll want to mix and match the colors for the eyes and the body of each bug. I chose pink, aqua and green, and used DecoArt Multi-Surface Satin Acrylics to quickly paint them.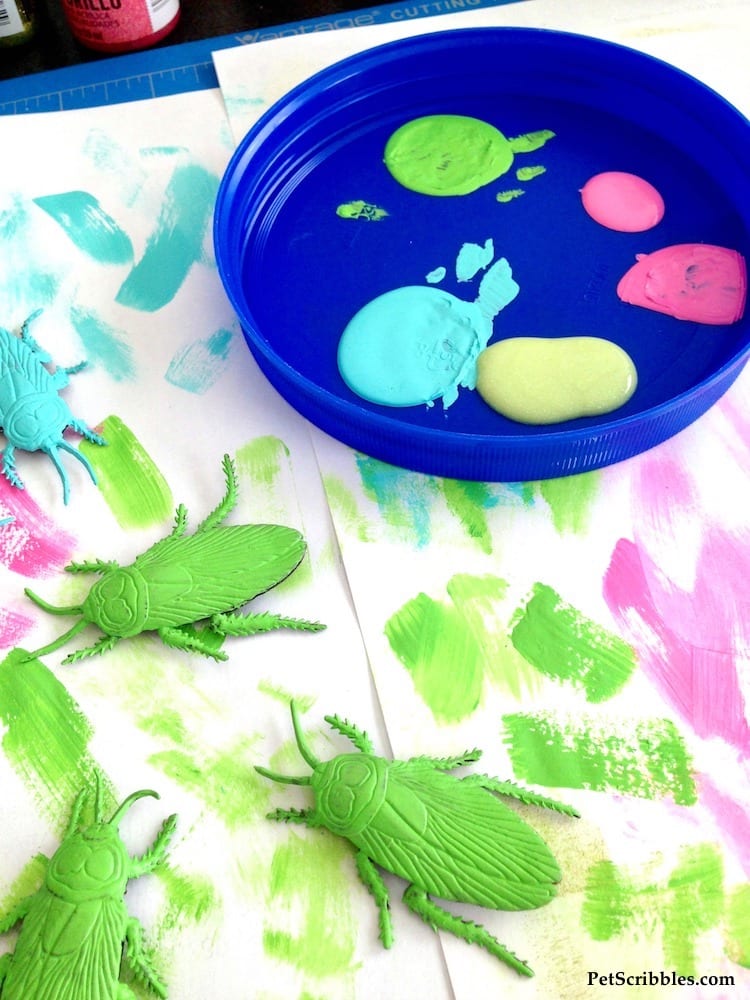 This paint dries quickly and evens out nicely to fill in all of the tiny details on these bugs.
I used two thin coats of paint, waiting just two minutes in between each coat.
After the second coat, I used my hair dryer on low to speed-dry them.
Time elapsed: 6 minutes
Glitter!
Next, I swiped on a layer of glitter paint over each matching color. If you don't have multiple colors of glitter paint like I do, you can simply use a clear glitter paint.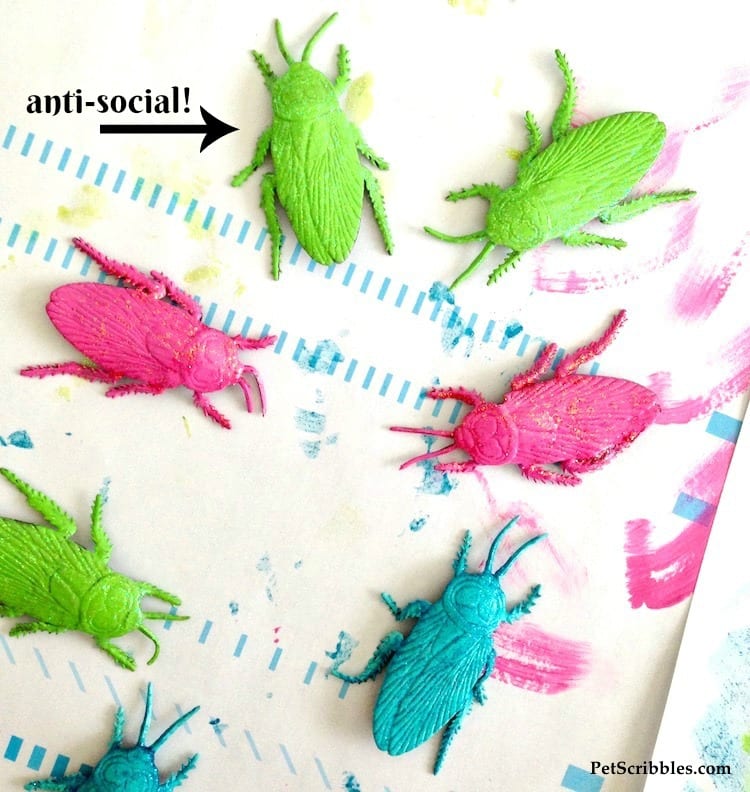 The glitter paint also dries quickly when aided by your hair dryer.
Eyes!
Now dot some eyes onto each bug using a different color of paint, and dry with hair dryer.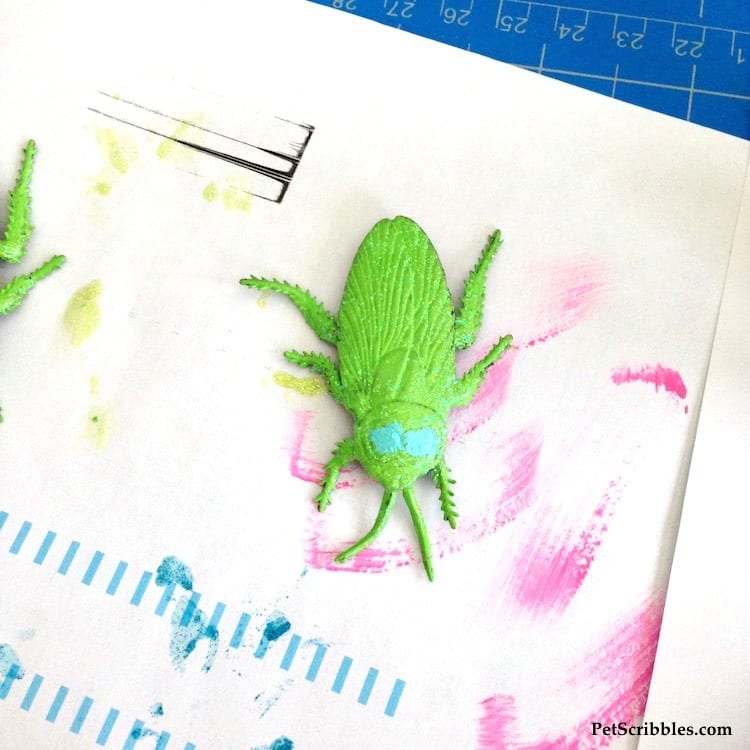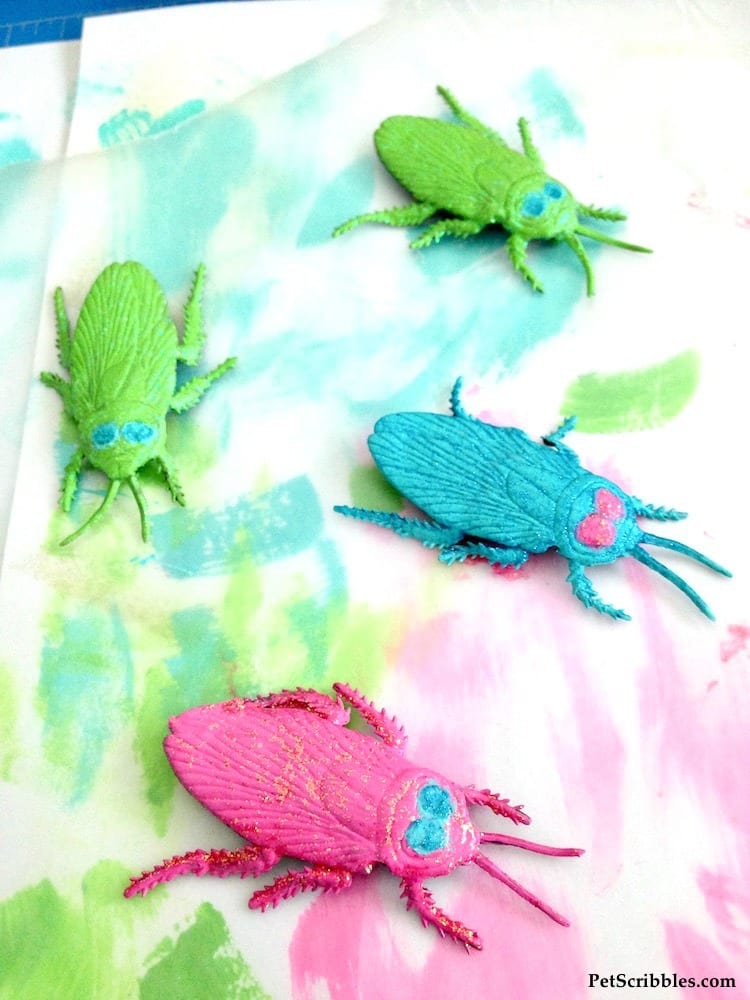 Dab some matching glitter paint over the eyes. Dry with hair dryer.
Time elapsed: 6 minutes
Magnets!
Finally, use a super-strong adhesive, like E-6000, to glue a strong magnet onto the underside of each bug.
Let dry with the magnet facing up on wax paper.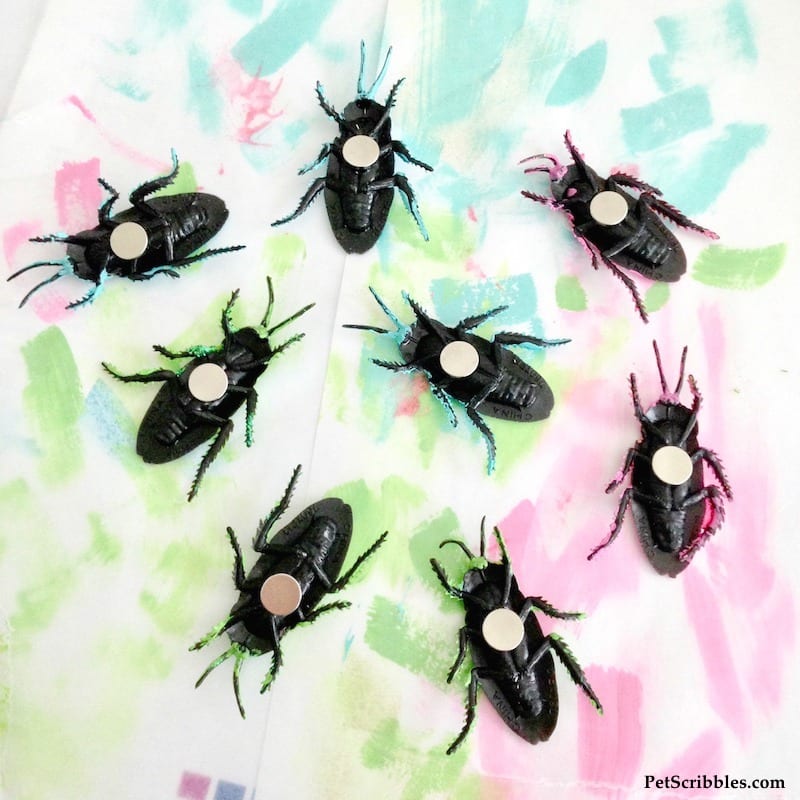 (The wax paper will prevent the bugs from sticking to the paper, in case there are any bugs not yet completely dry.)
Time elapsed: 3 minutes
Dry and Done!
Wait a few hours — I'd suggest at least 5 — to make sure everything is dry, as you don't want the magnets coming off the bugs.
Not that I didn't wait long enough and had my bugs and magnets come apart and then almost cried like a little kid because I had to do this step over or anything like that…
Once dry, decorate a magnetic surface with your pretty glittered Halloween bug magnets!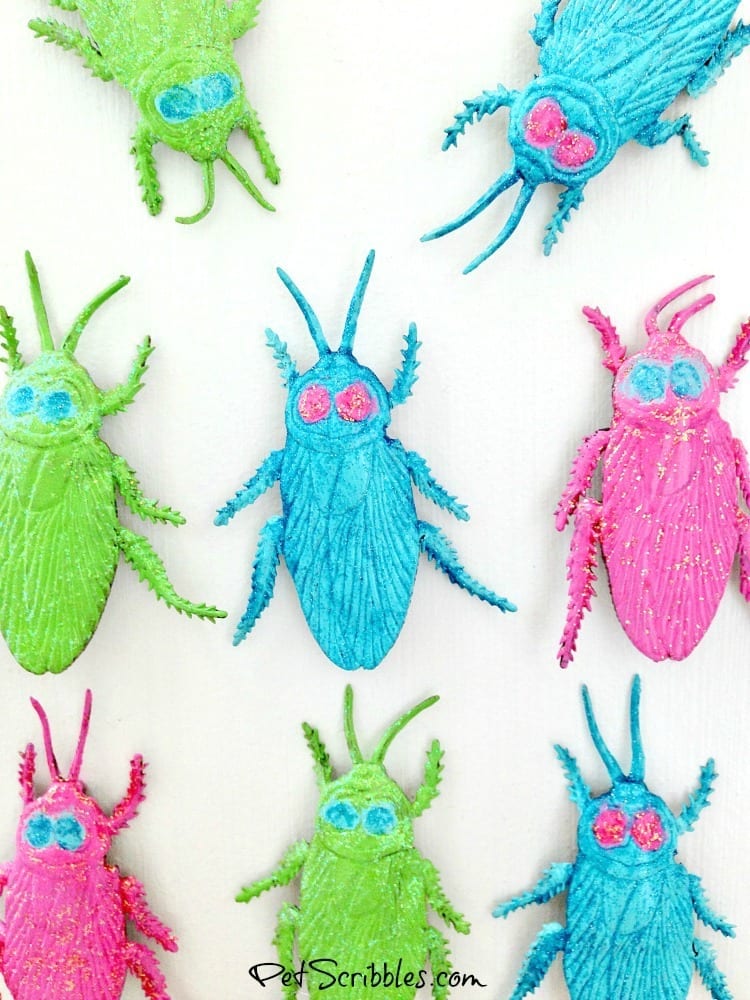 I stuck our bug magnets on the inside of our front door!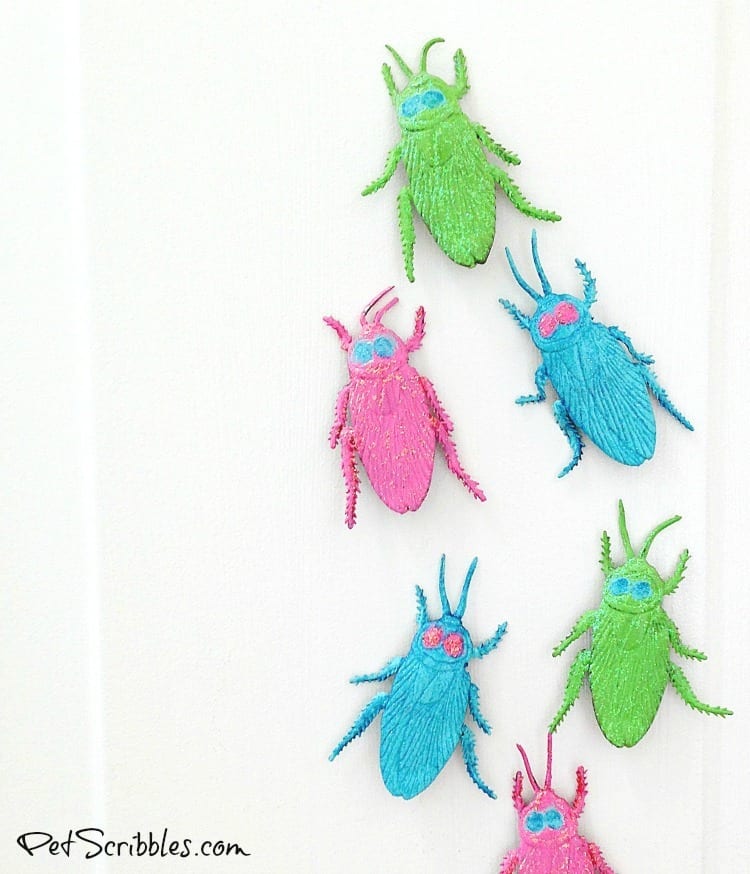 Crawling up the door . . .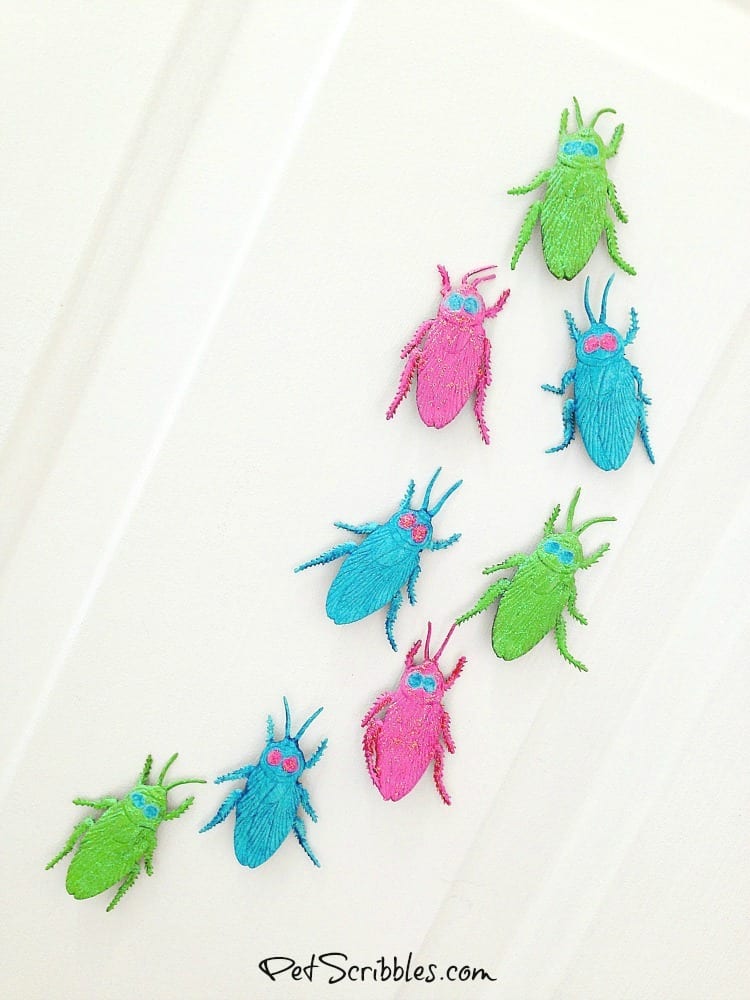 Other ideas!
You can forego the magnet step, and simply glue these onto whatever you want to decorate, such as a painted faux pumpkin!
Forget the glue altogether and scatter them around your mantel!
What if bugs were pretty?
I truly think that if cockroaches and other bugs roamed around my yard in pretty colors covered with glitter, I wouldn't be creeped out by them at all!
So what do you think?
If creepy crawly bugs had pretty coloring and lots of glitter, would you be scared of them?
Maybe someone should invent a bug spray that shoots glitter onto the bugs.
Happy Halloween crafting!