These Mini Pinecone Tree Pots can be made in 15 minutes! Pinecones, mini wood flower pots, paint and glitter paint is all you need. A fun and quick craft for the holidays!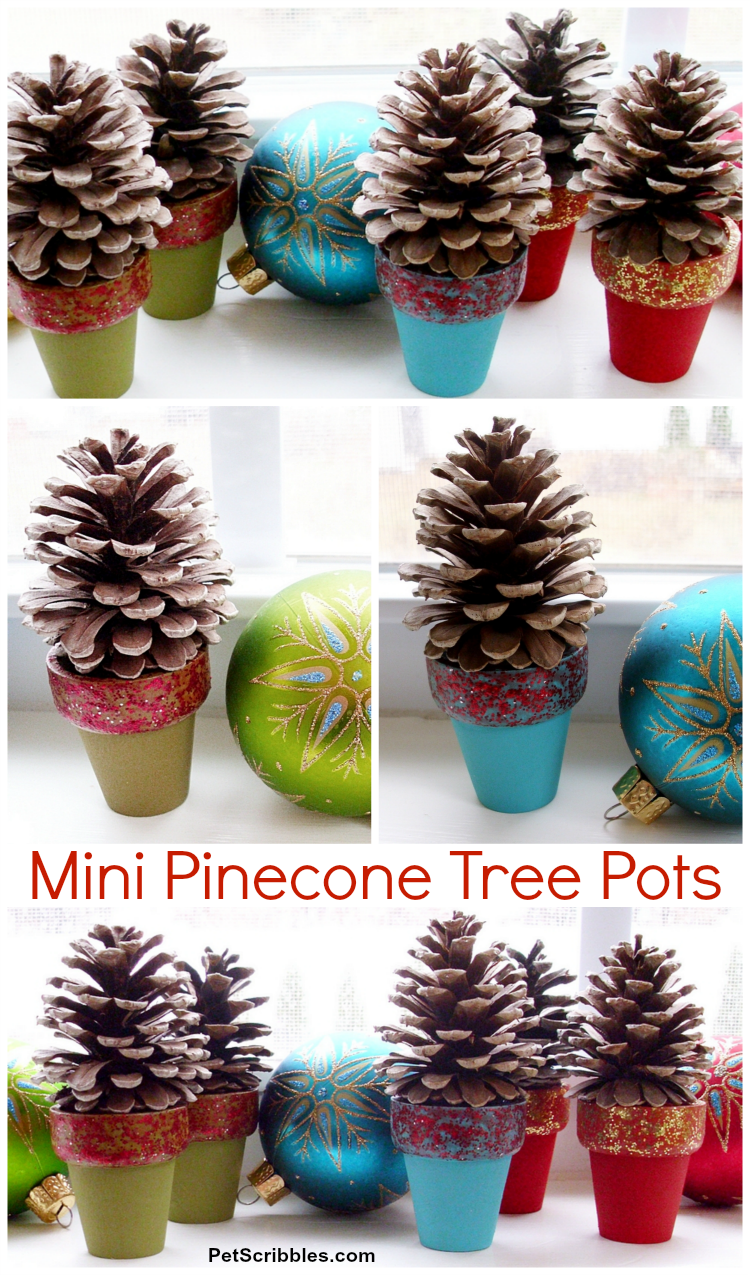 Welcome to those of you visiting via Pinterest, where this tutorial is VERY popular! I hope you enjoy this craft – which takes only 15 minutes to make! ~Laura
I have a lot of friends who are crafty, but who just don't have time to craft on a regular basis — unless we all somehow figure out how to add more hours to each day!
I'm here to remind you that crafting doesn't have to take a big chunk of time. In fact, you can create some awesome handmade decorations and gifts for the holidays in only 15 minutes.
Yes, you read that correctly!
You can create wonderful handmade decorations and gifts in only 15 minutes.
Today I'm going to get you started on your road to quick crafting, by sharing with you how easy it is to make my Mini Pinecone Tree Pots.
I'm lucky enough to have real pinecones fall into my backyard from the evergreens behind our property. I've wanted to make something with these pinecones, and came up with this easy idea.
This is super easy to make, once you have your supplies in place.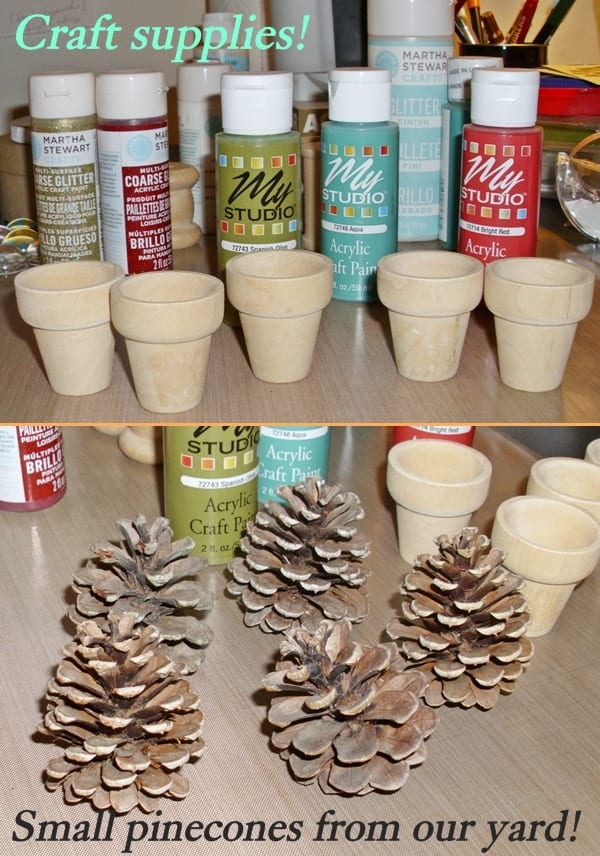 Supplies:
First, paint your miniature flower pots.
The colors I chose match the colors that are carried from our front entrance to our fireplace mantel with the ball ornaments in chartreuse, aqua and red. (See image below for a zoomed-in shot of our mantel.)
I was able to do two quick coats in about 5 minutes, as the paint soaks in and begins to dry fairly quickly with the first coat. I did this last night, and let them dry overnight.
Time elapsed? 5 minutes!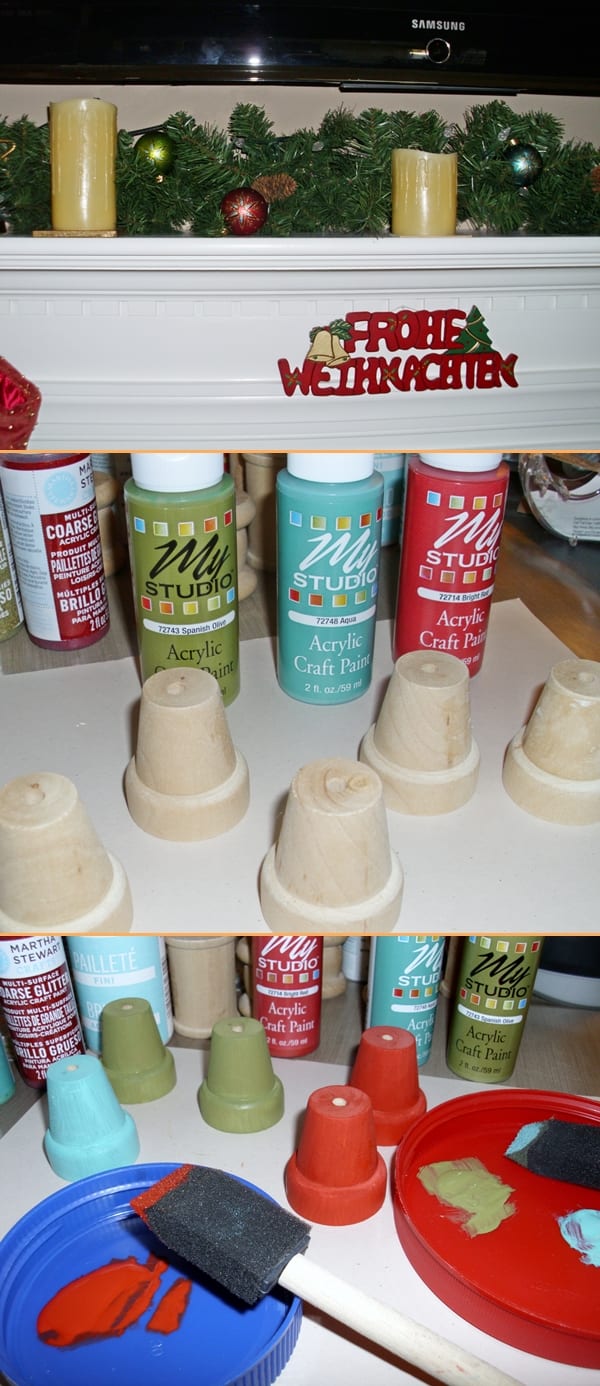 Next, add glitter paint to the miniature flower pots.
Paint glitter paint with a small brush — which may or may not be an eye makeup brush from a gift set I never used — dabbing and spreading as you go. The colors I used are Garnet (red) and Florentine Gold. Let dry.
Time elapsed? 5 minutes!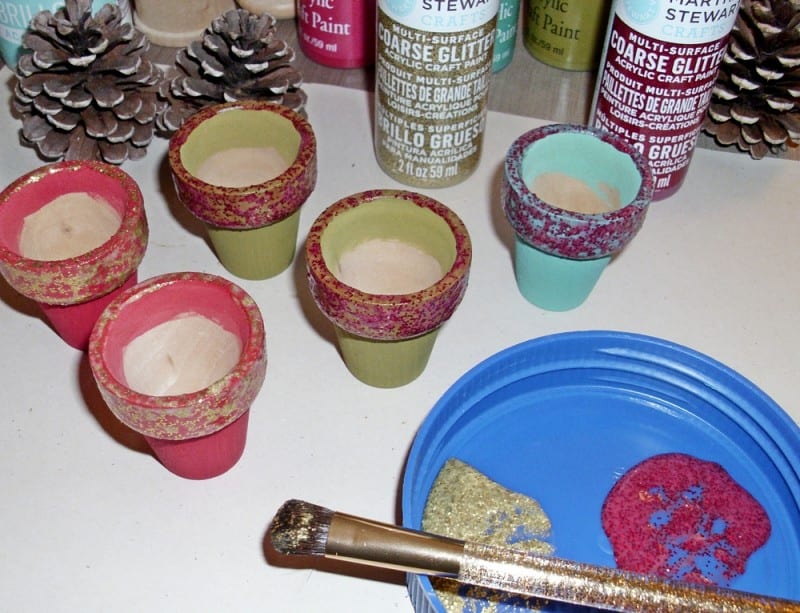 Add the pinecones!
Sit the pinecones in (and on top of) each pot, placing each cone so that it is standing upright like a little tree.
Place your mini pine cone tree pots in a special place!
Arrange your pots and pinecones along a window sill and enjoy your little forest of Mini Pinecone Tree Pots!
Time elapsed? 5 minutes, or however long it takes you to be satisfied with your arrangement!
Total time? 15 minutes! Done!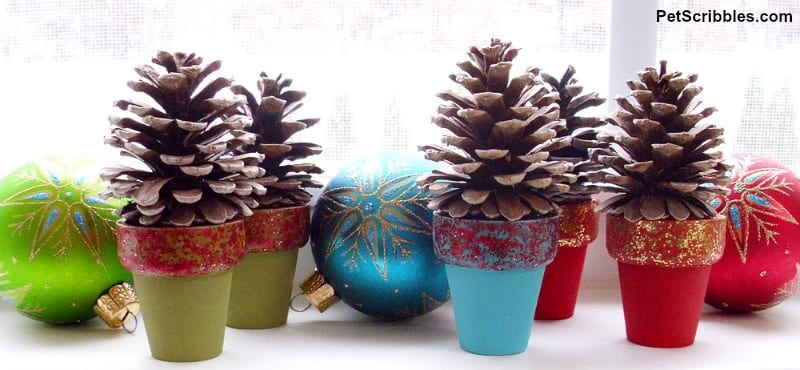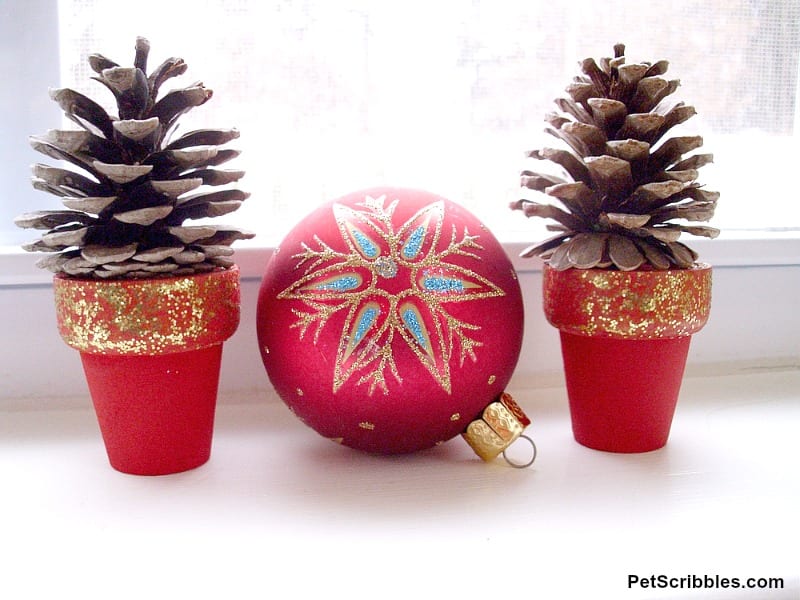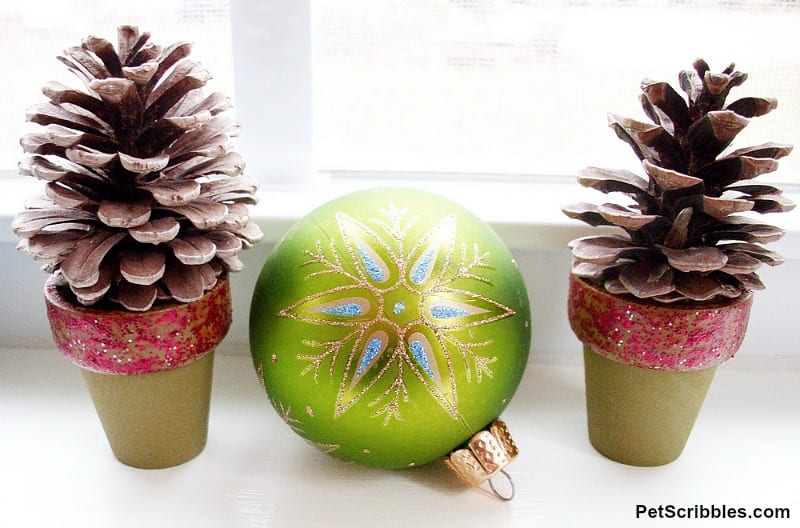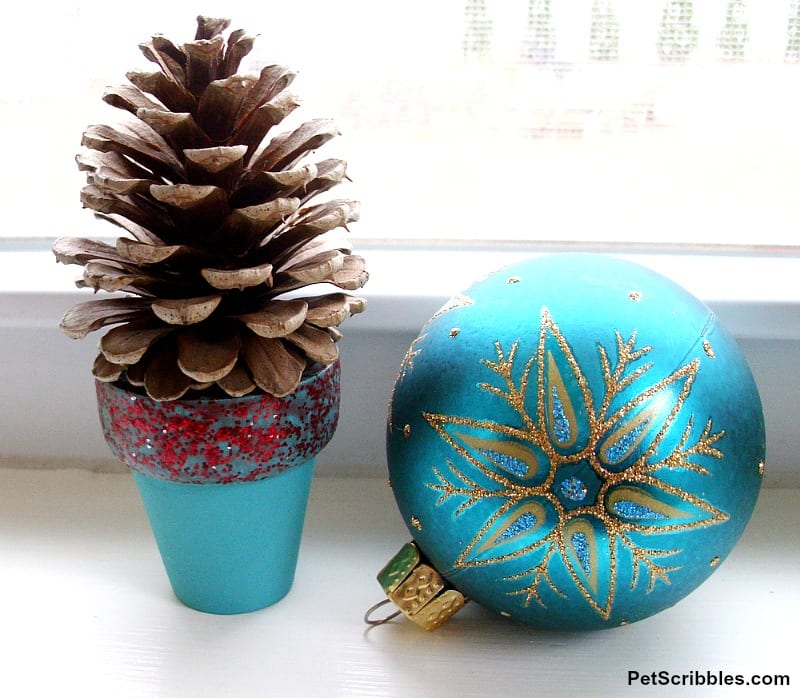 I hope this post inspires you to consider trying some quick crafts this holiday season. Not only is it fun, but it is a great way to relax in just a short amount of time: a nice break from the holiday hustle and bustle!
More easy pinecone crafts!
Click on the links below to see complete directions with pictures for each project shown!
This is a similar craft to the mini pinecone tree pot tutorial above. This time I used a peat pot and painted it in metallic colors, then lightly (and barely) painted the edges of the pinecone with silver metallic paint for a snow-kissed effect.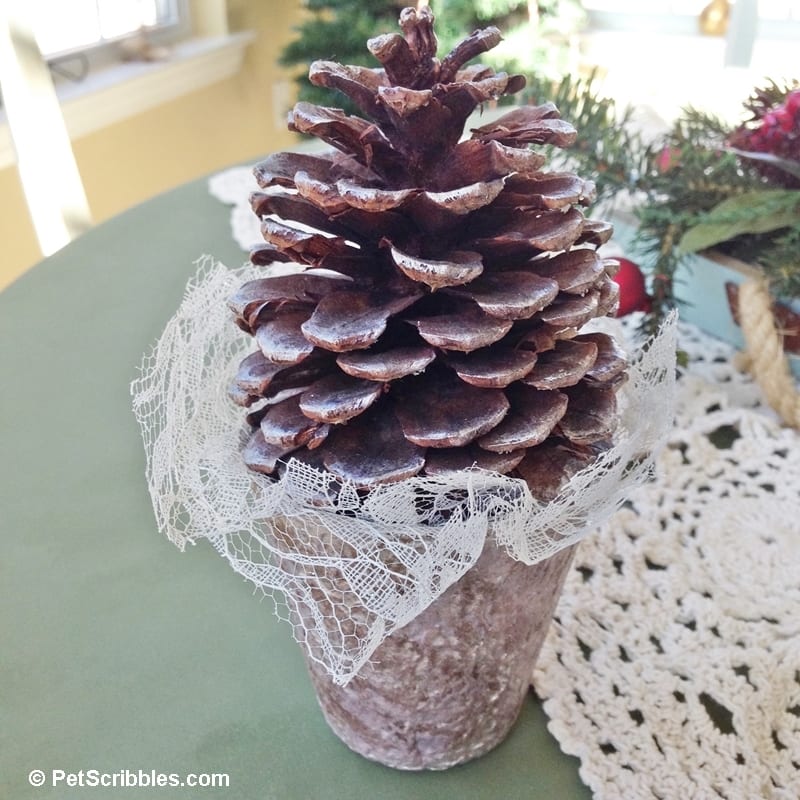 Give a few pinecones a coat of metallic paint — I did two coats in a teal color — then glue on a jewelry bead or two for the string to hang.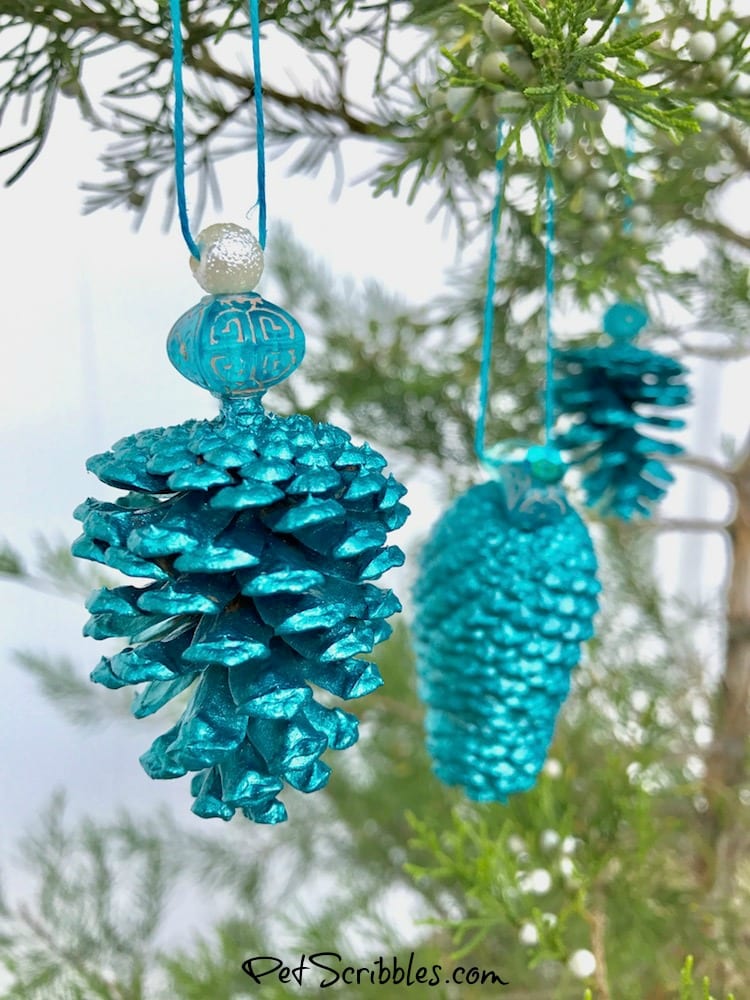 (I used a cheap green garland and just cut it up with pliers to get multiple green pine "stems" for this easy arrangement.)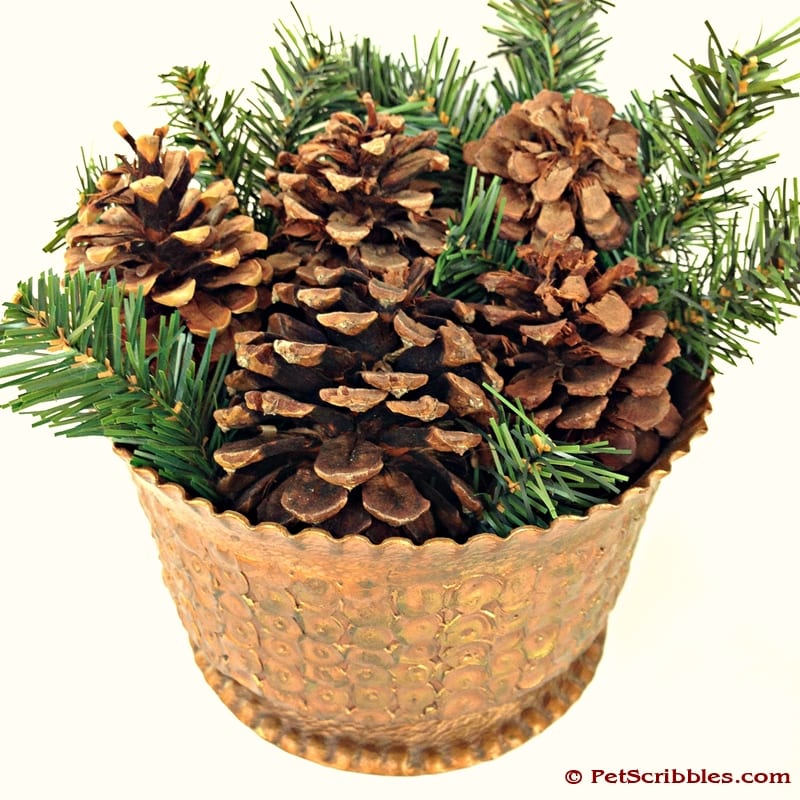 For more Christmas crafts — check out my Christmas section of this website!
Happy holiday crafting!