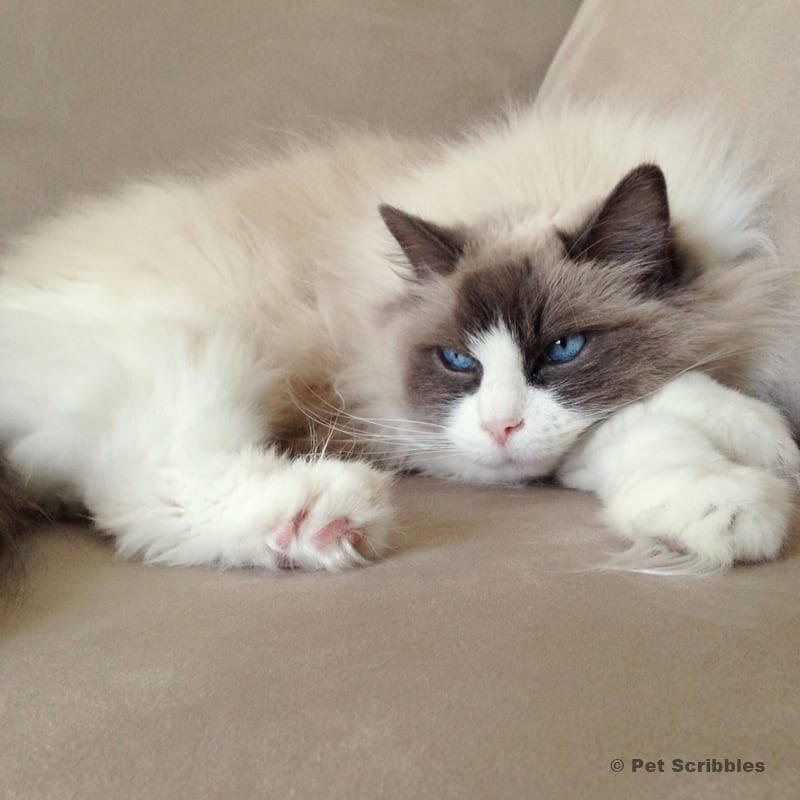 I think it's possible I've had a delayed reaction to our cat Aliza passing away last month.
All I know is last week her loss really hit me hard. I found it tough to concentrate. I spent lots of time with Lulu instead of crafting, creating, blogging.
Lulu. Our only cat. Pictured above, in all of her 14-and-a-half years-of-kittenhood splendor!
I haven't been a one-cat person in about 14 years, since I brought Lulu home to join her big brother Matisse.
Here's a very old picture – and not a very clear one at that – of Lulu as a kitten, the first time she and Matisse hung out together.

Even then, she had that look that said, "I'm the alpha, so why is my big brother trying to fit into my crinkle sack toy?"
When Lulu's big brother passed away years ago, it was harder than we possibly imagined it could be. Not only did my husband and I grieve, but we watched – a bit surprised – as both Lulu and Aliza outwardly mourned his loss.
I wanted another boy kitty right away, but even I knew what I actually wanted was to have my Matisse back. So I held off.
Aliza, who was totally in love with Matisse, decided to seek comfort from me. In doing so, she ended up comforting me as well.
And that's what has made her loss so hard for me. I need her here to comfort me.
Aliza went from being a scaredy cat – afraid of any human contact – to the most loving and affectionate feline soul I ever knew.
The final weekend we spent with Aliza, when we knew her time was winding down, Lulu completely surprised me for how attentive she was to Aliza. She gave Aliza reassuring licks, sat nearby quietly, and never freaked out when Aliza had a few accidents. She stuck by her and never shunned her, as some cats might do to a sick or injured cat.
I don't have any pictures of me and Aliza posing together. She wasn't fond of the camera: it was just something I was putting in between her face and mine. It was in the way.
I did manage to capture a selfie of Aliza and I during our last night of saying goodbye.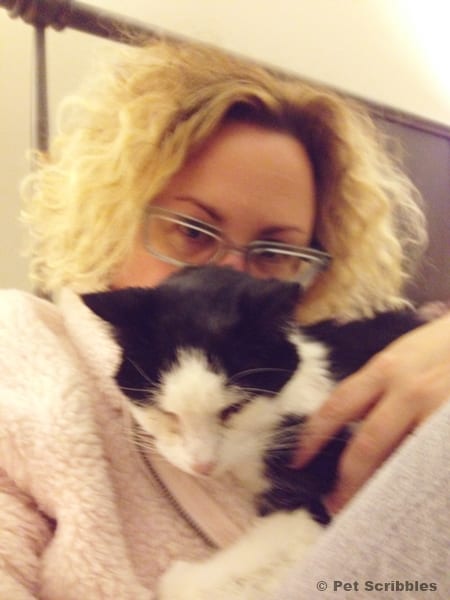 Not the best photo to win awards, but it warms my heart to look at this over and over again.
I miss Aliza so much. I miss her comfort.
Lulu has been ok but very needy since Aliza passed away. Lulu and Aliza were never close with each other, but they got along just fine.
We've been trying to keep to the same routines for Lulu. She spends every day "working" with my husband in his office, basically curled up in her little bed snoozing the day away. Except for when he leaves the room, when she somehow knows he left and will get up to find him and follow him around.
It's adorable. Lulu has truly become my husband's cat. Oh she still loves me, plays with me, and all that good stuff, but she's his cat.
And this past week, through my tears, I've realized that I need want another cat. My heart wants one. Yes, as a heart mender. But also because my heart has more love to give.
Yet I'm unsure what's best for Lulu. I know she loved wrestling and playing with Matisse. And even though she's 14, we say she's still a kitten because of her playfulness and energy.
Could bringing a new kitten into our home mess things up? That's what I'm struggling with right now.
And part of my struggle – I think – is also finally allowing myself some time to grieve.
~Laura