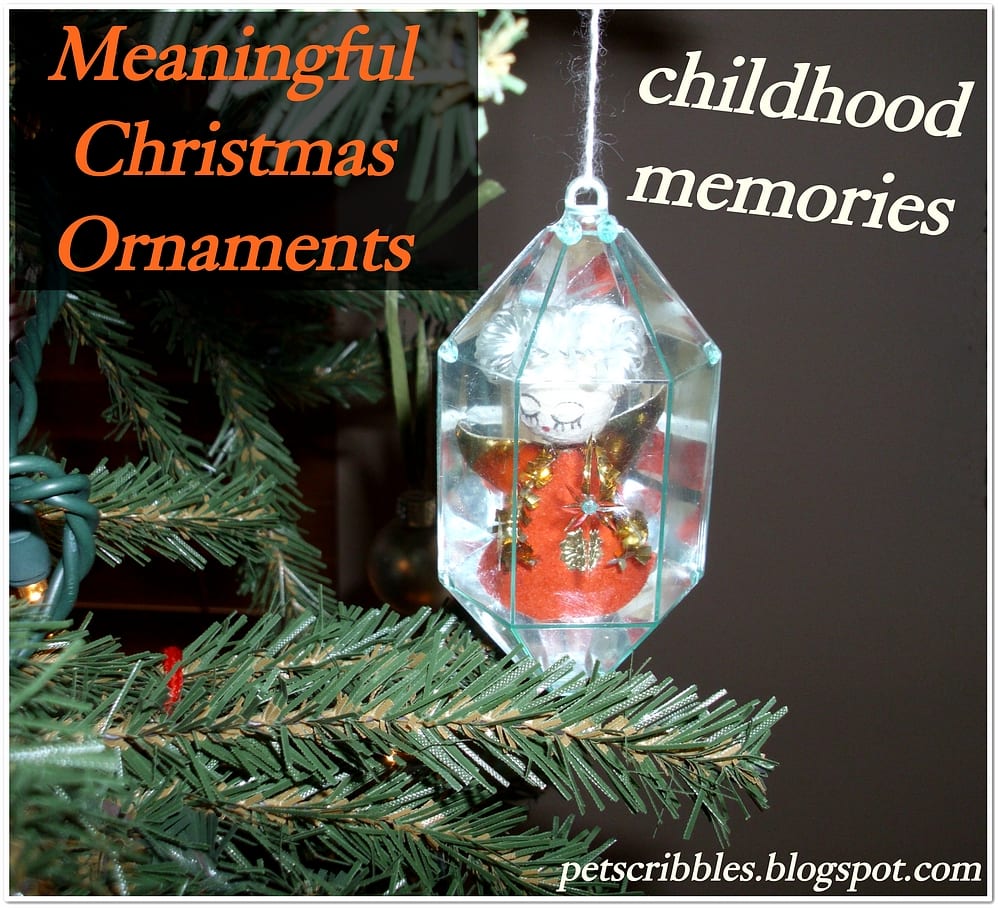 My husband and I put up our Christmas tree the other night. We have a sort-of ritual of putting up the tree, in that we put on some Christmas carols, break out the egg nog (with freshly ground nutmeg on top, of course), and take our time decorating the tree.
Our Christmas tree is a faux Alpine tree, which means it is thin and tall – ours is 9 feet tall. First, I fluff up and twist and bend all of the branches into place, which always ends up taking longer than I think it will, but it does make a difference in how it looks. My husband sips some egg nog while I do this. Next, it's his turn to put up the white Christmas lights on the tree while I take a break with some egg nog. When we're ready to begin putting our ornaments on the tree, we always start with the ornaments from each of our childhoods. I thought I'd share some of these here with you.
The vintage Jewel Brite ornament on the left (above) was one of a set that graced my childhood Christmas trees, while the ornament on the right belonged to a set that was on my husband's childhood trees. The interesting thing about these ornaments, besides the sentimental value and the interesting styles, is that a few years ago each of our mothers gave us these ornaments as part of our Christmas gift the year we had our first Christmas in our new home. Our moms have become very good friends over the years, and we assumed they had both planned on doing this for Christmas. But they had not talked about it ahead of time! A happy coincidence which we loved! (And they did too!)
This red ornament (above) was part of the same set that from my mother-in-law. Is it just me, or do the details and artwork on vintage ornaments somehow seem much more intricate? I love the layers of white paint over the metallic red, with the silver glitter swooshes on top.

This ornament above, also given to us by my mother-in-law, is called a "Strohsterne" in German, meaning "straw star" and is a traditional Christmas ornament from – you guessed it: Germany! These handmade ornaments, tradition says, started at a time when people couldn't afford to buy Christmas decorations, so they fashioned their own ornaments out of whatever materials were readily at hand within the home. Straw was one of those materials found in most homes. I guess we could say this was a very early form of repurposing and upcycling! Straw is easy to split, bend and cut into intricate star shapes which are then tied together with simple string. Many look to these stars as a reminder of the baby Jesus in his straw-filled manger. There's several tutorials on the interwebs on how to make these, including this one. Maybe I'll try to make my own someday. (Just not this Christmas because if you're like me, there's already a zillion things still needing to be accomplished!)
The green ball with the old-fashioned German glass glitter all over it, above, wasn't given to me. I just… well… I just sort of took one of them from my parents' Christmas tree years ago. I couldn't help it, as we've had these beautiful glitter ornaments since I was a little girl and I've always loved them. Last year, I told my parents how I had taken just one ball to keep as a memory. It wasn't a big deal, in fact they were surprised I even thought there was anything special at all about these ornaments. Who knows: maybe seeing these at a very early age is what started me on the road to loving anything with glitter! (And maybe this is also the reason that I feel the need to add glitter to just about everything I make!)
My parents have enjoyed several vacations on the island of Bermuda over the years, and after one such trip they gave us this Bermuda ornament with the infamous pink sand inside. This ornament took on special meaning when, after my beloved father-in-law passed away shortly after that Christmas season, we went on a cruise as a family group with my husband's siblings and their families as a way to honor their dad who had always wanted us to go on a group vacation together. And so, just a year after receiving this ornament as a Christmas present, it became a cherished ornament on our tree for many sentimental reasons.
And here's another of the vintage Jewel Brite ornaments (like the pink one you saw earlier) that hung on the Christmas trees of my childhood. I used to think this little angel was a doll that I really wanted to play with. Since I couldn't take her out of the ornament, I would talk to her and make up stories about her. Don't judge me, I was an imaginative child! These Jewel Brite ornaments, made in Japan, were very popular in the 1960's.
Do you have any ornaments from your childhood? What about any traditions centered around your Christmas tree decorations within your own family each year?
Stay tuned as I'll be sharing a few ideas here soon for starting and creating your own meaningful Christmas ornaments for your families.
~Laura