Magnolia Jane in the Summer! Once the Spring blooms are gone, what does this tree look like? Magnolia Jane is more than just another pretty flowering tree.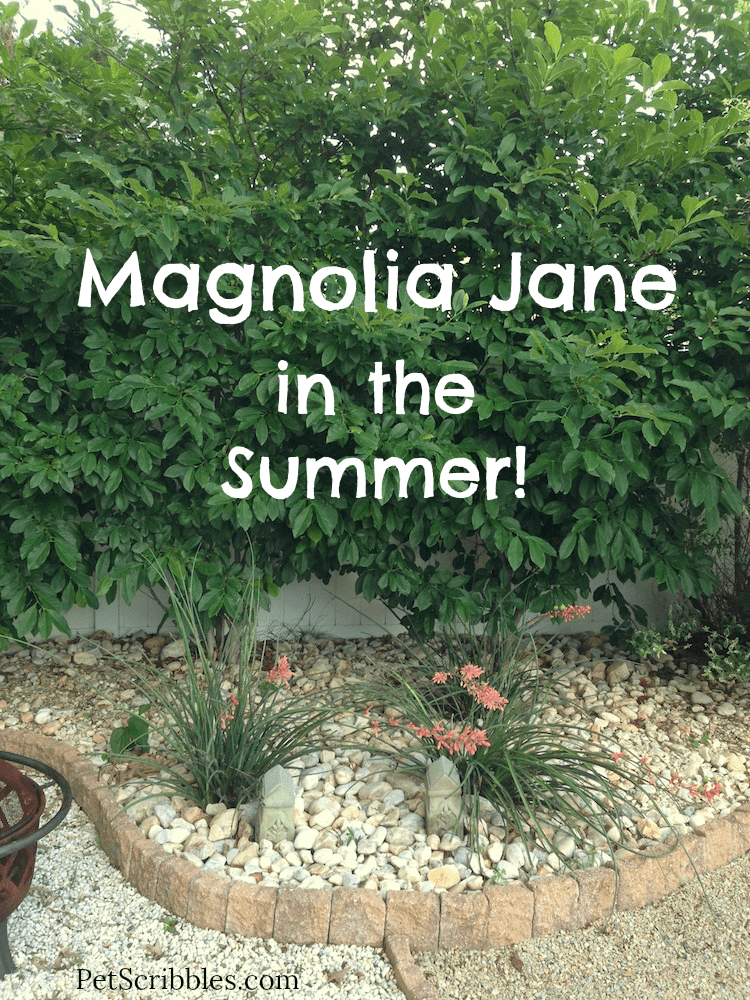 I admit it: we were completely entranced with the gorgeous blooms on the Magnolia Jane shrubs we purchased way back in 2010. And the blooms are exactly why most people want them in their landscapes.
I wrote an entire post about this:
Magnolia Jane: you absolutely need this stunning flowering tree!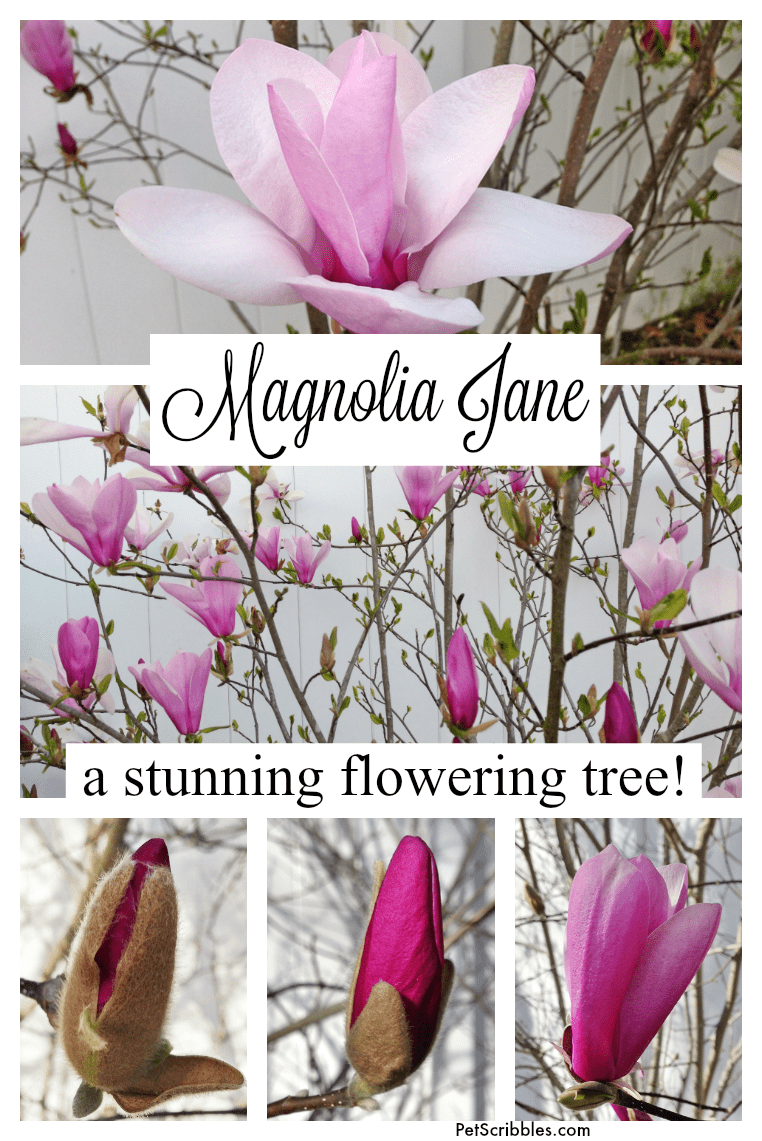 We had a hard freeze last Spring (2016), which of course broke my Magnolia Jane-loving heart. Blooms that were open just froze and began turning brown . . .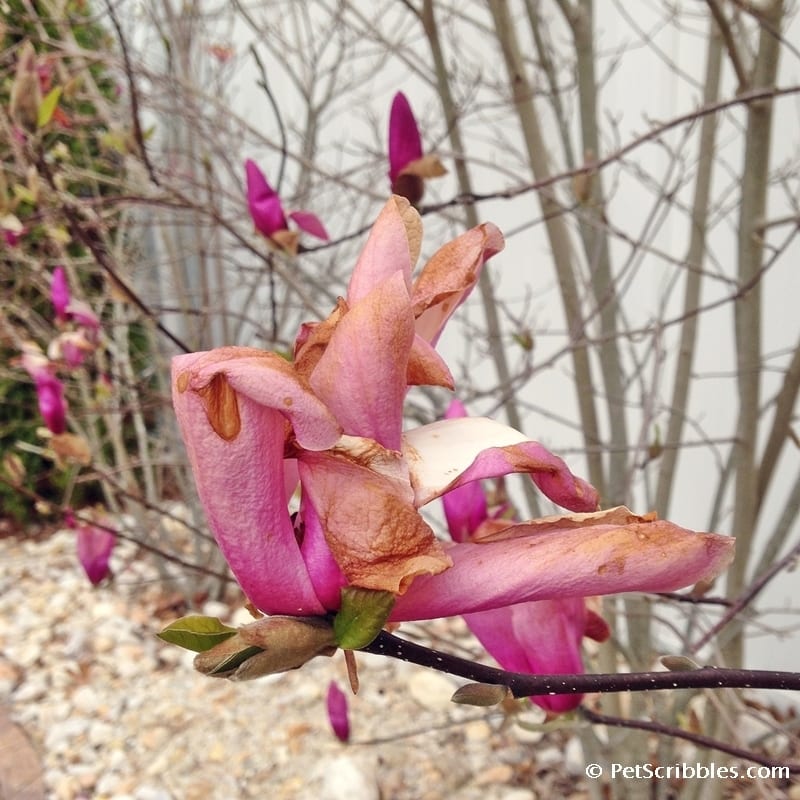 Even though the Spring blooms were ruined from the freeze, I wasn't sure how our Magnolia Jane trees would look once they fully leafed out.
In fact, I had a reader ask me last year for pictures of Magnolia Jane in the Summer, so I put together these photos for you (and for her!)
Magnolia Jane in the Summer!
Our three Magnolia Jane trees were full of their lush green leaves just a short while after the hard freeze I mentioned above.
Here are the three trees as they looked in July 2016 . . .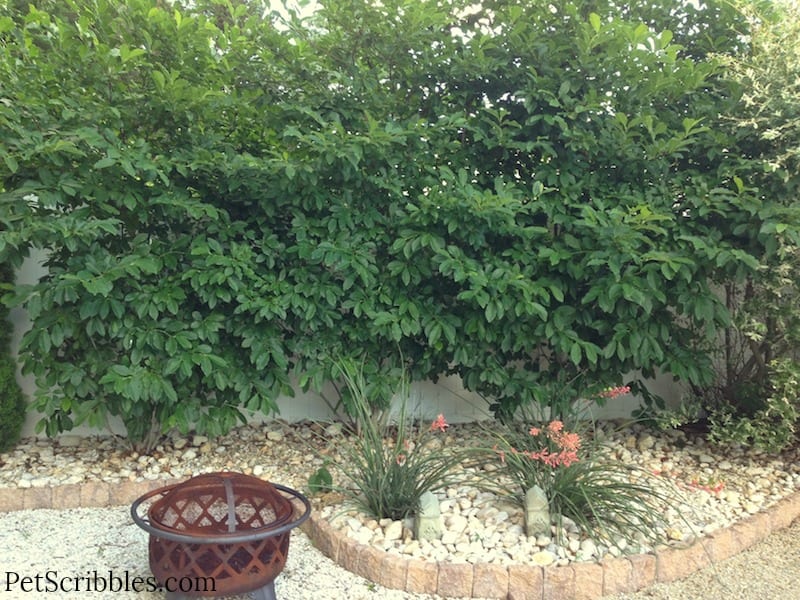 Although the hard freeze ruined the blooms and flower buds, it didn't ruin the leaves that appeared thereafter!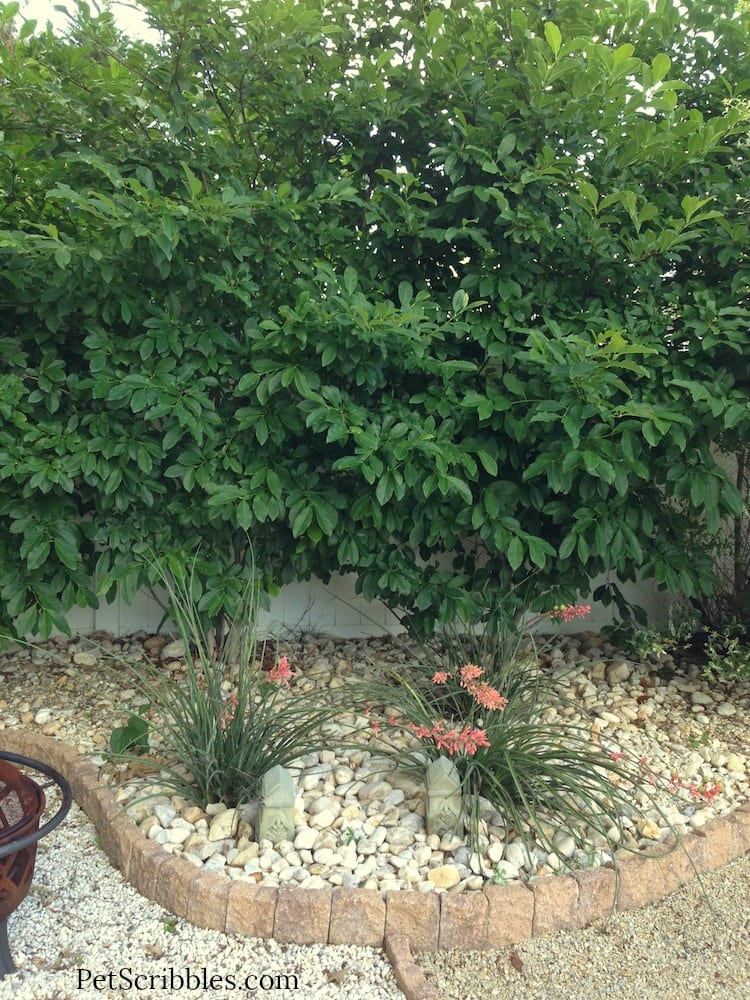 (Those are Red Yuccas in front of the Magnolia Jane trees, another one of my favorite plants!)
You can see in the photo below how I trimmed off the foliage from the bottom of each Magnolia Jane, to grow them as trees instead of flowering shrubs.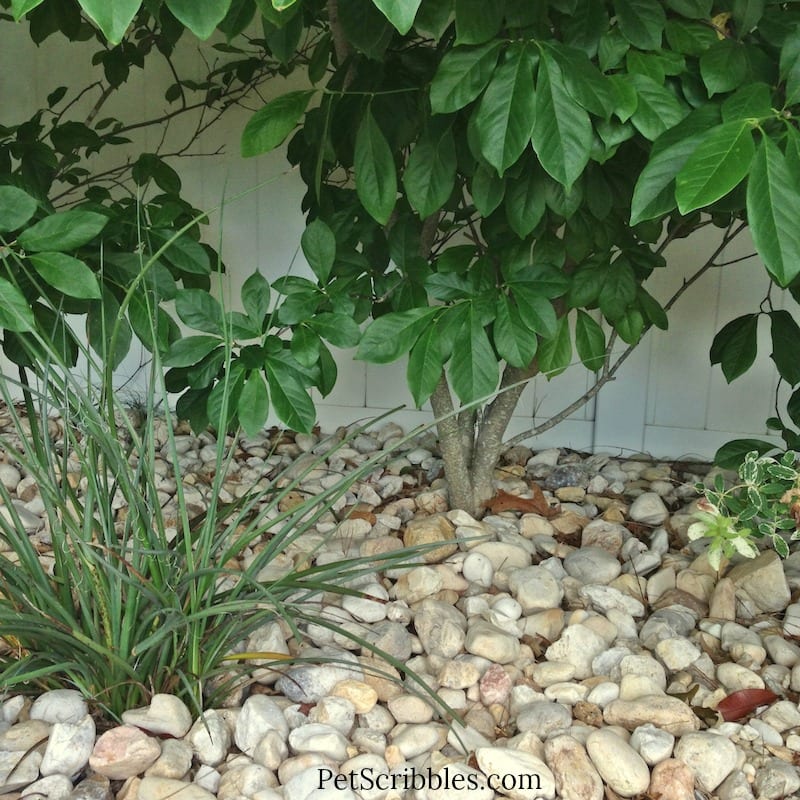 In the right spot, your Magnolia Jane might give you a few blooming surprises during the Summer season!
Below, the arrow points to a single bloom, during July 2016 . . .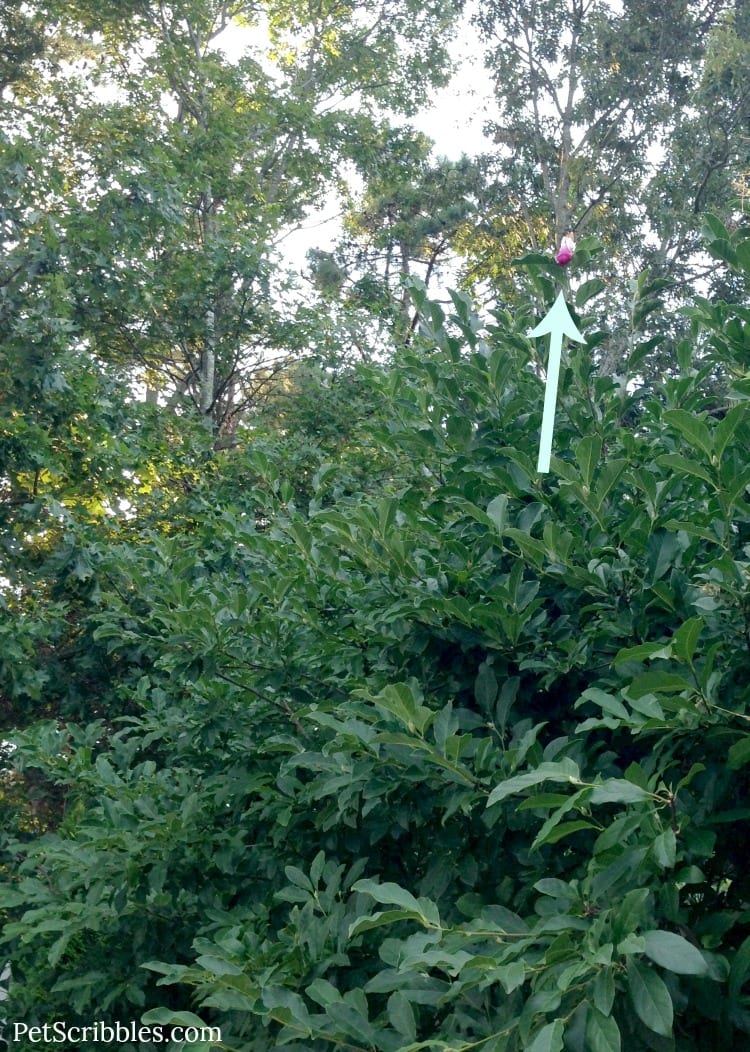 Our Magnolia Jane trees are now in their 8th season in our backyard so they're well established and happy, meaning we do get sporadic blooms during the Summer.
The trees were first planted in 2010 . . . and didn't quite reach the top of our 6-foot fence.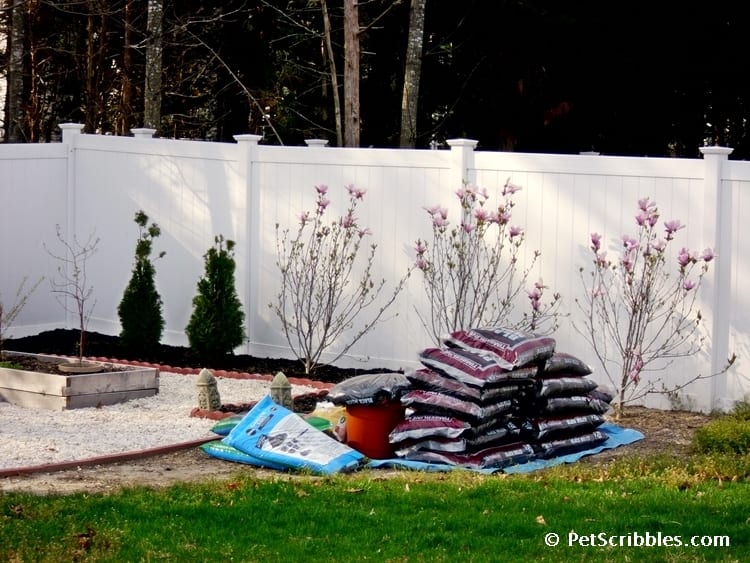 We love having them next to our Dappled Willow shrubs!
In the Spring, we enjoy the fuchsia blossoms of the Magnolia Janes, along with the salmon pink leaves of our Dappled Willow . . .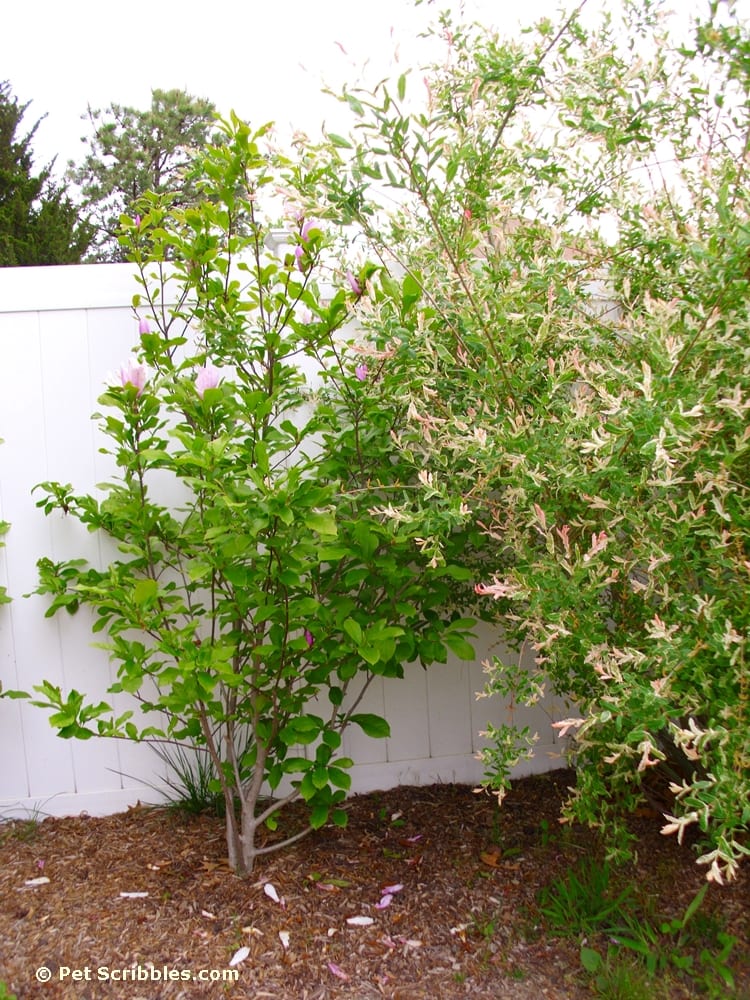 Fast forward several more years, and we have quite a living wall — much nicer to look at than our vinyl fencing!
I took this picture yesterday in the rain, so you can see how the Magnolia Jane trees currently look. The Dappled Willow "wall" is to the right going up the backyard toward the fence gate.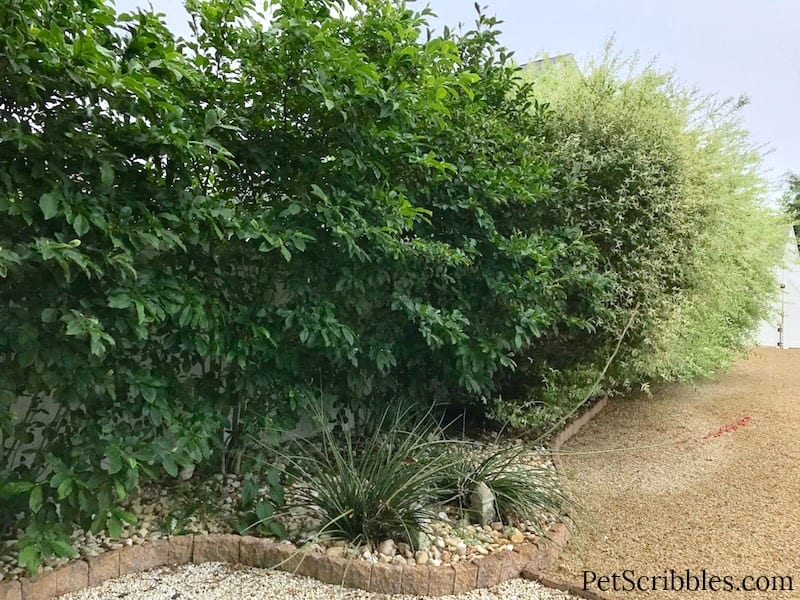 (And yes, we happily replaced our lawn with pretty gravel which I'll share in a future post here!)
I love the easy green color of each Magnolia Jane in the Summer, just as I love the pretty pussy willow-like catkins of Magnolia Jane in the Winter season . . .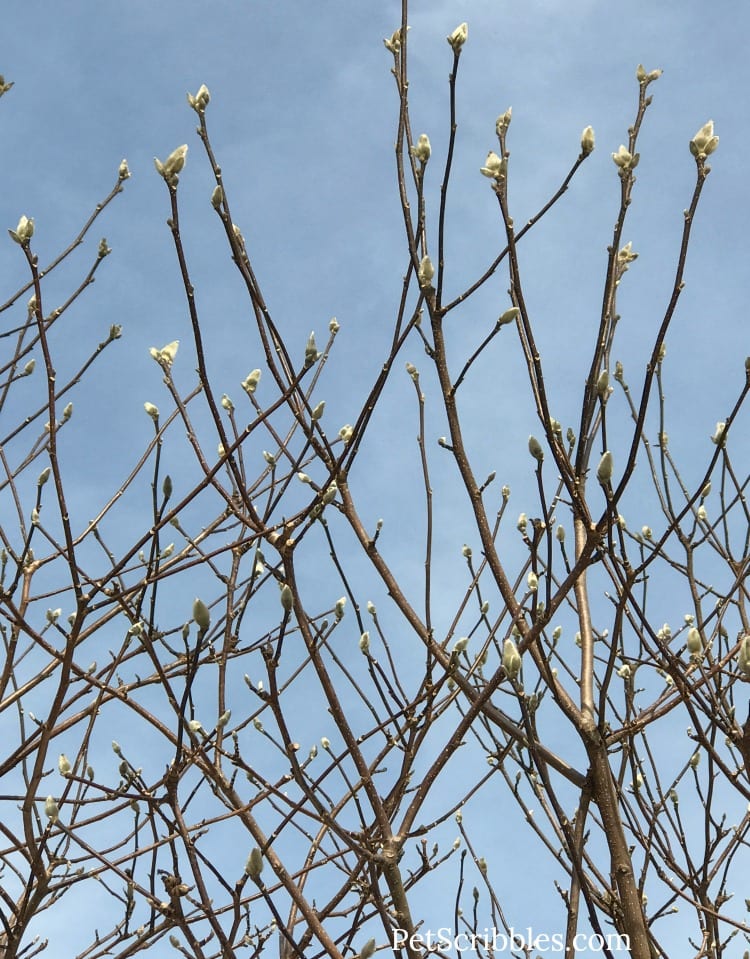 For those of you baking in the Summer heat right now, here's another picture of our Magnolia Janes during a previous snowy Winter. The twigs — especially the newer ones — have a nice reddish tint.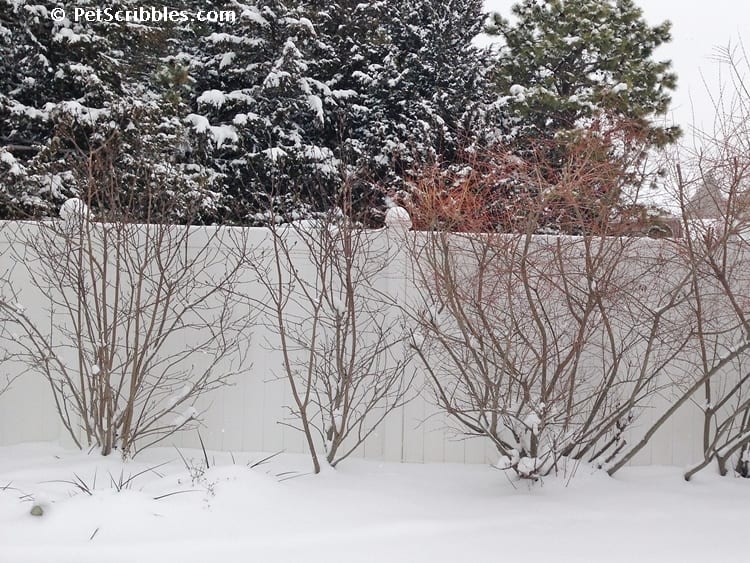 Did seeing all of that snow cool you off?
I hope these photos help you see that Magnolia Janes have much to offer even when they're not blooming!
For pictures (as well as helpful growing info) of our Magnolia Janes in bloom and our Dappled Willow living wall — please click on the links in the "Related Posts" below!
Happy gardening!
~Laura