So there I was last night, diligently working on uploading my new acrylic bubble magnet sets onto Etsy. I had just spent quite some time editing the photos for each listing, and now I was ready to enter in the data – titles, descriptions, etc. When I got to the magnet set pictured above, I was part way through typing the first word in the title, like this:
F – u – s – c – h…
Wait, was that right? How's that darn word spelled again?
Is it fuschia or fuchsia?
I had typed this word numerous times, so why was I getting myself so confused?
A quick search on Google didn't immediately help, as all it did was show me how many others are just as confused by the spelling. I'll spare you all the reading I did to get to the bottom of this mystery — which included consulting my husband who is a lover of etymology and just happened to have his Oxford Dictionary of English Etymology handy — and just do you the favor of providing the answer . . .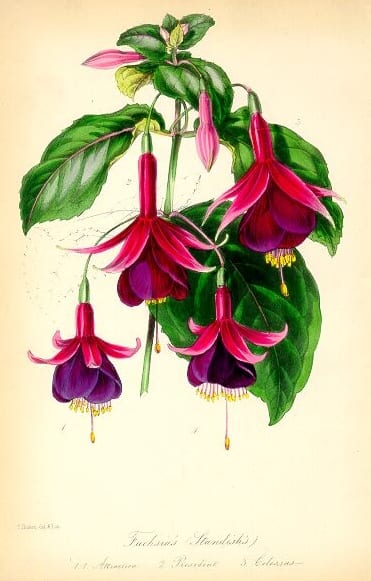 Most of us know this word by either the flowering plant or by the color hue itself.
The word originated when the flower was discovered in the 1700s, and the botanist who made the discovery named the flower after a well-known German botanist Leonardo Fuchs. Thus, the word fuchsia.
Now I have an easy way to remember the word:
"Fuchs" with an "ia" tacked onto the end. Think "Dr. Fuchs" and your problem is solved!
But the confusion is real!
I went to Etsy to do a search on both the correct and incorrect spellings of the word, and found some surprising results:
Fuchsia (correct spelling) – produced almost 27,000 listings across all three of Etsy's main categories (handmade, vintage, and supplies).
Fuschia (incorrect spelling) – produced 19,000+ listings across all of Etsy's three main categories.
What does this tell us?
Well, after spending time on Google, with the incorrect spelling showing up on many reputable websites, plus seeing how Google seems to recognize that the incorrect spelling actually seems to mean the correct spelling — thus providing search results with both spellings mixed in — I guess that fuschia has become an accepted incorrect form of the word fuchsia.
So where do you stand?
Were you spelling fuchsia correctly?
Are you surprised at how many people are using the incorrect spelling?
Let me know know your thoughts!