Create this Inspirational Quote Art DIY: Be a little different! Use decorative cardstocks, shabby flower die cuts, and a dollar store frame, then enjoy!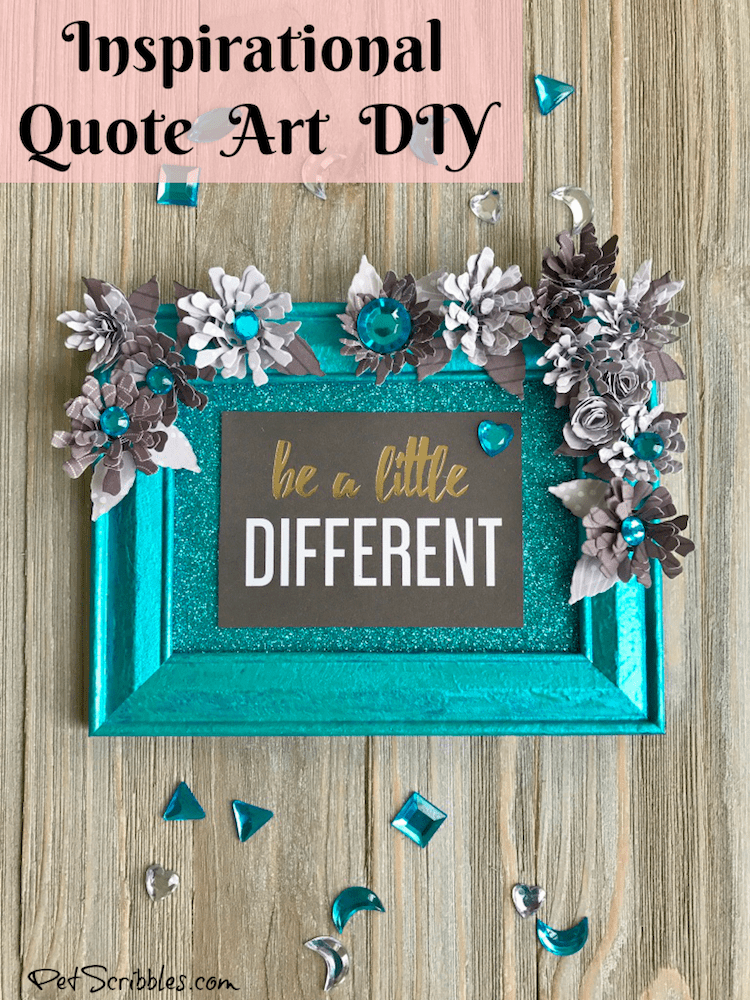 This week, our Xyron Design Team is partnering with DCWV!
If you've ever shopped for scrapbook paper or decorative cardstock at any of the larger craft stores, you've no doubt seen the amazing paper collections from DCWV.
FTC Disclaimer: I've received products/compensation as part of the Xyron Design Team. This Inspirational Quote Art DIY, however, is 100% my own project! Some of the links in this post are affiliate links. I explain more here.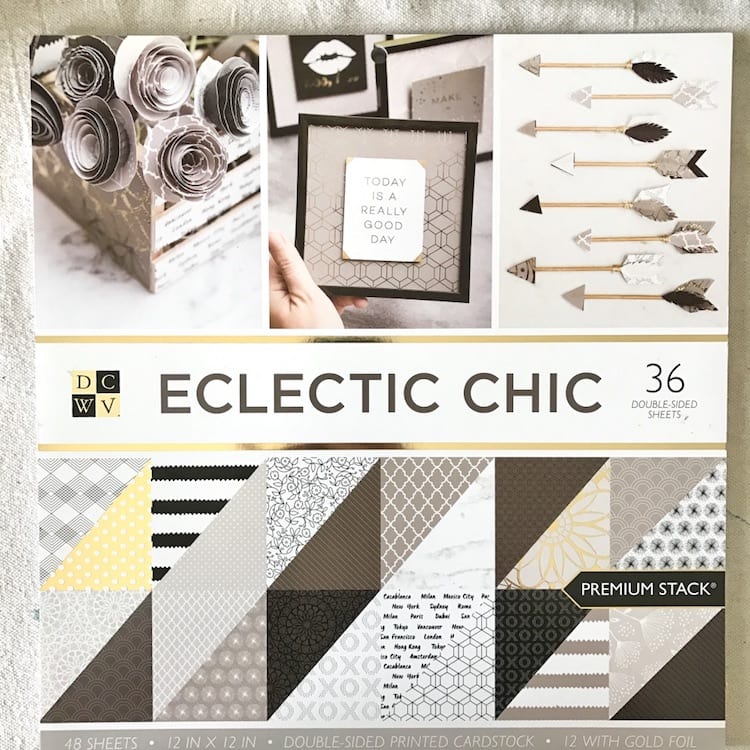 Above is the Eclectic Chic Paper Stack that was sent to me. This is a 12 x 12 pad filled with wonderful double-sided, printed cardstock in yummy shades of rustic!
Yummy shades of rustic!
Yes, I did just describe their paper pad that way! The colors are taupes — both lights and mediums, and chocolate browns, and touches of ivory, and black and white…and gold foil too!
A great mix, and you could come up with several "sub" color schemes using this palette!
I pulled out the taupe and ivory shades to create tattered shabby flowers!
Glitter paper to sparkle all over the place!
I also received a DCWV 6×6 Glitter Cardstock Stack. The colors are so stunning, that I had to make a quick video so you can see just how sparkling and gorgeous these colors really are!
Aren't they fabulous?
I decided to challenge myself at the start of this project, and somehow use both the yummy rustic shades and the glitter paper together in the same project.
I realize that wasn't why I was sent both of these paper pads, but I like to challenge myself anyway, so I think I reached a happy medium!
Mixed medium instead of mixed media? 🙂
Inspirational Quote Art DIY
Supplies:
Xyron Adhesive Dots
DCWV Eclectic Chic 12 x 12 Cardstock Stack
DCWV Glitter Cardstock 6 x 6 paper pad
Picture frame from the dollar store
Aqua Color Shift Paint from Plaid Crafts
Paintbrush
Diecut machine (I used my Sizzix Big Shot)
Small flower dies
Scissors
Wax paper
Helpful tip: You can find DCWV paper stacks and paper pads online and also via national craft supply stores like Jo-Ann Fabric and Craft Stores.
Step One: Paint the dollar store frame with two coats of Aqua Color Shift Paint. I "tapped" both coats onto the frame, to give it a textured finish. Let dry.
Step Two: Make some shabby flowers out of matching cardstock from the DCWV Eclectic Chic paper pad. I used some dies from my own stash for this step.
To adhere the flowers together, instead of using hot glue — use your Xyron Mega Runner instead!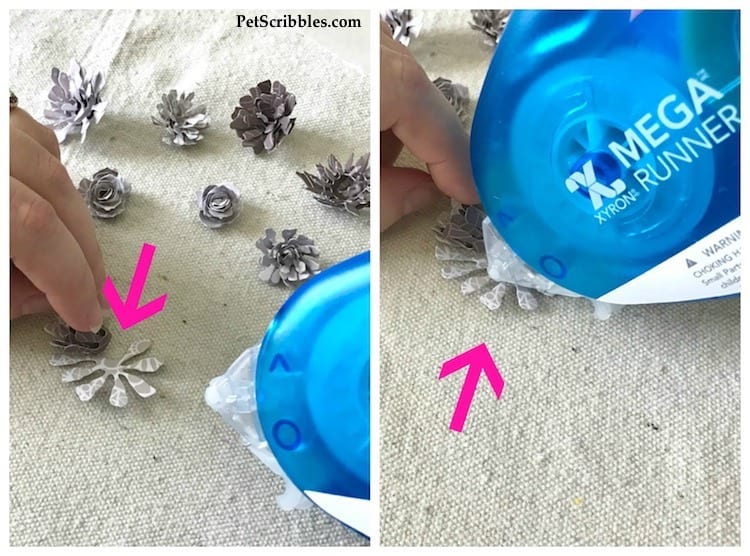 This adhesive is strong and permanent, and you won't burn your fingers either as you would — or as I would actually — with a hot glue gun!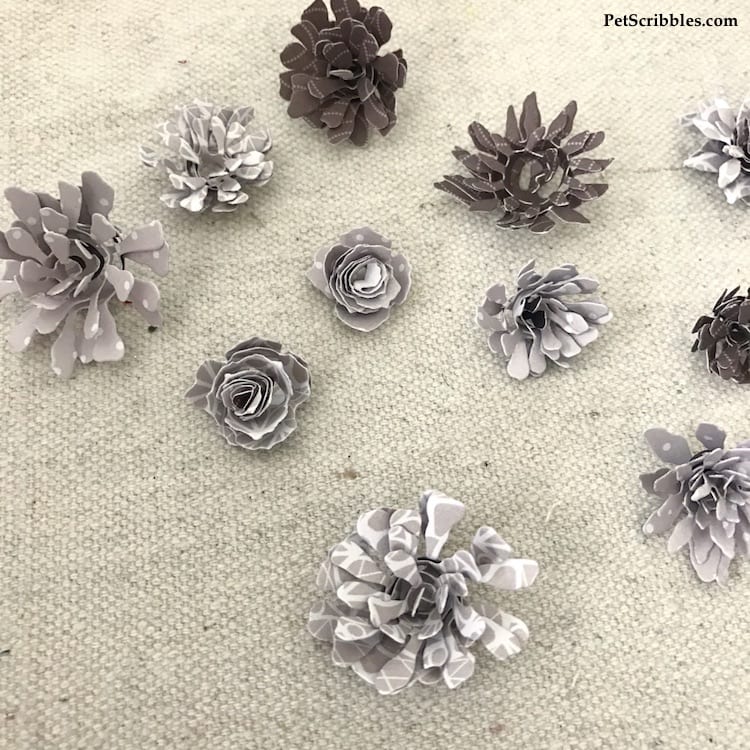 Aren't the flowers sweet?
Xyron adhesives work so well with paper!
Step Three: Cut out an inspirational quote from the DCWV Eclectic Chic cardstock.
I chose "Be a little different" because I love having a reminder that being unique is what makes each of us special.
No need to be a cookie cutter of everyone else, right? Right!
Step Four: Choose your background glitter paper color and cut to the size needed for the frame.
I actually chose the aqua glitter paper first, then matched my craft paint to the paper. You can do the same thing of course!
Step Five: Run the quote and the glitter paper through the Xyron Creative Station to make these papers into stickers.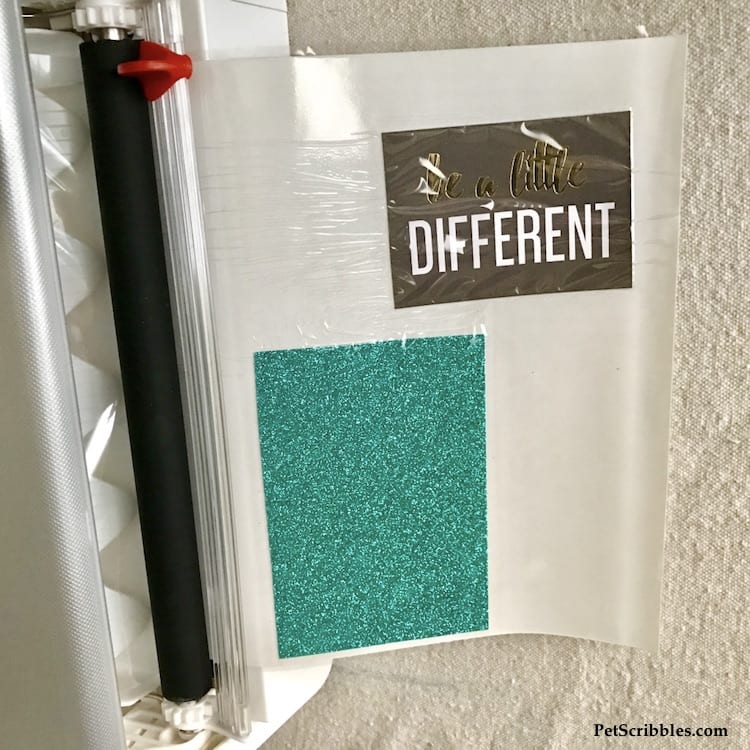 Remove the top plastic sheet, and you're left with paper stickers! Easy peasy!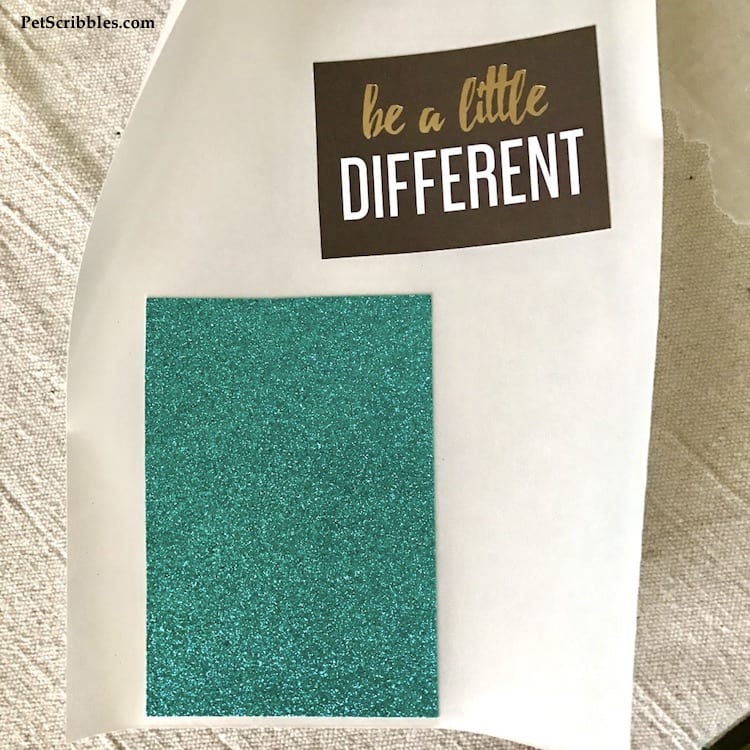 Step Six: Layer the glitter paper onto the cardboard frame insert, then center the quote and layer that on top of the glitter paper. Press down well, especially when attaching the top layer to the glitter paper. Put the frame back together, minus the glass.
Step Seven: Attach the flowers all around the aqua frame using the Xyron Mega Runner and, where needed, Xyron Adhesive Dots.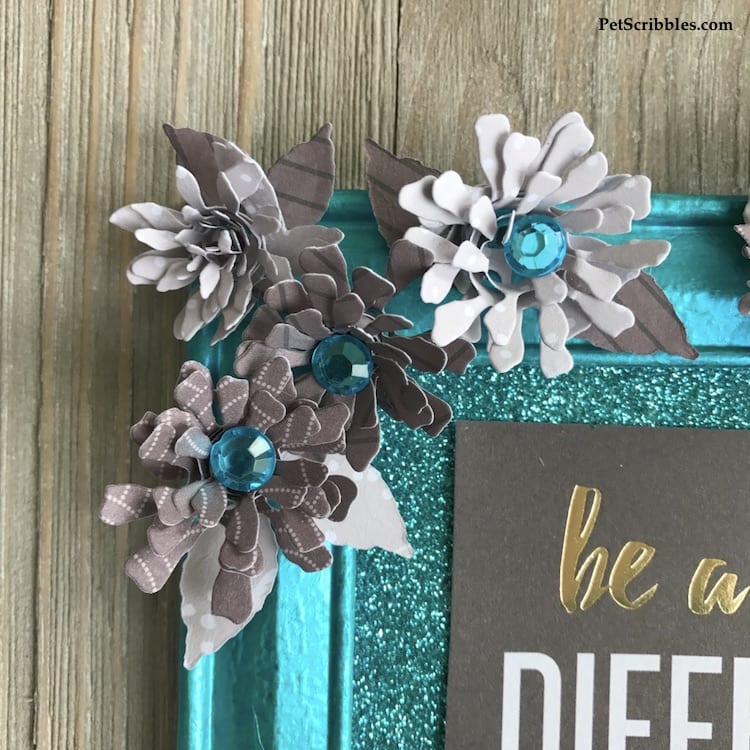 Step Eight: Add gem embellishments to a few of the flower centers using the Xyron Mega Runner.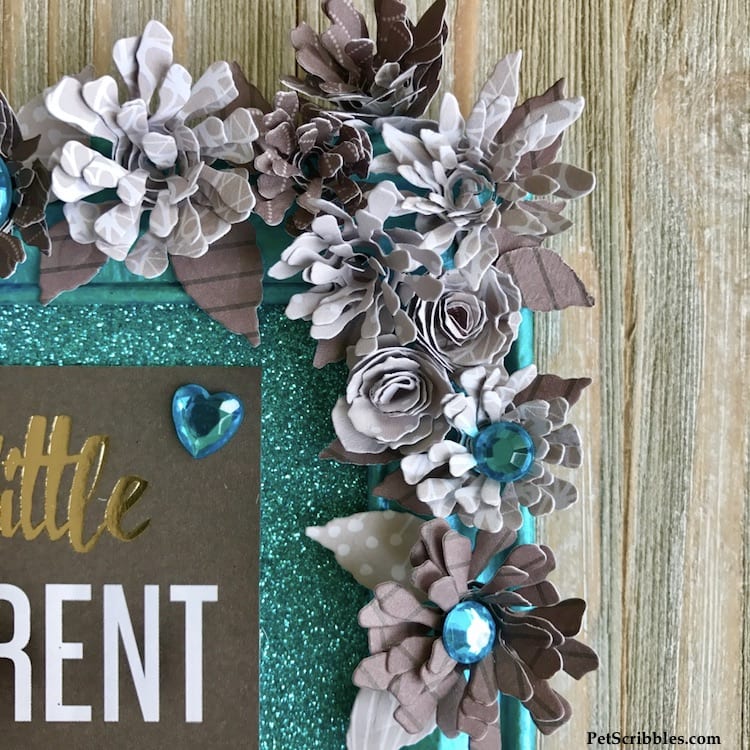 And that's it!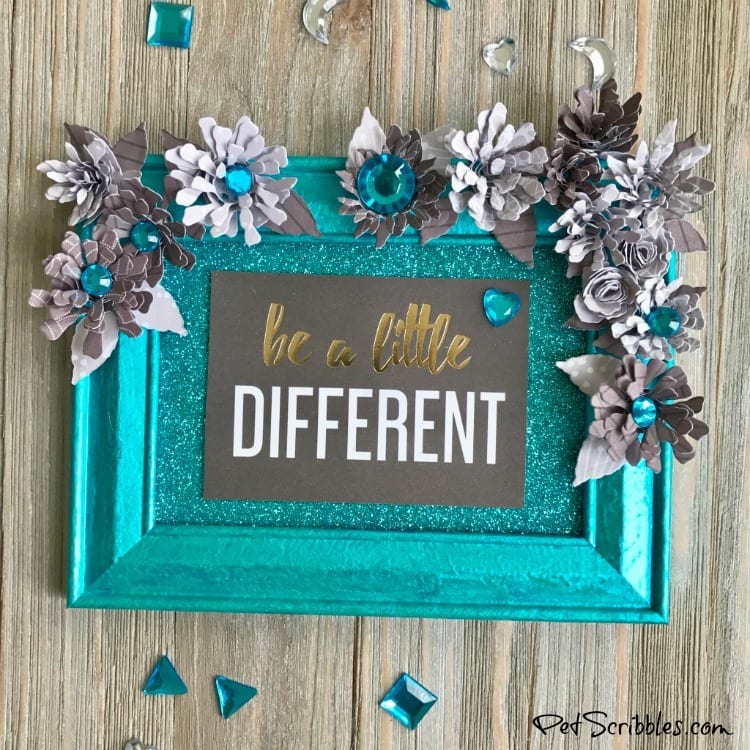 You could make several of these using the motivational quotes and words found in not only the Eclectic Chic paper pad, but in so many other DCWV paper pads. They have an amazing selection with so many different themes!
So what do you think?
Do you like the combination of the glitter paper and the muted more rustic shades?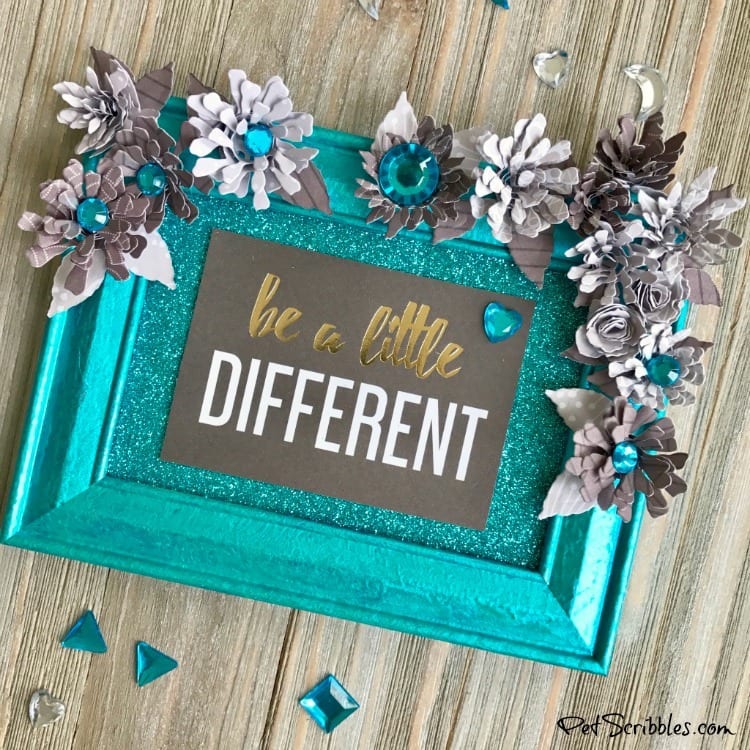 I actually do!
And I'm going to hang this in my office to remind me to "be a little different" just like mixing glitter paper and rustic shades of cardstock together is a little different!
Happy crafting!
~Laura