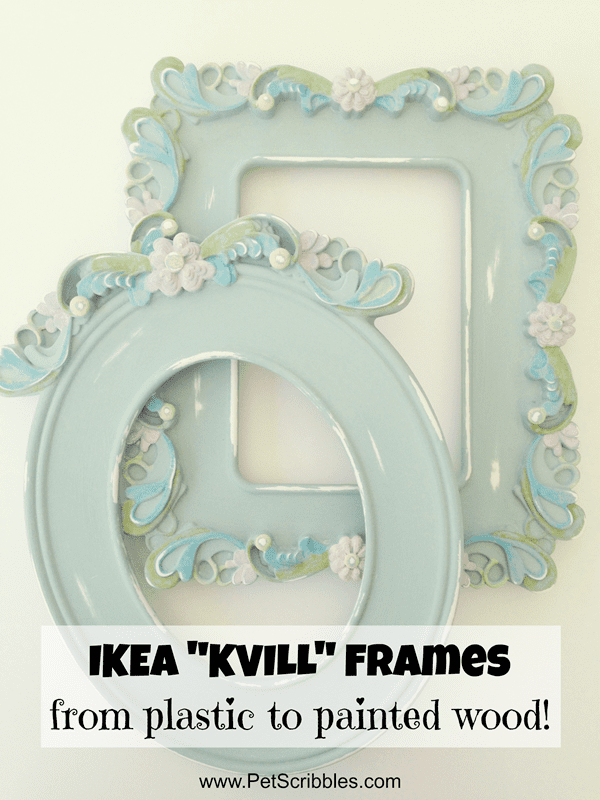 Want to see how I turned plastic wall art into pretty painted wood?
On a recent shopping trip to IKEA in Philadelphia (only an hour-ish away for us), I found these beautiful IKEA KVILL frames that are plastic.
Plastic? Yes!
I couldn't wait to give them a painted makeover to bring out all of the scrollwork details!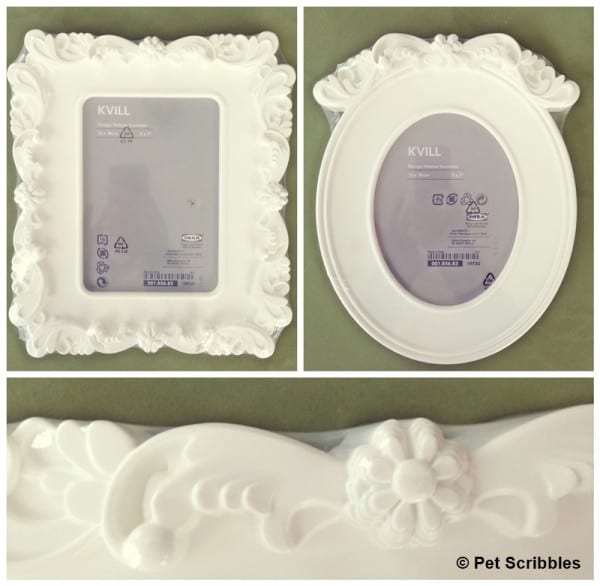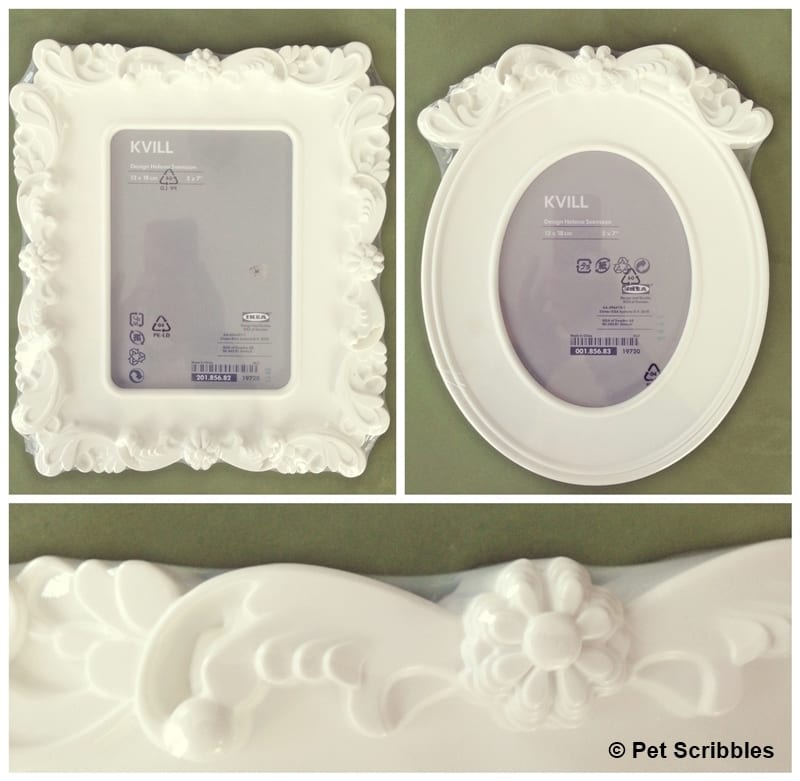 You can buy these KVILL frames online if you don't live near an IKEA. They cost only $4.99 each and you can get more info on each shape by visiting IKEA here and here.
The first thing I did was to paint them with two thin coats of DecoArt's Americana Decor Chalky Finish Paint in my favorite color: Vintage.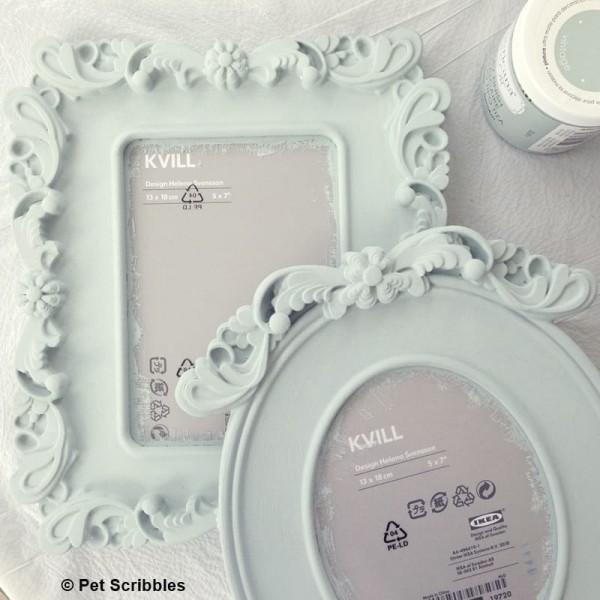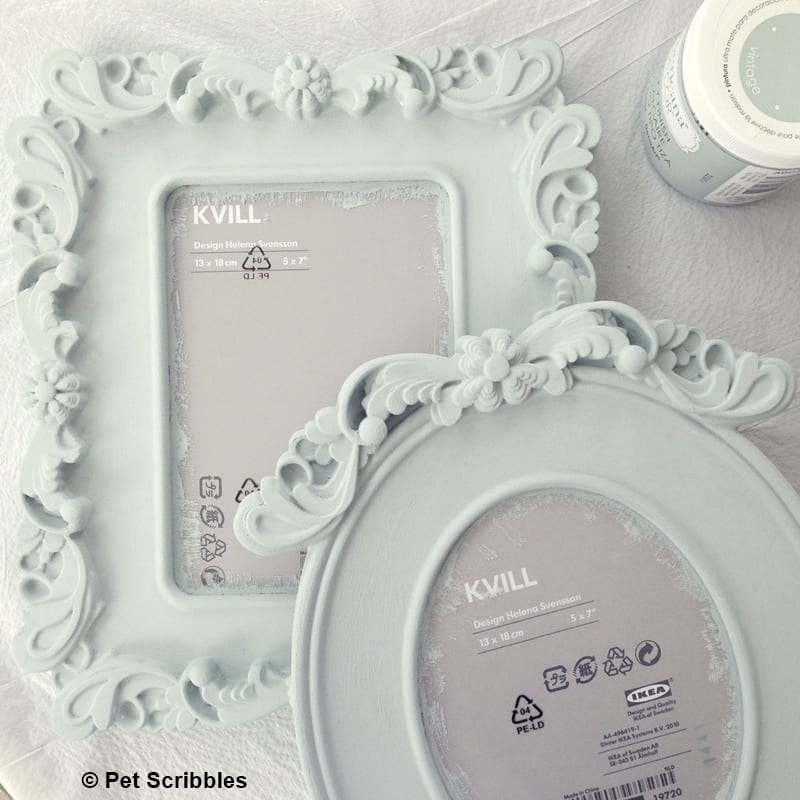 Handy tip: Save extra frame inserts to make it easy to paint frames. In this case, the frame inserts were cheap plastic with the recycled symbol printed on them, so I just kept them in the frames and removed them when I was finished. No more worries about how to paint carefully around inside edges! (So before you toss those extra frame inserts, remember this tip!)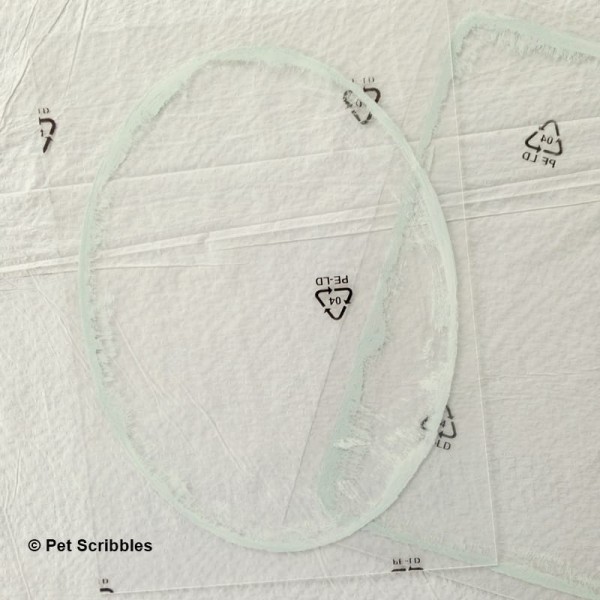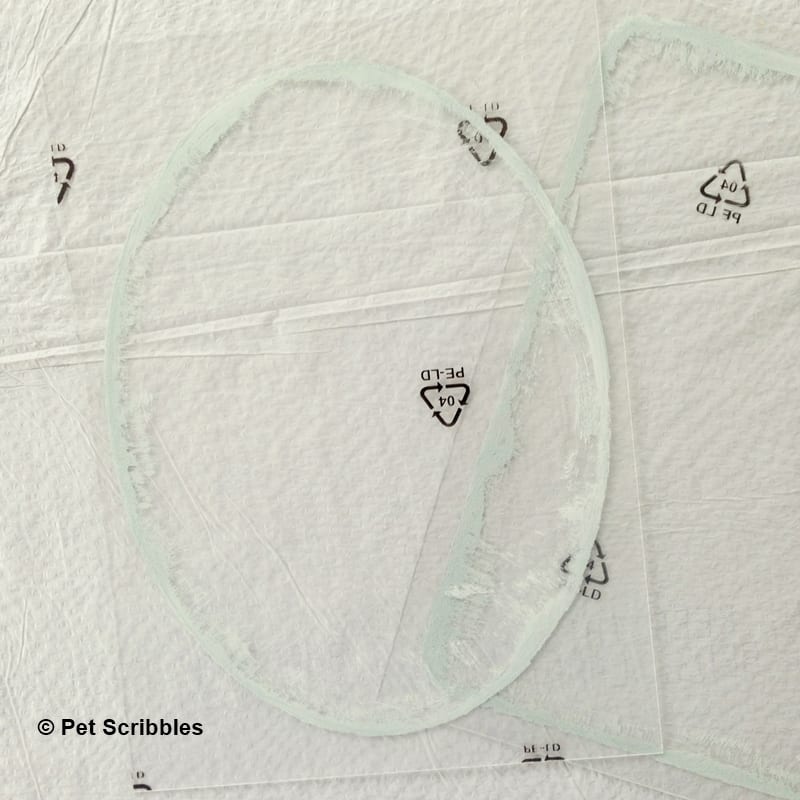 Here's all of the chalky finish paint colors I used to paint my IKEA KVILL frames: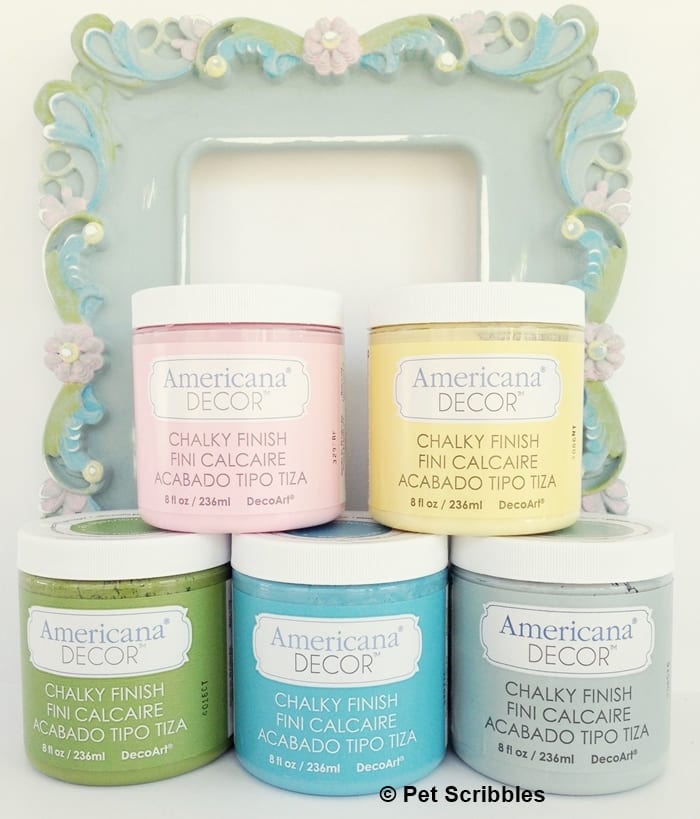 The colors are: Innocence (pale pink); Delicate (pale yellow); New Life (a pretty Spring green); Escape (turquoise); and Vintage (a blue-grey-green-ish shade that is sooooooooo beautiful!)
Here's a detailed shot for you of the painted scrollwork: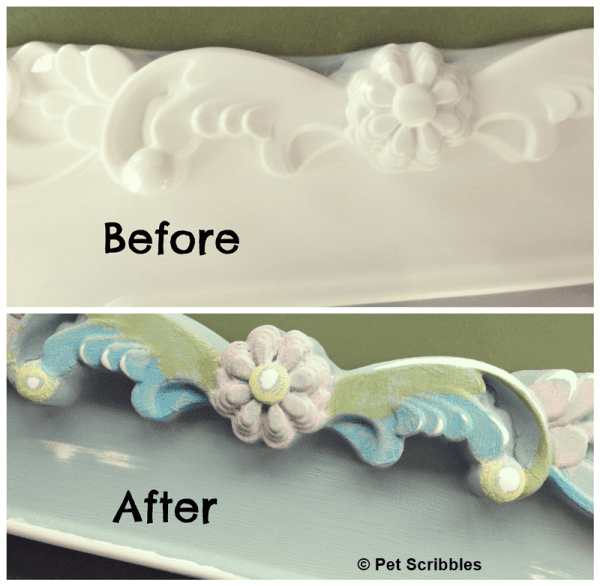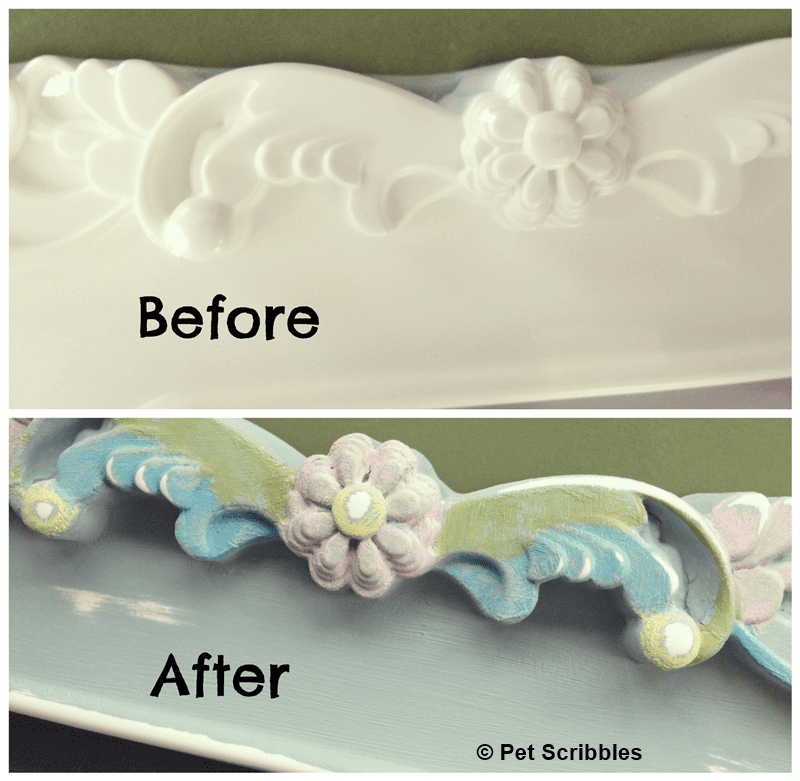 It looks like painted wood, right?
For the scrollwork painting: 1. Choose which colors you want where, and paint all of that color at the same time. I painted all of the pink first, then yellow, etc. 2. Either paint one thin coat, leaving some of the base color showing through – or – paint two coats for better overall coverage, and then add hints of the base color – very lightly just here and there – on top of the scrollwork colors. I did the latter, but the former is probably easier. 3. Using a sanding block or fine grit sandpaper, sand your frame (down to the white plastic) in certain areas to distress the paint, making it look old. For the scrollwork, sand some edges – or parts that stick out – down to the plastic. Start slowly and continue until you like how it looks. 4. Periodically wipe away dust with a white rag or paper towels.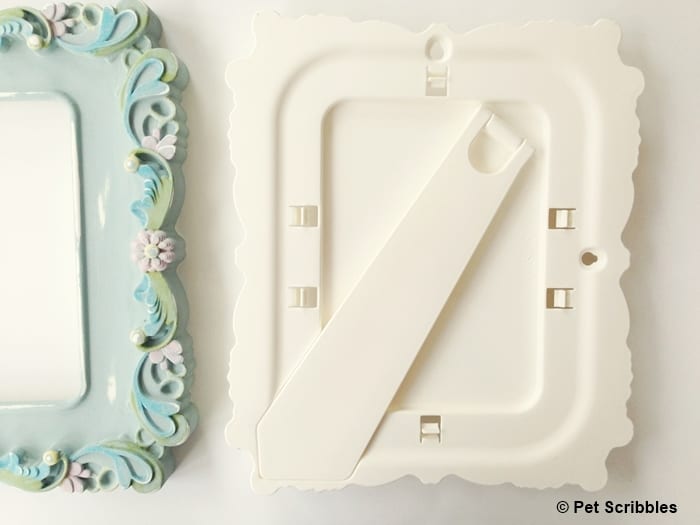 The back of each IKEA KVILL frame has a plastic piece that comes off easily, yet attaches securely. The frames can either be hung on a wall or displayed with the attached stand.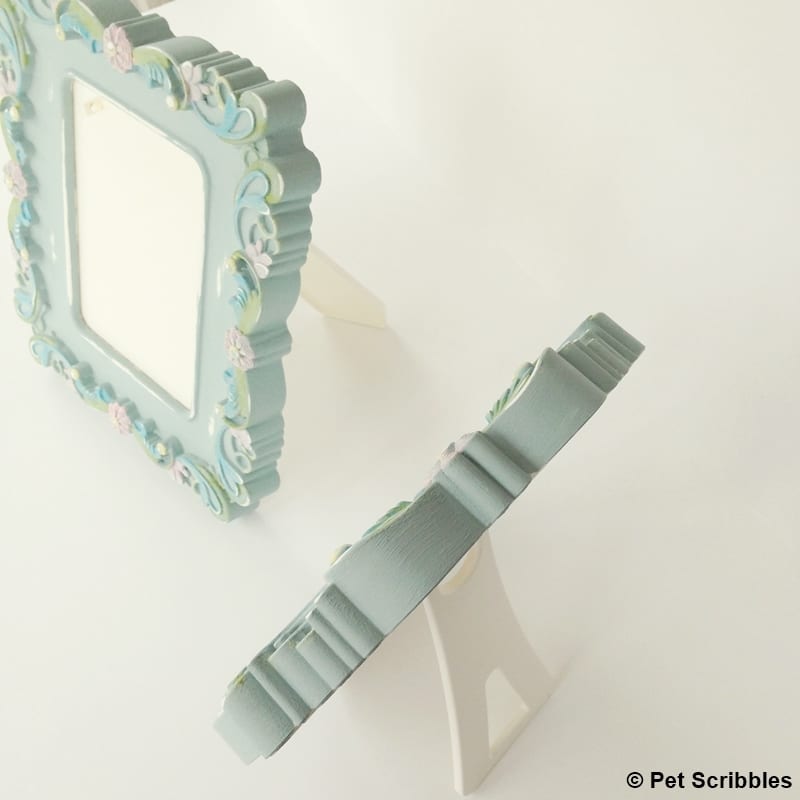 I plan on adding mirrors to my faux painted wood frames!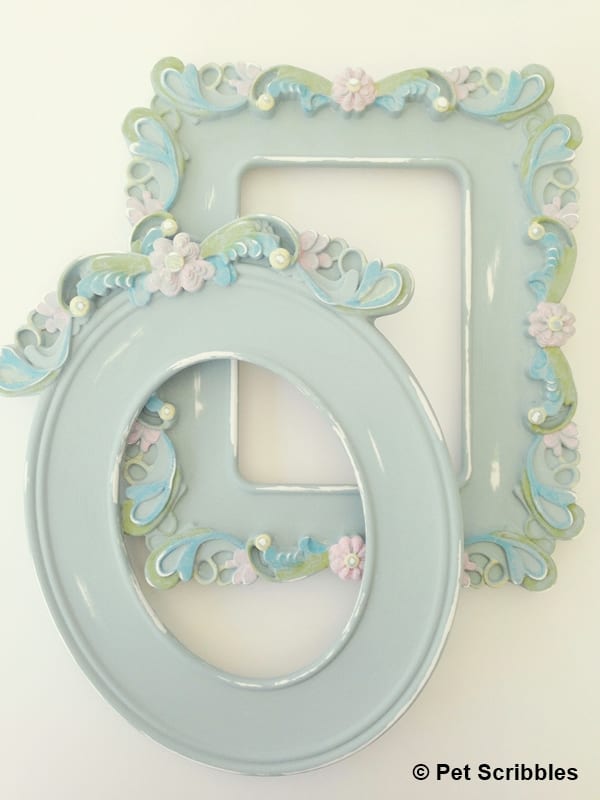 What a difference, right?
I am thrilled with how they turned out!
Happy crafting!
~Laura
To see more of my chalky finish paint projects – just click on any of the Related Posts below!