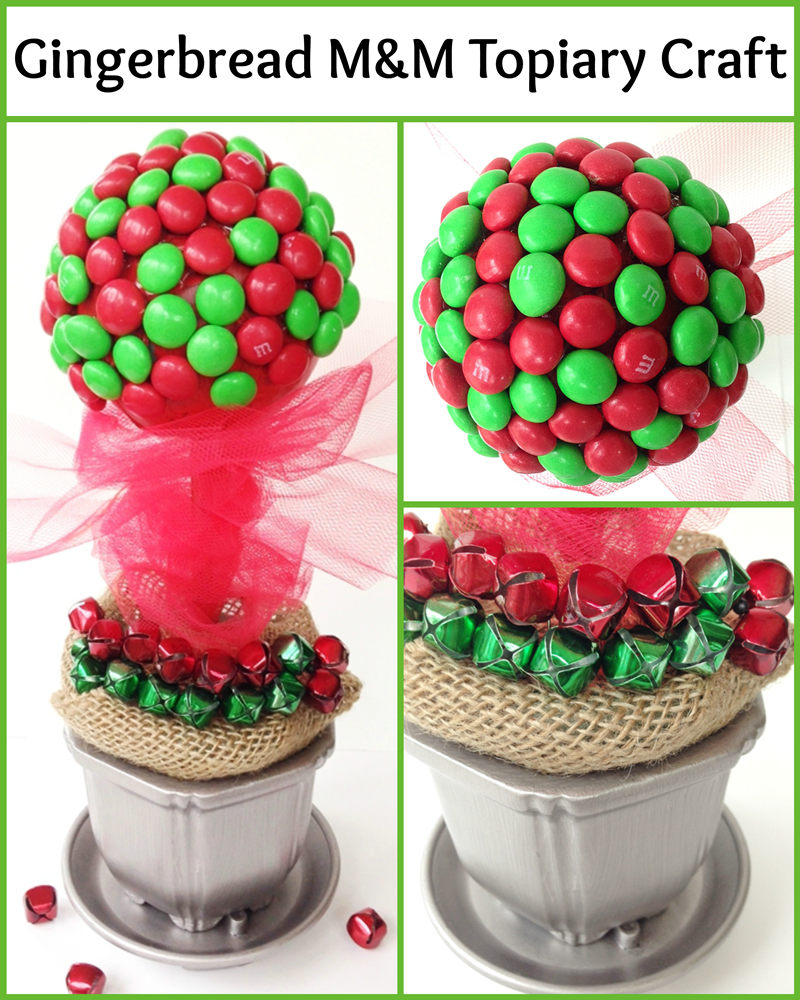 I love chocolate! And I love M&Ms! And I love Christmas! When all three are mixed together, you get Gingerbread M&Ms!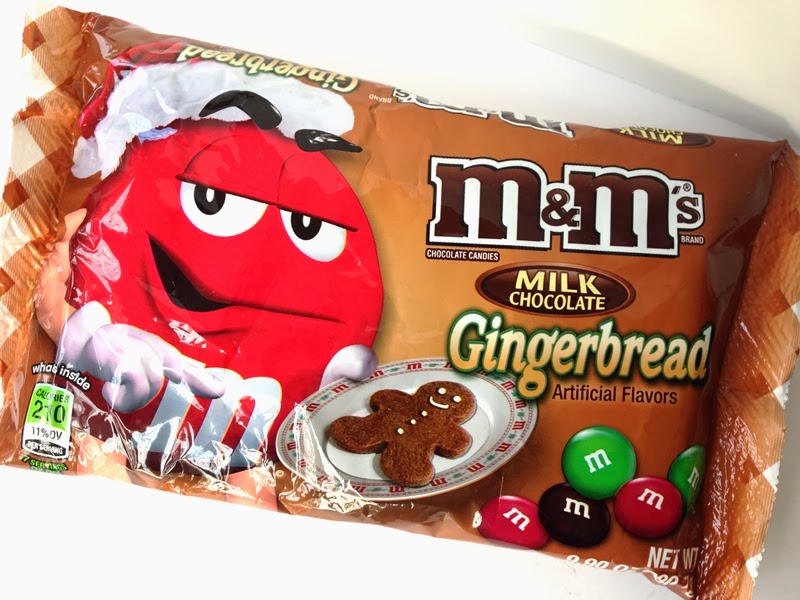 I always put out M&Ms for the holidays, and I even made my first batch of yummy cookies using the Candy Corn M&Ms not too long ago. And now? I can add "crafting with M&Ms" to the list!
Gingerbread M&Ms Topiary Craft!
If you need some easy holiday decorating ideas, this topiary craft is perfect! I'm going to display ours in our kitchen!
This is an easy craft that the kids can help with. Just make sure to have some extra Gingerbread M&Ms handy, so you don't end up eating all of your craft supply for the topiary! (Like I may or may not have done!)
Let's get started!
Supplies: (all found at Walmart!)
Floral Craft Foam Topiary
Gingerbread M&Ms (two packages)
Red craft paint
Burlap
Assorted sparkle embellishments
Jingle Bells
Glue Dots
Straight Pins (sewing aisle)
Decorative Urn (I used my own, but there's many urns right next to the foam pieces in the craft aisle.)
Decorative Red Tulle (from my own craft supplies)
Just a helpful note: I couldn't find the Gingerbread M&Ms anywhere at Walmart, but I knew they were there. I finally asked someone and they gave me a handy bit of info that I want to pass along: The holiday M&Ms are not in the candy aisle. Rather, they are in the holiday aisles! Yep, right along with ornaments, trees, and all your other Christmas needs. (I may or may not have been "jonesing" for some M&Ms while I was looking for them, and was very happy to see such an abundant supply in the Christmas section of the store!)
Step One: Paint the ball of your topiary with red craft paint. Let dry.
I painted just one coat, and wasn't too concerned if the paint didn't completely cover the green color of the ball. The paint merely serves as a better background for the M&Ms, if there's any slight "holes" between the candies.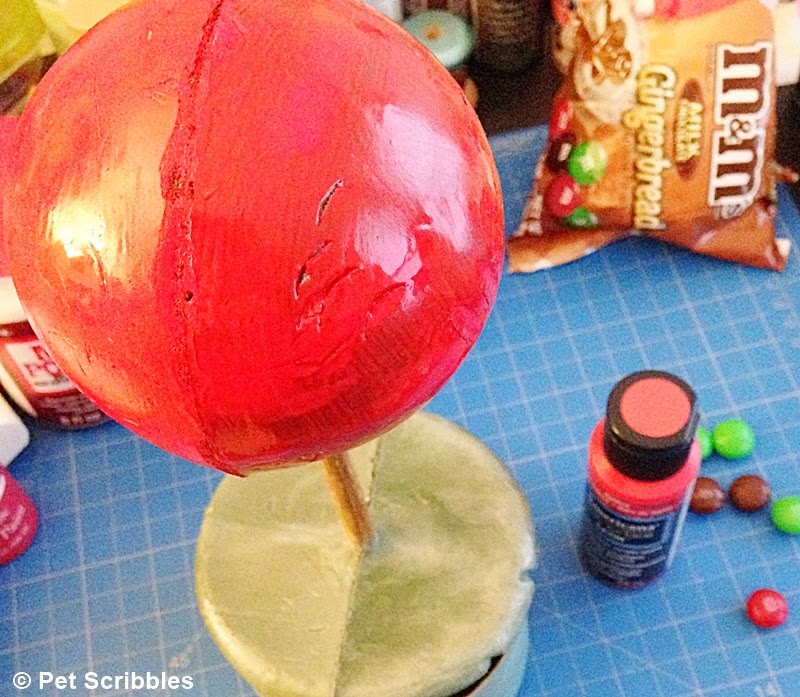 Let the topiary dry for several hours. I let mine dry overnight.
Step Two: Using glue dots, the kind made for extra-hold, attach the Gingerbread M&Ms to the topiary ball.
The easiest method for this is to take an M&M candy, push it gently down onto the glue dot (see picture as it will stick when attached) and pull it up from the backing. It might take a few tries at first until you get the hang of it.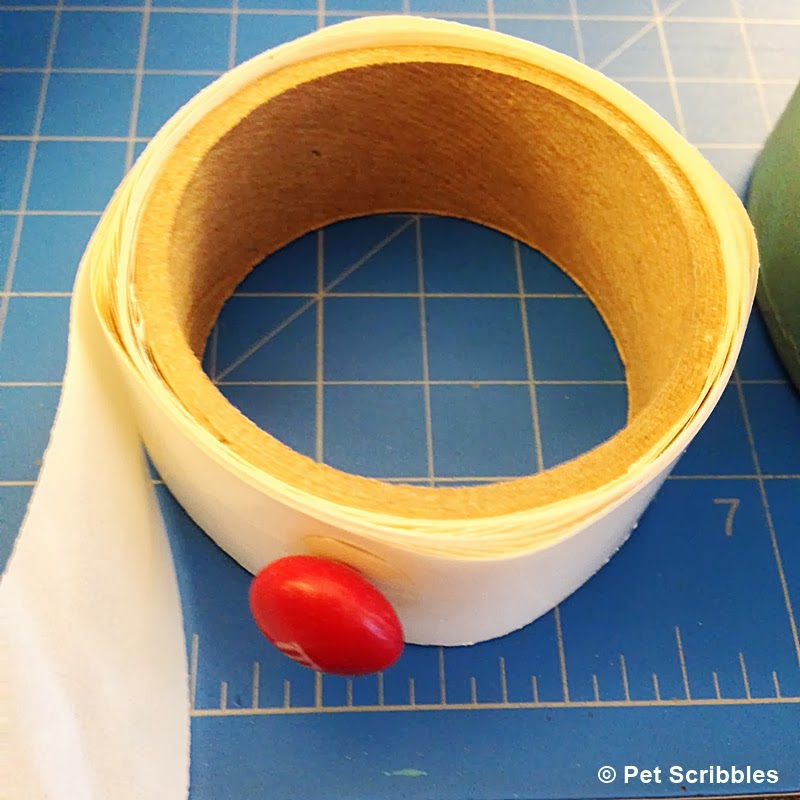 Starting at the top, attach the M&Ms.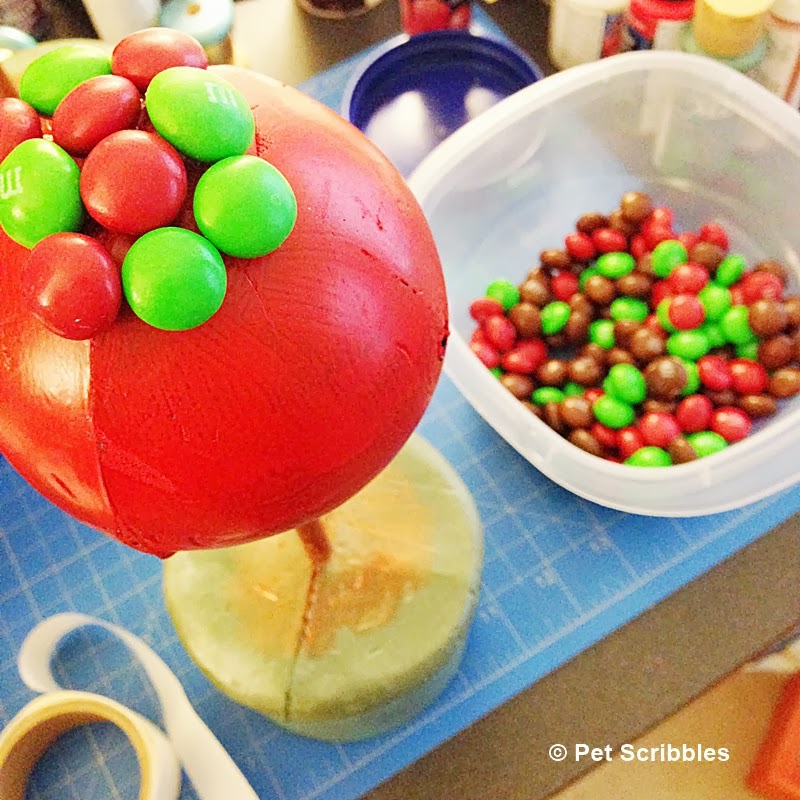 Step Three: Try not to eat the M&Ms while making the topiary.
Step Four: Try harder.
Step Five: Wrap the base of the topiary (the part that looks like a flowerpot) in burlap and place inside your decorative urn.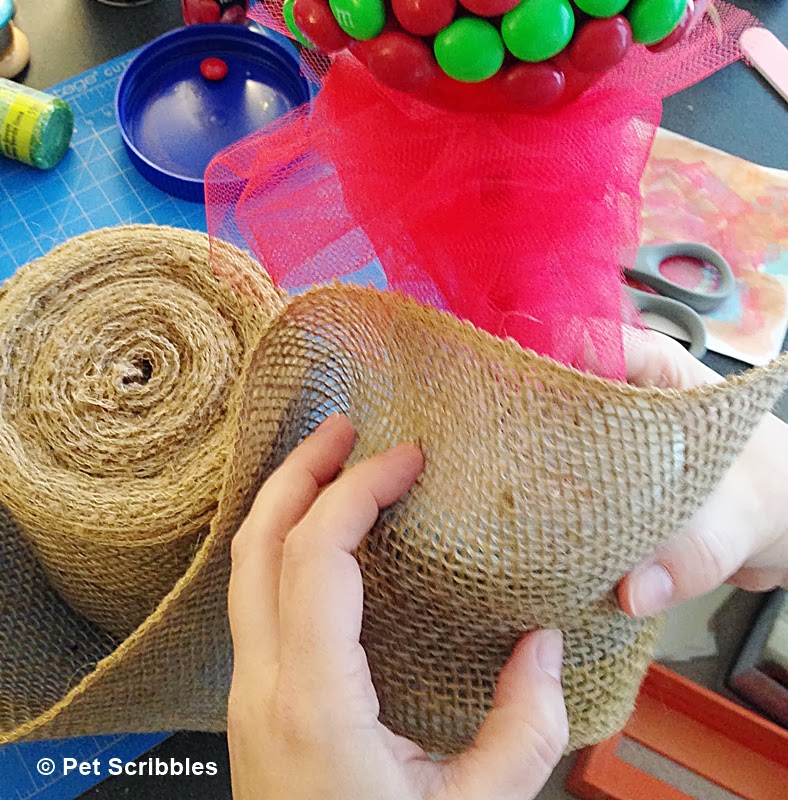 Use straight pins to pin down and secure the loose pieces of burlap. (Don't worry about the pins showing, as you'll cover them up in our next step.)
Remember my trash-to-treasure decorative gilded urn? I've been using it for my Fall decorations but mentioned I'd want to use it for Christmas too. This topiary fits perfectly inside!
Step Six: Wrap red decorative tulle or other sheer fabric or wide ribbon around the stem of the topiary, tie loosely and fluff it up.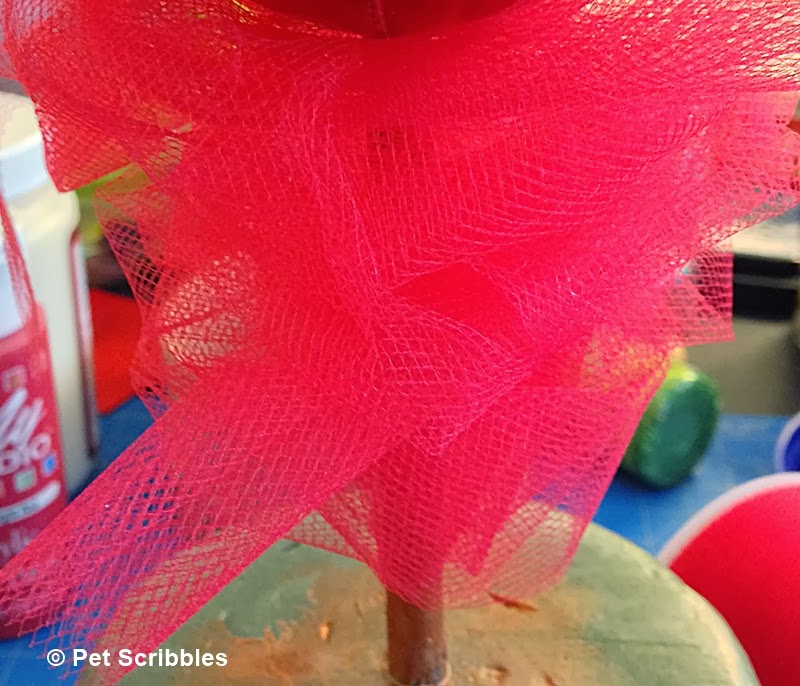 Step Seven: Add some jingle bells to the top of the burlap area, simply using more straight pins to stick them into the foam.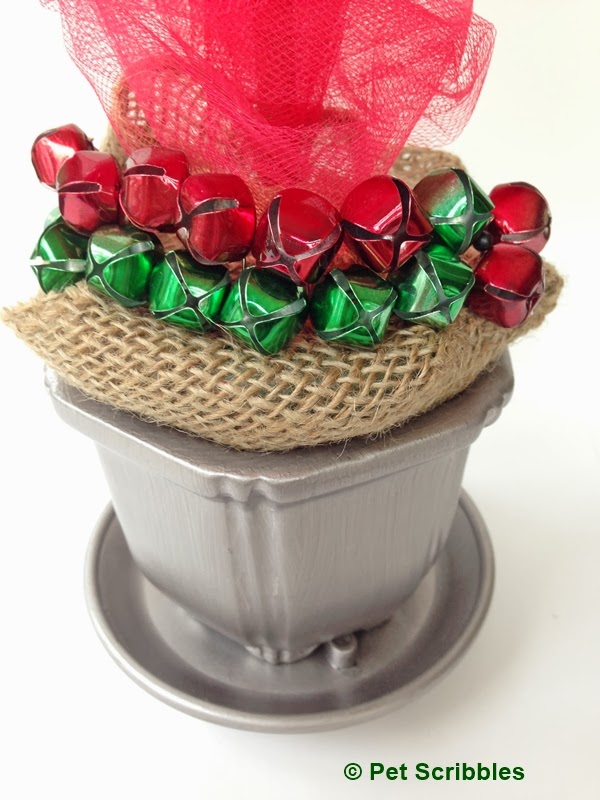 And that's it!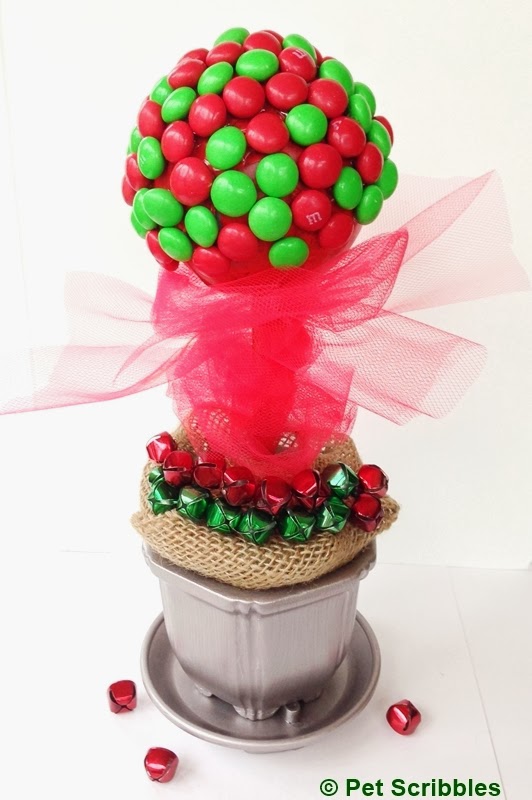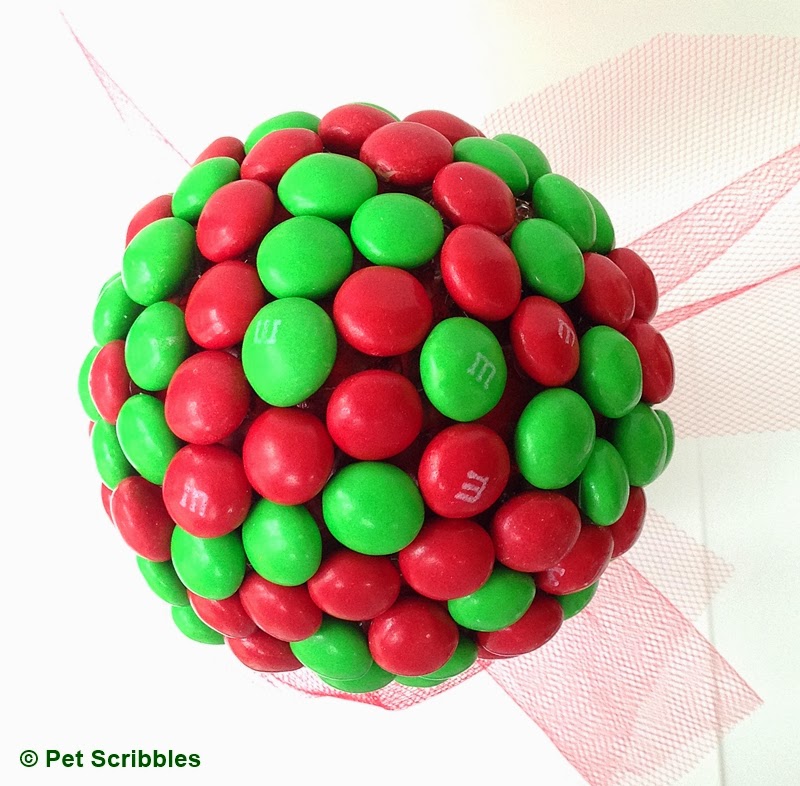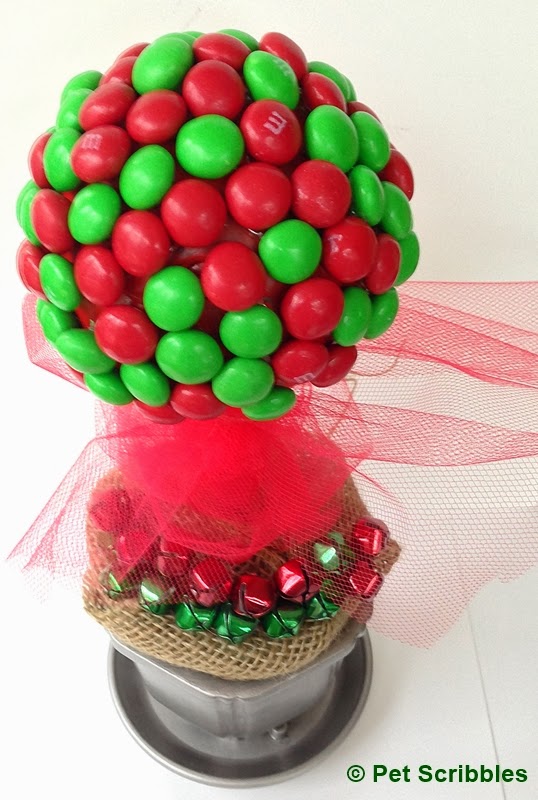 And remember – buy some extra M&Ms so you have enough to eat and to craft with! 😉
~Laura