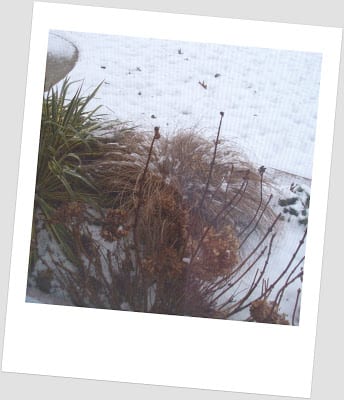 Little bit of snow, front garden bed, through window
What a glorious way to start the morning! My husband looked out of the blinds in our bedroom and said, "You are going to like this!" Instantly I knew it was snow, glorious snow! I bounded — yes, literally I do think that is the best word to describe my moves — out of bed, over to the windows, and there, in all its splendor, was fallen snow! A thin blanket, just enough to cover the ground, and make our yard look so pretty!
Are you feeling the peacefulness of the scene? The beauty of the moment?
Because that's not actually how my day started.
My day started with our cat Lulu stepping on my closed eye with one of her paws, as she was climbing over me. "Not the face!" were my first words uttered this morning, as they are on many mornings when Lulu does some variation of connecting my face with a part of her, whether fur, paw, tail, or cute (but cold!) nose.
Then the first paragraph above occurred . . .
But the "beauty of the moment" was quickly broken by Lulu walking by with a small dingleberry on her fluffy pantaloons. And the realization that she walked over my face like that.
Ick, right?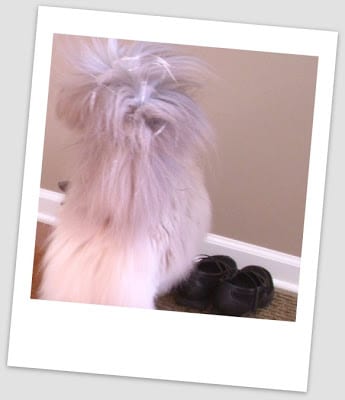 Lulu's tail and her fluffy (and clean!) pantaloons
Shortly after that it began to rain, and the snow is expected to wash away. But for a brief moment there, it was so pretty!
~Laura