Make this colorful Fork and Spoon Kitchen Art using vintage adhesive embellishments instead of actual utensils! Yes, the fork and spoon are dimensional stickers! So fun and so many possibilities!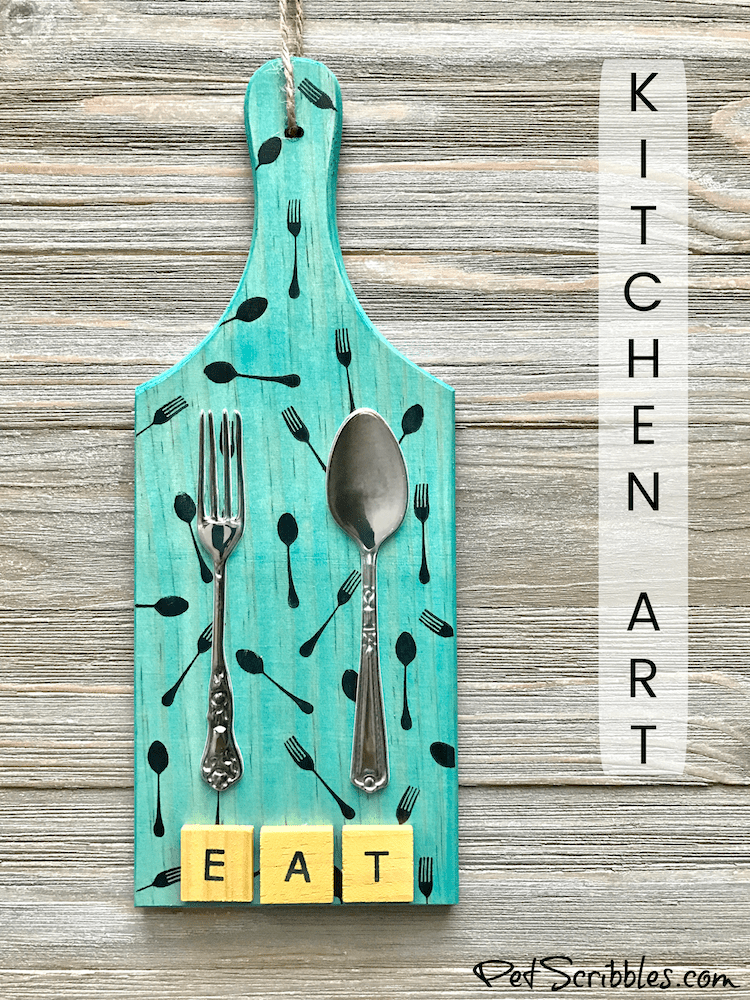 Check out these vintage utensils!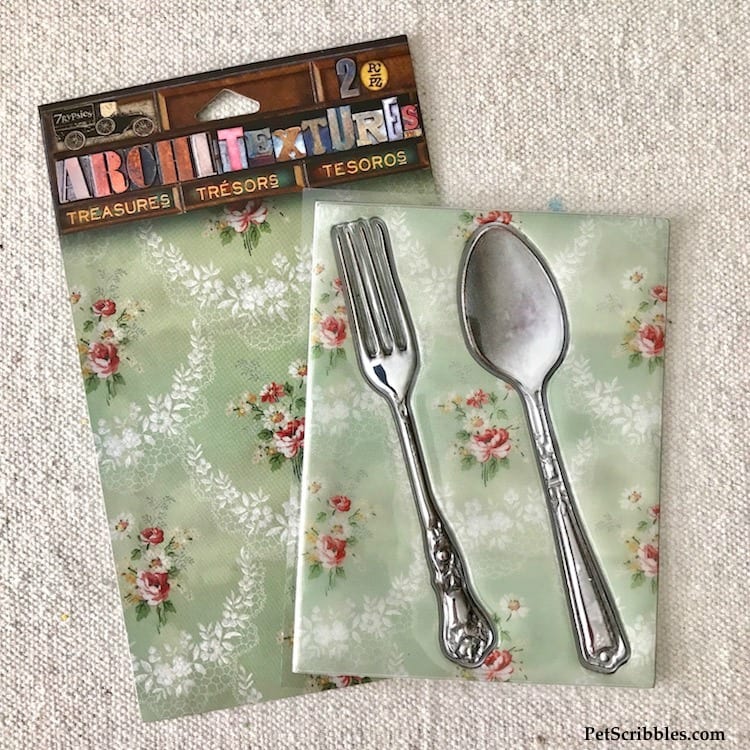 They are adhesive embellishments, which is another way of saying they are stickers!
Stickers!
They will stick to your crafts, your projects, your mixed media pieces, you name it!
As soon as I saw this utensil set, I knew I was making Fork and Spoon Kitchen Art, because I've had some tiny fork and spoon utensil stamps for a few years now, that I've yet to use on a project.
Do you get excited when you realize you're finally going to use one of your craft supplies that's been sitting around for awhile?
Yeah, me too!
7gypsies Architextures line!
If you've been to Michaels recently, you may have seen the newest line from 7gypsies, called Architextures.
A popular part of the Architextures line is the Trinkets, Treasures and Findings, which are beautifully designed vintage adhesive embellishments.
Each one was inspired by actual vintage objects and flea market finds, and have the look and feel like the actual objects in real life!
I'm in love with these and have begun a collection.
They're each so unique, you'll have a hard time choosing which ones to get first!
The best description is from the 7gypsies website:
"…this collection brings to life vintage objects turning them into craftable products."
The fork and spoon I shared with you earlier is part of the Architextures Treasures line.
Here's a couple of pictures I took at my local Michaels store, so you know what to look for: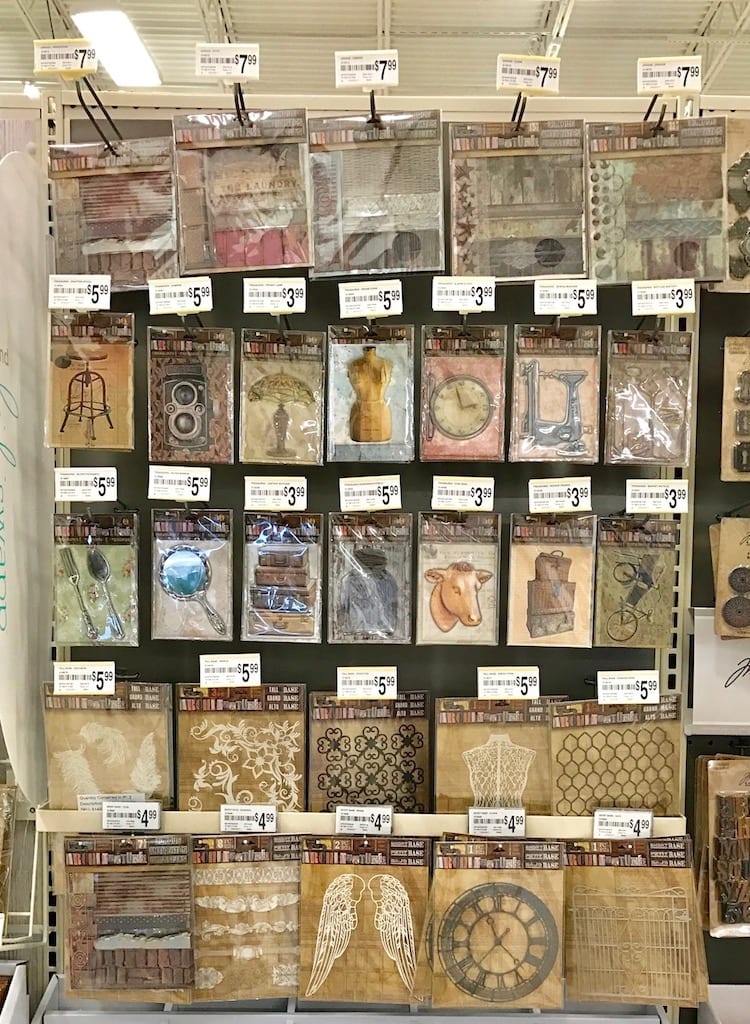 Many of the "Treasures" vintage adhesive embellishments are shown in the image above. (Think of these as the larger elements in this Architextures line.)
To really appreciate these products, you need to see them up close.
Each one looks and feels so real!
In the image below, you can see many of the "Findings" and "Trinkets" — which are smaller than the "Treasures" but still every bit as amazing in terms of the look and feel of actual vintage items.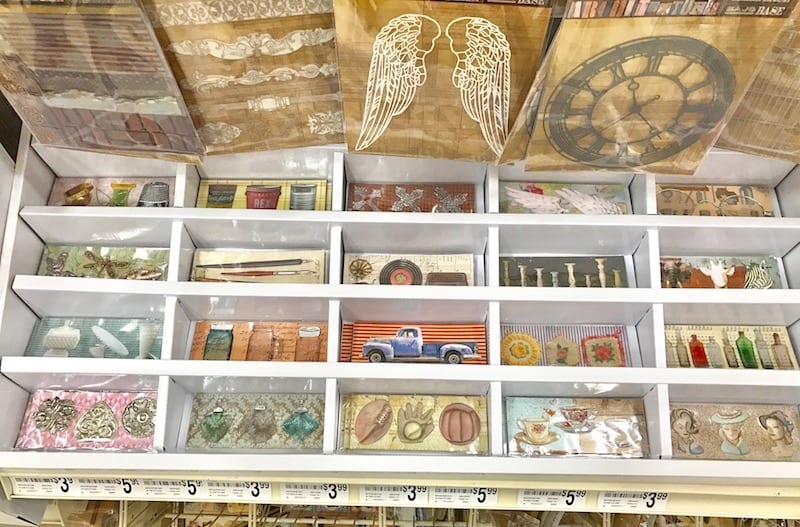 Oh, and I can't forget to point out the packaging, because it's specifically designed to be used — every bit of it!
Below is what the back of the Fork and Spoon packaging looks like.
You can cut this up and use the various images in your projects. Nothing is wasted, which is great because everything is so pretty.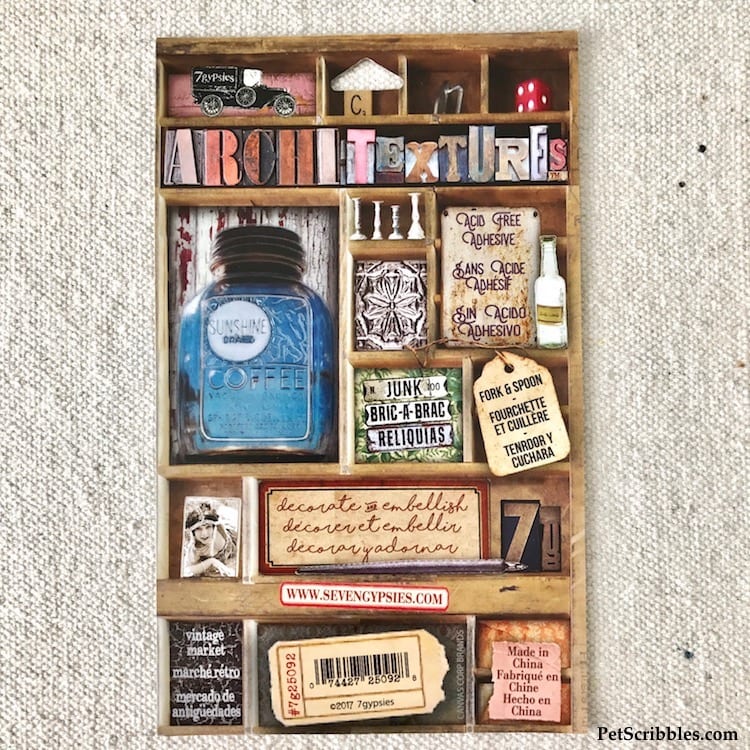 If you love all things vintage, then you will love the Architextures line!
FTC Disclaimer: I've received products/compensation being a member of the Canvas Corp Brands Creative Crew and a Plaid Crafts Ambassador. This Fork and Spoon Kitchen Art, however, is 100% my own project! Some of the links in this post are affiliate links. I explain more here.
Where to find Architextures . . .
You can find the 7gypsies Architextures collection online at the 7Gypsies website.
Architextures is also available at Michaels and Pat Catan's Stores nationwide, and in select craft and scrapbooking stores and websites.
You can also find many of the Architextures pieces on Amazon as well.
Fun tip:
Not every store will have all of these magical findings, while Michaels will carry a few designs you won't be able to find anywhere else.
This makes it like a fun treasure hunt, and can almost feel like I'm shopping for antiques, never quite sure what I will find!
Fork and Spoon Kitchen Art
Supplies:
Step One: If needed, gently sand the cutting board, and wipe away dust with a damp cloth. Let dry.
Step Two: Paint the wood with FolkArt Pickling Wash in Hidden Oasis. Let dry.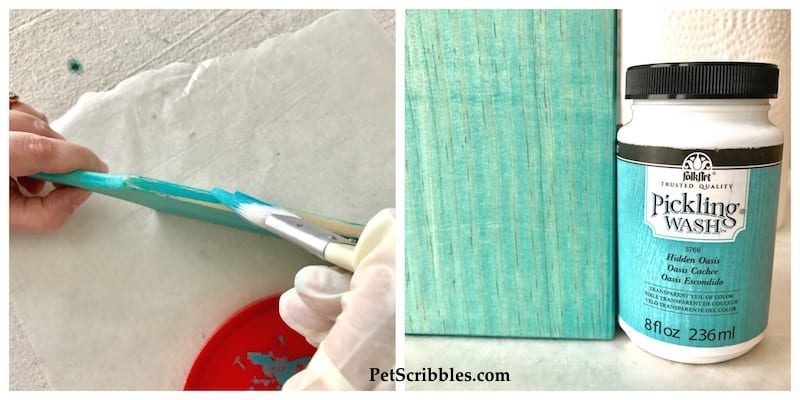 Step Three: Stamp fork and spoon silhouettes in a random pattern all over the front of the cutting board.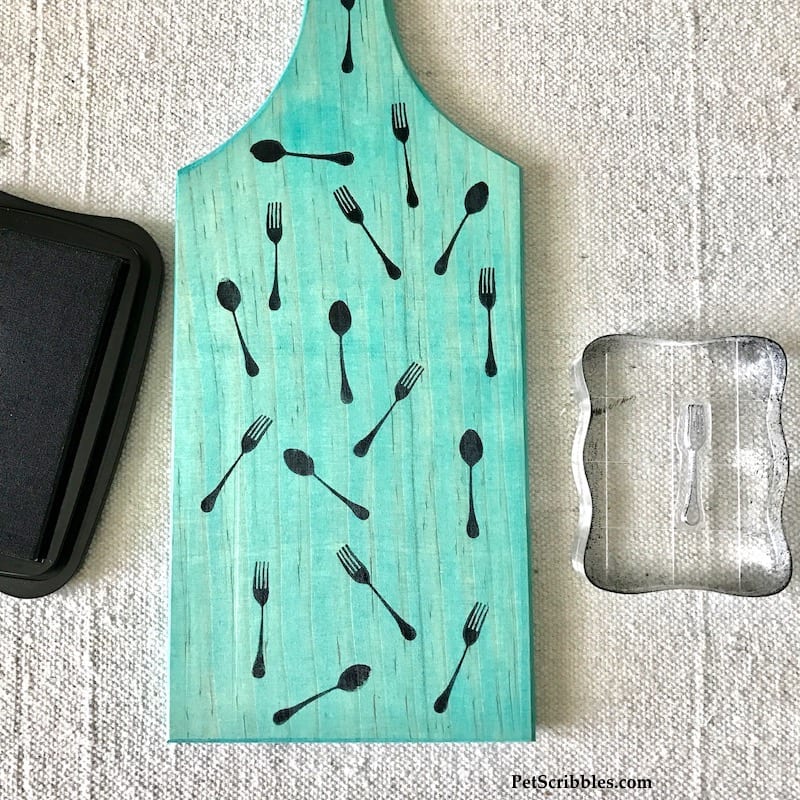 Step Four: Pick out word alphabet tiles and paint them with a coat of FolkArt Pickling Wash in Soleil. Let dry.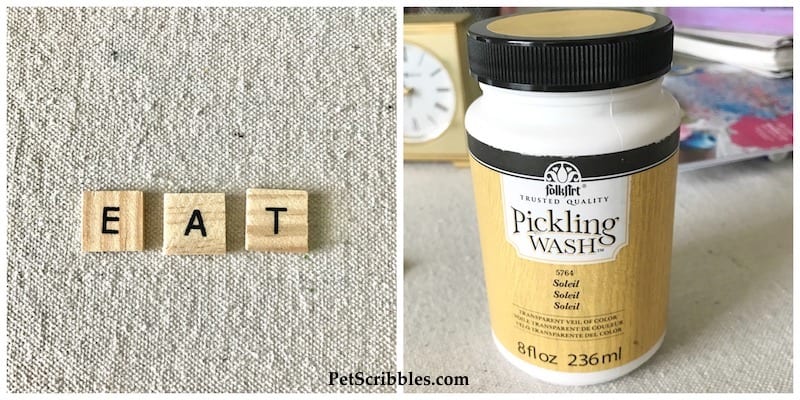 Step Five: Gather everything together and decide on placement.
You can see below that I added in some vintage lace. I ended up not using it, once I put everything together.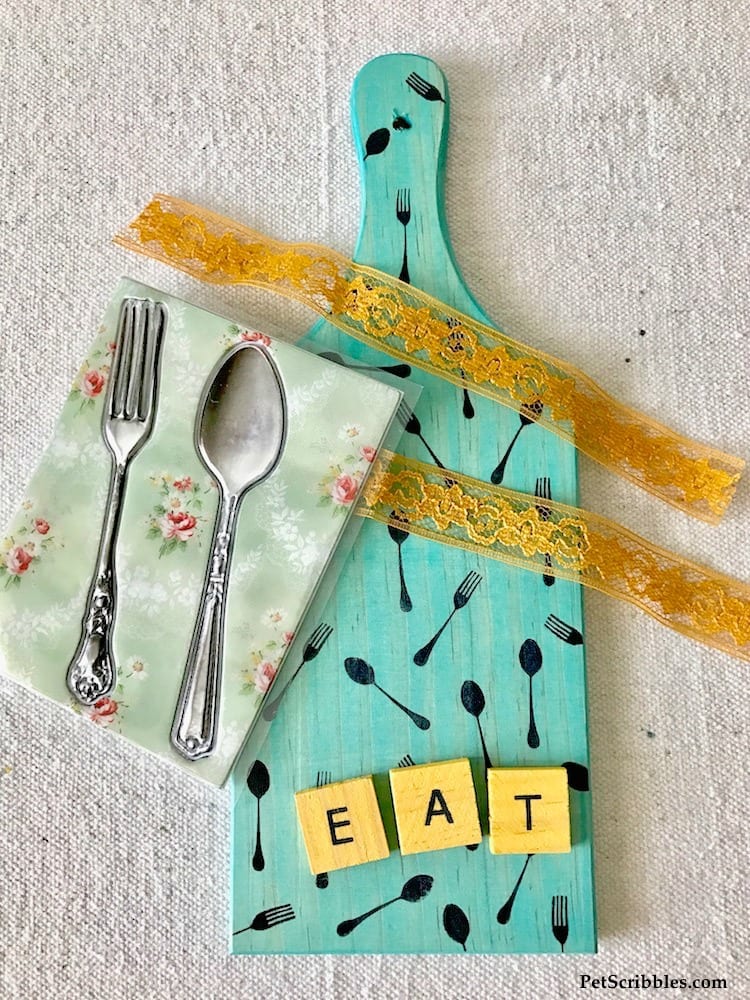 Step Six: Peel and stick on the fork and spoon adhesive embellishments.
Helpful tip: These adhered to the wood just fine for me, but if you need more "staying power" just add a tiny bit of E6000 to the back of each.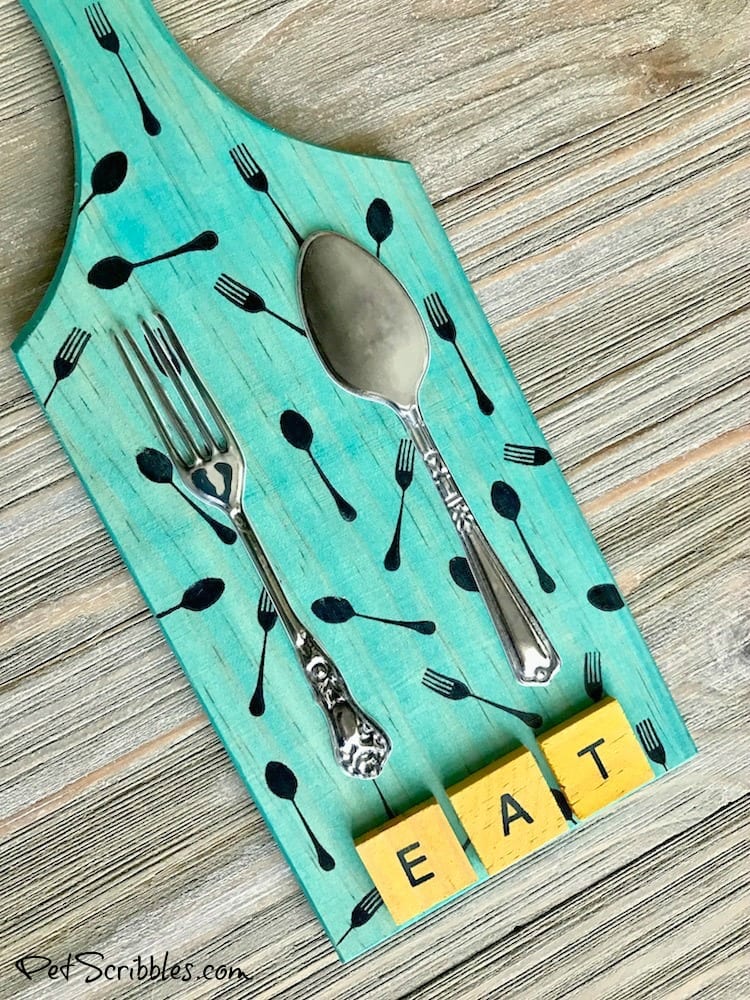 Step Seven: Attach the E-A-T alphabet tiles to the bottom of the cutting board, using E6000.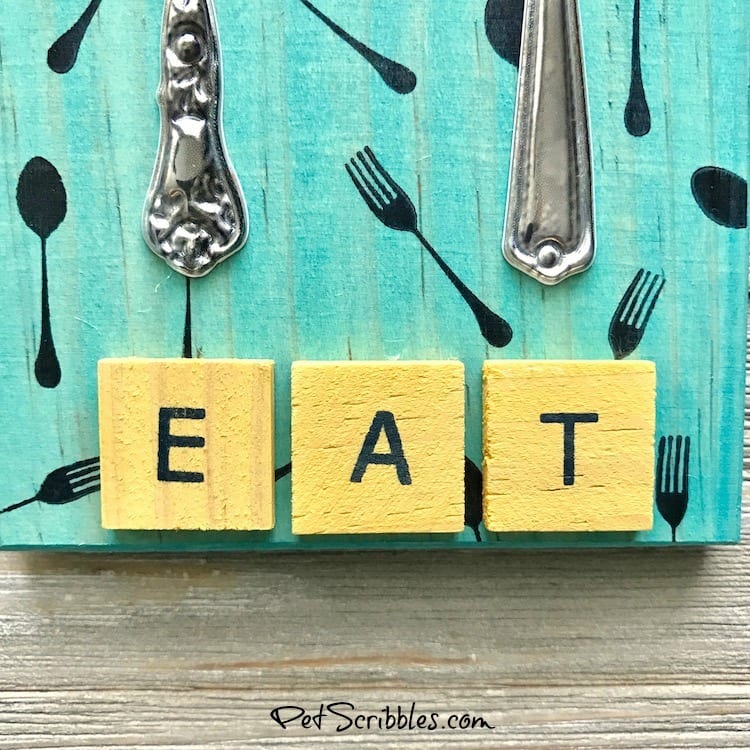 I love the yellow pickling wash color I used on the alphabet tiles!
All of the FolkArt Pickling Wash colors are so pretty — so I stacked them up outside: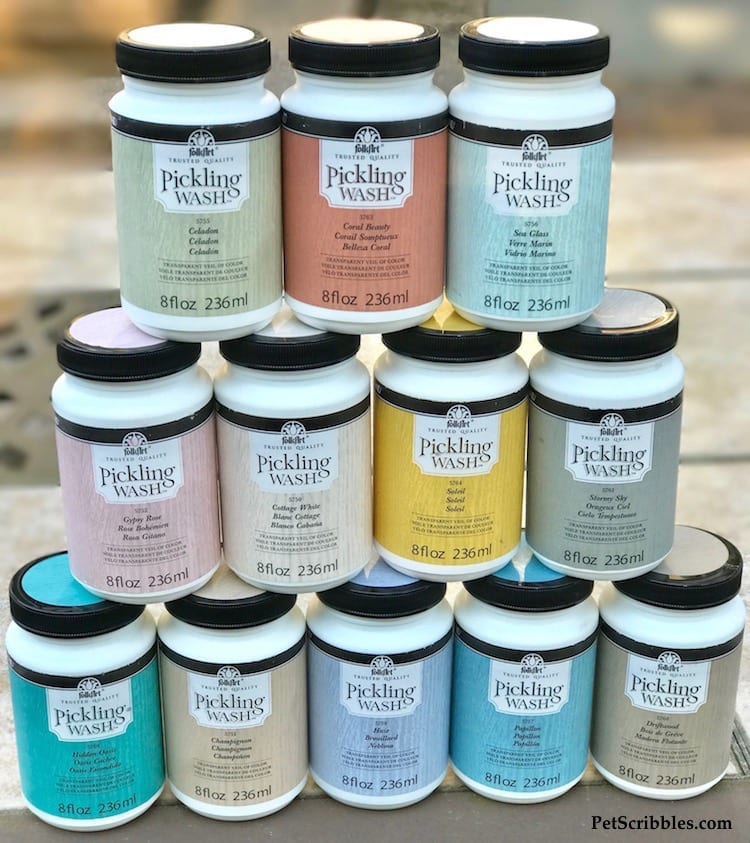 Now I want to use pickling wash on All. The. Things.
Choose a few colors that match your own decor, and you can customize this project to make it your own.
Here's my Fork and Spoon Kitchen Art!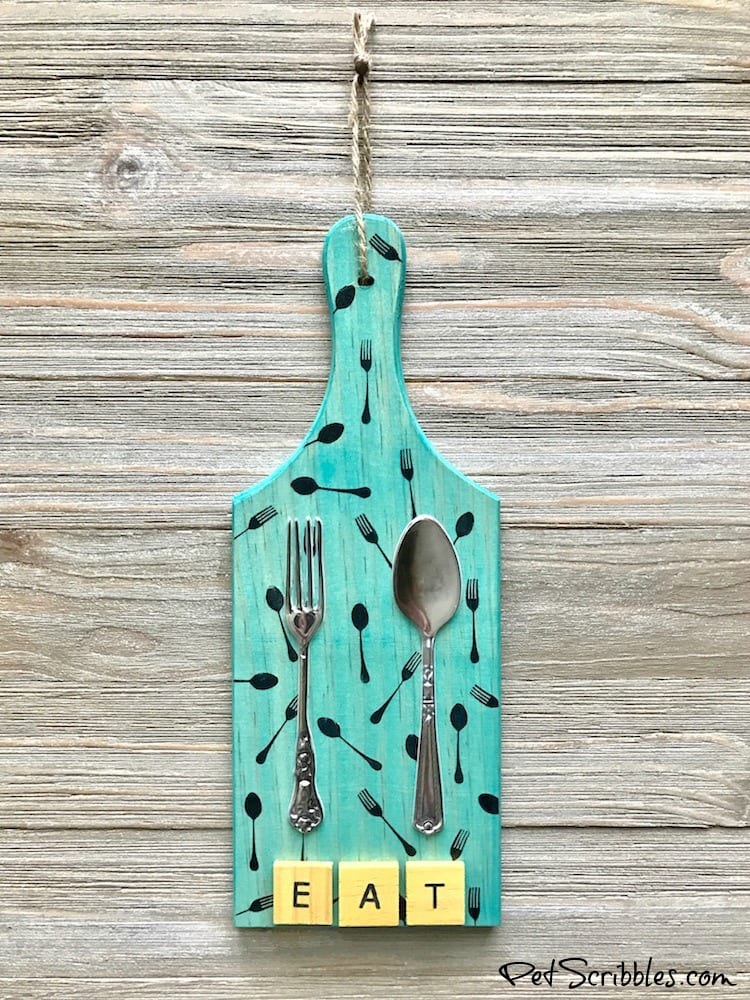 And here's another shot so you can see how the fork and spoon reflect the light — just like real utensils would!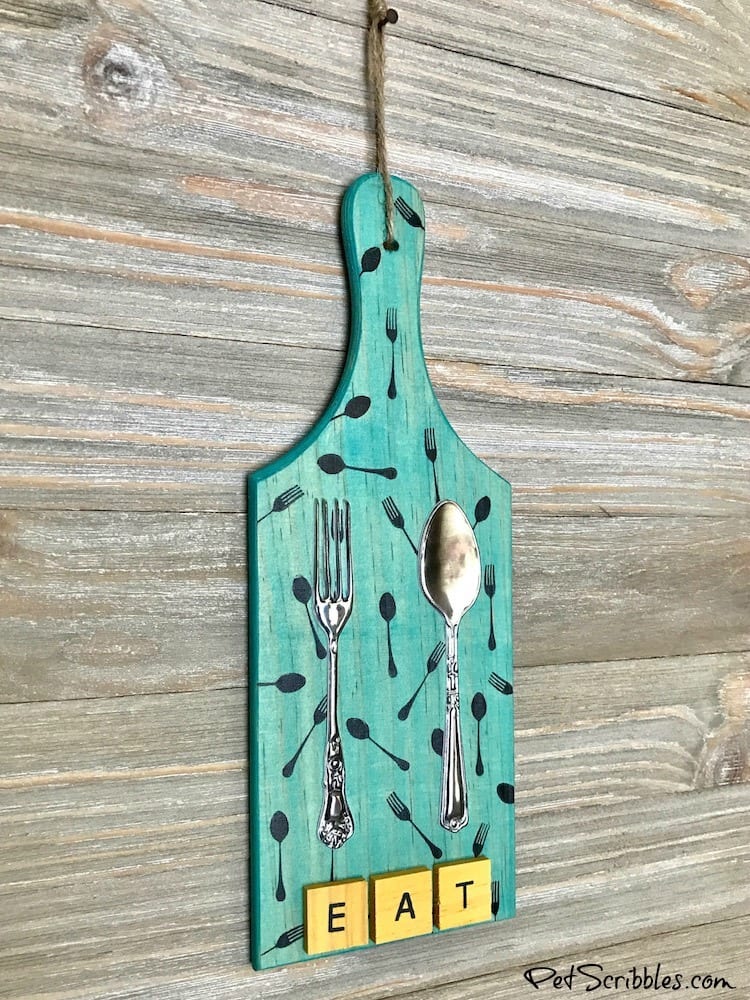 This was a simple project to do, and now we're enjoying it in our kitchen!
I hope you get a chance to craft with at least one of these stunning vintage adhesive embellishments, so you can see why I love them so much!
Happy crafting!
~Laura