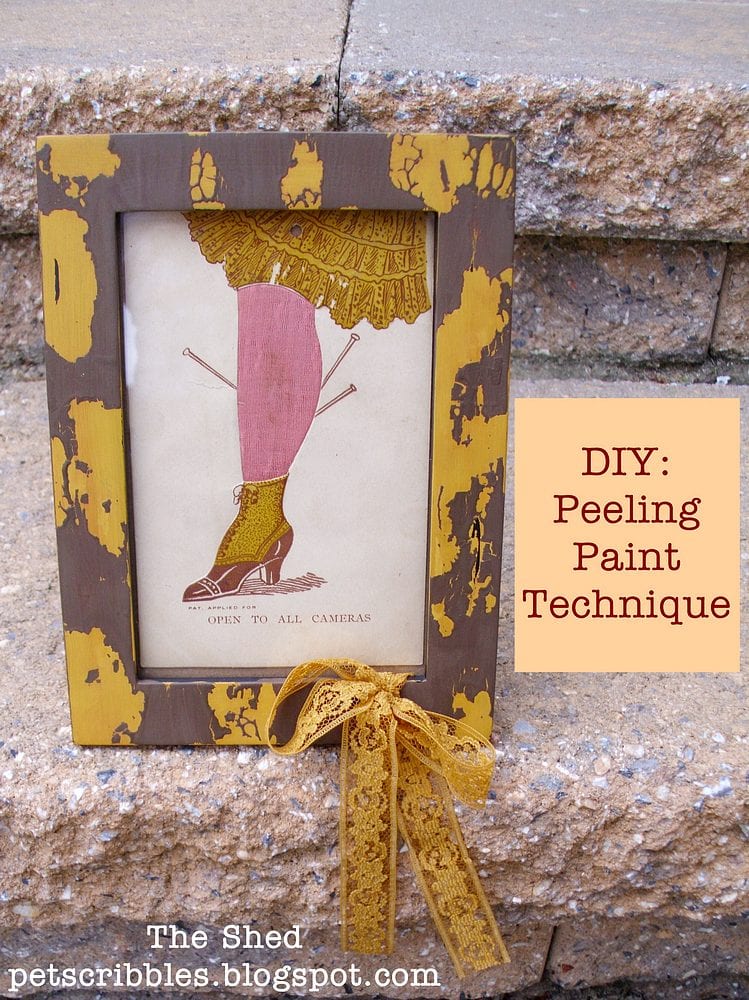 One day, long ago . . .
A few years ago, I purchased Collage Discovery Workshop by Claudine Hellmuth.
The book is filled with Claudine's tips and instructions on many different techniques involved in collage and mixed media artwork. Her tips on creating backgrounds for collage are really fun, and one technique in particular – Peeling Paint – is one I've always wanted to try on a wooden frame.
A few months ago, I was lucky enough to snag a very cool vintage postcard on Etsy. This was no ordinary vintage postcard, however. This was a pin cushion leg Victorian postcard. The seller said it is either Dutch or German from the early 1900s. This postcard has writing and a 1-cent stamp on the back. It is so awesome! Check it out . . .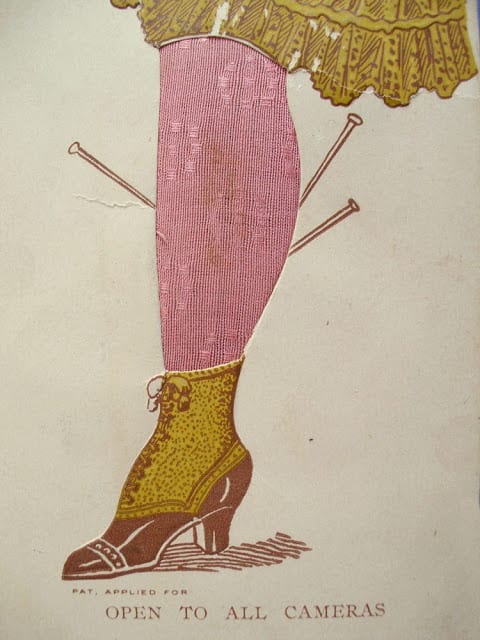 Victorian Pincushion Postcard
Cool, right?
I had no idea what I was going to do with it, but I knew it would have a place of honor in my home studio. And then it hit me: Claudine's Peeling Paint technique would be a great finish to show off this postcard.
Thus begins my own tutorial – with lots of credit and thanks to Claudine! (You should totally check out Claudine's
website
and
blog
too!)
Supplies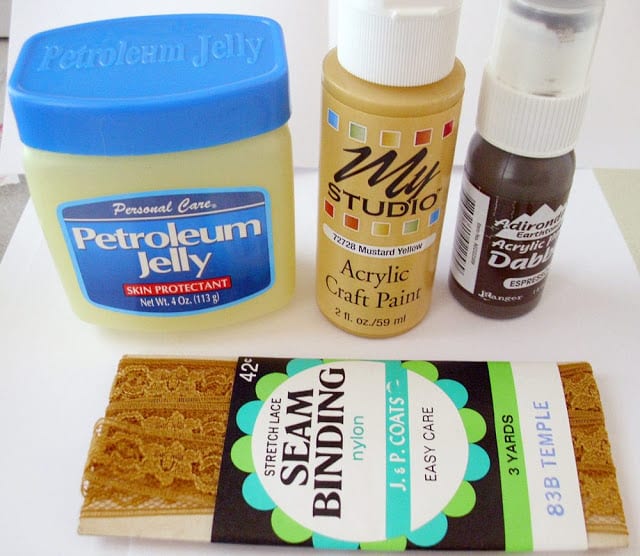 The must-have ingredient for this Peeling Paint technique? Petroleum jelly!
Craft Paint in Mustard Yellow
Craft Paint in Espresso
Petroleum Jelly
Sanding Sponge
Paper Towels
Paint brush
Baby wipes
Picture Frame – any cheap one from the dollar store, thrift store or craft store will be just fine.
Vintage lace seam binding – optional
Step One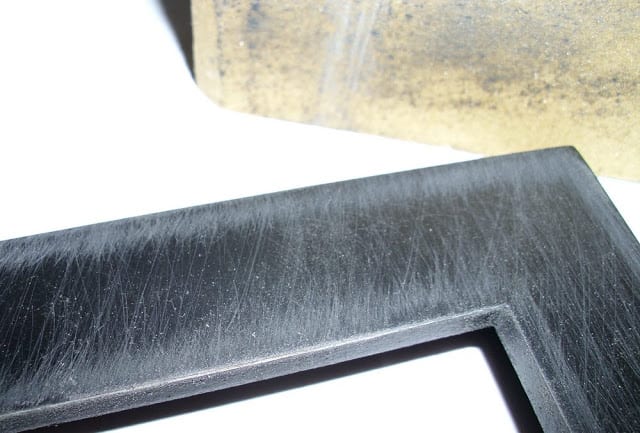 Detail of the sanded frame
Sand the frame. In my case, the frame I was using had black paint with a sheen on it already, so I did lots of sanding. Wipe the frame with a cloth to get all the dust off.
Step Two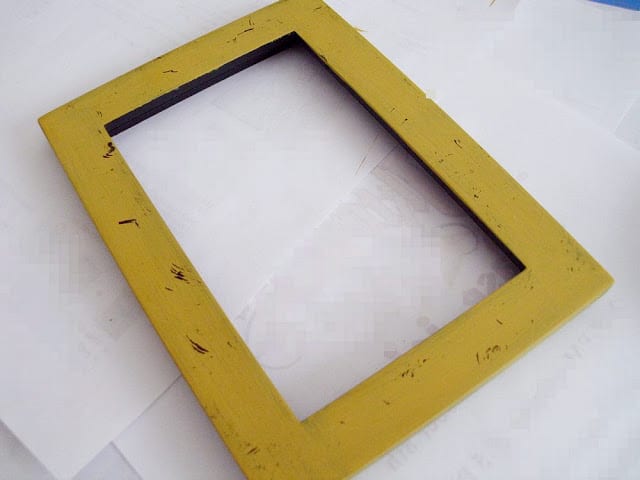 Frame has base color and distressing applied.
Paint your base color. You may need to do a few coats. I didn't start with any primer or gesso as a base, so I ended up needing 3 coats of the Mustard color. Let paint dry in between each coat.
Step Three
Distress the frame with some scrapes, nicks, and gouges. Once you're satisfied with the base color, and the frame is completely dry (I waited overnight), take the edge of your sanding sponge and add some scrapes, nicks, and gouges to the frame for a distressed finish. (This will relieve you of any minor stress – it feels good! ha!)
You could stop here at this point if you wanted to, and you'll have a frame that looks old and vintage.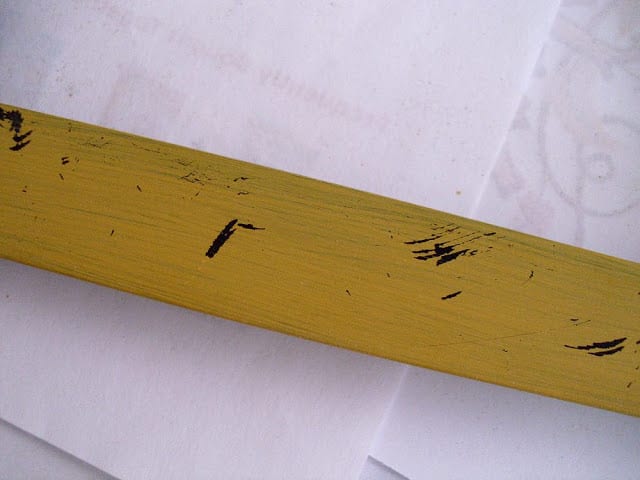 Close-up detail of distressing.
After I finished the distressing, I felt that too much black was still showing through the yellow paint, so I actually did one more coat – that would be coat #4 – and left it to dry for several hours. (Definitely use primer or gesso on a dark or black frame to cut down on the number of coats needed.)
Step Four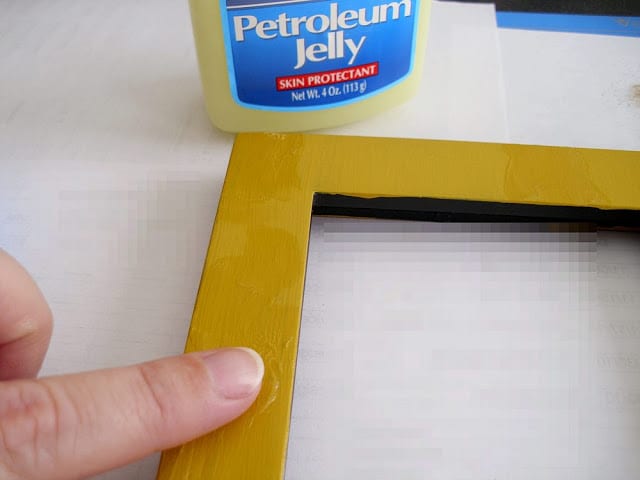 Apply petroleum jelly with your finger.
Add petroleum jelly. With your finger, add petroleum jelly to your frame in different spots, keeping in mind where you want – and don't want – the base color to show. Petroleum jelly acts as a resist, so any paint that is applied over the petroleum jelly will not adhere to the frame, thus showing off the base color instead.
This is the essence of the Peeling Paint technique, so I'm going to repeat it:
Petroleum jelly acts as a resist, so any paint that is applied over the petroleum jelly will not adhere to the frame, thus showing off the base color instead.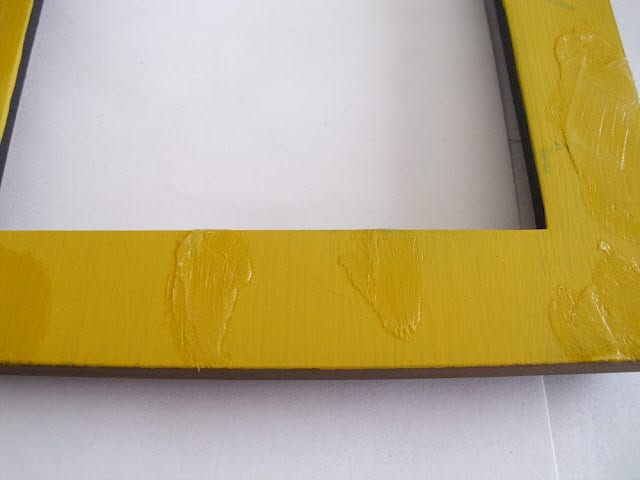 I used a nice thick amount of petroleum jelly on many spots all over my frame.
Don't apply the petroleum jelly too thin, but also don't use large chunks of it. The ideal amount is somewhere in between.
Step Five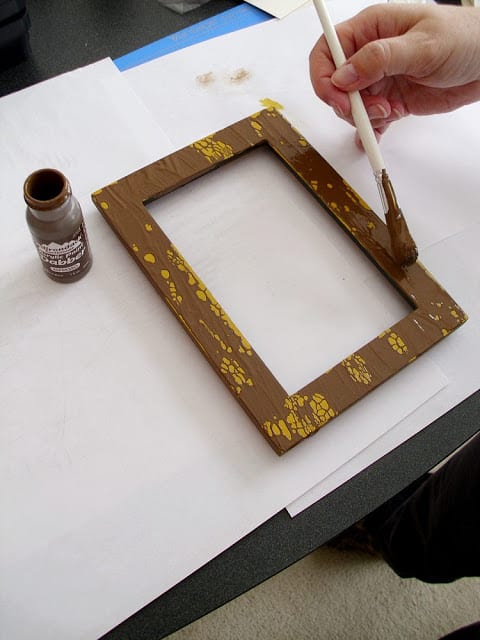 Painting the brown top coat.
Paint the top coat over the entire frame. I used a brown shade of craft paint. You will see right away that the jelly begins to resist this top coat.
Step Six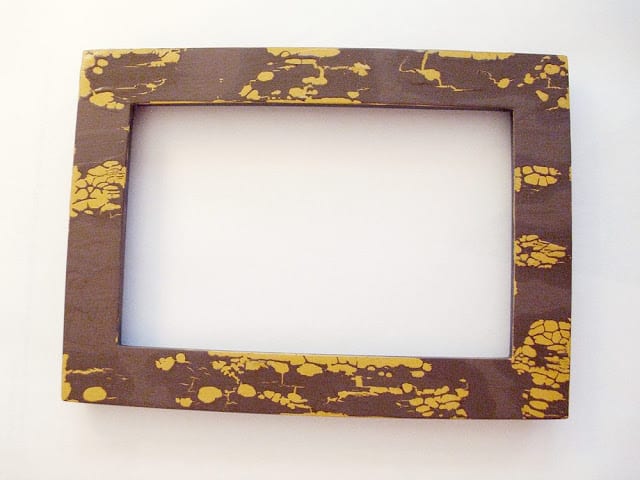 Frame with top coat painted over the petroleum jelly.
Allow the top coat to dry. I let it dry overnight.
Step Seven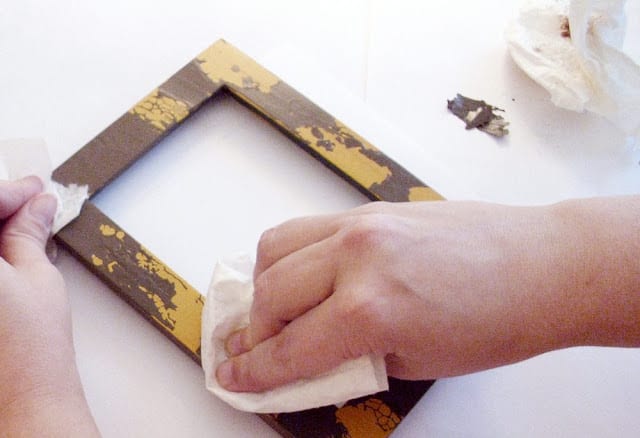 Wiping off the paint/petroleum jelly.
Wipe off the paint and petroleum jelly with paper towels. The top coat of paint that sits on the spots of petroleum jelly will easily come off. This step is messy yet satisfying as you begin to see results immediately! Once you are satisfied with how your frame looks, you will need to remove the grease left over from the petroleum jelly. I used a baby wipe all over the frame which worked great.
Step Eight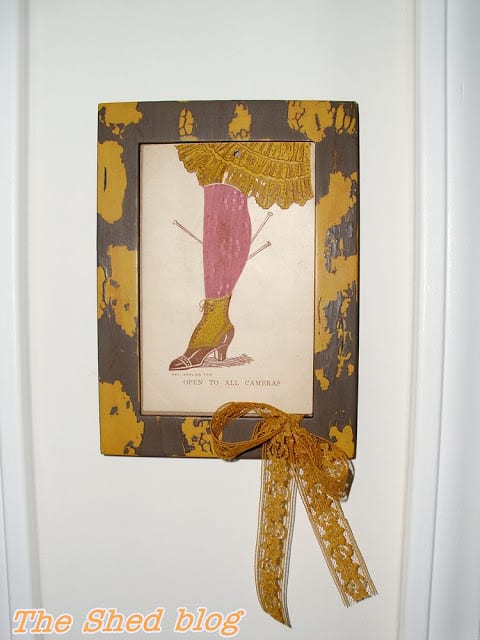 Finished frame with seam binding bow, hanging in my studio.
To finish off the peeled paint frame, I added vintage lace seam binding. I wrapped the seam binding around (and through) the bottom of the frame and tied it into a bow.
Back of the frame . . .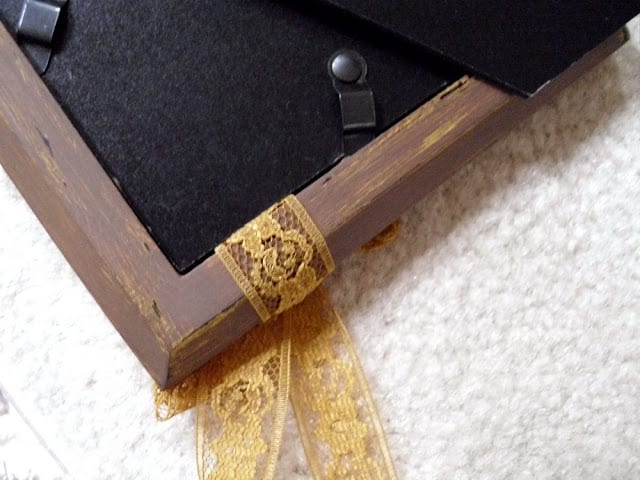 Close-up detail of back of the frame.
Don't forget the back of your frame. And what did I do to the back of the frame? I painted a few coats of the mustard yellow paint, then one coat of the brown paint. (Let dry in between each coat.) Then I simply took my sanding sponge and sanded with varying amounts of pressure to produce a distressed look. And yes, I added a few gouges too!
All done!

The possibilities and results are endless with this technique, depending on color combinations and how much (or how little) of your frame gets covered in petroleum jelly.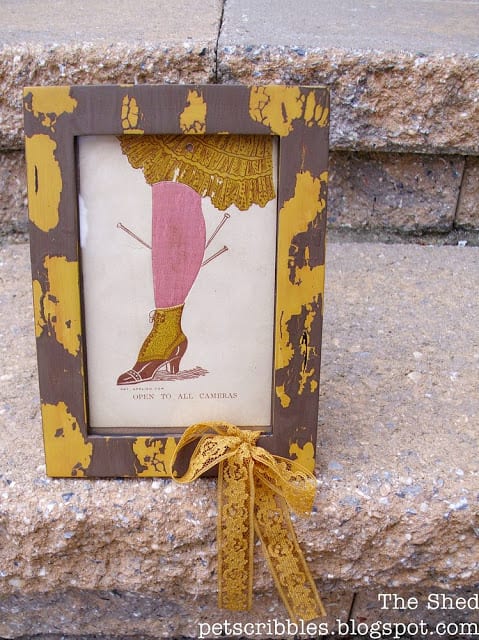 I love how this frame turned out, especially as the colors really flatter my vintage postcard. Yes, the above picture was taken outside for better light, but I have this frame hanging in my studio where I can enjoy it every day.
~Laura