Make a friendly popcorn box monster for Halloween! Popcorn box crafts are a popular Halloween craft for kids because it's fun and easy!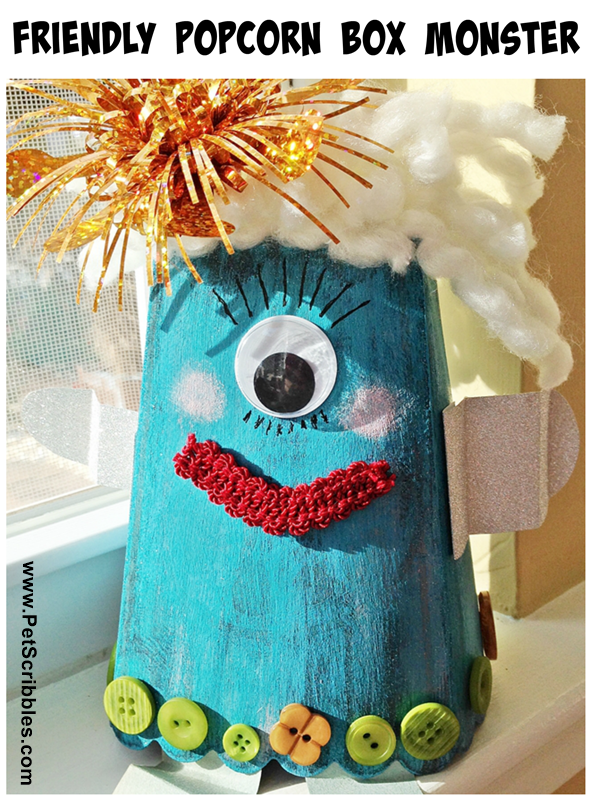 Today is all about crafting with popcorn boxes!
My friend Laura Kelly invited me to participate in this year's Halloween Popcorn Box Blog Hop Party!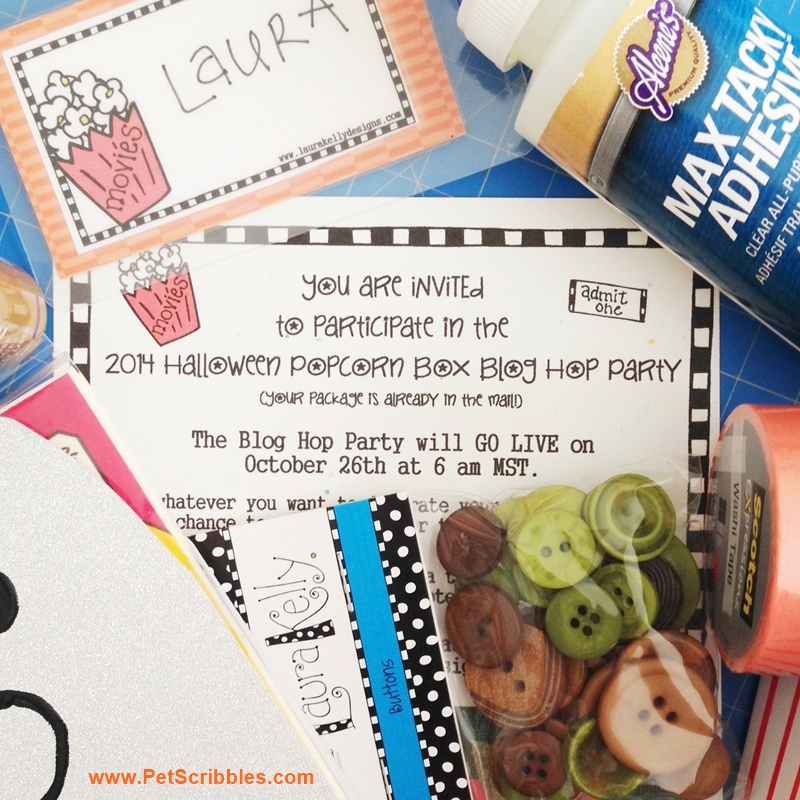 She included some fun craft supplies with the invitation and this adorable popcorn box: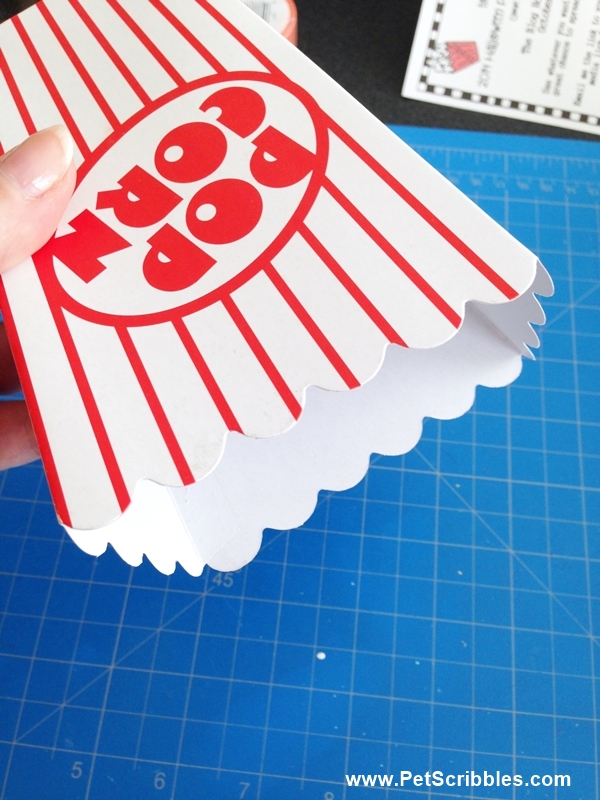 I immediately saw those scallops as the bottom of a dress, and decided I'd make a friendly popcorn box monster! And a female one for girls, because girls rock, right?
So gather your little girls around and see how easy it is to make one of these, then go and pick up some popcorn boxes and create your own friendly popcorn box monsters!
DIY Friendly Popcorn Box Monster
Supplies used:
Popcorn Box
DecoArt Chalky Finish Paints
DecoArt Glamour Dust Glitter Paint
Glue Dots
Googly eyes
Aleene's Turbo Tacky Glue
Laura Kelly Buttons
Micron black pen
Yarn
Vintage trim
Construction paper
Glittery cardstock
Upcycled bow
Scissors
Paintbrushes
Popcorn Box Monster Body:
I painted the popcorn box with several layers of paint until I loved the look of this little she-monster! I began with a base coat of Chalky Finish paint in an aqua shade called Escape. Then I dry-brushed Chalky Finish paint in pink (Innocence) next, just here and there in sections. Next came some black (Carbon) Chalky Finish paint, and then I went back over everything with an almost solid coat of the aqua paint. A touch more pink…and I was happy!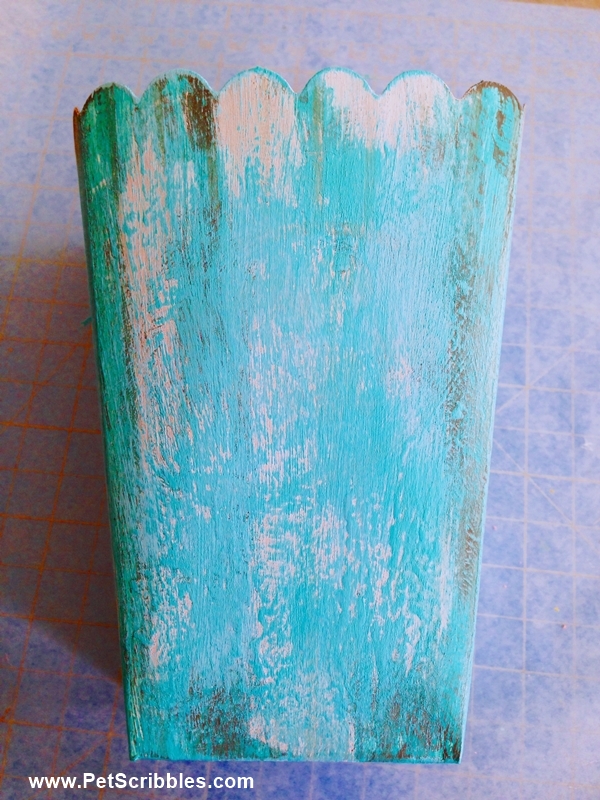 As this paint dries quickly, you can do this paint-layering step pretty fast.
For some sparkle, and to give my little she-monster a bit more aqua, I brushed on a coat of Glamour Dust Glitter Paint (in Turquoise Sparkle) and let dry.
Popcorn Box Monster Face:
I used a giant googly eye, and a black Micron pen to draw on the eyelashes. Her blush was applied with a tiny stencil dauber and pink Chalky Finish paint. Her mouth is a piece of vintage trim that I curved into a mouth using mini Glue Dots to keep its shape and attach it to the box.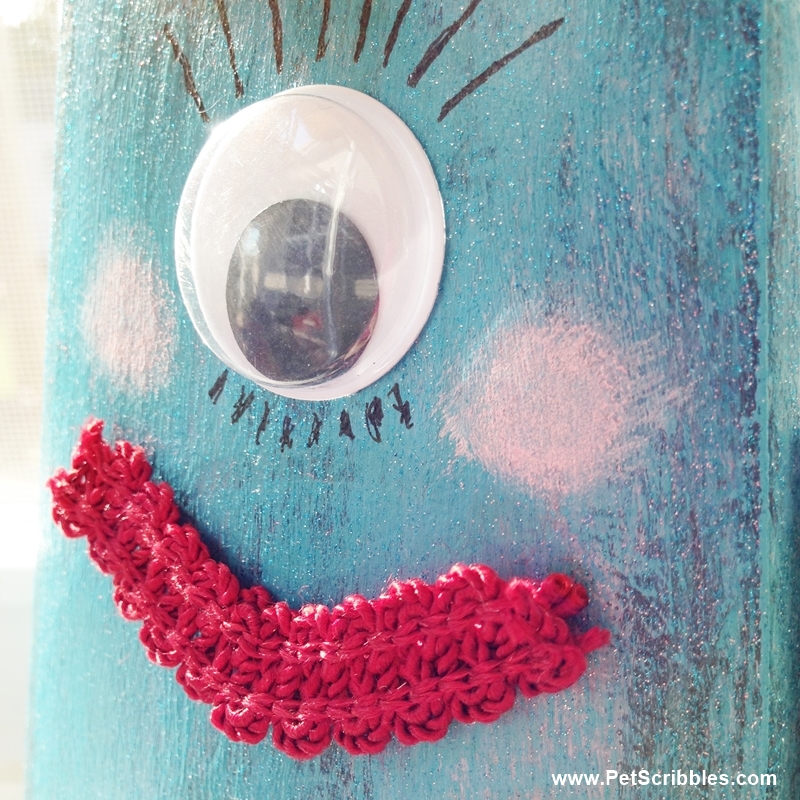 Popcorn Box Monster Arms:
I cut out some glittery cardstock, two different sizes on purpose, to make the arms. Once cut out, simply put a few accordian folds in the paper, then secure it to the side of the popcorn box with Glue Dots.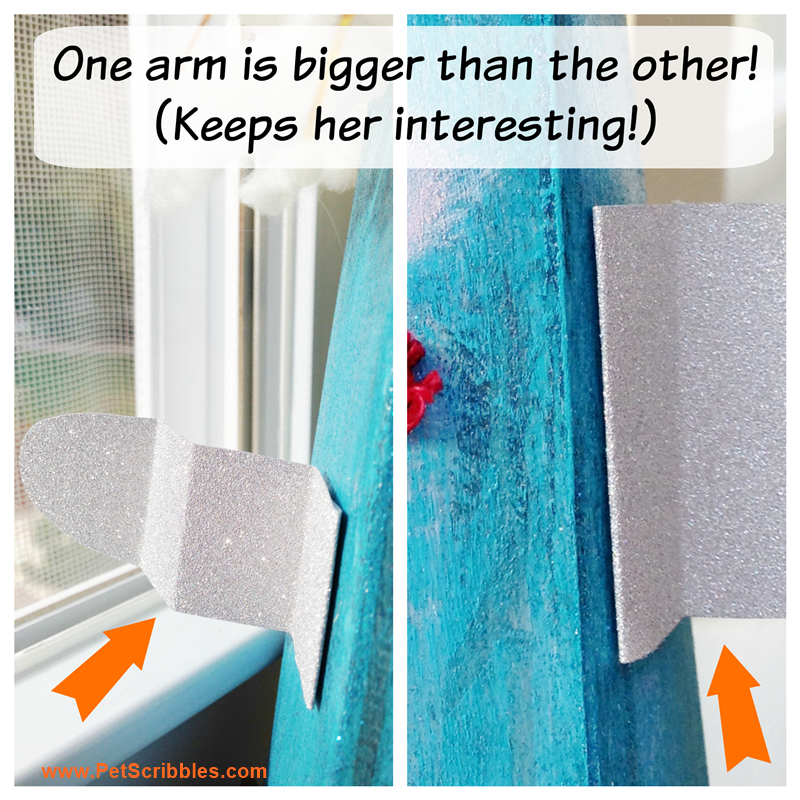 Popcorn Box Monster Hair:
I used white yarn, cut into small pieces, and attached them to the bottom of the box (which is the top of her head) using Aleene's Turbo Tacky Glue. I criss-crossed the layers of yarn and glued more pieces on here and there until I liked her hairstyle! Of course she needed something fancy in her hair, so I used a leftover bow from some previous gift I had received. The bow was attached using more Aleene's Turbo Tacky Glue. (I'm a total bow and ribbon hoarder when it comes to gifts and packaging!)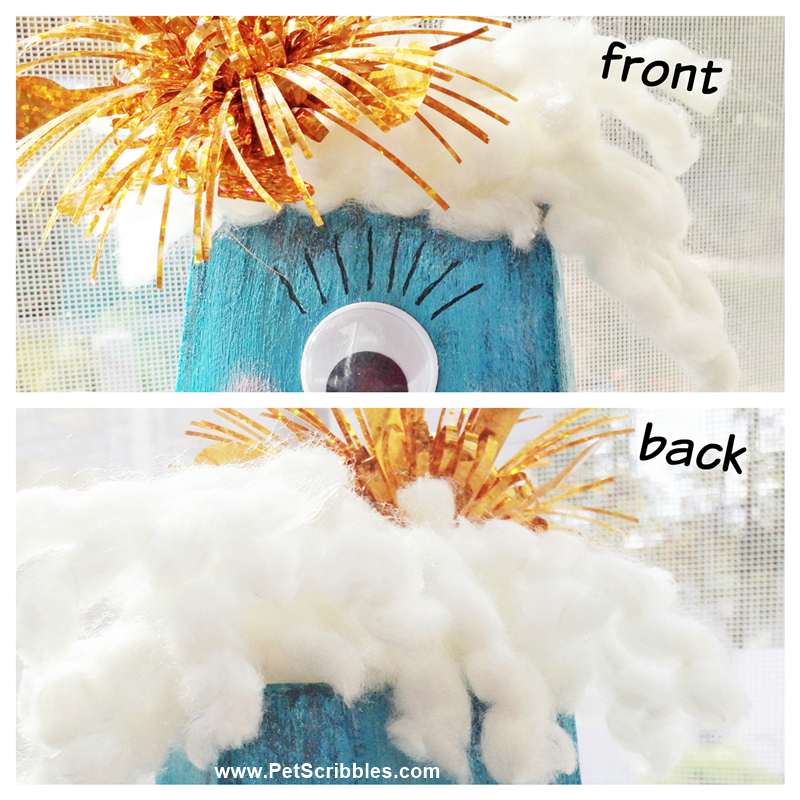 Popcorn Box Monster Dress:
I attached some pretty buttons (Laura Kelly Designs for Buttons Galore) along the scallops at the bottom. The buttons came in an awesome little package, and I loved how the green shades played off the aqua color of the dress. I added a few light brown ones too, including a cute flower button in the collection.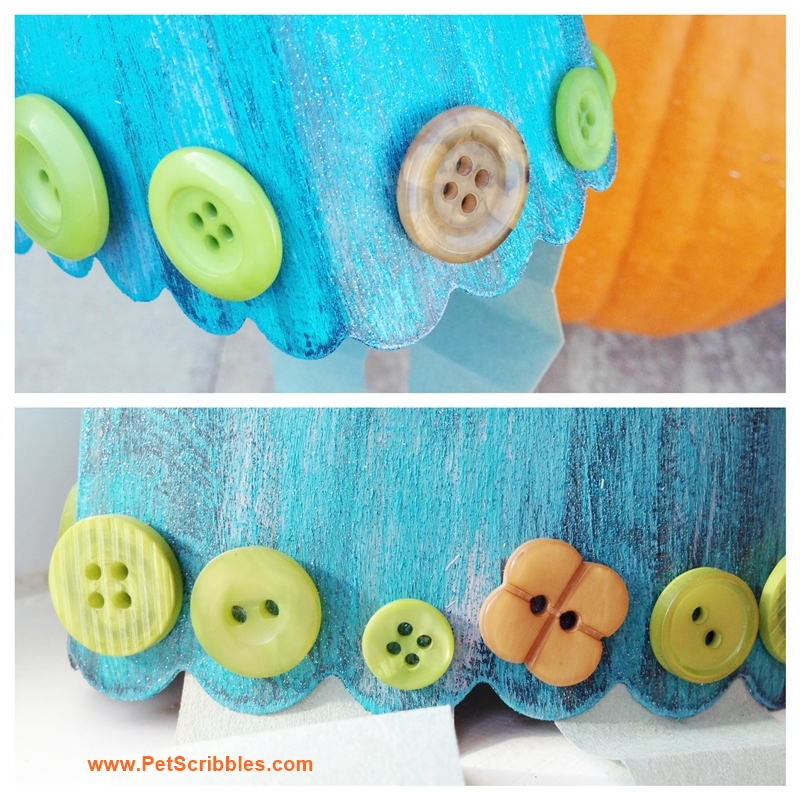 Popcorn Box Monster Legs:
I cut two strips of pale aqua construction paper and made a bunch of accordian folds for the legs. I attached them just inside the bottom of the "dress" using Glue Dots. The feet are simply two hand-cut rectangle-square-ish shapes cut from the same glittery cardstock used for the arms.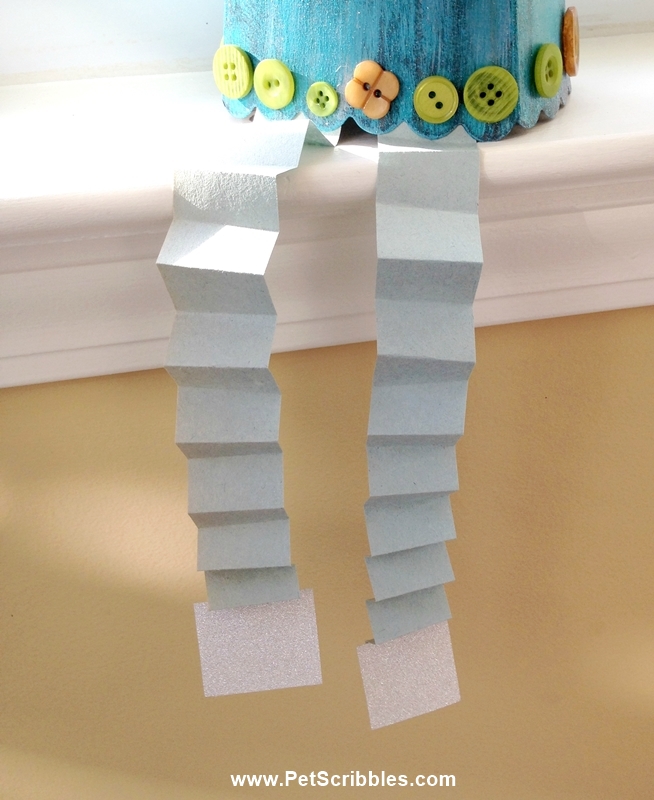 Almost all of the materials used came from my existing craft supply stash. Use what you have, as that makes it even more fun. This craft is a great way to use up those extra paper scraps and craft supplies!
Here's my friendly popcorn box monster!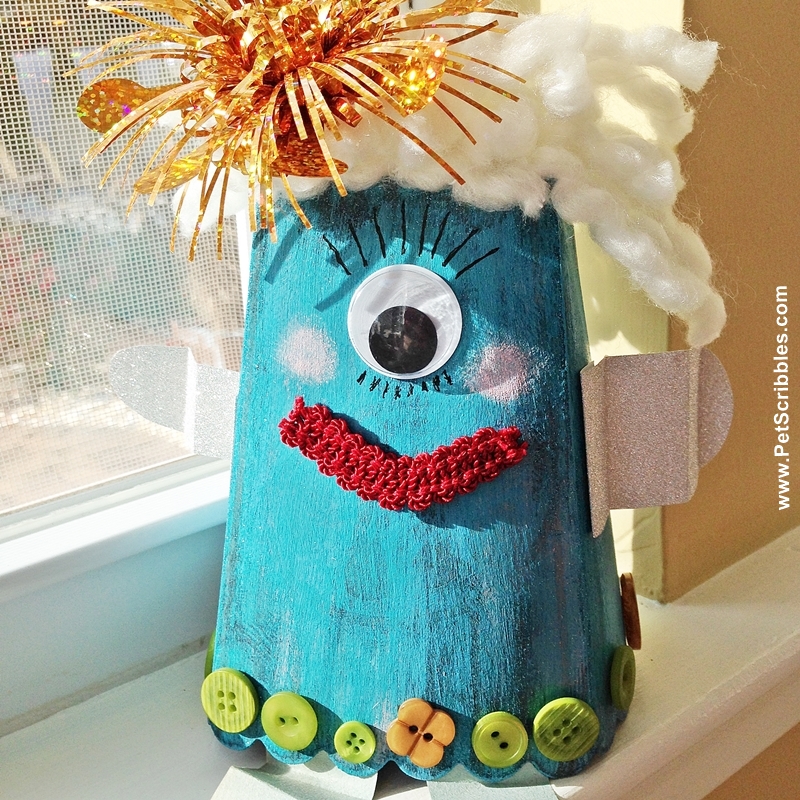 Isn't she cute?
Thanks to Terri for suggesting the perfect name in the comments below:
Eye-vye for Ivy, due to her pretty single eye! 🙂 Love it!
Here she is playing outside among the pumpkins . . .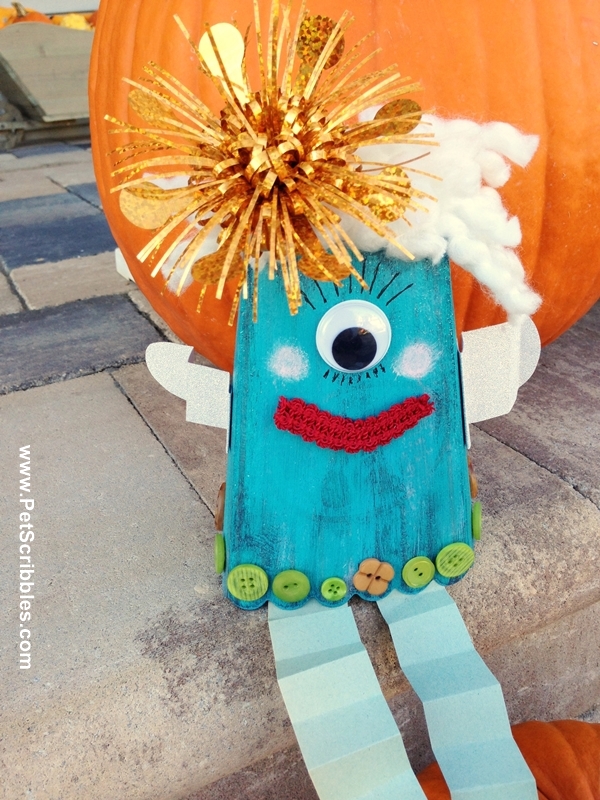 She loves to stretch her legs . . .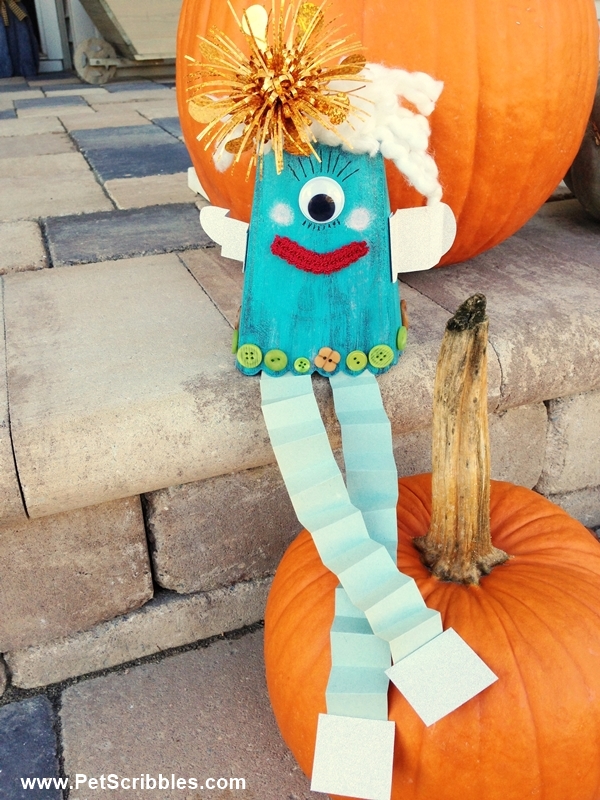 And now she just waits patiently for Halloween, so she can help give out candy to all of the trick-or-treaters!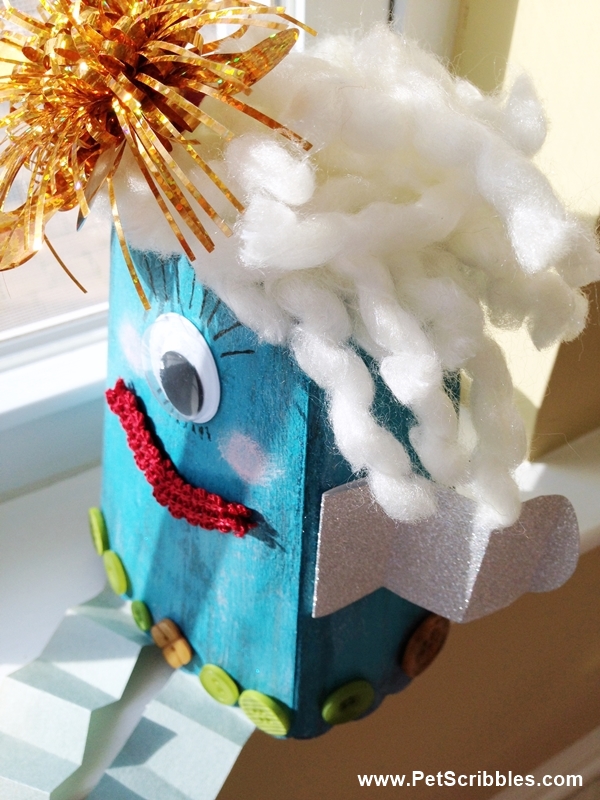 Happy crafting!