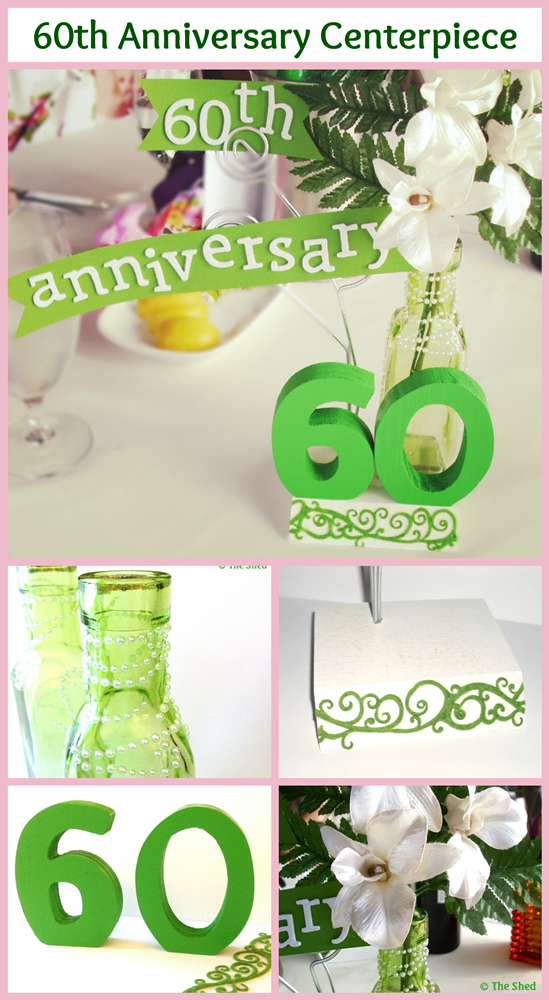 My parents celebrated their 60th wedding anniversary last month! What's more? They dated for 7 years before they got married, so they've been together for 67 years, through three children and countless episodes that life brings to any marriage and family. Through everything and every year they have remained happily married! How cool is that? And how lucky am I? Very!
Trying to find decorations to celebrate a 60th wedding anniversary is not an easy task. First off, there's not much to choose from. And secondly? Some of what I saw either was a bit tacky or was a bit "old" looking. Yes my parents are 82, but they are definitely 82 years young, not old! They don't need something stuffy and formal!
So what to do? Make my own!
60th Anniversary Centerpiece!
I had a good idea ahead of time what I wanted to make, and was able to find the components at a few different craft stores. I actually made two identical centerpieces so that they could be back-to-back. This way everyone could enjoy them no matter where they were seated around the large table.
The base of the centerpiece was a very basic wooden photo stand, as you see below. I taped off the bottoms of the metal photo holder stems to make it easier to paint the wooden bases.
I painted the base with two coats of white paint, and then topped that with a coat of white glitter paint to give it some subtle sparkle.
I wanted a large "60" to be front and center of this centerpiece, and these unfinished numbers were perfect. I painted them with two coats of a Summery green paint. I used DecoArt's Multi-Surface Satin paints on the bases and numbers. These paints don't require any primer or sealer and cover extremely well.
I found some adhesive flocking in the same green shade at the craft store, which I knew would look pretty on the front of the wooden base.
And here's the wooden base all finished with the green flocking. I glued a piece of white felt to the bottom too.
Next it was time to decorate the small green bottles. My idea was that one bottle would be glued to each centerpiece base, next to the photo holders.
I found these tiny adhesive pearl stickers to decorate the bottles.
I decorated the tops of the bottles, since they would be seen. I left the lower areas and backs unadorned, since they wouldn't be visible.
The bottles and the wooden numbers were attached to each wooden base with E6000 adhesive.
Ever used Thickers from American Crafts? They are adhesive-backed foam letter and number stickers that come in an array of colors and finishes. I adore them! I found some white glitter Thickers that matched perfectly with the white glitter base of the centerpiece.
I used solid green scrapbook paper – which I cut to resemble little banners – as the background for the 60th anniversary that I spelled out with the Thickers.
Here's a closeup shot of the various textures together: wood, glass, paper, beads, fabric, flocking and metal.
And the finishing touch? Silk fabric flower stems in a pretty antique white color, backed with some ferns.
We all got together in Philly last weekend to celebrate their milestone. My husband and I got to the restaurant early, so that we could put these centerpieces on the table before everyone arrived.
My parents loved them! We took several pictures during the evening, and my parents will add one of the family group shots to the photo holders as a sweet keepsake from that special night.
I loved that all the waiters and restaurant staff kept marveling that my parents must have gotten married when they were kids. Why? Because even though my parents are both 82 they look much, much younger! I'd share a picture, but they are very private people and I promised that I wouldn't. But trust me: they are doing great and I hope and pray they are around for a long time to come.
Our dinner celebration was outdoors on the water, and I loved the way the light changed as the sun was setting . . .
Making something for my parents to keep was truly a labor of love. Truly.
~Laura