Red Tip Photinia is one of my favorite evergreens! It provides year-round red and green color in your landscape with a bonus of pretty Spring blossoms. Here's a look at our own Red Tip Photinias over the past few years . . .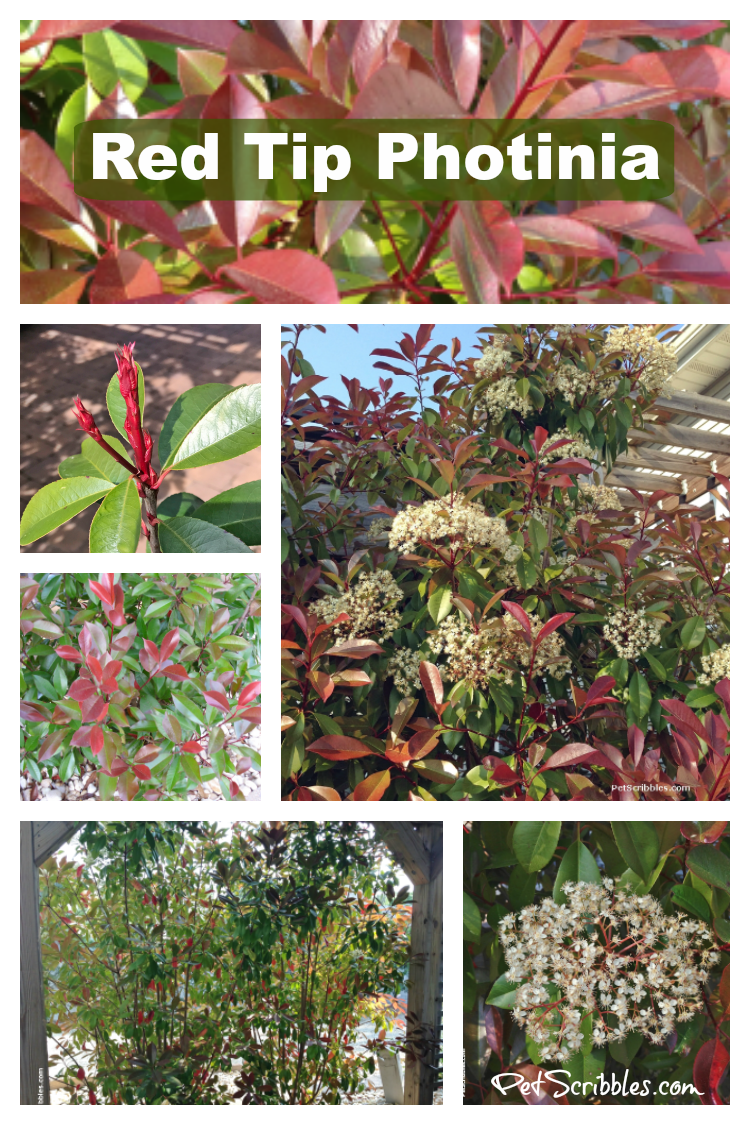 My love affair with trees and shrubs began when we left city living and moved to a home with a yard. One of the first books I purchased was Complete Trees Shrubs and Hedges by Jacqueline Hériteau (affiliate). Here's my well-loved edition below — which has since been updated and republished — along with one of the pictures of an evergreen plant that was new to me at the time: Red Tip Photinia.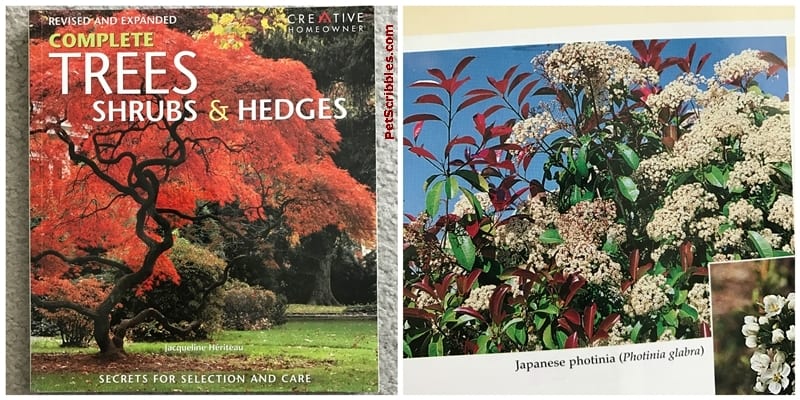 I was fascinated by the fact that Red Tip Photinia is a broad-leaved evergreen and has flowers. I also liked the idea of year-round color in both red and green on one plant. (Trust me, at Christmastime these are instant outdoor holiday decorations for your property!)
I had to have one. So we purchased a small shrub in the Spring of 2009 to put in the front corner of one of our foundation beds. I planned to grow it as a tree.
Rookie mistake! Definitely not the right spot for this fast-growing evergreen.
By the following April (2010), our Red Tip Photinia was growing like crazy! Below left is what the tree looked like on April 2, 2010. Below right is just five days later, April 7, 2010.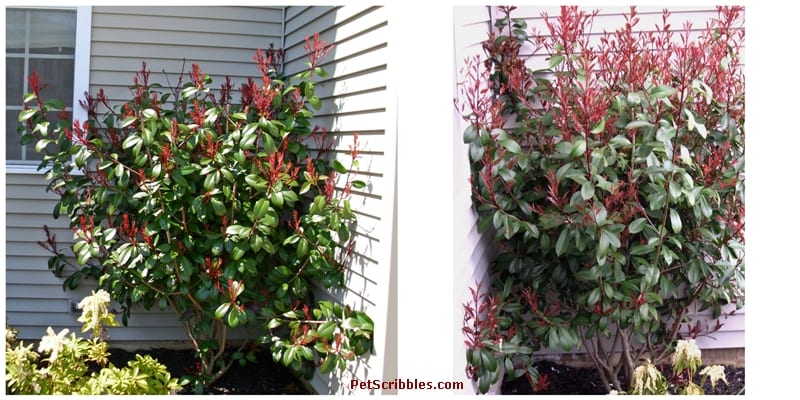 It was beautiful, but I had to prune and trim that thing almost every two weeks throughout the Summer.
What was a pretty tree was fast becoming a nightmare to contain! We dug it up and attempted to transplant it to our backyard, but the tree was not happy with being transplanted and didn't make it. (Most likely because we decided on a whim one day to transplant it in the middle of a heatwave. Not too helpful for the plant's chance at survival!)
A couple of years later, my husband and I began not liking the "messy-ness" of the tall ornamental grasses next to our patio in the backyard, so we removed them. (See image below taken in September 2012.)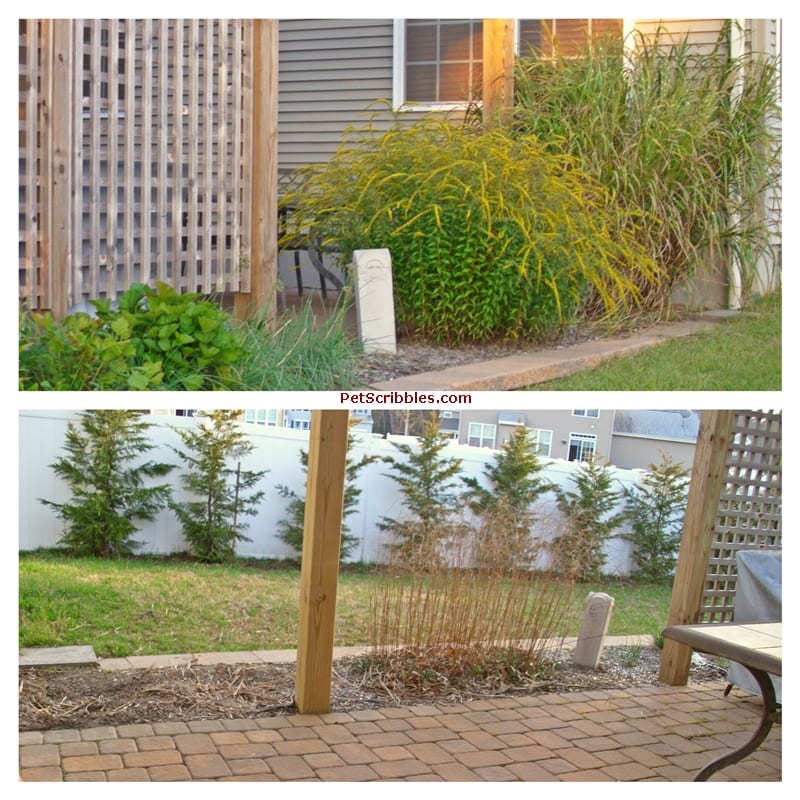 But the following Spring (see photo above), we didn't like the look of the empty brown sticks of the Goldenrod either. We absolutely loved our Fireworks Goldenrod, but realized we wanted year-round color by the patio.
So…we bought two Red Tip Photinias and decided to try our luck. (April 2013)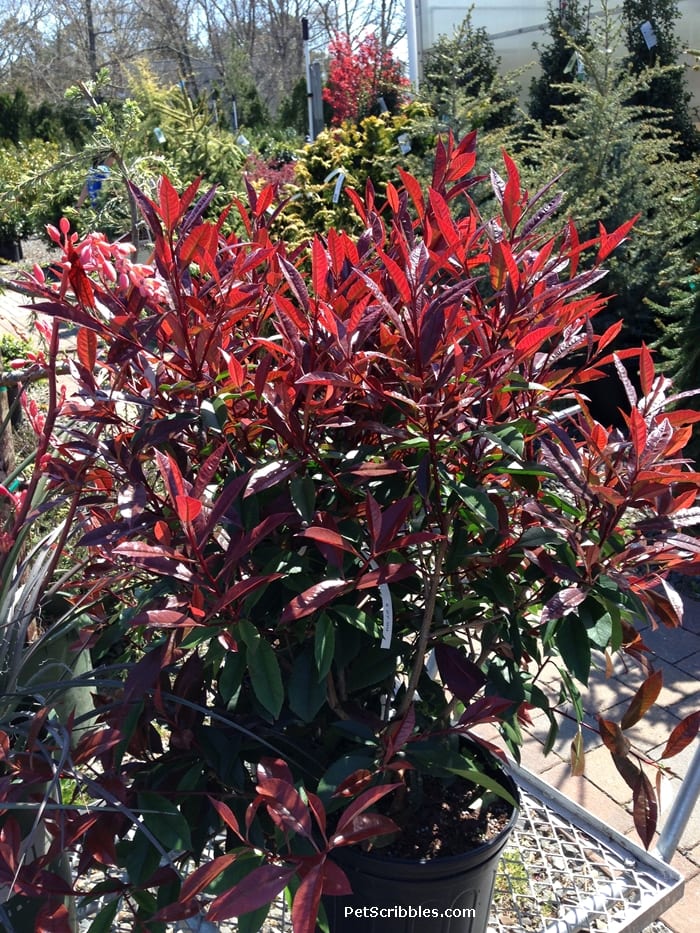 I included the picture above so you can see the size when purchased at a nursery. Last year I saw them at some of the major home improvement store garden centers in a slightly smaller size.
By the end of September 2013, our Red Tip Photinia plants were looking happy in their new home.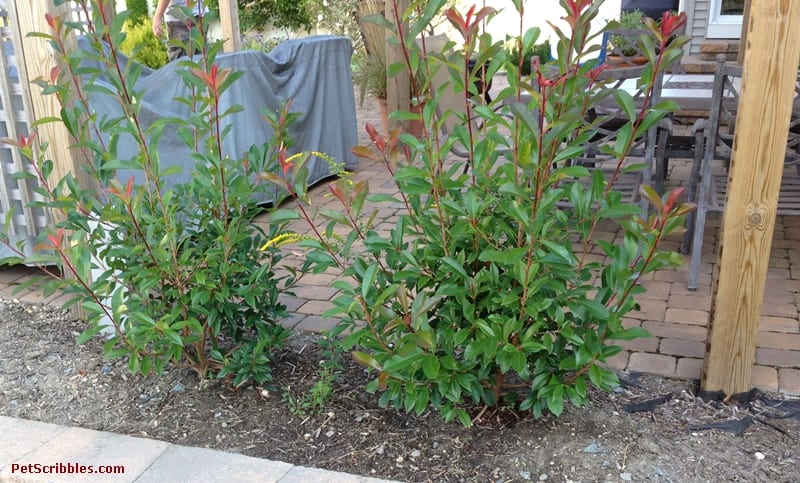 Of course as Mother Nature likes to do, she gave us a very harsh Winter, including a Spring storm in mid-March.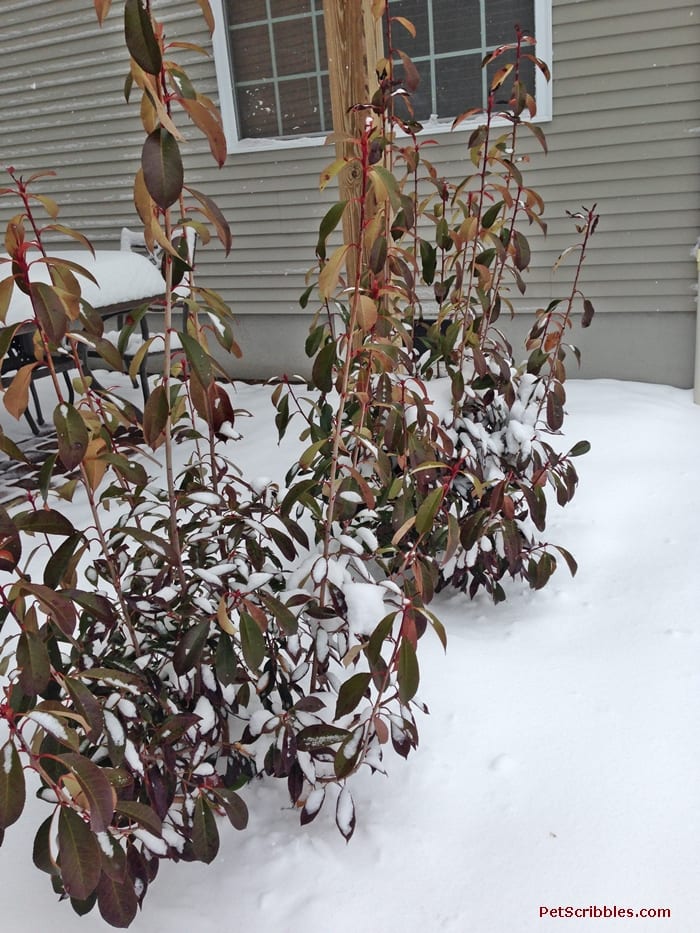 I didn't think the Red Tip Photinia would survive, looking so brown.
Sure enough, the green color did return, although there definitely was some damage. Here's two close-up pictures below showing the damaged leaves and the start of the red new growth. (April 2014)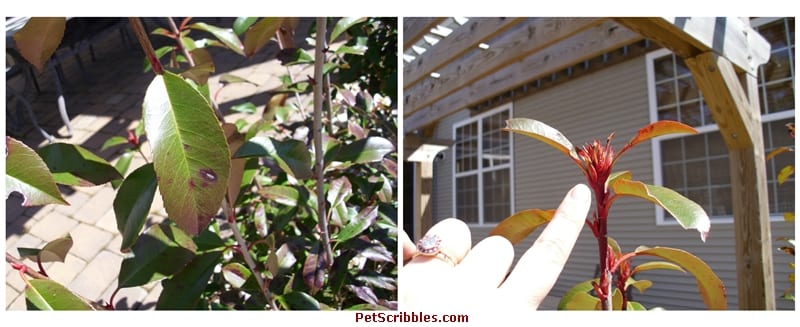 The plants completely rebounded over the Summer months!
Below is the progress of our Red Tip Photinia shrubs on their way to becoming trees. Left to right: April 24th, June 1st, and July 11th, 2014.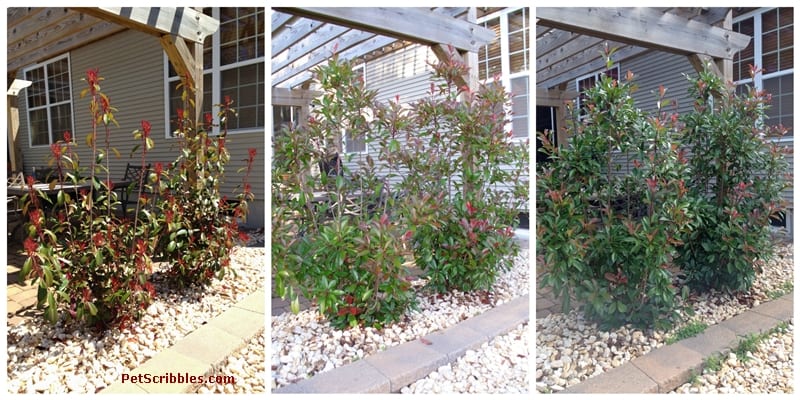 Things to know about Red Tip Photinia
they grow rapidly, so give them lots of room
can grow 12 feet to 18 feet tall; 8 feet wide
easily adapts to pruning
can be grown as a shrub, hedge or tree
white flowers in the Spring on established plants
produces tiny fruit (although I haven't seen any yet)
evergreen in USDA zones 7 – 9
happiest in full sun or partial sun
needs decent amount of water to help it get established
also called Fraser Photinia, Fraser's Photinia, Red Tipped Photinia, Japanese Photinia
The new growth begins as red tips . . .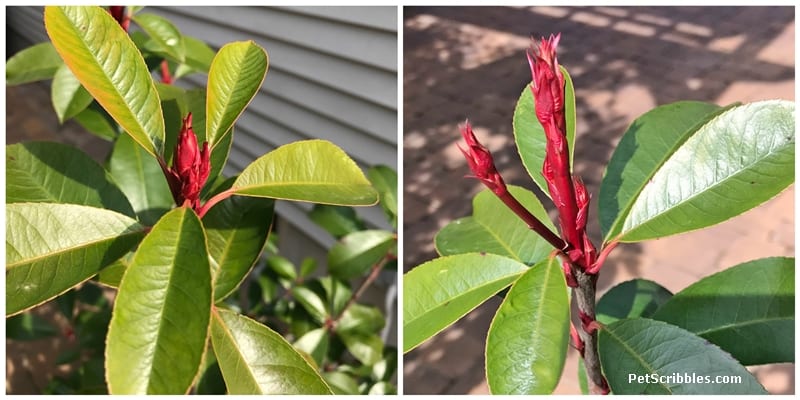 And there's lots of pretty red color in the Spring . . .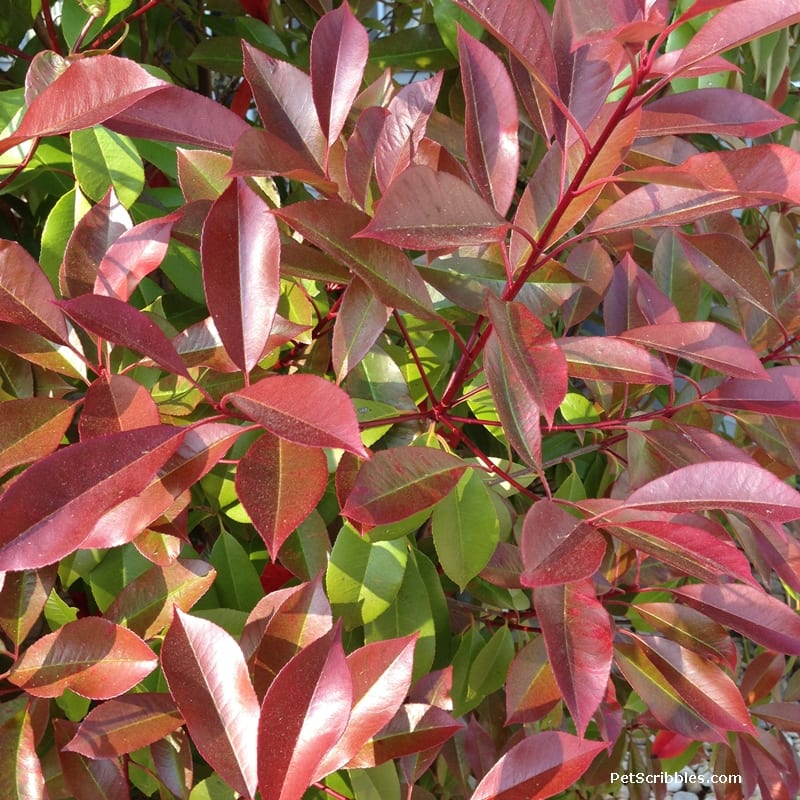 Of course, I can't resist sharing a close-up of the pollen we got last year…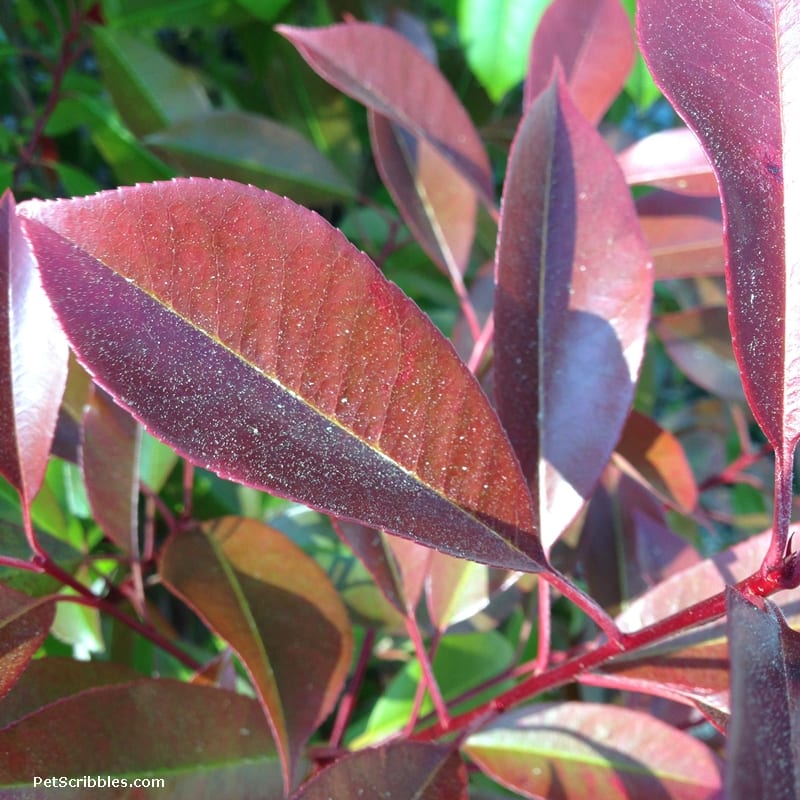 And the pollen wasn't even as bad as it can get. We call it The Great Pollen Drop every year. Everything gets covered in our town. Yuck!
Eventually, the red color on Red Tip Photinias begins to turn green . . .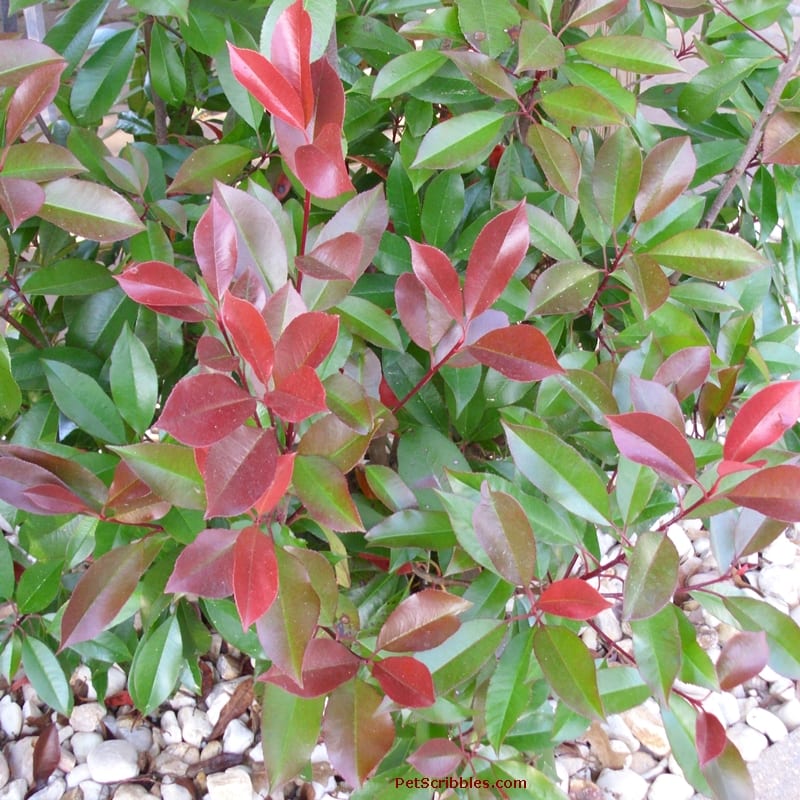 We didn't have any flowers on our Red Tip Photinia for the first few years, although we loved how our shrubs were thriving into tree size.
Then last May (2016) we had some blooms! Whoo hoo!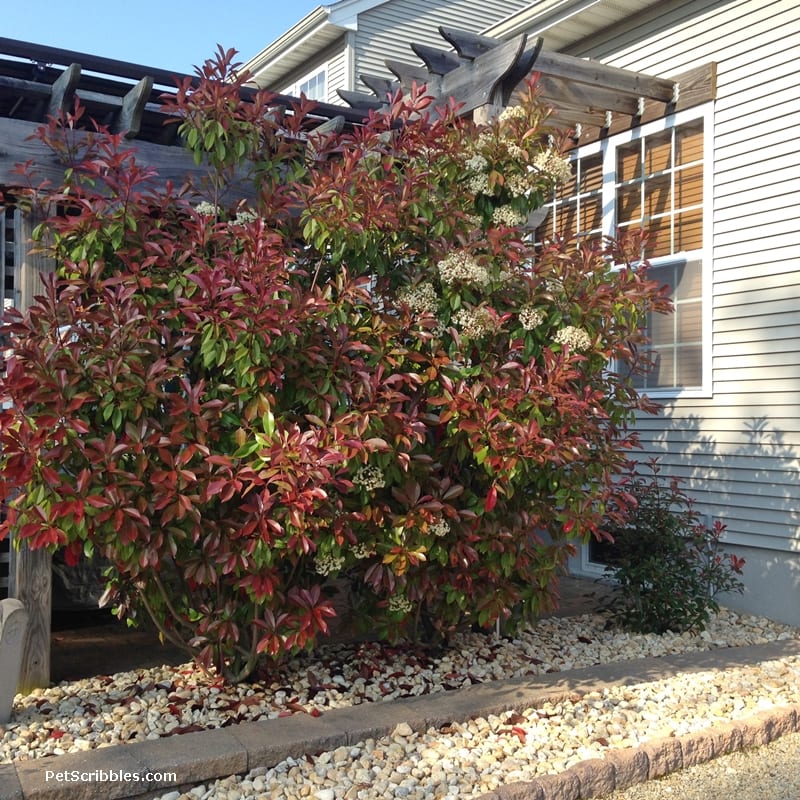 Only on the side of the trees that are facing the sun, and primarily on one of the two trees, but ooooooh we were happy!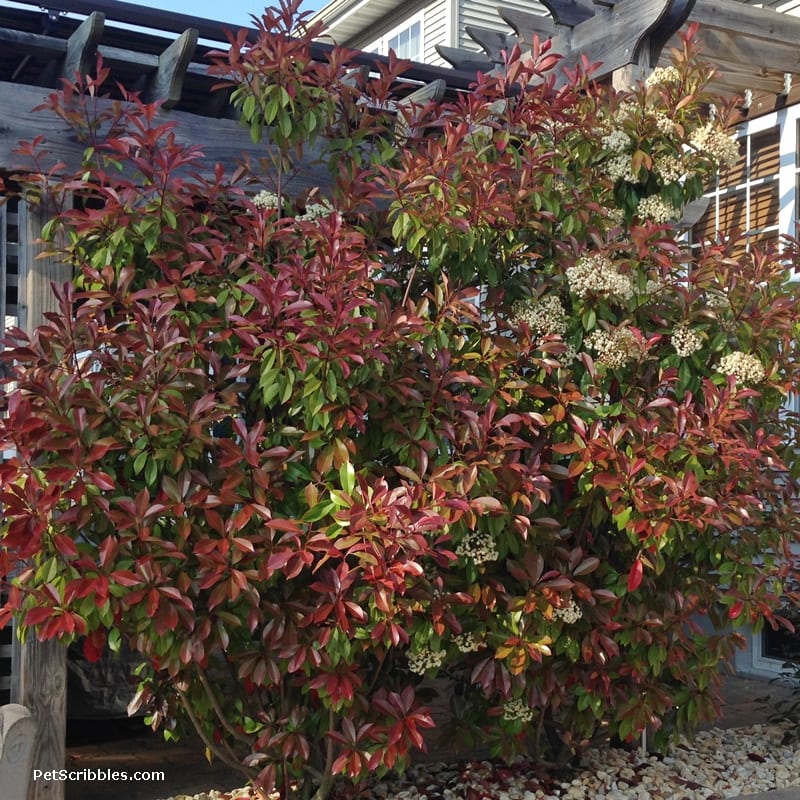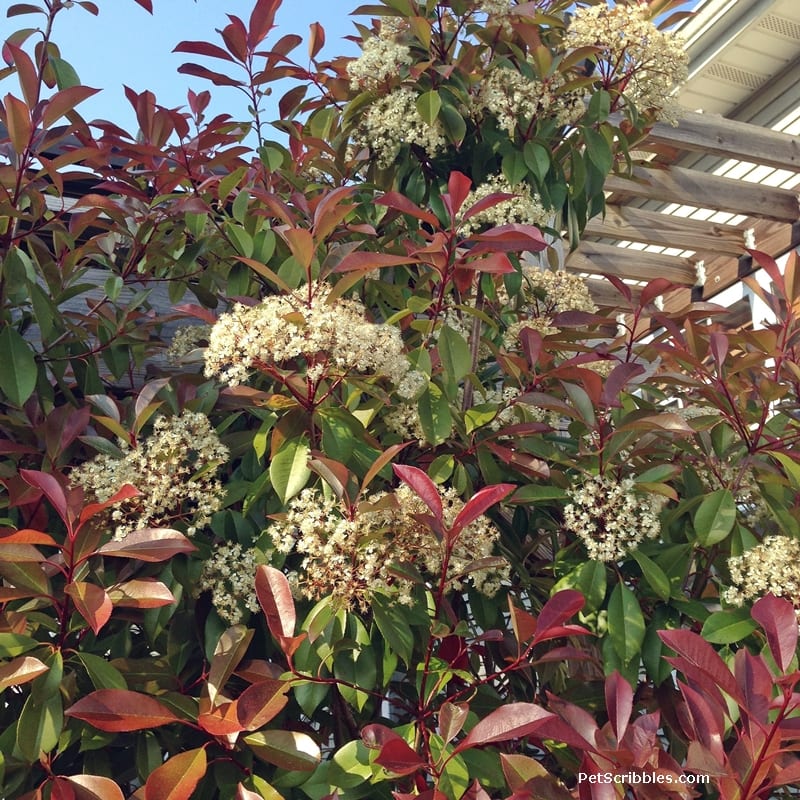 The blossoms remind me of Queen Anne's Lace . . .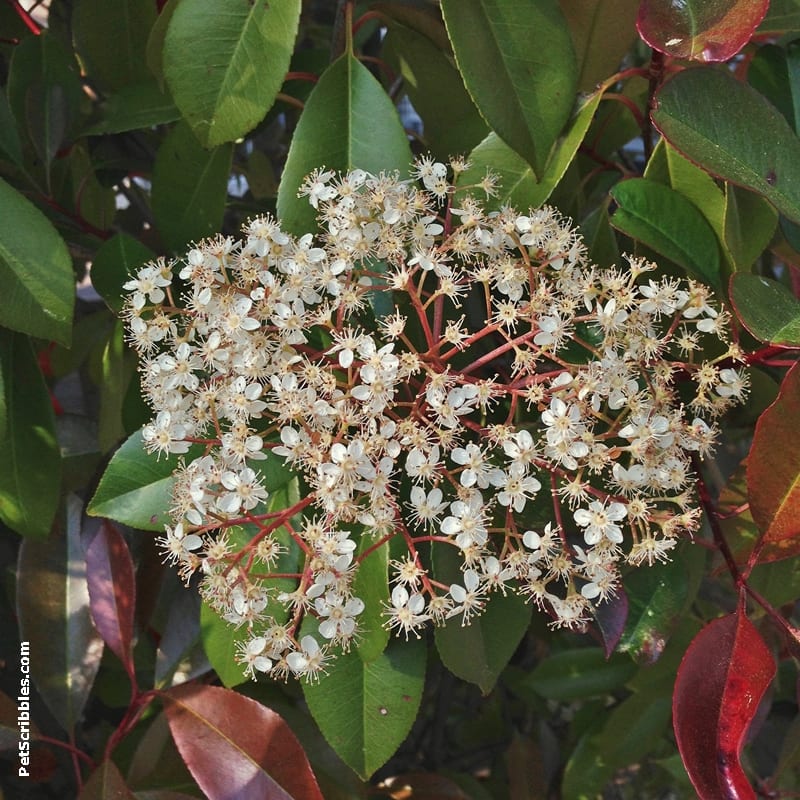 I've since learned that Red Tip Photinia will bloom in the Spring if you don't prune it earlier that same season. This probably explains why we just had flowers in a few spots, not all over, last Spring. I'll refrain from pruning this time around, and let you know what happens this year.
Fingers crossed that A) we get more blooms; and B) I can actually refrain from pruning! Hah!
Another bonus? The trees now give us a living privacy screen! And shade from the sun!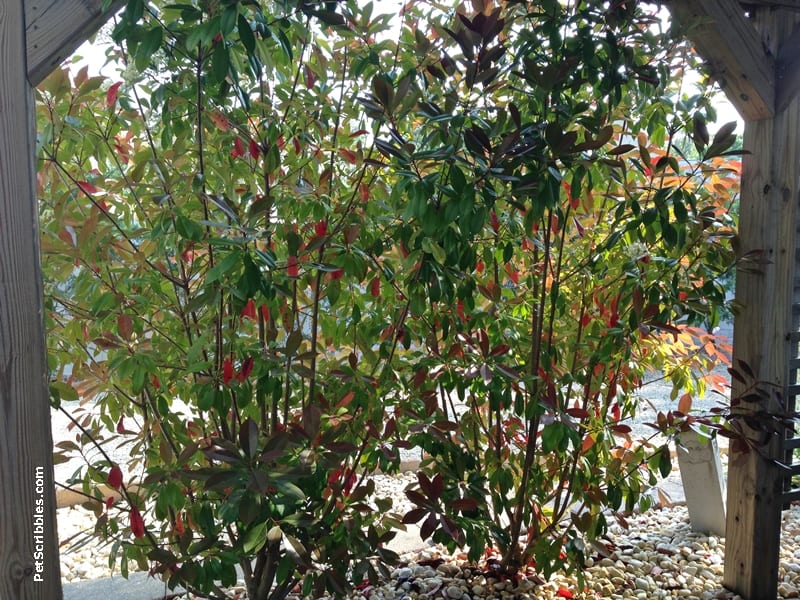 Last Spring we planted a third one – to fill in the remaining "hole" now that we knew these plants were happy in this spot.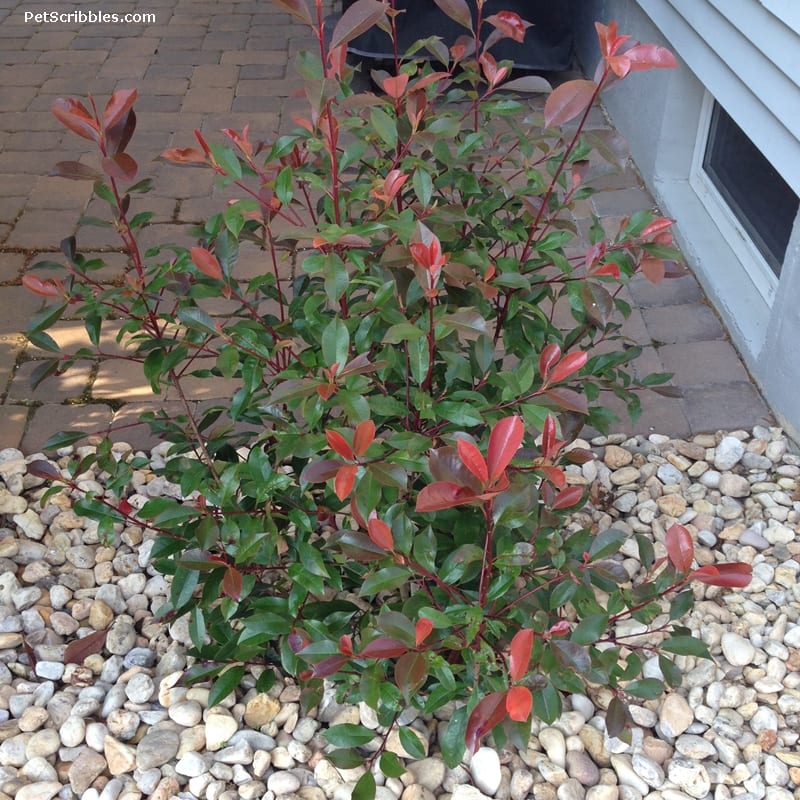 Here's our Red Tip Photinia in May 2016 — two small trees and a newly planted shrub . . .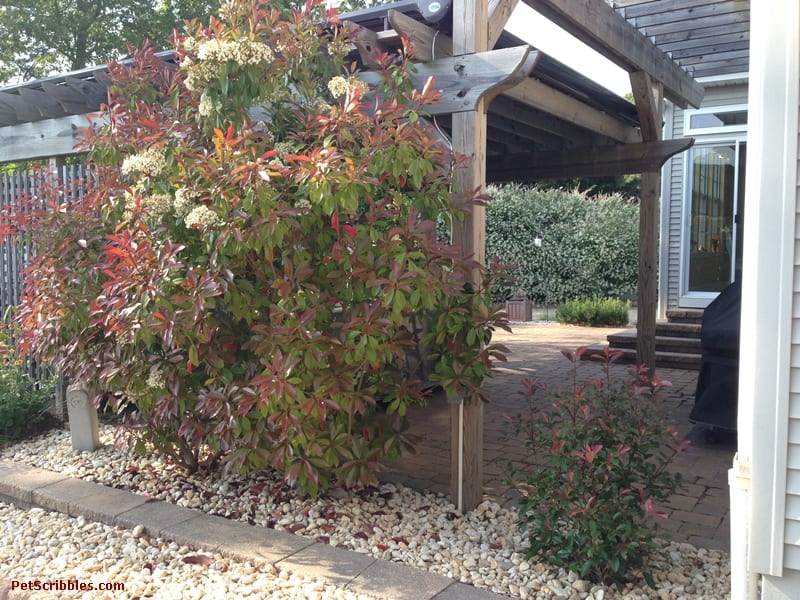 You can see our wall of Dappled Willow across the yard in the background. We grew all of that from one plant! (And you can too — just read my Dappled Willow posts here and here.)
Here's how our Red Tip Photinia looked a few months later in August 2016 . . .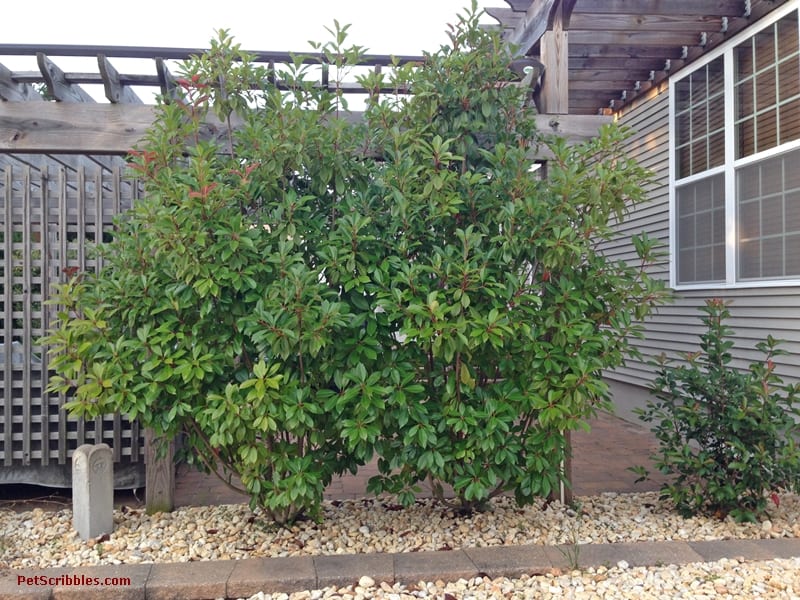 Mostly a lush green, with hints of red here and there, plus red stems.
When you prune Red Tip Photinia, you'll get the new growth coming back in with red tips and some people like to prune on purpose for that look.
I'm happy just letting them be, only occasionally pruning here and there, making sure they behave next to our pergola and patio.
Remember: Red Tip Photinia can be a shrub or it can be a tree. Your choice!
I hope you see why I love this evergreen.
Happy gardening!
~Laura