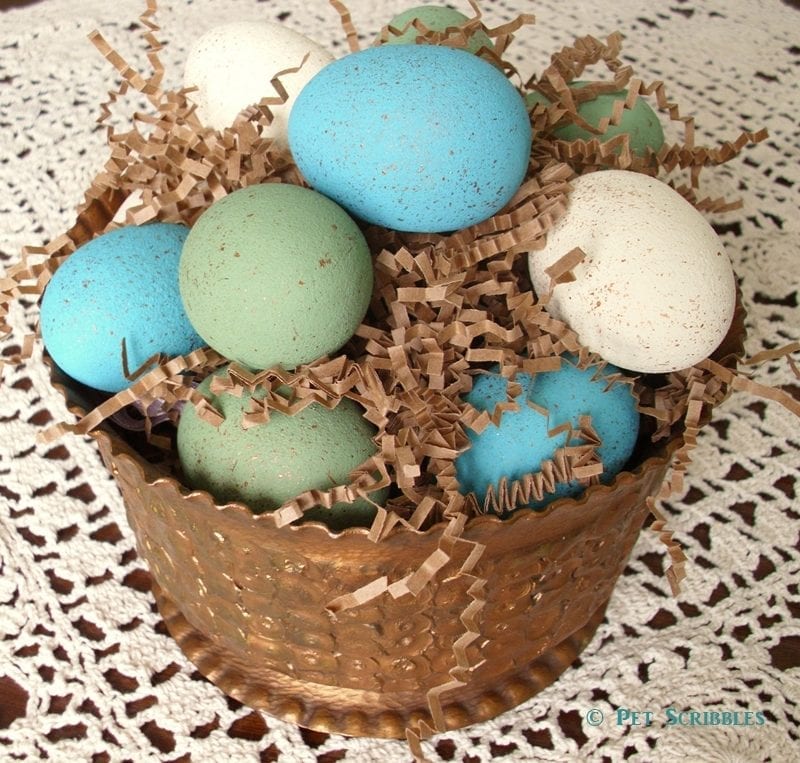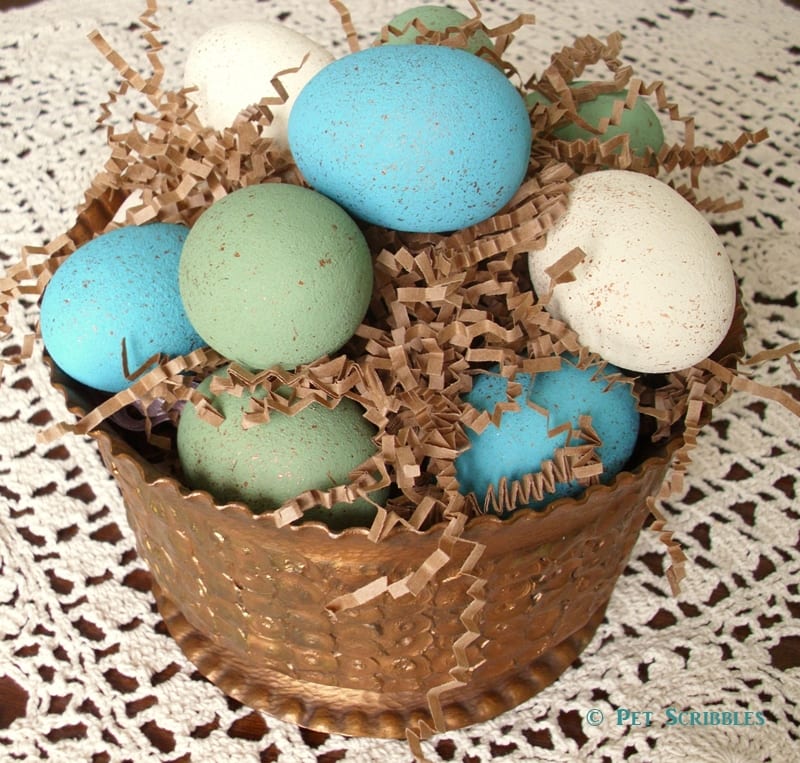 I've had this set of decorative Easter eggs, below, for several years. Every year I sort of cringe when I put them out for display. You may find them to be very pretty, and that's ok, but they are just not my style nor do they go with anything in our home. They are too pastel and too glittery. (Yes, even I who love glitter have some limits!)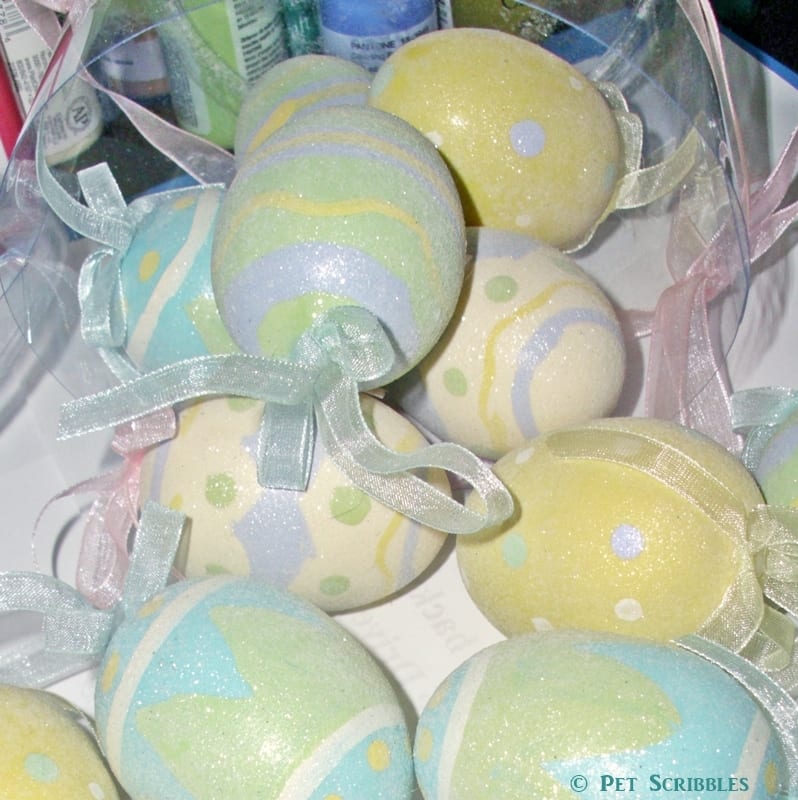 I purposely took the photo above with a flash so you could see how glittery they are. The glitter is a type that easily comes off on your fingers or anything else the eggs touch, making these eggs not the most pet friendly. Plus the pastels just weren't doing it for me. Or my husband.
Last year I made the best of them, and put them into this gorgeous antique copper vase that was handmade in Germany by my husband's great uncle.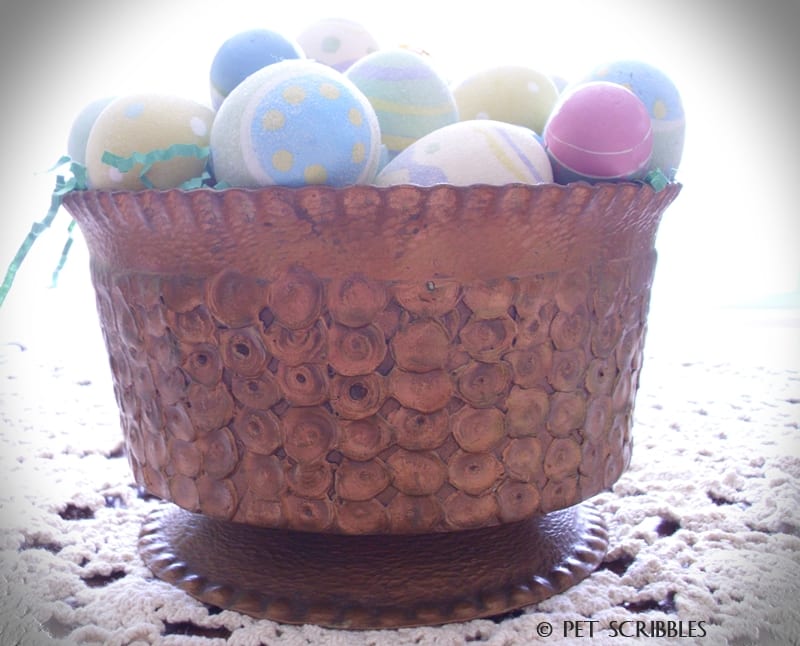 But this year, I decided I had to paint over them to get the look I wanted. There are a zillion egg decorating tutorials out there on the interwebs. Yes, I've counted them, and I've pinned many of them onto my DIY Easter Eggs Board on Pinterest. And last year I shared some of my egg DIY favorites with you in my Egg Decorating post. But I have a favorite tutorial by my friend Vivienne, who blogs over at The V Spot. Hers is so popular that Plaid Crafts asked her to demonstrate it at the recent Craft and Hobby Association Winter Trade Show in January. Here's a link to Vivienne's video tutorial, which I followed to give my pastel eggs a makeover.
Vivienne suggests starting with something that will give your eggs some texture. As my eggs already were covered in a glittery powdery substance, they had all the texture needed. So I simply began by painting them. I used two coats of paint on each egg. (The eggs had ribbons attached, which I kept on, so I simply tied them up with a bread wrapper tie so they wouldn't stick to the painted areas.)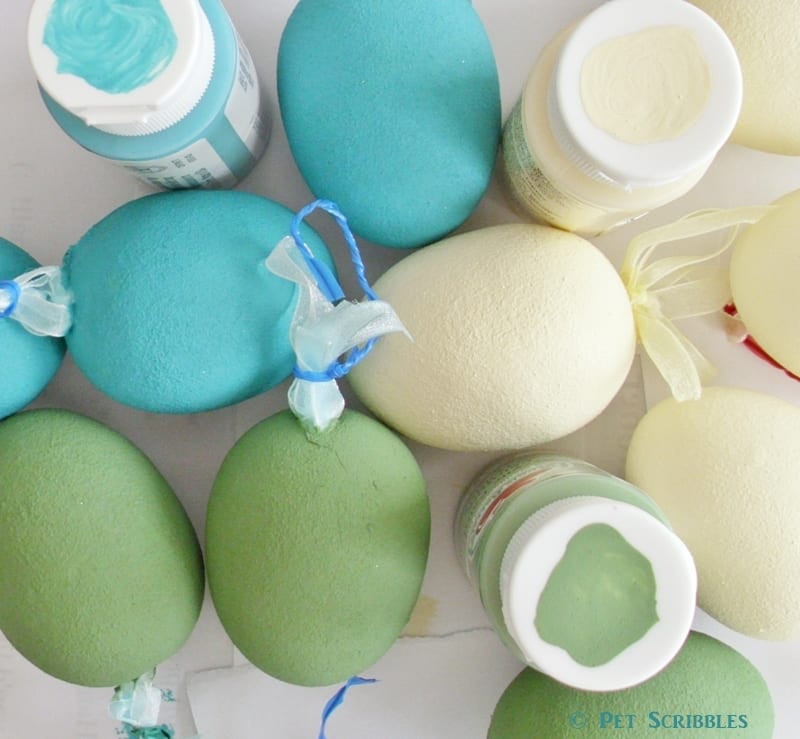 Helpful tip for craft paints: Paint the top of each craft paint bottle so you can better "see" what each color looks like. Makes finding the paint you want a tiny bit quicker.
Another egg inspiration (does that even make grammatical sense?) is my friend Carolyn who blogs at Homework. She did a slight variation on the egg design by using a metallic gold for the "specks" on her eggs. I love how that looks, so I did my specks in a metallic copper shade, which I knew would also match the antique vase I planned on using.
First I placed my eggs inside of a small box, to protect my surroundings from paint splatter. Then, as Vivienne demonstrates in her video, simply take a toothbrush, dip it into your paint, and flick it onto your eggs by running your fingers along the brush's bristles.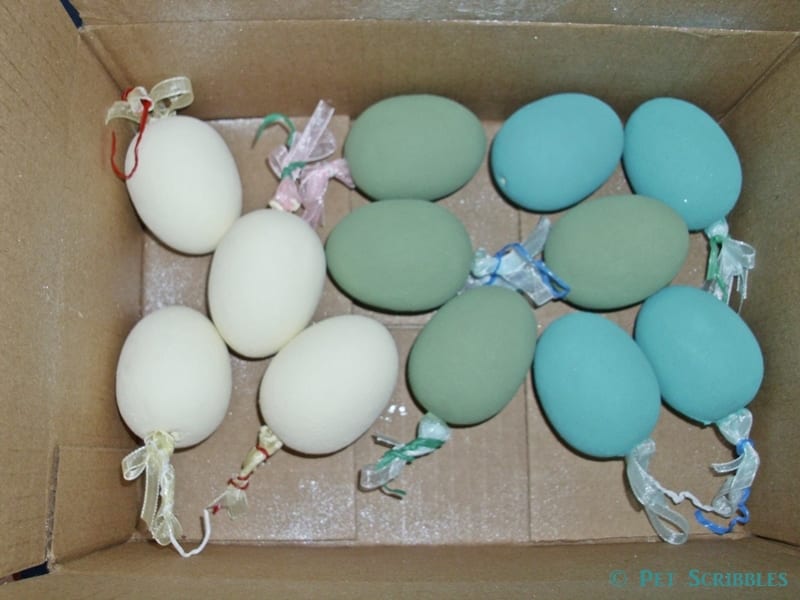 Once the eggs are dry, simply flip them over and do the same technique on the other sections of the eggs.
You'll end up with eggs that look like this: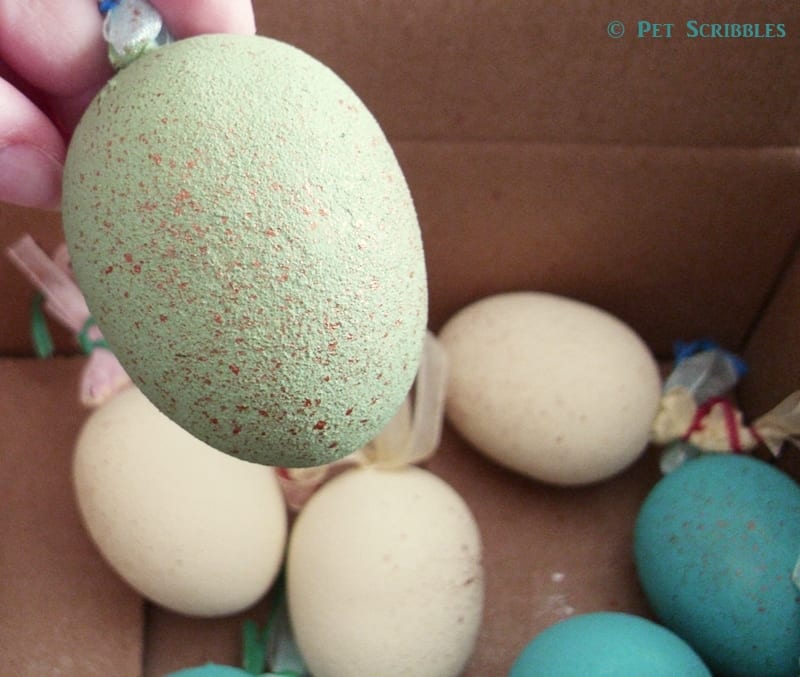 And this: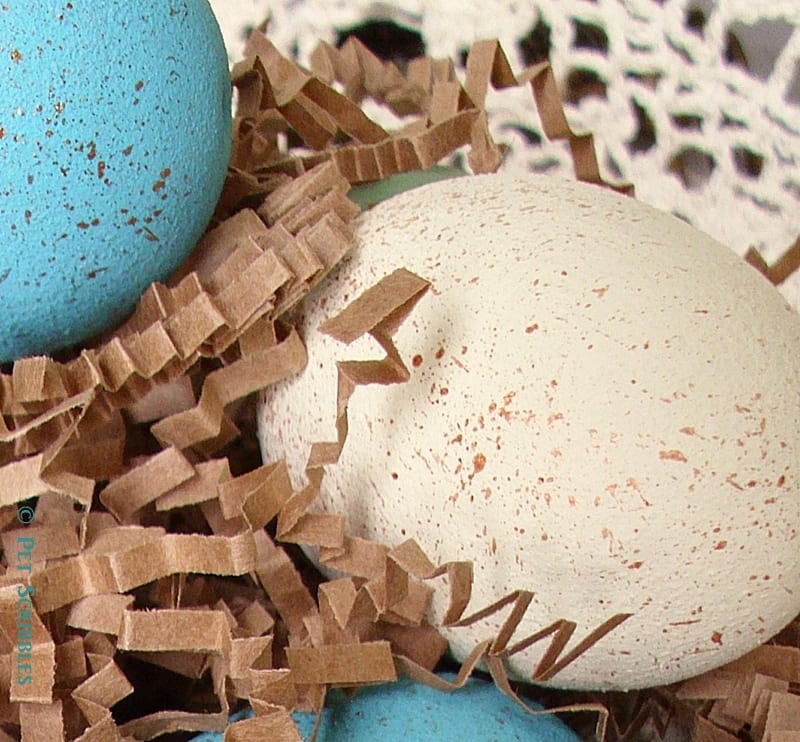 As Vivienne points out in her video, the specks will be random, some heavy and some light, just like shells of real bird eggs.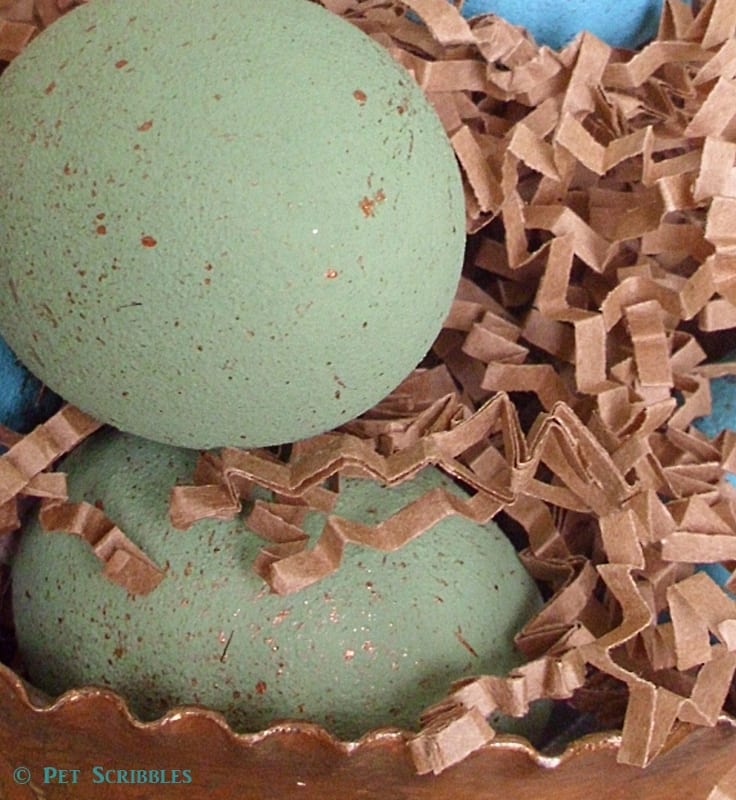 What a difference some paint can make!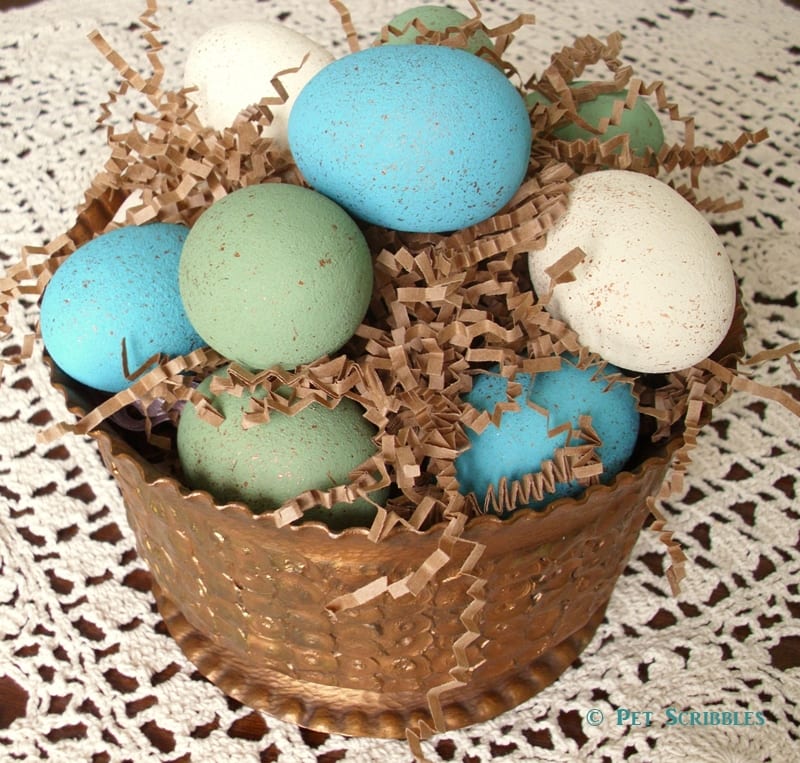 I really love how my eggs easily went from cutesy to elegant with some paint. (And with some inspiring DIYs from Vivienne and Carolyn, too!)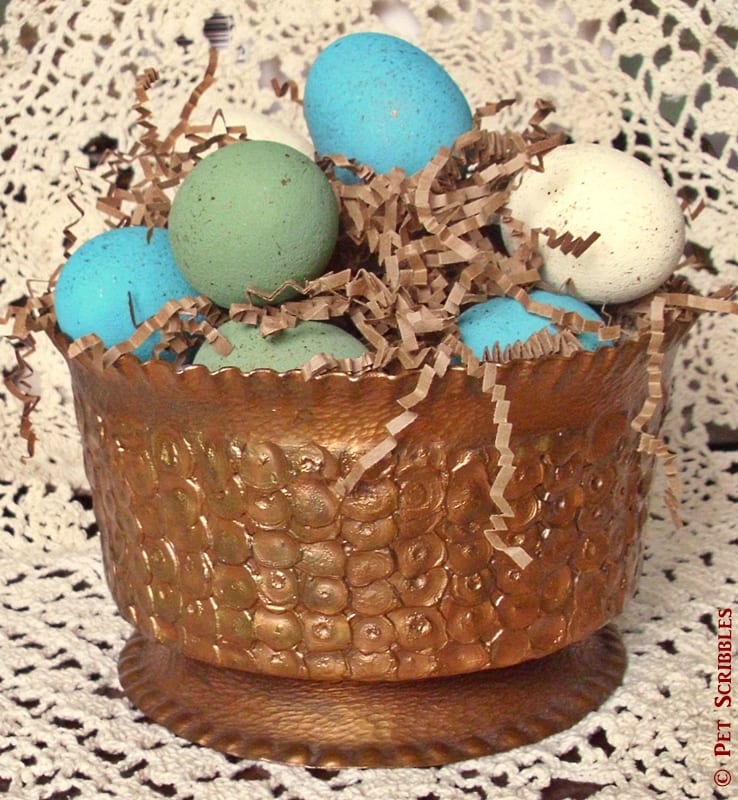 These eggs not only match the antique vase better, but they match our decor and our home perfectly. Just in time for Spring!
Do you decorate with eggs? Do you use eggs just for Easter or do you keep them out for Spring?
~Laura