I'm so excited to share my miniature Easter basket craft with you today! As part of the Xyron Design Team, we are partnering with Lawn Fawn all week long to bring you fantastic craft projects! There's also a wonderful giveaway too!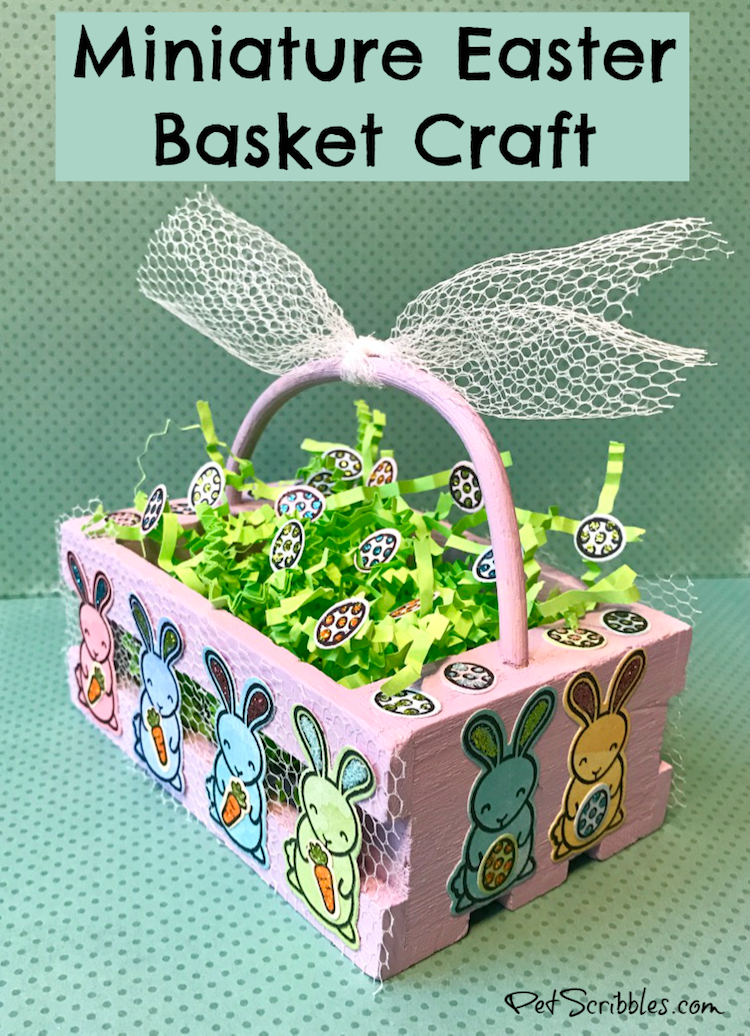 Isn't my miniature Easter basket craft cute?
Do you know why it's so cute?
Because of the adorable Lawn Fawn "Hoppy Bunny" stamps and die cuts that are all over the basket!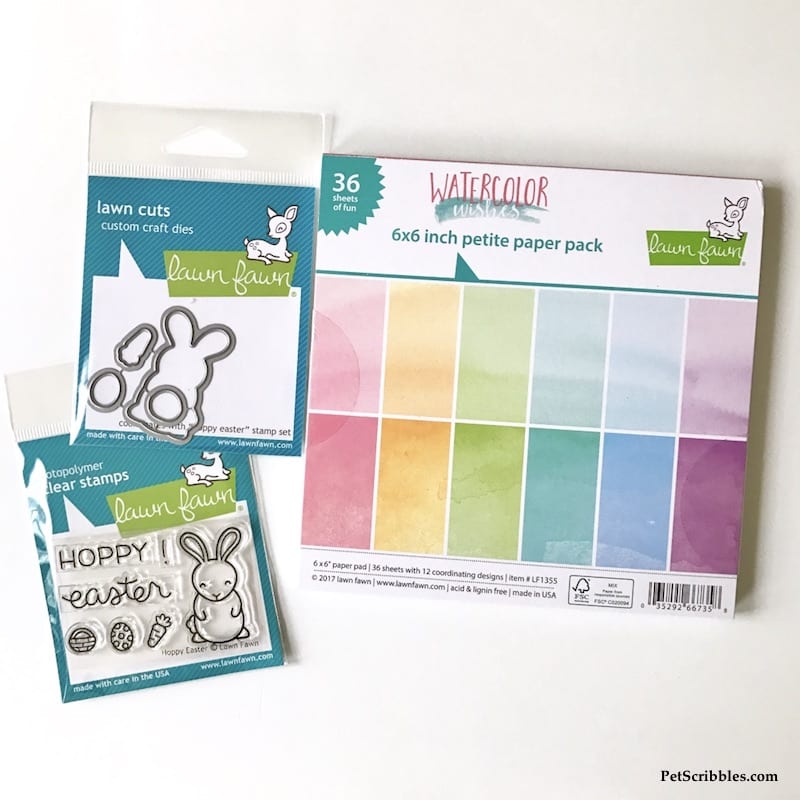 Above you can see the stamps — which you use first…and then cut them out with the die cuts. The paper I used is from the Lawn Fawn Watercolor Wishes 6 x 6 paper pad.
Here's a closer look at the two styles of watercolor cardstock in this paper pad: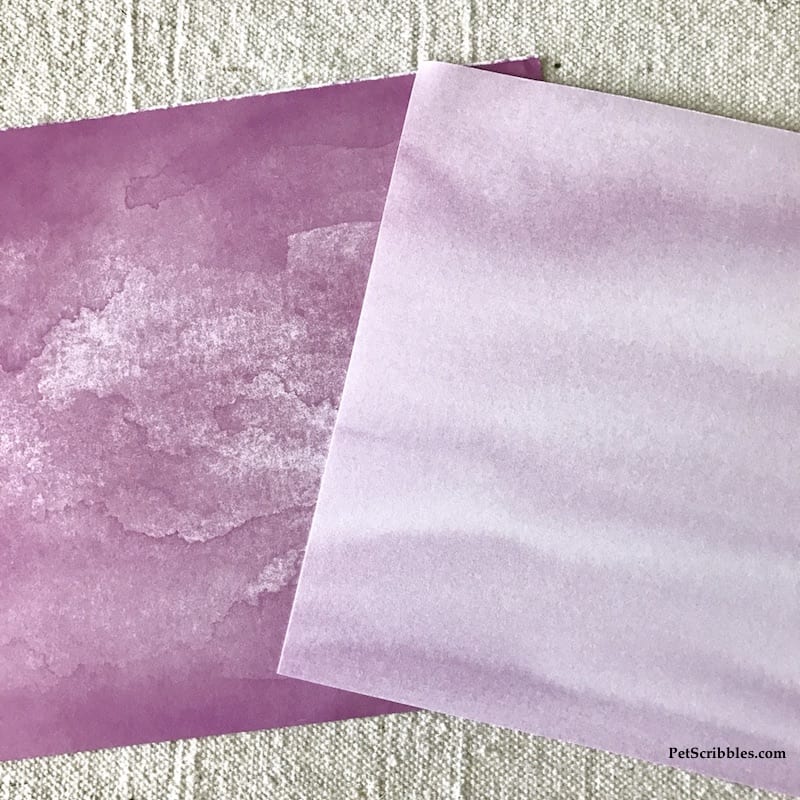 You get these two styles in six different colors – multiples of each! You will love this paper!
I particularly loved stamping and die-cutting the bunnies on the style on the left, above. I stamped so that my bunnies would have different colors and shadings on them, almost appearing like they truly have bits of white fluffy fur on them!
FTC Disclaimer: I've received products/compensation as part of the Xyron Design Team. This miniature Easter basket craft, however, is 100% my own project! Some of the links in this post are affiliate links. I explain more here.
Supplies:
unfinished wood basket (miniature)
lavender multi-surface acrylic craft paint
foam brush
green paper shred
colored pencils
glitter glues in various colors
Miniature Easter Basket Craft with Xyron and Lawn Fawn!
Step One: Stamp your chosen images onto cardstock from the Watercolor paper pad.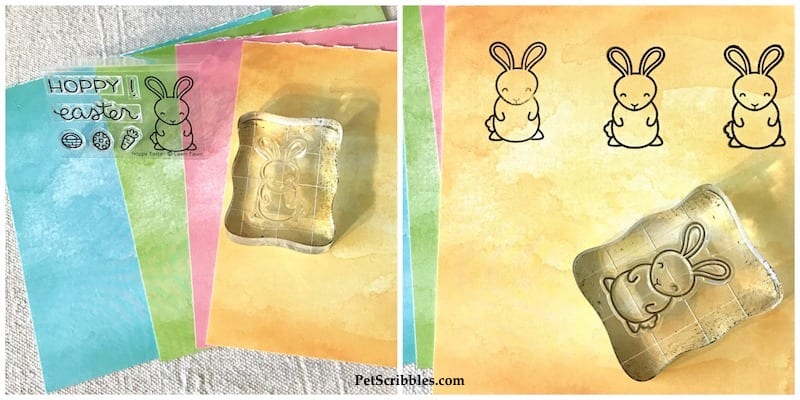 Using black ink, I stamped the adorable bunny image onto each cardstock color, then did the same thing using the egg stamp.
I stamped the carrot onto the yellow cardstock.
Step Two: Using the matching die cuts and your preferred cutting machine, cut out your stamped images. I used my Sizzix Big Shot machine.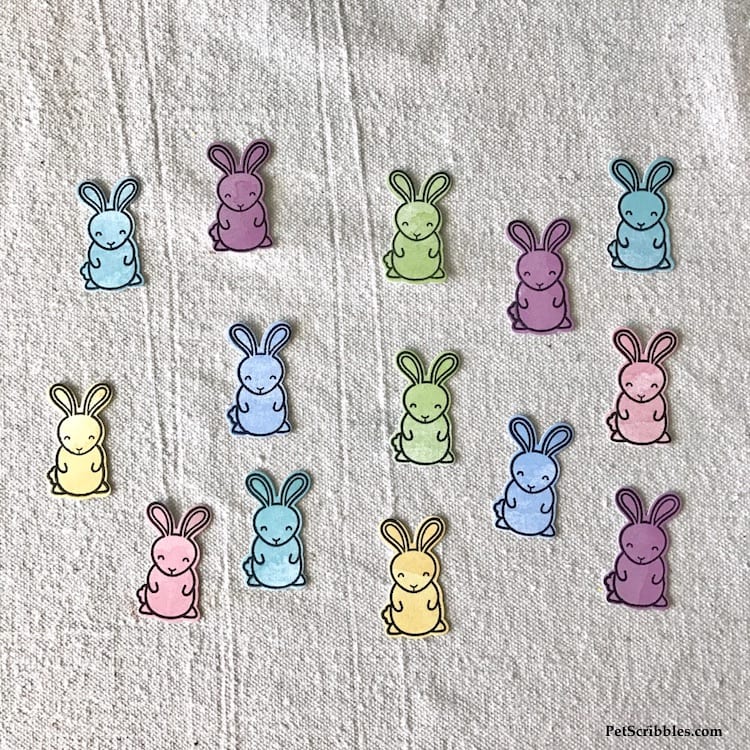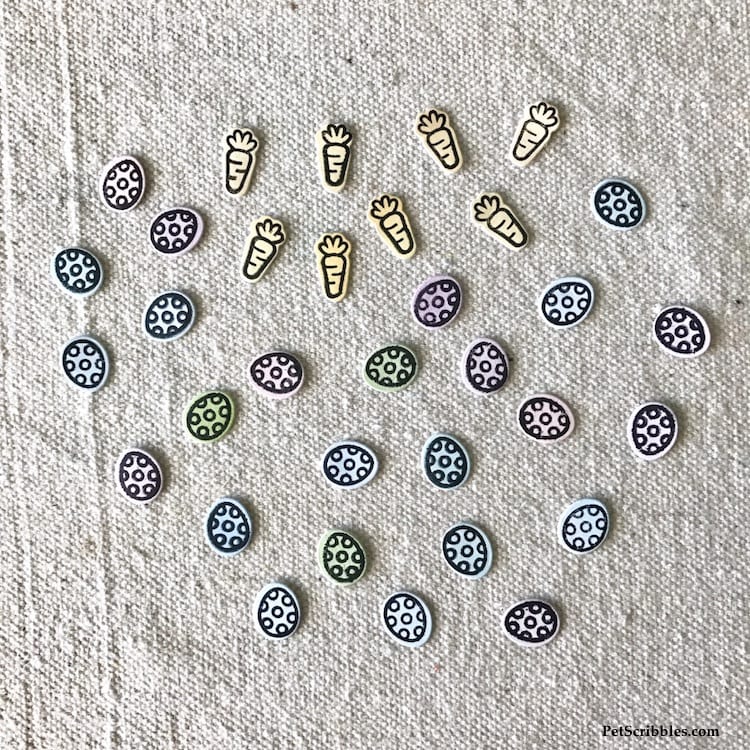 Aren't they already the cutest little things? I love Lawn Fawn's stamps and dies — so. much. fun.
Step Three: Give the wood basket a light sanding on any rough spots and wipe with a damp cloth to remove any dust. Let dry.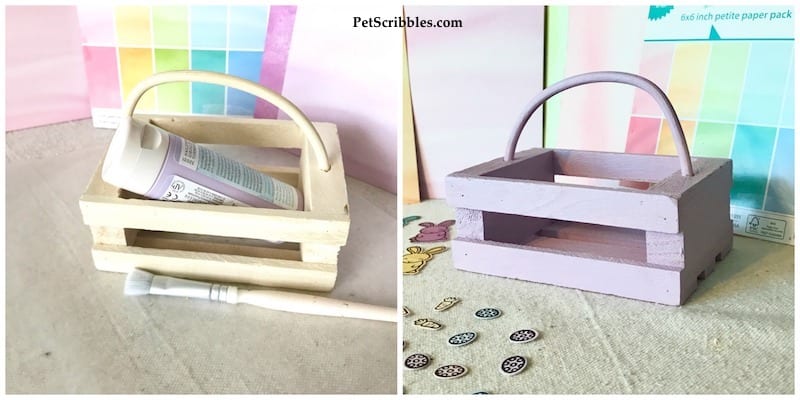 Step Four: Paint the wood basket with one coat of lavender multi-surface craft paint. Let dry.
Step Five: Apply adhesive to the back of the carrots and eggs using the Xyron 1.5″ Sticker Maker.
I placed the tiny carrots like so…(below left)
…then pulled the adhesive sticker paper gently, which in turn pulls the carrots onto the sticker paper, turning them into stickers. (below center)
As I pulled the images through, I continued to feed more carrots and eggs through the machine. (below right)

Simply remove the plastic layer and your carrots and eggs are ready to attach to your card projects or crafts!
Step Six: Apply adhesive to the back of each bunny using the Xyron Creative Station Lite.
Similar to what I did with the carrots and eggs, I placed four bunnies next to each other.
(I noticed they kept their eyes closed. Don't be scared little bunnies!)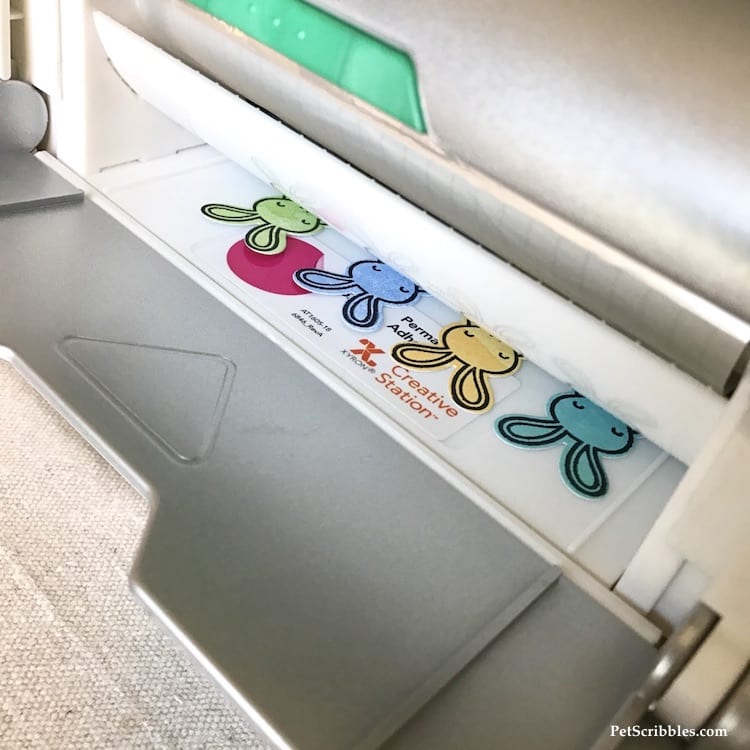 Turn the handle on the Xyron Creative Station Lite to pull the bunnies through the machine, while adding more images to feed through if desired. (below left)
The handy orange lever cuts off your completed stickers. Remove the plastic layer and your bunnies are ready to stick! (above right)
I love how the Xyron Creative Station Lite makes applying adhesive such a quick and easy step!
Step Seven: Color the carrots with colored pencils.
Here's another cool reason why I love using Xyron to turn my paper pieces into stickers: it makes coloring tiny images so easy to do!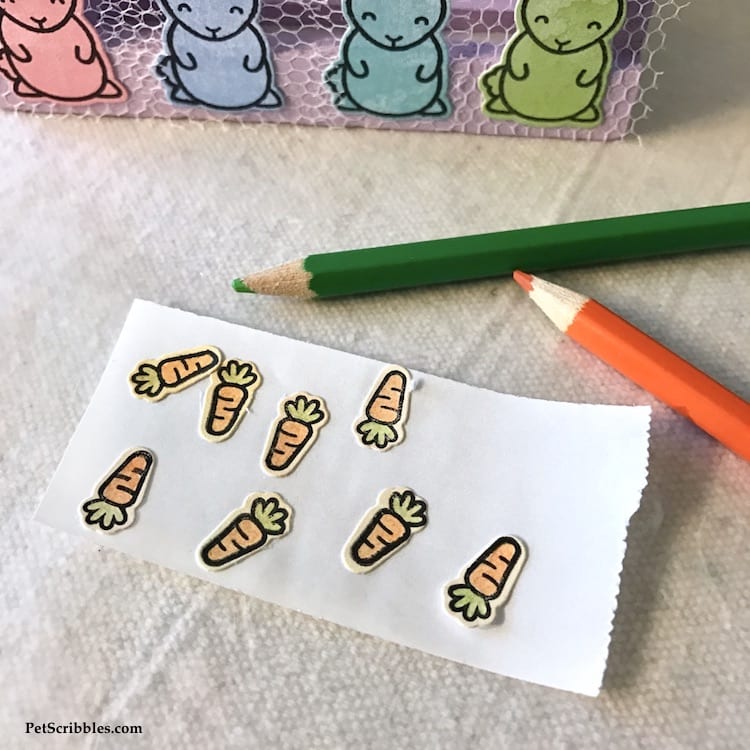 Step Eight: Color the polka dot eggs with colored pencils. Then, decide you don't like them.
Seriously — that's exactly what happened. So you can skip this step! 🙂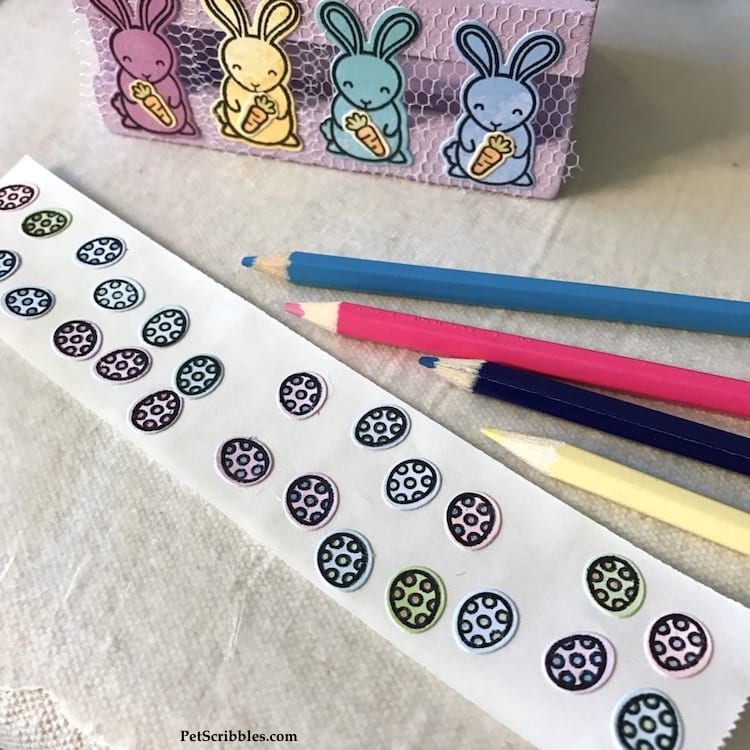 While the eggs looked cute colored in, what they really needed was sparkly pops of color!
Step Eight (the real one): Add glitter to the carrots and eggs, as well as all of the bunny ears.
Add orange and green glitter glue to the carrots. Let dry.
Add green, purple, blue, pink and aqua glitter glue to the polka dot eggs. Let dry.
Add green, purple, blue, pink and aqua glitter glue to all bunny ears.
Step Nine: Add the bunnies to the wood basket.
First I attached a white tulle netting scrap to the adhesive back of eight bunnies.
Next I used my Xyron Mega Runner to apply adhesive to the front and back slats of the box.
Place the bunnies so that there's four on the front and four on the back.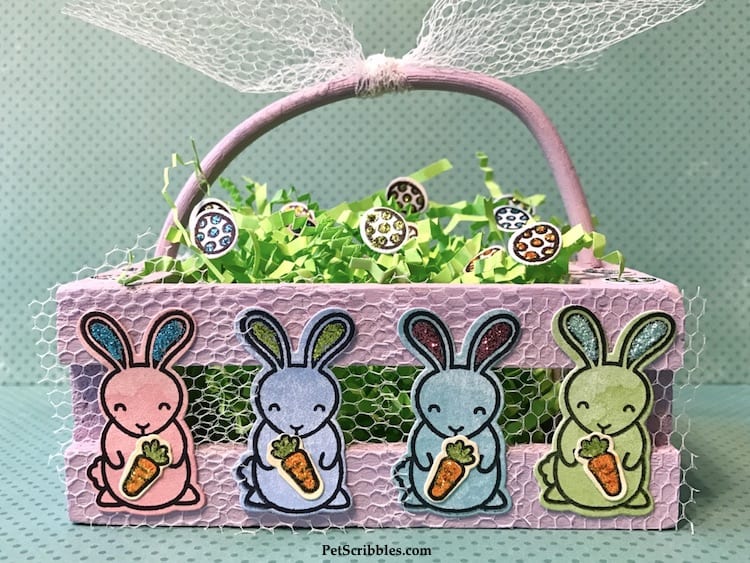 Then, attach bunnies to each side of the basket, two per side.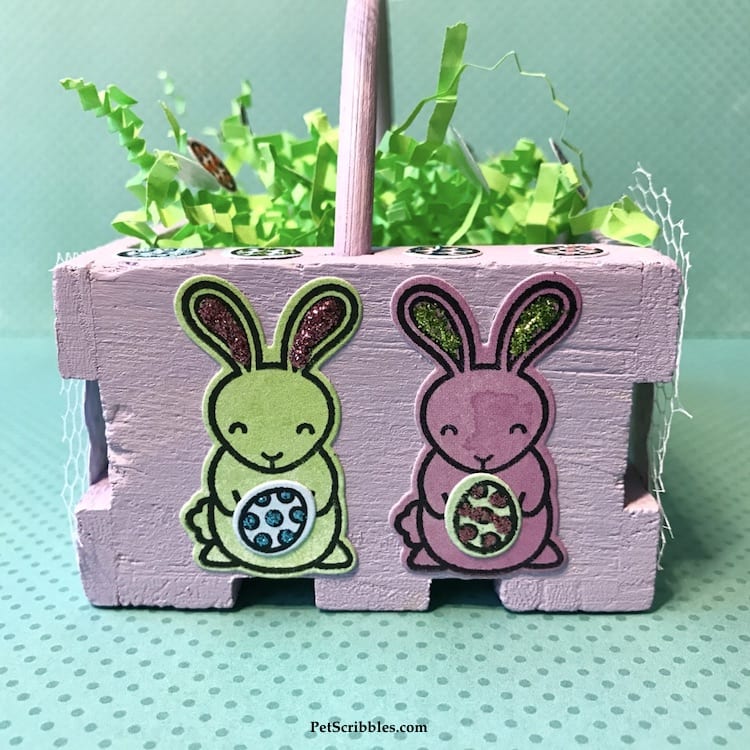 Step Ten: Attach the carrots to the bunnies on the front and back of the basket. Attach eggs to the bunnies on each side. (see above images) Also attach eggs to the wide edges at the top of the basket.
Step Eleven: Fill the basket with colored paper shred. Attach eggs to various bits of the paper shred.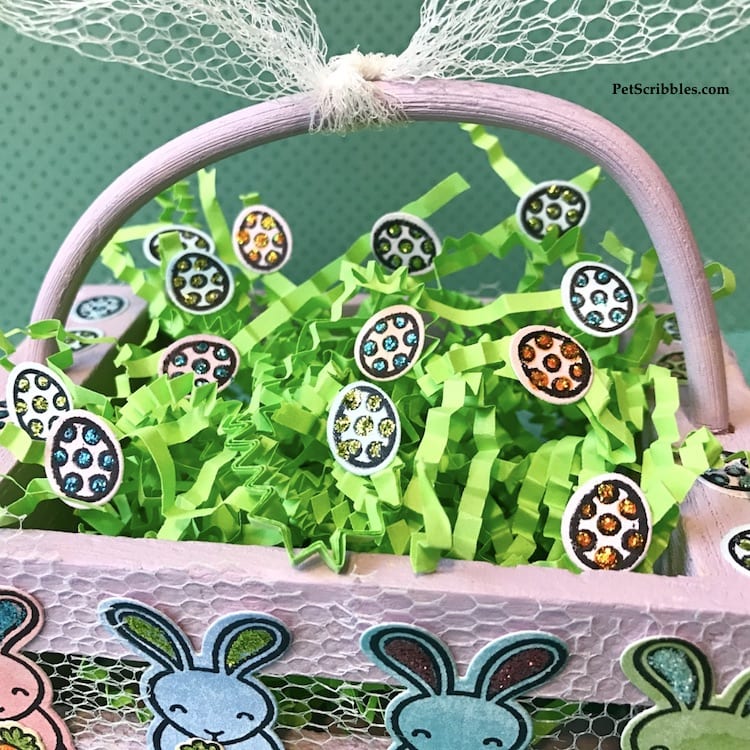 Step Twelve: Finish off the basket with a white tulle netting bow.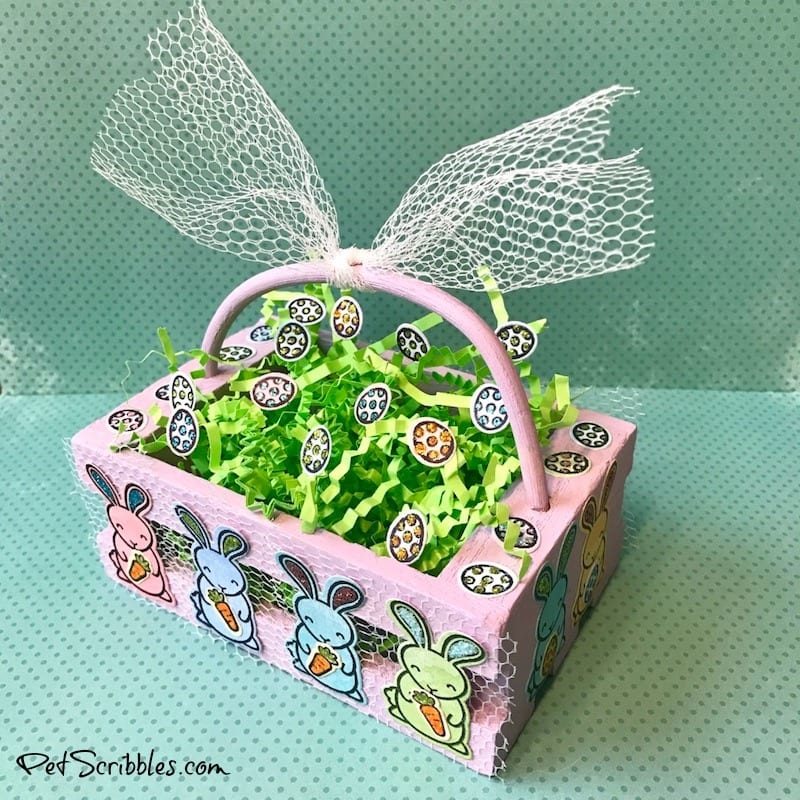 I'm telling you — you need to visit Lawn Fawn's website to see their full line of stamps and die cuts and fun things to craft with!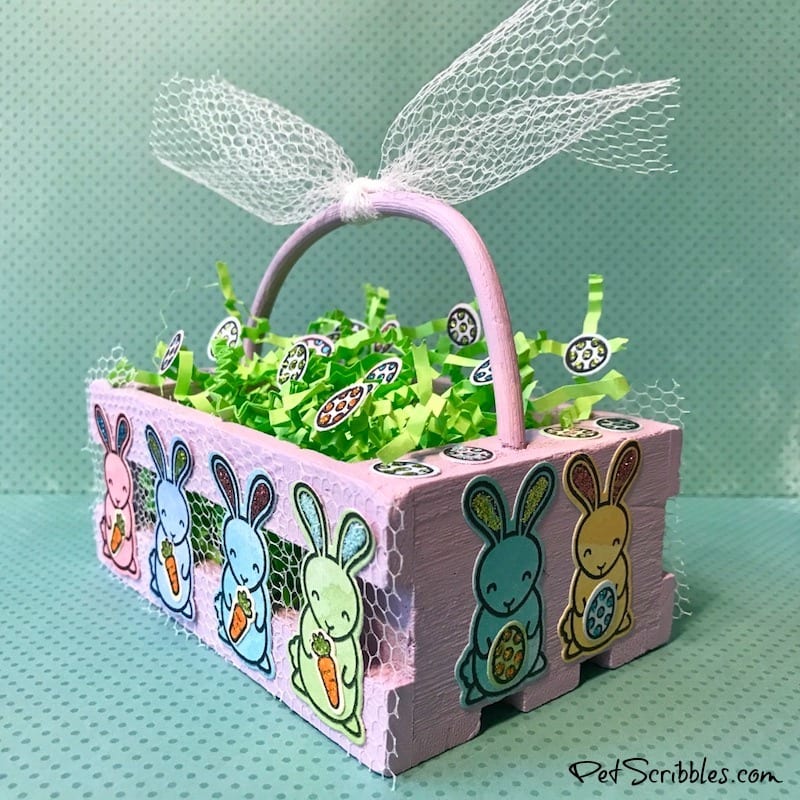 And now for the fabulous giveaway from Xyron and Lawn Fawn!
Xyron and Lawn Fawn are each giving away a $50 prize pack that includes a $25 gift certificate to Lawn Fawn and a Xyron Mega Runner!
Sweet!
Here's what you need to do . . .
To enter the Xyron giveaway, visit Xyron's Facebook page here, and leave a comment on any (or all) Lawn Fawn projects on the Xyron Facebook page this week. The more projects you comment on, the more chances to win!
To enter the Lawn Fawn giveaway, visit their blog here and leave a comment for a chance to win! You can do this each day — all week long — as they share their cards and crafts made with Xyron.
That's it!
And don't forget to visit Lawn Fawn on Facebook and Instagram to see the cutest product lines sure to inspire you!
Happy crafting!
~Laura