How to stencil a canvas tote bag! Join me on my visit to Cutting Edge Stencils where I learn the easiest way to stencil. Many stenciling tips to share!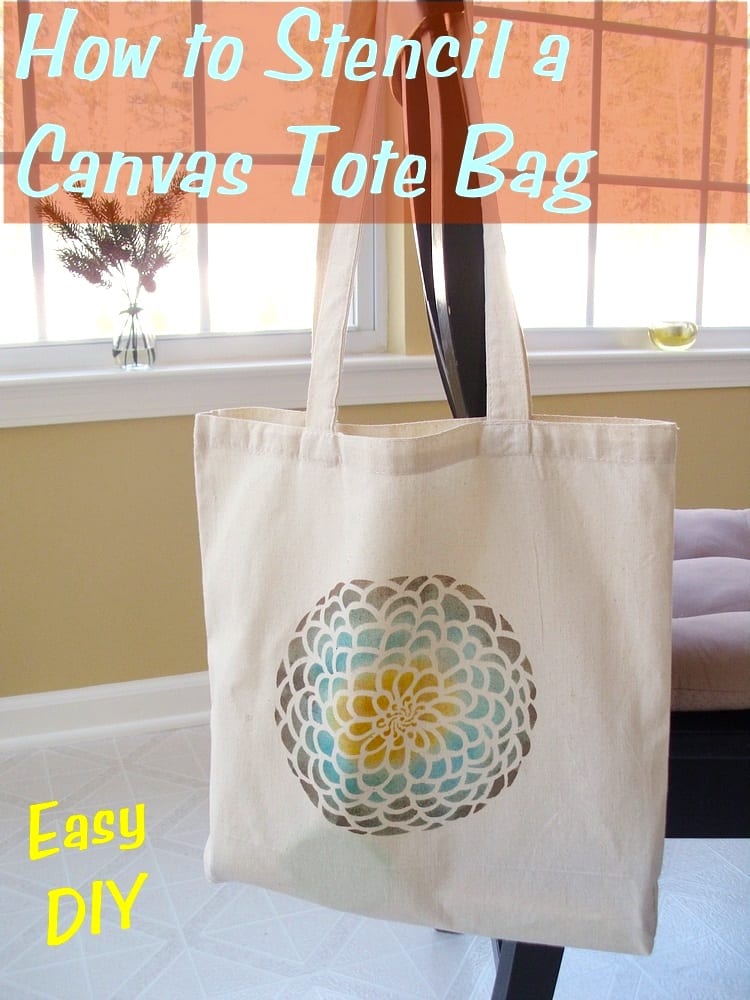 As I shared in my post earlier this week, I had the big-time pleasure of visiting Cutting Edge Stencils in northern New Jersey with several of my fellow Hometalk blogging friends. And as promised in that post, today I'm sharing how to stencil canvas tote bags, with some very helpful tips from Janna and Greg, the owners of Cutting Edge Stencils. Here's Janna and Greg. I loved their energy and warmth as they hosted us, fielded our questions and guided our stenciling efforts. Heck I just loved their energy and warmth in general. 🙂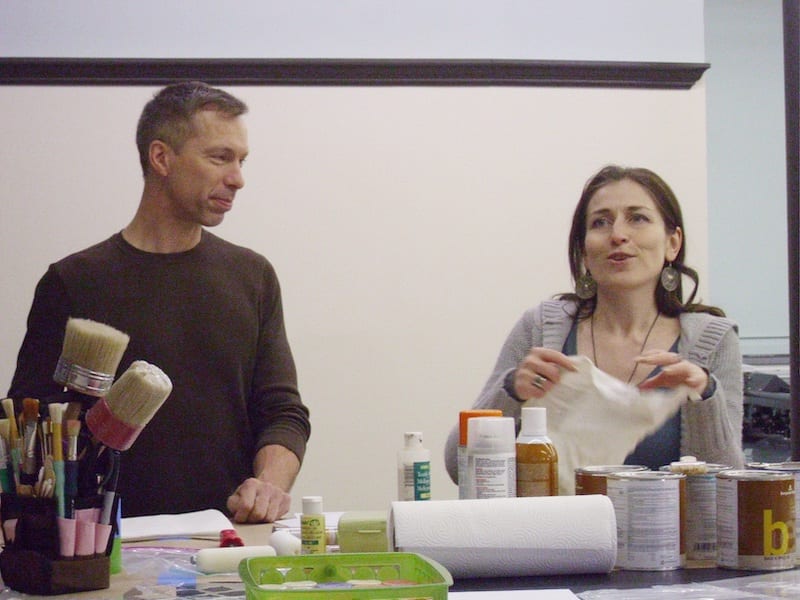 (Check out those fat stencil brushes in the photo above!) As you saw in my previous post, Cutting Edge Stencils set up a large worktable where each of us had a blank canvas tote bag, and to the right of it: a stencil brush, a paper plate, a few paper towels, and two sheets of copy paper.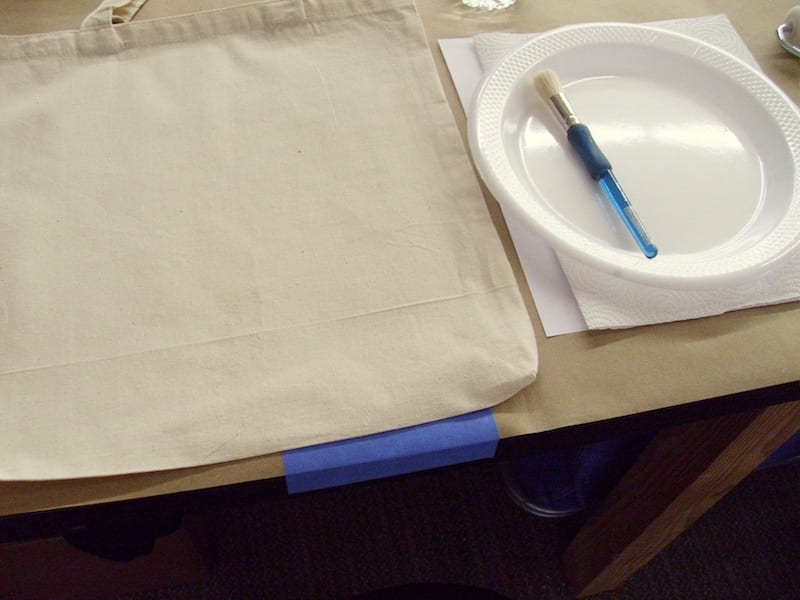 In the middle of the table was an incredible array of Cutting Edge Stencils for us to choose from, plus many different shades of acrylic paints to play with. I chose the Zinnia Stencil.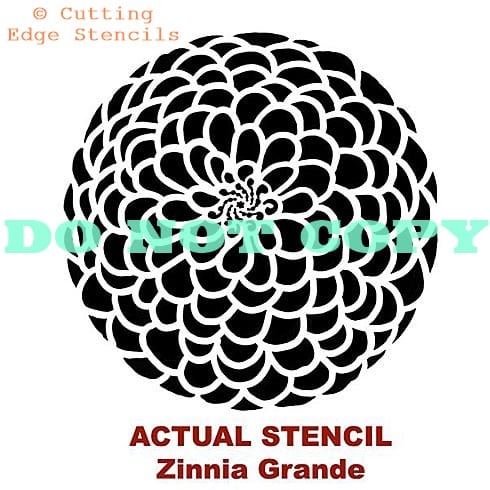 How to Stencil a Canvas Tote Bag
Step 1. Put something inside the tote so that your stenciling doesn't transfer to the other side. We used the two sheets of copy paper.
Step 2. Position your stencil where you want it, and then use painters tape to attach it to the tote. You really don't need as much tape as I used above. I kinda went overkill a bit. Ha!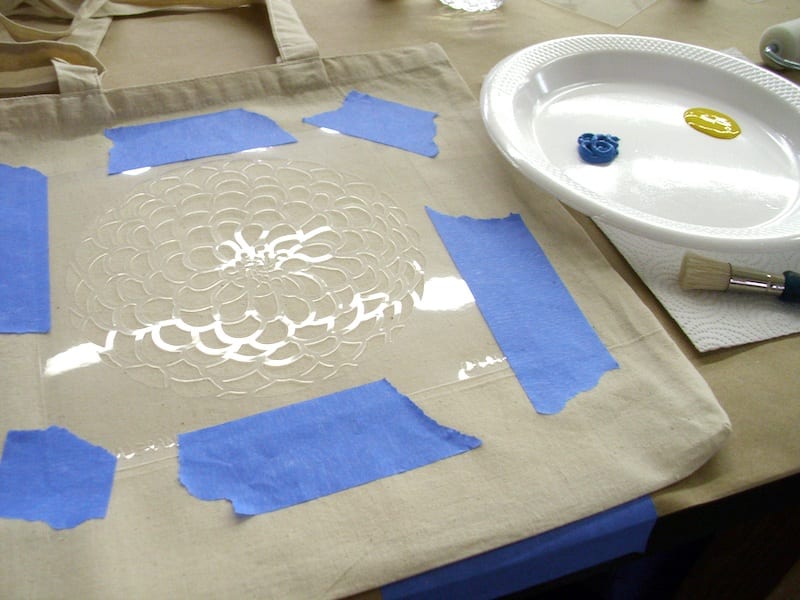 Step 3. Choose your paint color(s) and squirt a bit onto your paper plate. I used basic acrylic craft paint that you can find at any craft supply store. Dip your stencil brush lightly into the paint so that just the tips of the bristles get some paint on them, and swirl your brush around on the paper plate a few times. Next, swirl your brush onto the paper towels to remove even more of the paint.
When it seems like you wiped off too much paint? That's when you're ready to begin! Although I've read that advice before, and had thought I'd done exactly that in prior stenciling projects, it wasn't until I had Janna watching me that I learned I was still using too much paint. You truly don't need your brush to be loaded with paint at all. A little bit goes a long way. Literally.
Here's Janna (with Michelle who runs all things social media for Cutting Edge Stencils and is super nice!) demonstrating how to stencil.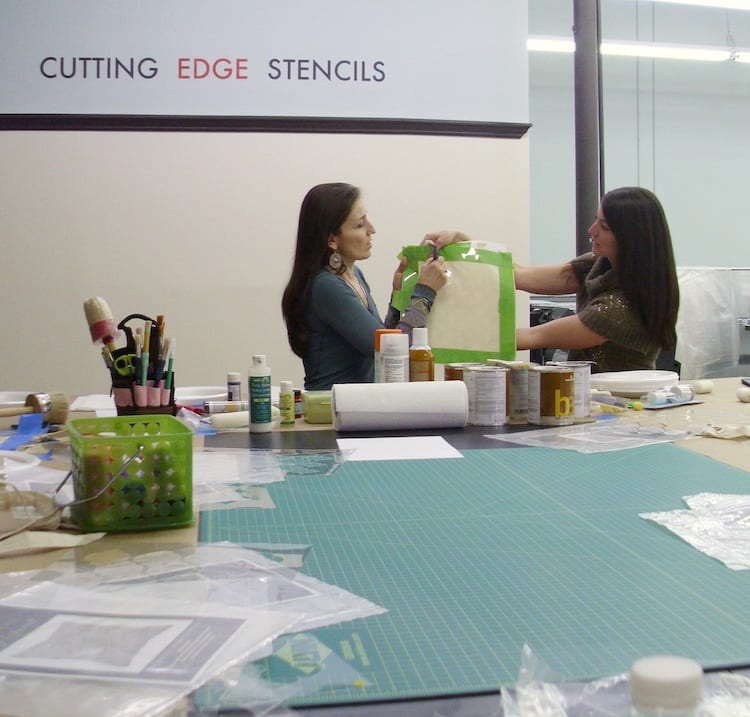 Step 4. Begin stenciling with your first color. I chose a mustard shade for the center of the zinnia, and began happily pouncing away at that center area, like you see in the action shot I successfully took with my left hand. I pounced and I pounced and geez it was taking quite some time to get the color going onto the canvas…
Until Janna rescued my poor stencil brush from the accidental abuse I was giving it.
You see, you don't need to just pounce and pounce and pounce. There's a much easier and more effective way.
Janna showed me how to swirl the stencil brush around lightly on top of the stencil. Whether you swirl in a circular motion or back and forth (or some combination thereof), the key is to lightly dust the stencil.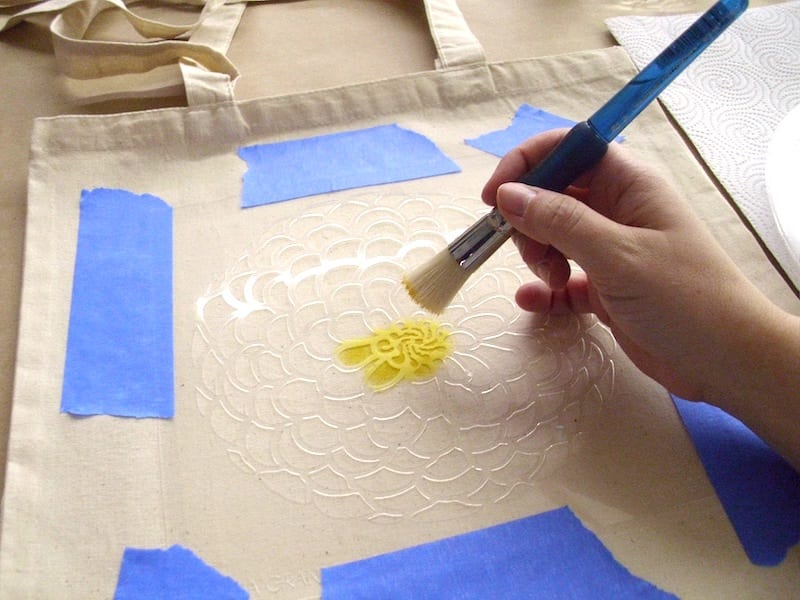 And you know what? The color went onto the canvas tote so much easier and much more quickly too.
Step 5. As you approach the area where you want to begin your next color, you can lighten up on the swirling/dusting so that the first color fades a bit. When you begin your second color, do the same thing, beginning very lightly where the first color left off before resuming your "regular" swirling and dusting. You can still pounce a bit too, just don't make a career out of it.
Look at how happy I am (below on the right) stenciling away the second color – a sort-of-but-not-quite-teal shade – using the proper technique…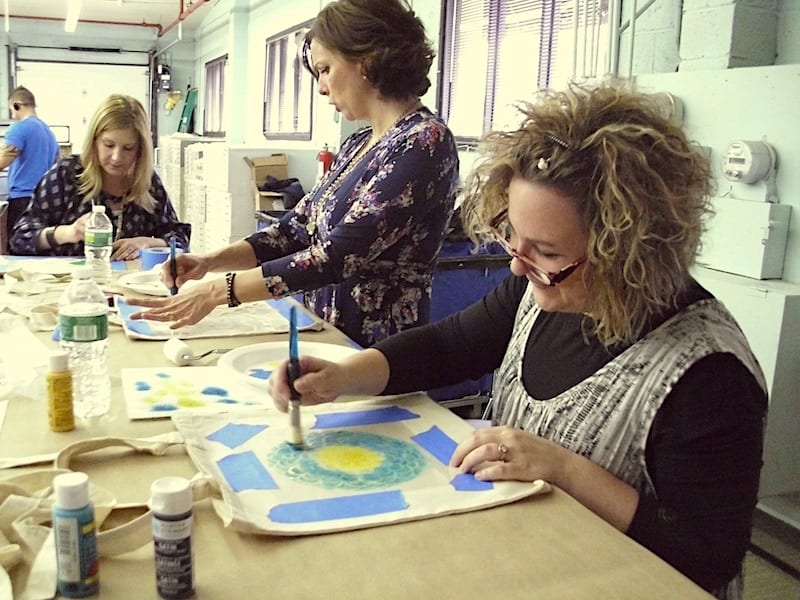 That's Jen from City Farmhouse (far left) and Laura from Finding Home Farms working next to me. Below are their canvas totes and workspace. See those green circle "thingies" on the table? I'll tell you what those are shortly!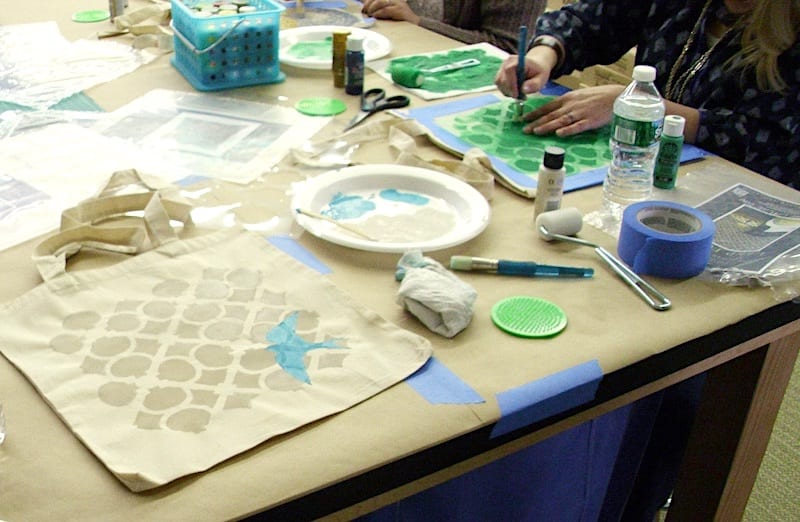 Another technique I didn't realize you can do with smaller stencil projects is to use a roller to apply the paint onto your stencil. The roller works extremely well when you're using a stencil like this one below with lots of thin lines and intricate details. Can you imagine just pouncing away at this thing? Yes, I'm still blown away at my incessant pouncing all these years!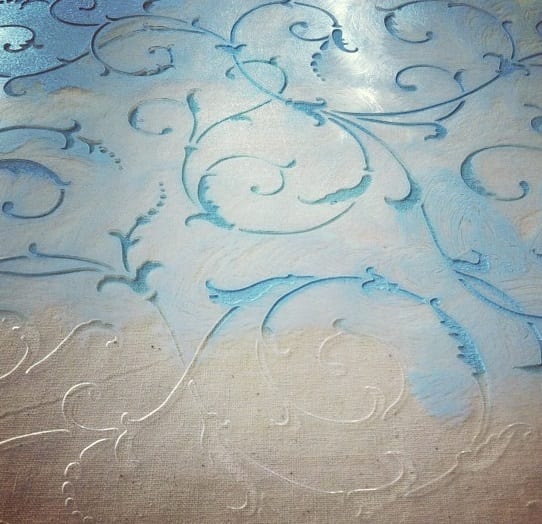 Here's a zoomed in look at my finished stencil. After the blue color was applied, I stenciled on a brown shade for the outer part of the zinnia using the same technique described above.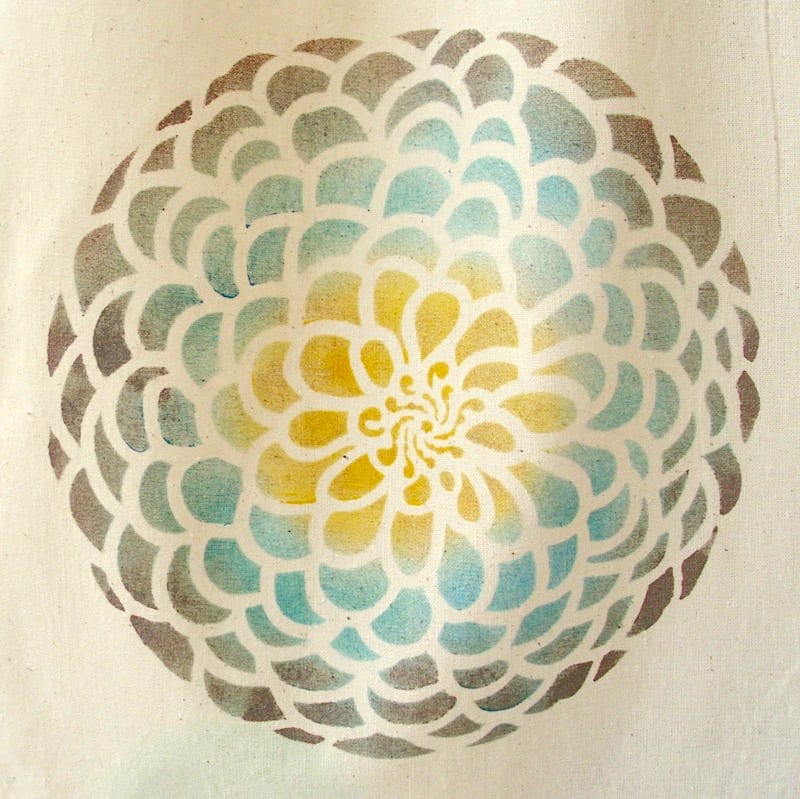 I really liked how the zinnia turned out!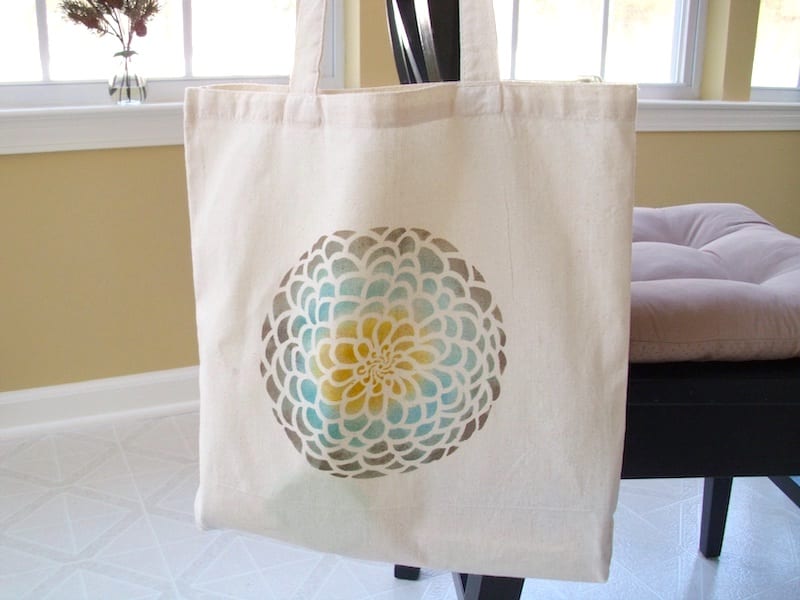 More Zinnia Stencil Inspiration
There was inspiration to be found everywhere at Cutting Edge Stencils, and the Ladies Room was no exception! Imagine my surprise when I saw these stenciled shower curtains with the same zinnia stencil! Nobody even questioned me when I exited the ladies room, grabbed my camera, and went right back into the ladies room and closed the door to snap these pics!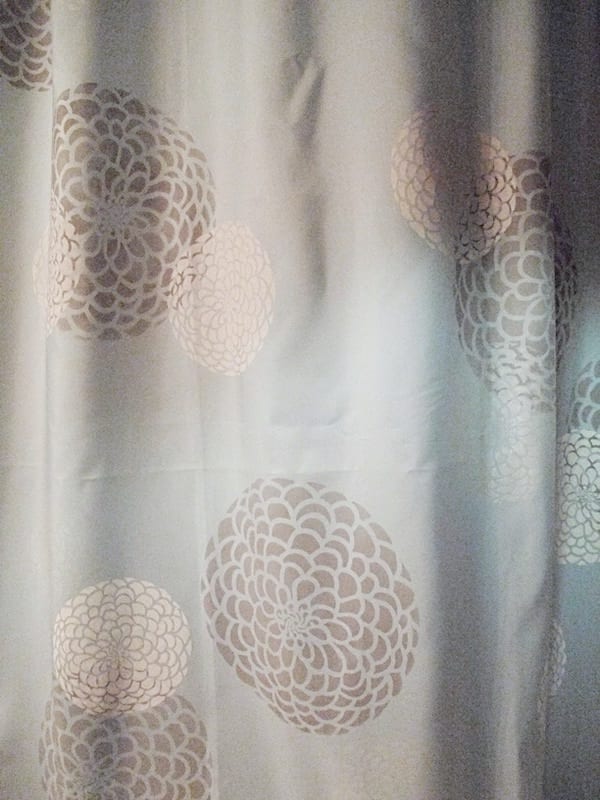 And here's four more examples of the zinnia stencil used in different color combinations and patterns. These examples can be found on Cutting Edge Stencils' website, where you will find many finished examples for each stencil they offer. I love this for two reasons: first, purely from an inspiration standpoint as there's lots of color combos to give you ideas; and second, you can see multiple finished examples of each stencil they offer for sale.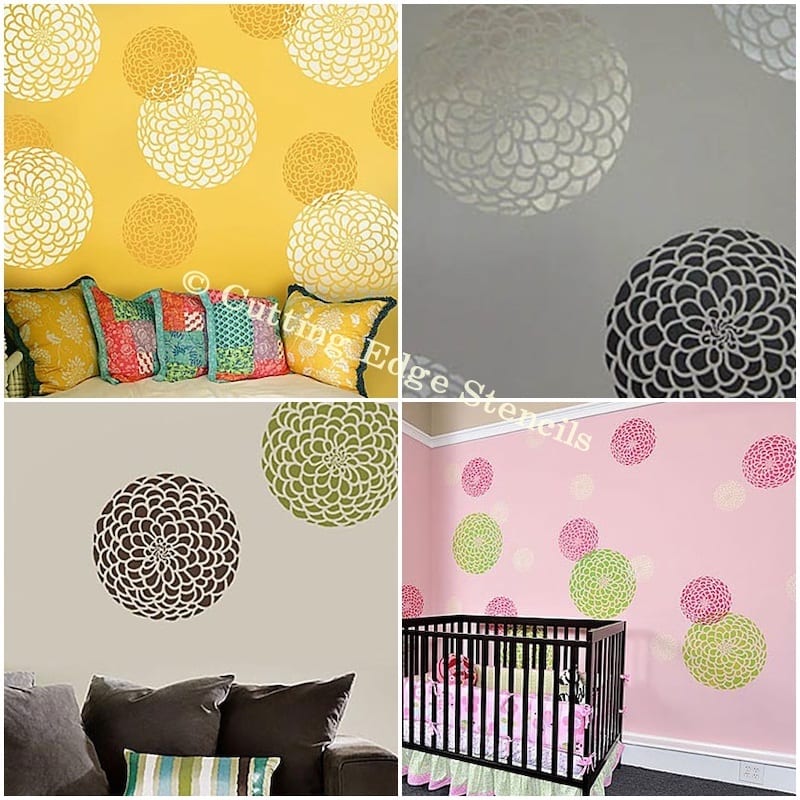 I heart the Zinnia Stencil! I really like the solid colors used in each of the wall examples above. Although I love the colors I used on my tote bag, I would definitely stick to a solid color for this stencil on walls because it has much more impact.
How are stencil brushes cleaned?
Remember the green circle "thingies" mentioned earlier? They are Stencil Brush Scrubbers – a super handy way to easily clean your brushes.
Below, Greg demonstrates with just some water and the brush scrubber how you can remove the paint from your brush without ruining the bristles. After you clean the paint off the brush, you just set it to dry. I like to either stick mine in a cup with the bristles facing up, or I'll put the brush on the edge of a table with the bristles hanging over the side.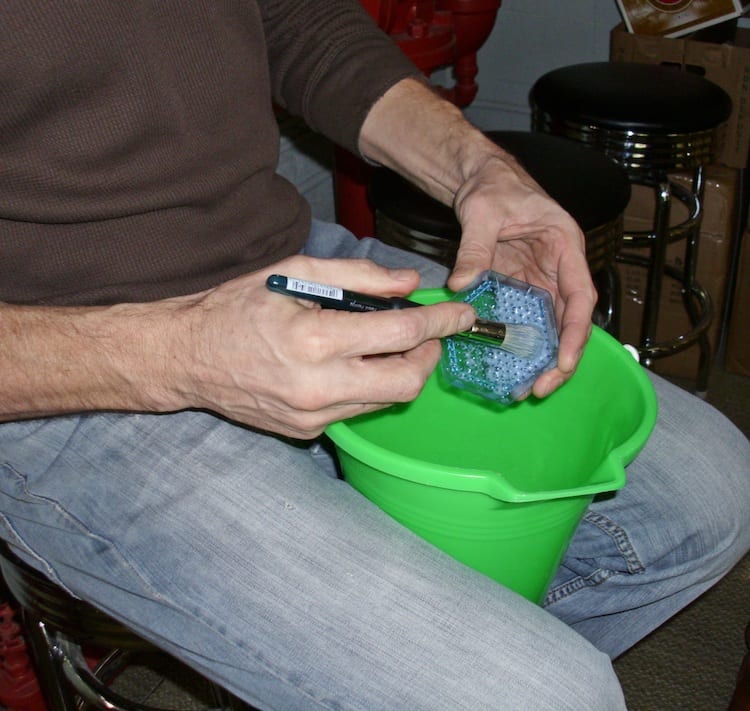 How are the stencils cleaned?
Good question! I must admit that I never truly "knew" how to clean them, just sort of winged it not always with good results! Janna walked us through the steps, and I must say it's nice to finally know the right (and easy) way! You can see a video on how to clean stencils on the Cutting Edge Stencils' website, along with many other helpful stencil tips
here
.
Stenciled bags by my fellow blogger friends!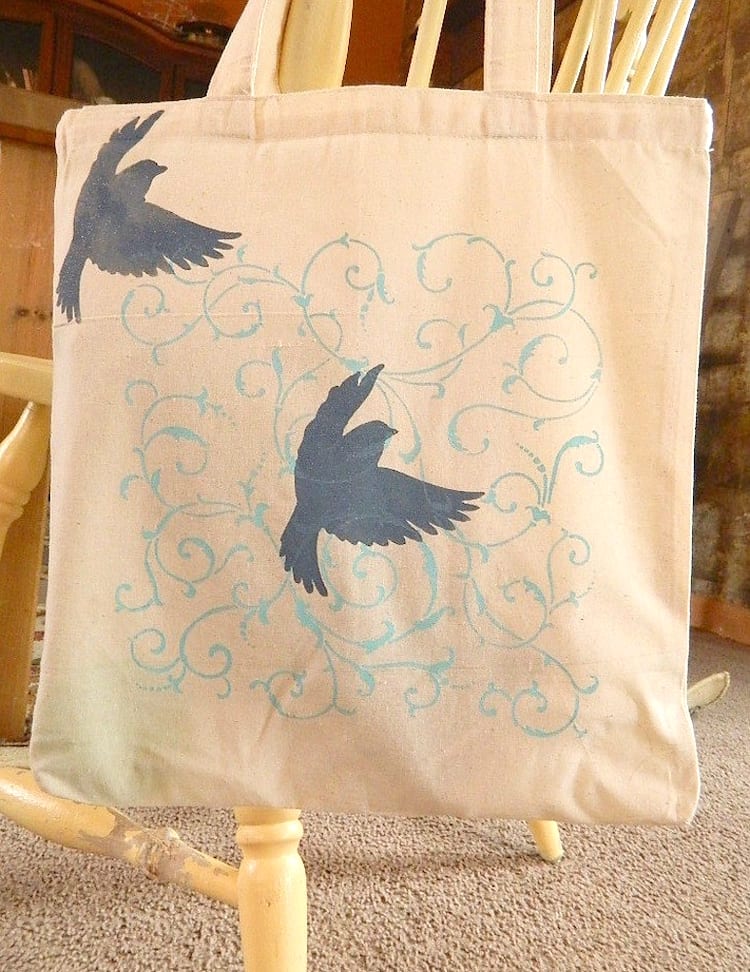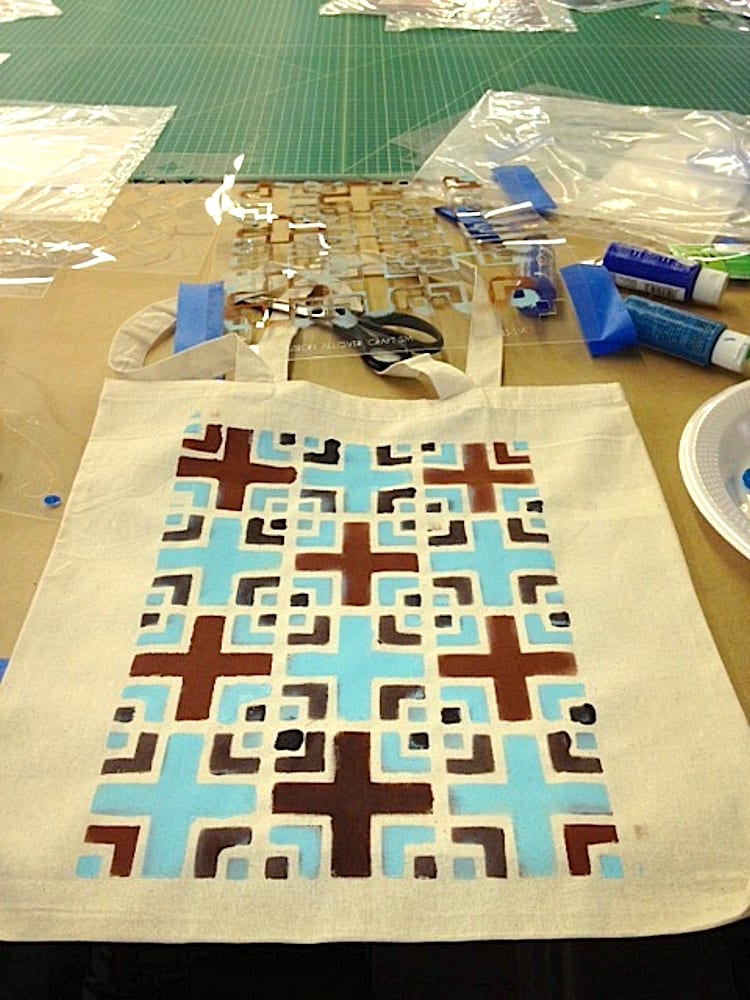 Here's Kelly's from KellyElko.com: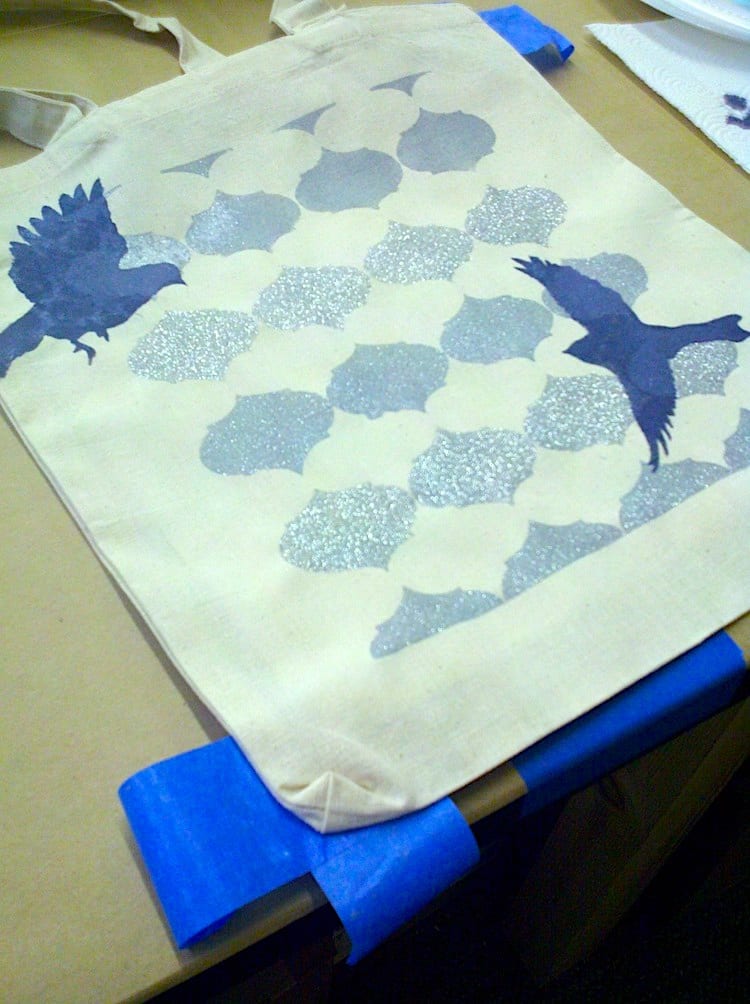 And here's mine in our breakfast room, ready to take on all my errands!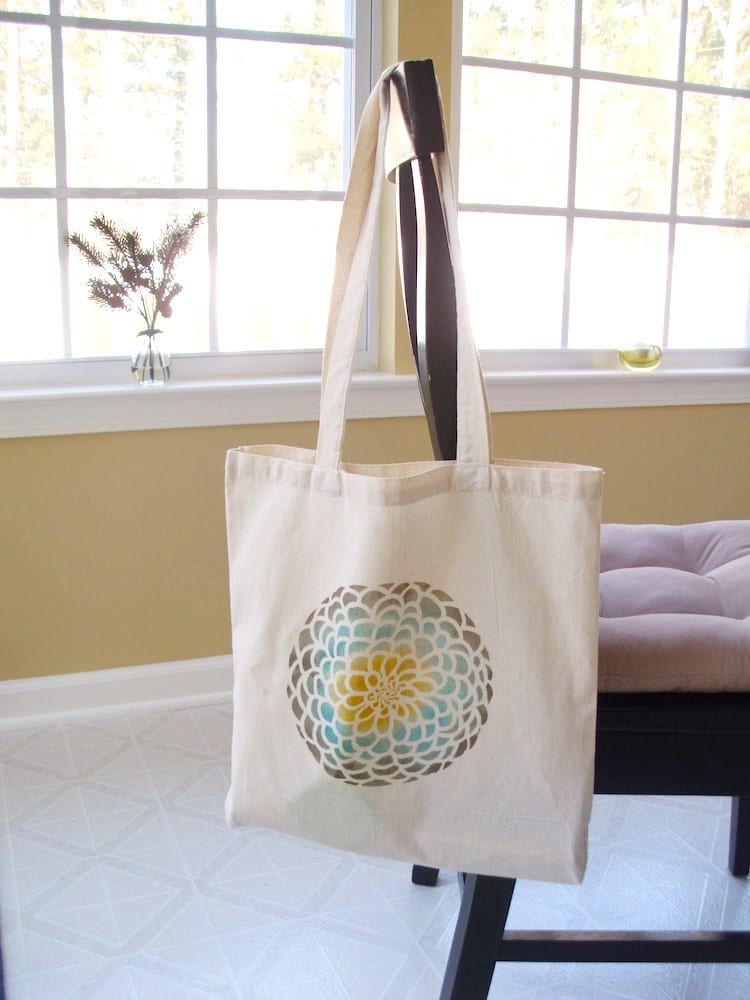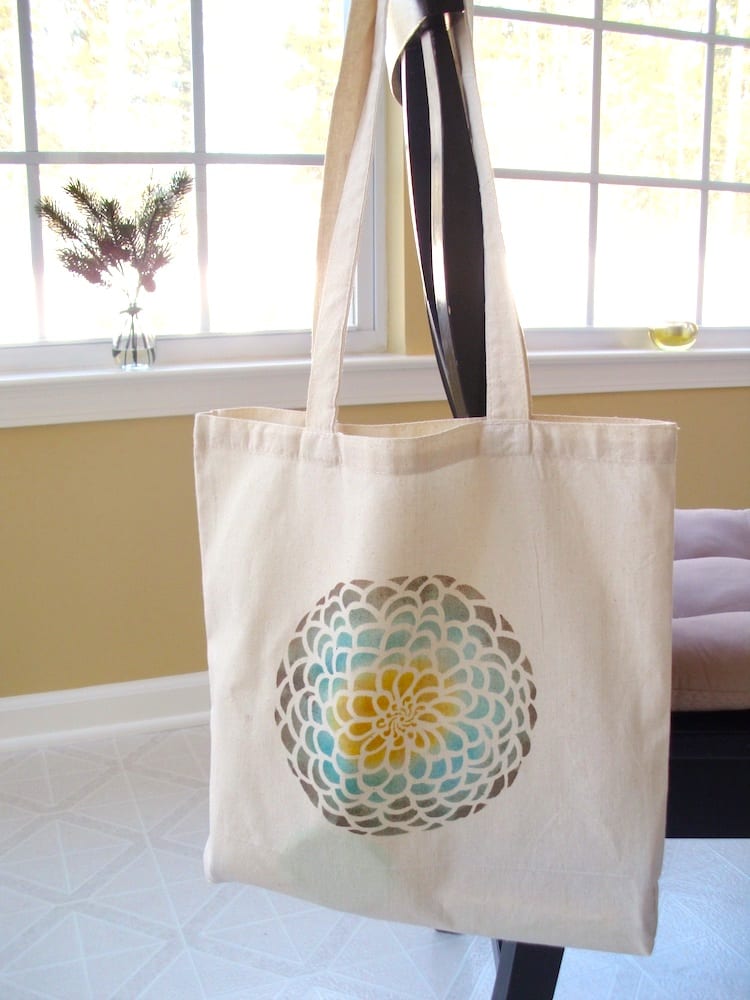 So there you have it!
I hope you learned not only how to stencil a canvas tote bag, but also some handy tips and tricks too!
You can bet I will be stenciling more often, both big and small projects. I totally love how easy it is to get such professional-looking results!
How about you?
Have you stenciled anything big or small? Will you try it now that you see how easy it is?
I hope so!
Happy crafting!