Here's a fantastic handmade idea for gifts or for yourself: how to make charming decorative vintage style magnets! I can't emphasize enough how simple this is, and you'll see that the results are so pretty!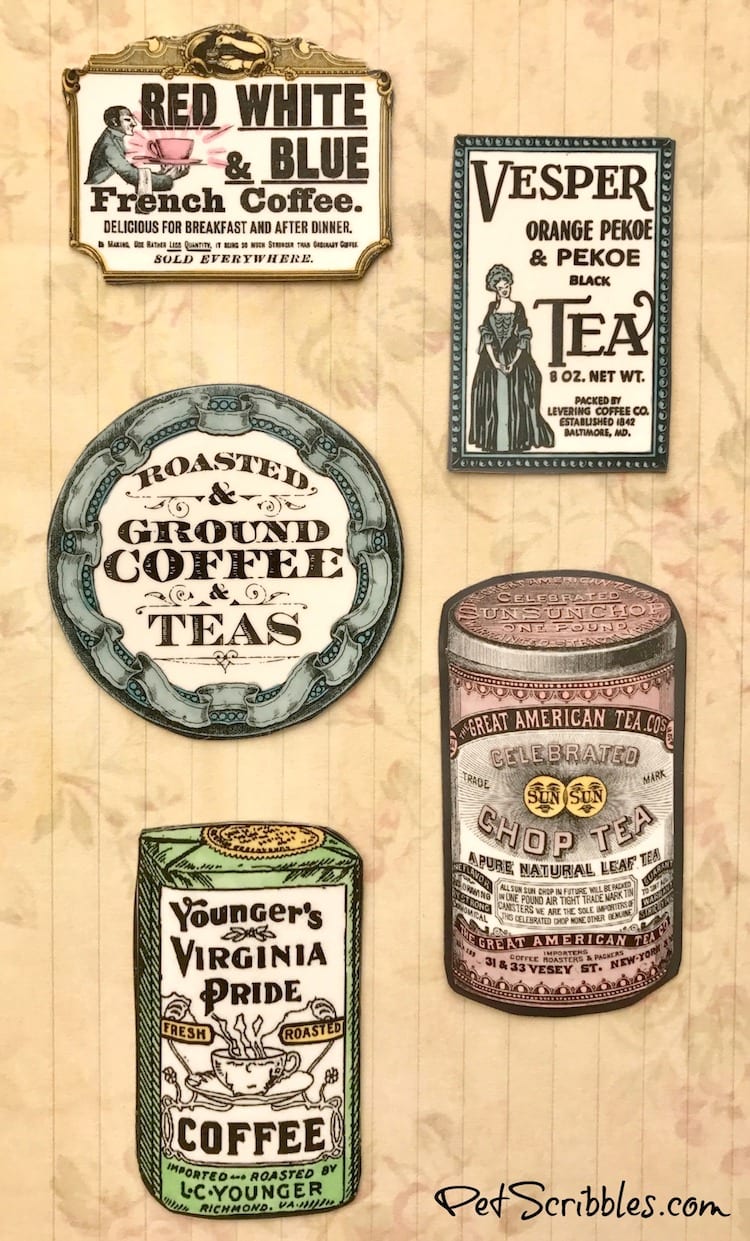 Ever since I made these vintage style magnets, I've been thinking of more and more magnet "collections" to make as gifts. So, no doubt you will see more of these here on Pet Scribbles in the future!
I love how they look!
FTC Disclaimer: I've received products/compensation as part of the Xyron Design Team. These Vintage Style Magnets, however, are 100% my own project! Some of the links in this post are affiliate links. I explain more here.
Supplies:
How to make charming decorative vintage style magnets!
I love anything vintage, so this sheet of vintage coffee and tea labels from Canvas Corp had me swooning!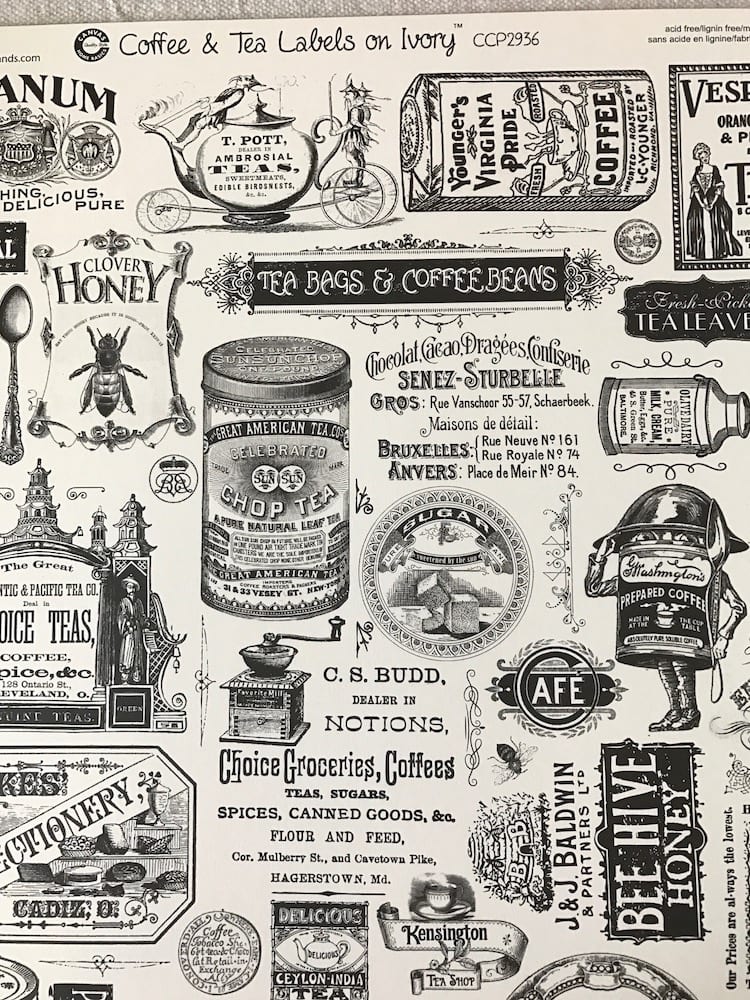 These aren't truly "labels" in that the above is a sheet of cardstock. But you could turn them into labels using your Xyron Creative Station, or even the Xyron Sticker Maker for the really small ones.
I cut out five coffee and tea labels . . .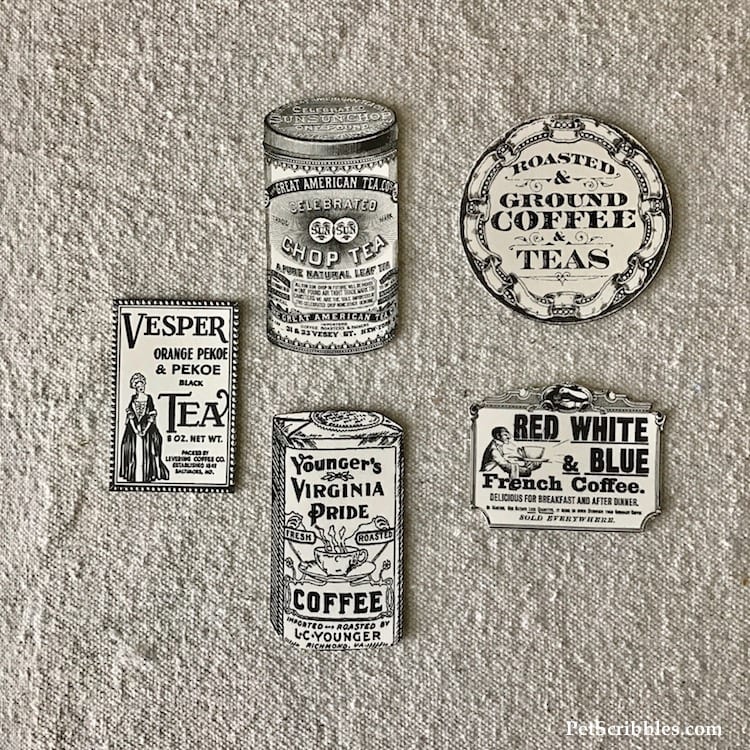 You can leave these as is — especially as the ivory and black is such a stylish look!
I couldn't resist getting out my Spectrum Noir markers to color in sections of each label . . .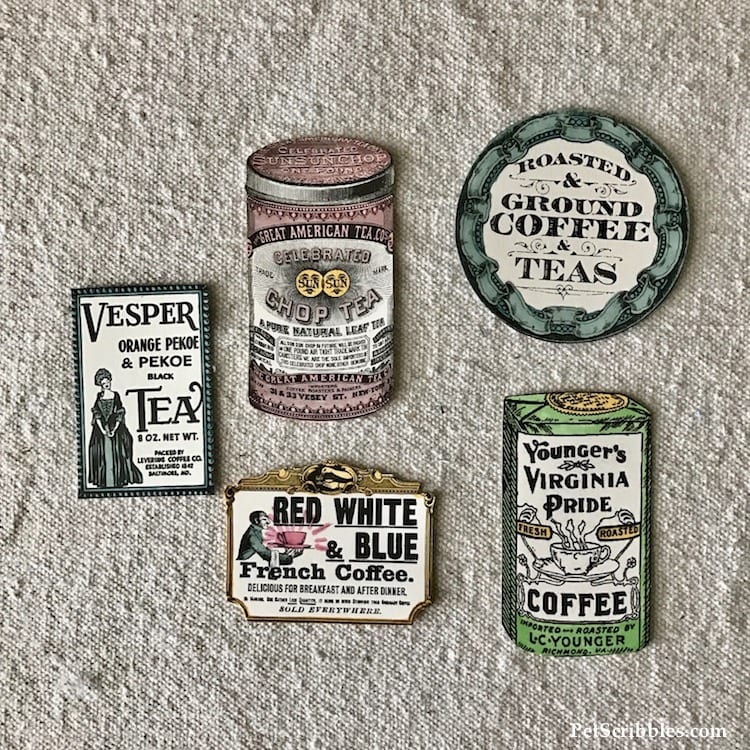 Just as I've shown you in previous Xyron tutorials, the process for turning these into magnets is the same as turning anything into a sticker.
However, first I need to insert the Xyron Laminate/Magnet Cartridge into the Xyron Creative Station.
It's quite easy to switch cartridges out. Below you can see the large cartridge that I always keep ready to go to make things sticky. Just lift it up gently — it slides right up and out easy peasy!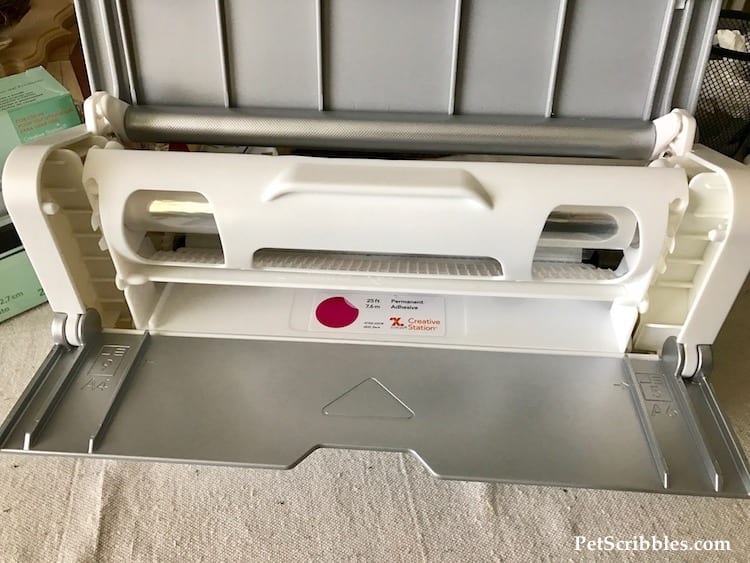 Look for the green tab (hidden underneath when the full-size cartridge is in place). The green tab will be flat against the bottom, so just move it into the upright position, as shown below.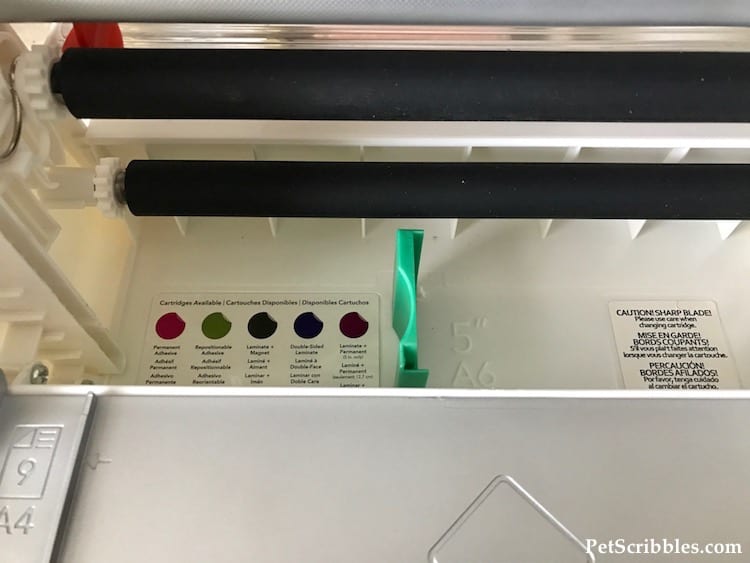 This green tab is all that is needed to easily slip in the 5-inch Laminate/Magnet Cartridge — or any of the Xyron 5-inch cartridges — into the Xyron Creative Station.
I love that Xyron includes a list of all their cartridges (that work with the Creative Station) right in the machine. Very handy!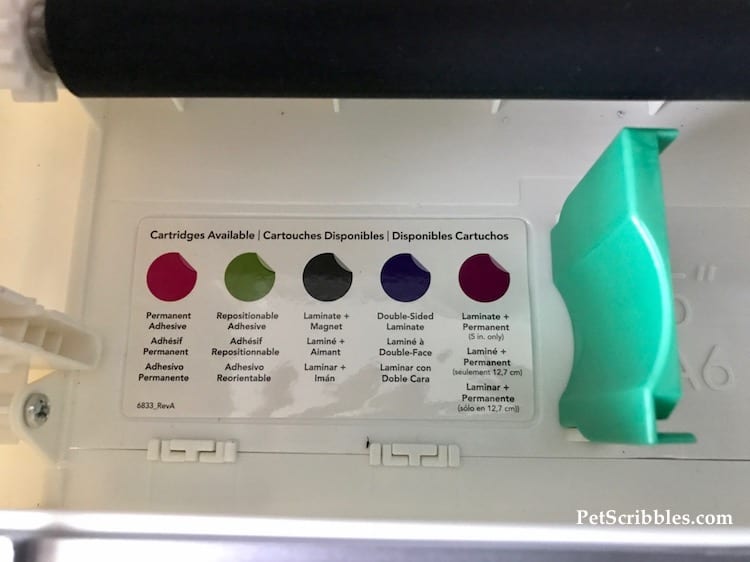 I ran my vintage coffee and tea labels through the Xyron Creative Station, and out came my magnets!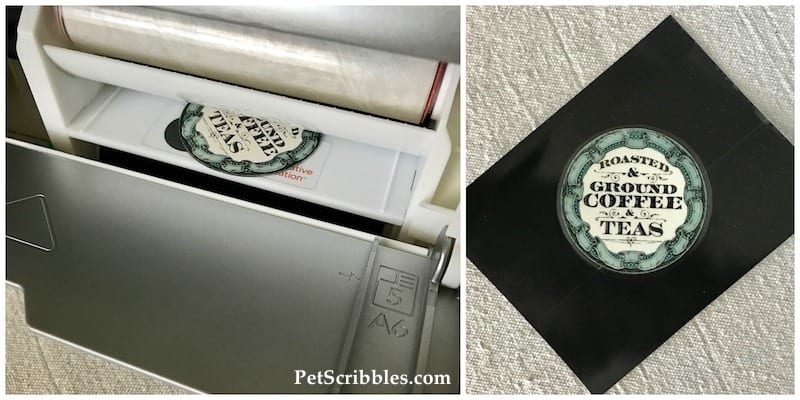 Here's what's awesome: these magnets are now laminated on the front too! Perfect to preserve the artwork.
And if you use these as kitchen magnets — if you get any sauce or whatever flies around your kitchen while cooking on the magnets, simply wipe them clean!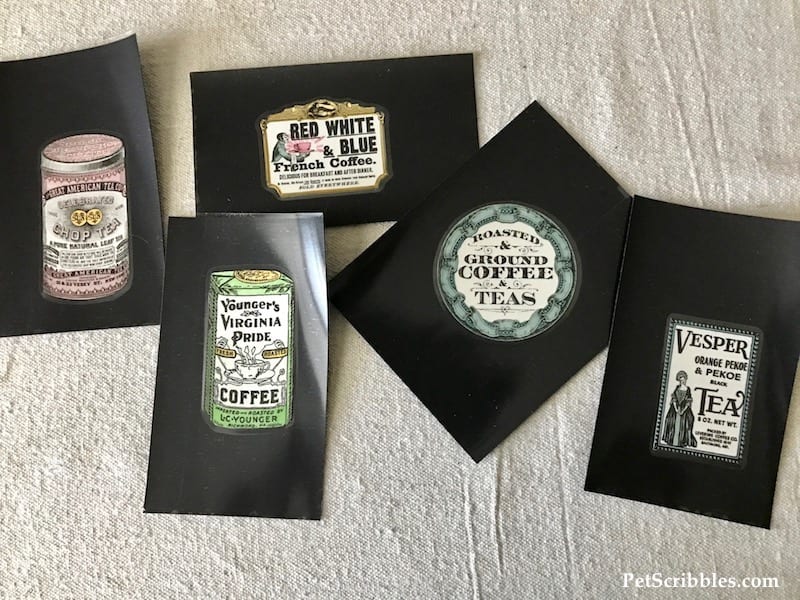 A note about the picture above: You don't need to keep that much space around each of your images when making magnets. I did this to show you more clearly how they look. You can feed them through the Xyron Creative Station a bit closer together than I did.
And . . . you're finished!
Here are the magnets on a rusty magnet board . . .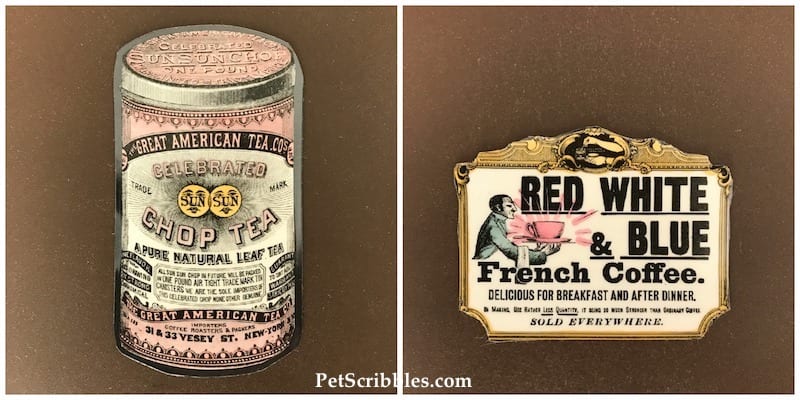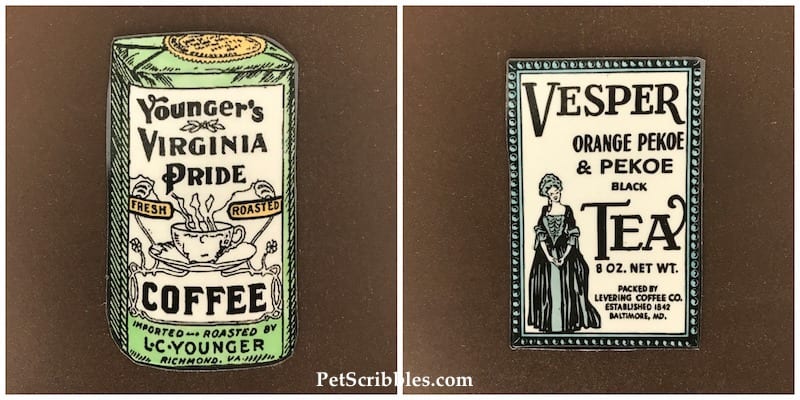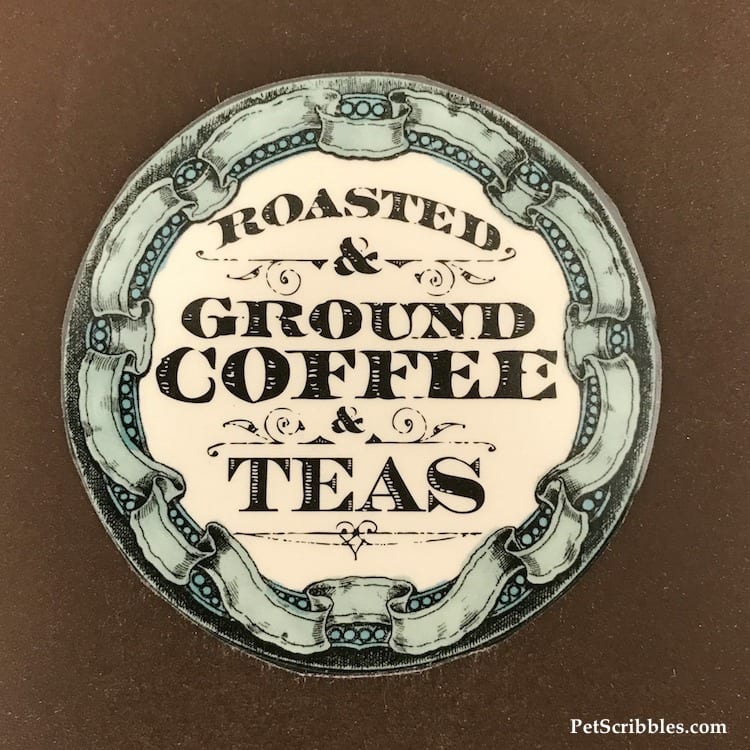 And here they are as a collection. What a great gift this would make!
(Notice I said "would" because I plan on keeping these!)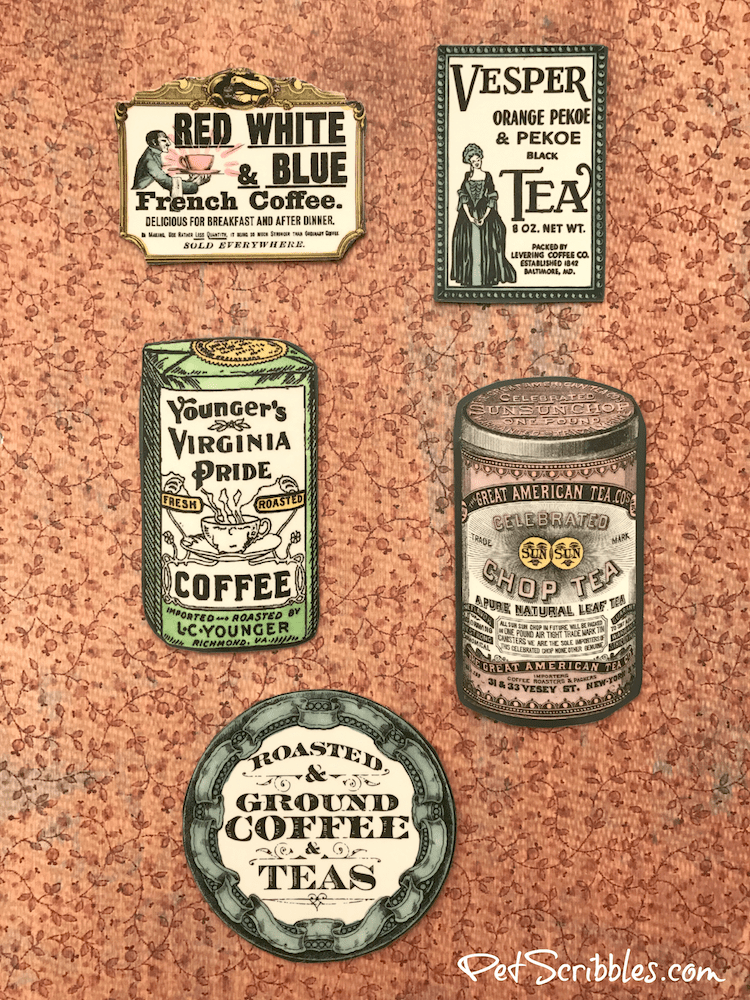 Like I said earlier, I have so many ideas for magnets, now that I know how simple this is to do!
For more fun project ideas — please visit our Xyron Facebook page!
Happy crafting!
~Laura