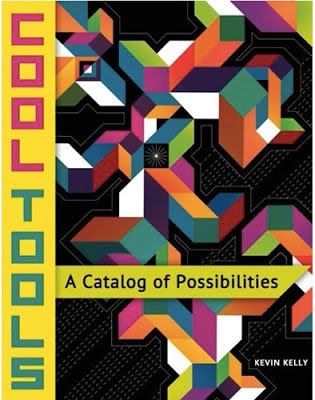 *This is not a sponsored review. It's just me gushing about a new book I think you will love!
My husband and I recently bought the new book Cool Tools: A Catalog of Possibilities by Kevin Kelly.
We knew it would be great, but it has surpassed even our mega-high expectations!
This is the perfect gift for the DIYer on your list! Trust me, they will love it whether they are more of a crafter, or a woodworker, or hard-core home improvement-er, or DIYer of all trades, or merely interested in gadgets and… well… cool tools! It's like the ultimate "how-to" guide!
There's something for everyone in this book.
First, this video by the editor which explains what Cool Tools is better than I ever could!
Tell me you said the word "Cool!" at least once while watching this video, just like we did!
We preordered the book and it arrived on the first day of publication. We. Love. This. Book.
Things we love about Cool Tools:
Learn things you didn't know
Learn about tools you didn't know to use
QR codes next to everything to get even more information
URLs listed everywhere to purchase or get more information
Lots of awesome contributors to the book
Oversized, gorgeously laid out presentation
Things we dislike about the book:
So in conclusion, buy this book for the DIYer on your list! And while you're at it – purchase one for yourself too!
Here's a link to it – below – and full disclosure, I'm an Amazon Affiliate so I'll get a few pennies coming my way if you order through this link, but you're not paying any extra for that part!
Let me know in the comments if you've either heard of this book, purchased it already, or are over-the-moon thankful that I shared this with you!
~Laura