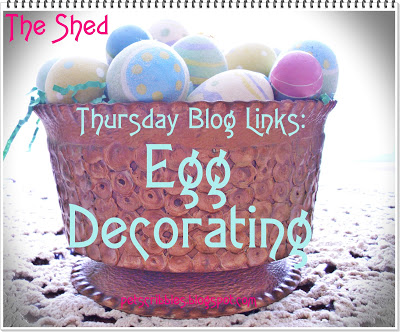 Ah, Thursday again so soon? Not soon enough! This week I'm excited about how fast the week has gone by! Why? Because tomorrow is the semi-official date when I can resume normal activities, after waiting patiently since my February surgery to recover and heal. I'm apparently still healing inside and can't go nuts, but I can begin – finally! – to clean up the yard and garden! Of course there's rain scheduled in the forecast, so if I'm rained out, I've got several sets of magnets to make, which I'm equally excited about after finding more great vintage floral images and patterns!
How about you? What's on your schedule for the weekend?
Today's edition of my Thursday Blog Links brings you eggs: specifically crafty ideas to decorate eggs for Easter, for Spring, even for year-round decor. You have a little over one week until Easter, and many of these projects don't take much time at all. Get your kids involved and make it a fun family project, just keep the pets away from the crafting activity lest they become decorated too!
Just look at that before-and-after image above. Isn't that an amazing transformation? Well, after Vivienne – of The V Spot blog – posted this tutorial, the producers of The Martha Stewart Show contacted her to demonstrate this technique on their show. Although scheduling didn't work out, that is still pretty darn impressive! Did I mention that Vivienne says this project costs under $5? Uh-huh. Click the link above (under the image) to head over to The V Spot and get the details.
Karen from The Graphics Fairy is über-talented! Not only does she maintain her successful blog sharing vintage graphics, she also runs a store called Fleurish, in the Washington, DC metro area, selling beautiful vintage and vintage-style finds. (By the way: Karen's blog is mentioned in the April 2012 issue of Country Living, in a DIY for… wait for it… how to decorate eggs for Easter!) When I saw this elegant German glass glitter egg on Karen's blog, I knew I'd be sharing it with you and adding it to my pile of "crafts I must do!" Click the link above (under the image) to check out Karen's tutorial.
One of my daily go-to blogs is Mod Podge Rocks. I don't know how Amy comes up with so many fun projects using Mod Podge, but I'm not surprised that she has a book on the subject coming out in June. (You can find more info about the book on Amy's blog and can pre-order from there too.)
Another awesome thing about Amy's blog is that she often features crafty bloggers who have made amazing things using Mod Podge, and the above tutorial is a great example. This egg decorating DIY comes from Sharon of Styrofoam Crafts, who was a guest blogger on MPR this week. I love how the colors on these eggs are just right: the perfect Spring hues in strong shades. Click the link above (under the image) to learn how to make these.
And speaking of Sharon…
Sharon is currently devoting an entire week to egg decorating on her own blog
Crafts 'n Coffee
, with a new egg craft idea every day! The image above is from yesterday's egg DIY, and I just love this idea. Why? Because I see these type of eggs everywhere in home decor stores, usually done in stone, sometimes ceramic or wood. This version is made with styrofoam and modeling clay, and I think that's so awesome!  Click on the link above (under the image) to read the step-by-step, and definitely check out the complete "Eggstravaganza Week" while you're there.
Don't these eggs look like the pretty foil-wrapped chocolate eggs you see in the candy aisle every Spring? I love them for that reason alone! However, that's where the "faux paw" – in the tutorial's title – comes in. You see, Colleen, of Just Paint It, set out to produce a selection of eggs that would look like they were made of alabaster. What she says she got instead was more like the candy. Maybe it is because I love chocolate, but I just adore the way these eggs turned out! Click on the link above (under the photo) to learn how Colleen made these eggs, and while you're there check out her other crafty Spring projects too.
Will you be decorating eggs this year? Let me know in the comments!
Want more ideas? Then check out Part Two of Egg Decorating here!
Have a creative weekend!
~Laura