Happy Fall!
With the cooler temps, comes sweatshirt weather, pee-wee football games (our nephews) and cheerleading (our niece). Yard work and gardening no longer seem like the chores they were in the high heat and humidity of July. I really enjoy the crisp evenings this time of year, and love when we can sit outside and enjoy the warmth of our firepit. I'm in such a Fall mood that I actually made super-easy desserts to enjoy. Yes, I have two Fall Recipes to share with you, using Mott's Apple Juice and White Chocolate Candy Corn M&M's.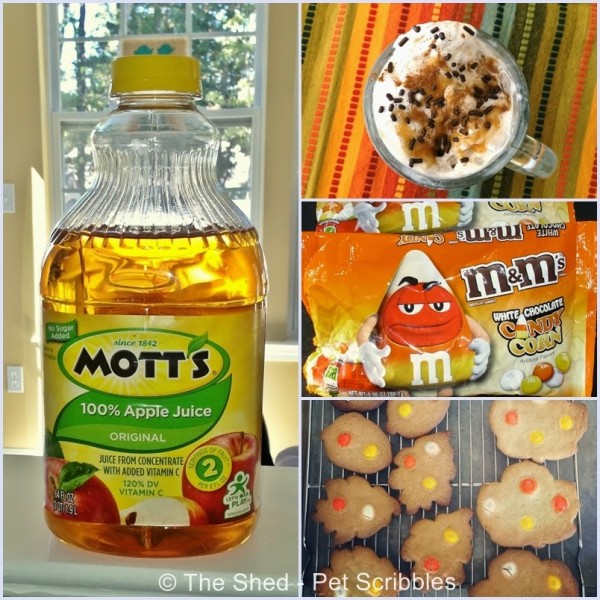 No, seriously. I made something in the kitchen. I actually baked cookies. In cute shapes.
And I made an apple juice and caramel ice cream float. Me, who has a Pinterest board called Recipes, if I baked or cooked!
Want to see what I made?
Super Easy M&M's Candy Corn Sugar Cookies
First, I decided to use these fun cookie cutters we bought just after we moved into our home. Six years ago. See what I mean? I don't bake. But I thought I might. Someday.
I have to point out the small squirrel and the giant acorn! It's the little things that make me laugh.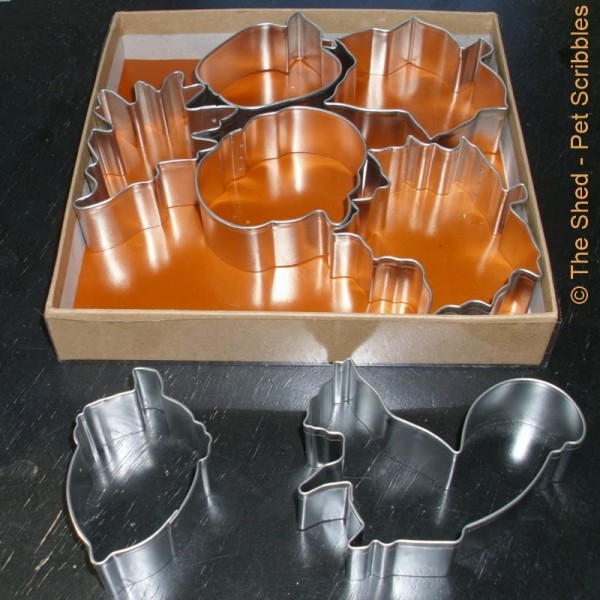 Next, I picked up some Fall-themed M&M's to go into my cookies. I was really excited to find the white chocolate, candy corn-flavored M&M's – have you tried these yet? The candy-corn flavor is sweet! Aren't the colors so happy looking? Like a bright Autumn day!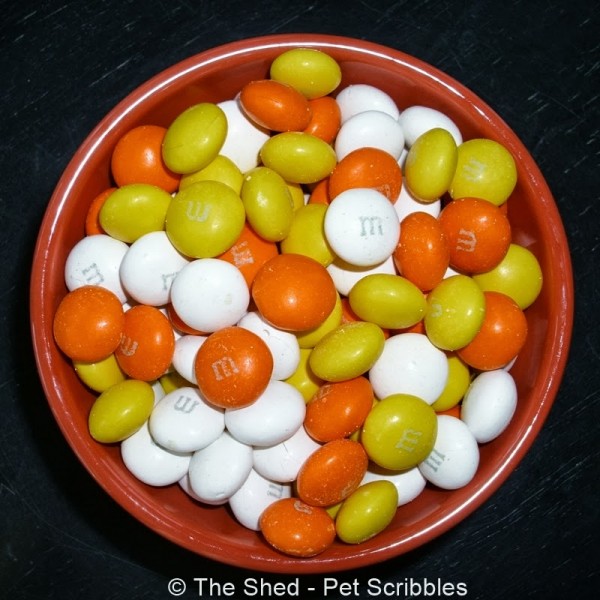 I decided to use simple sugar cookie dough that I found in the grocery store's refrigerated section. (Come on, did you think I was baking cookies from scratch? Not on my first try!) I still had to shape the dough, and use those cookie cutters, so it counts as baking in my book.
Using cookie cutters can be hard: I may or may not have used them backwards. Twice. Who knew there was an actual "cutting" edge on each cookie cutter? I'm so lucky my Mom doesn't read my blog!
Once the cookie shapes were cut, I just pushed those pretty M&M's into them. After a short bake in the oven, and a bit of cooling, here they are: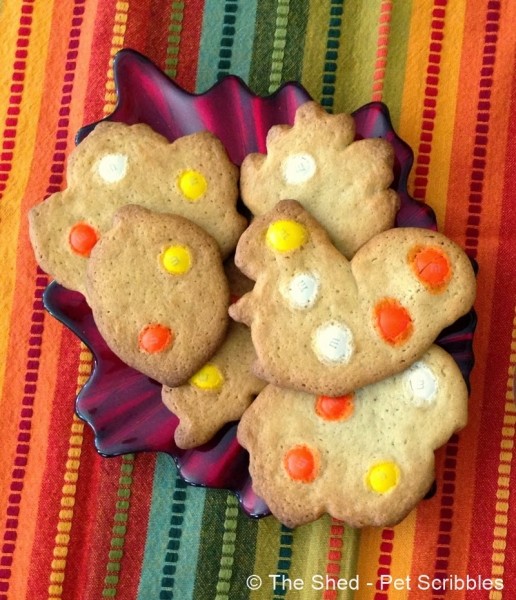 They look pretty good, right? And even better? They actually taste good! I didn't ruin them. I didn't burn them. I like the simple addition of the candy corn-flavored M&M's, as it adds not only a familiar Autumn flavor, but the colors are perfect for this time of year too! Easy Fall baking!
Now that I realize how easy it is to make cookies… Well, I'm afraid to finish that sentence. I don't want to commit myself to baking. Because I don't bake. Or maybe now I do? Or will?
Apple Juice and Caramel Ice Cream Float
Moving along here, I also made an ice cream float just perfect for this season: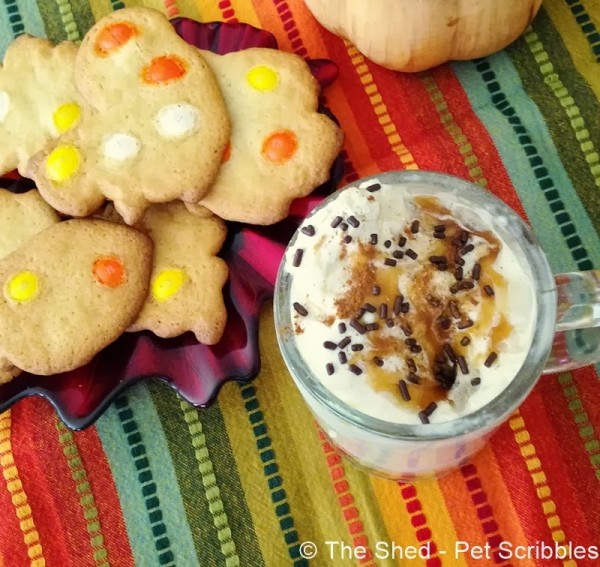 Fill a frosty glass mug halfway with Mott's Apple Juice. Fill the glass up another quarter with ginger ale. Add two scoops of caramel-vanilla ice cream. Drizzle caramel syrup on top. Add chocolate sprinkles, a dash of cinnamon and some freshly-grated nutmeg. Easy. And oh so good!
And yes, my husband had a look of shock on his face. The kitchen is his domain. But after he got over the reality that I had used the oven, he enjoyed the cookies and the ice cream float! And I had a tiny bit of satisfaction that I could actually make something for him for a change!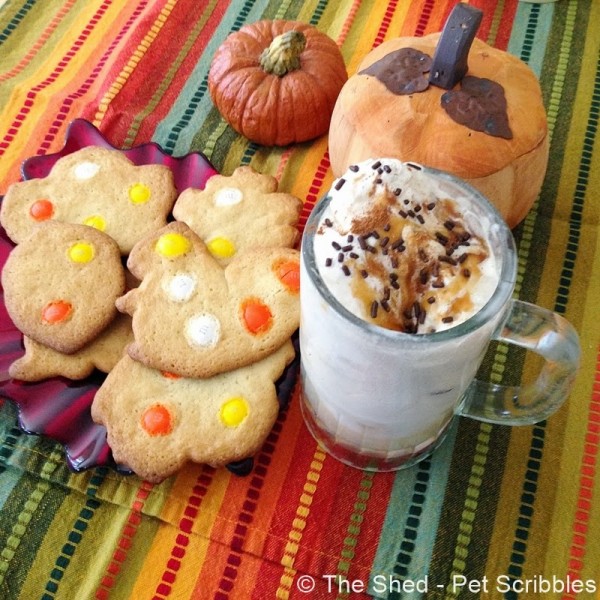 So we're now officially into the Fall season! Yesterday I started decorating our front entrance, and it was fun to open up the storage bins and remind myself of the pretty Fall decorations we have. This is my husband's and my favorite time of year – so much so that we go married in the Fall – which just adds to the festive atmosphere in the air around here.
How about you? Are you ready for Fall? Or are you still trying to wrap your head around the fact that I crafted something in the kitchen? And it was soooooo good!
Happy Fall! And for more great ideas, visit the Fall Baking and Entertaining Pinterest Board. Just click below!