This post and photos may contain Amazon or other affiliate links. If you purchase something through any link, I may receive a small commission at no extra charge to you. Any supplies used may be given to me free of charge, however, all projects and opinions are my own.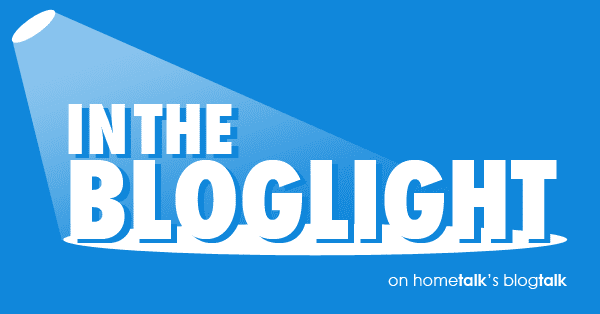 Christmas in July. You see it everywhere this month, in shops and stores both online and in town. Well, I can honestly say that I – personally – am celebrating Christmas in July too. Why?

Because Hometalk is featuring me in this week's Bloglight! Cue the trumpets!
Ever since I joined Hometalk last Fall, I've enjoyed reading the Bloglight features on the Hometalk Blog. Being inspired by bloggers I admire, as well as bloggers I'm not as familiar with, is why I love reading this series. There are so many amazing bloggers on Hometalk!
And those bloggers came through for me – and the residents of my town – in a big way last Fall. Hurricane Sandy hit our town hard. I started the Socks for Sandy project to help provide some much needed essentials to those who lost everything. I first broached the idea with some of my fellow Hometalk bloggers, wondering if I should attempt to try and collect some warm socks. Maybe post it on my blog, get a few people to send in some socks…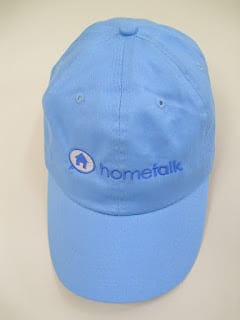 Fast forward just four days later? Hometalk provided me with an image to use for my project, and the Hometalk bloggers all put the word out on their own blogs. Socks for Sandy turned into a global effort, as we received boxes from Japan, Australia, Canada, Great Britain and from all over the United States. And the Hometalk Bloggers, as well as the Hometalk community overall, generously sent in boxes of socks and other warm essentials. The project turned into a full-time job labor of love for about 3 months. You can read more about the Socks for Sandy project here.
Oh – what is Hometalk?
Just the largest home and garden hub you'll find on the internet! I love spending time looking at – and learning from – all of the DIY home improvement projects, crafts and gardening posts!
You can learn more about Hometalk in my previous posts here:
And here:
Hometalk gave me a little list of questions to help the Hometalk community learn more about me. Hope you enjoy it!
How did you first get into blogging?
I began writing guest posts for a few different blogs, and then was hired to be the editor of a craft website that was starting up a blog. Myself and another co-editor had a team of 12 writers, usually putting up five posts per day. In addition to editing, I also wrote posts. Although it felt like a blogging sweatshop at times with such an intense schedule, it was a great immersion into the world of craft blogging. I had to leave that job because of a surgery and long-term recovery. I still had the blogging bug however, and found myself taking pictures of things I wanted to share with others and writing many blog posts in my head. Eventually I realized I needed my own blog, if only to start sharing all the images and posts that had built up! I started my blog in January 2012.
How did you decide on the name of your blog?
My greeting card business, which I started in 2005, is called Pet Scribbles. And that's how everyone knows me. But I still wanted to do something a little different, so I came up with The Shed. I liked the many ideas that the word shed conjured up, such as garden shed, tool shed, shedding cats (we have two!), shedding fears, shedding a tear, shedding negativity. I honestly thought The Shed sounded like a much better name for a blog than Pet Scribbles.
What I should have realized, and what my husband pointed out before I even started my own blog, was that everyone already knew me – and my brand, so to speak – as Pet Scribbles. I was Pet Scribbles on Facebook, Twitter and Pinterest. Oh but I still wanted my blog to be called The Shed. And yes, there's definitely some confusion that arises at times. At some point I'm going to change the blog name to Pet Scribbles. My solution for the moment is The Shed by Pet Scribbles for now!
What is your most popular project on Hometalk to-date?
My most popular "project" was actually the Socks for Sandy project I did with support from the Hometalk community of bloggers, after Hurricane Sandy hit our town last Fall:
My most popular project on Hometalk – in terms of home and gardening – has been my post about Lithodora, one of my favorite evergreen perennial flowering plants:
Who do you follow on Hometalk?
In my profile on Hometalk, I wrote,
"I'm not a garden expert but I am an avid gardener, still learning as I grow – pun intended! If I had my choice, I'd be outside gardening year-round!"
And so it shouldn't come as a surprise that I follow many gardening experts and bloggers, and I've asked their advice as well. Some of my favorite Hometalk gardeners – professionals and bloggers – are:
Barb Rosen
Douglas Hunt
Melissa – Empress of Dirt
Shelley – Sow and Dipity
Stephanie – Garden Therapy
Shirley – Eden Maker Garden Design
If you love gardening, you'll be constantly inspired by them and you'll learn a lot too!
What projects have inspired you there?

It's hard to single out just a few of the many projects I've clipped and pinned, but to stick with my gardening theme: I really love this idea for adding Winter interest in the garden by Shelly at Sow and Dipity:
And I must have Winter interest on my mind – maybe it's because of the heat wave we're in right now! – but I also practically drooled over this post by Barb Rosen:
I'm honored and humbled that Hometalk is featuring me this week in the Bloglight. It's truly like receiving a surprise Christmas gift in July!
Thank you to Miriam, the awesome Director of Community Development at Hometalk, and everyone at Hometalk for your ongoing support! Joining the Hometalk community was seriously one of the best things I ever did!
~Laura