Our simple side yard makeover is easy to maintain and looks sharp year-round. We went from a mushy, unused side yard to a grass-free landscaped beauty! There are many before-and-after images for you to see!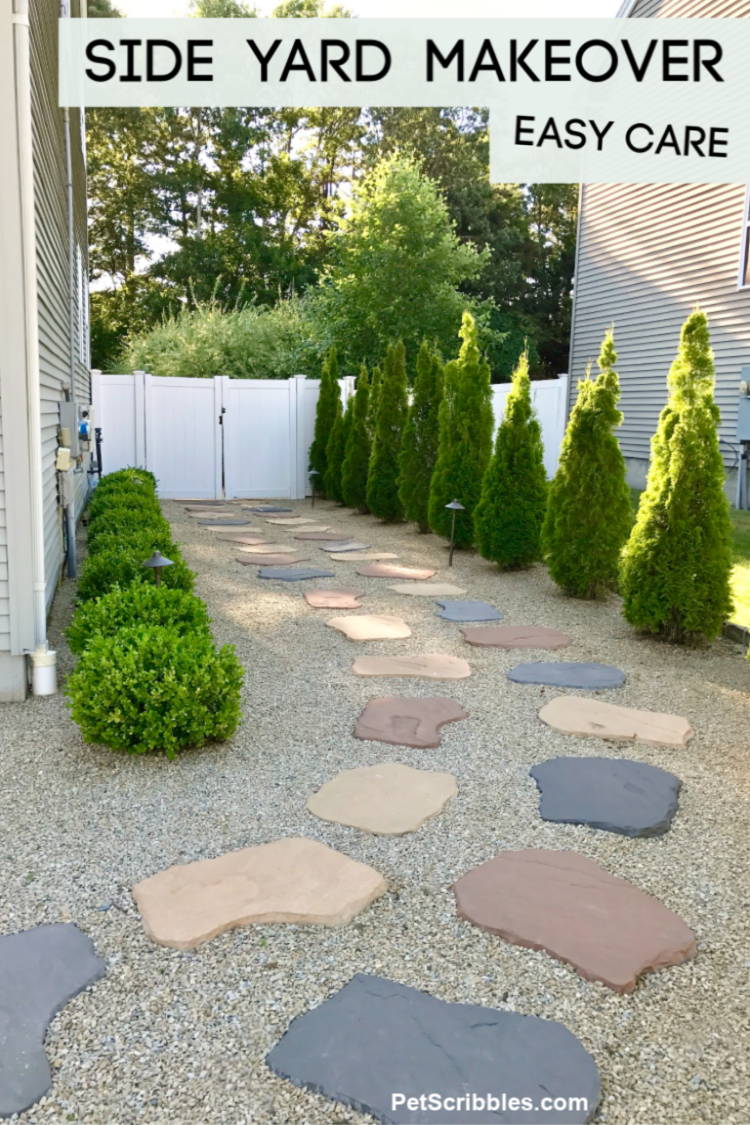 Back in 2007, when we bought our home, there wasn't any landscaping to speak of, however there was a lot of grass.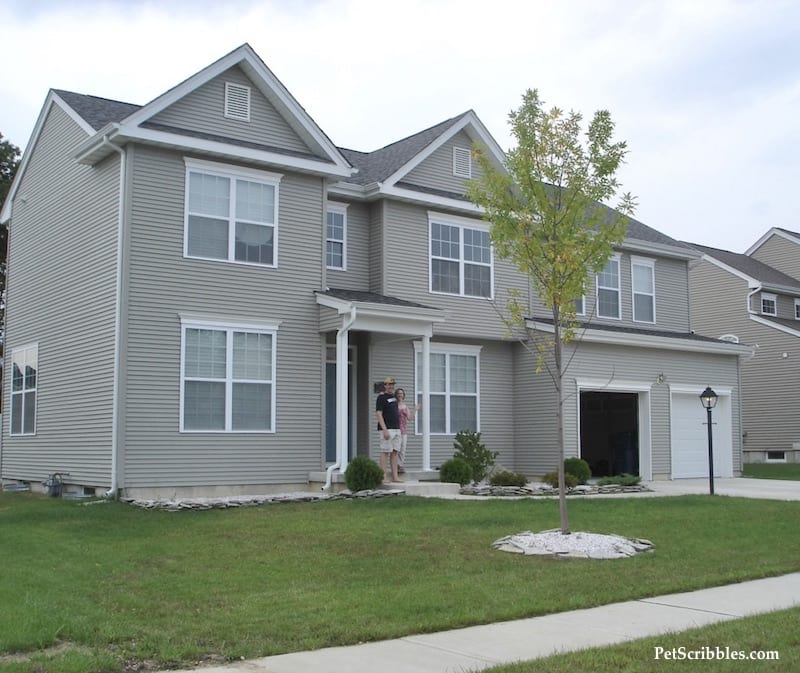 After several years of mowing grass, dealing with grass allergies, and running out of gardening space, we embarked on a major front yard makeover.
Read more about this large-scale yard makeover here: How to Plan Your Dream Front Yard!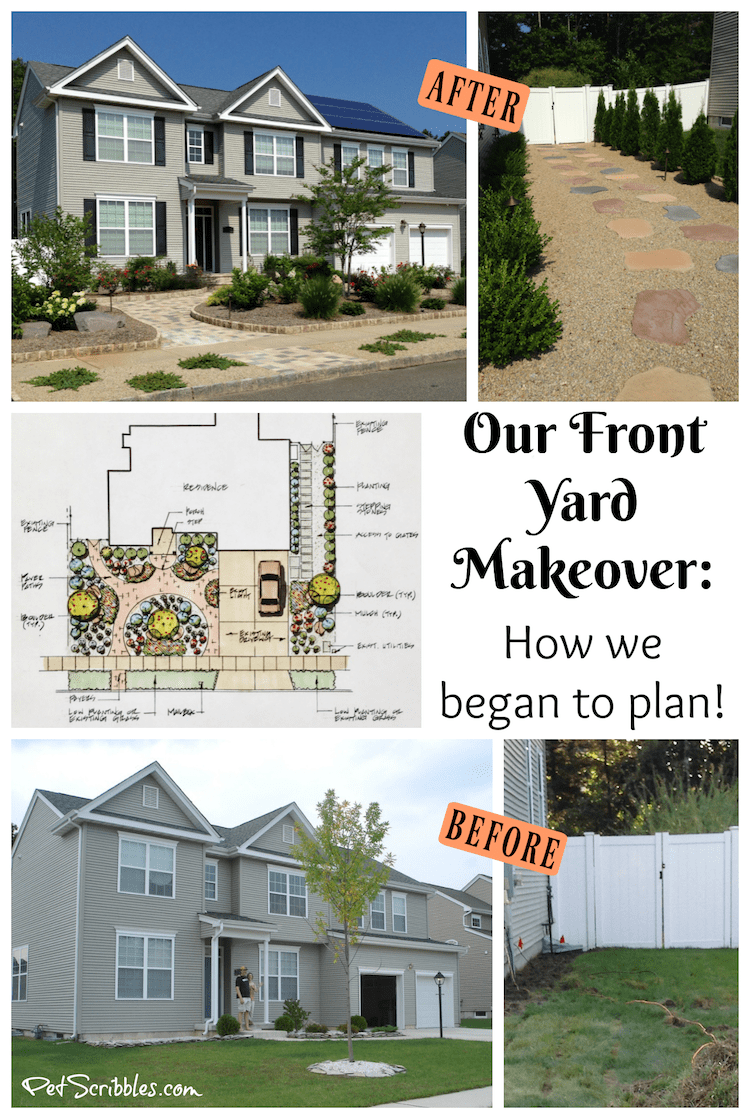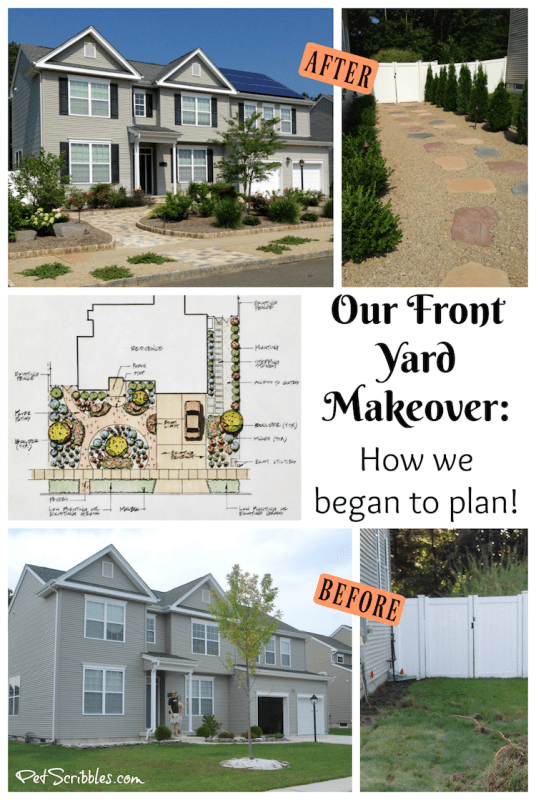 We settled on this design from the landscaping company we worked with: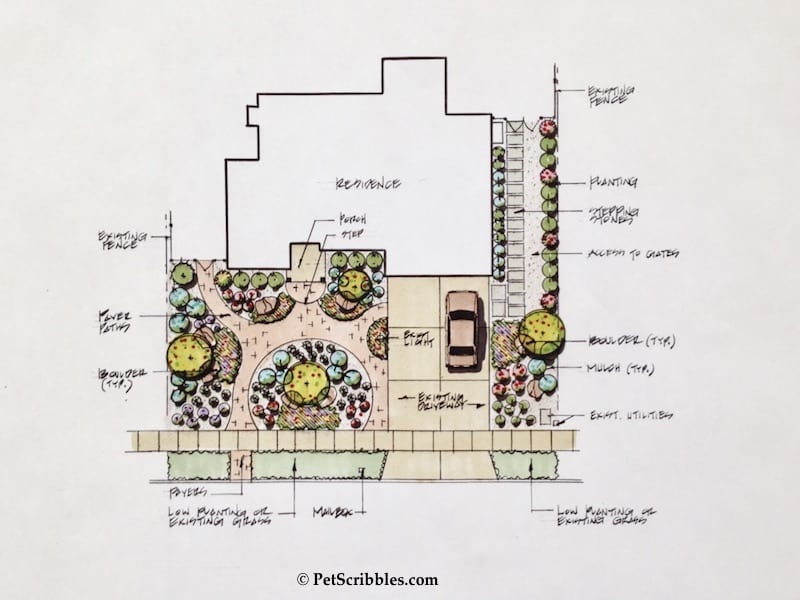 It was exactly what we were looking for, especially for our sad-looking side yard which served only to get your sneakers stuck in the swampy, muddy grass.
Here's a blurry picture of the side yard, just as renovations were about to begin. (Apologies for the blurry quality, but not surprisingly: it's the only image I have of this unloved space!)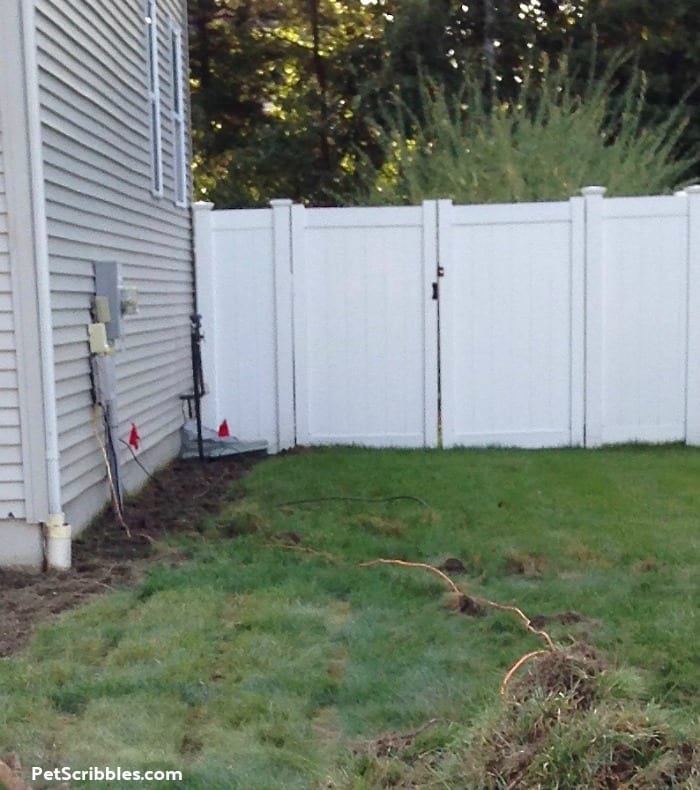 You can see how lumpy the side yard was. Whenever we had to walk around to the backyard, we would hug the side of the house, where we had the best shot of keeping our sneakers or sandals on our feet and free from mud.
Please note: Our side yard makeover was just one part of a massive front yard landscape renovation done by a professional landscape company, so it isn't possible for me to tell you exactly how many days this specific side yard project took. Remember to allow for possible delays due to weather, availability of materials needed, etc.
Removing the Grass: the side yard makeover begins!
The first step, after having the utilities marked out, was for the landscapers to remove all of the grass.
Luckily, the landscapers were experienced enough to know that sometimes utilities do not get marked out correctly.
In our case, the spray paint is what was marked out…versus the wire where it was actually located.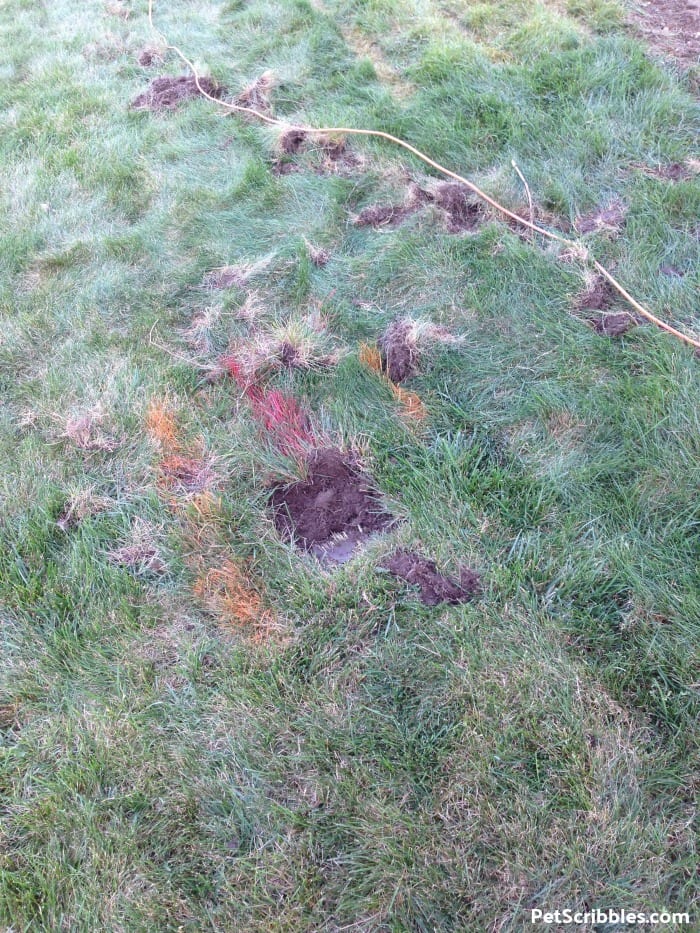 Definitely happy to report that no landscapers were electrocuted on this project!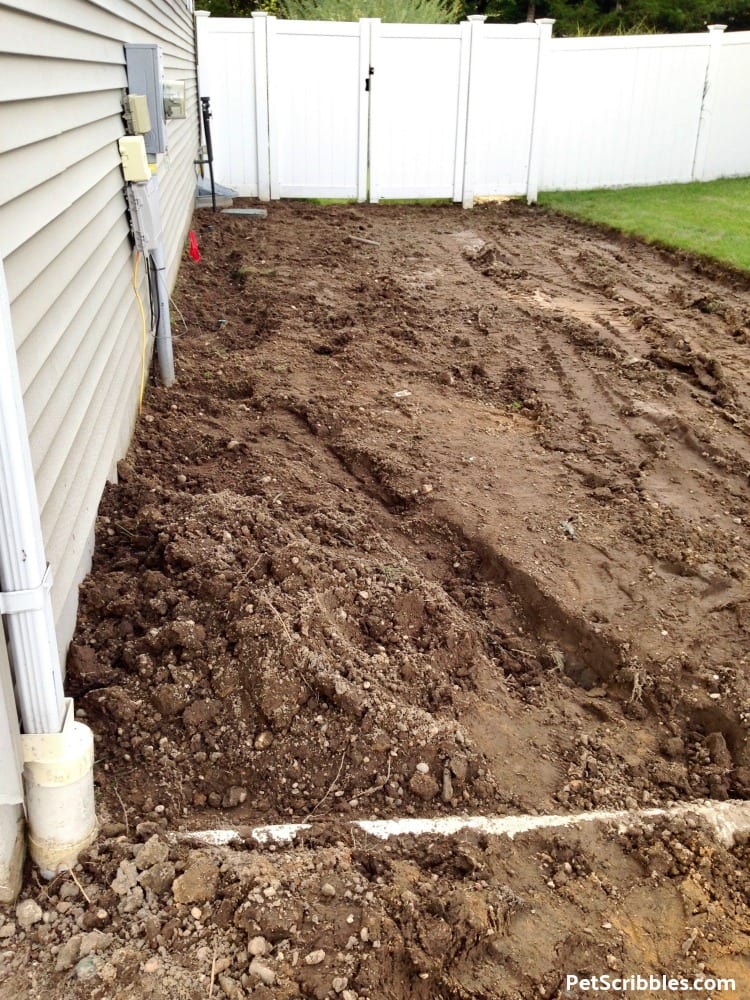 With the dirt removed, we were already thrilled, knowing we were about to have a useful and attractive side yard.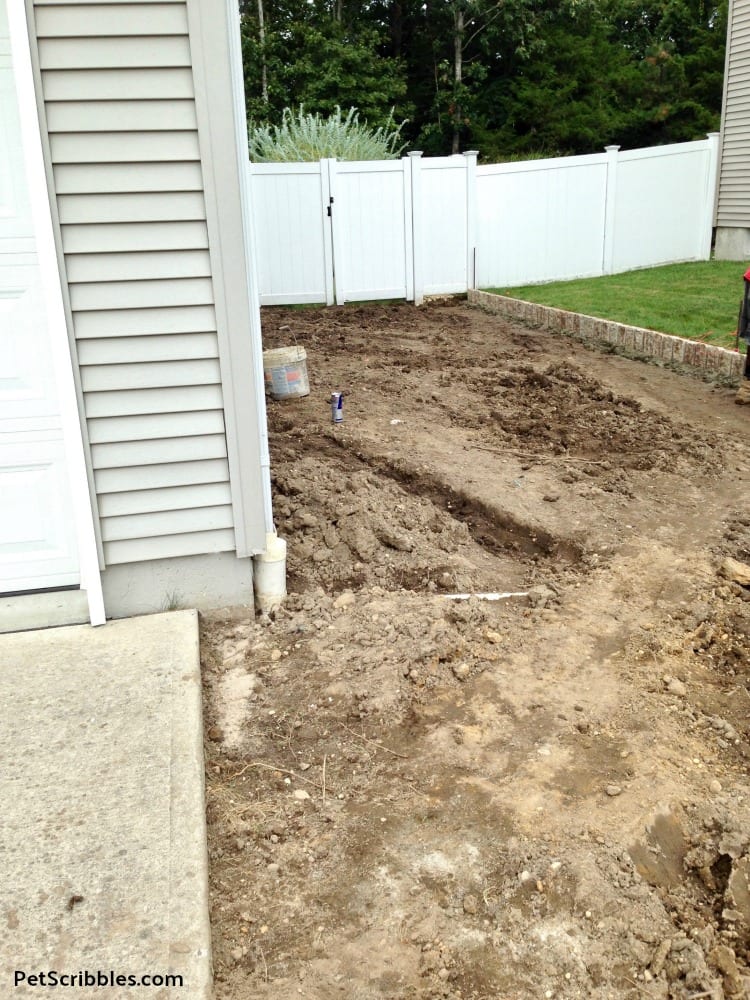 Hardscaping
The hardscaping would be paver edging — used all over the front yard — as well as sand-colored gravel and large stepping stones in this side yard.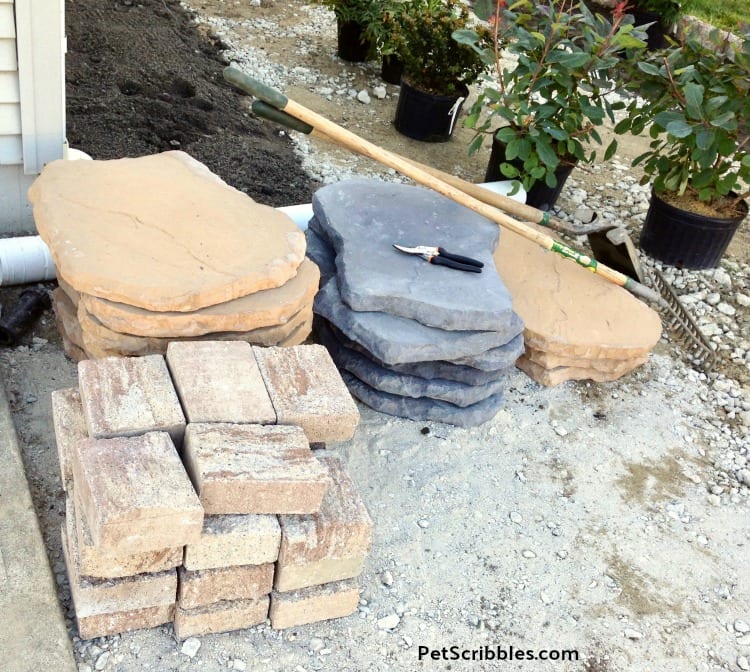 (Missing from the above picture are red stepping stones which were also used.)
The pavers were cemented into place, following the agreed-upon design.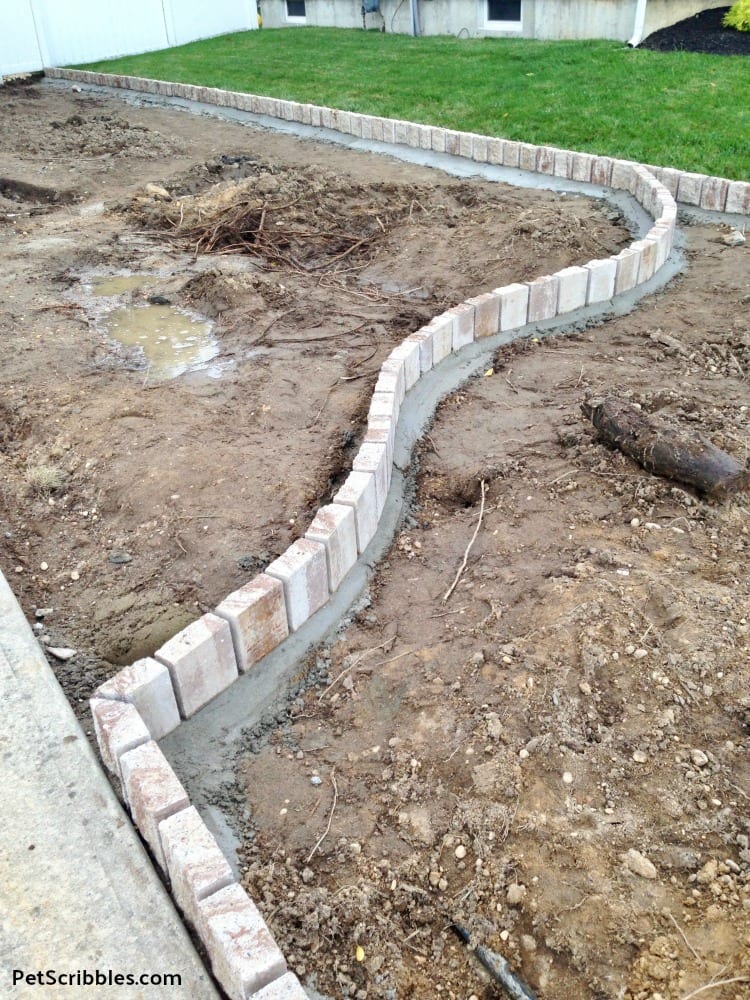 I loved having curved edges break up the straight long line of the original side yard. (I'll share the rest of the front yard makeover in future posts.)
Cement was dyed to match and placed in between each paver. This was a time-consuming process, to be sure, but the end result is worth it.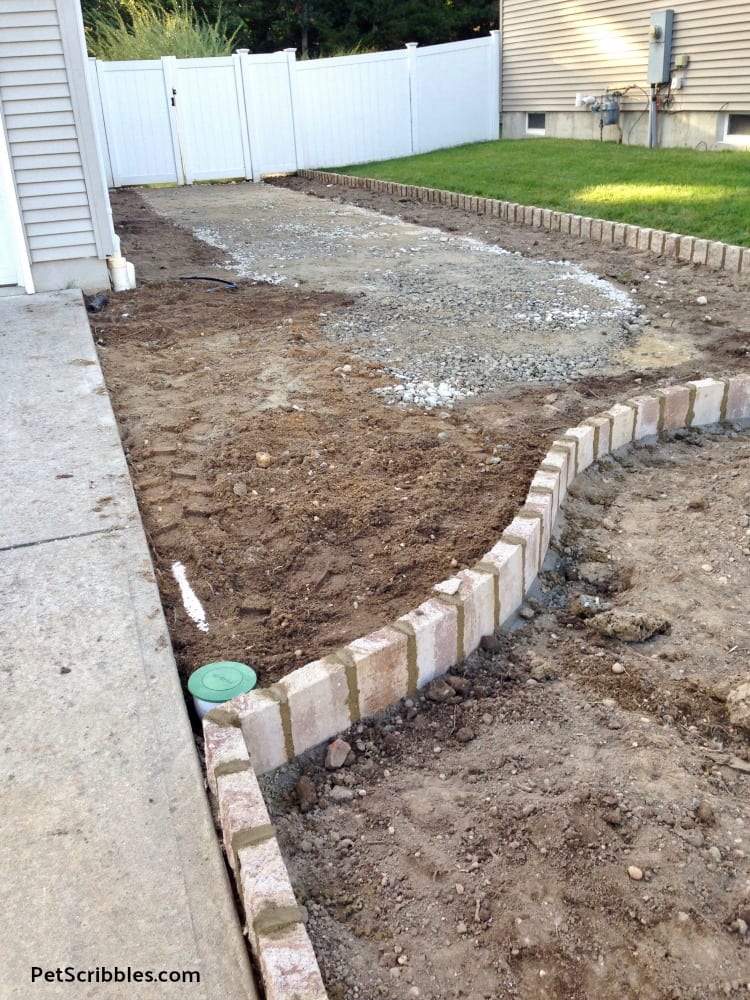 While the cement dried, work began on leveling the side yard.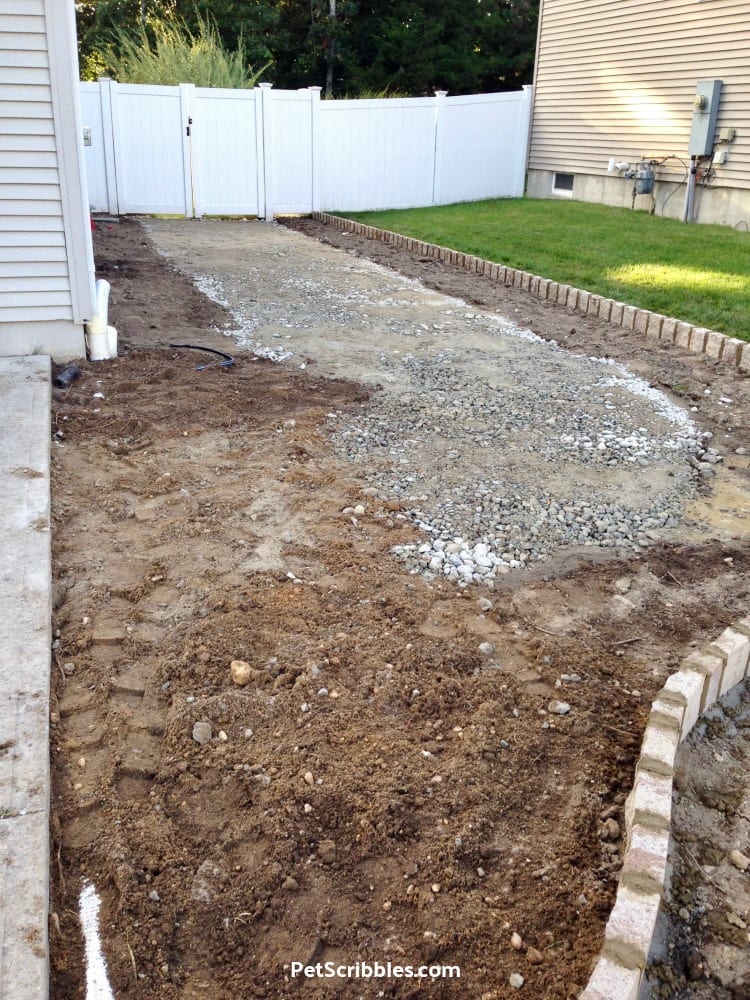 At this point I was getting really excited to see how this side yard makeover would turn out!
Plants
Working with the landscapers, we chose easy-care evergreens to frame the side yard.
There is a row of Emerald Green Arborvitaes for privacy on one side: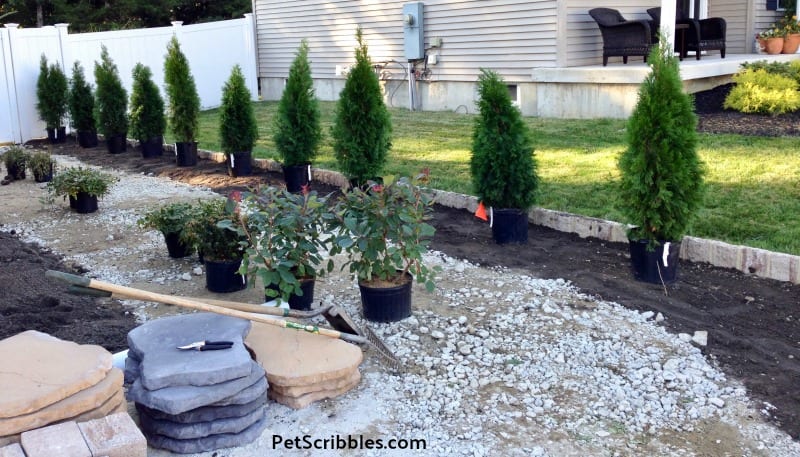 Against the house, we have a row of Winter Gem Boxwoods: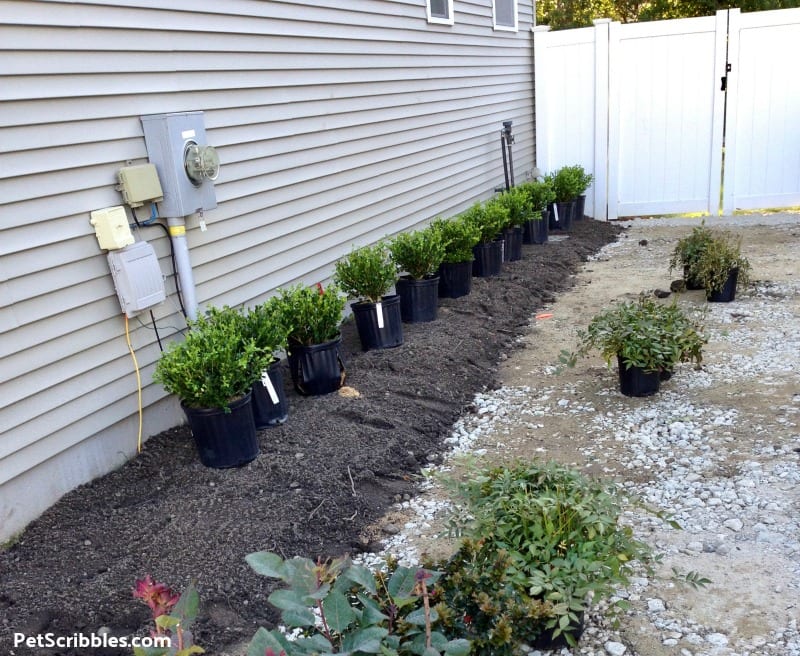 Hardscaping, Part Two
With the evergreens in place, next it was time to fill in the space with gravel: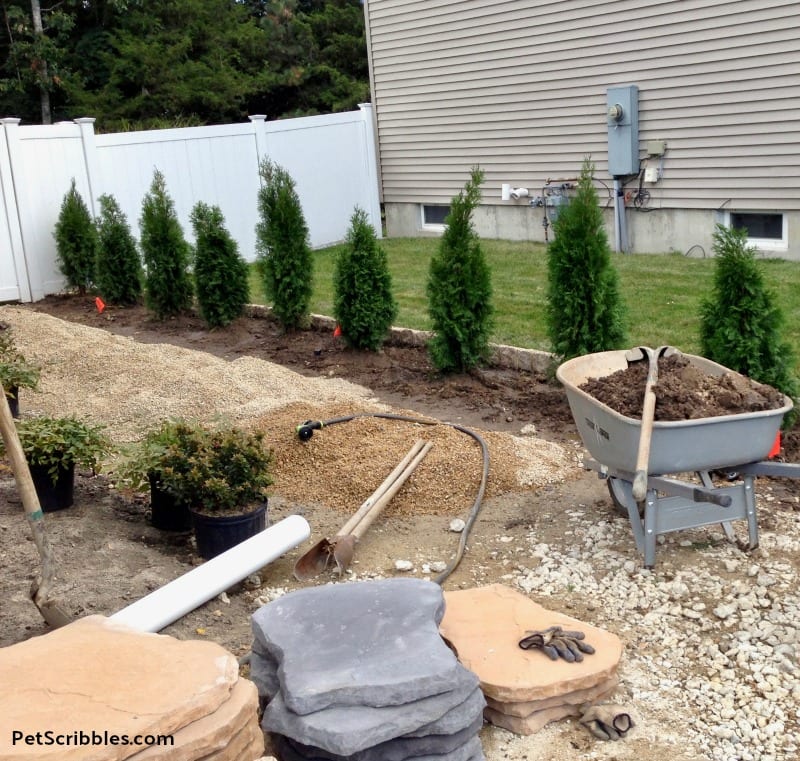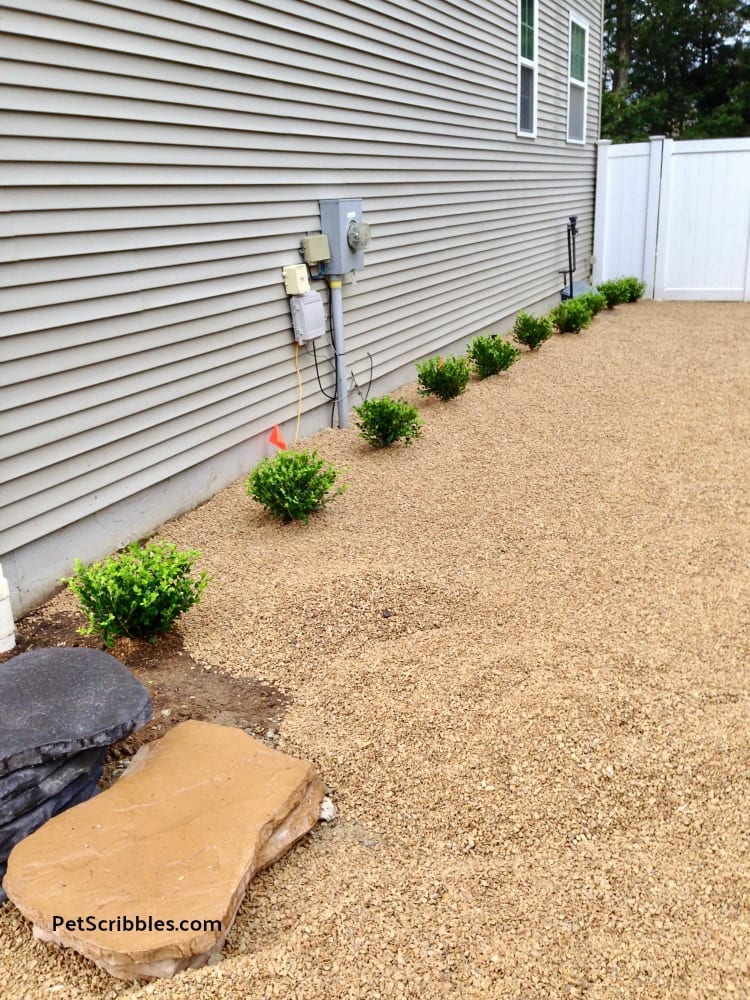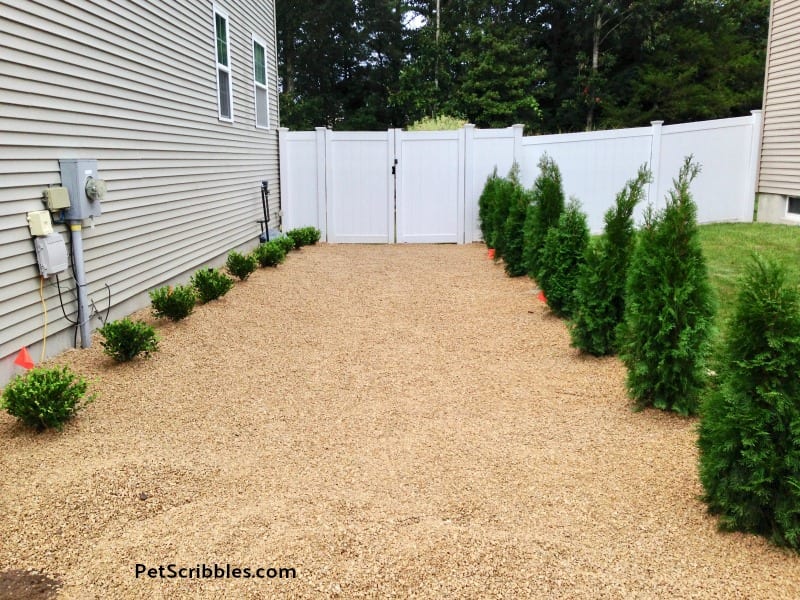 The stepping stones were next: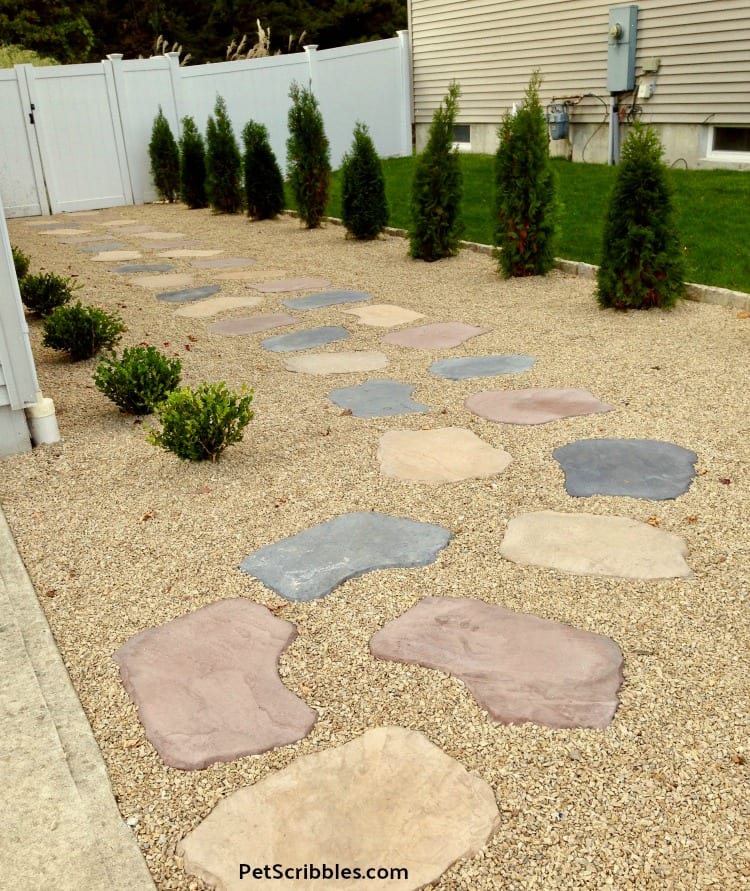 Lighting for our side yard makeover
The following Spring, we added the accent lighting.
I'm sharing this picture (below) of the lighting marked out because it rained that day, and I love the way this side yard glows when it rains — the plants seem more vibrant against the deeper colors of the gravel and stepping stones.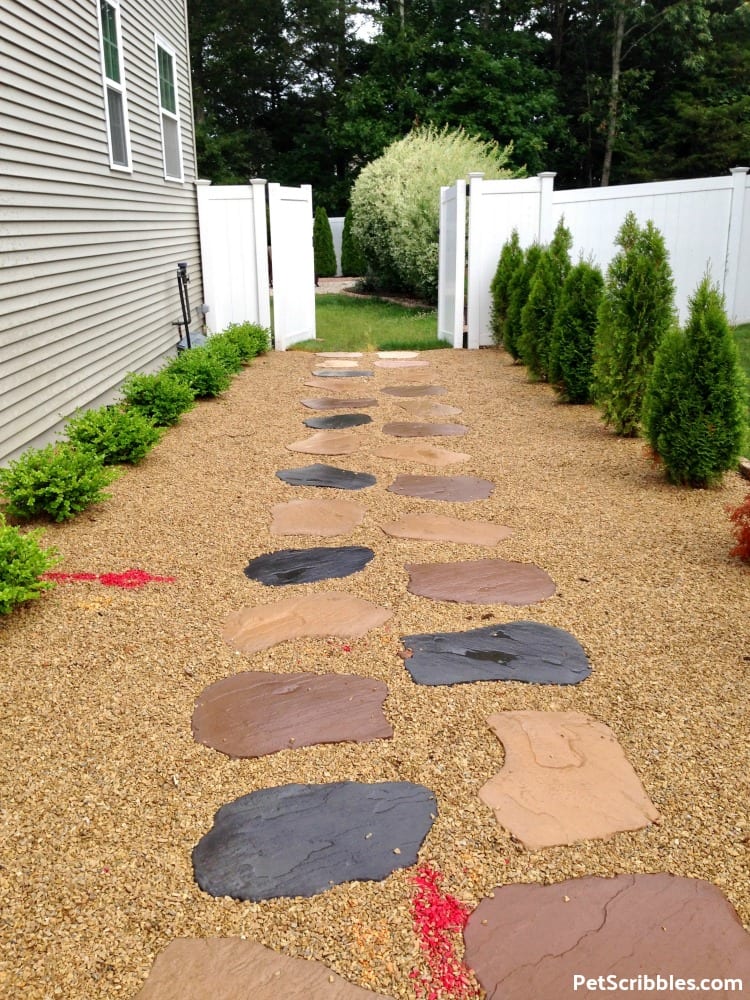 You can also see our Dappled Willow "wall" in the backyard past the fence. We created that entire wall from one shrub!
Click here to read more about Dappled Willow and how to easily make cuttings that grow.
At the same time we added the lighting, we began renovation with the same landscape company on our back yard, which meant . . .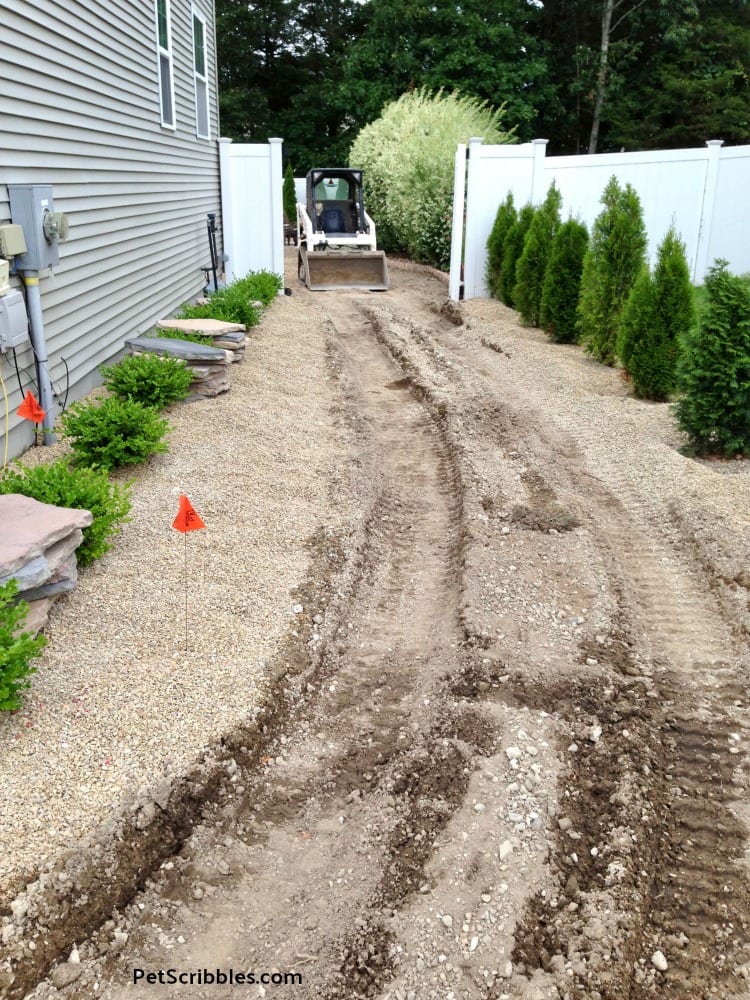 Yes, everything from the original makeover was moved aside for the bulldozer.
But as scary as that was, everything went back together like nothing ever happened.
We have pretty copper accent lamps in four spots: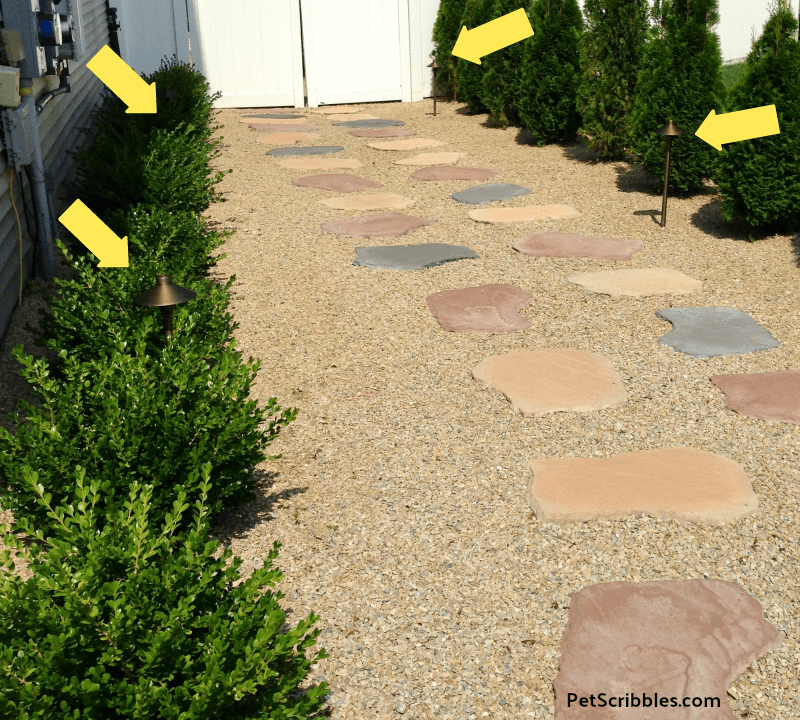 More images of our completed side yard makeover are further down this page!
When the plants don't make it, you try and try again!
This is what the "front" part of the side yard looked like when the front yard renovation was complete: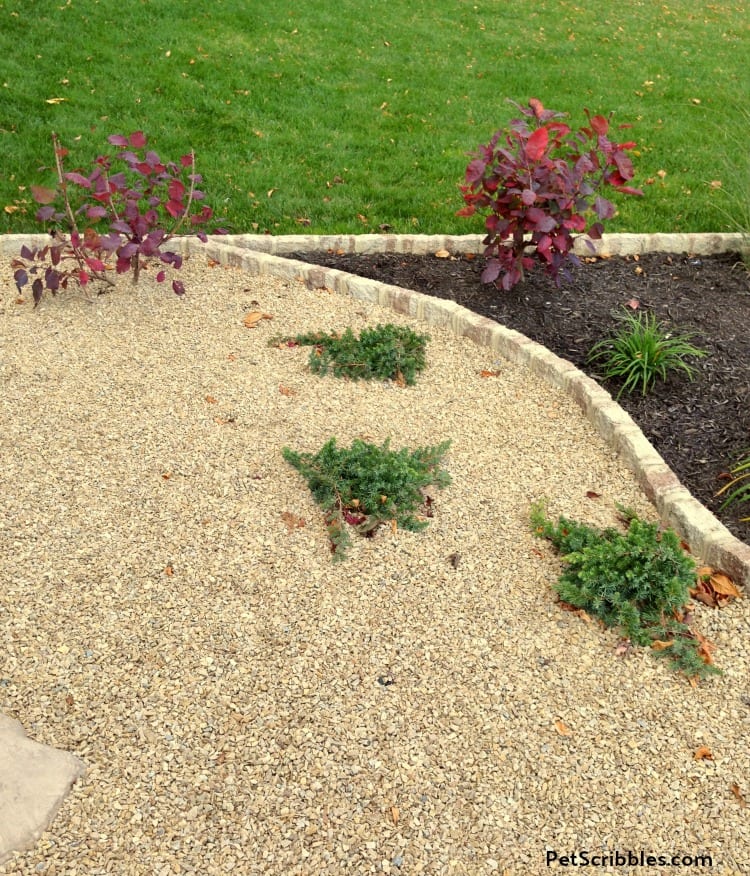 I had high hopes for this spot.
I chose two small Smoke Trees which just glow in the Fall, as you can see. The Rug Junipers would hopefully do their "rug" thing and provide a nice evergreen accent as they spread.
This selection of plants didn't work out.
At all.
Slowly but surely, everything began to die.
This particular spot is just too wet. Period.
We finally came up with a solution we love: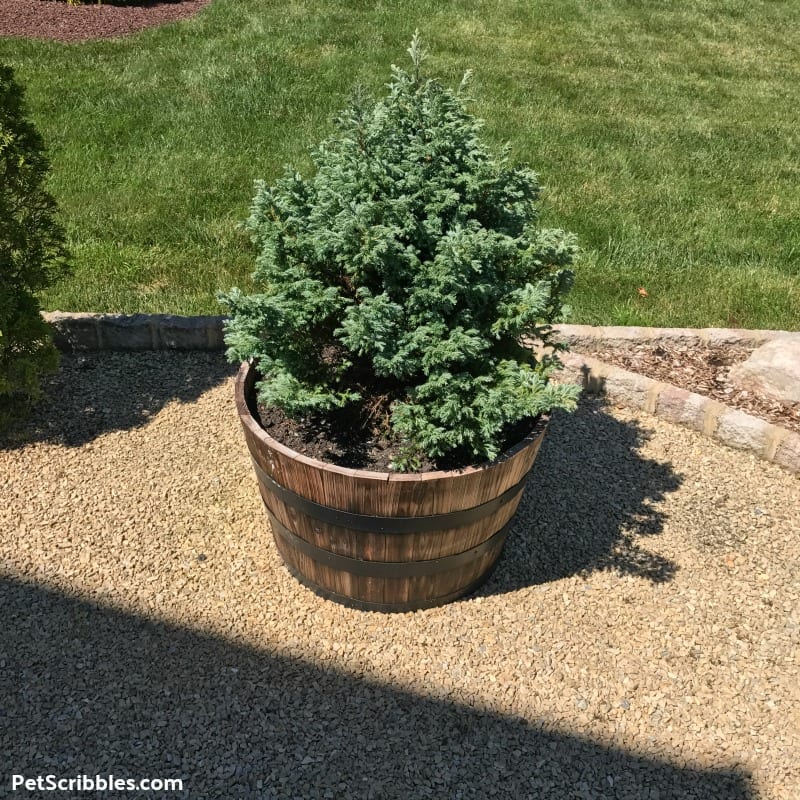 We found a beautiful evergreen shrub and planted it in a half-barrel.
It's a False Cypress — called "Devon Cream" — and is a beautiful blue color which is such a nice contrast to the Emerald Green Arborvitaes and the green Stella D'Oro Daylilies.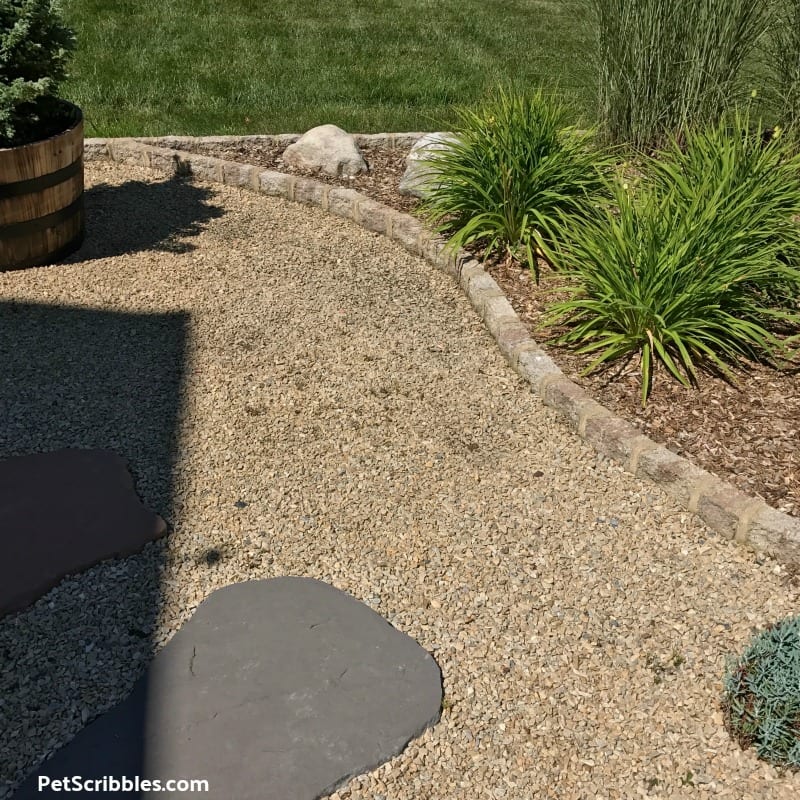 Click here to learn how to easily prune your Stella D'Oro Daylilies.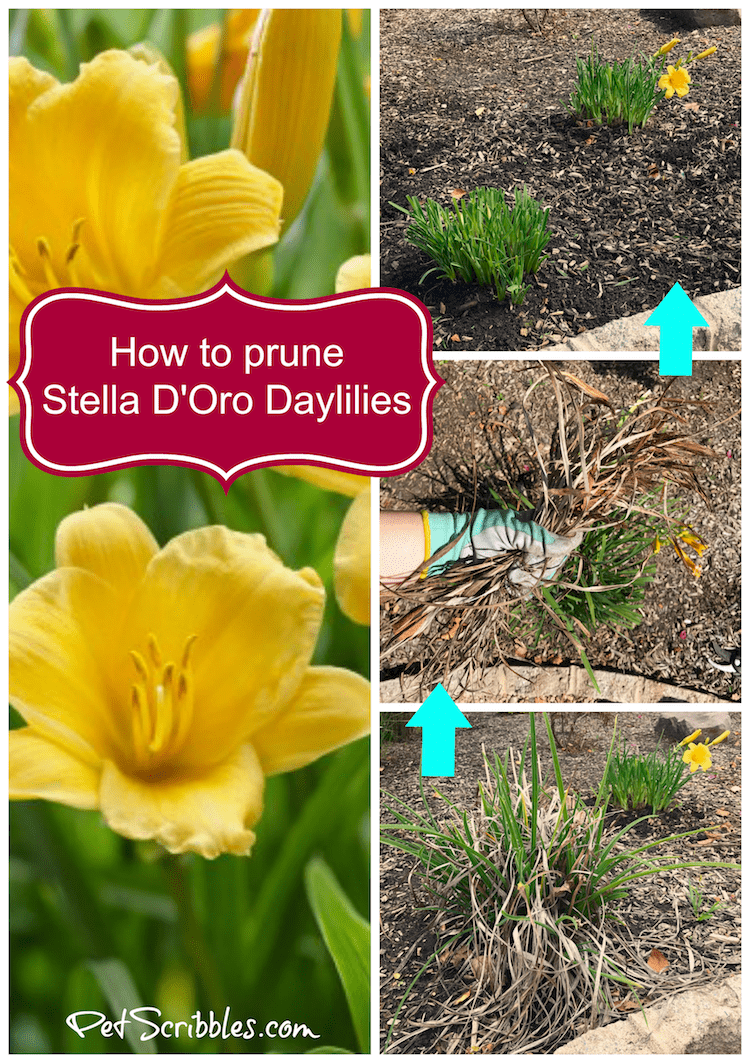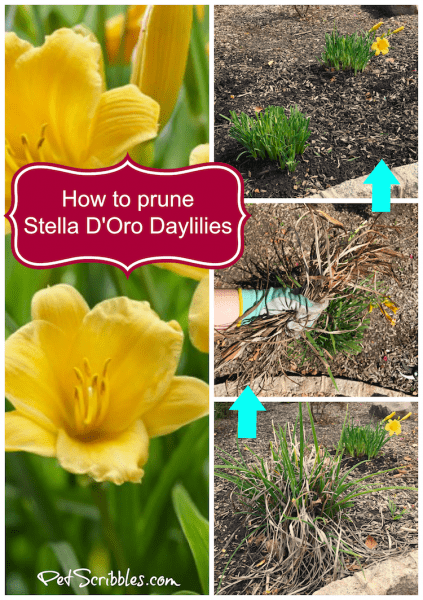 We also ripped out the dead and dying junipers — and luckily were able to transplant a few that bounced back in another spot — and replaced them with Bog Rosemary plants.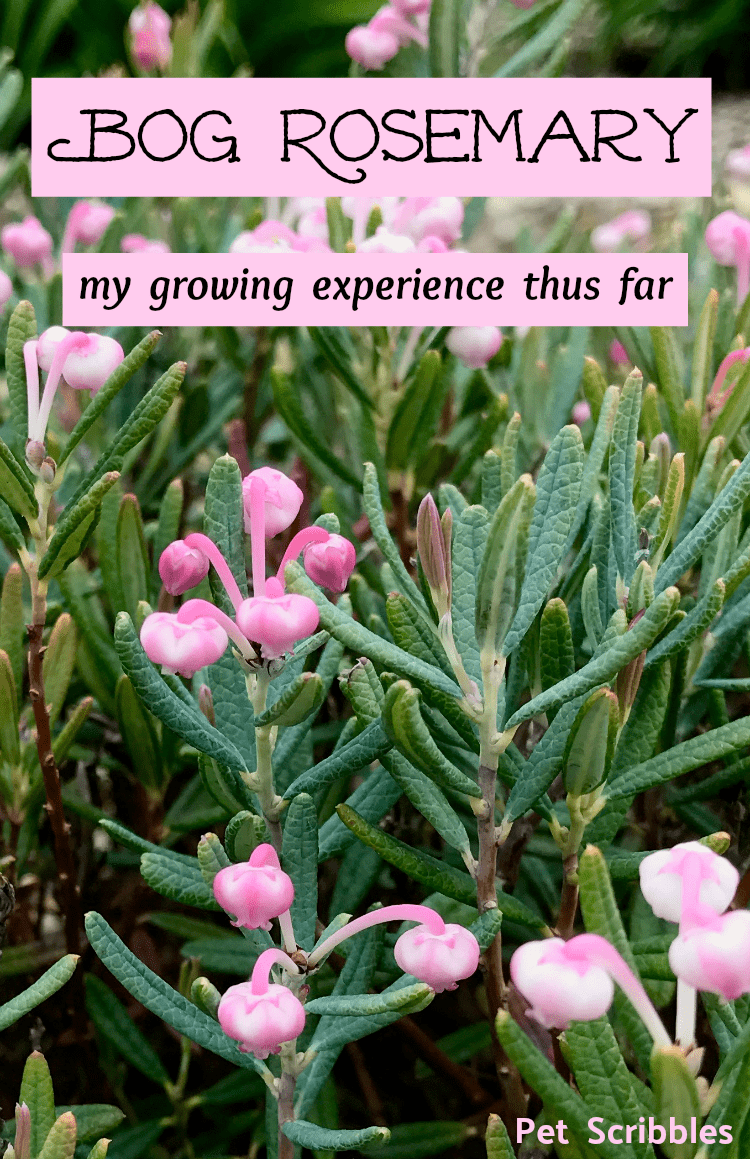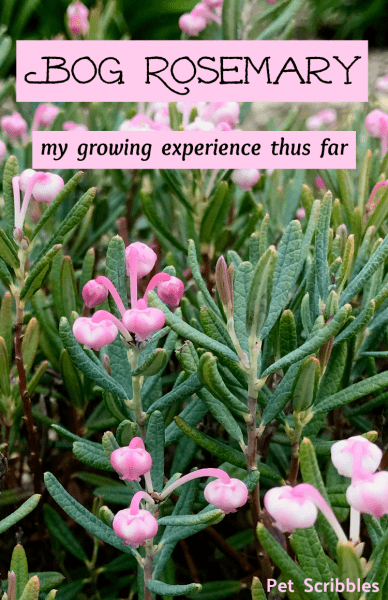 Click here to learn about our Bog Rosemary mini shrubs.
Our plan for the remaining gravel area to the right of the False Cypress is to add a couple more evergreens in planters over time.
Side Yard Makeover: Easy Care and Attractive
I can't believe this is already our 3rd Summer with this grass-free side yard!
Because the upkeep is simple, this side yard looks sharp throughout the year.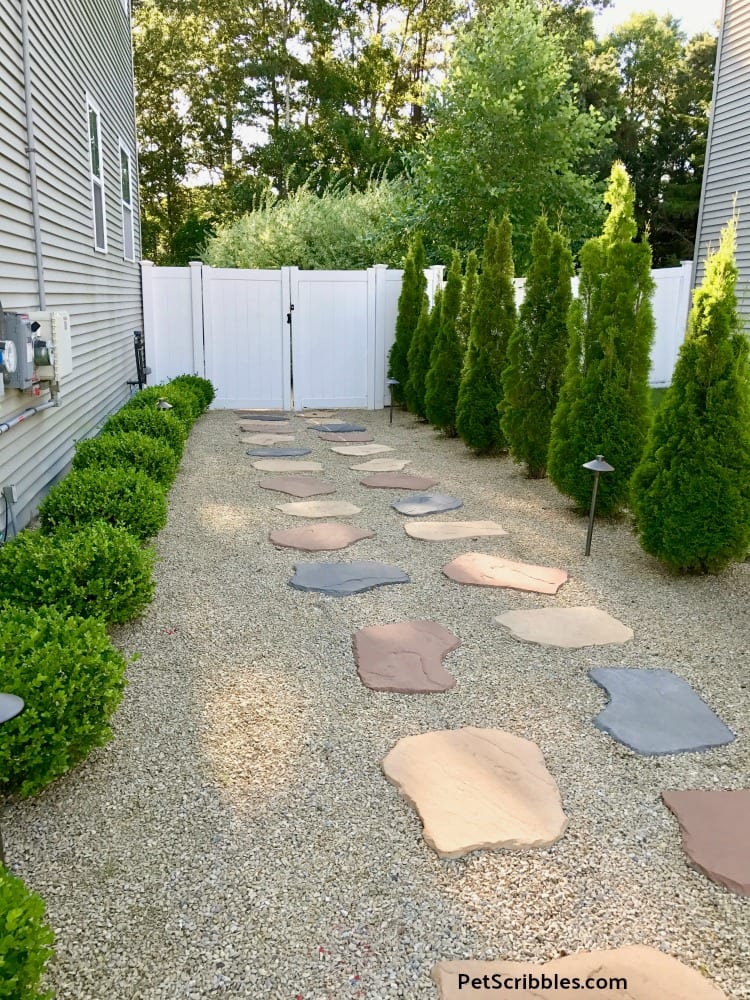 The only maintenance needed is minor weeding here and there. Pruning of the Boxwoods in the Spring, and any brown branches on the Arborvitaes, is all that's required.
Whether it's after a mild snowfall . . .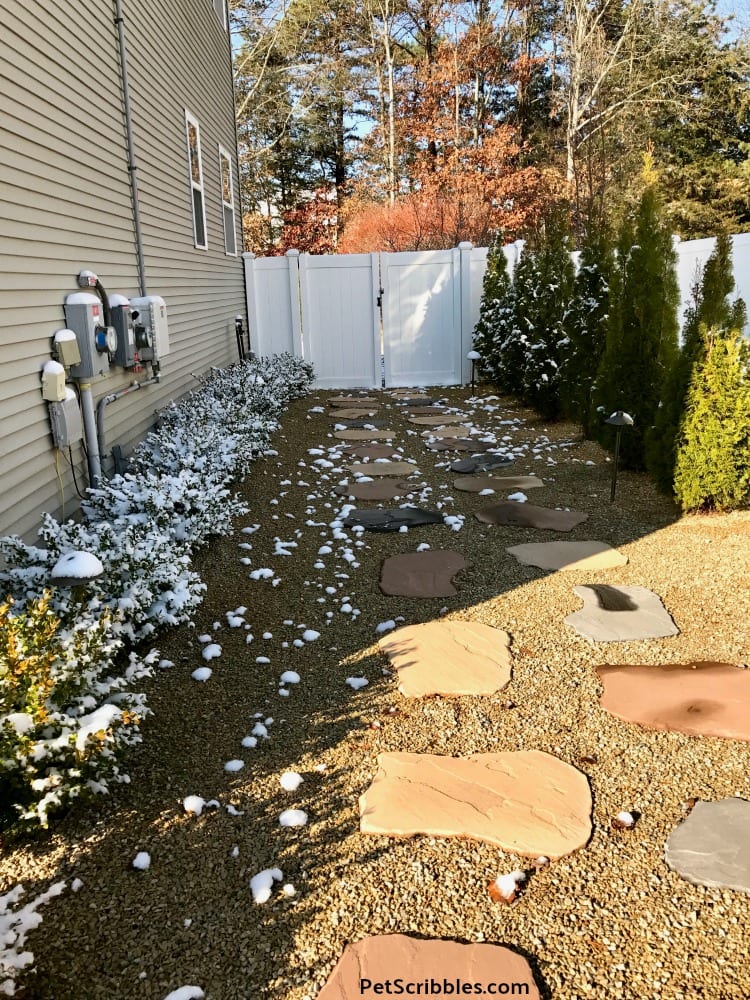 Or at night . . .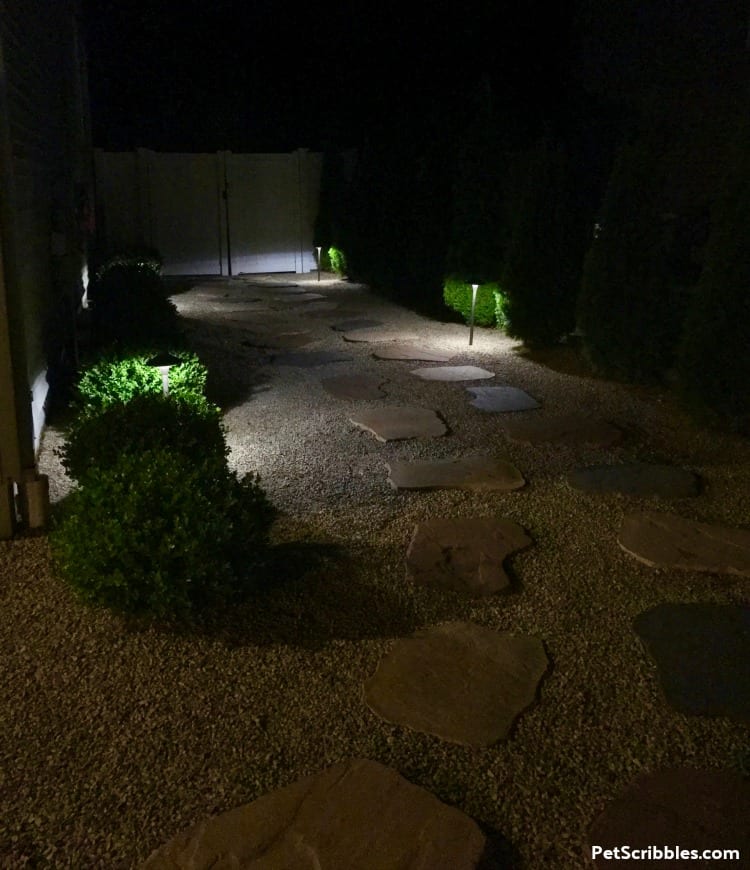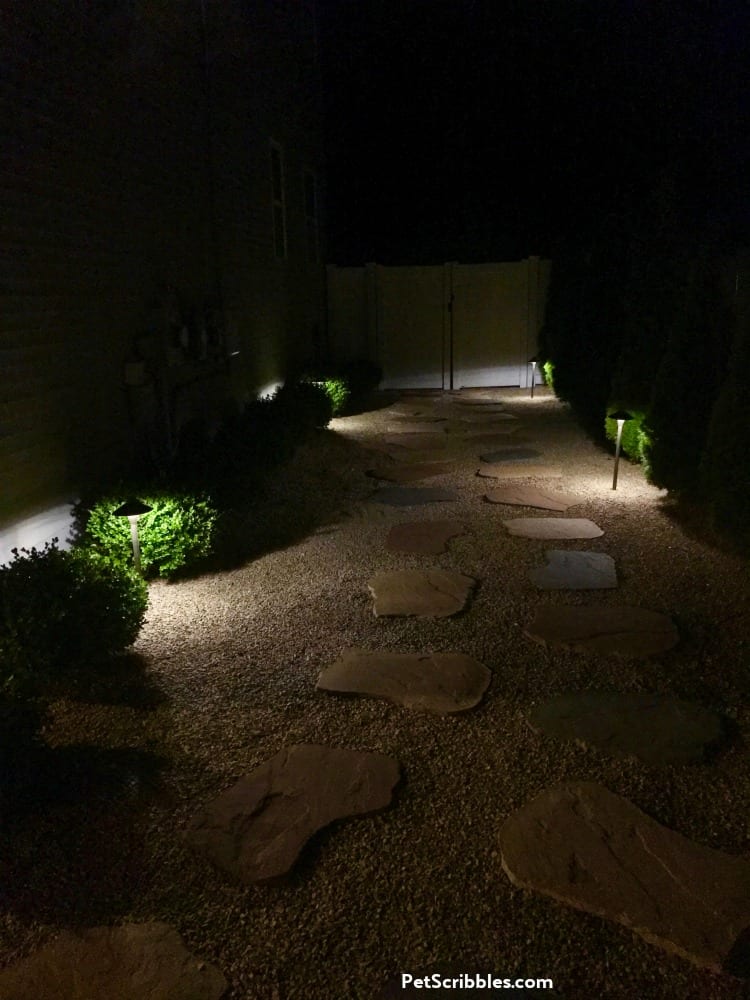 In bright sunshine . . .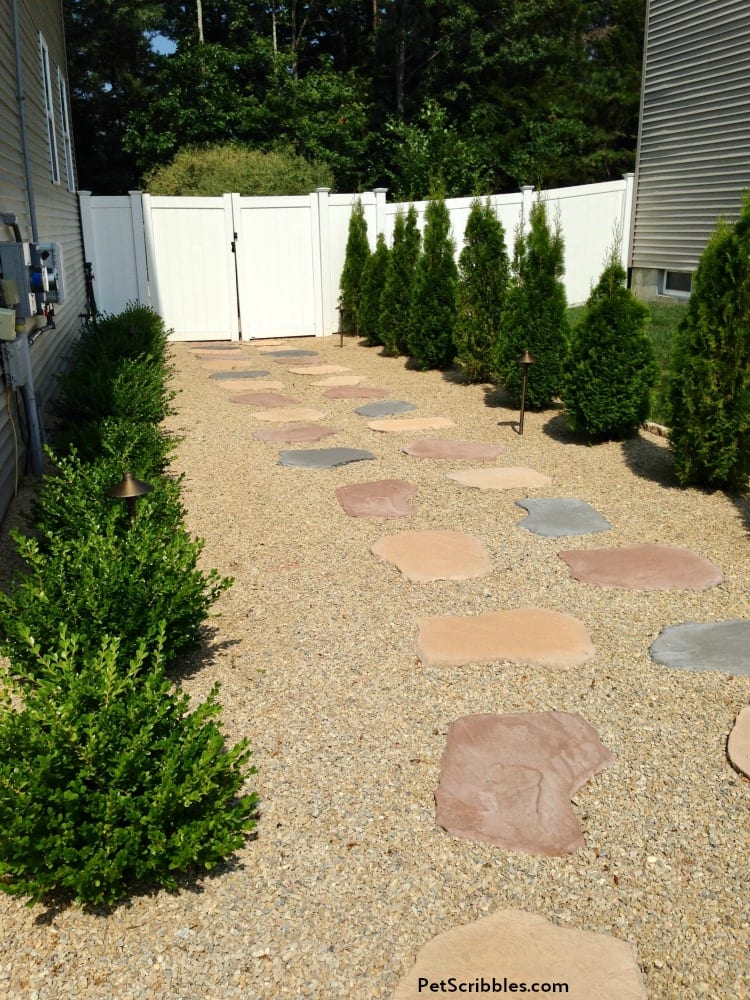 Or bright shade . . .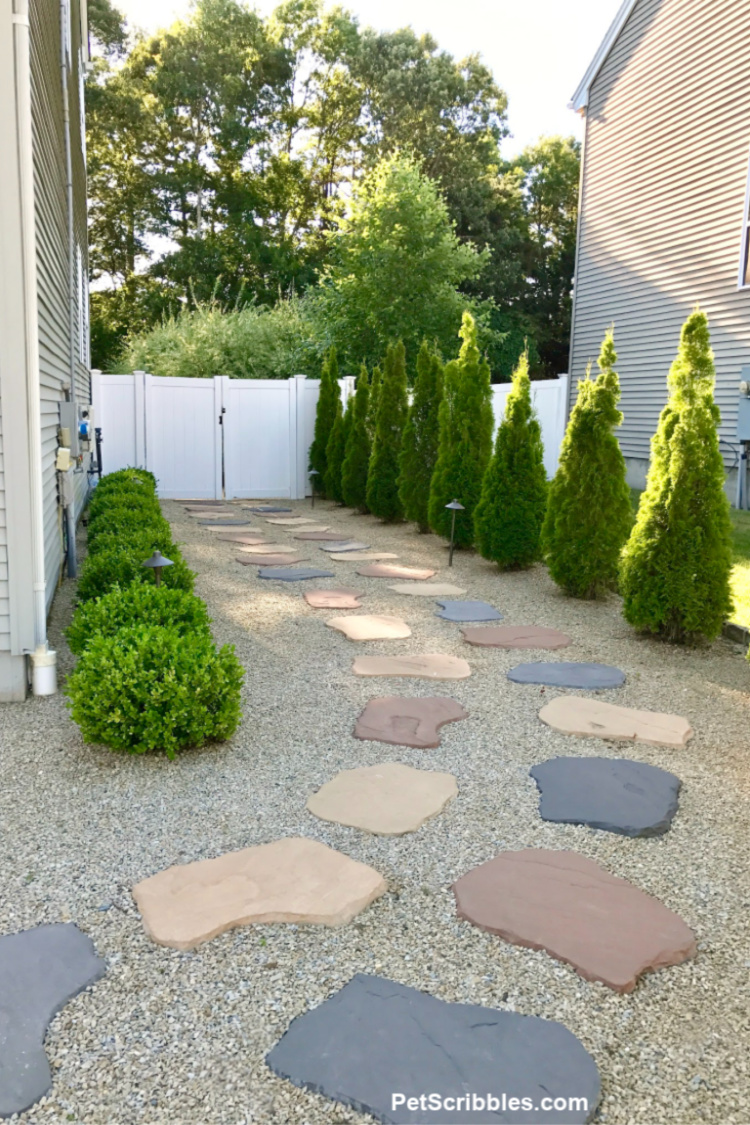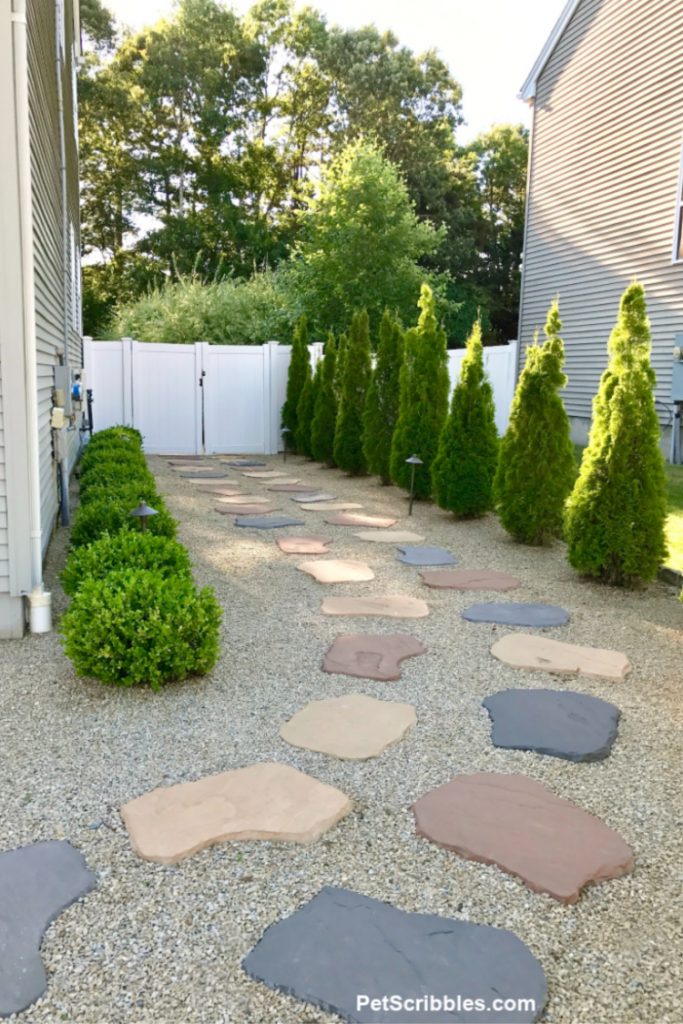 When the sun dances around the stepping stones . . .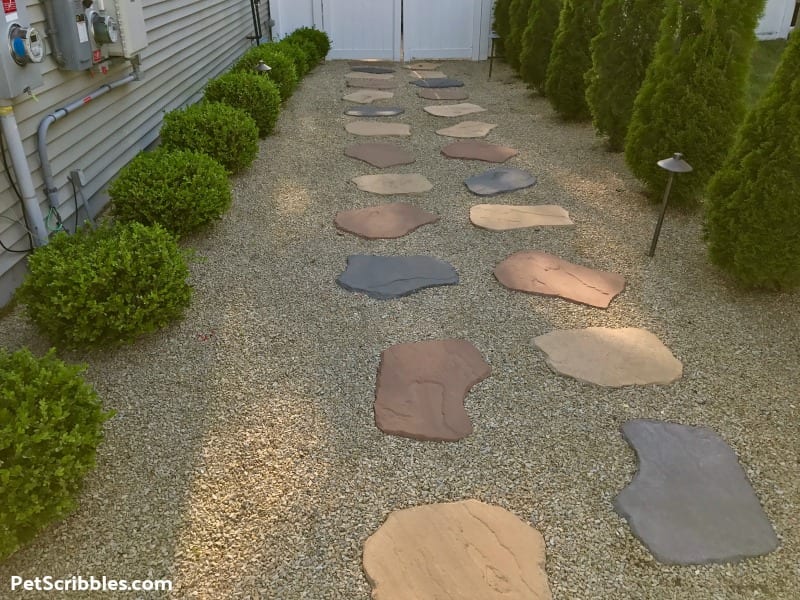 And finally, when the sun says farewell for the day . . .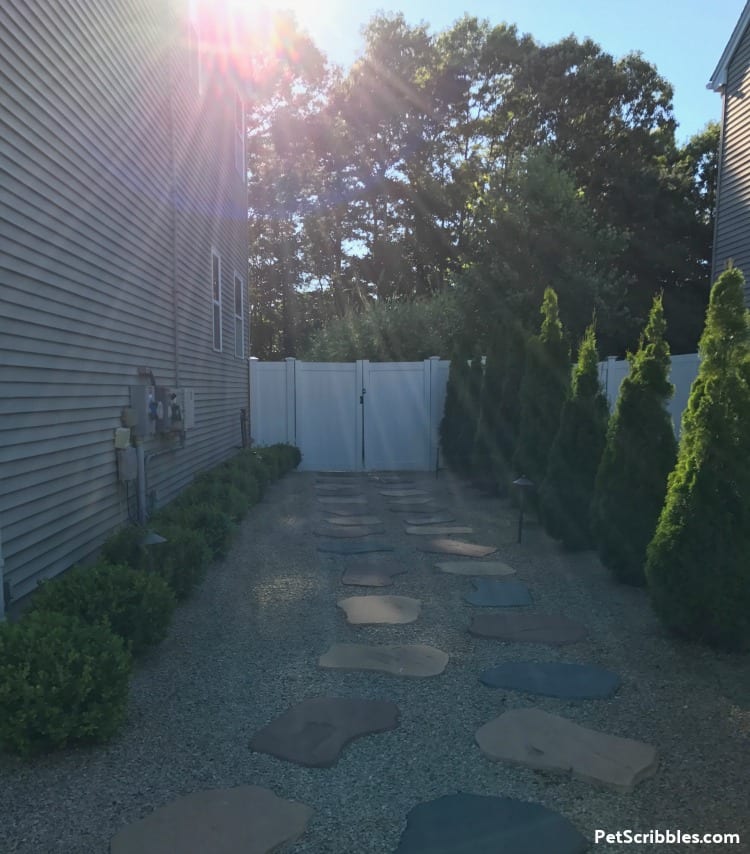 . . . our side yard is attractive.
And most importantly? This side yard has become usable space!
I hope you enjoyed this look back at our side yard transformation!
Happy gardening!
---
---