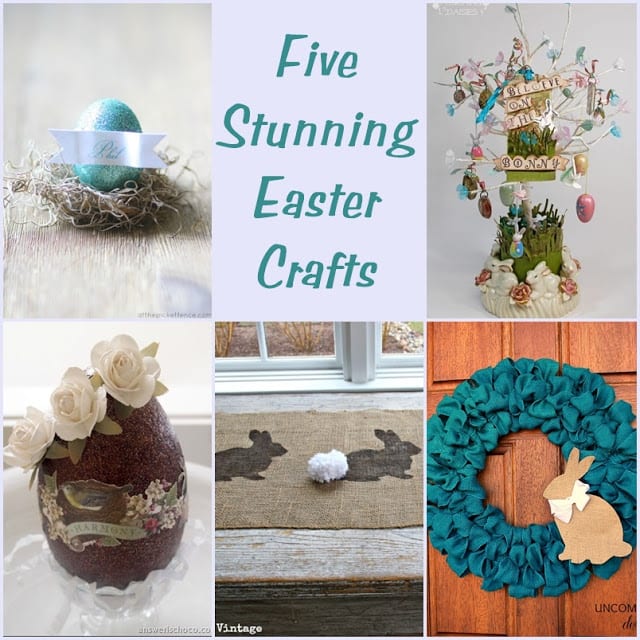 This has been a special season for incredible Easter projects created and shared on Pinterest by so many of my favorite creative bloggers. I'm not sure what made this year so special, but it seems like everyone stepped up their game, so to speak. Just one look at my collection of these projects on my Easter and Spring Decor and Crafts Pinterest Board will show you what I mean!
It wasn't easy, but I decided to pick five projects that I think are the best of the best. Each of these had me literally catching my breath at how stunning and creative they are and…well…just gorgeous!
Without further ado, here's my top five picks, in no order whatsoever!
Burlap Ribbon Easter Wreath
First up is this absolutely gorgeous wreath made by Trish at Uncommon Designs. The teal color of the burlap is what makes this wreath stand out. Burlap is so in right now, and seeing it in a new color is very refreshing for Spring!
Burlap Bunny Table Runner
Next we have this amazing table runner created by Kelly of Eclectically Vintage. I'm honestly never really into table runner projects, but when I first saw this one, I was in love! Burlap, as I said, is popular right now, as are the bunny silhouettes (like we also saw in the wreath above). And adding the pompom tails? Brilliant! This is a table runner I would love to have on my dining room table!
Vintagey "Chocolate" and Rose Egg
As regular readers here know, I adore vintage images, and especially love vintage images and decorations at the holidays. This egg crafted by Carol of The Answer is Chocolate is egg-ceptional! (I know, but can you blame me? It was too easy!)  I also love chocolate, although this is a faux chocolate egg. However, being able to display a chocolate egg at Easter time without worrying about it being eaten by me because I just can't resist melting is a good thing!
Glittered Egg Place Cards
I love miniature things. There's just something so precious and sweet about them. These place cards, made by Julie, a contributor to At The Picket Fence, are a perfect example. I'd love a row of these along my mantel!
Easter Bunny Tree
And last is this sculpture tree designed by Amy of Plucking Daisies. There is so much detail, so many individual crafts that made up this overall decoration, that you need to click over to see the other images showing closeup details. And the rabbit base was something Amy had from her grandmother and just never knew what to do with it. Well, I think she found the perfect use. This tree is incredible.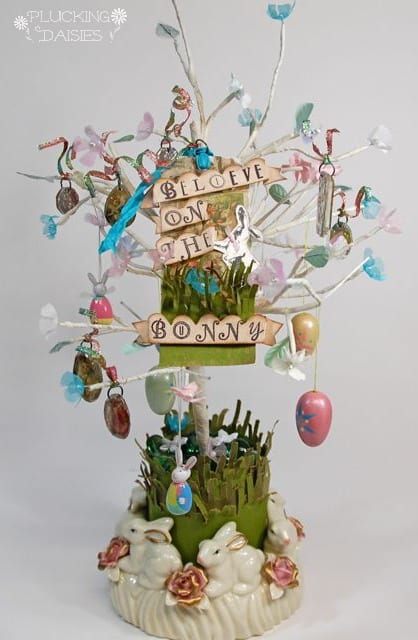 So there you have it – my top five picks!
Yes, it is Good Friday already, but there's still time to decorate some eggs or make some pretty items for your Easter table. Check out my Easter Pinterest Board that I mentioned earlier, where you will find almost 200 pins of crafts, printables, decor, and even a few recipes.
Have a Happy Easter!
~Laura